A Guide to Natural Sweeteners
34
Published May 29, 2012, Updated Sep 09, 2021
Here's a handy guide to natural sweeteners! Find out which sweeteners you should be using as part of a clean eating lifestyle and which to avoid at all costs.  
Sugar! Anyone else feel like they're on a roller coaster of sugar information? Wayyyy back when, fat was the culprit to all healthy problems, now sugar seems to be at the root of health issues. There are so many different types of sugar and a ton of different names for each so I thought I would put together a quick guide to give you a breakdown of all the natural sweeteners, which ones I prefer and why.
Are Natural Sweeteners Good for You?
All of the natural sweeteners I listed above have added benefits. I would recommend reaching for a natural sweetener over plain white sugar any day however I feel like they all need a disclaimer that they're still sugar. Don't just go eat a bucket of honey because you're craving sugar. My top recommendation is to add the sweetener to an already balanced snack or meal. Pair lean protein with healthy fats and fiber and then if you add in a natural sweetener, you're helping out your body so there isn't a crazy blood sugar spike.
If you're trying to cut back on sugar, I always recommend stepping to a natural sweetener as a substitute before just going cold turkey on all things sweet. If you find that you're feeling addicted to natural sweeteners, feel free to step away from those for a period of time to give your body a chance to reset.
What is the Best Natural Alternative to Sugar?
As you've probably noticed, I don't use regular white sugar in my recipes and instead choose to use natural alternatives. Here I want to share my favorite natural sweeteners with you!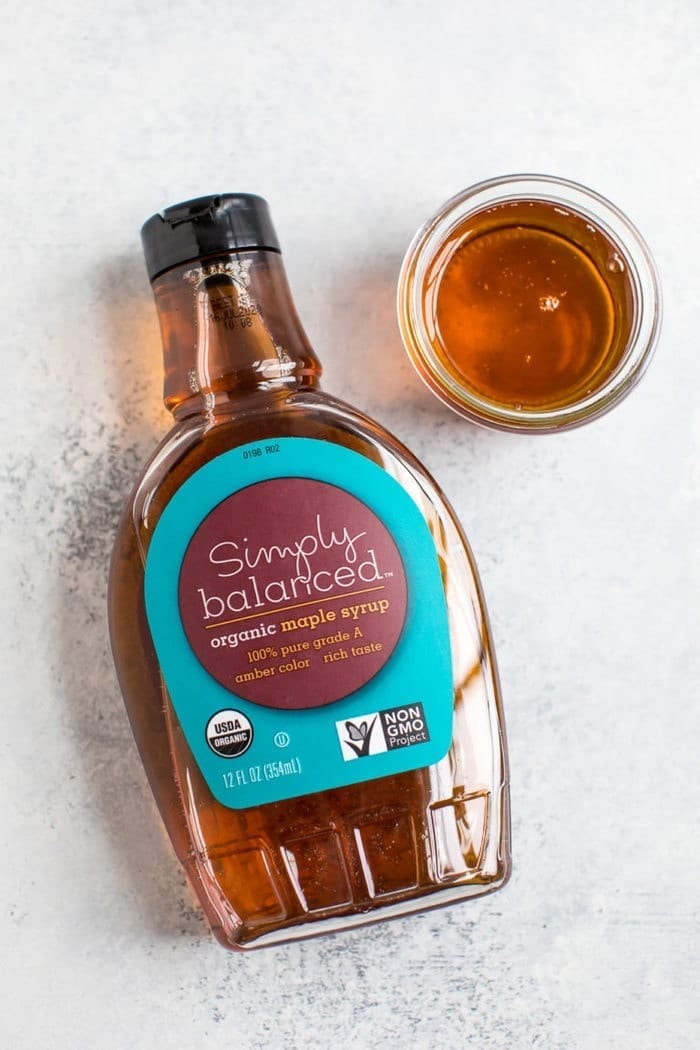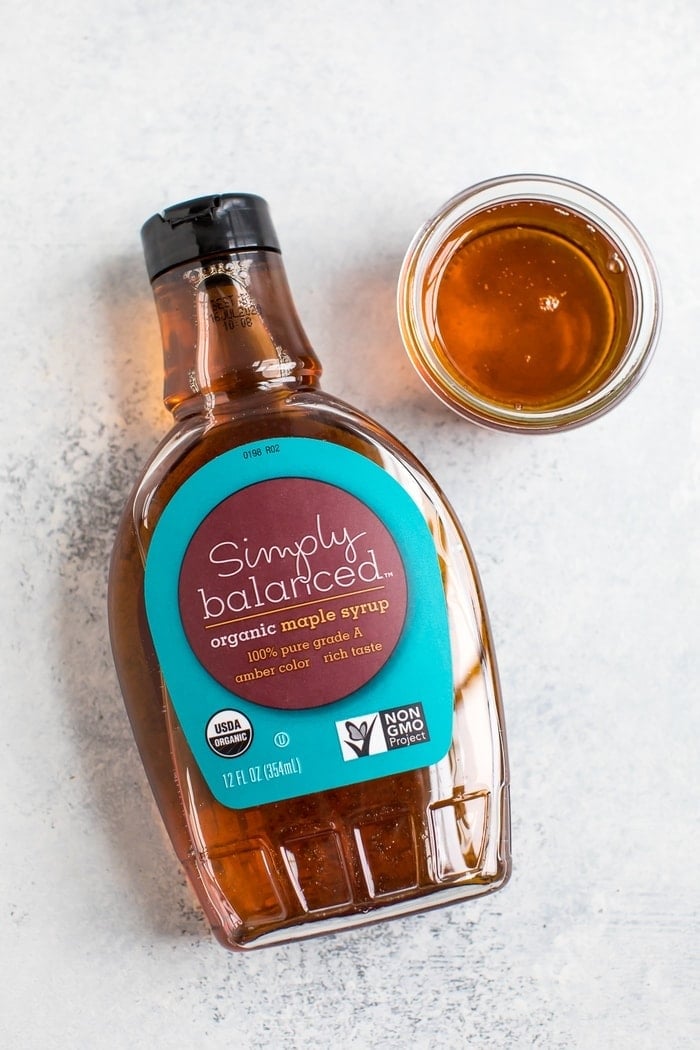 Maple syrup
You better believe this is the top of the list! I love to use maple syrup in a wide variety of foods and drinks. I use it in homemade dressings, smoothies, energy balls, baking, oatmeal. A LOT. I typically look for pure, organic maple syrup. I love getting it locally but you can find high quality maple syrup in most grocery stores!
Recipes with maple syrup to try: Maple Cinnamon Breakfast Trail Mix, Maple Turmeric Chicken or Blueberry Corn Chicken Salad with Maple Dressing.
Honey
Honey is about as versatile as maple syrup. I use it in energy balls, baking, oatmeal, granola bars. It really just depends what kind of flavor you're going for… honey or maple! Can't really go wrong in my book. When shopping for honey, you'll see there are a ton of options. I look for raw, unfiltered, organic honey when it's available.
Recipes with honey to try: Bird Food Energy Bites or Honey Mustard Dressing.
Dates
These are making the list because they really are magical little sweeteners! When I'm craving a sweet treat, I'll often reach for a date paired with nut butter. YUM. Dates are great to use in oatmeal, granola bars and energy bites. Just be sure you're buying fresh deglet noor or medjool dates. Medjool dates are my favorite because they're larger and usually more moist. Both deglet and medjool dates can be found in the produce section, near the bananas, or with the dried fruit at regular grocery store. You can also find them in the bulk bin section at natural markets. Just stay away from chopped dates which are found on the baking aisle and coated in flour to prevent sticking.
Recipes with dates to try: Almond Flour Chocolate Chip Muffins, No Bake Brownies or 4-Ingredient Date Caramel Sauce.
Coconut Sugar
I feel like coconut sugar gained popularity over the last year. It's known as an "all purpose" sugar but I find I reach for it most in baking. My general rule of thumb: when the recipe calls for a liquid sugar, use liquid. When it calls for a granular sugar, use granular.
Recipes with coconut sugar to try: Healthy Low Sugar Pumpkin Bread or No Bake Coconut Quinoa Cookies.
Blackstrap Molasses
I'll be honest, blackstrap molasses can be a little intimidating to work with and definitely has a distinct taste but it's actually packed with vitamins and minerals!
Recipes to make with molasses: Healthy BBQ Sauce or Quinoa Gingersnap Cookies.
Brown Rice Syrup
Derived from brown rice, this natural sweetener is super thick and stick. It's 100% glucose (so no fructose) but it does have a high glycemic index.
Recipes to try with brown rice syrup: Vegan Brown Rice Crispy Treats or Chocolate Grain-Free Granola or Chocolate Almond Crispy Bites
Fruit
I didn't have this on my list at first but it definitely needs to be! Fruit is nature's candy, right? I love using fruit to sweeten smoothies, baked goods, oatmeal etc. One of my favorite fruit sweetened recipes is this coconut flour banana bread.
Stevia
Stevia is a sweetener extracted from the leaves of a plant. I use pure liquid stevia to sweeten things like coffee, plain Greek yogurt, my apple cider vinegar detox drinks… so many things! I occasionally use stevia in dessert recipes but I don't go overboard.
What About Artificial Sweeteners?
Artificial sweeteners are typically used to sweeten diet food products and drinks. You probably know them by their brand names… Equal, Sweet 'N Low, Splenda, etc. but there actual names are Aspartame (Equal), Saccharin (Sweet 'N Low) and Sucralose (Splenda).
These artificial sweeteners are highly processed and refined and have been controversial since their release in the 1950s. And there are numerous studies that link artificial sweeteners to numerous health like headaches, weight gain and an addiction to overly sweet things. I personally noticed that when I have artificial sweeteners or products with these sugar substitutes, I actually crave more sweet foods. In college I used Splenda often and constantly wanted things to taste sweeter. Oatmeal, coffee, yogurt, smoothies… I added it to just about everything. As soon as I gave it up, it was amazing how sweet naturally sweet foods like apples and sweet potatoes started to taste.
If you haven't cut artificial sweeteners from your diet yet, I would strongly urge you to do so right now!