Vegan Rice Krispie Treats
29
Published Mar 01, 2021, Updated Nov 01, 2022
These vegan rice krispie treats are made with only five ingredients. The layer of chocolate on top makes them the perfect treat!
I have a little treat to share with you – gluten-free and vegan rice krispie treats!
Yup, you read that right… we're making tasty rice krispie treats without marshmallows!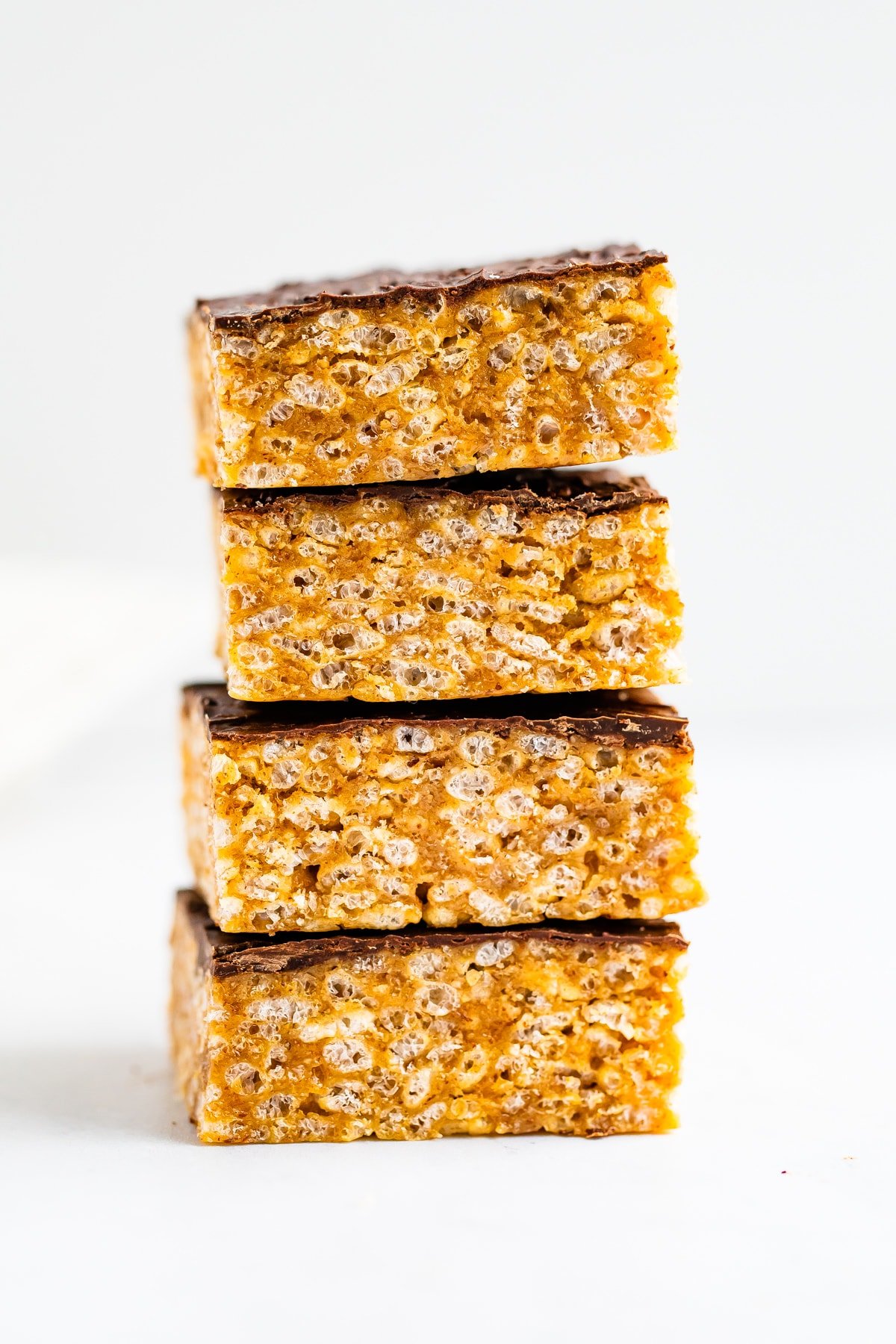 I basically grew up on these bars!
They were such a fun treat to have on hand and I remember making multiple batches to try to get the consistency just right – sometimes I heated the syrup mixture too long and the bars were rock hard and other times I didn't heat enough and the bars basically fell apart!
Back when I was testing these as a kiddo I was using marshmallows and Karo Syrup, but this is an upgraded version with low glycemic brown rice syrup!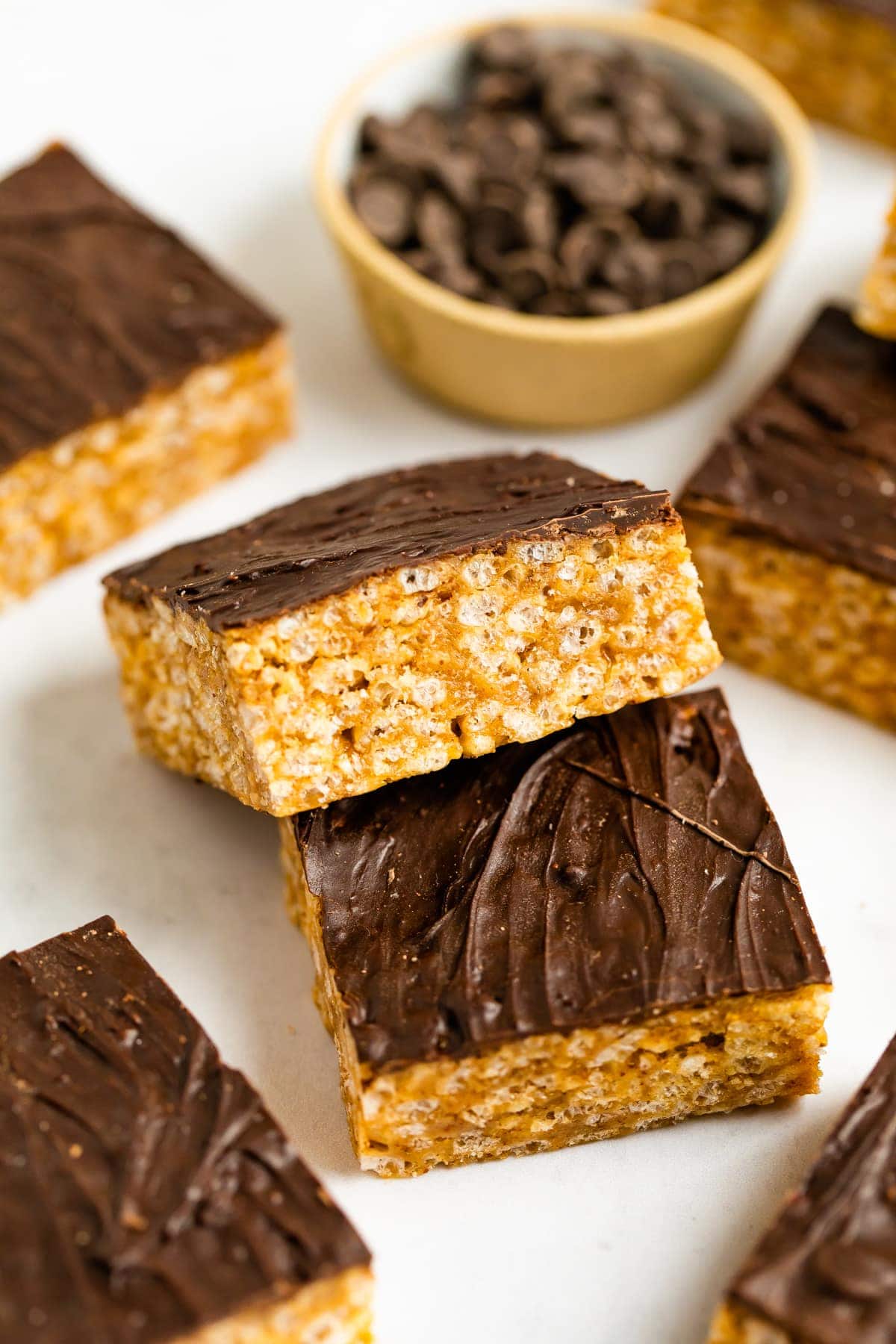 Don't let the "healthified" ingredients scare you away. These treats are still SO delicious. I may or may not have eaten the entire pan by myself…
Vegan Rice Krispie Treat Ingredients
brown rice crisp cereal – a gluten-free crispy cereal made from whole grain brown rice. You can find this in the cereal aisle at health foods store.
almond butter – peanut butter or cashew butter works great too. Look for a brand with just two ingredients – nuts and salt. You don't need the extra oil or sugar.
brown rice syrup – a natural sweetener with a relatively low glycemic index. You can find brown rice syrup at most grocery stores now, but if you're having trouble, check your local health food store.
chocolate chips – I used Lily's chocolate chips which are dairy-free and sugar-free, but still so delicious!
coconut oil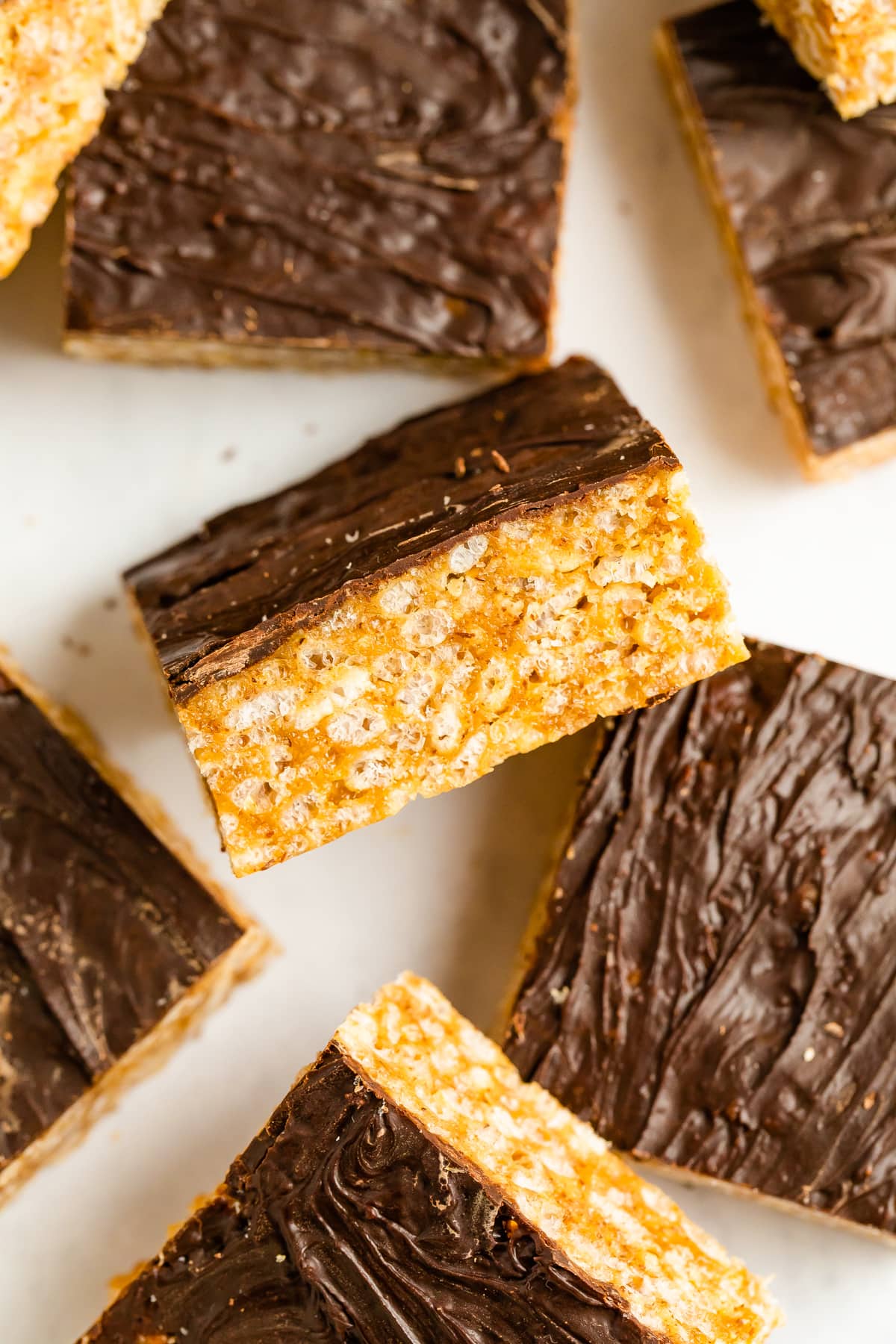 How to Make Healthier Rice Krispie Treats
Prepare pan: Line a 8×8 or 9×9 square baking dish with parchment paper or coat well with oil. These bars are sticky!
Measure: Measure rice cereal and place in a large bowl. Set aside.
Heat: Place brown rice syrup and almond butter in a saucepan over low heat. Heat while stirring until mixture is combined and creamy, about 3 minutes. Don't overheat or the mixture will start to harden.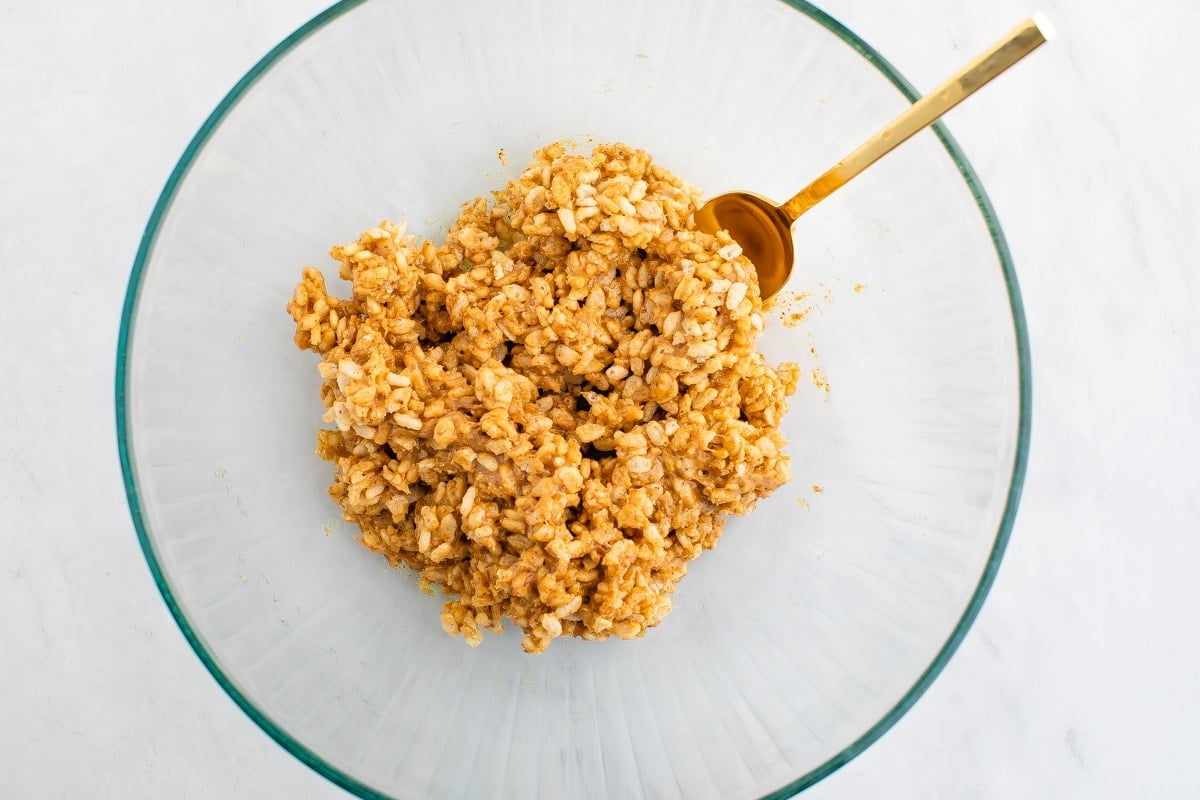 Mix: Remove the syrup mixture from the heat and pour over the rice cereal and stir until all cereal pieces are well coated. Transfer the rice cereal mixture to the prepared baking dish and press down firmly with your hands.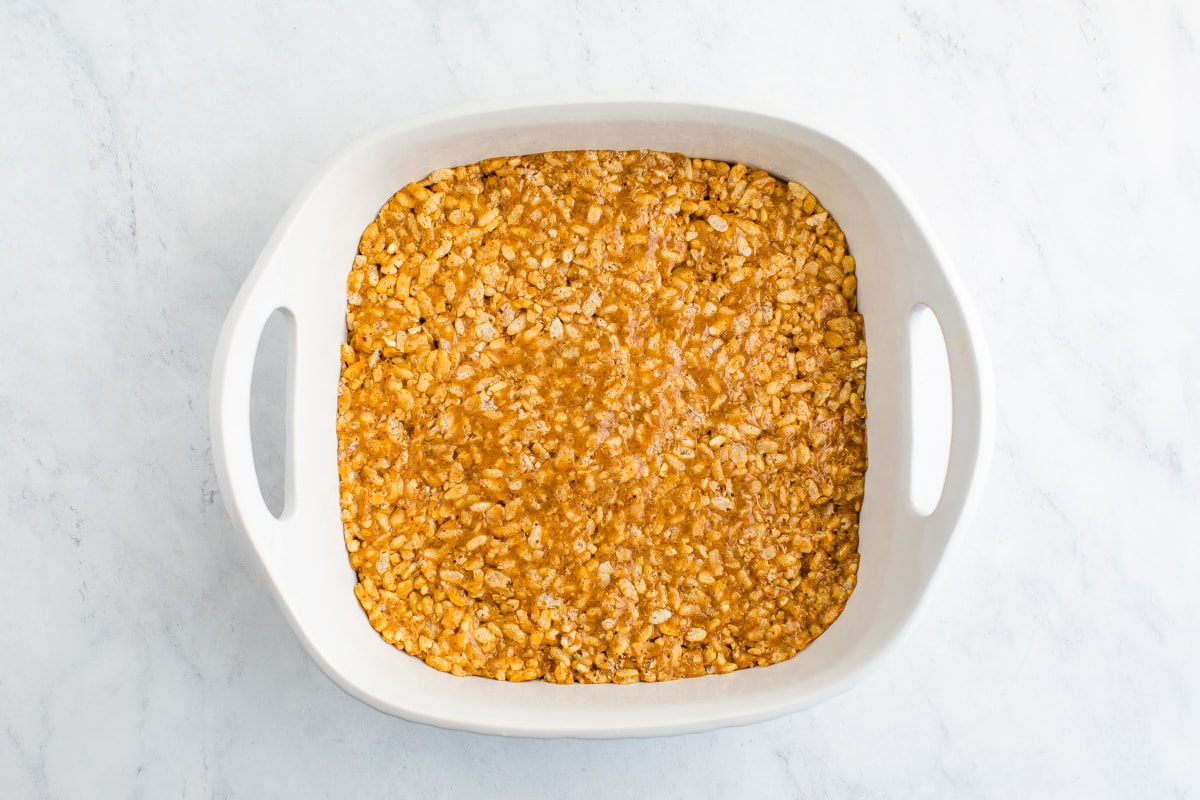 Melt chocolate: Add chocolate chips and coconut oil into a microwave-safe bowl and heat in the microwave using 30 second increments, stirring every 30 seconds, until chips are melted. It should only take 1-2 minutes. Once melted, add chocolate on top of rice krispie treats and spread so it creates an even layer.
Let cool: Let cool in the fridge for 1 hour before cutting into squares and serving.

How to Store Leftover Rice Krispie Treats
Store any leftover treats in an airtight container in the refrigerator for up to a week. If you need to store for longer, these should freeze well for up to a month.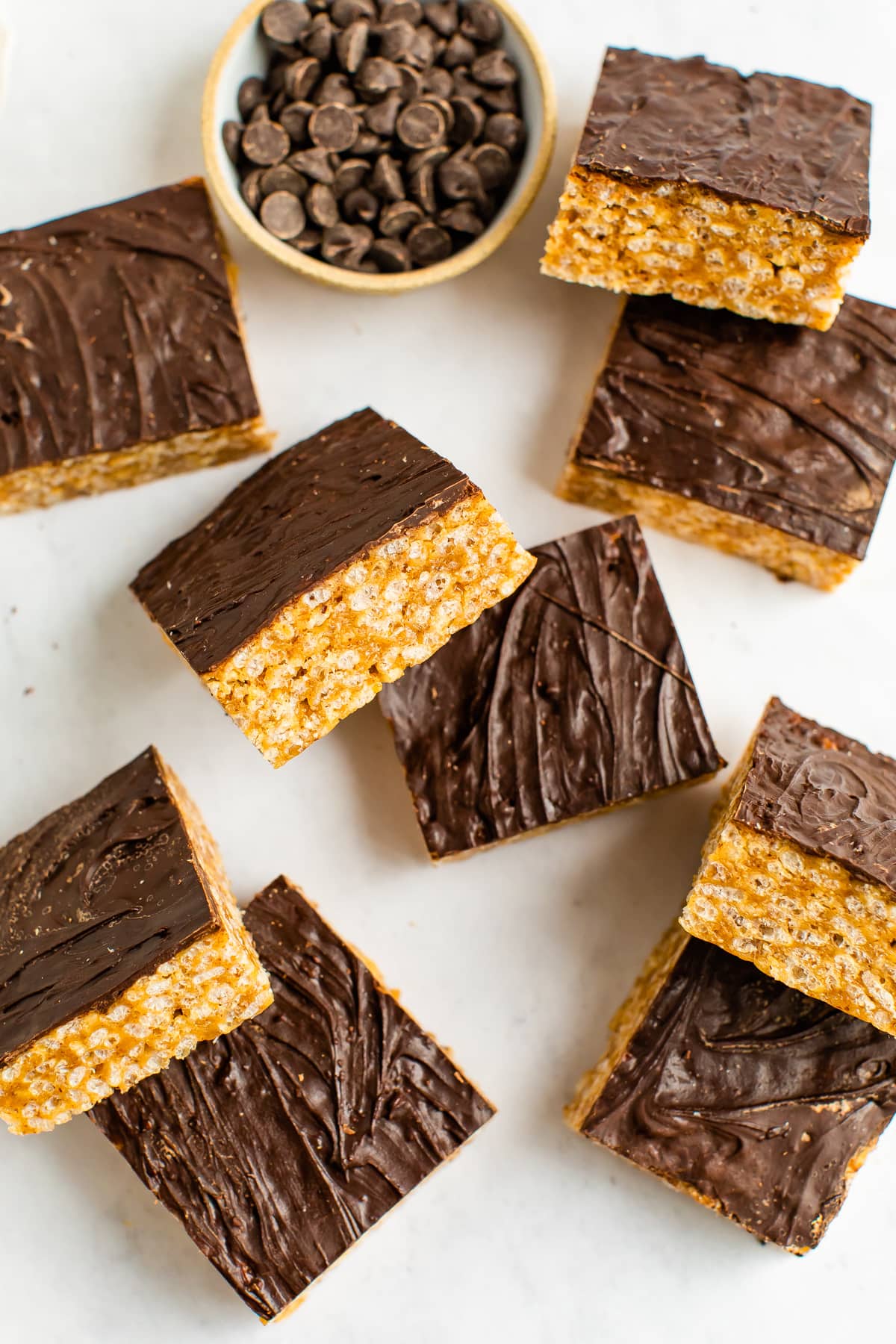 More Vegan Treat Recipes to Try