These watermelon fries are served with a 2-ingredient yogurt dip for the perfect summertime snack that's refreshing and easy to make.
Looking for a fun way to enjoy watermelon this summer? You have to try these watermelon fries that went totally viral thanks to Heather at Happy Kid's Kitchen on TikTok.
They're a sweet, hydrating snack that's great for kiddos and summer cookouts. And whatever you do, don't skip the yogurt dip… it's creamy, tangy, sweet and pairs perfectly with the fresh watermelon.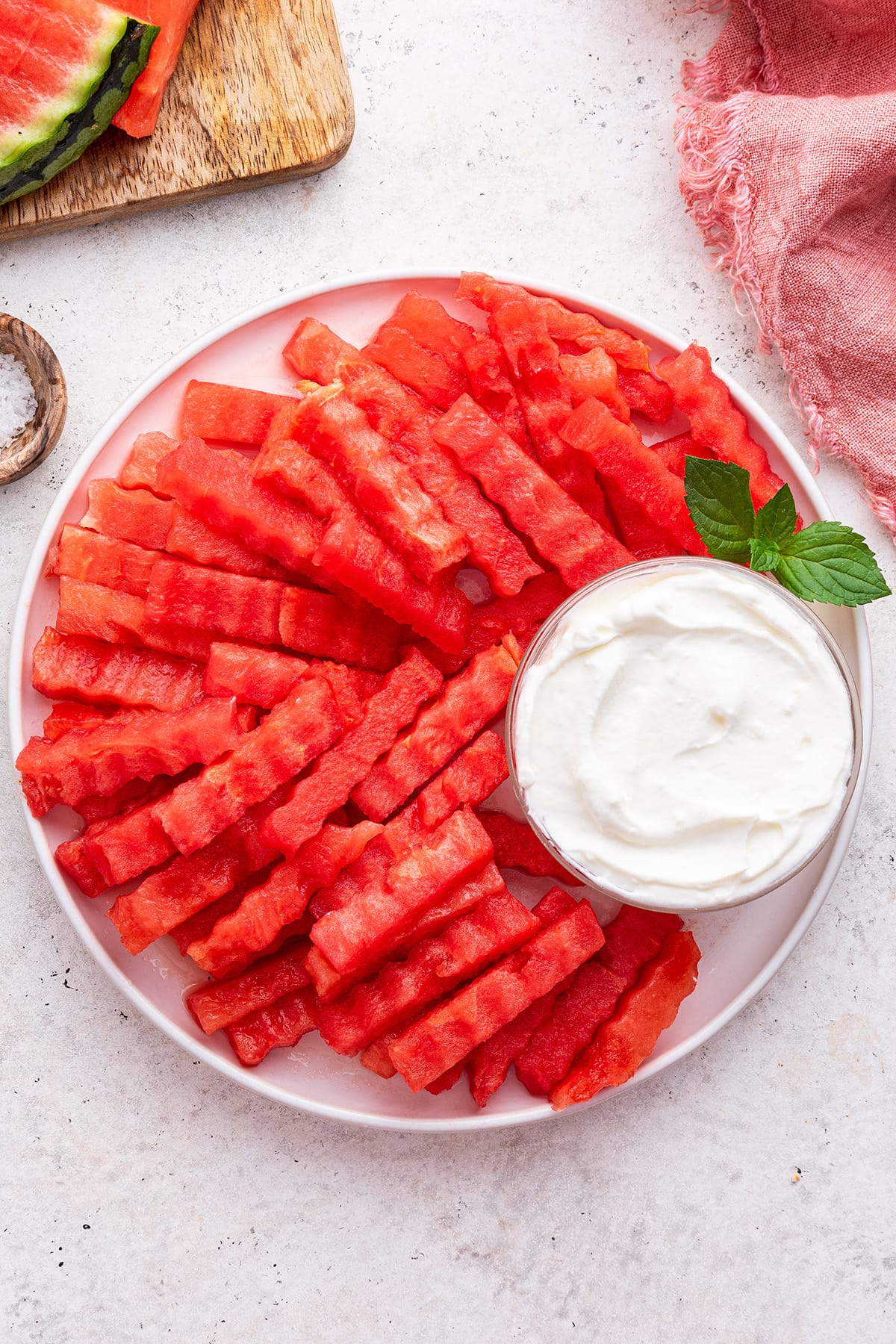 Why You'll Love This Recipe
It's a fun way to eat watermelon!
It's adult-approved and kid-friendly. Kiddos will love eating watermelon as fries!
Watermelon is low in calories and packed with hydration, making this a guilt-free snack you can enjoy generously.
It's the perfect snack for hot summer days, cookouts and potlucks.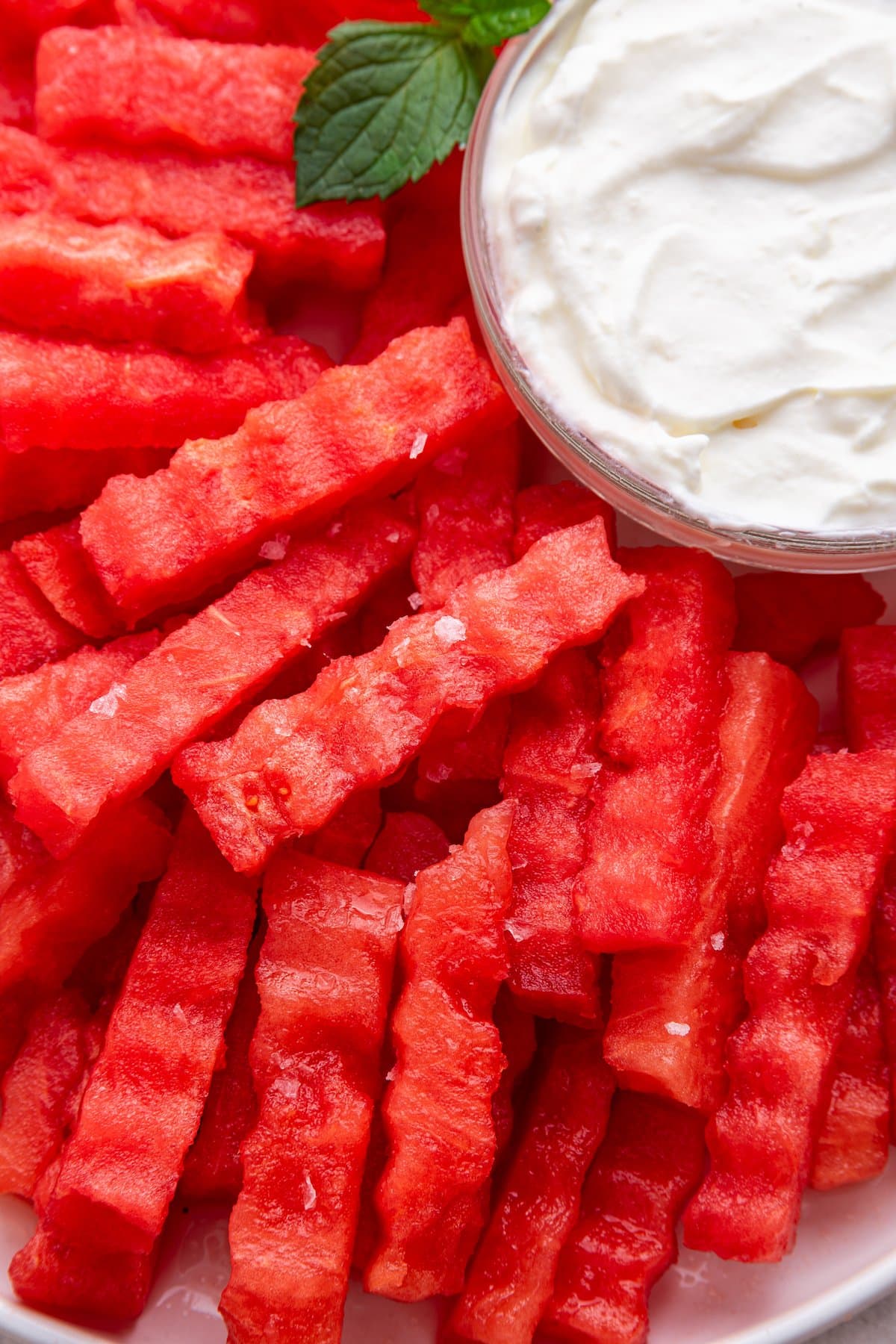 Watermelon Nutrition
Eating watermelon isn't just a fun experience; it also packs several health benefits! Watermelon is over 90% water, keeping you hydrated, especially during those warm summer months.
This fruit is a nutrient powerhouse, offering essential vitamins A and C, crucial for skin health and immune function, along with other key minerals like potassium and magnesium. The high antioxidant content, including lycopene, promotes wellness by potentially reducing the risk of certain chronic diseases.
Watermelon also aids digestive health with its fiber content and supports eye health due to its beta-carotene content, which our bodies convert to vitamin A. Who knew watermelon had so many nutritional benefits?!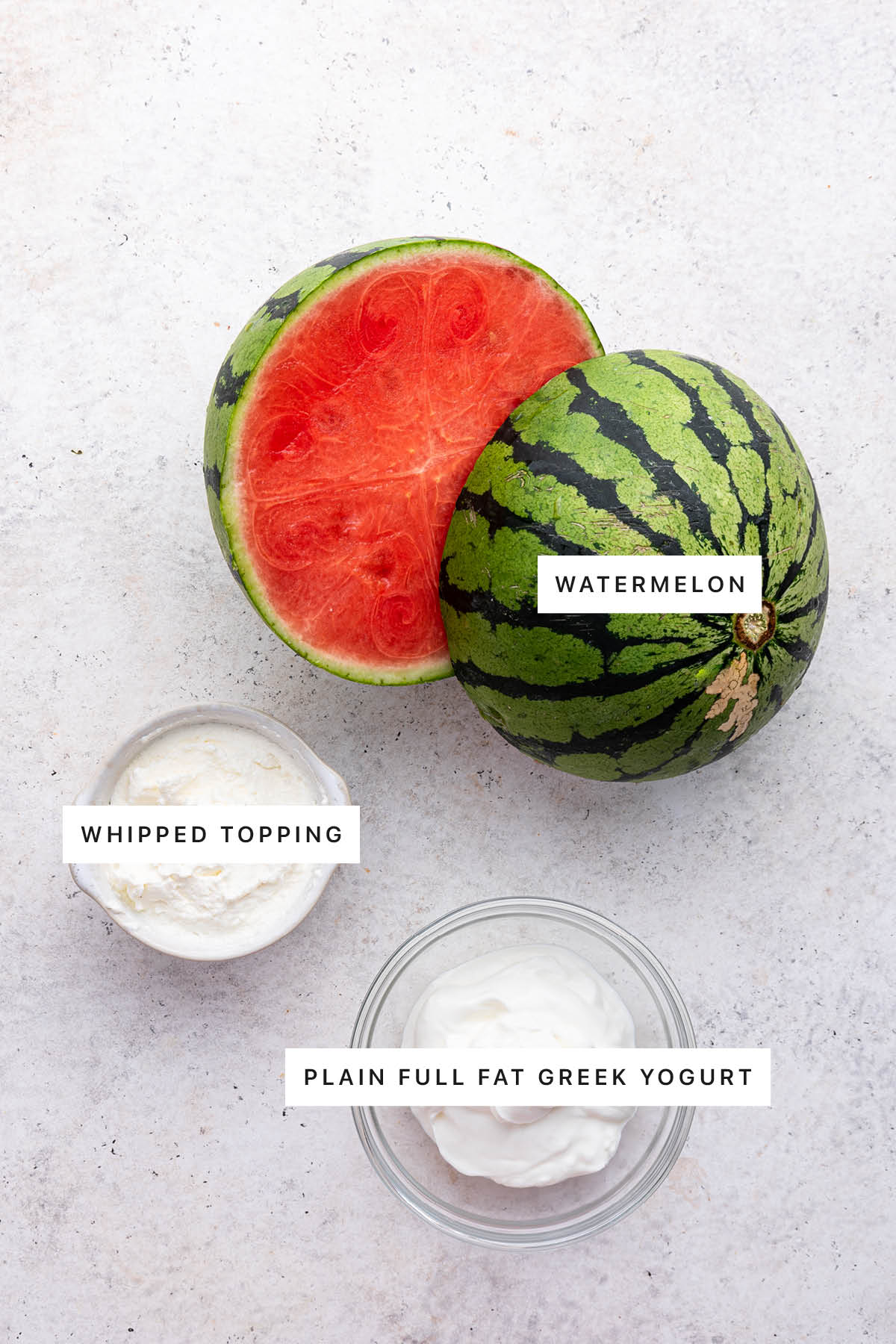 Ingredients Needed
This simple yet refreshing recipe requires only a few ingredients:
watermelon – choose a small to medium seedless watermelon. The size of the watermelon will determine the length of your watermelon sticks.
Greek yogurt – the foundation of our dip, giving it a creamy, tangy base and some added protein. My go-to yogurt brands are Fage 5% plain Greek yogurt and Siggi's plain whole milk yogurt.
whipped topping – to add a light, airy texture and some sweetness to the fruit dip we're mixing the yogurt with whipped topping. I prefer Truwhip, but Cool Whip or So Delicious dairy-free CocoWhip will work just as well.
salt – optional, but highly recommended. A sprinkle of kosher salt or flaky sea salt (I love the Maldon sea salt flakes) balances the sweetness of the watermelon and brings out its flavor. Pro tip: if you're serving this to kiddos, you might want to skip the salt. Both Olivia and Tucker didn't love the salt!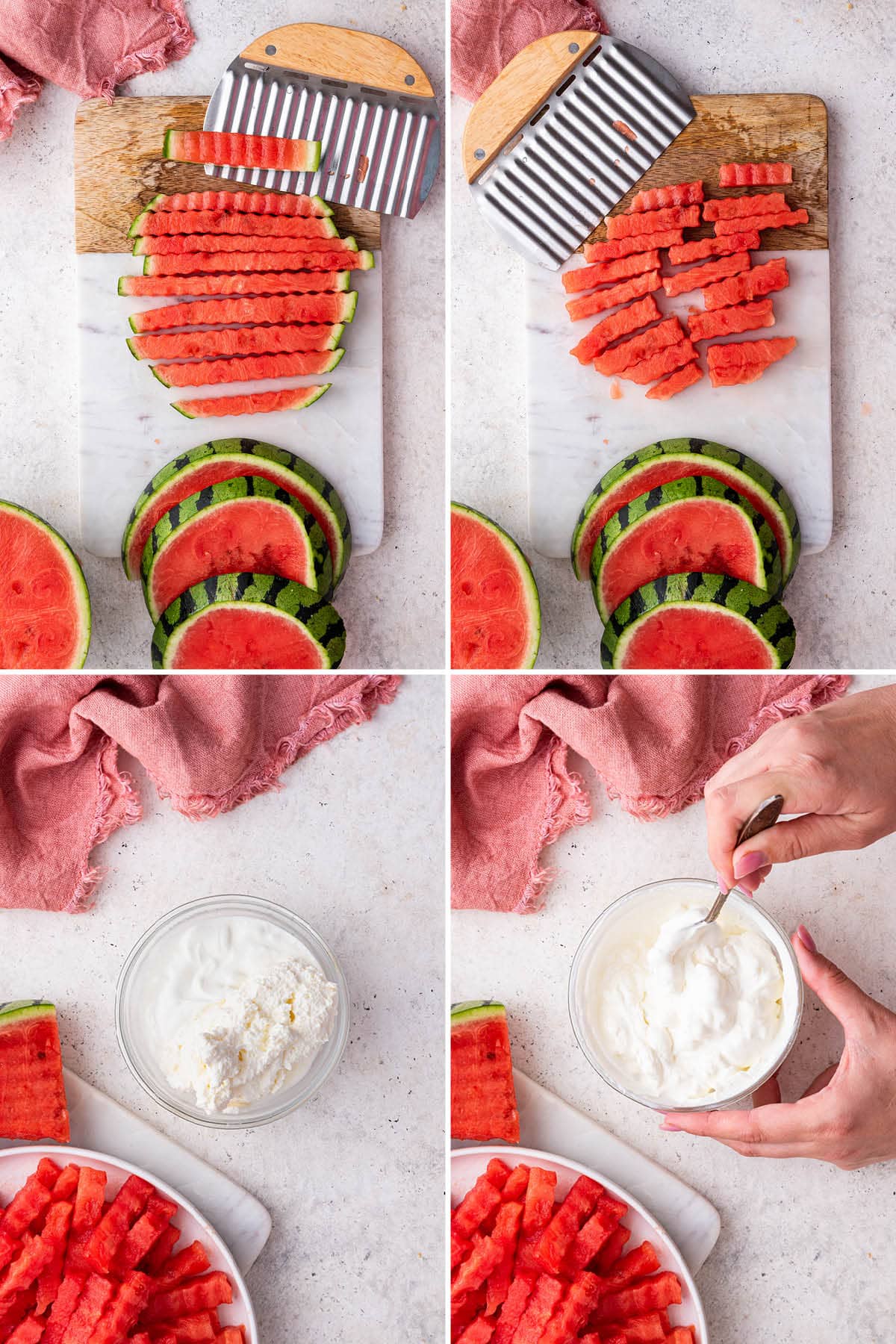 How to Make
Cut the watermelon: Slice your watermelon into thin, 1/4-inch rounds. Then, cut these rounds into french fry shapes using a crinkle cutter. If you don't have a crinkle cutter, you can use a regular knife, your "fries" just won't have the crinkle-cut shape.
Make the dip: Whisk your Greek yogurt and whipped topping together in a medium bowl until well-mixed.
Serve: Lay out the watermelon slices, sprinkle with optional flaky sea salt, and serve with the dip on the side. If prepping ahead, store the fries and dip separately in the fridge until ready to serve. Enjoy!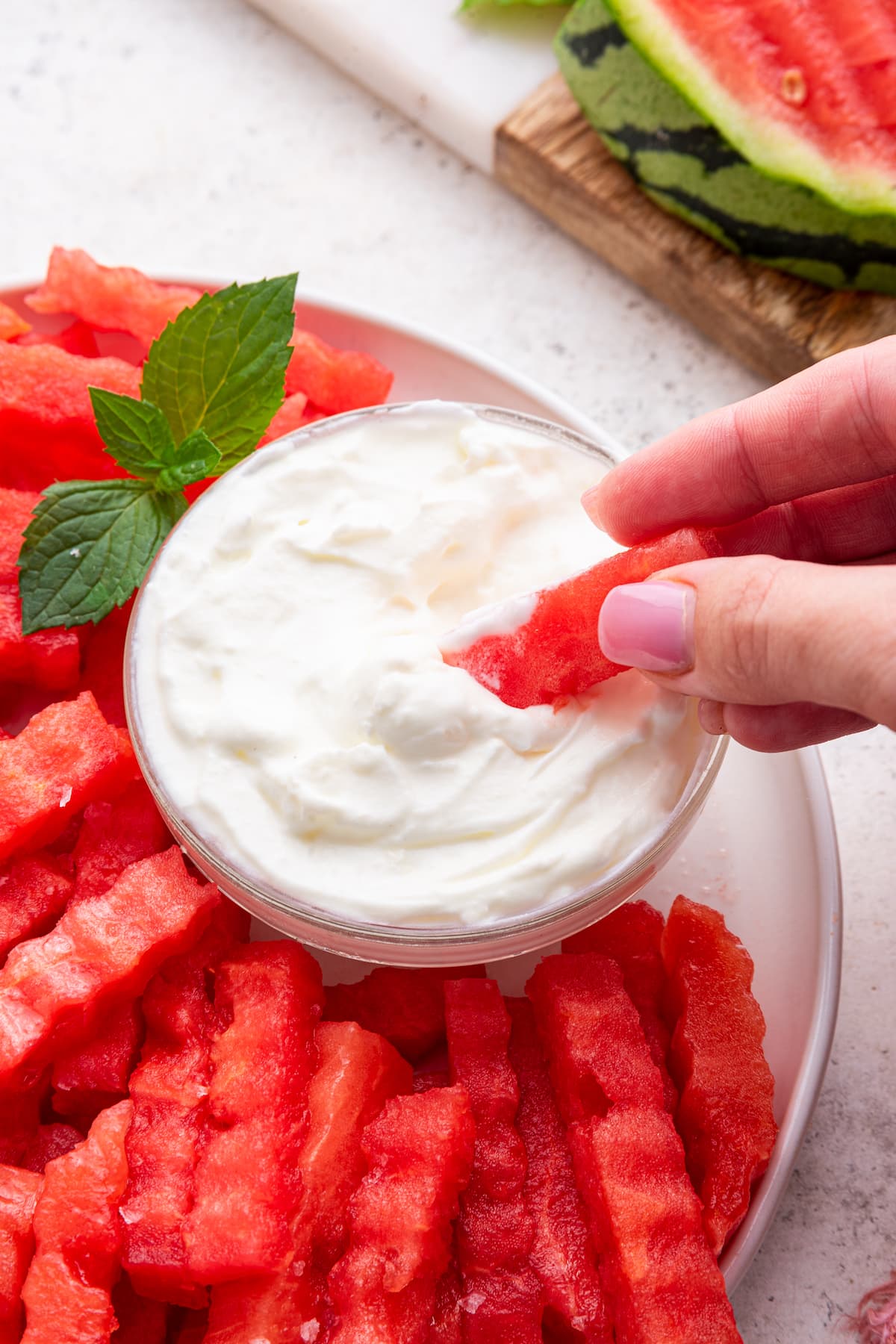 Variations
This recipe is versatile and there are plenty of ways you can change it up to make it your own:
Spice things up: Add a dash of ground black pepper, cayenne pepper, chili powder or tajin seasoning to your watermelon fries for a little kick of heat. These spicy watermelon fries would pair particularly well with a lime-infused dip or just a squeeze of lime juice and lime zest on the watermelon fries.
Add sweetness: Add your sweetener of choice like cane sugar or a little bit of honey before serving for an extra sweet treat. Try pairing with a cream cheese dipping sauce for a dessert-like experience.
Fruity twist: Replace half of the watermelon with other fruits like mango, pineapple, strawberries or kiwi. Ensure they are sliced to a similar thickness for a variety of 'fries'.
Savory: Sprinkle some feta cheese crumbles on the watermelon fries just before serving. The salty feta pairs perfectly with the sweet watermelon.
Vegan: Use a dairy-free whipped topping and swap the Greek yogurt for a non-dairy coconut yogurt of choice for a vegan version of the yogurt dip.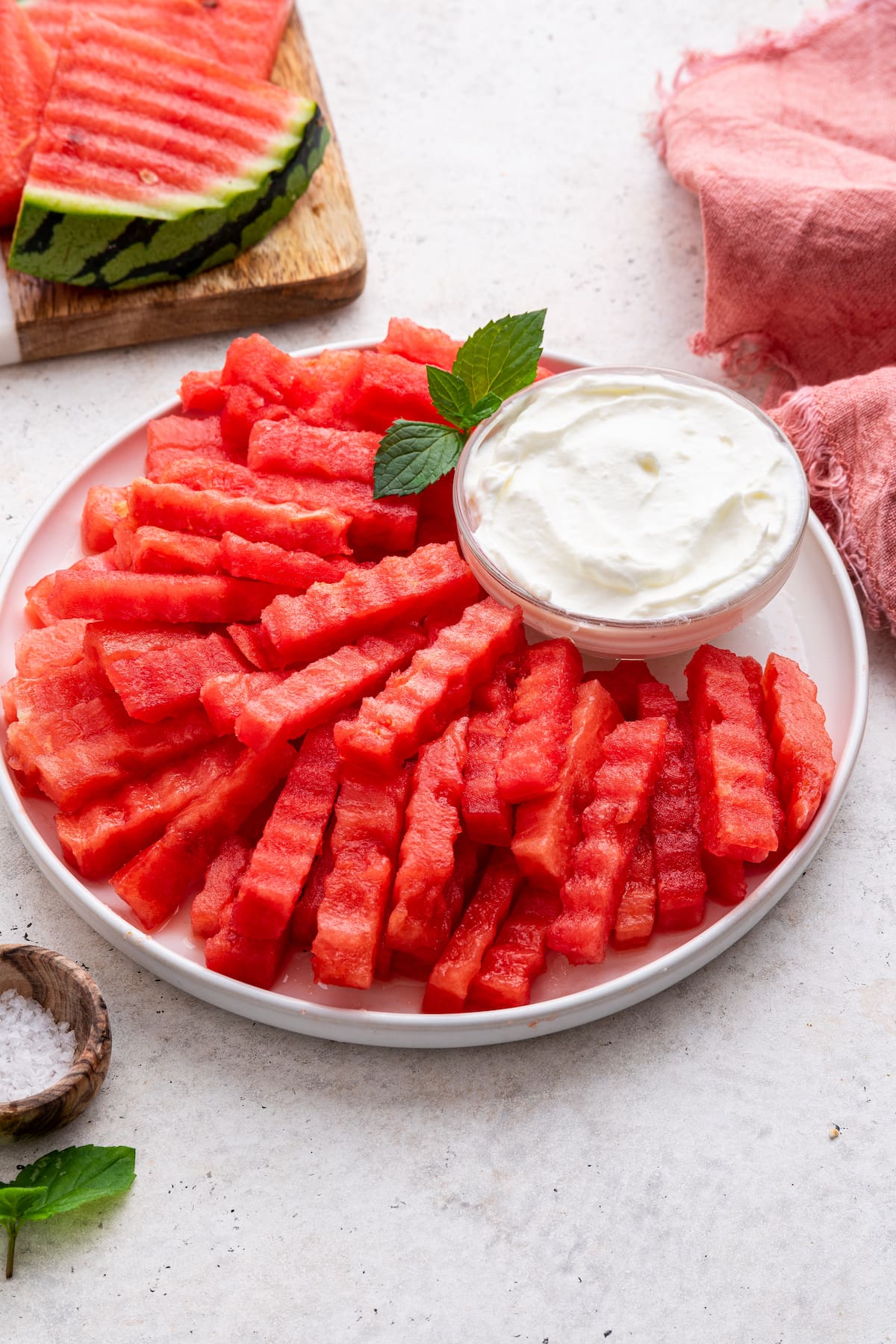 Tips For Success
Watermelon selection: Choose a ripe, seedless watermelon for the best flavor. You'll know it's ripe if it sounds hollow when you tap it, and it has a uniform shape with no dents or bruises. If the outer rind of the watermelon is soft, it may indicate an overripe fruit.
Perfectly shaped fries: To achieve the perfect fry shape, use a crinkle cutter. This will give your watermelon the textured appearance of traditional fries and make them funner to eat!
Pat dry: If your watermelon is overly juicy, pat the "fries" dry with a paper towel before serving. This will help prevent them from becoming soggy and diluting the dip.
Chilling is key: While you can eat these right away, chilling the watermelon fries in the fridge before serving can enhance the refreshing taste, making this the perfect snack for hot summer days.
Customize your dip: The Greek yogurt and whipped topping dip is just a base – feel free to add in your favorite flavors like cinnamon, vanilla, lime or even a touch of honey. You can also add fresh fruit (like strawberries) to the dip by adding the ingredients to a blender for a smooth, fruity dip!
Prep ahead: These can be made a few hours ahead of time, just keep them chilled in the fridge and add the sea salt (if using) just before serving.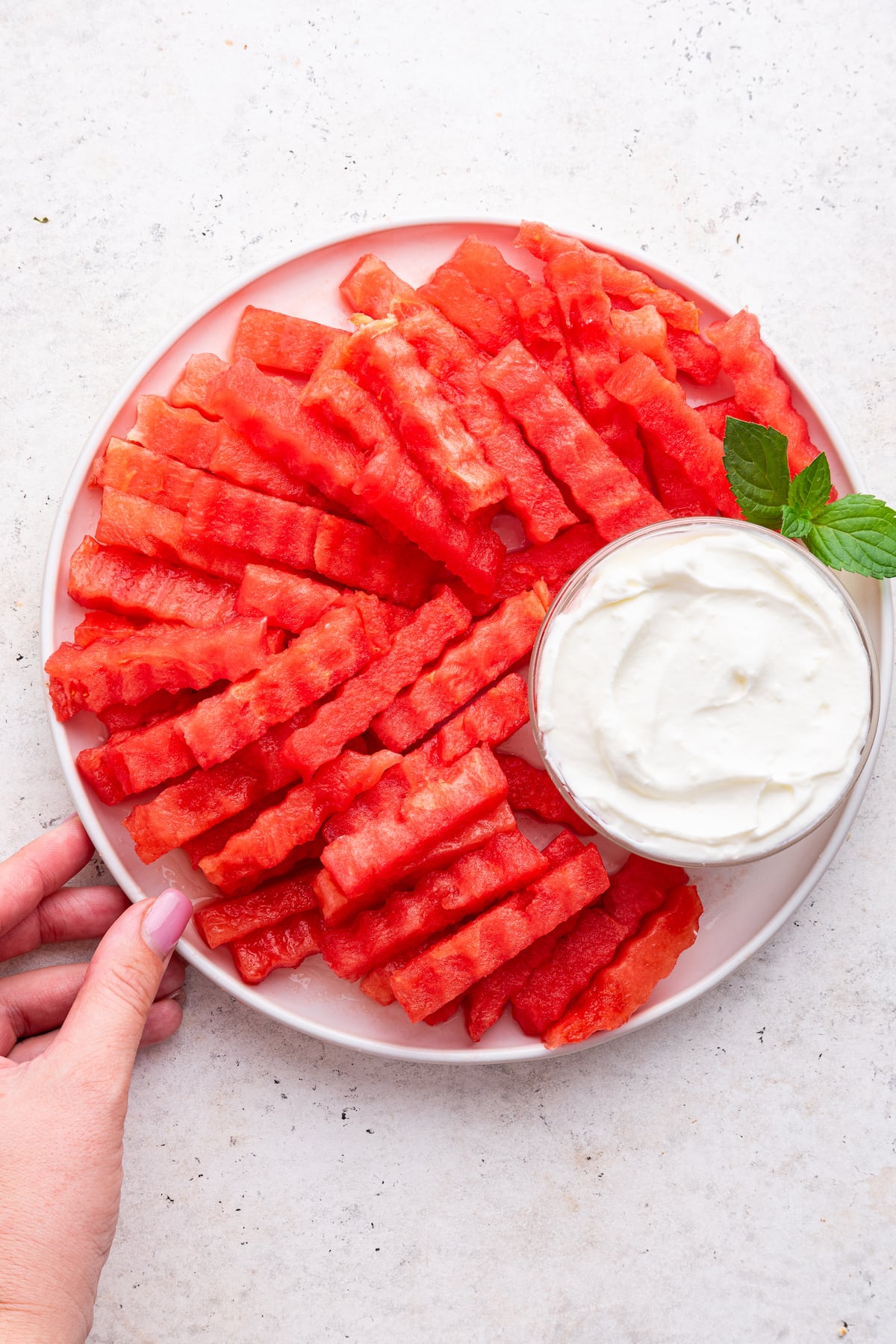 How to Store Watermelon Fries
Watermelon fries are best enjoyed the same day you cut them, as this is when the fruit is the freshest and most crisp. However, if you do have leftovers, they can be stored in an airtight container in the refrigerator for up to 2 days. Because watermelon is mostly water, it can become a bit mushy when refrigerated for longer periods. The dip should also be stored separately in the fridge and will last for about 3-4 days.
More Summer Recipes to Try
Be sure to check out all of the summer recipes as well as the full collection of snack recipes!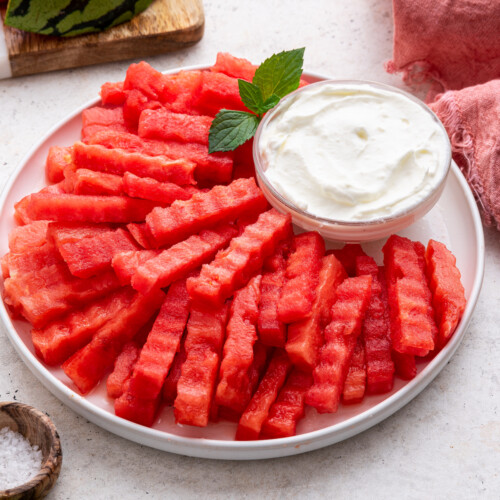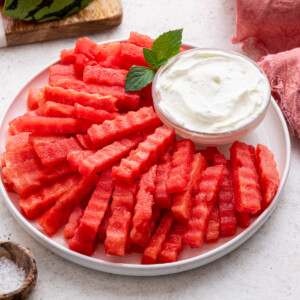 Watermelon Fries
These watermelon fries are served with a 2-ingredient yogurt dip for the perfect summertime snack that's refreshing and easy to make. 
Ingredients
1

small-medium

seedless watermelon

½

cup

full fat plain Greek yogurt

½

cup

whipped topping

,

I used TruWhip

flaky sea salt

,

optional
Instructions
Slice your watermelon into thin rounds (about 1/4 inch thick) and then use a crinkle cutter to cut the watermelon into french fry shapes. Make sure to remove the rind.

Add the yogurt and whipped topping to a mixing bowl and whisk together until combined.

Plate the watermelon fries, sprinkle on a little sea salt (if using) and serve with the dip. Enjoy!
Nutrition
Serving:
1
/6 recipe
|
Calories:
84
kcal
|
Carbohydrates:
14
g
|
Protein:
3
g
|
Fat:
2
g
|
Saturated Fat:
2
g
|
Cholesterol:
3
mg
|
Sodium:
12
mg
|
Potassium:
173
mg
|
Sugar:
2
g
Nutrition information is automatically calculated, so should only be used as an approximation.