Grain free coco-nutty granola made with coconut, a variety of nuts, coconut oil and cinnamon. Paleo, gluten-free, low carb and low sugar.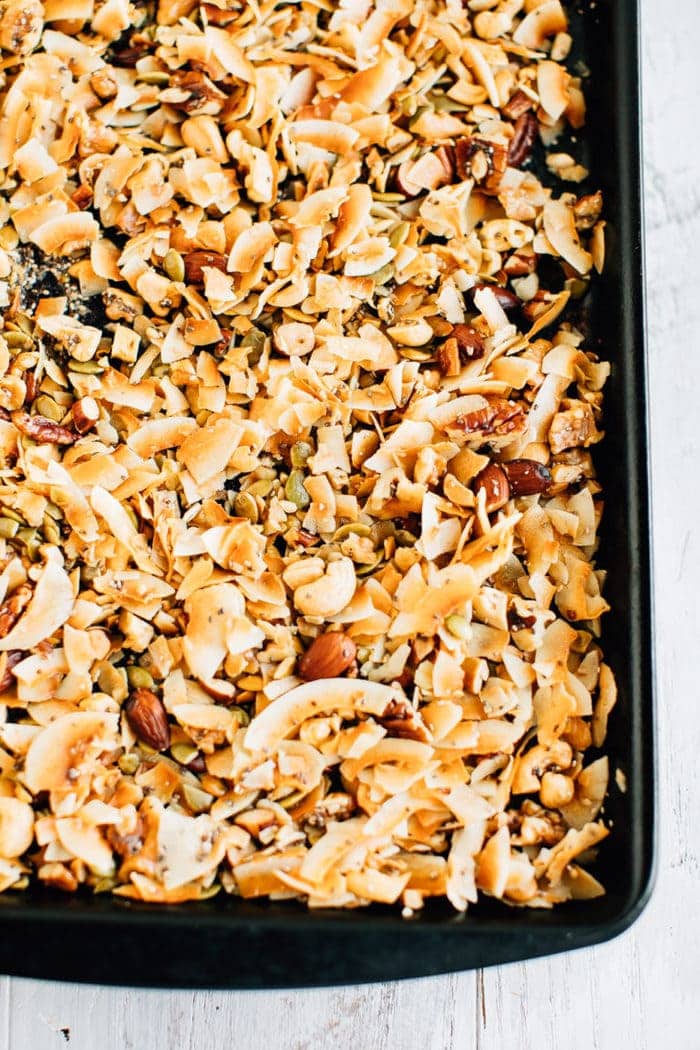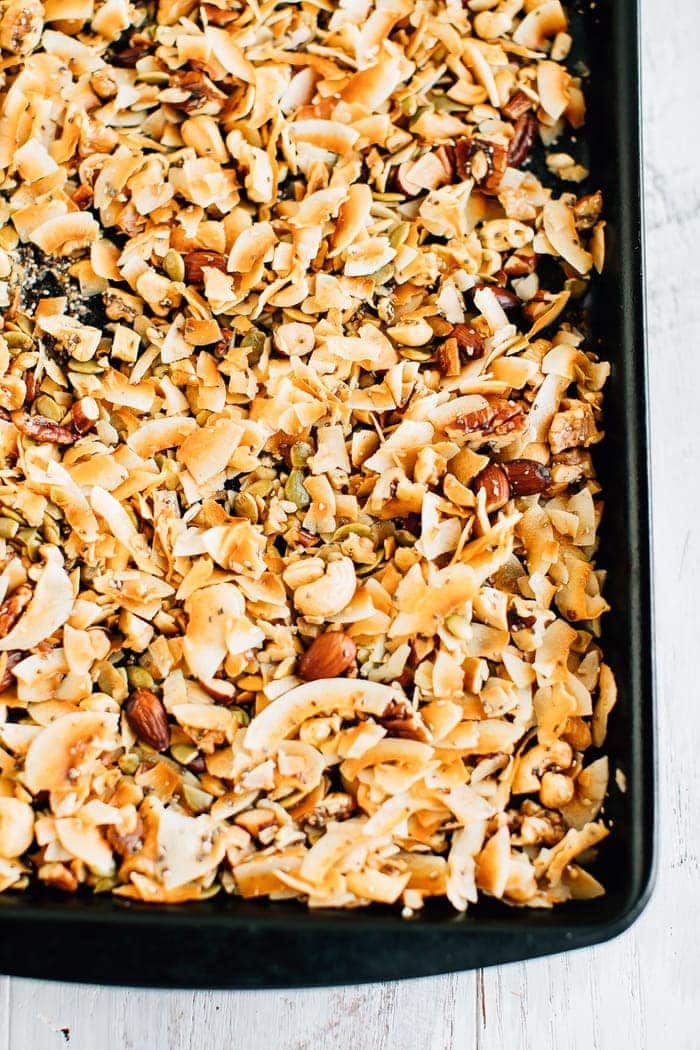 Sugar is a hot topic in the nutrition world today — and for good reason. Many prevalent health concerns (think Type 2 diabetes, high cholesterol, cardiovascular disease, liver cirrhosis and dementia) have all been linked to diets loaded with sugar, most of it coming from the added sugars in processed foods and sweetened beverages.
There are news articles, books and blog posts being published every day about the effects of sugar and how to cut back. I was recently given the chance to do a phone interview with one of the top players in the war against sugar — Sarah Wilson. Sarah is the former editor of Cosmopolitan magazine (in Australia), a journalist, television host, blogger and a fellow health coach (she and I did the same IIN health coaching program).
Sarah had been told by numerous specialists and nutritionists that she should give up sugar to help heal her autoimmune disease (Hashimotos, a disease that attacks the thyroid), but didn't commit until one week when she was running low on topics to write about for her newspaper column. She gave up sugar for two weeks and the effects were immediate. She ended up sharing her story with the readers of the magazine and on her personal blog.
People were really intrigued and wanted more information. She eventually decided to write an ebook. After much success with the ebook, she published I Quit Sugar For Life in Australia. It became a best-seller and she then launched a version in the UK and now the US version is officially here.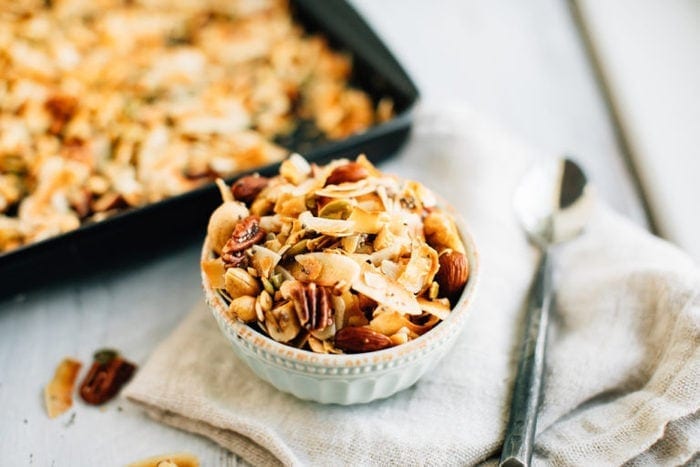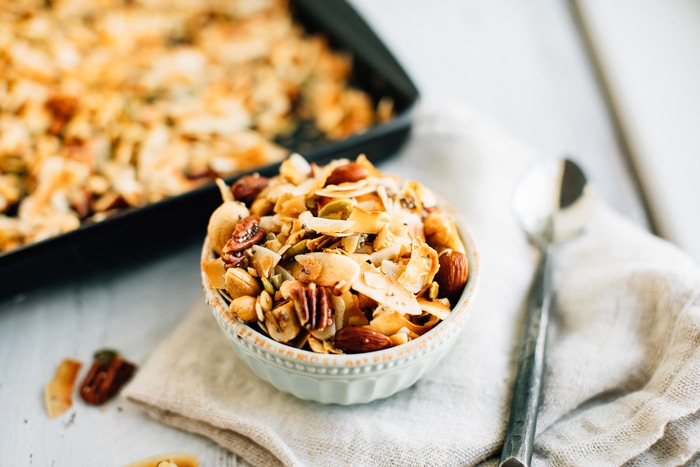 Ready to learn more about Sarah and why she so strongly supports quitting sugar. Read on! Everything italicized is from me rather than Sarah. 🙂
Q: Who is I Quit Sugar for? Women, men, those who feel they are addicted to sugar? Folks looking to lose weight?
A: The book was originally written for my blog readers, which tends to be women aged 25-35 and surprisingly, a lot of men in their 60s.
In the book she asks the following questions and mentions that before she quit sugar she answered 'yes' to almost all of them. She then goes on to say, if you answer yes to most of the questions too, then have a go and see if quitting sugar works for you!
Do you get an energy slump in the afternoon?
Do you need something sweet after meals?
Does your stomach get bloated after eating?
Are you unable to eat just one piece of cake and walk away?
Are you pudgy around the middle, perhaps even slim everywhere else?
Do you often feel unclear? That you're not always sharp and on-form?
With this, I say that I Quit Sugar is for anyone who thinks that they may be addicted to sugar or for those looking to learn more about lowering their sugar consumption. 
Q: You mention emotional eating in the book and that it's often linked with sugar addiction. Can you explain that a little more? 
A: Sugar is associated with all sorts of celebrations. When you're unwell, you look to sugar. Our culture normalizes treats with sugar. When you've had a tough day or you're in the middle of doing tough work, you crave a sugary treat. The stuff is gnarly — some say as addictive as cocaine and heroin — and it's in front of us everywhere we turn. And, we're actually biologically programmed to binge on it and to be obsessed by it.
Q: For the 8 week detox plan you recommend cutting out all sugar — even fruit? Why is this and what about sweet vegetables like peppers and sweet potatoes? Are these items off limits as well? 
A: When you first quit sugar, I recommend quitting all of it. Including fruit, fruit juice, agave and honey. Some nutritionists advise just cutting out the added sugars. But a lot of sugar experts agree: it's best to get rid of all of it at first so that you can break the addiction and then recalibrate. At the end of 8 week period you can reintroduce whole fruit to figure out what your body can handle. But you keep it as a treat — perhaps having berries or kiwi in place of dessert.
Once the 8 week detox phase is over, it's recommend that daily sugar intake shouldn't exceed 6 teaspoons for women and 9 teaspoons for men.
And yes, all veggies are fine during the 8 week period, but I do recommend keeping a close watch on tomatoes (especially canned tomatoes) because they are higher in sugar. Having one or two slices on a sandwich or salad isn't a big deal but sun-dried tomatoes are off limits.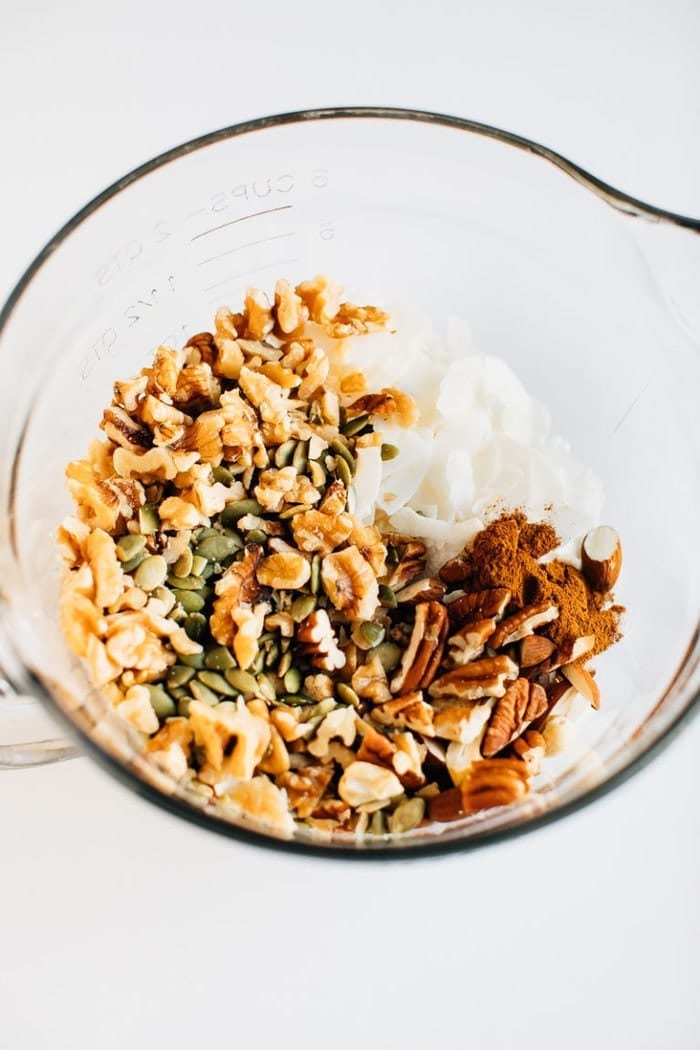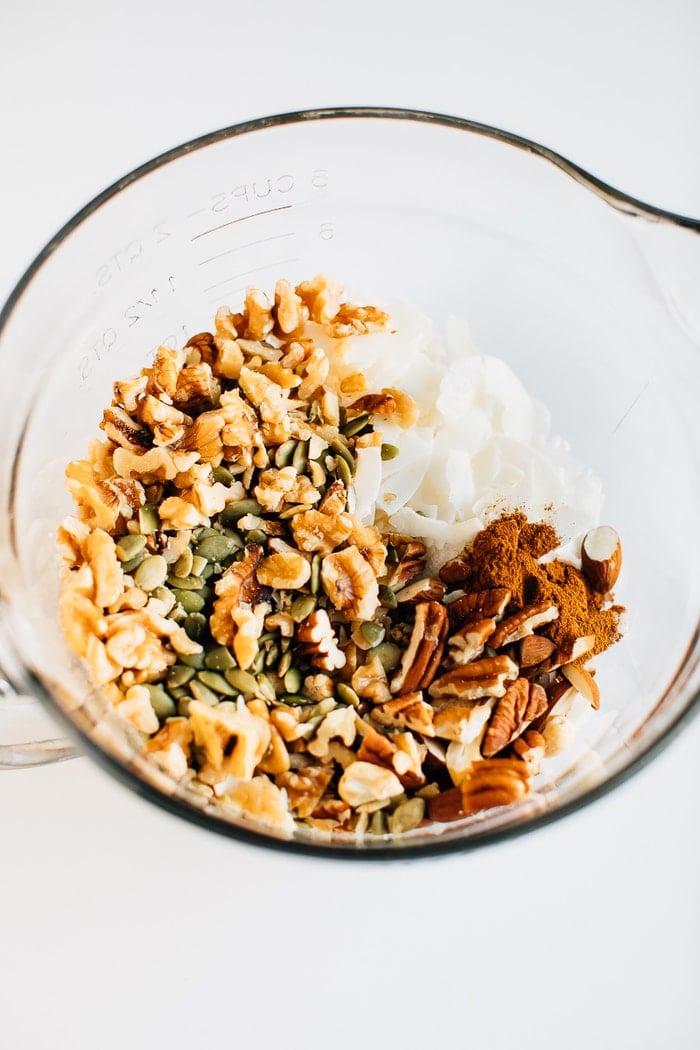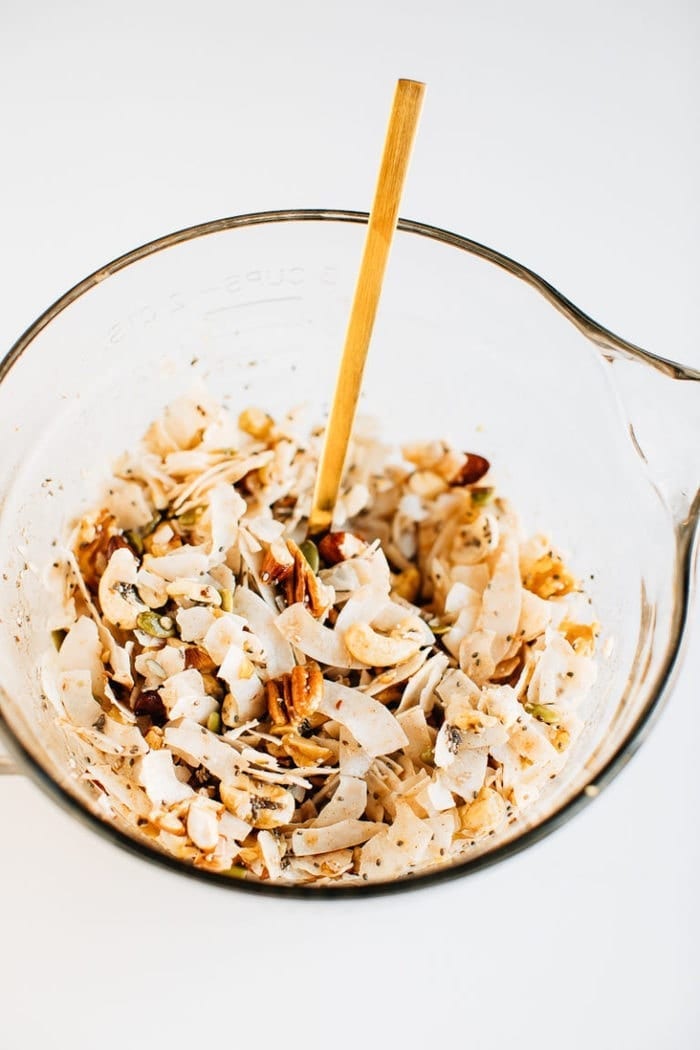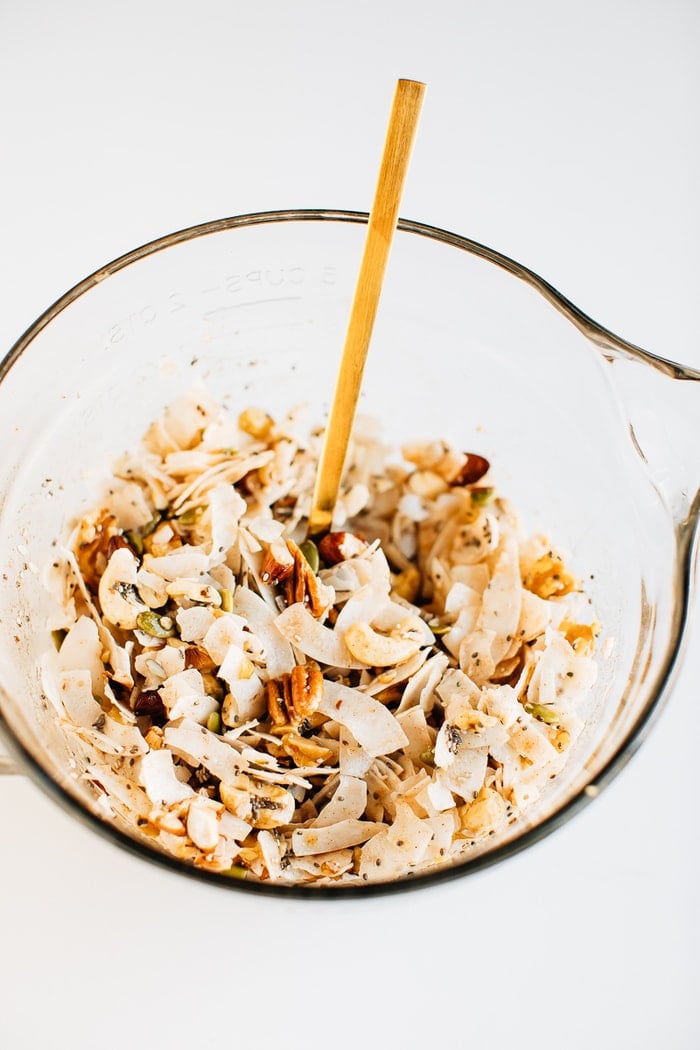 Q: It seems that fructose is the worst sugar to eat. Why is this?
A: Your body transforms table sugar into fructose (and glucose), and the sugar in fruit is also fructose. Honey is 40% fructose and agave is up to 90%. Every molecule we eat has a corresponding appetite hormone that, when we've eaten enough of said molecule, tells our brains "Okay, we're full now." The only exception to this is fructose.
Why would mother nature do this? Well, back in the caveman days, sugar was highly valuable (insta-energy for chasing wildebeast) and extremely rare (folks were foraging and finding a berry here and there). Thus we evolved with no fructose "full switch," so that when we did stumble on a berry bush we could gorge ourselves silly (and store it as instant fat). Our digestion and metabolisms haven't changed in over 100,000 years. Our sugar intake, however, has. In just 150 years it's gone from 0kg to about 60kg a year.
The way fructose is converted in our bodies means it's not used upfront as energy, but converted directly to fat. It also becomes like a porridge in our arteries, leading to cholesterol and cancer… and the rest. Eating fructose is like eating fat that your body can't detect as fat.
Q: You mention the use of brown rice syrup (rice malt syrup) and stevia to sweeten. Why are these your top choices?
A: Rice malt syrup is fermented brown rice and syrup and it's about 80% water. It breaks down as glucose in our bodies. It appears that the cells in our body can metabolize glucose easier than fructose which just gets dumped on our liver and can be converted directly to fat. This doesn't mean we can eat glucose in excess, at the end of the day it's still a sugar and will still impact our blood sugar levels, but it doesn't have the same metabolic effect on our liver as fructose. That said, even non-fructose sweeteners like rice malt syrup can continue the blood glucose cycle and we continue to hunt out the sweet taste.
I've also found that once folks quit sugar, their taste receptors change and you're able to cut back on the amount of sweetness when cooking and baking.
Q: What are some of the must-make recipes from the book?
A: The most popular recipe by-far is the Coco-Nutty Granola. It's grain-free and packed with healthy fats. <— more on this soon! 🙂 The Raspberry Ripple is also very popular. And for the savory side of things, the Cheesy Green Mish-Mash Soup. It combines coconut oil which is thermogenic and can help you lose weight with pureed vegetables and cheese. The fat content is helpful for absorbing all the nutrients from the vegetables.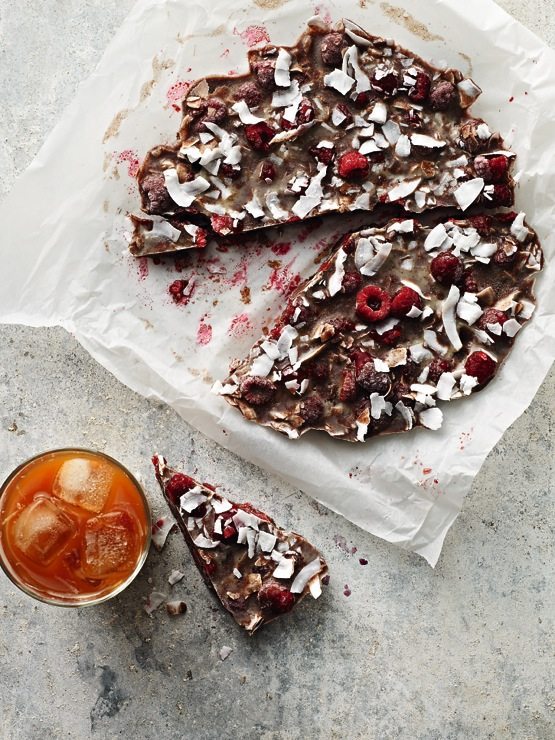 Doesn't the Raspberry Ripple look amazing?
After interviewing Sarah and reading through the I Quit Sugar book, here are my thoughts:
We eat WAY too much sugar and much of it is processed.
It's really eye opening to realize how much sugar you're eating in a day — even if it's natural, good-for-you sugar, it's still sugar.
Fat isn't evil and coconut oil is amazing (I already knew this but it was good to see it in the book). I think Sarah loves coconut oil just as much as I do! 🙂
Sarah shares how quitting sugar worked for her and giving a gentle invitation for others to try it too. The book is titled, "I Quit Sugar" not "You Must Quit Sugar."
Sarah feels amazing since quitting sugar. She's been able to manage her autoimmune disease, lose weight and looks years younger. <— Sugar ages your skin and causes wrinkles just like sun damage.
Sarah is awesome — down to earth and inspiring. She also has an adorable accent. I have a bit of a girl-crush on her.
I haven't decided if I'm going to embark on the 8 week I Quit Sugar challenge — although, I am seriously considering it after reading the book. I'm sure it would make for a great blog series. 🙂
I have changed my eating habits at bit. I'm now more aware of my cravings for sugar after lunch and dinner and trying to break the habit of reaching for something sweet. I'm also keeping a closer eye on how many grams of sugar I'm eating each day and reading labels to see if there are hidden sugars in the packaged foods we eat (like condiments, marinara and soups).
I also realized that my beloved sriracha (something I was squirting on everything multiple times a day) is packed with sugar. I was bummed but now I'm back to using a vinegar based hot sauce for my eggs and I really haven't missed the sriracha all that much. I've also cut back on the amount of fruit I've been eating — especially dried fruit.
Back to the book… In addition to the 8 week detox program, the book has over 100 sugar-free recipes — with beautiful photos I might add. I've already bookmarked a bunch to try but after hearing from Sarah that the granola was one of the most popular recipes, I knew I needed to make a batch.
I made mine without the brown rice syrup and it turned out to be delicious. I can totally see why it's such a popular recipe. It does a great job of satisfying my craving for sweet and crunchy granola but without the grains and added sugar. It's so packed with healthy fats from the coconut, nuts and chia seeds so it's really quite filling. I love it on greek yogurt!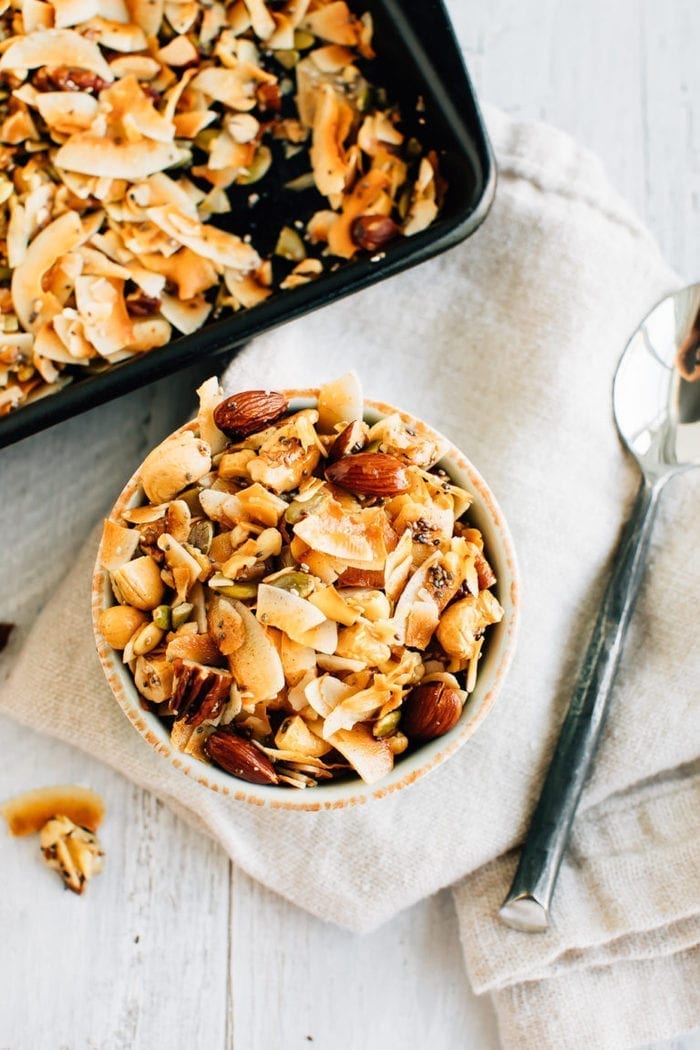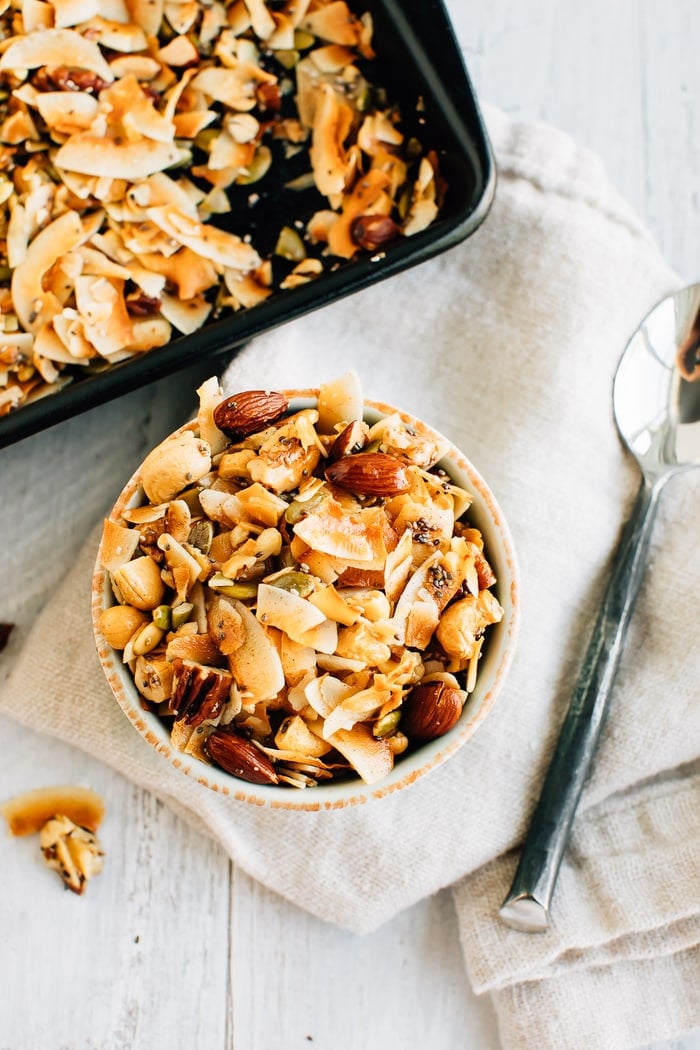 Print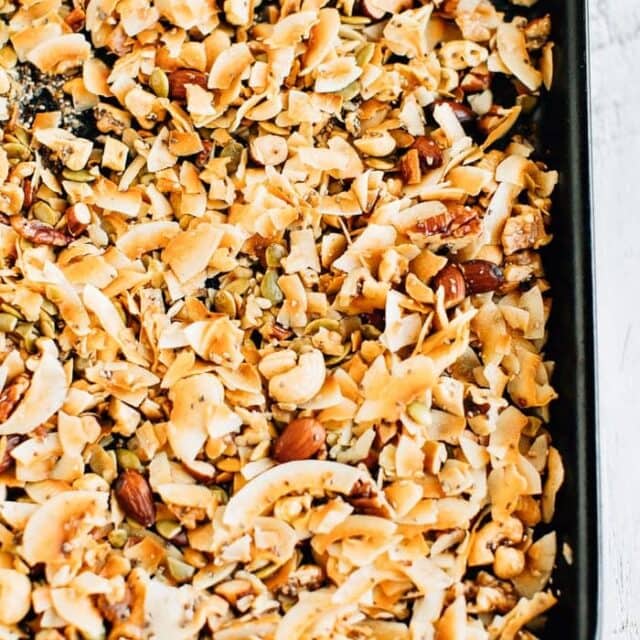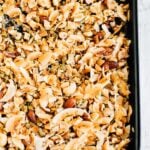 Grain Free Coco-Nutty Granola
Author:

Brittany Mullins
Prep Time:

5 minutes

Cook Time:

20 minutes

Total Time:

25 minutes

Yield:

15

1

x
Category:

Breakfast

Method:

Bake

Cuisine:

American
---
Description
Grain free granola made with a blend of coconut, a variety of nuts, coconut oil and cinnamon. It's crunchy, delicious and low in sugar.  
---
Scale
Ingredients
3 cup

s unsweetened coconut flakes

2 cup

s raw nuts, roughly chopped (I used

1 cup

raw cashews,

1/2 cup

raw almonds, roughly chopped,

1/4 cup

raw walnuts,

1/4 cup

raw pumpkin seeds)

2 tablespoon

s chia seeds

1 teaspoon

ground cinnamon

5 tablespoon

s coconut oil or butter, melted
---
Instructions
Preheat oven to 250°F and line a baking sheet with parchment paper.
Combine all ingredients in a bowl, mix thoroughly, and spread evenly on the sheet.
Bake 30-40 minutes until golden, rotating halfway through cooking time.
Remove from oven and allow to cool, then eat while it's still crispy.
---
---
Notes
I like storing the granola in my fridge or freezer so it stays extra crunchy.
---
Nutrition
Serving Size:

1/4 cup

Calories:

169

Sugar:

1g

Fat:

16g

Carbohydrates:

5g

Fiber:

2g

Protein:

4g
Keywords: coconut granola, coco-nutty granola, grain free granola, grain free coco-nutty granola
If you try this grain free coco-nutty granola leave a comment and star rating with your feedback below! 
SaveSave