How to Make Fire Cider
144
Published Apr 12, 2018, Updated Feb 09, 2022
How to make fire cider, an immune-boosting health tonic with fresh horseradish, ginger, garlic, onions, cayenne pepper, apple cider vinegar and honey.
You went WILD over my posts on the health benefits of apple cider vinegar and apple cider vinegar detox drinks, so when I came across this folk remedy using apple cider vinegar I knew I had to share it with you!
Enter: fire cider. Ever heard of it? It's an immune-boosting health tonic that's been used for decades to naturally protect against cold and flu and ease sinus congestion. There are a few brands on the market (which is how I got into it), but I quickly realized that fire cider is really easy to make at home.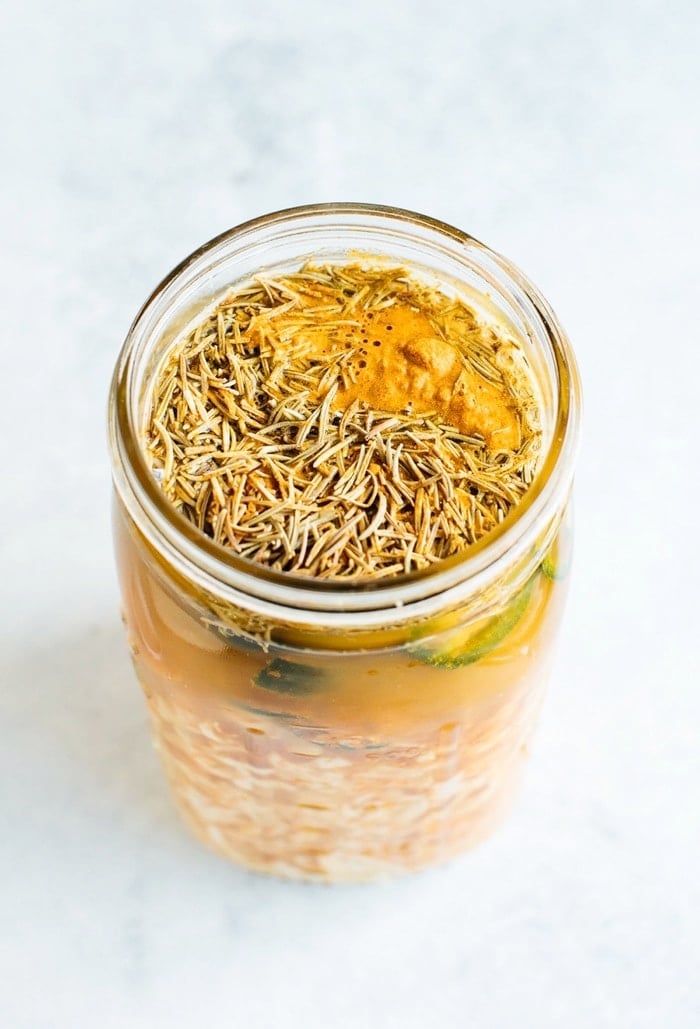 Cold and flu season is almost over, but I've still been drinking my homemade fire cider regularly because the weather has been iffy here lately (we had flurries this weekend) and a few of our friends have been sick with the flu. Ugh!
Ingredients in Fire Cider
The base recipe includes horseradish, ginger, garlic, onions, cayenne pepper and apple cider vinegar. If that scares the bejeezus out of you, don't worry, the last step before drinking is to add honey and any other flavors to sweeten/balance to your liking.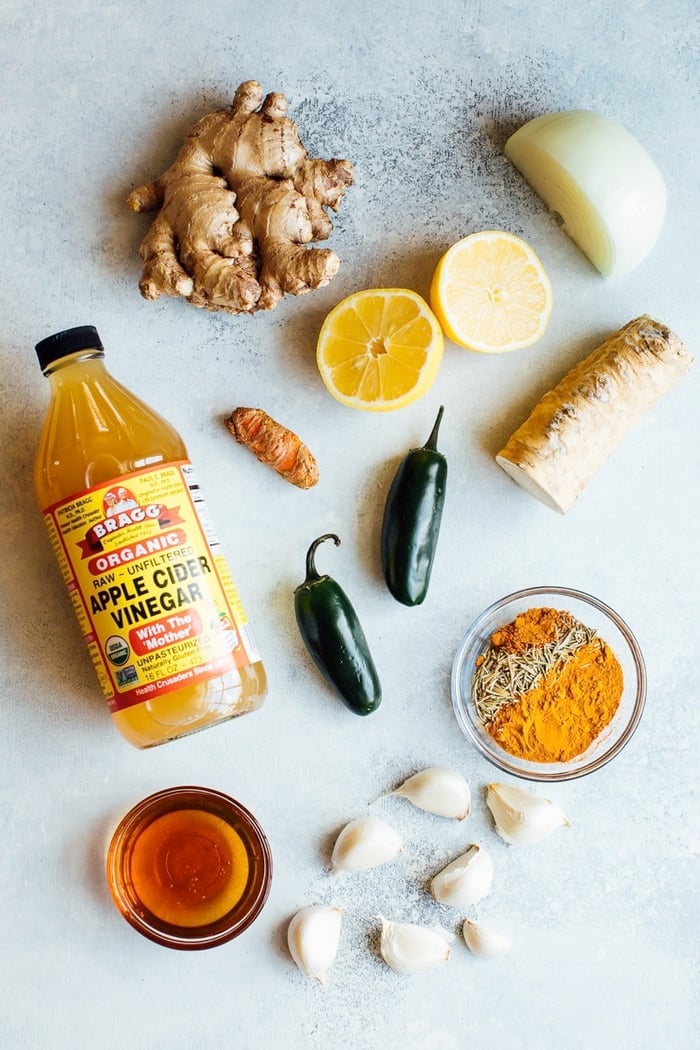 So why would you want to choke this down? First of all it's actually quite tasty… and addicting. Isaac and I have grown to crave the stuff. It's an amazing balance of spicy, sour, sweet, sharp, herbal — basically every flavor I can describe.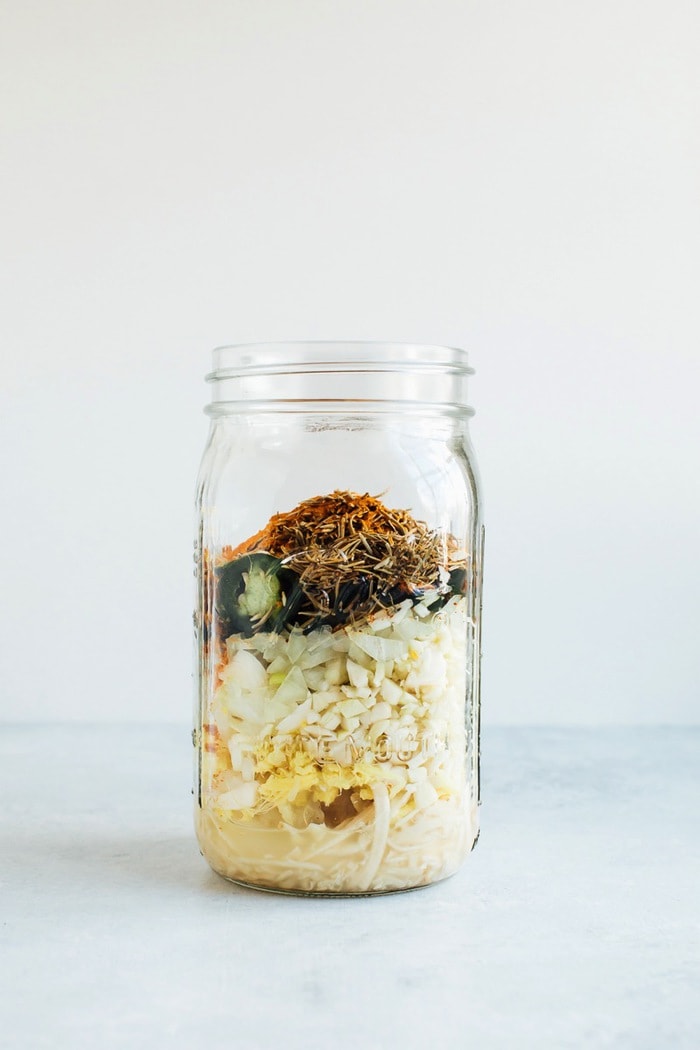 Fire Cider Health Benefits
Beyond the flavor, it's packed with health benefits (hence why it's called a folk remedy). I swear by it as an immune booster and drink extra when I'm starting to feel like I'm coming down with something, but the ingredients in fire cider provide a host of benefits.
Apple Cider Vinegar

— the

health benefits of apple cider

are abundant and it's the base for this recipe!

Horseradish

— helps alleviate sinus congestion and headaches. Even chopping or grating horseradish has this effect. If you try this recipe, you'll see!

Ginger

— helps with digestion, infections and nausea.

Garlic

— a secret superpower with antimicrobial and antibacterial properties.

Onion

— has similar properties to garlic but is also great for preventing (or recovering from!) colds and the flu.

Cayenne Pepper

— helps move blood through your cardiovascular system. Blood circulation = healing.

Honey

— soothes inflamed tissues and organs. Using local honey can also help with allergies.
I know those ingredients still seem intimidating, but here's a sneak peek before you get to the recipe: you're essentially infusing apple cider vinegar with these flavors, straining the liquid and then adding honey to sweeten.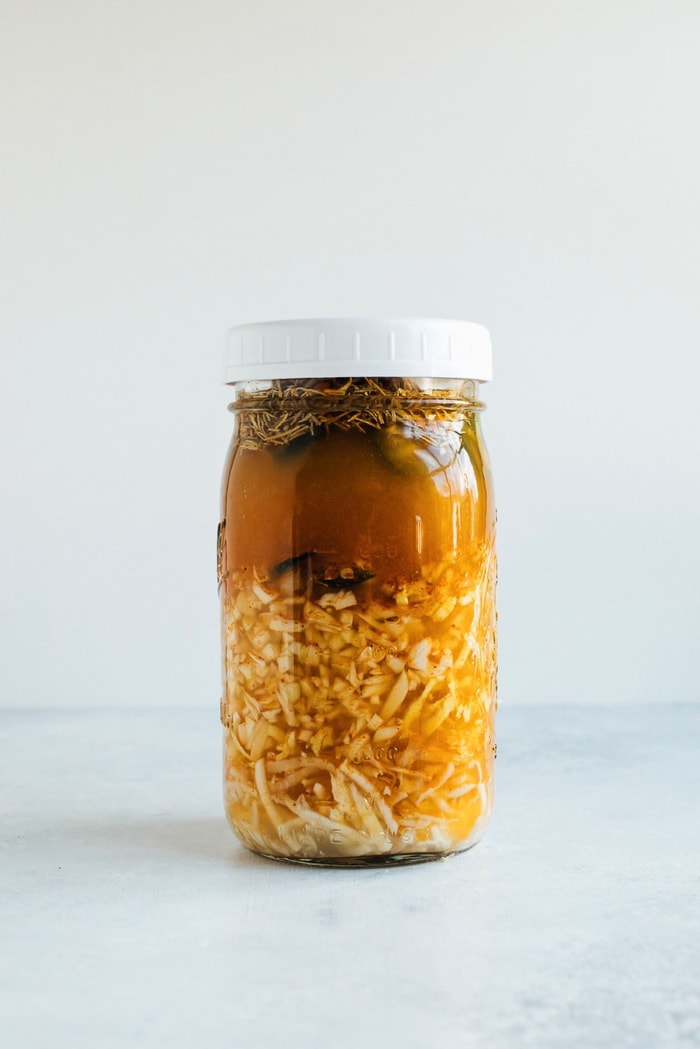 There are soooo many ways to enjoy this elixir. I'm excited to make my way through this list!
Take a shot (about 1-2 Tablespoons) straight up.
Dilute the fire cider tonic with warm water, juice or apple cider.
Use the fire cider to make a delicious homemade salad dressing — this is happening ASAP.
Add to fried rice or cauliflower fried rice.
Use in Bloody Marys — alcoholic or not!
Drizzle over steamed veggies.
Use as a marinade for tofu, meat, etc.
Add to soup or chili.
Use as a hangover cure.
Note: Many people drink fire cider straight up (1-2 Tablespoons) out of a shot glass, but if you're worried about your tooth enamel it's best to dilute it with water or another liquid.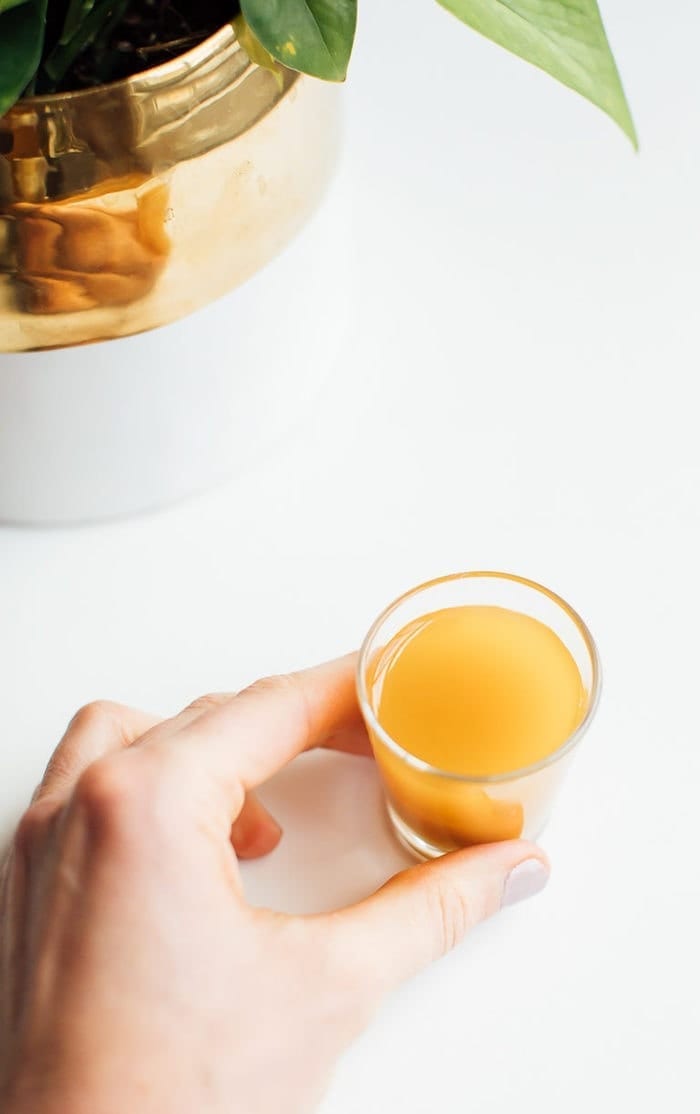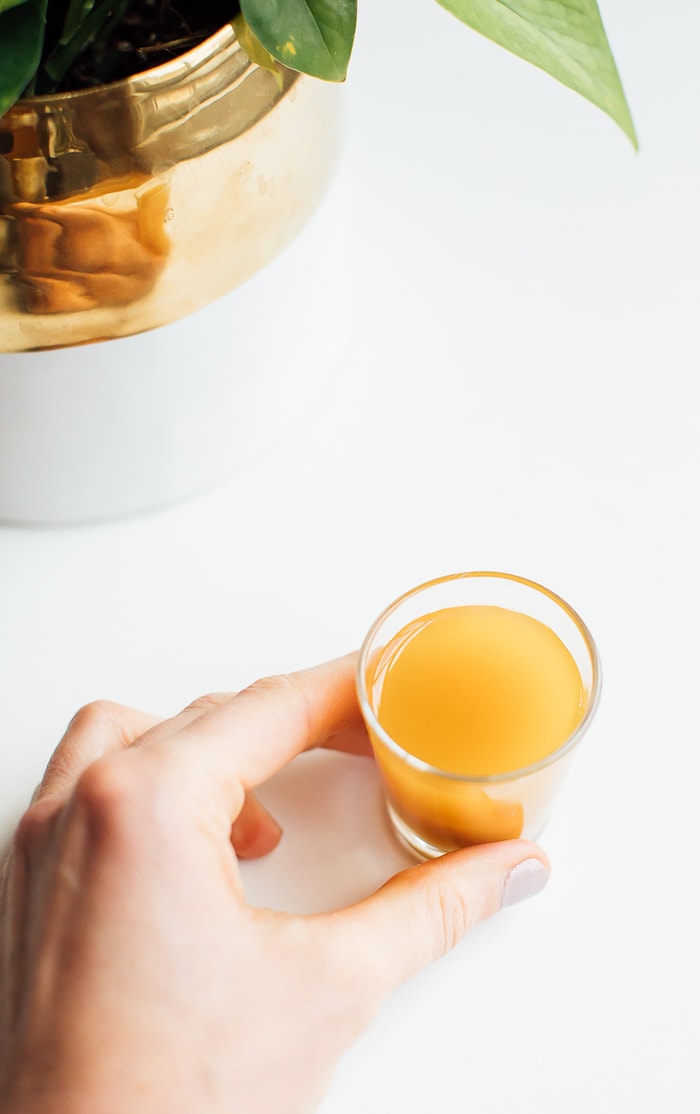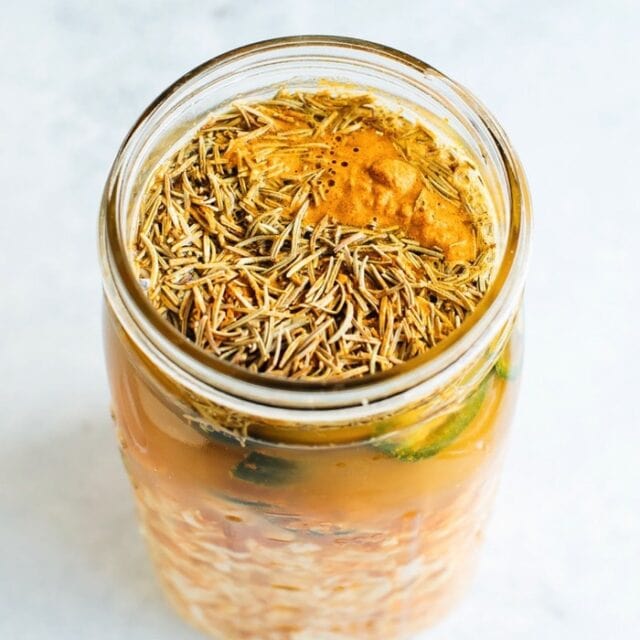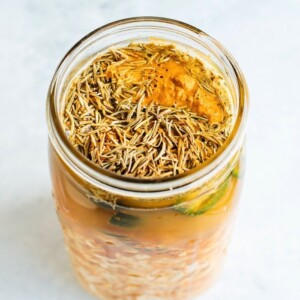 How to Make Fire Cider
An immune-boosting health tonic with fresh horseradish, ginger, garlic, onions, cayenne pepper, apple cider vinegar and honey. 
Ingredients
½

cup

freshly peeled and grated ginger root

½

cup

freshly grated horseradish root

1

medium onion

,

chopped

10

cloves

of garlic

,

crushed or chopped

2

organic jalapeño peppers

,

chopped

1

lemon

,

zest and juice

2

Tablespoons

dried rosemary leaves

1

Tablespoon

turmeric powder or 2 Tablespoons freshly grated turmeric root

¼

teaspoon

cayenne powder

organic unfiltered apple cider vinegar

¼

cup

raw honey

,

or to taste
Instructions
Add ginger, horseradish, onion, garlic, jalapeño peppers, lemon zest and juice, rosemary, turmeric and cayenne powder into

quart-sized glass jar

.

Pour apple cider vinegar in the jar until all the ingredients are fully covered and the vinegar reaches the top of the jar. You want to be sure all the ingredients are covered to prevent spoilage.

Use a piece of natural parchment paper under the lid to keep the vinegar from touching the metal, or use a

plastic lid

if you have one.

Shake jar to combine all the ingredients and store in a dark, cool place for 4-6 weeks, remembering to shake the jar a few seconds every day.

After one month, use a mesh strainer or cheesecloth to strain out the solids, pouring the vinegar into a clean jar. Be sure to squeeze out as much of the liquid as you can. This stuff is liquid gold! The solids can be used in a stir-fry or you can compost/discard them.

Add honey to the liquid and stir until incorporated.

Taste your fire cider and add more honey if needed until you reach your desired sweetness.

Store in a sealed container in the refrigerator or in a cold, dark place.

Drink 1-2 Tablespoons when needed.
Notes
Feel free to make this recipe your own with optional add-ins like cinnamon, orange and grapefruit.
Recipe inspired and adapted from Mountain Rose Herbs.
Nutrition
Serving:
2
Tablespoons
|
Calories:
16
kcal
|
Carbohydrates:
4
g
|
Sodium:
8
mg
|
Potassium:
36
mg
|
Sugar:
2
g
Nutrition information is automatically calculated, so should only be used as an approximation.