How to Make Healthy Trail Mix
9
Published Sep 23, 2020, Updated Jun 12, 2023
Learn how to make healthy trail mix with this foolproof method + 3 easy recipes. Trail mix is such an easy and delicious snack to make at home with just a few key ingredients.
I've always been a fan of trail mix. It's surprisingly filling and satisfying, especially when there are salty and sweet components. You can certainly purchase trail mix from the grocery store (see some of the faves below), but most of the time I prefer to make my own trail mix at home. Honestly, it's super easy to make and it's fun to come up with different flavor combinations.
Homemade trail mix is usually healthier than the store-bought varieties too… of course it does depend on what you put in your mix. You can make it super healthy or extra decadent.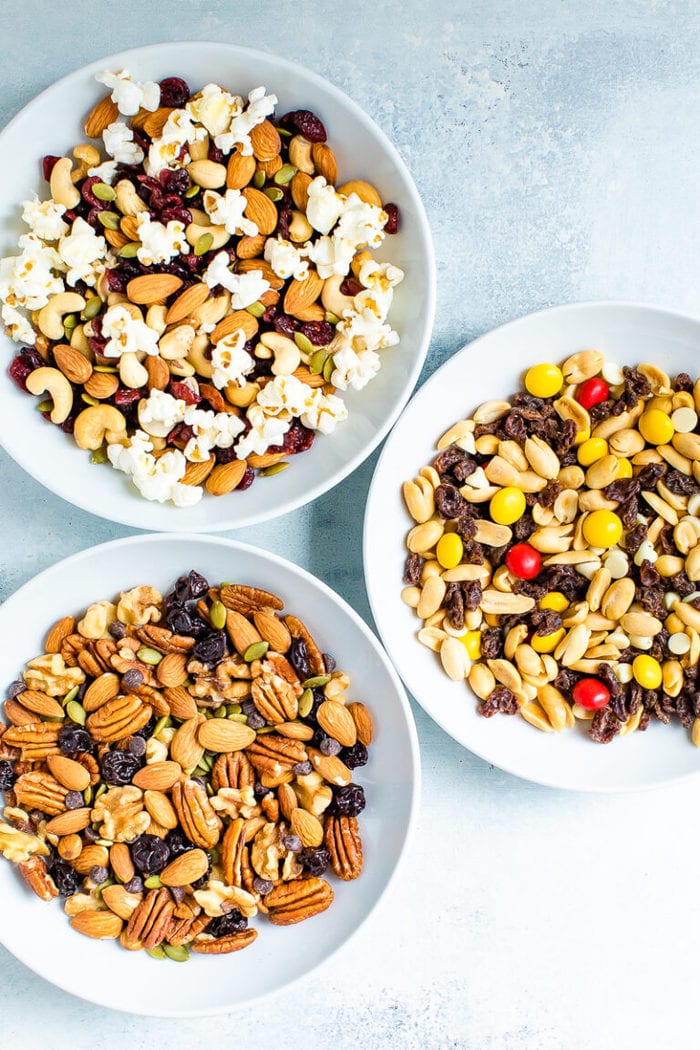 Why You Should Make Homemade Trail Mix at Home
In case you need convincing on why you don't need to buy trail mix anymore, here are a few reasons to try your hand at homemade trail mix:
It's cheaper than store-bought trail mix.
You can easily control how much oil, salt and sugar is added so it's usually healthier.
You can include all YOUR favorite things!
The combos are endless so you'll never get bored.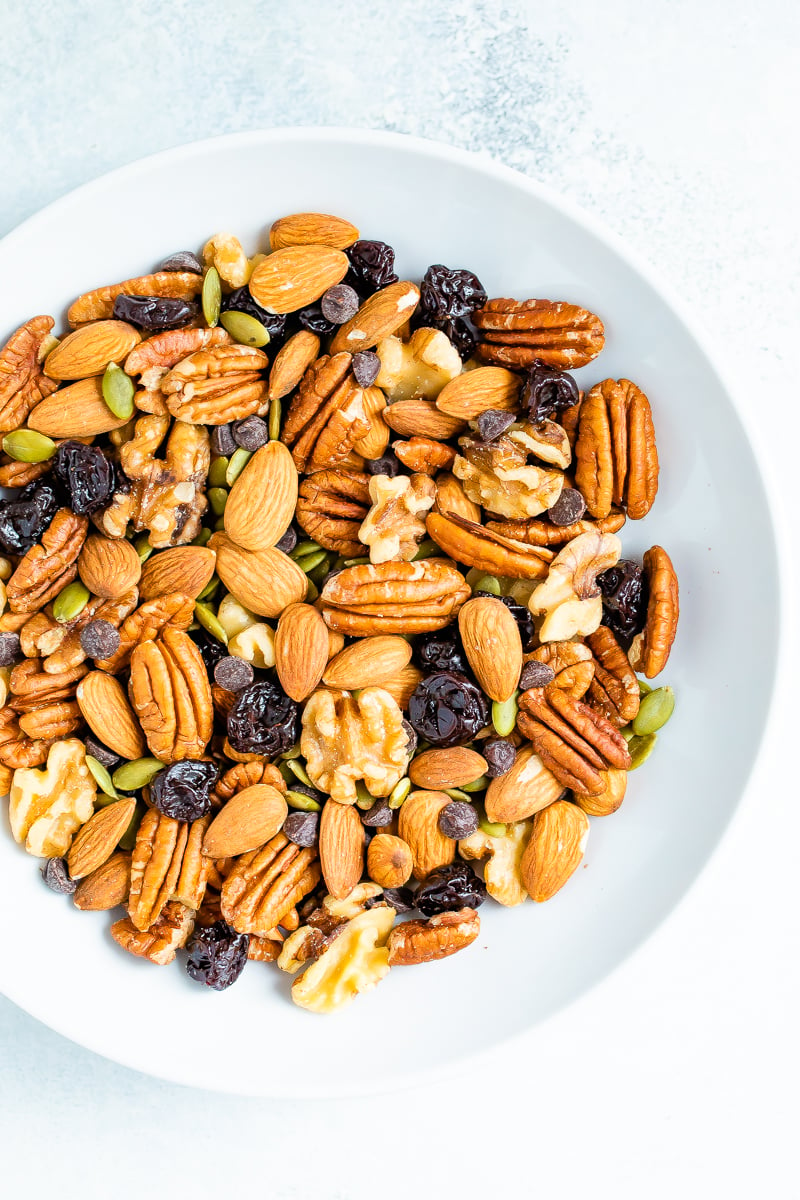 What You Need for Homemade Trail Mix
Nuts – Any type of nut works in trail mix! Use just one kind or mix up a combination of your favorite nuts. You can pack in lots of healthy fats and nutrients with a variety of nuts. Some options: almonds, cashews, walnuts, pecans, peanuts, macadamia nuts, pistachios, hazelnuts.
Seeds – Seeds are a great addition to trail mix and add more healthy fats! Some options: pumpkin seeds (pepitas) and sunflower seeds. Some seeds like hemp, flax, chia and sesame are a bit too small for trail mix. They work great in granola though!
Dried fruit – In my opinion, a hint of sweetness is required for trail mix! I like to add unsweetened (or naturally sweetened) dried fruit to trail mix for variety in texture and flavor. Some options: dried apricots, cherries, cranberries, raisins, blueberries, mangos, raisins, dried bananas, goji berries, inca berries, mulberries, etc. If you want to keep things on the lighter side you can also opt for freeze-dried fruit! I've also experimented with adding fresh fruit to my trail mix. Blueberries and apples work great because they're not very wet. If you do opt for fresh fruit, you'll need to eat the trail mix right away.
Savory mix-ins – roasted chickpeas, roasted soy beans, lentils, popcorn or even chopped jerky.
Sweet mix-ins – Here's where you can get creative and play with different flavor combinations! Add in coconut flakes, cereal, chocolate chips, peanut butter chips – whatever you'd like!
Seasonings – This is where I've experimented more recently and it really takes the trail mix to the next level. My pizza trail mix has a variety of savory spices and my breakfast trail mix is loaded with maple cinnamon goodness. The extra seasonings make the trail mix so delicious.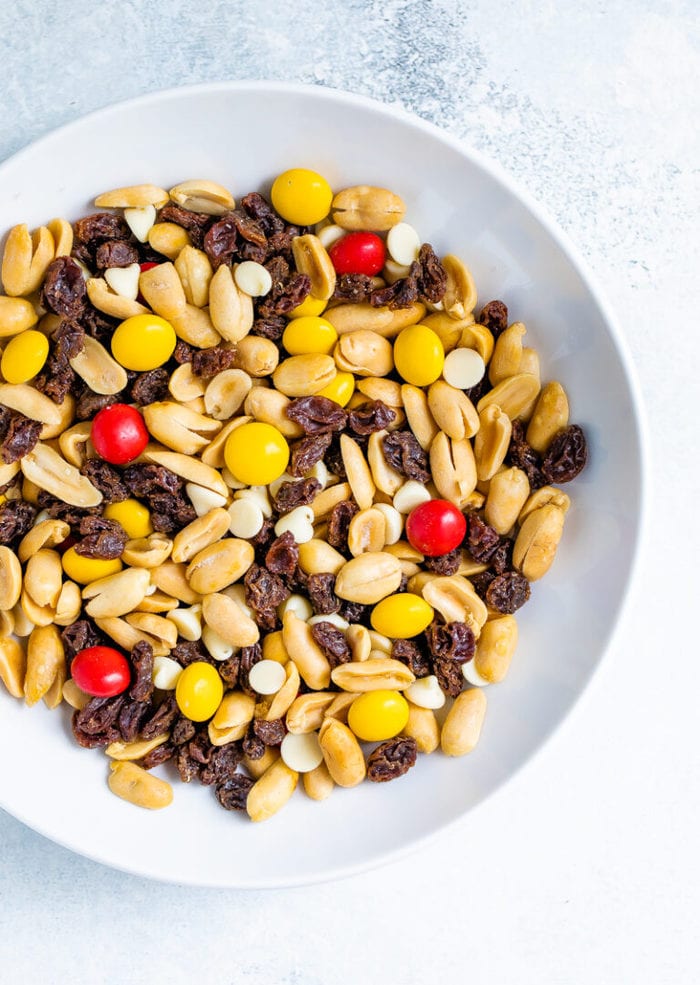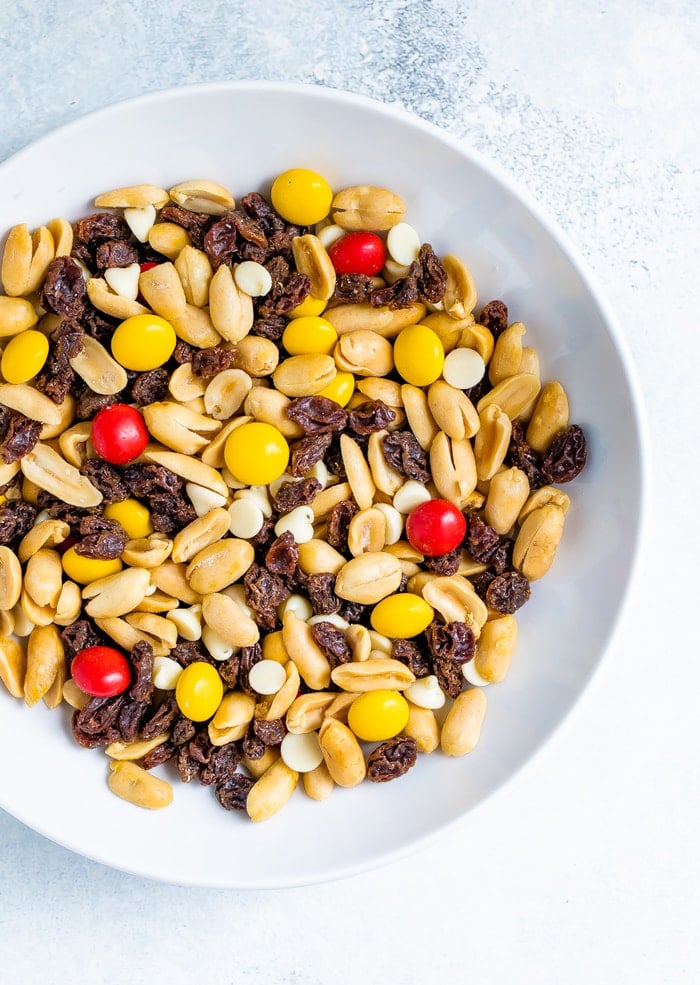 Where Did Trail Mix Come From?
It's always fun to learn the backstory of certain foods and trail mix has an interesting one because it dates back to the 1910s when an outdoorsman, Hoarace Kephart, recommended it in a camping guide. (source) Also called, GORP (good ol' raisins and peanuts), trail mix is considered the perfect snack to take on a hike because it's relatively lightweight and easy to store, as well as, a good source of calories, carbs and healthy fats for sustained energy while hiking.
But just because it's called trail mix doesn't mean you have to be hiking to enjoy this tasty little snack mix. Apparently in many European countries trail mix is called "student fodder" or student mix. This names resonates with me because I ate a ton of trail mix in college, so much that one of my roommates commented that I was always "eating bird food" which inspired the name of my site!
Is Trail Mix Healthy?
I personally think that trail mix is a healthy snack option, but it's important to remember that it's a calorie-dense food so a small amount packs a good amount of nutrients. One serving of trail mix is usually only 1/4 cup. If you're mindlessly snacking it's very easy to quickly overdo it on trail mix… been there done that!
You can make trail mix less caloric by adding some lower-calorie, volume foods like popcorn, whole grain cereal, fresh fruit (like blueberries) to your mix.
Dried fruit tends to get a bad rap in the health world because it has a concentrated amount of sugar and occasionally some dried fruits contain added oil and sugar. This is something to watch out for when buying dried fruit. Read your labels and try to find brands that don't add oil or sugar!
Another thing to keep in mind is the salt and sugar content of your trail mix. If you're using roasted and salted nuts, the mixture can pack a hefty dose of sodium.
Raw Nuts vs Roasted Nuts vs Sprouted Nuts
There are so many nut options on the market! Let's break down the different kinds:
Raw nuts – Raw nuts are just like they sound! Raw, uncooked nuts. They aren't roasted or salted so can have more of a "plain" flavor. Some nutrients are lost in roasting which is why you might reach for raw nuts over roasted.
Sprouted nuts – Sprouted nuts are raw nuts that have been soaked in water. The soaking makes the nuts easier to digest and allows your body to absorb the nutrients better. Sprouted nuts also usually have a great crunch. I love sprouted nuts but they tend to be expensive and harder to find.
Roasted nuts – There are two main ways to roast nuts: dry roasting which doesn't involve any oil and oil roasting which roasts with oil. Raw and dry-roasted nuts have very similar nutrition profiles. Roasted nuts have slightly more fat and calories per gram but not much. The main thing you want to watch for is added oil and salt.
Although it can be helpful to watch how much oil and salt is added to the nuts you're using, it can be nice use a mix of raw and/or sprouted nuts with salted nuts for extra flavor.
My Go-To Trail Mix Ratio
When I make trail mix at home I usually do have it so that nuts and dried fruit make up the majority of the mix, but a bit heavier on the nuts. Here's my basic formula = 1 cup of nuts, 2/3 cup of dried fruit, 1/4 cup seeds and 1/4 cup additional mix-ins, either sweet or savory.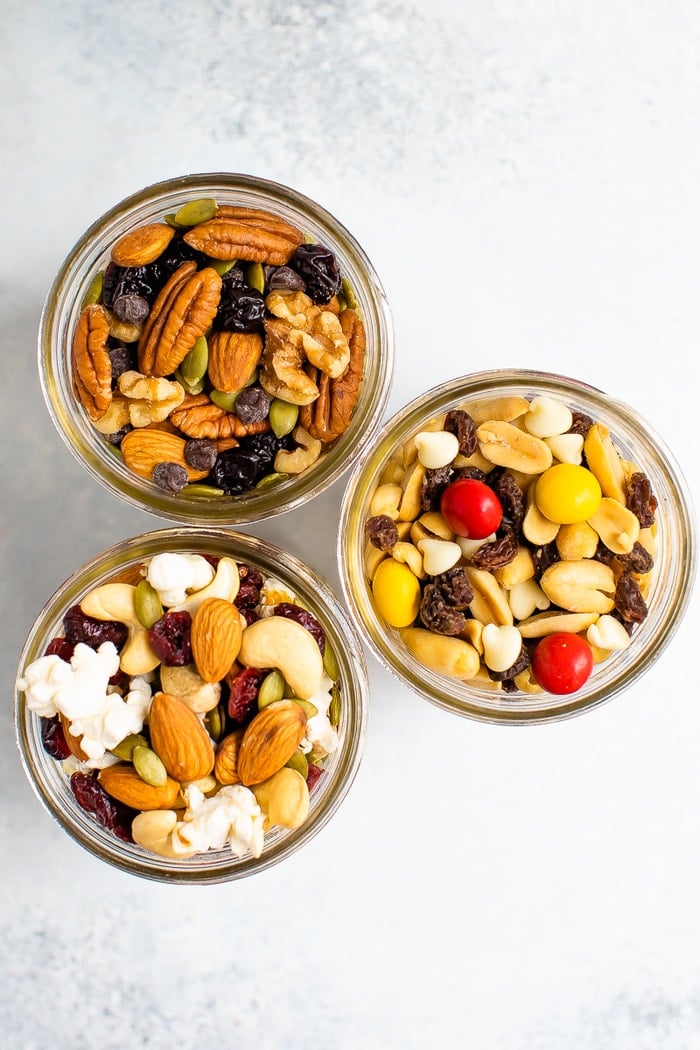 Healthy Trail Mix Recipes
I know it can be overwhelming to come up with your own combinations so I thought it would be fun to share three simple trail mix recipes! I shared the full recipes below but wanted to give a little bit more background on the recipes.
Monster Mix – I used Virginia peanuts (the BEST!), raisins, Little Secret peanut butter pieces and Lily's white chocolate chips for the additional mix-ins. I love using Little Secret's candies because they're like M&Ms but made with better ingredients and Lily's chocolate chips are low-sugar and gluten-free. Lily's also have dairy-free options like these dark chocolate baking chips. If you love traditional trail mix, try this upgraded version with healthier ingredients!
Omega Mix – This mix is filled with lots of different nuts and omega 3 and 6 fatty acids. This reminds me of store-bought mixes (like this one) that are packed with healthy fats and antioxidants… I feel healthier and smarter just eating it! Ha!
Popcorn – I love this mix because it has popped popcorn in it! I am a volume eater so sometimes a small handful of trail mix doesn't satisfy me. Adding popcorn adds more volume without the calories.
How to Store Trail Mix
I recommend storing trail mix in glass jars with a lid (mason jars work great) or reusable storage bags like Stasher bags. Most mixes will last a few weeks, but some trail mix ingredients don't hold up well. For instance, popcorn won't stay crisp more than a couple days.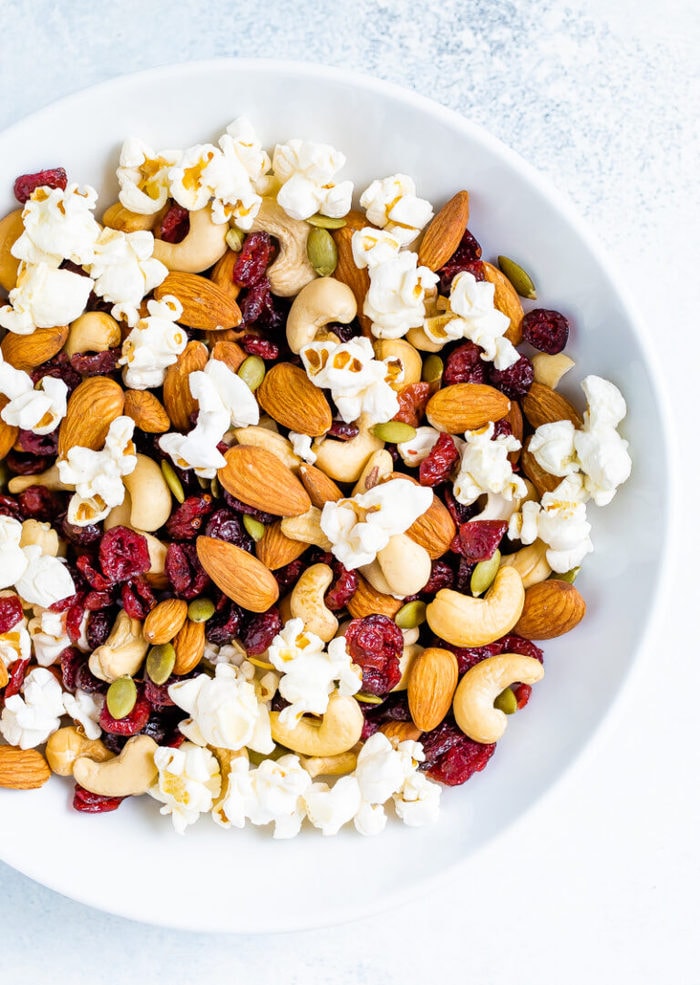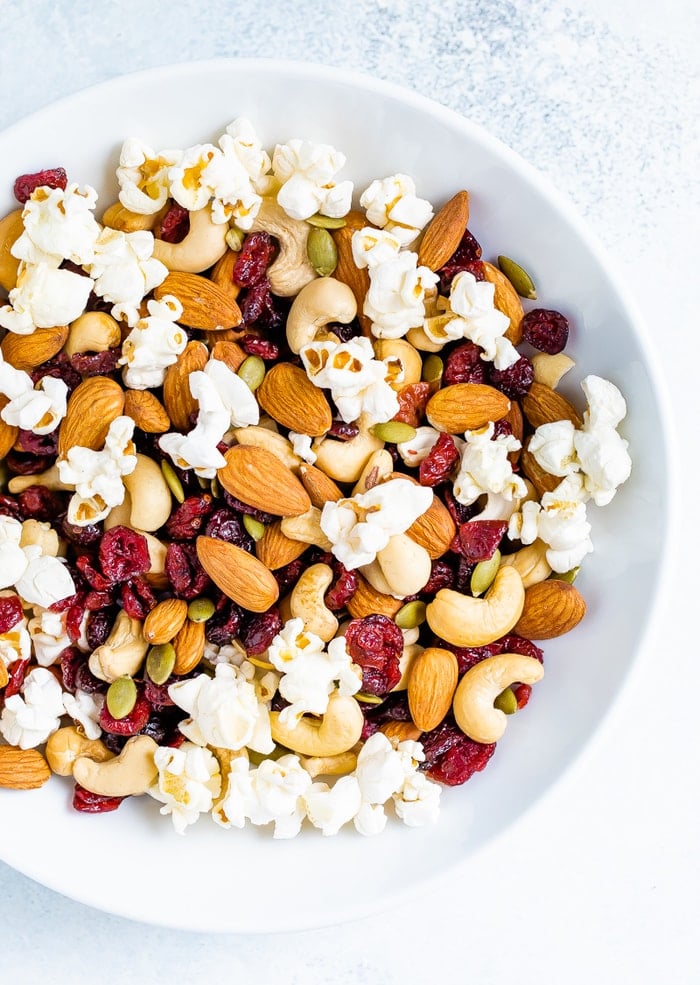 The Best Store-Bought Trail Mix
I get that sometimes you don't have time to make your own trail mix and you just want to grab a bag at the store. Here are some of my favorite store-bought options:
Living Intentions Spicy Mango – This is hands-down one of my favorite trail mixes ever. I love how crunchy the sprouted almonds are and the sweet and spicy combo is delicious. This mix tends to be hard to find so whenever I see it at the store I stock up!
Trader Joe's Simply the Best Trek Mix – Trader Joe's is known for its dried fruit and nut section. I found the Simply the Best Trek Mix in college and have loved it ever since. It has almonds, cashews, dried pineapple and cranberries and it's delicious.
Archer Farms Monster Mix – If you're looking for the classic mix with peanuts, raisins, M&M's and chocolate, the Archer Farms Monster Mix from Target is great. Isaac loves this one too!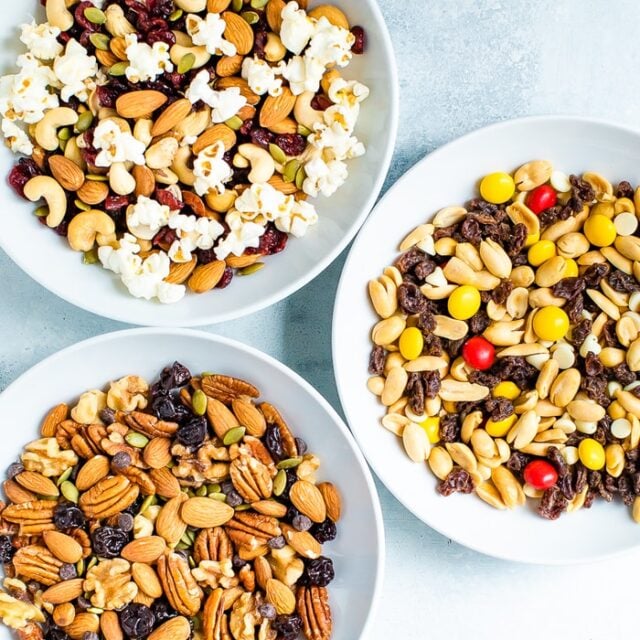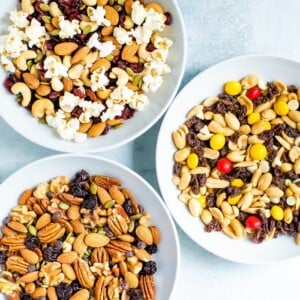 Healthy Trail Mix
Learn how to make healthy trail mix with this foolproof method + 3 easy recipes. Trail mix is such an easy and delicious snack to make at home with just a few key ingredients.
Ingredients
Omega Mix
1/4

cup

almonds

1/4

cup

pecans

1/4

cup

walnuts

1/4

cup

pepitas

2/3

cup

dried cherries

1/4

cup

dark chocolate chips
Monster Mix
1

cup

peanuts

2/3

cup

raisins

1/4

cup

candy coated pieces like M&Ms

,

I used peanut butter filled Little Secrets

1/4

cup

chocolate chips

,

dark, milk or white
Popcorn Trail Mix
1/2

cup

cashews

1/2

cup

almonds

2/3

cup

dried cranberries

1/2

cup

popcorn

1/4

cup

pepitas
Instructions
Mix: Combine all ingredients together and enjoy.

Store: Store leftover trail mix in a sealed jar or reusable storage bag. The omega and monster mix should keep for 1-2 weeks, the popcorn mix is best eaten in 1-2 days because the popcorn will lose it's crunch.
Nutrition
Serving:
1
/2 cup popcorn trail mix
|
Calories:
237
kcal
|
Carbohydrates:
24
g
|
Protein:
6
g
|
Fat:
14
g
|
Saturated Fat:
2
g
|
Polyunsaturated Fat:
4
g
|
Sodium:
32
mg
|
Fiber:
4
g
|
Sugar:
16
g
Nutrition information is automatically calculated, so should only be used as an approximation.
More Trail Mix Recipes to Try: