Guacamole Toast for Breakfast
18
Published Feb 04, 2015, Updated Aug 12, 2022
Good morning friends! I hope you're well-rested and ready to take on the day. Isaac and I… not so much. We spent the hours between 3:00-4:30AM dealing with a sick pup. Olive has a sensitive tummy and she got sick (from both ends) all over our bed last night. It was pretty much the worst thing to wake up to. It was everywhere (although lucky for me, mainly on Isaac's side) and the odor that filled our room… oh my goodness, it was bad! We don't think she's actually sick with anything. This same sort of thing has happened before after she's eaten onion or garlic. We don't feed her people food, but sometimes she finds tiny pieces of food on the floor so I'm guessing that's what happened yesterday. :/ I'm currently finishing up laundry as she rests in her bed recuperating. Fingers crossed she will feel better by this afternoon, poor thing.
And yes, now I completely understand why a lot of people don't let their animals sleep in the bed with them. Last night we had to move her to the bathroom for obvious reasons, but even after this incident we'll still let her sleep with us. She's too much a snuggle bunny not to.
So now that I've shared a gross story that you probably didn't care to read right before looking at food photos… let's talk breakfast, shall we?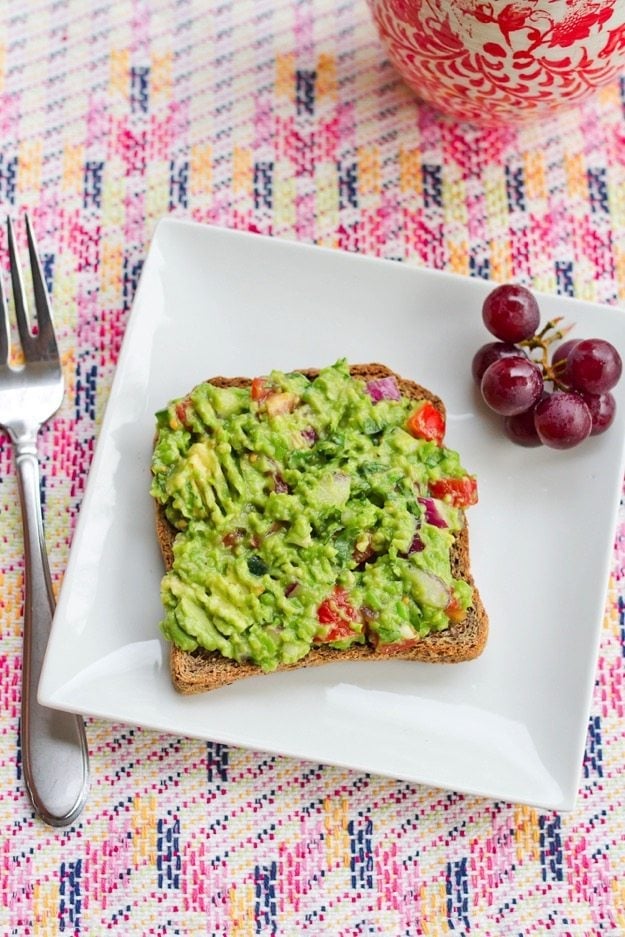 Everyone is on the avocado toast train, but what about guacamole toast? As I was making this frozen pea guacamole last week I started thinking about how good it would be on toast and decided to try it…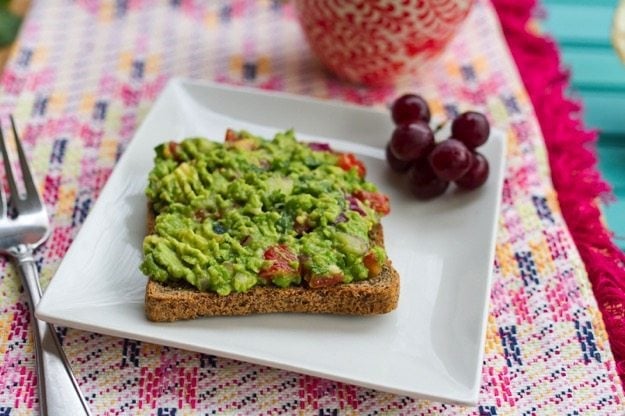 then I put an egg on top and called it breakfast.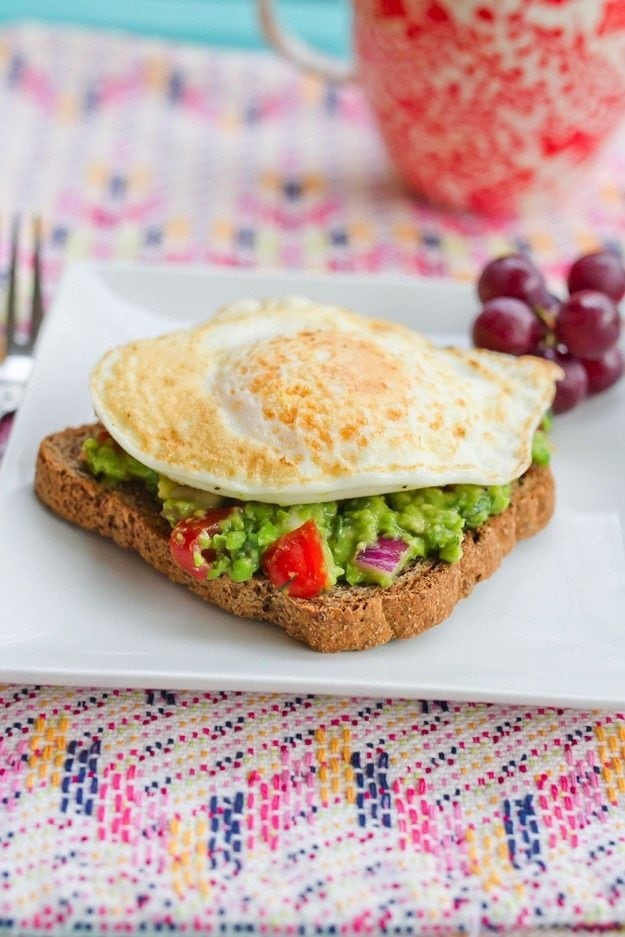 Spicy, creamy gauamole atop a toasted slice of bread with a fried egg. Hello… yum!!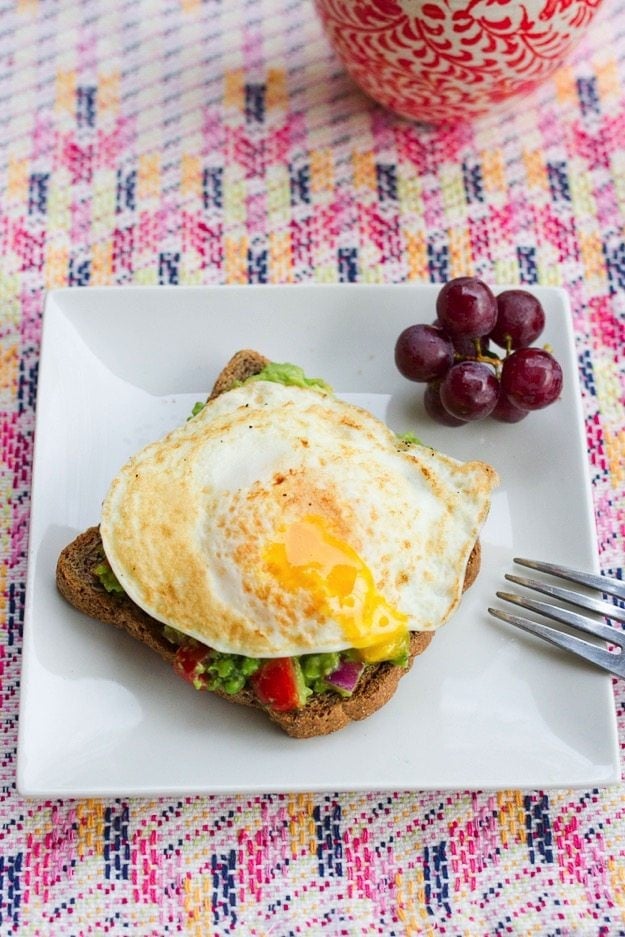 I made sure the egg was cooked over easy so the yolk would still be a little runny, but of course, the egg can be cooked any way you like. For the toast I used a slice of Food for Life gluten free original 3 seed bread. I like this bread a lot, but any bread will work for the recipe. 🙂
So now you know what to do with those left over avocados from the Super Bowl — make this healthy guacamole and have a little guacamole toast for breakfast!
More Toast Recipes to Try
Looking for more inspiration? Check out all of the popular breakfast recipes here on EBF.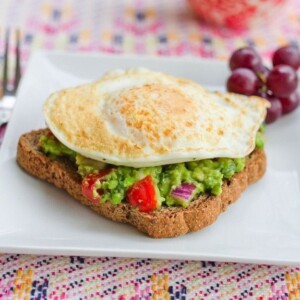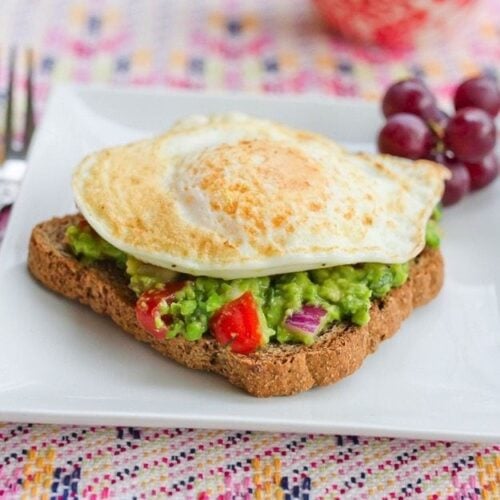 Guacamole Toast for Breakfast
This quick and easy breakfast idea requires only 3 ingredients! If you don't have time to make the guacamole, feel free to use smashed avocado instead.
Instructions
Make guacamole.

Cook egg to your liking in a greased non-stick skillet.

While egg is cooking, toast your bread.

Top toasted bread with guacamole. Top with your egg and enjoy.
Nutrition
Serving:
1
|
Calories:
264
kcal
|
Carbohydrates:
24
g
|
Protein:
9
g
|
Fat:
16
g
|
Fiber:
4
g
|
Sugar:
1
g
Nutrition information is automatically calculated, so should only be used as an approximation.