Creamy Walnut Pasta Sauce with Spaghetti Squash Noodles
10
Published Apr 07, 2021, Updated Sep 23, 2022
This creamy walnut pasta sauce comes together quickly and tastes delicious over spaghetti squash with peas and parsley. One serving has 16 grams of plant-based protein! This post is sponsored by California Walnuts.
My obsession with spaghetti squash continues and this time I'm sprucing it up with a creamy sauce (made from walnuts), extra veggies and fresh herbs.
Meals like this are my jam… easy, flavorful and loaded with nutrients.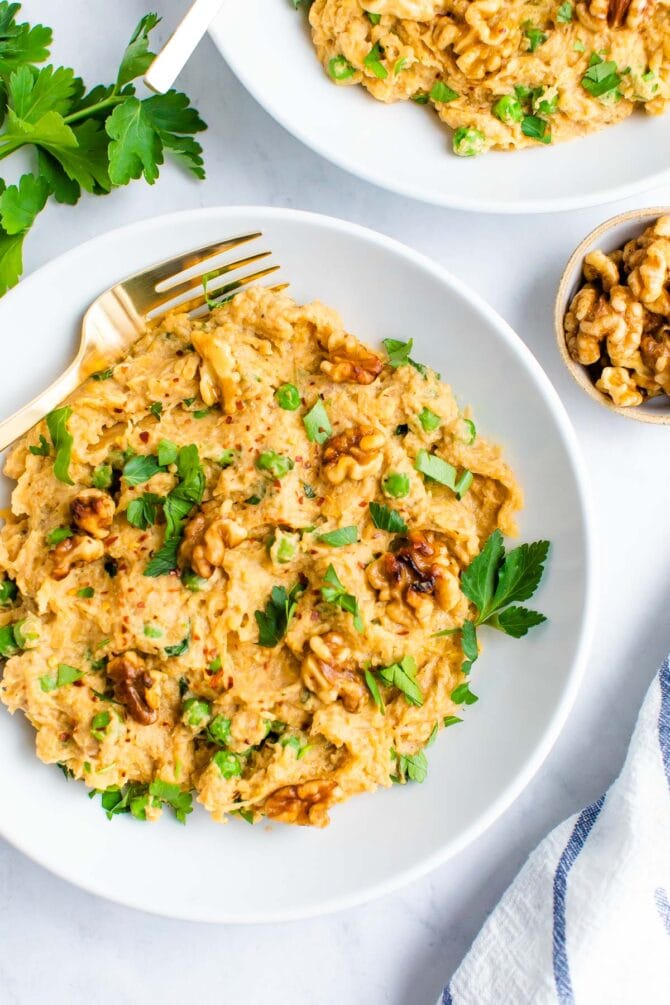 Plant-Forward Eating
While I don't put labels on my eating style, I would say my food philosophy is all about real food, with a flexitarian and plant-forward focus.
It's a balanced approach that works for me and something I'm personally really passionate about.
In a world of restrictive diets that often recommend eliminating entire food groups, it's awesome to know that something as simple as adding more plants can be super beneficial for our health.
Unlike a vegan or vegetarian approach, a plant-forward diet showcases vegetables, fruits, legumes, seeds and grains, but does not necessarily eliminate animal-based foods.
Low-fat milk and dairy products, seafood, lean meat, poultry and eggs are also key to this balanced eating pattern and complement plant foods deliciously and nutritiously.
Health Benefits of a Plant-Forward Diet
The best part is that you don't have to be strictly vegan or plant-based to see health benefits. Strong evidence over several decades shows that adopting a plant-forward diet may promote the following:
1 Kim, H.et al. (2019). Plant-Based Diets Are Associated With a Lower Risk of Incident Cardiovascular Disease, Cardiovascular Disease Mortality, and All-Cause Mortality in a General Population of Middle-Aged Adults. Journal of the American Heart Association, 8(16), e012865-e012865. https://doi.org/10.1161/jaha.119.012865
Want to learn more? Head to the California Walnuts Plant-Forward section of their website or check out the Plant-Forward Eating Guide.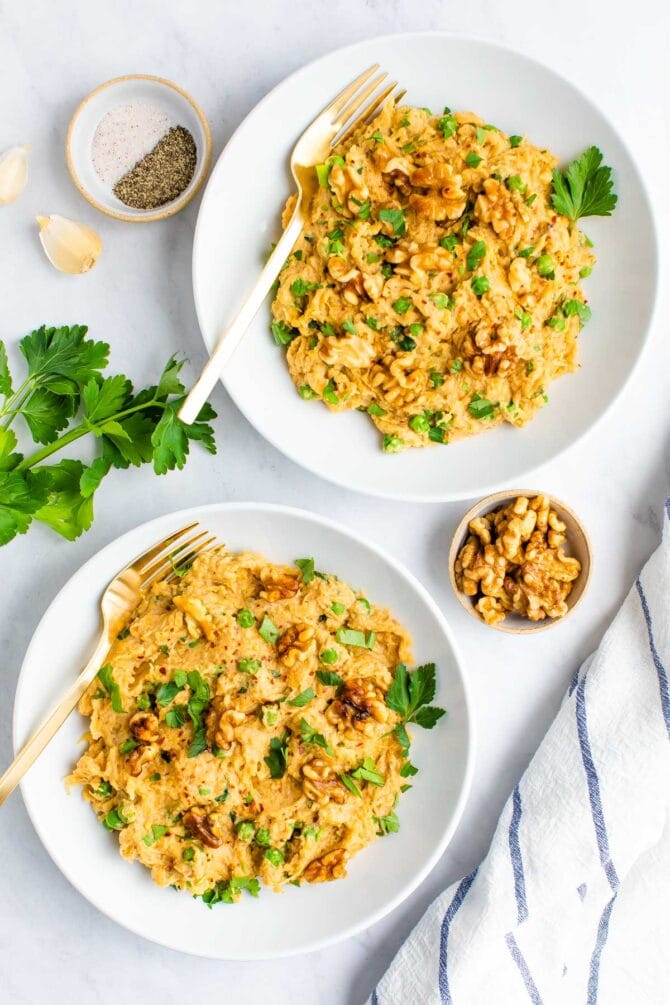 Eating More Plants
If you think eating more fruits and vegetables means snacking on raw veggies and adding a side of steamed brussels to your dinner, think again. There are so many fun ways to eat more plants… which is what inspired this recipe!
This walnut pasta sauce is a great example of a creative way to incorporate more plants into a meal. You normally wouldn't think to use walnuts as the protein source in a pasta sauce, but this turned out so delicious! The walnuts add an amazing depth of flavor, plant-based protein (4g per serving!), good fat and loads of creaminess.
I kept this recipe completely plant-based, but if you want to add a little cheese as a topping or serve with a lean protein like tuna or grilled chicken, go right ahead. I actually added some canned tuna to the leftovers, and it reminded me of a tuna noodle casserole! It was so good!
Walnut Nutrition
Did you know that nuts are considered plants and are an important part of a plant-forward diet?
Yup, and they pack quite the nutritional punch! Walnuts in particular provide protein, fiber and magnesium. One ounce of walnuts has 4g of protein, 2g of fiber and 45mg of magnesium. They're also the only nut with an excellent source of essential plant-based omega-3 ALA (2.5 grams per ounce). Omega-3 ALA (alpha-linolenic acid) has been associated with benefits for heart health, brain health and inflammation.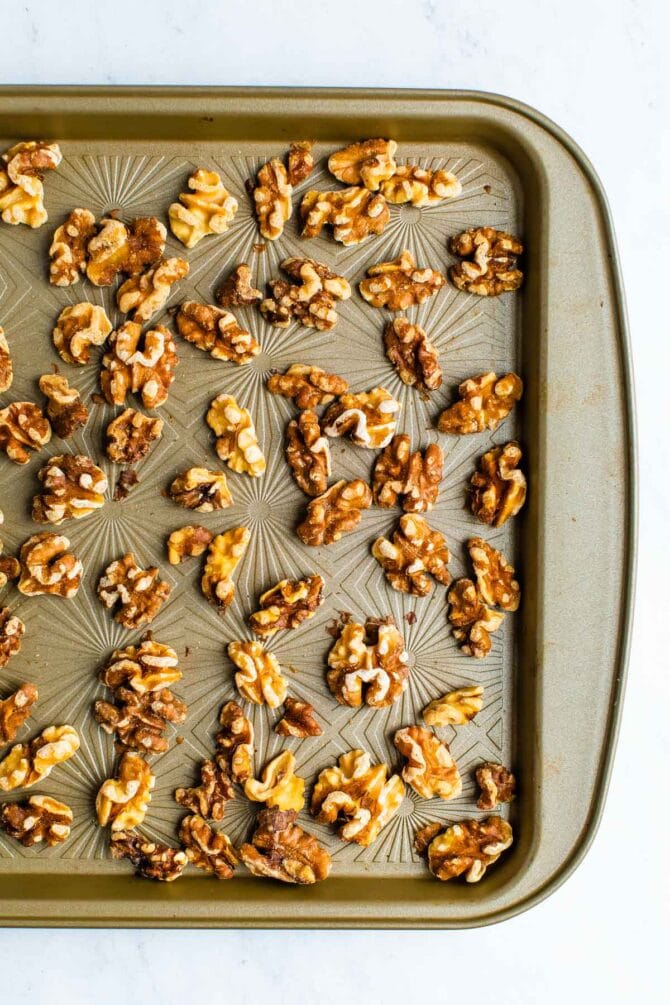 Walnut Pasta Sauce Ingredients
Here's what you'll need to make the creamy walnut sauce: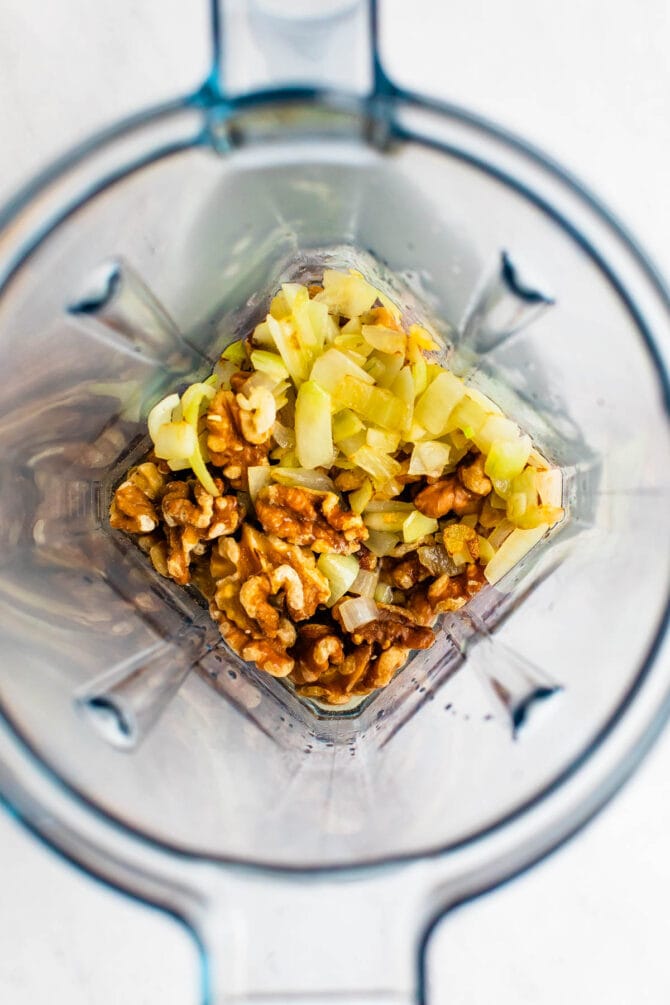 How to Store Walnuts
When researching for this post, I learned this new tip: Walnuts shouldn't be stored at room temperature. The best place for storing walnuts is in your fridge or freezer.
The refrigerator is great if you're planning to use them right away, but the freezer is best for long-term storage. They should last up to a year in the freezer!
I recommend storing walnuts in a mason jar or another airtight container. Walnuts can absorb the flavors of other foods, so this makes sure your walnuts don't end up tasting like broccoli!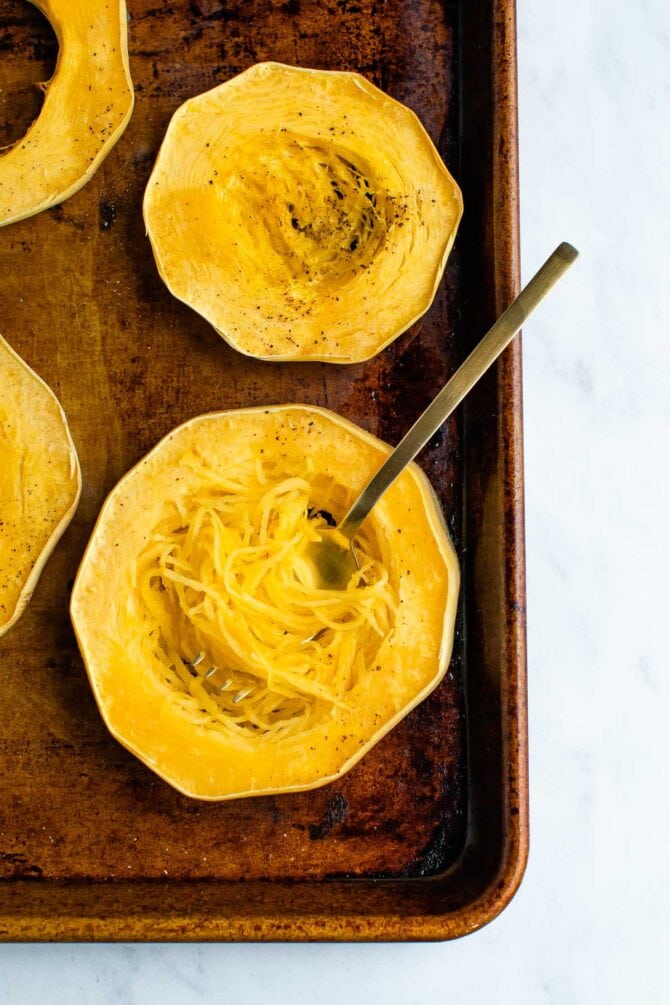 How to Make Spaghetti Squash Noodles
If you've never made spaghetti squash noodles, you're in for a treat! I've shared two fool-proof methods to cook spaghetti squash: in your oven or using a pressure cooker! Both options are great, it just depends on what kitchen appliances you have and want to use.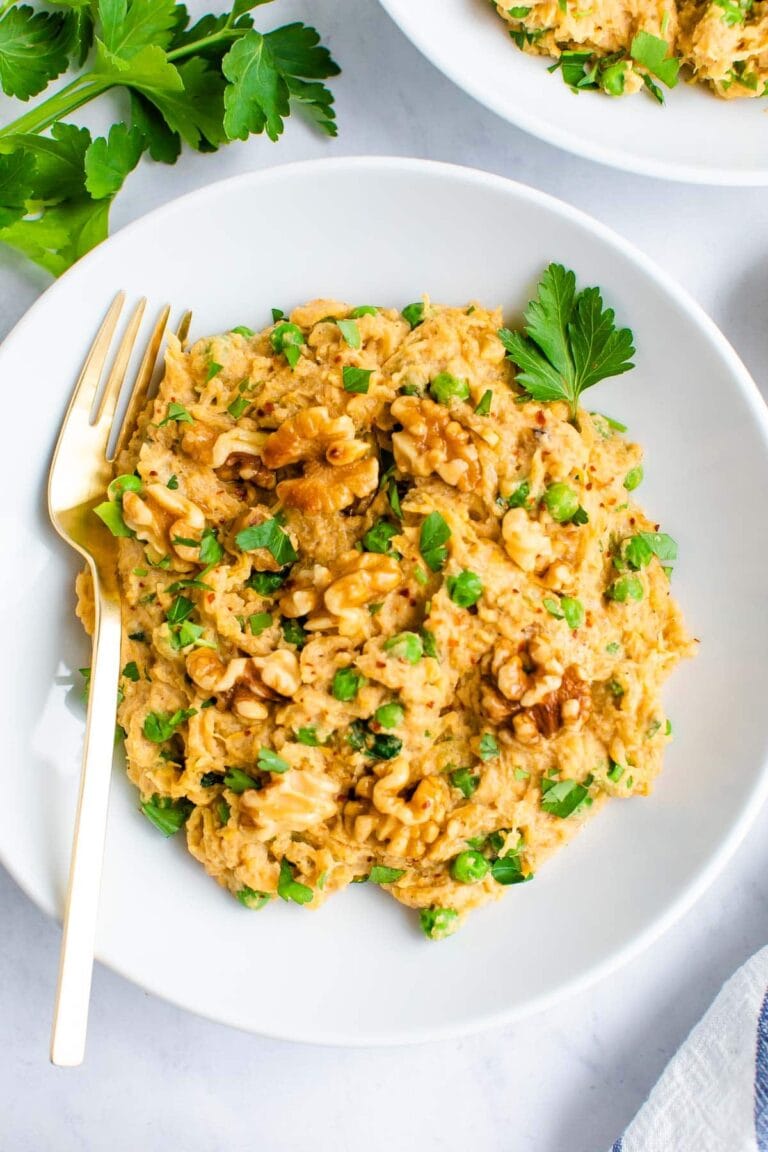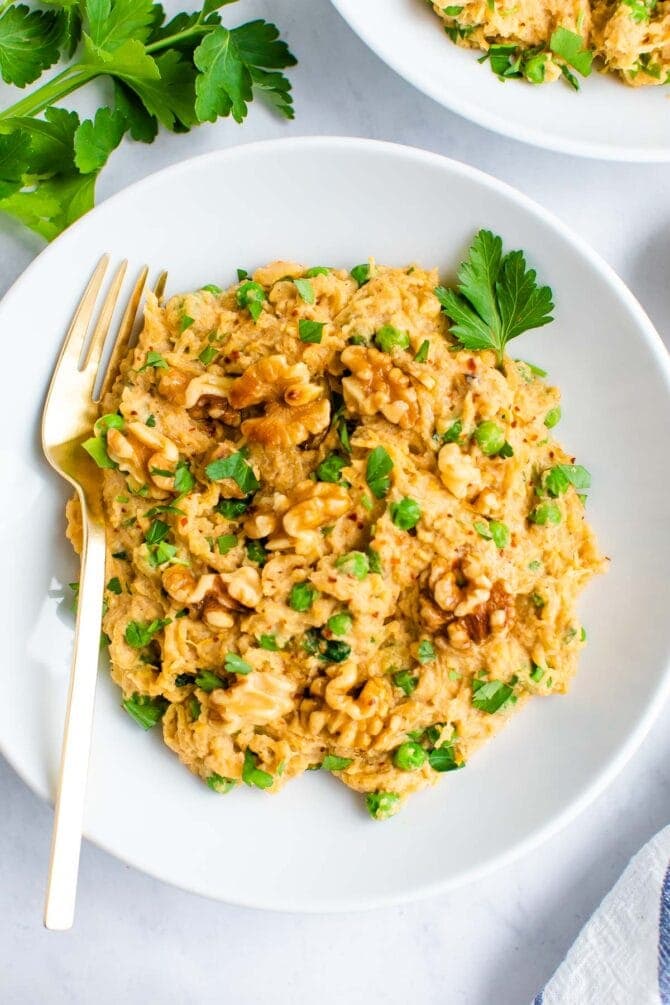 More Plant-Forward Recipes to Try
Popular Plant-Based Dinners
Be sure to check out all of the vegan recipes and the full collection of dinner recipes on EBF!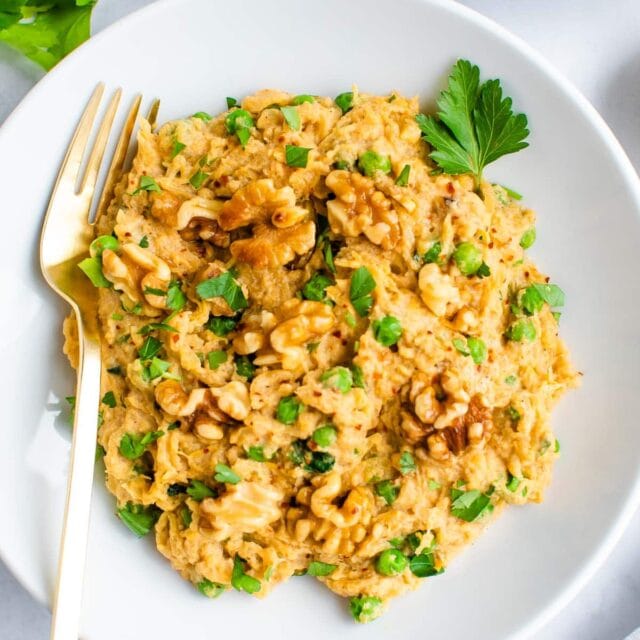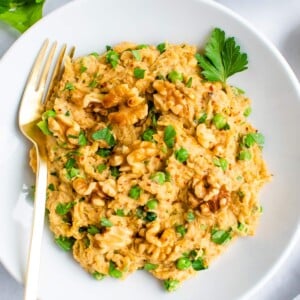 Creamy Walnut Pasta Sauce with Spaghetti Squash Noodles
This creamy walnut pasta sauce comes together quickly and tastes delicious over spaghetti squash with peas and parsley. One serving has 16 grams of plant-based protein!
Ingredients
1

large spaghetti squash

,

turned into noodles (about 4 cups)

1

cup

defrosted frozen peas

1/3

cup

chopped parsley

1/4

cup

walnuts

1

teaspoon

olive oil

crushed red pepper

additional salt and pepper

,

to taste
Walnut Pasta Sauce
1

cup

walnuts

1

teaspoon

olive oil

2

cloves

garlic

1/4

cup

chopped yellow onion

3/4

cup

water

2

Tablespoons

nutritional yeast

1/2

teaspoon

dried parsley

1/2

teaspoon

salt

1/4

teaspoon

pepper
Instructions
Toast walnuts: While spaghetti squash is roasting, add 1 cup walnuts to a pan and place in the oven at 400°F for 10 minutes to toast. If you're using the roasted ring method for the squash you can do this at the same time. Remove walnuts from the pan to cool.

Sauté: In a large skillet, add 1 teaspoon olive oil over medium heat, add garlic and onion and sauté until fragrant and soft.

Make sauce: Transfer onions and garlic and walnuts into a blender and add water, nutritional yeast, dried parsley, salt and pepper. Blend until fully combined and smooth.

Toast walnuts: In the same large skillet, add remaining 1/4 cup walnuts to toast. Add additional oil, if needed. Once toasted, set aside.

Combine and toss: Add cooked spaghetti squash noodles, peas and the walnut sauce into the same large skillet you used for toasting the walnuts and toss to combine. Stir in most of the chopped fresh parsley, reserving a bit for garnish.

Serve: Plate spaghetti squash pasta and top with crushed red pepper, toasted walnuts and fresh parsley. Serve warm.
Nutrition
Serving:
1
/3 of recipe
|
Calories:
507
kcal
|
Carbohydrates:
40
g
|
Protein:
16
g
|
Fat:
37
g
|
Saturated Fat:
4
g
|
Polyunsaturated Fat:
31
g
|
Sodium:
502
mg
|
Fiber:
13
g
|
Sugar:
13
g
Nutrition information is automatically calculated, so should only be used as an approximation.