I shared a few photos from Christmas day and a couple folks asked about the lasagna that I made. Well, I was a bad blogger and didn't get shots before we dug in on Christmas day (we we're hungry!) but luckily there were some leftovers and I was able to take a few photos yesterday to share.
I'm going to go ahead and preface this post with the fact that these lasagnas are the real deal and I didn't skimp on any of the cheese or noodles to lighten them up. I'm all about indulging for special occasions and I'm glad I tried these two recipes because both lasagnas came out wonderfully and my family enjoyed them. As an aside, if you're looking for something a little lighter, you can always check out my skinny lasagna. 🙂
First up, the vegetarian version — Butternut Squash Lasagna from Foodie Crush.
It had layers of butternut squash purée with almond cookies (yes, cookies!), shiitake mushrooms, a béchamel sauce with fresh basil and three cheeses: ricotta, mozzarella and parmesan. It had a nice sweetness from the butternut squash puréed with cookies and fresh basil but it wasn't too sweet and I loved the texture and flavor of the shiitakes.
I followed Heidi's recipe for the most part but couldn't find the amaretti cookies so I went with these almond thins. The lasagna tasted amazing so I think it's safe to say that they worked. Plus, I have a few of these almond thins left over, which I'm happy about because they're good!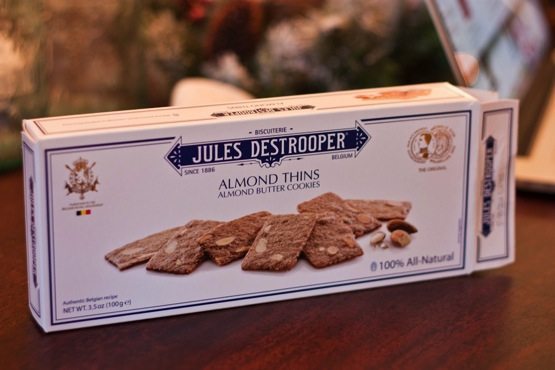 Next up, here's the meat version. I followed this recipe for the World's Best Lasagna and I must admit, it was good — maybe the world's best! I purchased all the ingredients for this one from Relay Foods, the online grocery store that I work for, and was able to use local, grass-fed beef from Wolf Creek Farm and local, artisan sausage from Sausage Craft. The meat sauce was homemade and took about two hours to cook but it was worth it. I'm just glad I started cooking it on Christmas eve rather than waiting until Christmas morning.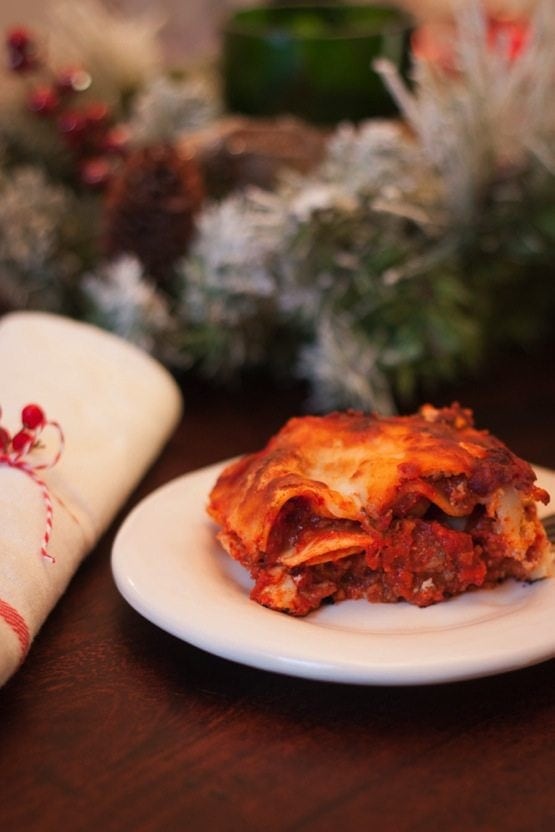 This one was a traditional meat lasagna with a red tomato sauce. The sauce had lots of flavor from dried spices, onions and garlic and the ricotta cheese mixture had fresh parsley added to it. Oh, and the recipe called for almost a pound of mozzarella cheese. My family loved it!
Originally I had planned on making a vegetarian and a meat version so that I would have a veggie version to eat but the sauce smelled so good while I was cooking it that I decided to try a little of the meat lasagna. Crazy, I know! But, it actually not that crazy because a few weeks ago I stared craving meat. Meat cravings have never really occurred in the past four years that I've been pescatarian (which is why eating a primarily vegetarian diet has never felt limiting to me).
However, after a couple instances of having cravings for meat, I thought that my body was trying to tell me something and decided I would try it again. Getting used to the thought of eating meat has been the hardest part. I didn't have any digestive issues and I'm getting used to the texture again too. Granted, all the meat I've eaten has been in small portions and I've been sticking with organic, ethically raised (local when possible) meat prepared at home. I still see myself eating a diet that's primarily pescatarian/vegetarian but I'll probably add in meat occasionally — maybe once a week or so when I'm craving it. We shall see.
Do you like lasagna? What's your favorite type?