Homemade pumpkin spice pepitas sweetened with maple syrup and a little sea salt.
I'm so glad you all liked the fall bucket list idea. Some of you were even inspired to make your own, which I think it awesome! I'm actually pretty proud of myself because I've been on a roll checking things off my list.
Oh and Isaac bought us a pumpkin. It was so cute, I came home from yoga on Saturday and he had it sitting on the front porch. Although, now I think we need a new one because the squirrels attacked it and it has a bunch of bite marks. Plus there are little pumpkin pieces are all over our porch. How lovely! Can you sense my sarcasm? We joke that our neighborhood is run by animals. Seriously, we have so many squirrels, chipmunks, rabbits and birds around our house at all times… it's like an enchanted forrest. It's awesome for the most part but they can definitely be a little pesky at times.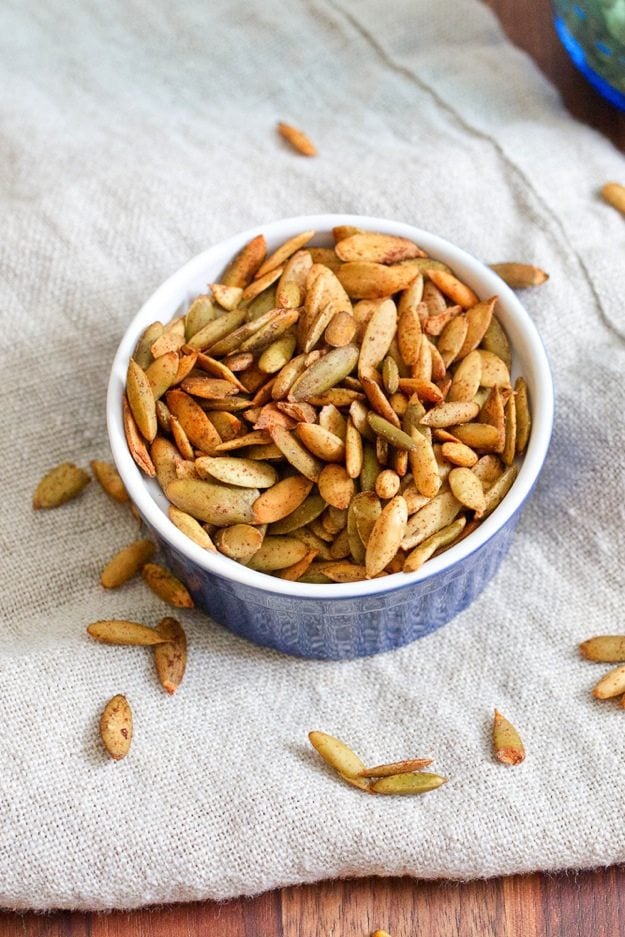 Anyhow, I got sidetracked… where was I? Oh, my fall bucket list. Yes! I recently completed yet another one of my fall bucket list items — roasting pumpkin seeds.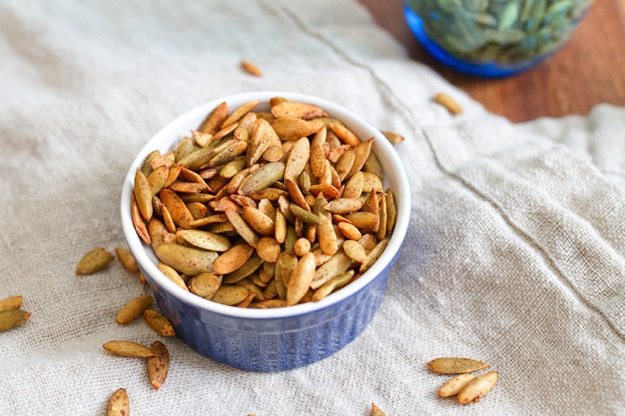 The idea for this recipe came to me while grocery shopping last week. I was in Trader Joe's and saw a bag of pumpkin spiced pumpkin seeds. They looked really good but after checking out the label I knew I could easily make them myself so I grabbed a bag of raw pepitas and went to work when I got home. I say "work" but honestly this recipe is super simple and not much work at all.
5 ingredients, 15 minutes and you have yourself a tasty little sweet and savory treat to munch on.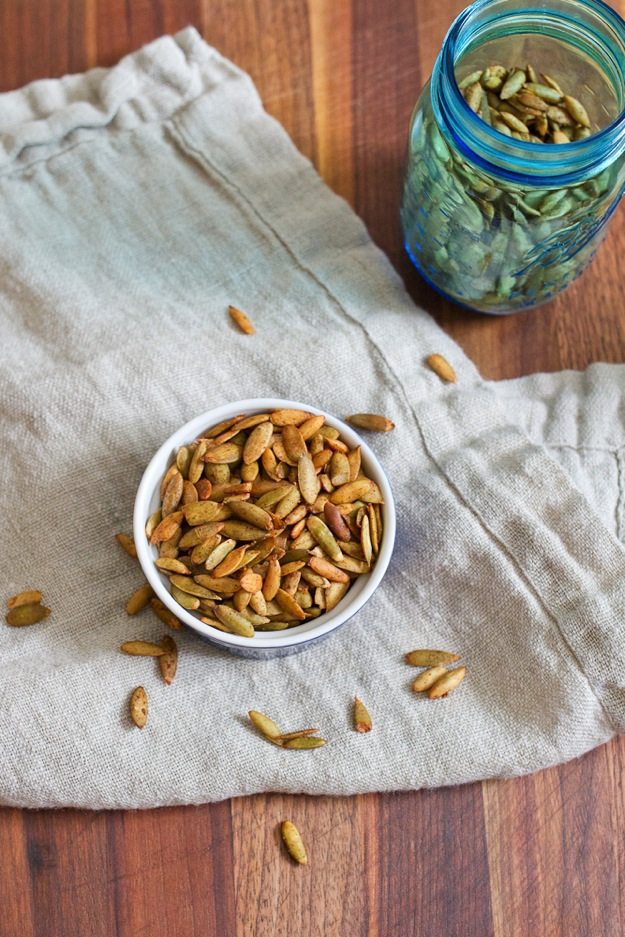 I've been eating them by the handful, adding them into yogurt, combining them with other nuts and seeds for a homemade trail mix and using them as a topping for salads. They're sooo good on salads. <— Yup, that's foreshadowing. 🙂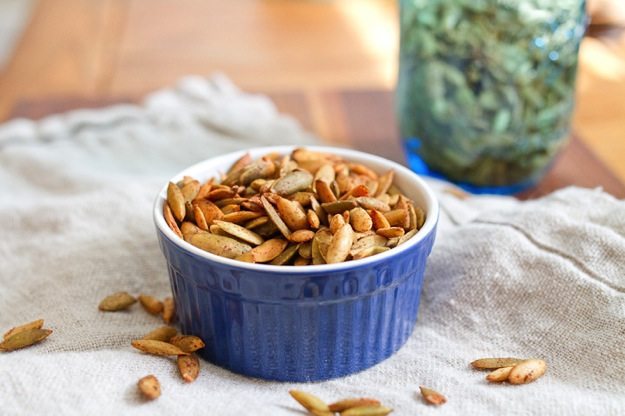 If you like pumpkin pie spiced things, you'll love these. They're perfect for when a craving hits for something sweet, salty and crunchy!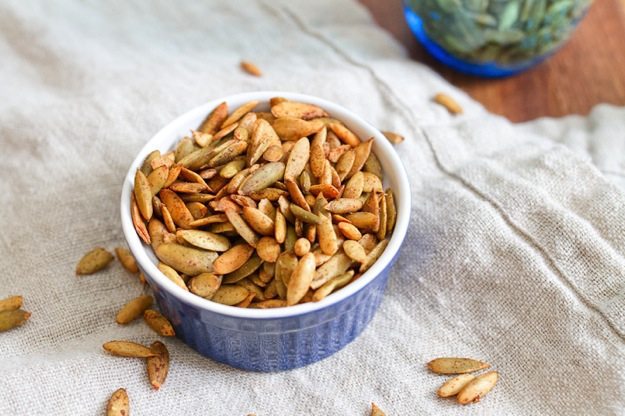 For this batch I didn't use seeds from an actual pumpkin. I used pepitas, hulled pumpkin seeds. You could certainly use this recipe with unhulled shells but we haven't carved a pumpkin yet so I didn't have any on hand.
Print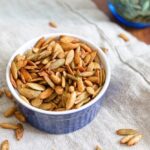 Pumpkin Spice Pepitas
Author:

Prep Time:

5 mins

Cook Time:

15 mins

Total Time:

20 mins

Yield:

2 cups
---
Description
Homemade pumpkin spice pepitas sweetened with maple syrup and a little sea salt.
---
Ingredients
2 cups raw pepitas (pumpkin seeds)
2 teaspoons maple syrup
1 teaspoon pumpkin pie spice
1/2 teaspoon coconut oil, in a liquid state
1/4 teaspoon sea salt
---
Instructions
Preheat oven to 325°.
In a large bowl, toss pumpkin seeds with coconut oil, maple syrup, pumpkin pie spice and sea salt.
Spread pumpkin seeds evenly, in one layer onto a baking sheet. Bake for 10-15 minutes, until the seeds are crisp, stirring every few minutes.
Remove from the oven, let the seeds cool and enjoy.
---
Notes
I used pumpkin pie spice but if you don't have any or can't find it, you can easily make your own using cinnamon, nutmeg, ginger and cloves or allspice.
---
Nutrition
Serving Size:

1/4 cup

Calories:

178

Sugar:

1g

Fat:

15g

Carbohydrates:

4g

Fiber:

2g

Protein:

9g