How to Make Oatmeal For Babies
19
Published May 01, 2021, Updated Aug 13, 2023
How to make oatmeal for babies, from oatmeal cereal for early eaters to steel cut oats, plus the peanut butter banana oatmeal recipe I make for my babe almost every day.
As an oatmeal lover myself I had a feeling that my little one, Olivia, was going to like it as well and turns out I was right… she's a big fan!
That said, when I first thought about giving her oatmeal I wasn't sure what type was best and how to prepare it. I had so many questions… What type of oats are best? Are rolled oats too thick for babies? Do you cook the oats in breast milk or add it after?
If you're a new mama/papa, you might be wondering the same things. Luckily I've done all the research and I'm here to help.
For starters, oatmeal is a great food for babies. Many pediatricians suggest some sort of baby cereal (like oatmeal) as a first food because it's mild, easy to digest and has a low risk for causing an allergic reaction.
Store-bought baby oatmeal is available, but it's basically just oat flour (or ground up rolled oats) and it's super easy to make yourself at home! One thing to note is that packaged baby cereals are typically fortified with iron and if you make oatmeal cereal at home the iron content won't be as high.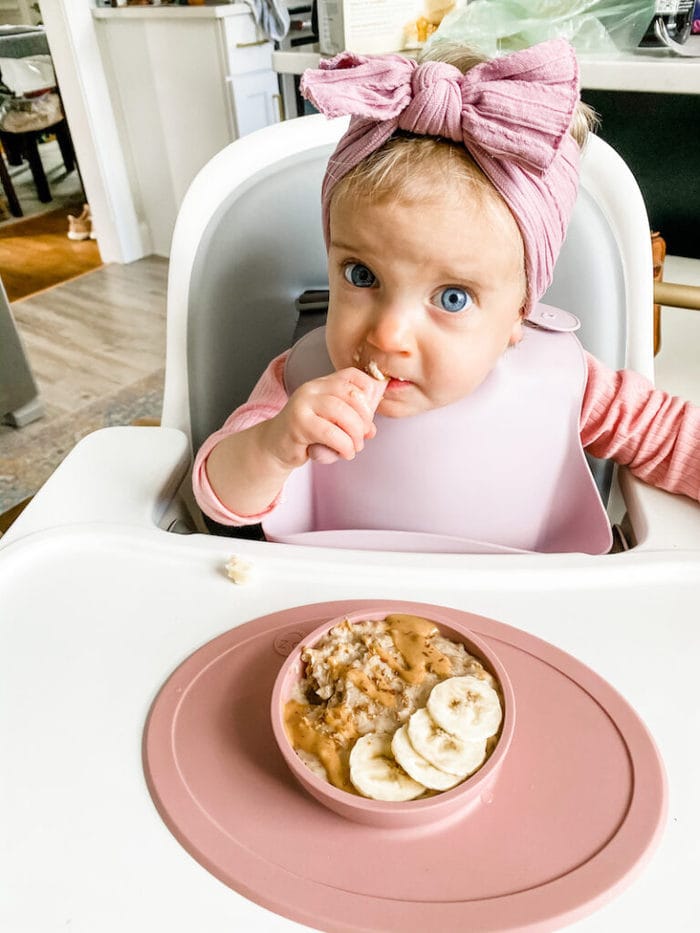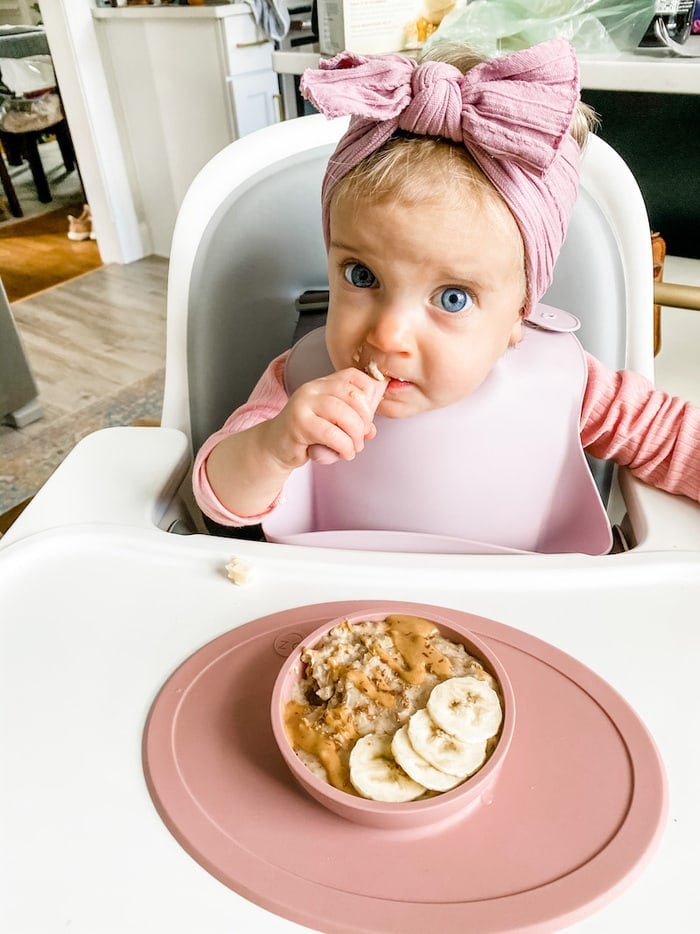 When starting solids with Olivia, we skipped the baby cereal all together and went with veggies and fruits. The first food I gave her was steamed and pureed sweet potatoes, thinned with breast milk. After introducing several pureed fruits and veggies, we started giving her oatmeal. It was probably around 7 1/2 months so we went straight to quick oats and rolled oats, cooked the way I'm sharing in the recipe below. In the beginning I thinned the oatmeal with breast milk, but now I make her oats the same way I like mine, without needing to add any additional liquid.
How to Make Oatmeal for Babies
Here I'm covering the basic method for cooking different types of oatmeal for your baby. Of course, feel free to add mix-ins and toppings to give the oats more flavor and variety when your baby is ready.

Oatmeal Cereal // 5+ months
Grind old fashioned oats in a food processor or high-powered blender until finely ground like a flour.
Boil 1/2 cup of water and sprinkle in 2 tablespoons of ground oats. Whisk continuously for 30 seconds and then stir occasionally while it cooks for the remainder of the cooking time, typically 3-5 minutes. The oats are done when they are thick and creamy.
Remove oats from heat and let cool. Add breast milk or formula to thin. You'll want the cereal quite thin for new eaters.
Note: you can grind up a larger batch of oats to make the process super quick in the morning. Store the ground oats in an airtight container in a cool dark place or in your refrigerator.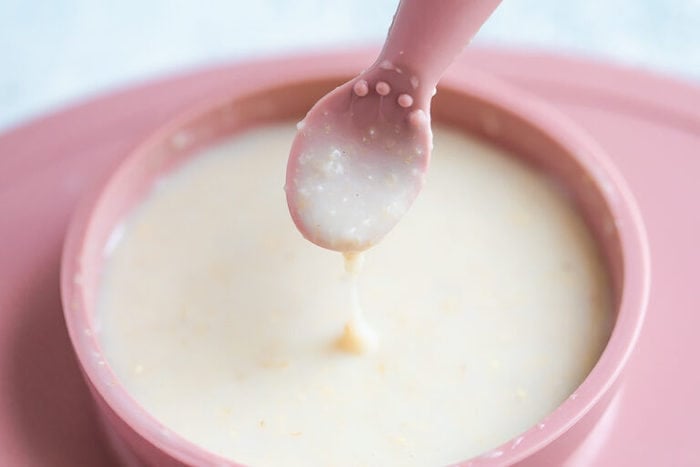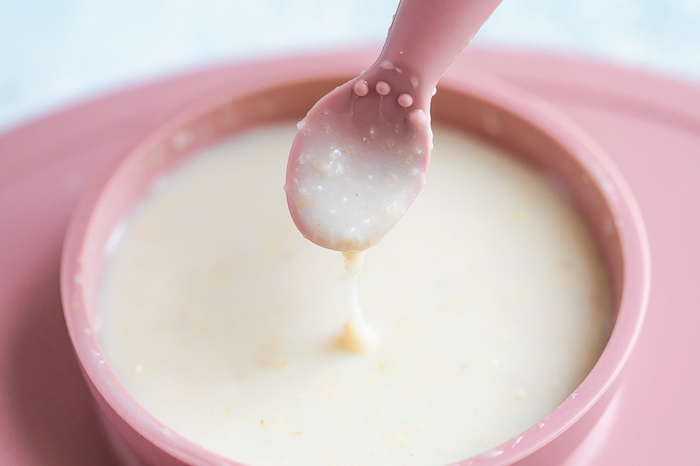 Quick Oats for Babies // 6+ months
Quick (or instant oats) are the most processed of all the oat varieties. They are pre-cooked, dried, and rolled and pressed slightly thinner than rolled oats. They cook faster than steel cut or rolled oats, but they also lose a bit of texture in the cooking process so they tend to be mushy.
Bring 1/2 cup of water to boil, add in 1/4 cup of quick oats and stir to combine. Reduce heat to medium and cook for 1 minute, stirring occasionally.
Remove from the heat and let cool. Add breast milk, formula or water, if needed to get the oats to the desired consistency. Add mix-ins and toppings of choice.
Old Fashioned Rolled Oats for Babies // 6+ months
Old fashioned rolled oats are oat groats that have been steamed and then rolled which speeds up the cooking process for all of us at home.
Add 1/4 cup of old fashioned oats and 3/4 cup water into a pot over medium high heat and stir to combine. Heat over medium-high heat for 5-7 minutes or until all the liquid has been absorbed.
Remove from the heat and let cool. Add breast milk, formula or water, if needed to get the oats to the desired consistency. Add mix-ins and toppings of choice.
Steel Cut Oats for Babies // 6+ months
Steel cut oats are the least processed oats. The oat groat (the full oat "grain") is cut into two or three parts to get to steel cut oats. That said, they're also the most dense and chewiest oatmeal option so they're good for older babies. I still don't make steel cut oats for Olivia and she's 12 months old!
Bring 3/4 cup of water to boil, add in 1/4 cup of steel cut oats and stir to combine. Return mixture to a boil and then reduce to a simmer for 20-30 minutes or until most of the water is absorbed. Stir occasionally during cooking.
Remove from the heat and let cool. Add breast milk, formula or water, if needed to get the oats to the desired consistency. Add mix-ins and toppings of choice.
Health Benefits of Eating Oatmeal for Babies
Oatmeal is a wonderful food for babies for a variety of reasons. It's gentle on their tummies and packed with fiber, magnesium, iron and zinc. Little ones often experience constipation as they introduce solid foods into their diet, so oatmeal is a great intro food as it acts as a natural laxative.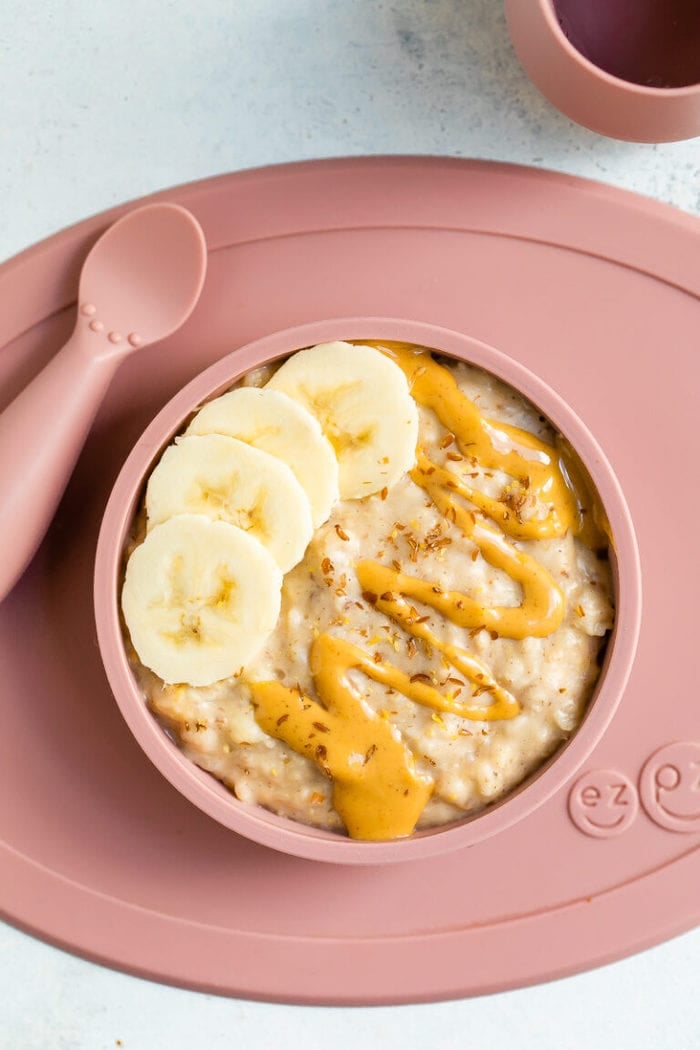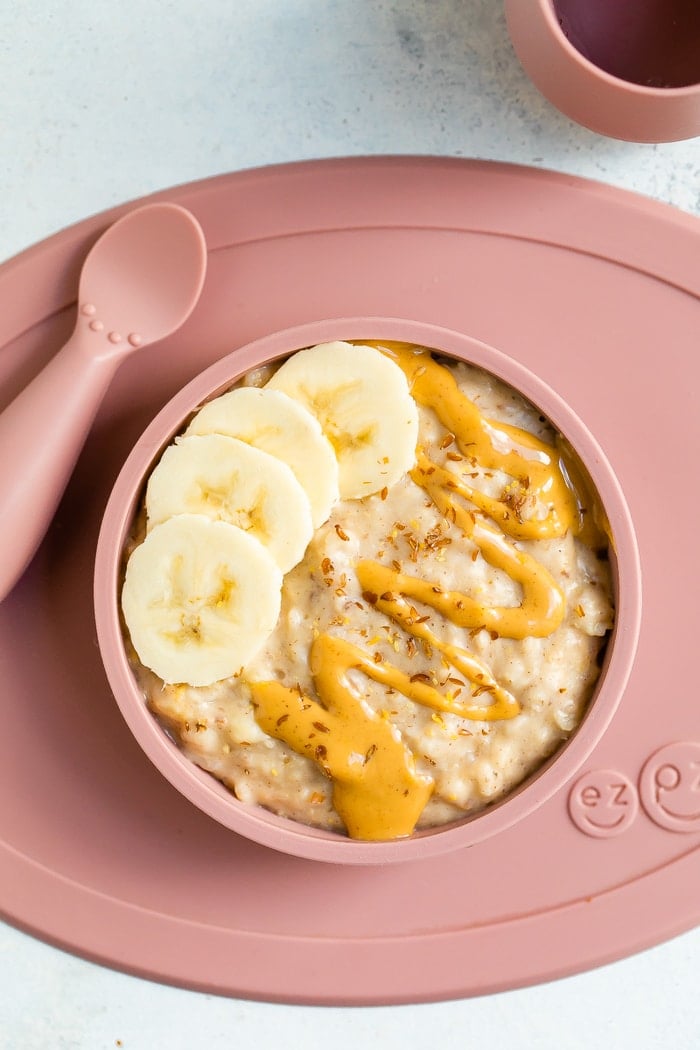 How to Flavor and Season Oatmeal For Babies
When making oatmeal for babies it's fun to switch up the flavors and toppings instead of feeding them plain, boring oats.
Olivia eats just about anything and I attribute that to offering her a variety of foods and seasoning things early on. In the beginning I seasoned her purees with aromatic spices like cinnamon and nutmeg and now she loves food with flavor. Her latest favorite is this tofu pumpkin curry.
I have given Olivia a variety of oatmeal flavors, but typically I make her oatmeal the same way I make my favorite peanut butter banana chia oatmeal. I cook it with additional water (so it's voluminous and extra creamy), cinnamon and I also add banana slices in with oats. As it cooks, I mash the banana slices so they soften and mix throughout, adding a subtle sweetness (without adding any actual sugar). After cooking, I stir in ground flaxseed or chia seeds and peanut butter.
Adding Peanut Butter to Oatmeal
I like mixing the peanut butter in with the oatmeal for some healthy fat and protein. I also like that it gives her a good amount of exposure to peanuts, which is now said to be key for avoiding food allergies. Of course, be sure to talk to your pediatrician about introducing peanuts to your little one and make sure they tolerate it before adding it to their oatmeal. I also recommend using peanut butter that has only one ingredient (peanuts) so there's no added oil, salt or sugar. Peanut butter is my g0-to choice, but you can use other nut butter like almond, cashew and sunflower seed butter if you want to switch it up!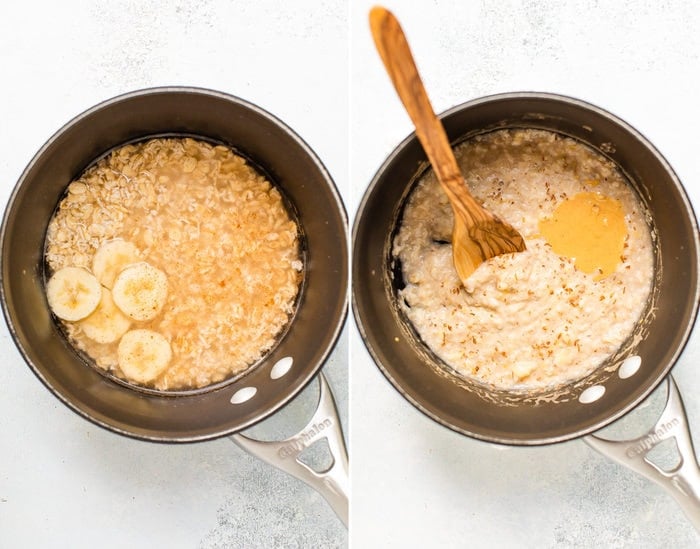 Use Leftover Oatmeal as a Thickener
You can also use leftover cooked oatmeal for babies to make combination purees or to thicken purees that are too thin! Just toss the cooked (and cooled) oatmeal into a blender with the fruit or veggies you want to combine it with. Puree until it's reached the desired consistency and serve.
How to Turn Oatmeal into a Finger Food for Babies
One cool thing I realized after refrigerating some of Olivia's oatmeal is that cold oats sort of congeal and stick together. When this happens, I just break apart the oats and serve them to Olivia cold as finger food. It can get a bit messy but she LOVES it so I give it to her all the time!
Of course there are some additional ways to prepare oatmeal as a finger food for babies/toddlers including baked oatmeal cups, regular baked oatmeal (readers have told me their babies love this blueberry baked oatmeal recipe), oatmeal baby pancakes and even porridge fingers!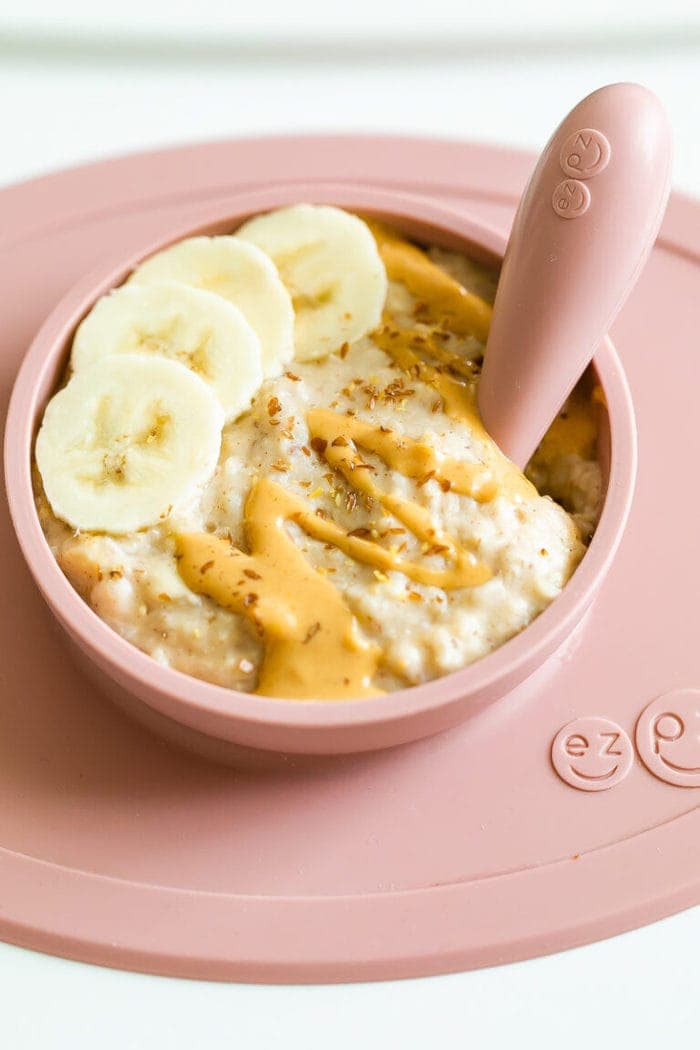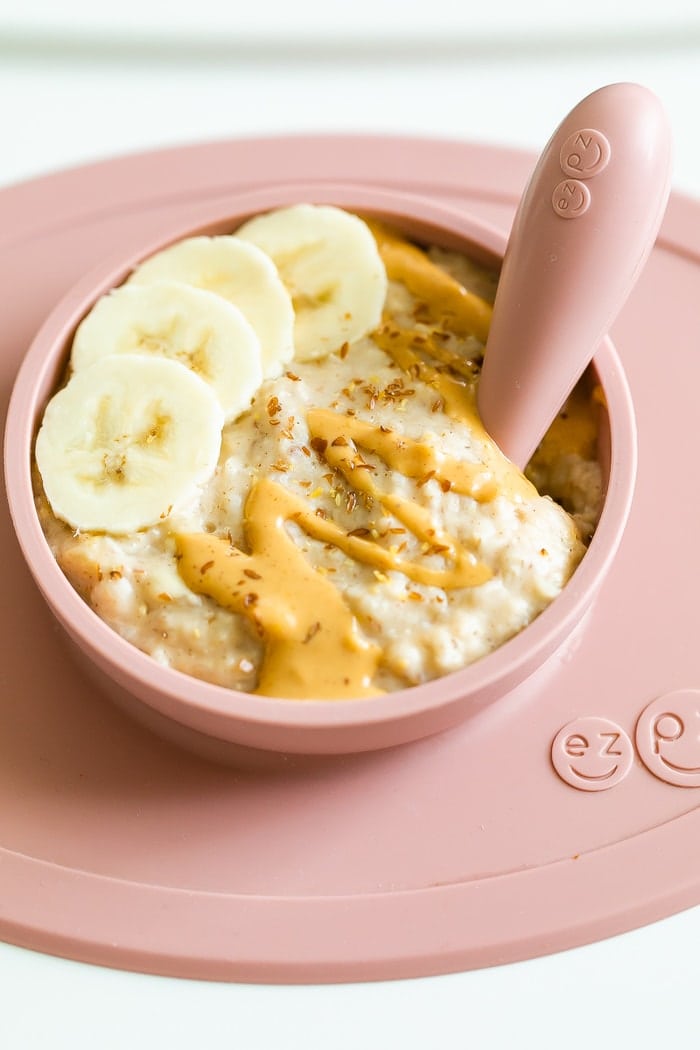 How to Store Leftover Oats
Store leftover oats in an air-tight container in the fridge for up to 4 days. If the leftover oats have breast milk or formula added to the oats, you should follow the storage guidelines for the milk in terms of how many days you can keep it. I personally like using fresh breast milk to thin the oats because it stays fresh for about 3 days, whereas previously frozen breastmilk usually needs to be used within 24 hours.
The oatmeal will thicken as it sits so you can serve it in mushy finger foods chunks like I mentioned above (if your baby is good with finger foods) or you can add water, breast milk or formula to thin it out before serving. I give it to Olivia cold and she gobbles it up, but you can warm it up a bit before serving if you want.
More Baby Recipes and Resources
More Oatmeal Recipes to Try
Be sure to check out my full collection of oatmeal recipes as well as all of the baby food recipes here on EBF.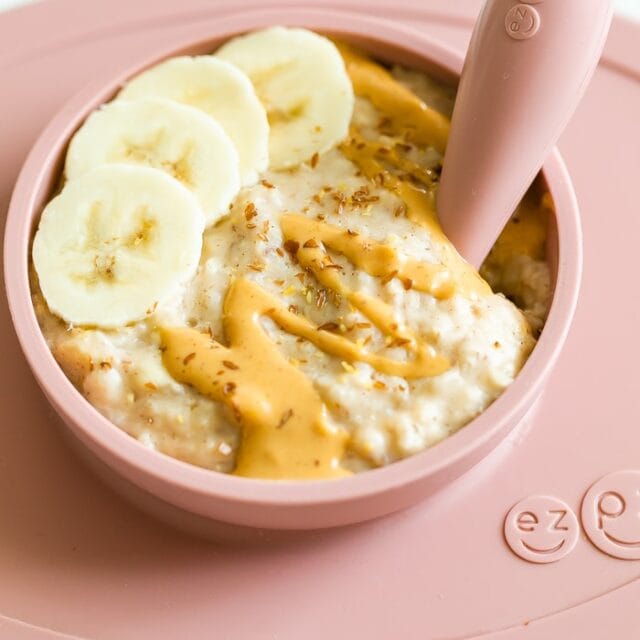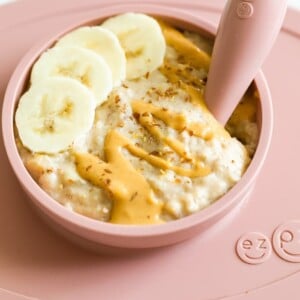 Baby Oatmeal
Here's the recipe for oatmeal that I make for Olivia almost daily. I cook the bananas in with the oats so they soften and add a nice hint of sweetness without added sugar and then stir in ground flaxseed (or chia seeds) and peanut butter for extra nutrition and flavor!
Ingredients
1/4

cup

old fashioned rolled oats

3/4

cup

water

1/4

banana

,

sliced

pinch

of cinnamon

1

teaspoon

ground flax or chia seeds

,

optional

1-2

teaspoons

peanut butter

breastmilk

,

formula or water to thin, if needed

toppings of choice: fresh berries

,

more peanut butter, more bananas
Instructions
Add oats, banana slices and cinnamon into a pot. Add water and stir to combine. Heat over medium-high heat for 5-7 minutes or until all the liquid has been absorbed. Be sure to stir the oats several times while cooking to make sure the banana slices melt into the oats. You'll know the oatmeal is done when all the water has been absorbed and the oats are creamy and fluffy.

Remove pot from heat and stir in ground flax and peanut butter, if using.

Portion oats into a bowl and let cool before serving. Oats can be warm, but you don't want them to be too hot. If the oats are too thick (sometimes this happens as the oats cool) add a splash of breast milk, formula or water to thin. Feel free to add toppings like fresh berries, more peanut butter or banana chunks.
Nutrition
Serving:
1
|
Calories:
150
kcal
|
Carbohydrates:
22
g
|
Protein:
5
g
|
Fat:
5
g
|
Saturated Fat:
1
g
|
Sodium:
47
mg
|
Potassium:
231
mg
|
Fiber:
3
g
|
Sugar:
5
g
|
Vitamin A:
19
IU
|
Vitamin C:
3
mg
|
Calcium:
21
mg
|
Iron:
1
mg
Nutrition information is automatically calculated, so should only be used as an approximation.