Happy Friday friends! I have a super simple, extra delicious recipe to share today, but first I wanted to give you all a little update on my wedding planning. It's been awhile, no?
Well, we have about 10 weeks until the wedding, 72 days to be exact. All the BIG stuff is done, but I feel like there's still a ton up in air — some of which can't be done right now, but other stuff that can. Not going to lie, it's a little overwhelming. Just this week, we did get a few important details taken care of:
Picked out the ties for the groom and his men. They're coral (guava) to match to girl's dresses.
Met with the musician that's going to be playing during our ceremony and cocktail hour.
Booked flights for our honeymoon!!!!
Booked a mani/pedi appointment for the Friday before the wedding.
Our invitations came in! They're adorable and I can't wait to put them in the mail.
I'm also still going strong with my wedding-ready workout routine. My next check-in (weight and measurements) with my personal trainer will be next Wednesday and I'm excited to see what sort of progress I've made! I can't believe it's almost been a month since my last check-in. Crazy!
Okay so on to the recipe I wanted to share… it involves almonds, one of my favorite portable snacks. Most of the time I buy whole raw almonds for snacking plain or adding to homemade trail mixes, but other times I crave something with more robust flav and I get roasted almonds.
Recently I saw that my local health food store had coconut roasted almonds and I knew I needed them in my life. Instead of buying them, I decided to make my own — that way I would have a recipe to share with you all. Always thinking about you guys. 🙂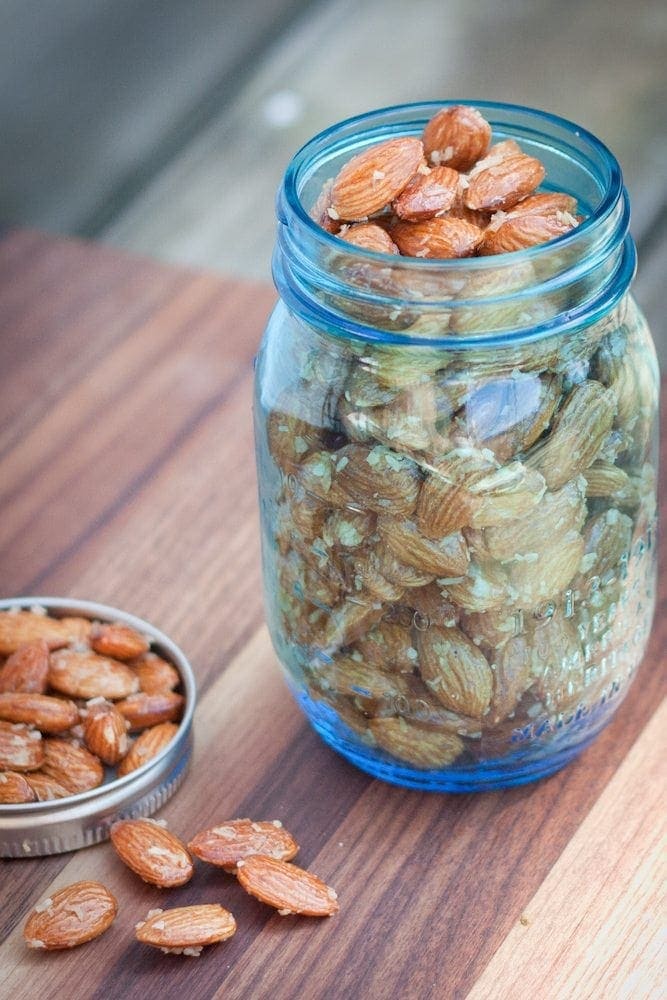 These babies are good! They're sweet but not too sweet and the toasted coconut pairs perfectly with the maple syrup and nuttiness of the almonds. I've been eating at least a handful a day. I can't get enough of them.
Fun nutritional facts about almonds: they provide a dose of healthy fat, protein and fiber and are an excellent source of vitamins and minerals, especially vitamin E, a powerful antioxidant.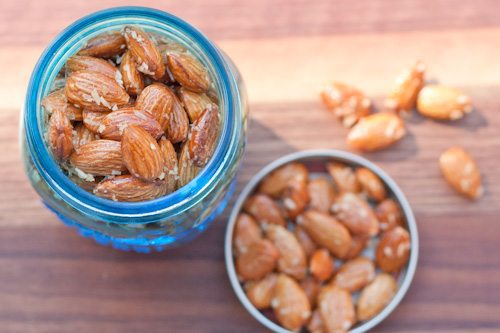 Just as an aside, how cool is the blue jar the almonds are in? It's actually one of the newly released Ball Heritage Collection pint jars. The color is similar to that of the vintage blue jars I'm collecting for the centerpieces at our reception, but a little brighter. Since they don't match perfectly, I probably won't us them for the wedding, but I love them for kitchen storage.
Maple Coconut Roasted Almonds
8
adjust servings
Ingredients
2

cups raw almonds

2

Tablespoons maple syrup

1

Tablespoon unsweetened shredded coconut

1/4

teaspoon vanilla extract

1/4

teaspoon sea salt
Instructions
Pre-heat oven to 375°.
In a medium size bowl, mix together almonds, maple syrup, shredded coconut, vanilla extract and sea salt. Toss until almonds are well coated.
Spread almonds out in a single layer on a baking sheet lined with parchment paper (or a baking stone) and bake for 10-12 minutes, stirring once half way through the process.
Remove from oven and cool for at least 60 minutes. Store in an air-tight container.
Recipe Notes
If you've ever roasted your nuts and seeds at home, you'll know the process is super simple and takes only minutes. Just remember, you do have to keep an eye on them, as they can burn rather quickly.
What's your favorite nut to snack on? Have you ever roasted your own?