Homemade ThinkThin Bars
25
Published Jan 08, 2015, Updated Oct 11, 2021
Make your own thinkThin bars with only 6 ingredients! They're delicious and free from soy, dairy and sugar alcohols.
As I'm sure you all have noticed, I love making homemade versions of things — whether it's a meal I've had out at a restaurant, a packaged food item or a DIY beauty product. The challenge of recreating things at home is fun for me and I like being able to share it with you guys as well.
Today's recipe was inspired by thinkThin bars. The Chunky Peanut Butter flavor has been one of my favorites for a couple years now. I'm not even going to get into the name of the bars. For me it boils down to this — I like the peanut butter and chocolate combo and the bars are great when I'm craving something sweet after a meal. I usually break off about 1/3-1/2 of the bar and it satisfies my sweet tooth.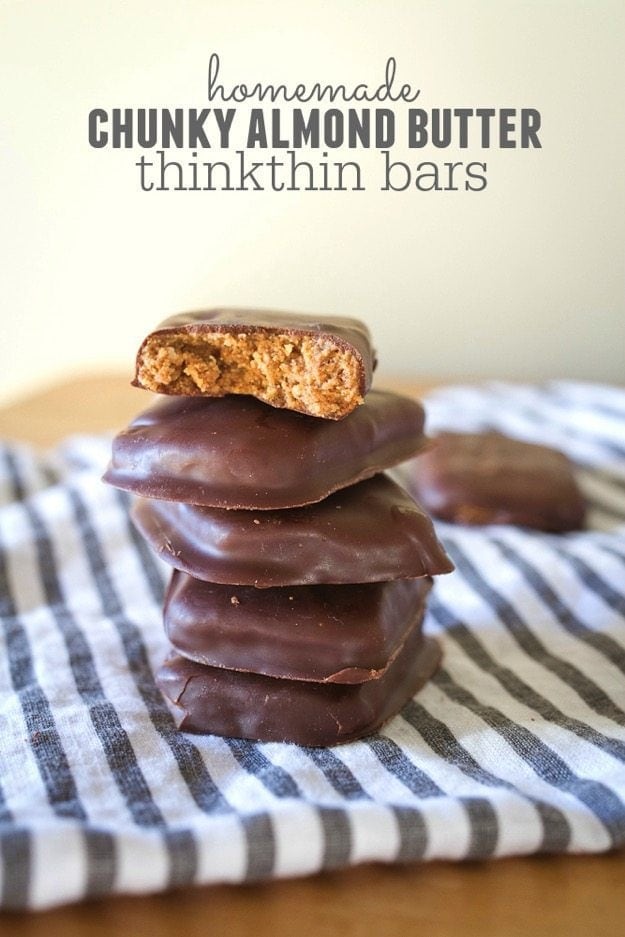 The Chunky Peanut Butter thinkThin bar is loaded with protein and low in sugar so it feels like a healthier option than some other desserts I could choose. That said, overtime I've realized that my body doesn't respond well to sugar alcohols (Maltitol is what's used in the chunky peanut butter flavor) and I try to limit my soy consumption (the bar also contains soy protein, soy crisps and soy lecithin).
Naturally, the wheels started turning and I figured I could make my own thinkThin bars without those items.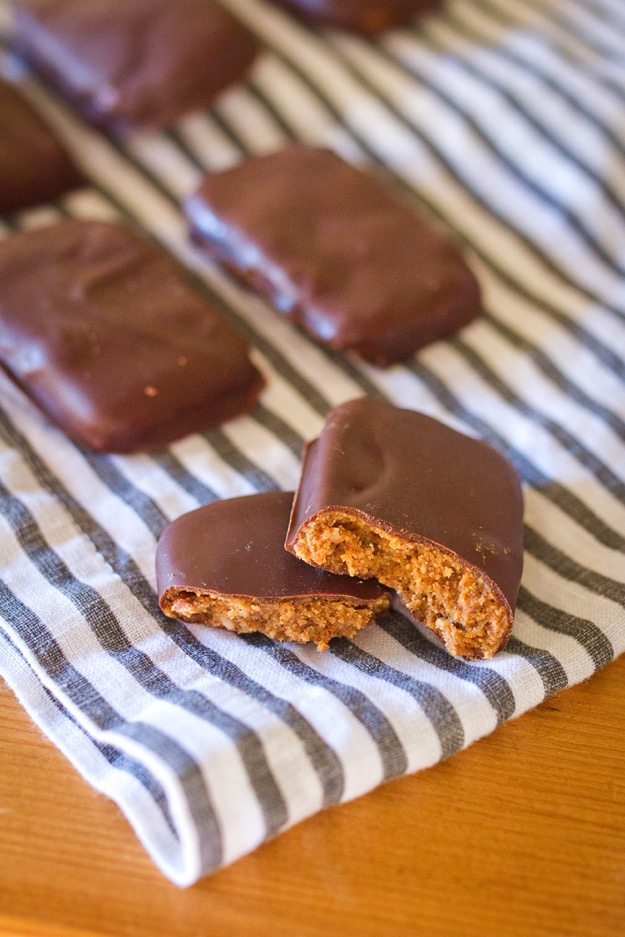 After a little testing I came up with a bar recipe (with only 6 ingredients!!) that totally fit the bill. I used almond butter, protein powder, dates and almonds for the base of the actual bar.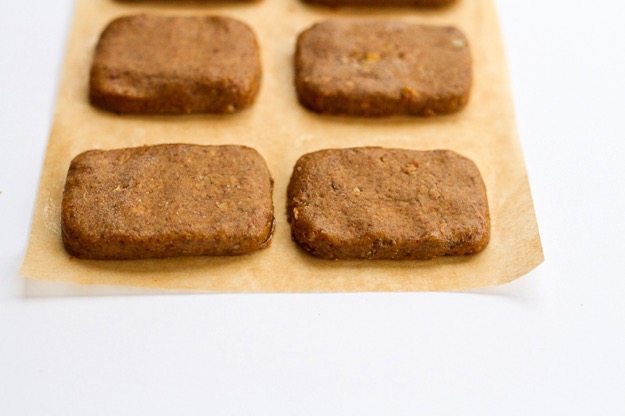 I actually liked these on their own, but they're even better (and more like dessert) when covered in chocolate!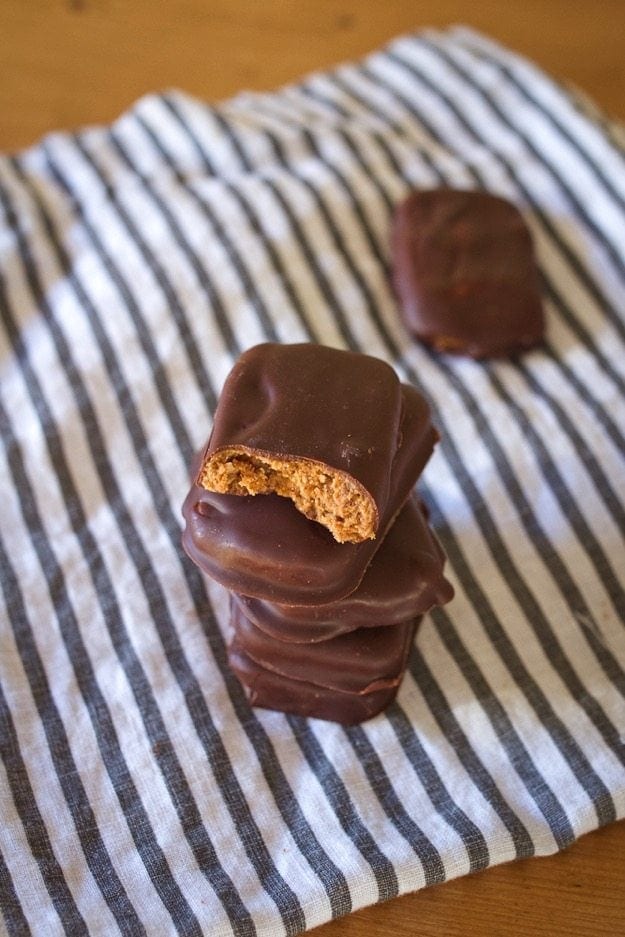 Now I will say, my bars don't taste EXACTLY like the Chunky Peanut Butter thinkThin bar but they're definitely similar and they still taste just as good. They have the nut butter and chocolate combo that I enjoy and the texture has a little crunch to it, just like the thinkThin bar does.
Of course, the nutritional stats aren't the same either. My version doesn't have as much protein and it also has sugar — from dates and the chocolate chips — but in my opinion less processing and a little sugar is better than the fake stuff. Plus, I see these as a dessert more so than a protein bar so I'm totally cool with them having a little sugar.
Isaac and I have been enjoying these as a treat throughout the week. I keep them in the freezer and then just pull one out to thaw a few minutes before we want it. Works great for satisfying a sweet tooth and tastes delish. I hope you like them as much as we do.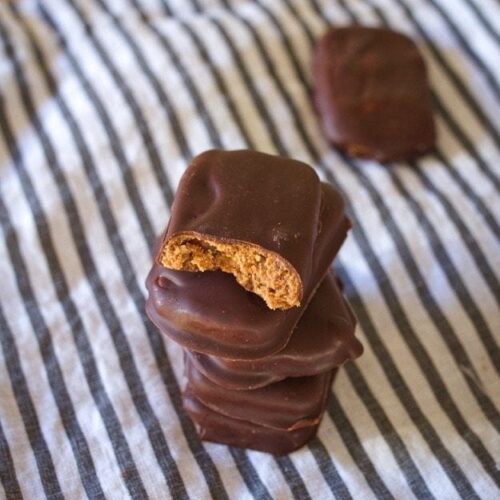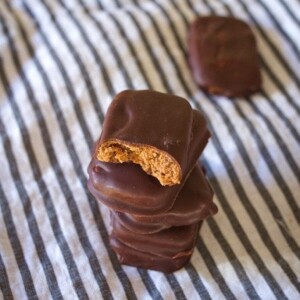 Homemade Chunky Peanut Butter thinkThin Bars
Make your own thinkThin bars with only 6 ingredients! They're delicious and free from soy, dairy and sugar alcohols.
Instructions
Place almond butter, dates and protein powder into a food processor and pulse until smooth. Add in raw almonds and pulse a couple more times, until almonds are broken up into small chunks. Mixture should be thick and form easy to form into bars. If it's too thin, add a little more protein powder.

Form mix into rectangular shaped bars and place on parchment paper. I used a square container as a cookie cutter and then formed each square into a rectangle using my hands. I was able to make 10 small bars.

Place bars into the freezer for a couple hours (or overnight) to harden up.

A couple minutes before taking the bars out of the freezer, combine chocolate chips with the coconut oil and melt the mixture. Use a double boiler or microwave in 30 second increments (stirring after every 30 seconds) until the chocolate is melted.

Dip chilled bars into the melted chocolate until covered. Place back on parchment paper. Once all bars are covered, place back in freezer until hard. Store in freezer or fridge until ready to enjoy.
Notes
If you want the bars to have less sugar, use less chocolate chips and just drizzle a little melted chocolate on each instead of covering them in chocolate.
Nutrition
Serving:
1
bar
|
Calories:
156
kcal
|
Carbohydrates:
15
g
|
Protein:
3
g
|
Fat:
11
g
|
Fiber:
2
g
|
Sugar:
10
g
Nutrition information is automatically calculated, so should only be used as an approximation.