20 Healthy Zucchini Noodle Recipes
5
Published Feb 19, 2018, Updated Sep 27, 2023
Love zoodles? Here are 20 healthy zucchini noodle recipes for you to try. Once spiralized this green squash makes the perfect light and tasty addition to any meal.
Zoodles, zucchini noodles, zucchini pasta. Whatever you want to call them, I love zucchini noodles so much I've started craving them in place of traditional pasta for most of my meals. They're a great gluten-free and low-carb option, while also being packed with fiber and vitamins A, B and C.
However don't be deterred by the idea of zucchini noodles being a lighter option; it just provides you with the perfect excuse to load up on as many tasty toppings as possible. Regardless of the direction you choose to go in with your zucchini noodle recipes take comfort in the fact that it's guaranteed to be delicious.
I know spiralizing vegetables can be kind of intimidating for people to take on at first. One time back in 2015 I actually taught a little spiralizing demo at my local Pure Barre studio to help shed some light on the process.
How to Make Zucchini Noodles
My favorite veggie to turn into noodles is zucchini! They're the perfect texture, plus they have a mild flavor that tastes on whatever sauce you're using… similar to regular pasta. Zucchini noodles are also super easy to make. There are a few different methods depending on what kitchen tools you on hand:
Spiralizer: The easiest way, in my opinion, is to use a spiralizer to make your zucchini noodles. You can make them whatever size you like, but I prefer to use the thinner noodle blade.
Vegetable peeler: If you don't have a spiralizer, you can use a vegetable peeler to peel the zucchini into thin ribbons by sliding the peeler down the zucchini lengthwise.
Mandoline slicer: Another option is to use a mandoline with the julienne blade. I feel like I'm always seeing people cut themselves when they use this slicer so be super careful!
If you don't have any of these tools or just want to take a shortcut, you can buy prepared zucchini noodles from the store. Look for them in the produce section with other pre-chopped veggies/fruits.
What Spiralizer is Best?
The first thing I tell people when it comes to spiralizing is to pay attention to the equipment you're using because some spiralizers are way better than others. I'm speaking from experience because I've owned over three different spiralizers.
The absolute best spiralizer on the market is the Inspiralized Inspiralizer Pro. It's has built-in blades which create four distinct noodle shapes for healthy vegetable "pastas." A counter clamp along with suction bases keep the spiralizer steady, while the safety cover protects fingers from sharp blades. It's become one of my go-to kitchen tools that I recommend for anyone looking to eat clean. Veggie noodles FTW!
If you're in a hurry and want to speed it up even more you can always pick up fresh zucchini noodles from the pre-cut vegetables section near the produce aisle of most grocery stores.
The Best Healthy Zucchini Noodle Recipes
Zucchini Noodle Spaghetti Salad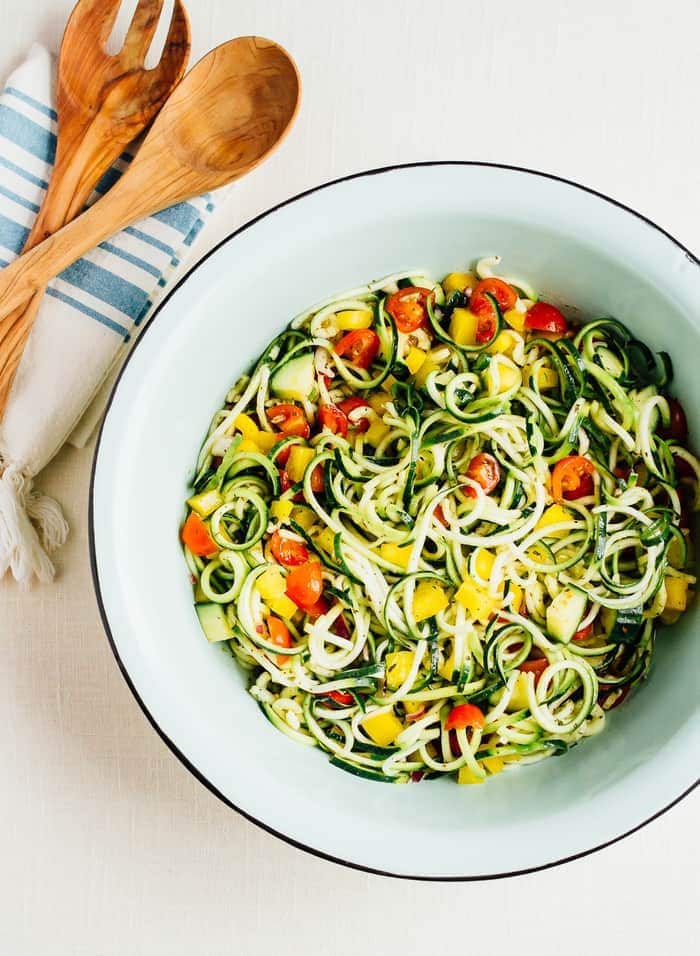 One Skillet Zucchini Noodle Shrimp Lo Mein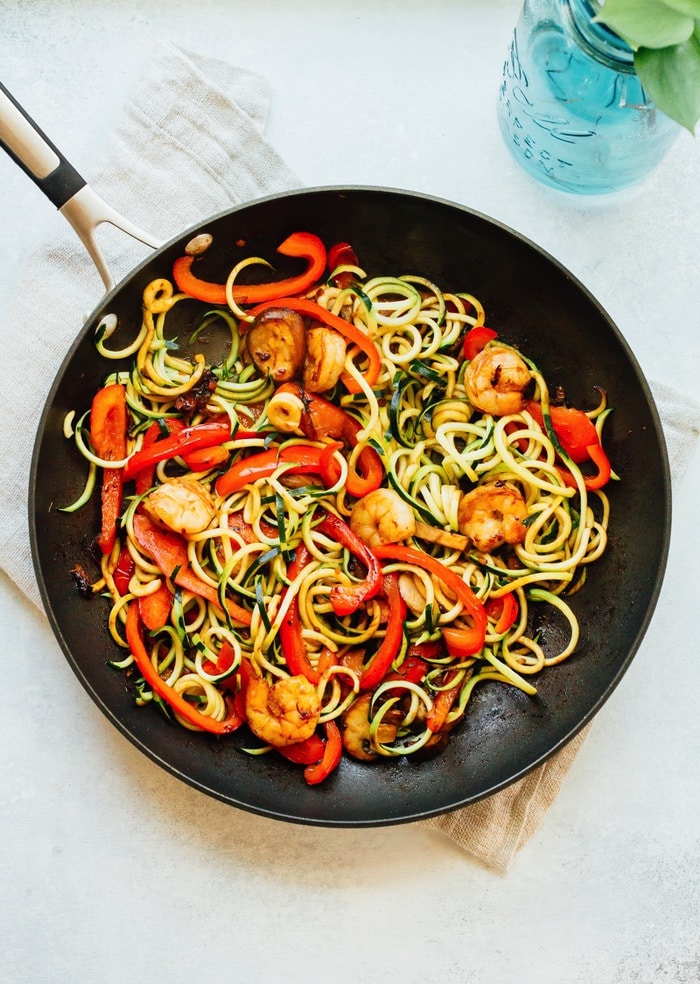 Coconut Curry Mussels with Zucchini Noodles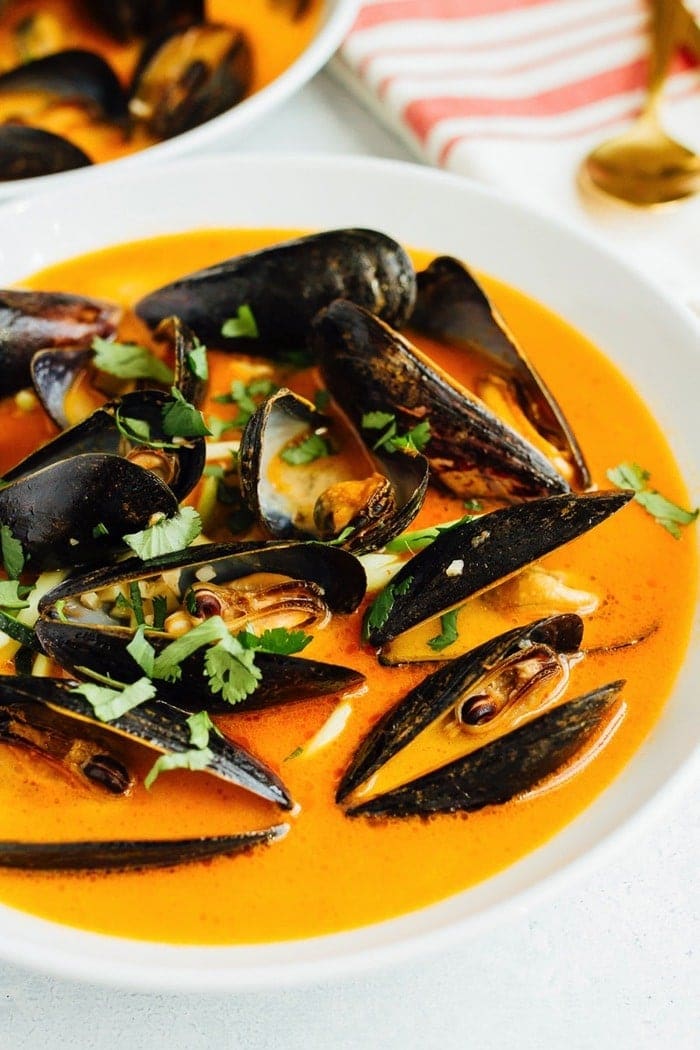 Zucchini Noodle Ramen with Tempeh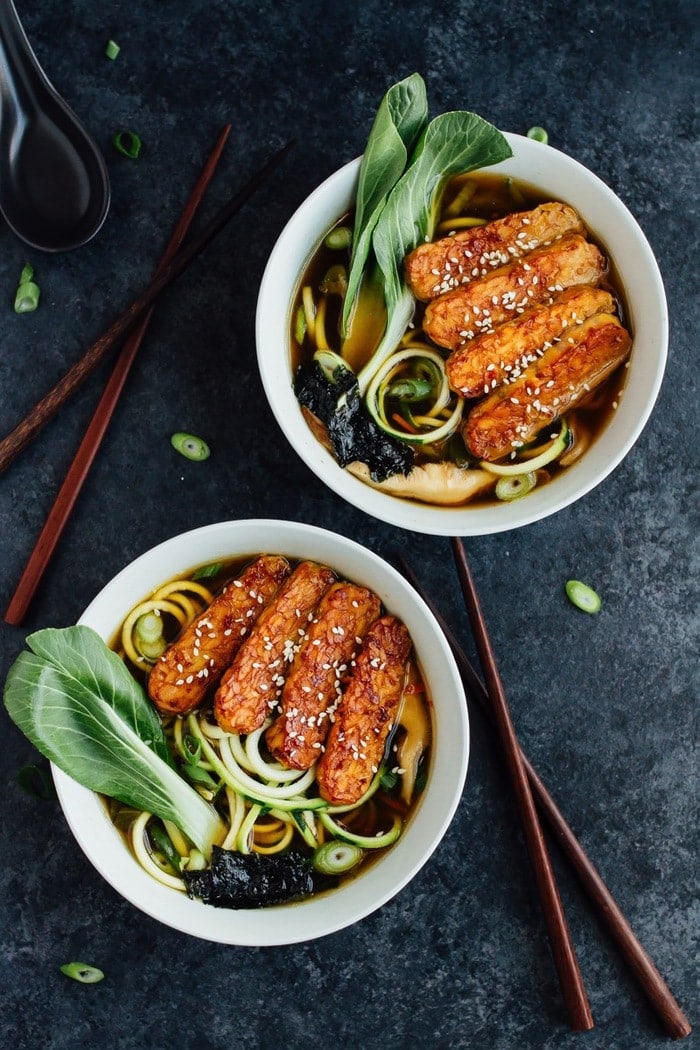 Spicy Shrimp and Asparagus over Zucchini Noodle Pasta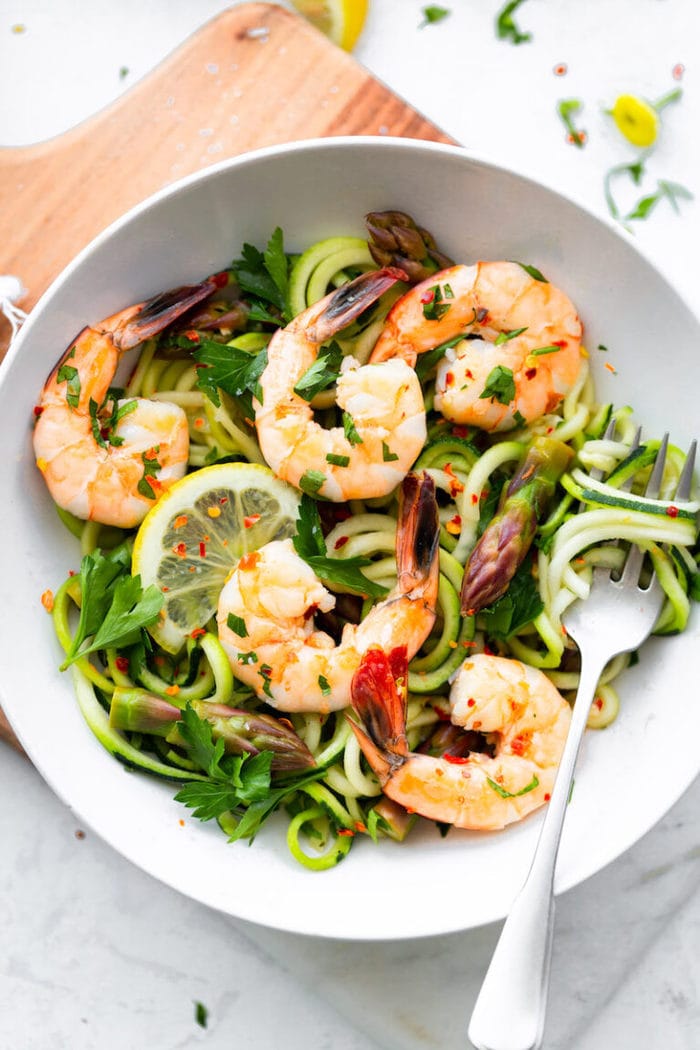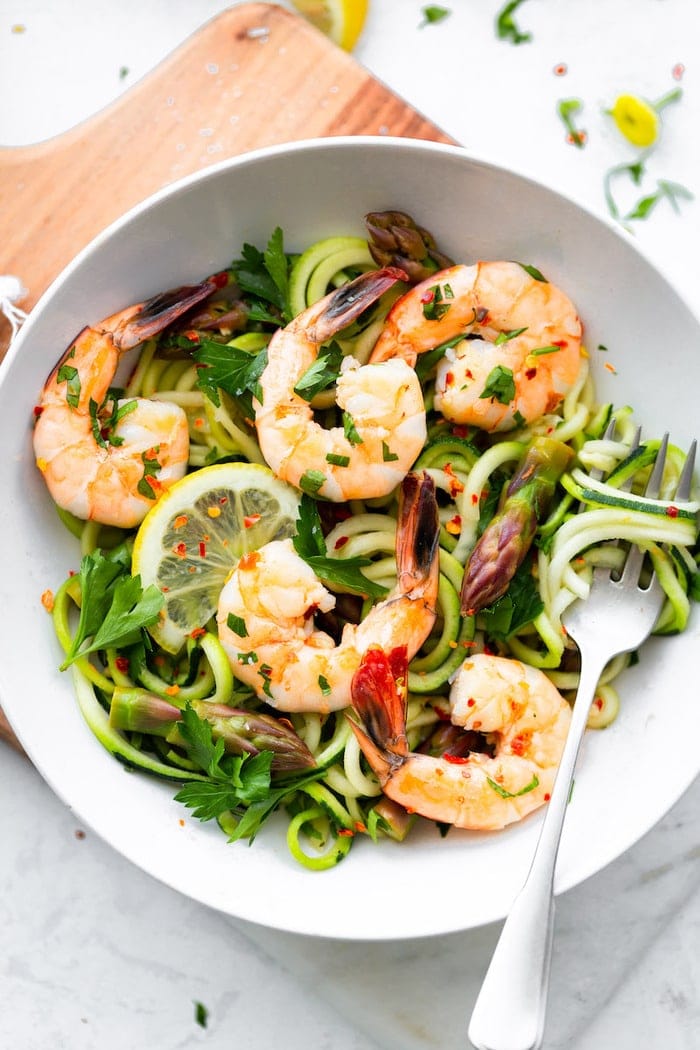 Zucchini Noodle Fettuccine with Cauliflower Alfredo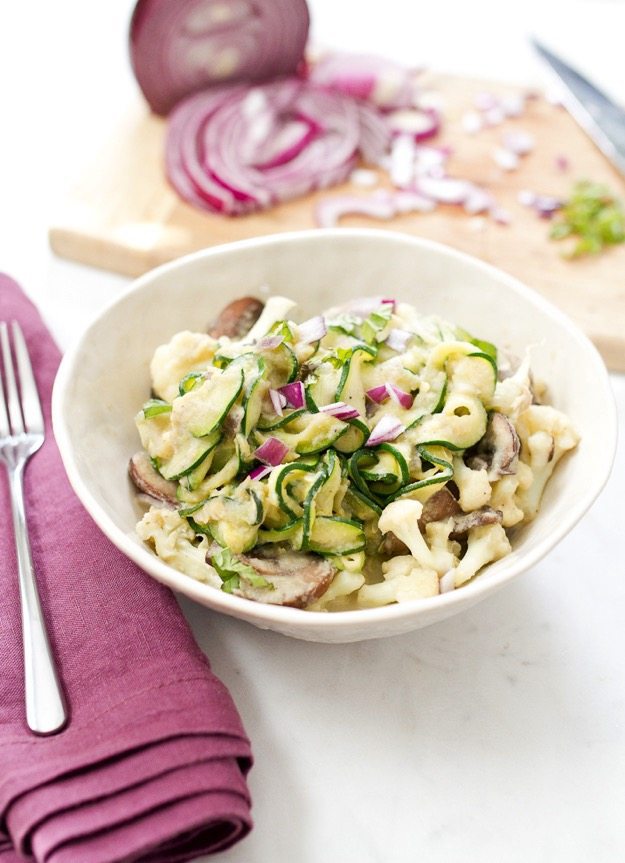 Gena's Carrot and Zucchini Noodles with Pesto and Peas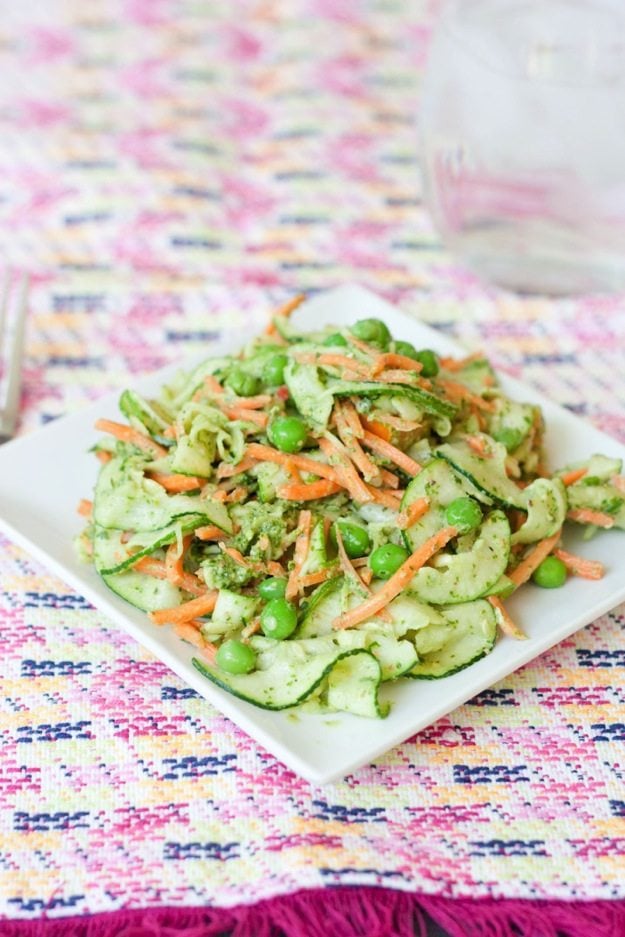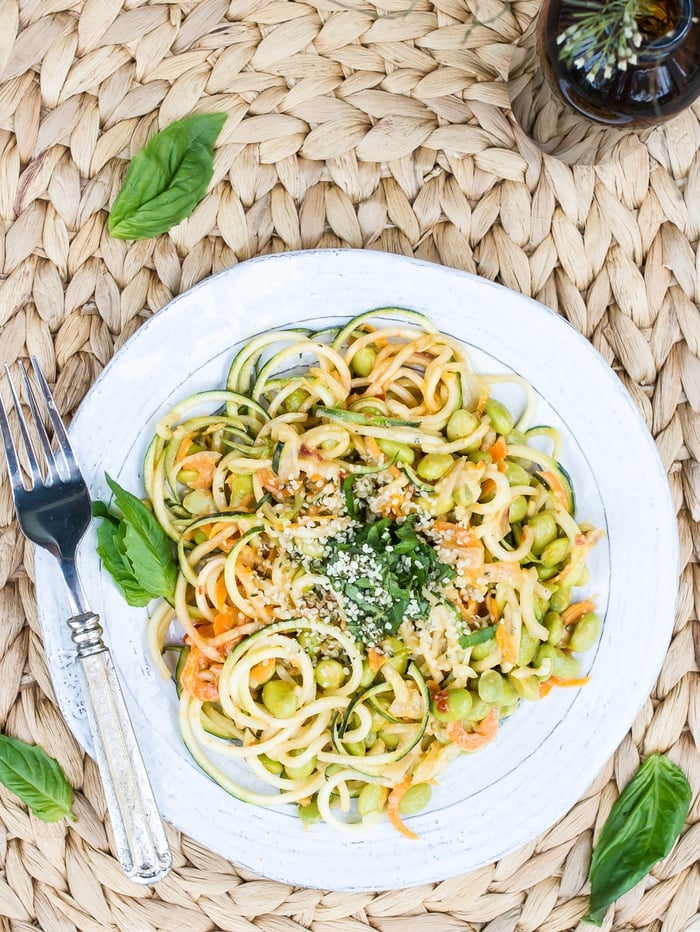 Popeye Turkey Meatballs over Zucchini Noodles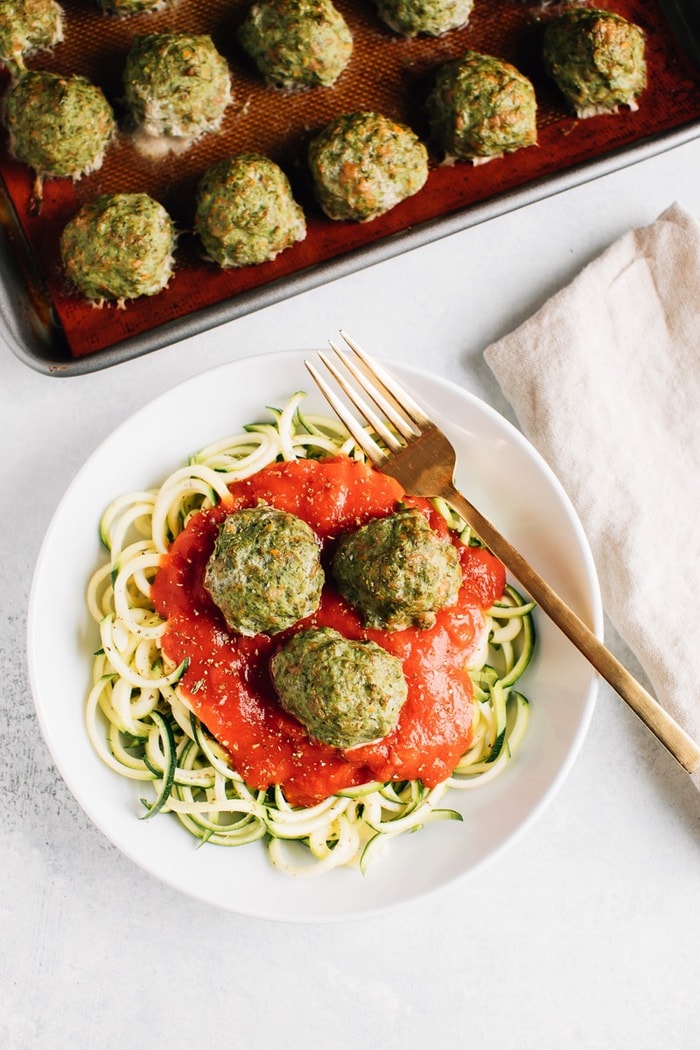 Zucchini Pasta with Beet Marinara Sauce by The Roasted Root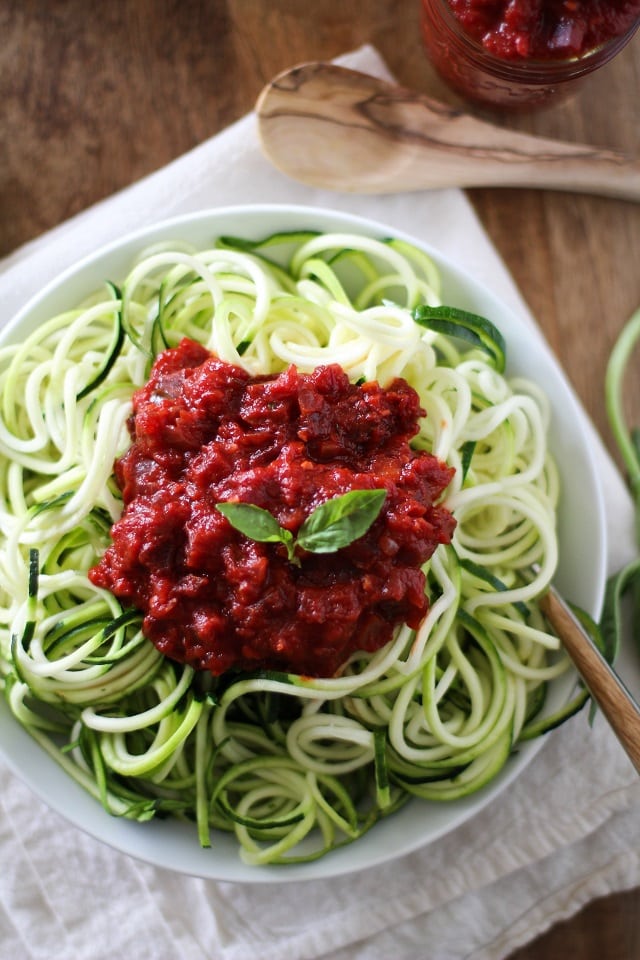 One Pot Teriyaki Chicken Zucchini Noodles by Life Made Sweeter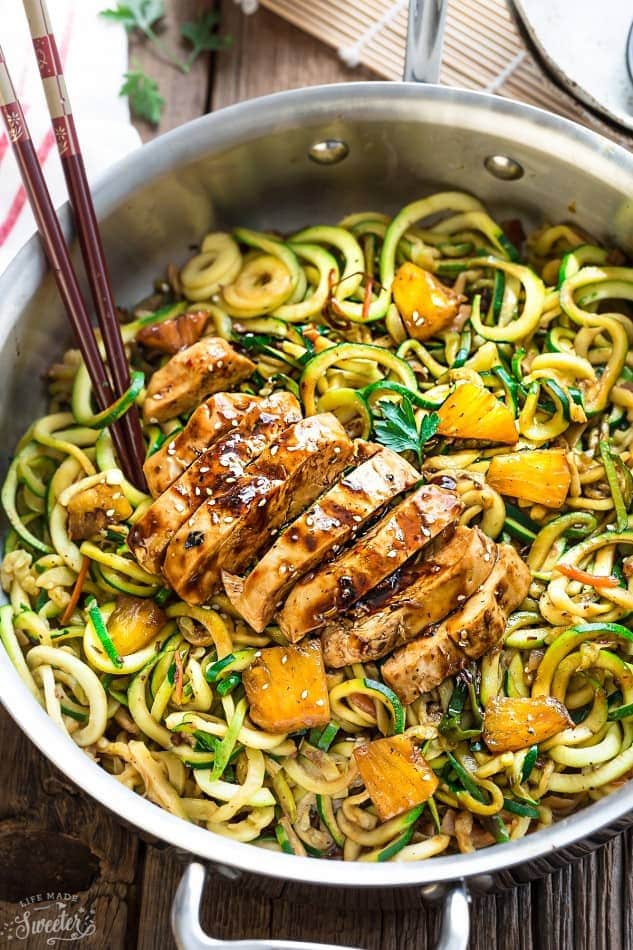 Zucchini Noodles with Vegan Lemon Cream Sauce by Simply Quinoa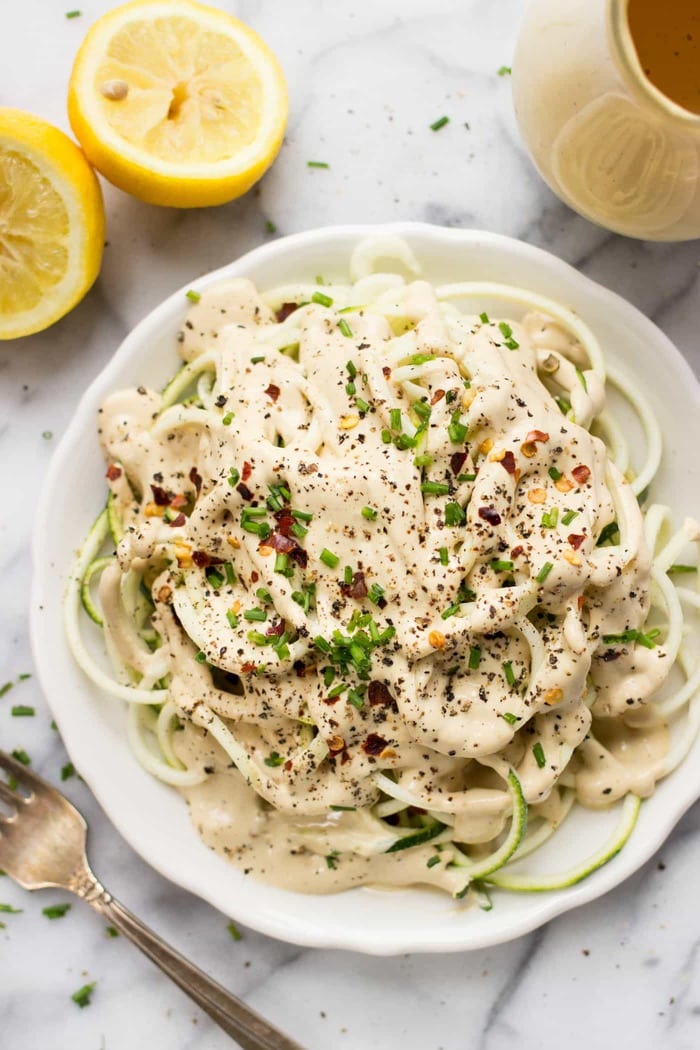 Almond Butter Sesame Zucchini Noodles by Paleo Running Momma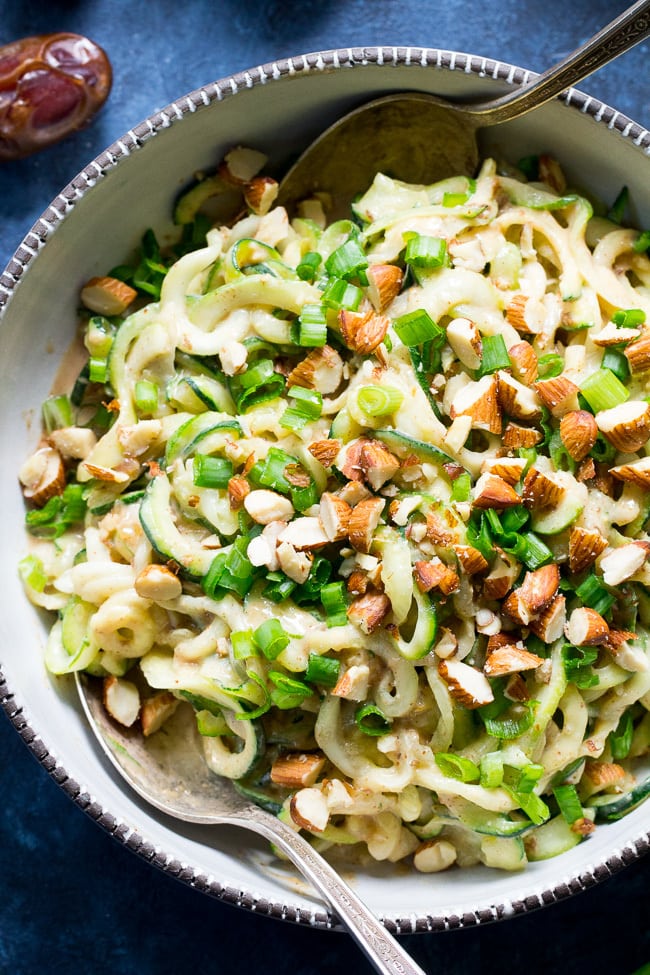 Tomato and zucchini spaghetti with Avocado Sauce by Pinch of Yum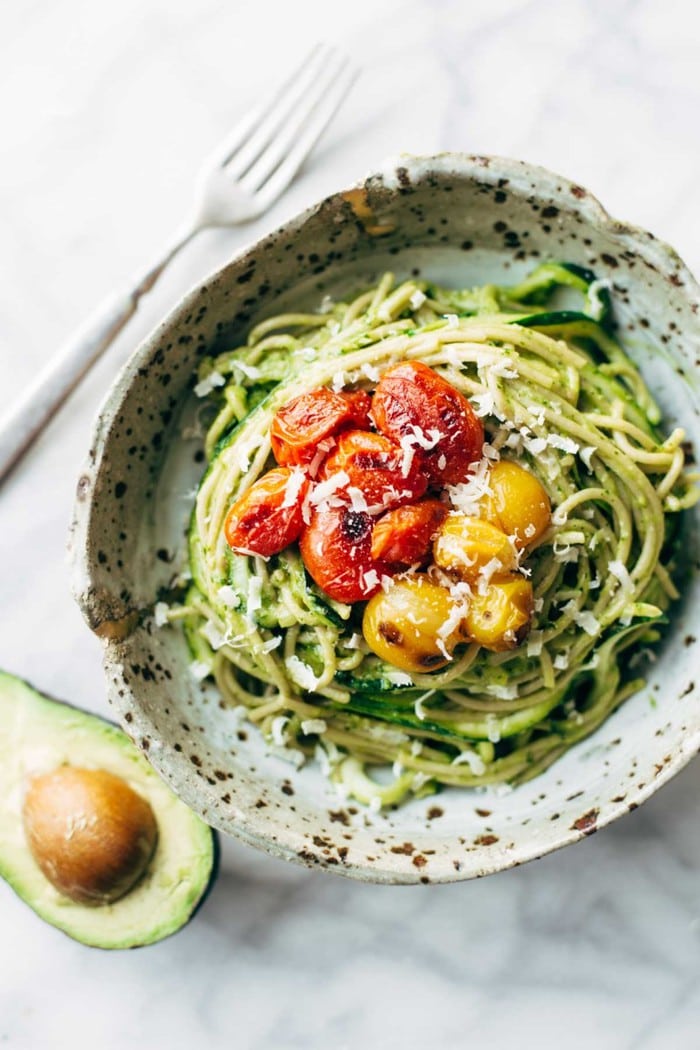 Salmon Zucchini Noodle Bowl by Wicked Spatula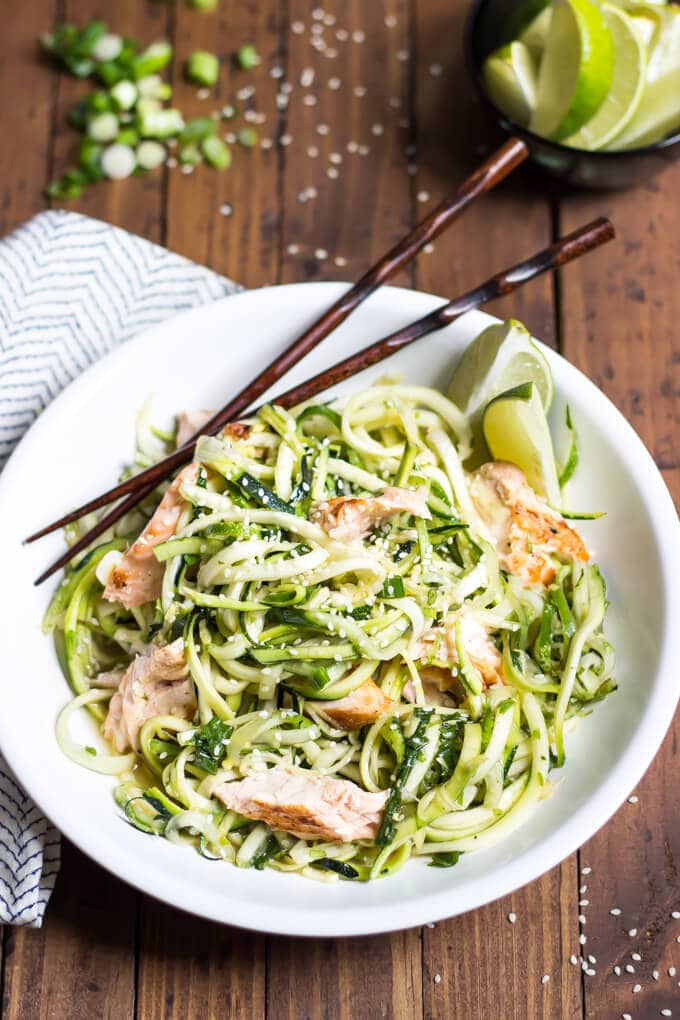 Whole30 Asian Zucchini Noodle Bowl by Paleo Glutenfree Eats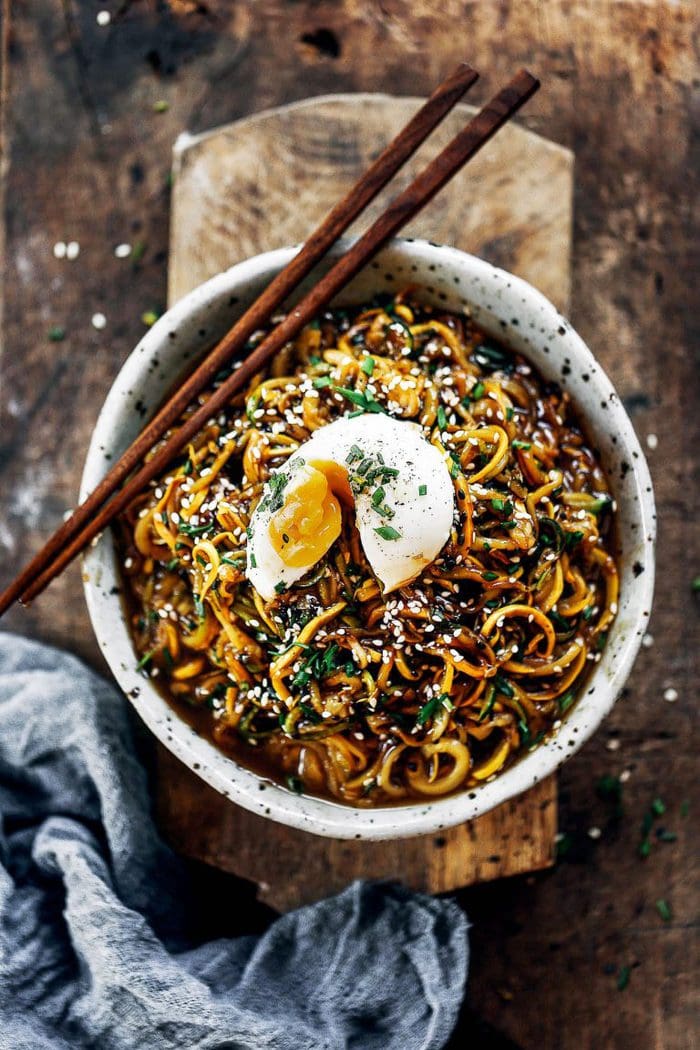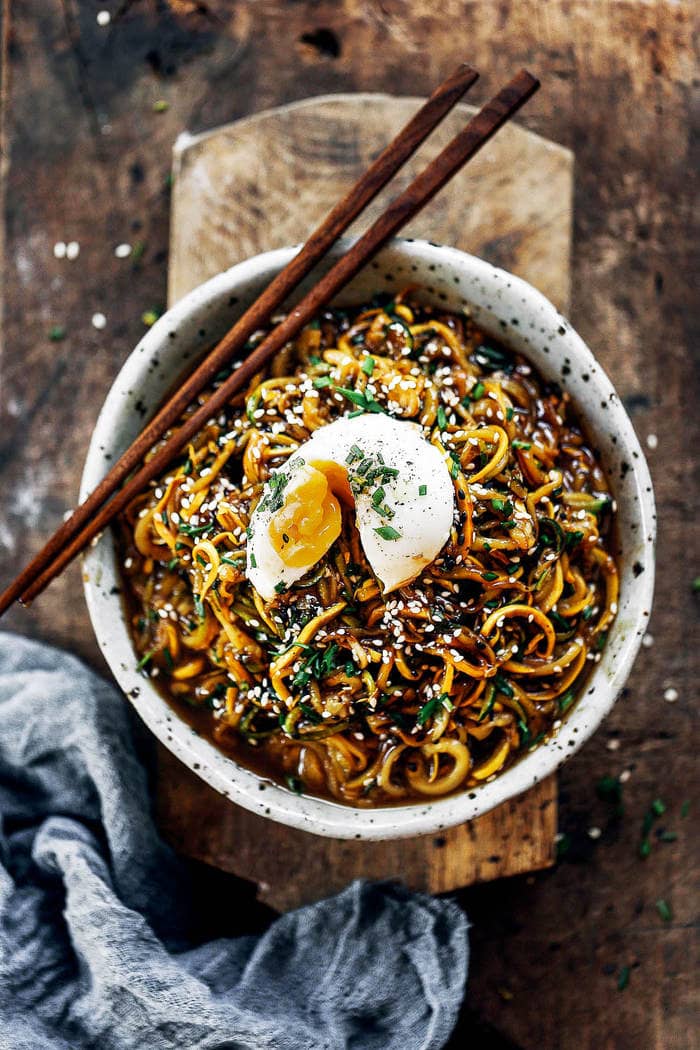 Thai Zucchini Noodles by Inspiralized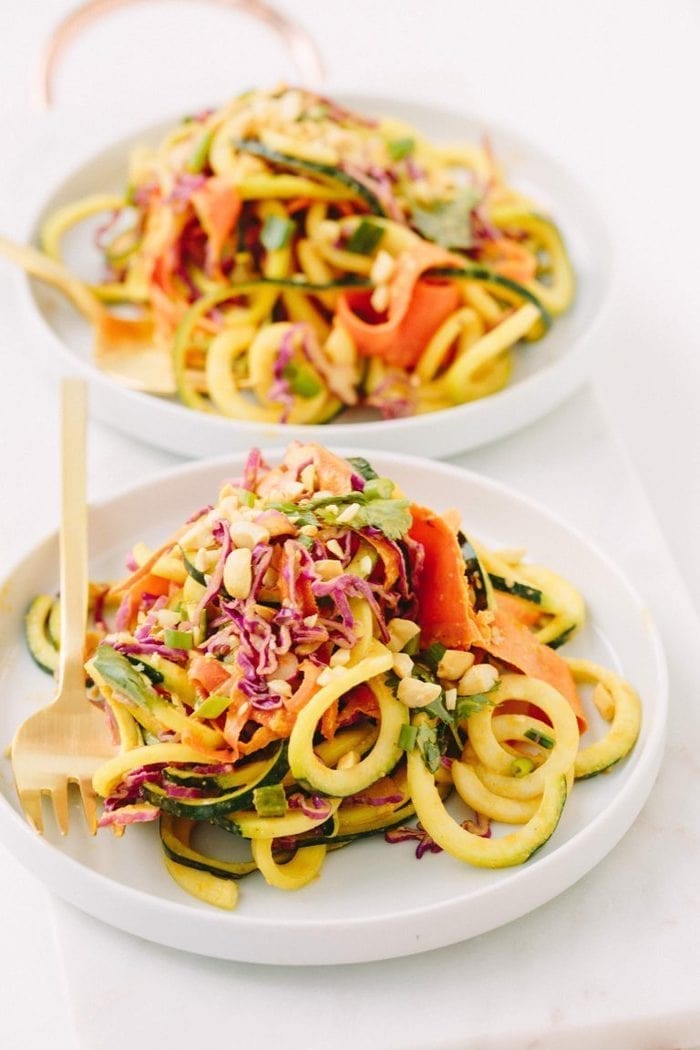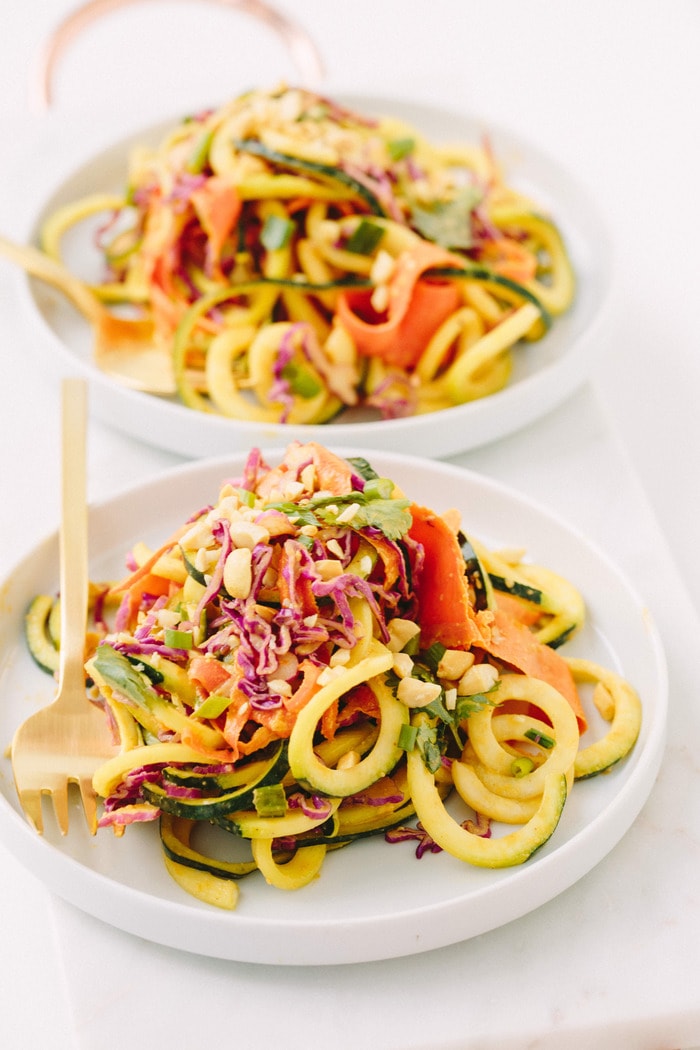 Zucchini Noodle Frittata by Uproot Kitchen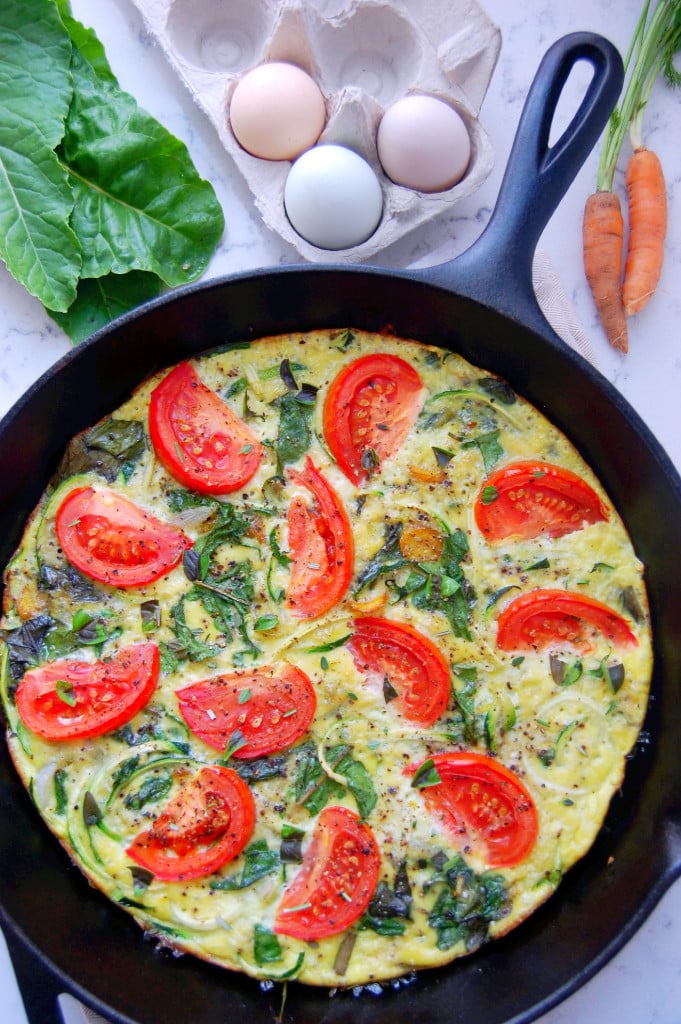 Mediterranean Zucchini Noodle Salad by Whole and Heavenly Oven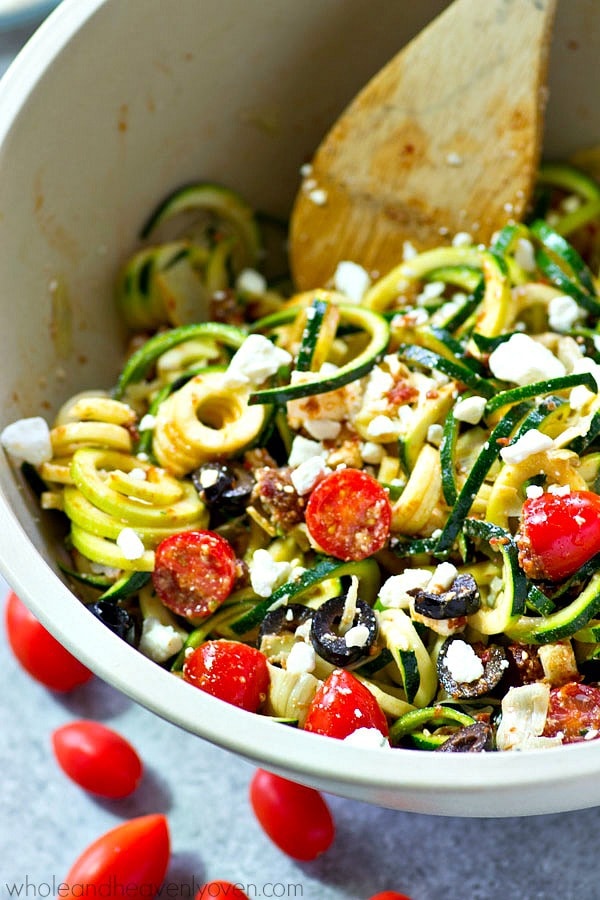 Baked Eggs with Kale and Cherry Tomatoes by The Wheatless Kitchen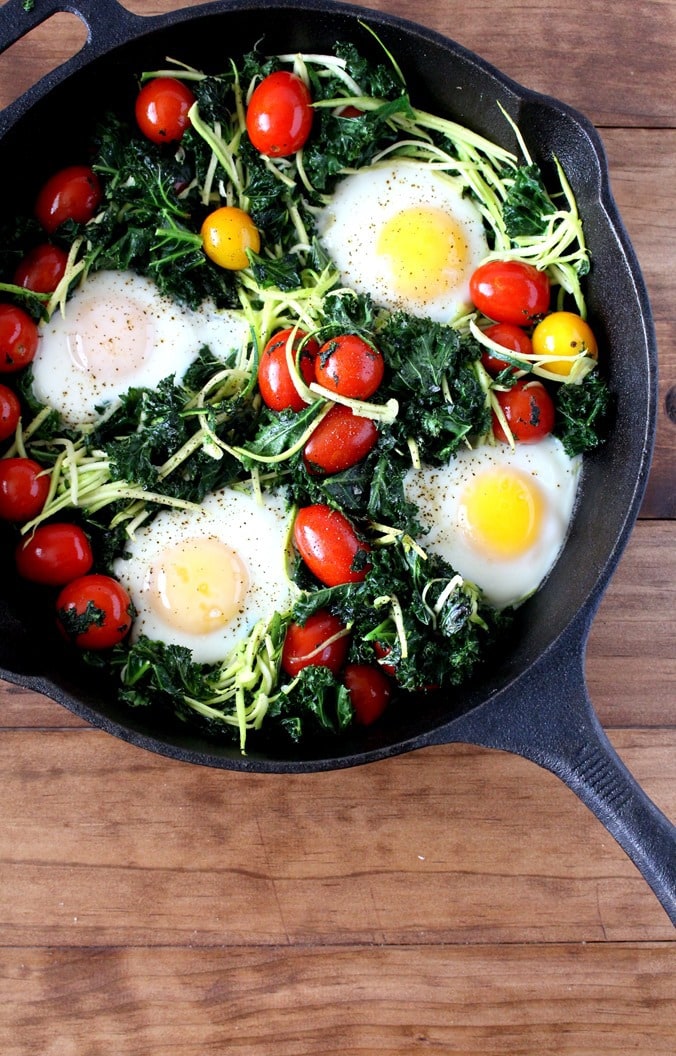 Do you have a favorite healthy zucchini noodle recipe? If so, I'd love for you to share it in the comment section.