Gena's Carrot and Zucchini Noodles with Pesto and Peas
7
Published Aug 19, 2014, Updated Sep 02, 2021
Oh man you guys, I'm super excited to share today's recipe! Not just because it's healthy, flavorful, mouthwatering delicious and all that jazz (which btw, it truly is). The real excitement comes from the fact that I have the honor of sharing a recipe from Gena Hamshaw's new cookbook, Choosing Raw: Making Raw Foods Part of the Way You Eat, with you!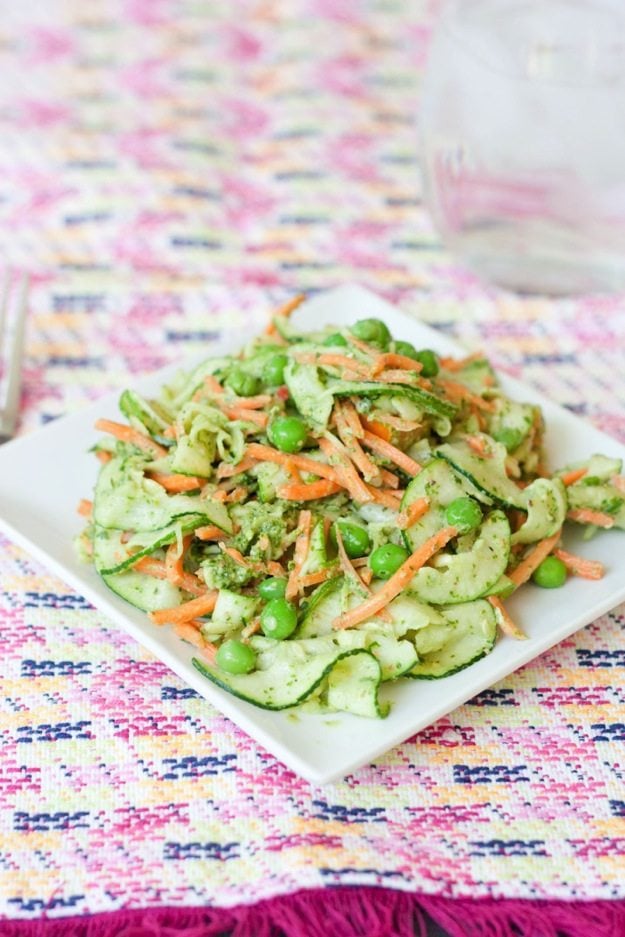 Gena is a dear friend who I met online through blogging and had the pleasure of meeting in real life last year.
Since my early days of blogging I have admired Gena's writing skills (she really does have a way with words) as well as her knack for coming up with creative, healthy, fuss-free vegan recipes. Interestingly enough it was Gena who inspired me to try massaged kale for the first time. I owe her major props for that — massaging the kale is a game changer when it comes to eating raw kale salads.
Naturally I was pumped when I heard Gena would be publishing her first cookbook this year and anxiously awaited its arrival.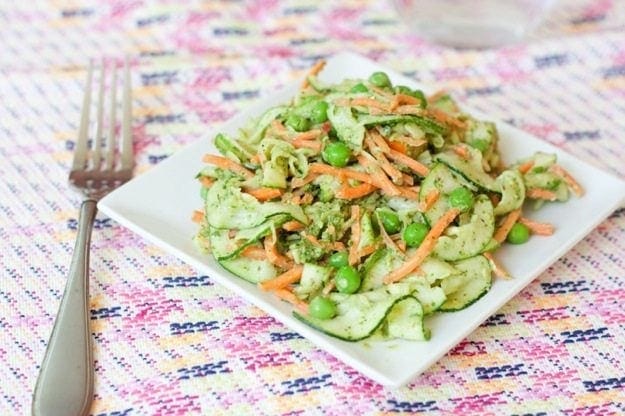 Last month I received a copy from the publisher and over the past few weeks I've been reading through the book and trying out some of the recipes.
As the title of the book suggests, it's a cookbook — with over 125 recipes (all of which are vegan, many raw) — but it's also a lifestyle guide. Gena addresses the many questions and concerns that newcomers to veganism may have and provides a bunch of delicious plant–based recipes.
I have quite a few raw food cookbooks and what I enjoy most about Choosing Raw is the fact that the recipes feel doable rather than daunting and intimidating. There are plenty of raw food recipes out there that require obscure ingredients (hello, irish moss) and fancy appliances, but as Gena points out in the book, these things can be helpful at times but you don't have to have expensive kitchen tools or the latest superfood to explore vegan and raw food.
With that said, let's talk about the recipes!
Given our zucchini situation this summer I decided to try out as many zucchini recipes as possible. Luckily there were quite a few. I haven't tried them all (yet) but I did have a chance to make the raw pasta with a red marinara sauce, zucchini ranch chips, zucchini hummus and the carrot and zucchini pappardelle.
As expected, every recipe I've tried thus far has been delicious. A couple thoughts:
The zucchini ranch chips were so good I ate them all before getting a photo. The dilly ranch seasoning = delish!
I loved the addition of sun-dried tomatoes in the red marinara sauce.
The zucchini hummus was tasty and took only a few minutes to prepare.
The carrot and zucchini pappardelle with pesto and peas — if this isn't the perfect summer recipe, I don't know what is. See the recipe below and try it for yourself before summer ends.
Gena suggests using a vegetable peeler for the noodles, but I used my spiralizer for the zucchini and bought packaged shredded carrots to make the process a bit easier on myself. The kale and pistachio pesto was amazing! And I loved the addition of peas to this dish — they aren't something I would have thought to pair with zucchini pasta but they added such a nice sweetness.
Overall, Choosing Raw: Making Raw Foods Part of the Way You Eat does a great job of inspiring readers to explore vegan cuisine and raw food recipes in an approachable fashion with a ton of info about vegan nutrition, a guide to getting started, easy recipes and meal plans. If I had a friend or client that was interested in transitioning to a vegan or raw food diet (or eating more veggies), this is the book I would recommend to them!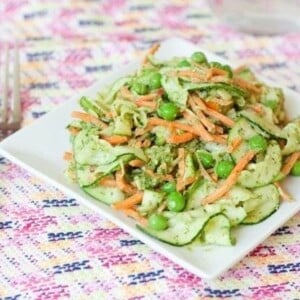 Carrot and Zucchini Pappardelle with Pesto and Peas
This dish is light, flavorful, and beautiful to look at. Instead of the usual zucchini "noodles," I use a vegetable peeler to create wide, thin strips of zucchini that resemble "papardelle" pasta. Pesto and steamed peas are the perfect way to dress it all up. This is a light, summery entree, so feel free to serve it with something substantial, such as grilled tofu or a hearty salad.
Ingredients
4

large carrots

,

peeled

2

small or medium zucchini

,

trimmed

1

cup

peas

,

blanched or steamed

1

batch pesto — use the Kale and Pistachio Pesto recipe from the book

, pg. 136 or this recipe for vegan pesto
Instructions
First, prepare your carrot noodles. Place one of your carrots on a flat surface. Run a wide mouthed vegetable peeler along the length of the carrot to create a long, thin strip. Continue doing this until you're down to the last of the carrot—you can save this bit for snacks. Repeat with remaining carrots. Slice the noodles in half if they're very thick.

Next, make your zucchini noodles. You can use a mandoline or V-slicer to do this by putting the mandoline on its thinnest setting and running the zucchini along the mandoline lengthwise. You'll get long, thin strips of zucchini. Stack them together and cut them in half. If one edge of your "noodle" is full of seeds, you can slice off a strip of the seeded area, and discard it.

You can also use a vegetable peeler to make the zucchini noodles, just as you did the carrot noodles. Lay the zucchini flat on a table, trim off the ends, and then use a vegetable peeler to shave off one long, lengthwise piece. Keep working from end to end, creating long, flat noodles. Again, cut them in half and trim off any seedy parts.

Mix the carrot and zucchini noodles in a large mixing bowl. Add 1⁄3 cup of the pesto and massage it into the noodles. Add more pesto as needed, until the noodles are well coated. Mix in the peas and serve. Leftover noodles will keep in the fridge for 2 days.
Nutrition
Serving:
1
/4 recipe
|
Calories:
218
kcal
|
Carbohydrates:
15
g
|
Protein:
5
g
|
Fat:
16
g
|
Saturated Fat:
2
g
|
Polyunsaturated Fat:
3
g
|
Monounsaturated Fat:
100
g
|
Sodium:
64
mg
|
Potassium:
639
mg
|
Fiber:
4
g
|
Sugar:
7
g
Nutrition information is automatically calculated, so should only be used as an approximation.