Blueberry Breakfast Salad
22
Published Jul 06, 2017, Updated Jan 13, 2022
Add blueberries to your egg scramble and serve over fresh baby greens for a sweet and savory blueberry breakfast salad that's nourishing and hearty.
I know you know I love salads, but I want to briefly share the why behind my daily habit of replacing one meal a day with a big salad.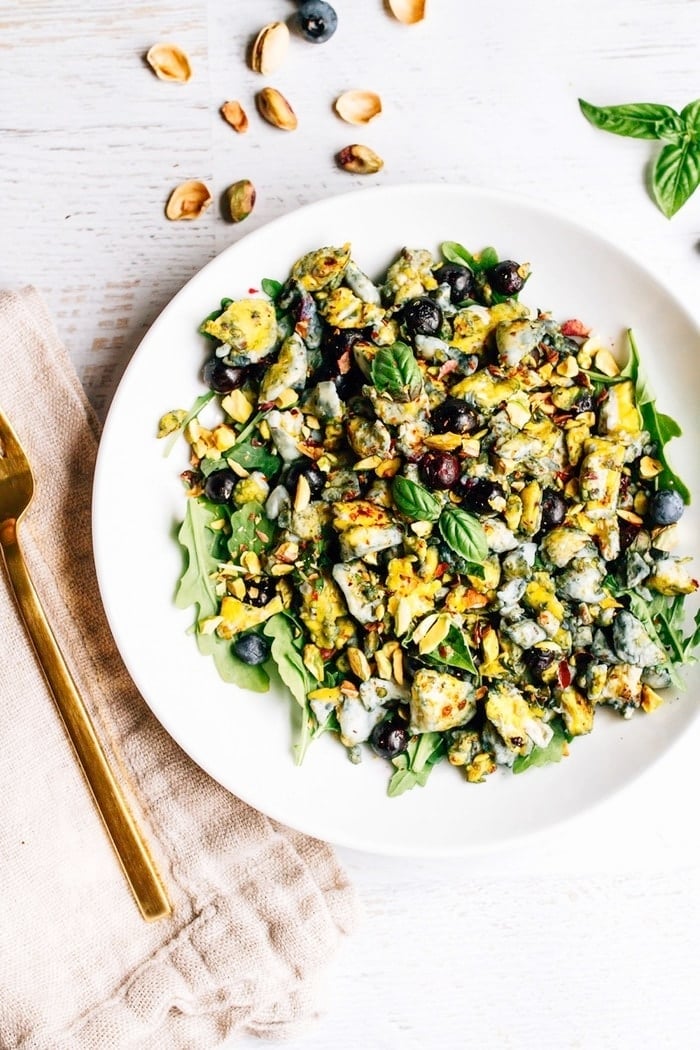 Why Eat One Salad a Day?
Incorporating this small salad habit has helped me (and those doing the challenge) streamline meal-prep, eat more veggies and maintain a healthy weight. Here are the biggest reasons why:
Quick and easy! Knowing that you're going to have one salad a day (usually for lunch) makes healthy eating easier! You don't have to think about what you're going to make every day and it's so simple to prep the ingredients for a salad ahead of time. When meal time rolls around all you have to do is toss everything into a bowl. Salads are really portable too! Just be sure to store your dressing in a separate container (or make a jar salad) because no one likes soggy lettuce.
Volume eating! With salads (especially those that are loaded with veggies) you're able to eat a lot of food in one sitting and feel good about it. Salads are loaded with nutrient dense foods that are relatively low in calories. The volume fills you up and makes you feel satisfied.
Fiber! Veggie packed salads are loaded with fiber, which help keep your digestion running smoothly (constipation be gone) and keep you feeling full longer.
Antioxidants! Loading up salads with an array of fresh fruits and veggies boosts your intake of antioxidants (like vitamin C and A), which help protect the body from free radicals. The more colorful your salad, the better!
Protein! Green veggies actually have quite a bit of protein (1 cup of kale has 2.9 grams!) but I always aim to add an additional lean protein source to all of my salads. Gotta keep those muscles strong.
Healthy Fats! Fats (like nuts, avocado and oils) often found in salads not only promote satiety, but also help your body absorb fat-soluble vitamins and phytochemicals.
Options! Treat your bowl full of greens like a blank slate and get creative with your salads. Switch up your protein, toppings and dressing. I'm loving breakfast salads right now (see recipe below).
Satisfaction! After eating a properly portioned meal-sized salad you feel satisfied and energized. Your blood sugar levels will be stable and you'll be less likely to raid the pantry for snacks all afternoon/evening.For me, having one salad a day makes me FEEL SO GOOD. Even if I don't eat 100% healthy all day I know that I'm at least making ONE healthy decision and getting a ton of high-quality nutrients in with my one big salad!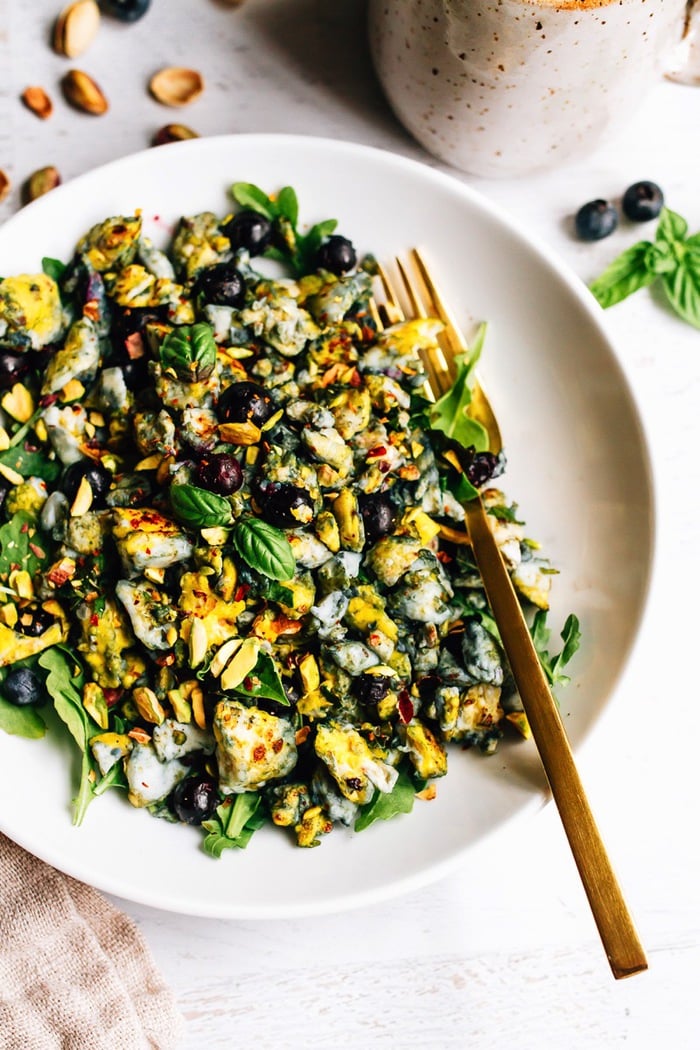 Salad for Breakfast?
And remember, salads aren't just for lunch and dinner. Having a hearty salad loaded with nutrient-dense greens for breakfast is an amazing way to begin the day. This harvest breakfast salad is lovely during the fall and winter months, but I recently stumbled upon the idea for a fruity breakfast salad with fresh blueberries from Melissa Hartwig and was so intrigued.
I know sweet and savory combo may seem odd at first — eggs, blueberries, basil, cinnamon… and hot sauce, if you fancy it. But trust me, it's quite delicious and super satisfying. The blueberries get sautéed with the eggs until they burst, releasing a bit of sweet juice making the eggs a light shade of blue. The pistachios add a nice crunch and the fresh basil brings an aromatic sweetness that ties everything together.
The scramble is literally so easy to whip up you don't really need a full recipe, but I'm giving it to ya anyhow!
More Egg White Recipes
Be sure to check out all of my egg white recipes and all of the popular breakfast recipes here on EBF.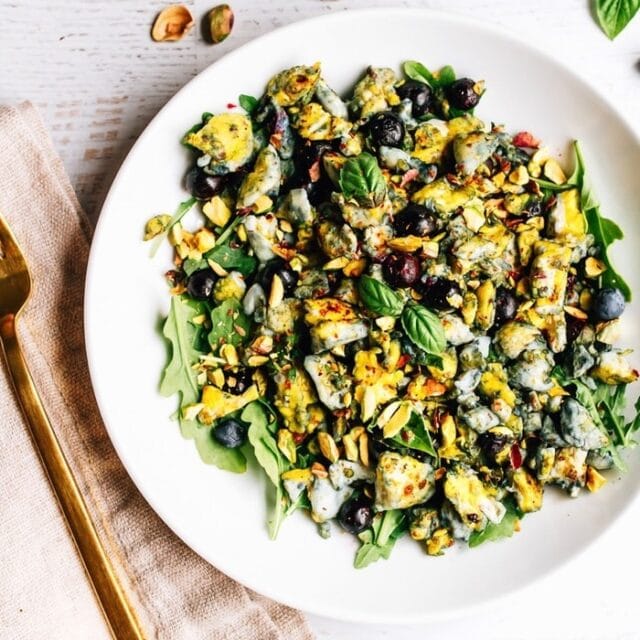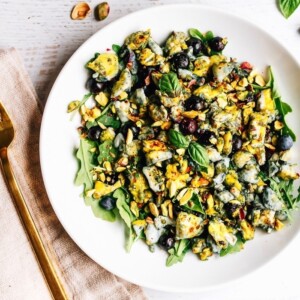 Blueberry Breakfast Salad
Add blueberries to your egg scramble and serve over fresh baby greens for a sweet and savory breakfast salad that's nourishing and hearty.
Ingredients
Instructions
Mist a skillet with spray oil and place over medium heat.

Whisk eggs in a bowl.

Add eggs to skillet and scramble until cooked through. While eggs are still runny, add the blueberries into the skillet as you want them to heat up and start to burst. Sprinkle with salt and cinnamon.

Once eggs are cooked through add pistachios to the skillet. Quickly toss to combine and serve over a bed of baby arugula.

Garnish with basil, crushed red pepper and hot sauce if you like your eggs spicy.
Nutrition
Serving:
1
|
Calories:
188
kcal
|
Carbohydrates:
11
g
|
Protein:
17
g
|
Fat:
9
g
|
Saturated Fat:
1
g
|
Sodium:
415
mg
|
Fiber:
3
g
|
Sugar:
6
g
Nutrition information is automatically calculated, so should only be used as an approximation.