Baked Avocado Eggs
13
Published Aug 30, 2023, Updated Sep 06, 2023
This quick and easy baked avocado egg recipe is perfect for breakfast or snacking. It's low in carbs and sugar and loaded with protein, healthy fats and fiber!
These baked avocado eggs are the perfect breakfast or snack for those wanting to change things up while keeping it simple. They contain everything that your body craves while also tasting oh-so-delicious!
I know warm avocado might seem kind of strange but heating the avocado makes it even more creamy! Loaded with protein, healthy fat and loads of fiber, this quick and easy recipe is perfect for breakfast or snacking.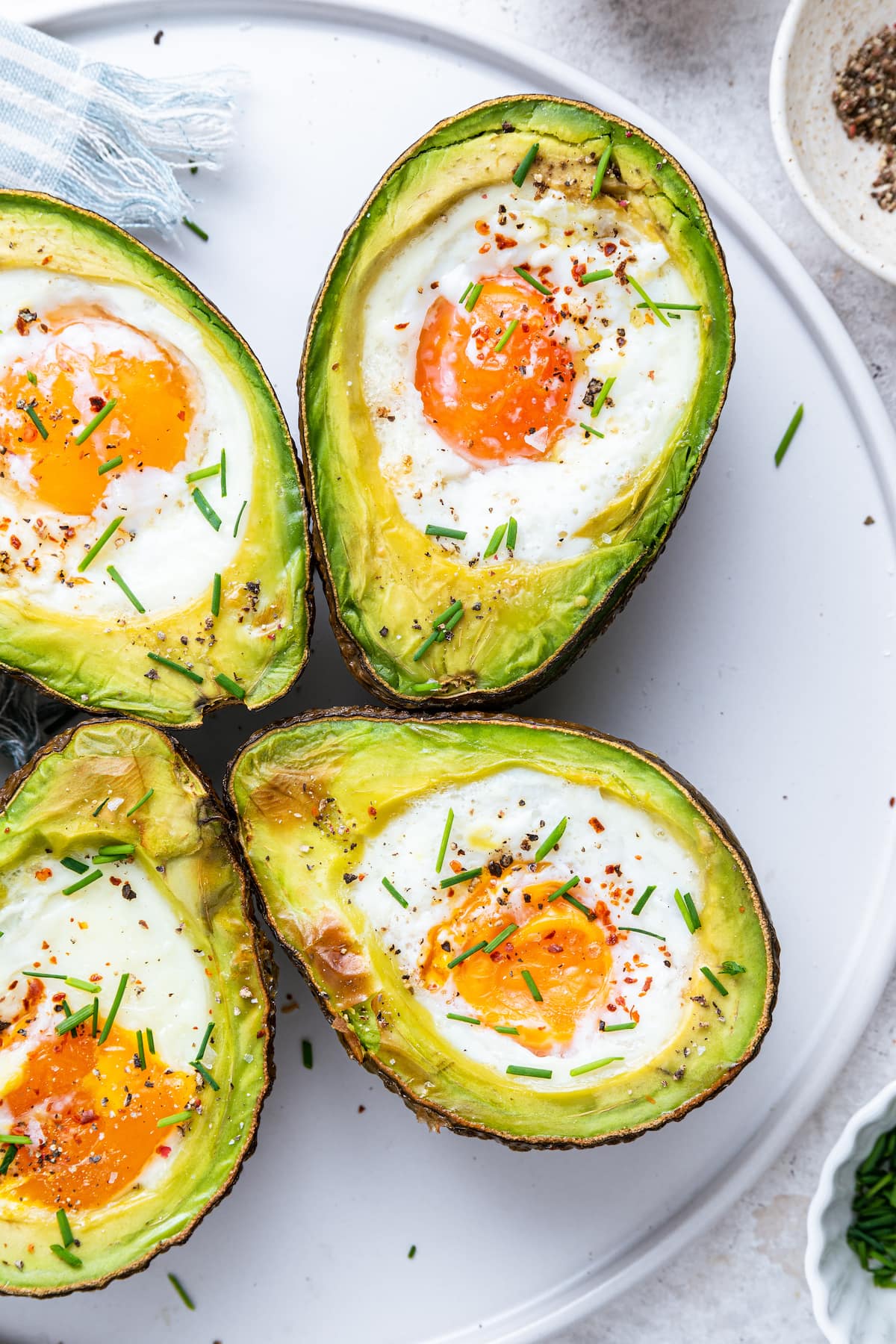 Why You'll Love This Recipe
Nutrient-Dense: Avocado is a superfood, brimming with healthy fats, fiber, and various vitamins. Paired with protein-packed eggs, this dish is a nutrition powerhouse.
Quick & Easy: With minimal ingredients and simple steps, you can whip up this gourmet-looking breakfast in no time.
Versatile: The basic recipe is delicious on its own, but you can easily customize it with your favorite seasonings or sauces.
Keto & Paleo Friendly: This dish caters to various diets, being low-carb, grain-free, and dairy-free.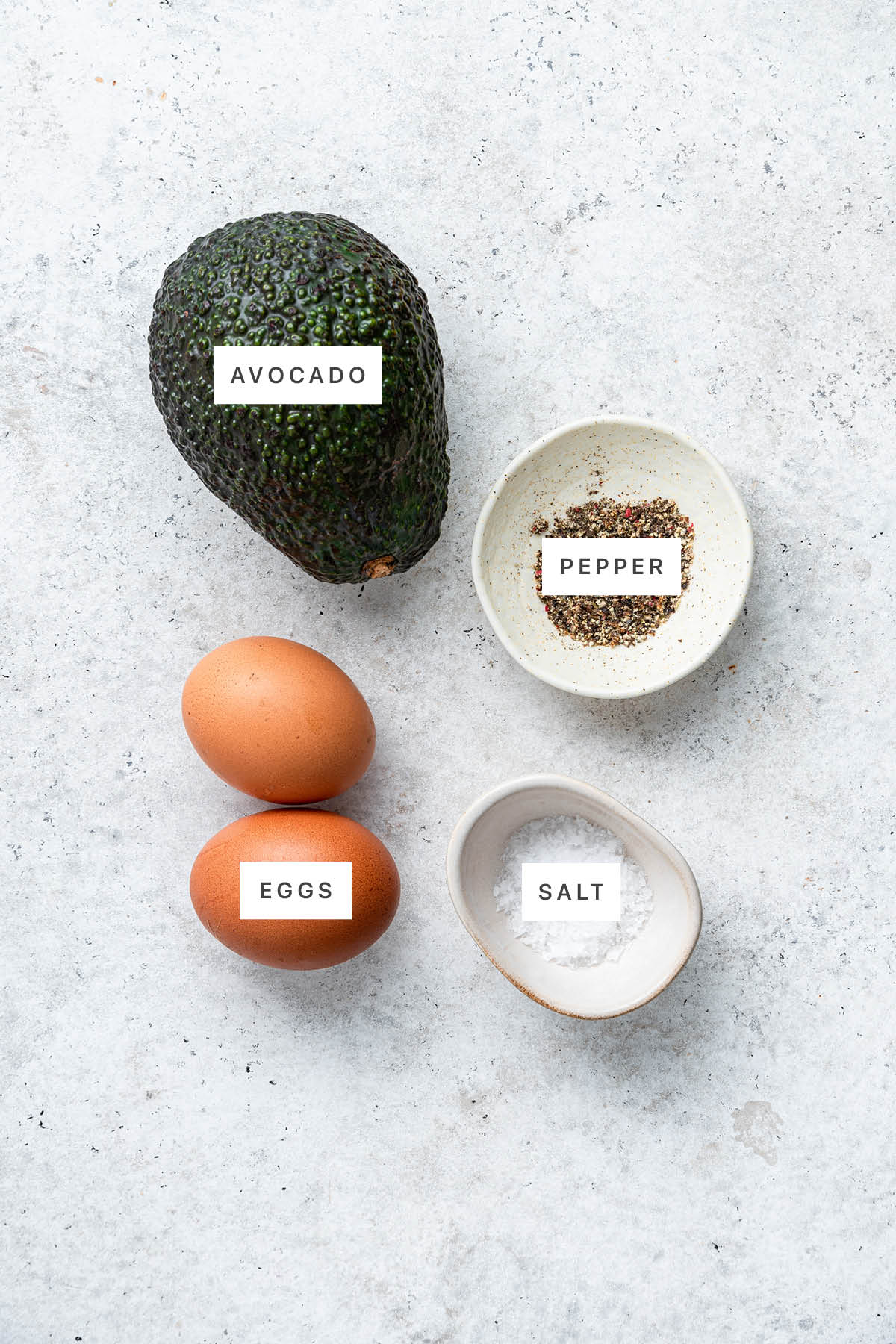 Ingredients Needed
avocado – the dish's star, providing a creamy, rich base.
eggs – offers a protein kick and a rich, runny yolk (if cooked just right) to complement the avocado.
sea salt & ground pepper – for seasoning and enhancing the natural flavors.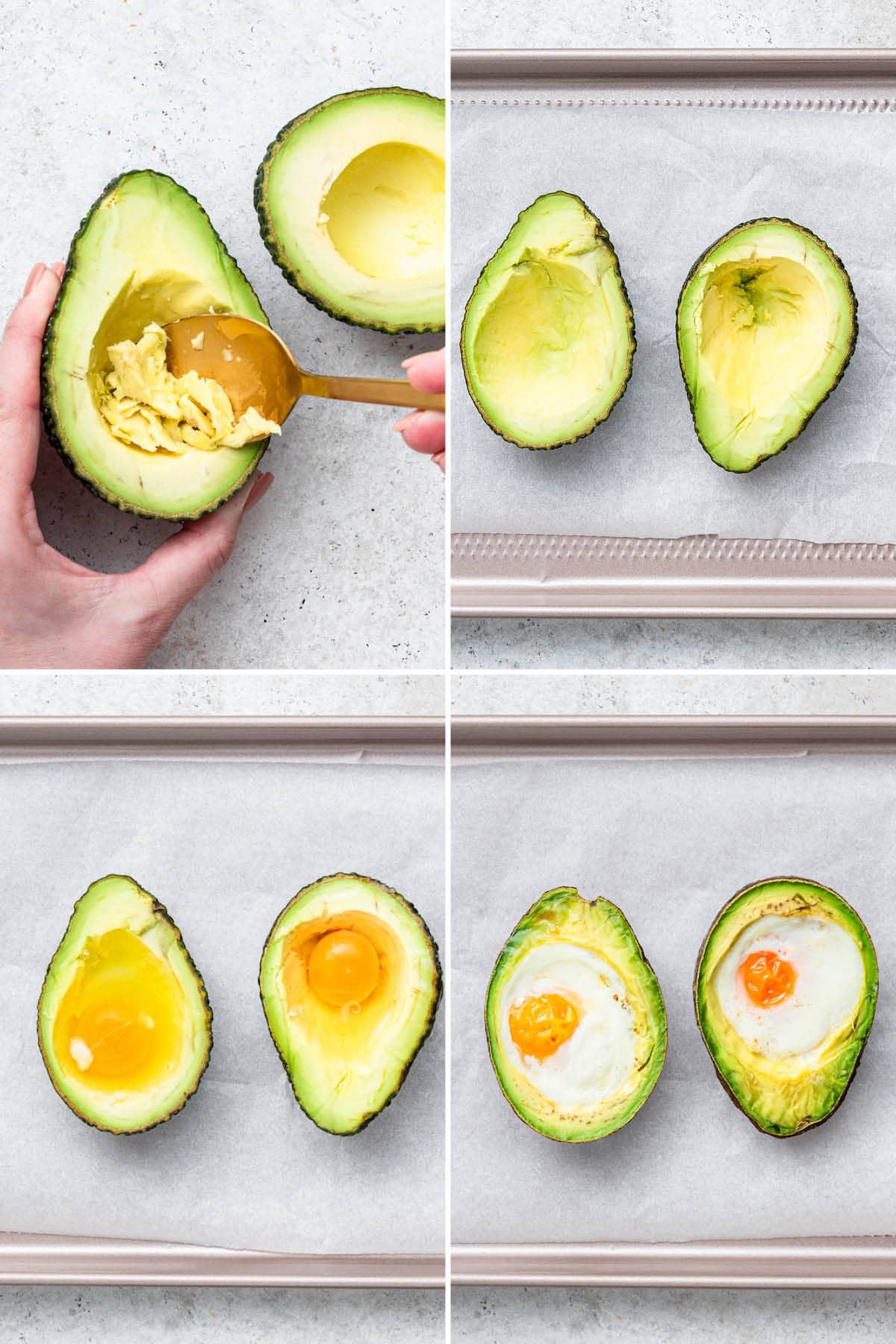 How to Make
Preparation: Start by preheating your oven to 425°F. Prepare a small baking dish by lining it with foil. This makes for easy clean-up later.
Prepare the Avocado: Cut the avocado in half and remove the pit. Using a spoon, scoop out some of the avocado flesh to create a small bowl, for the egg. The existing pit hole is usually too small to hold an entire egg.
Assemble: Place the prepared avocado halves in the foil-lined baking dish. Crack one egg in each of the avocado holes.
Bake: Transfer the baking dish to the preheated oven and bake for 17-20 minutes. The baking time may vary depending on how well you like your eggs cooked.
Serve and Store: Once the eggs are cooked to your liking, remove the avocados from the oven. Season them with sea salt and pepper, and add a dash of hot sauce if you like. Enjoy warm! If you have leftovers, store them in the fridge for later consumption.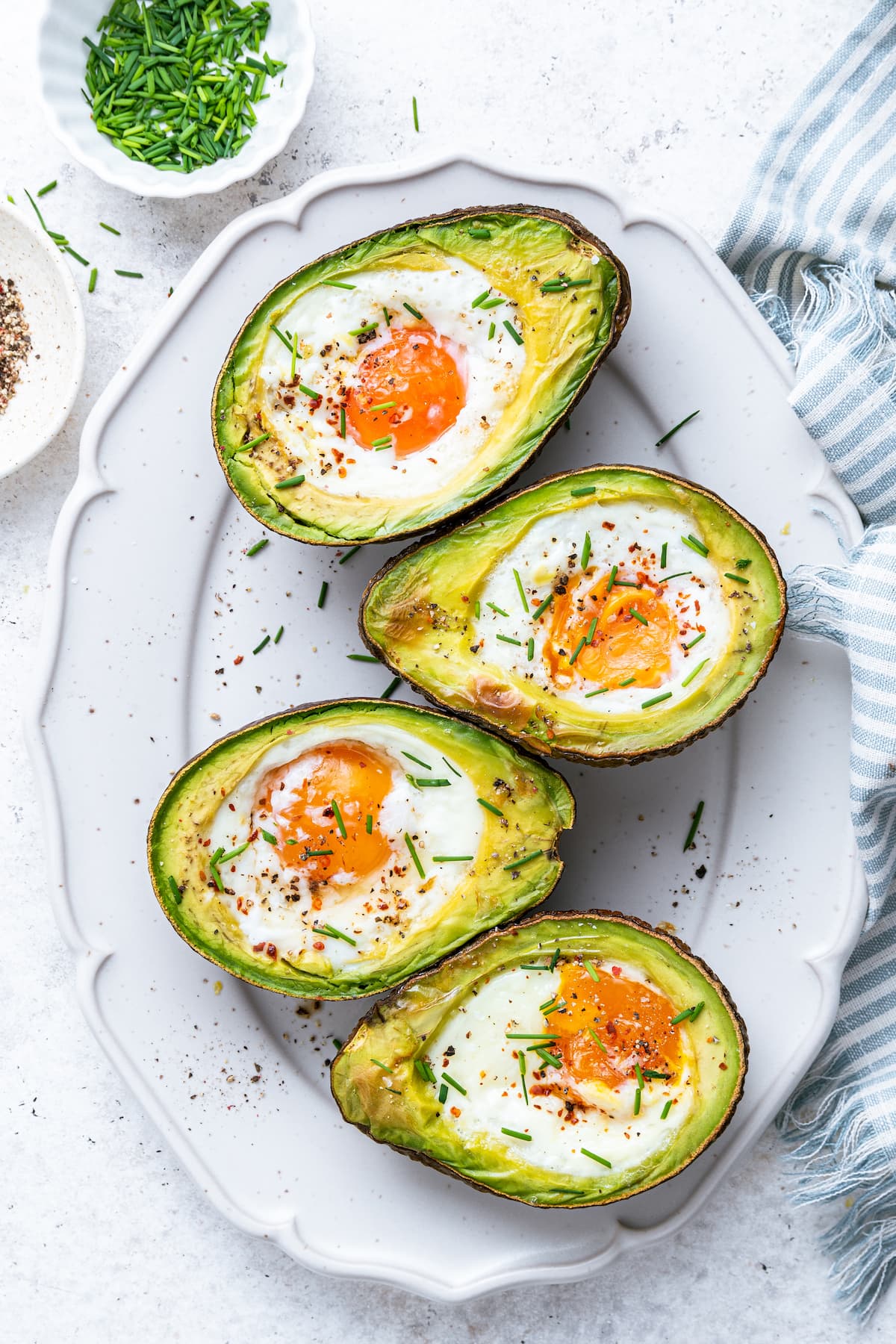 Avocado Egg Variations
This baked avocado egg recipe is so simple and so good, but that shouldn't stop you from adding more to it. Here are a few ideas that may work for you:
Add herbs – Sprinkle some finely chopped fresh herbs like chives, parsley, or cilantro over the baked avocado egg for a fresh flavor.
Add cheese – Before baking, sprinkle a little grated cheddar cheese or feta cheese over the egg. It will melt beautifully, adding a cheesy twist to your dish.
Bacon bits – Top your avocado with some crumbled bacon for a crunchy contrast and an added smoky flavor.
Mediterranean style – After baking, add some diced tomatoes, olives, and a sprinkle of feta for a Mediterranean touch.
Spiced up – Experiment with various seasonings like smoked paprika, cayenne pepper, red pepper flakes, or everything bagel seasoning to elevate the dish further.
Guacamole filled – Before adding the egg, fill the avocado with a spoonful of guacamole with a bit of lime juice or lemon juice for an extra layer of flavor.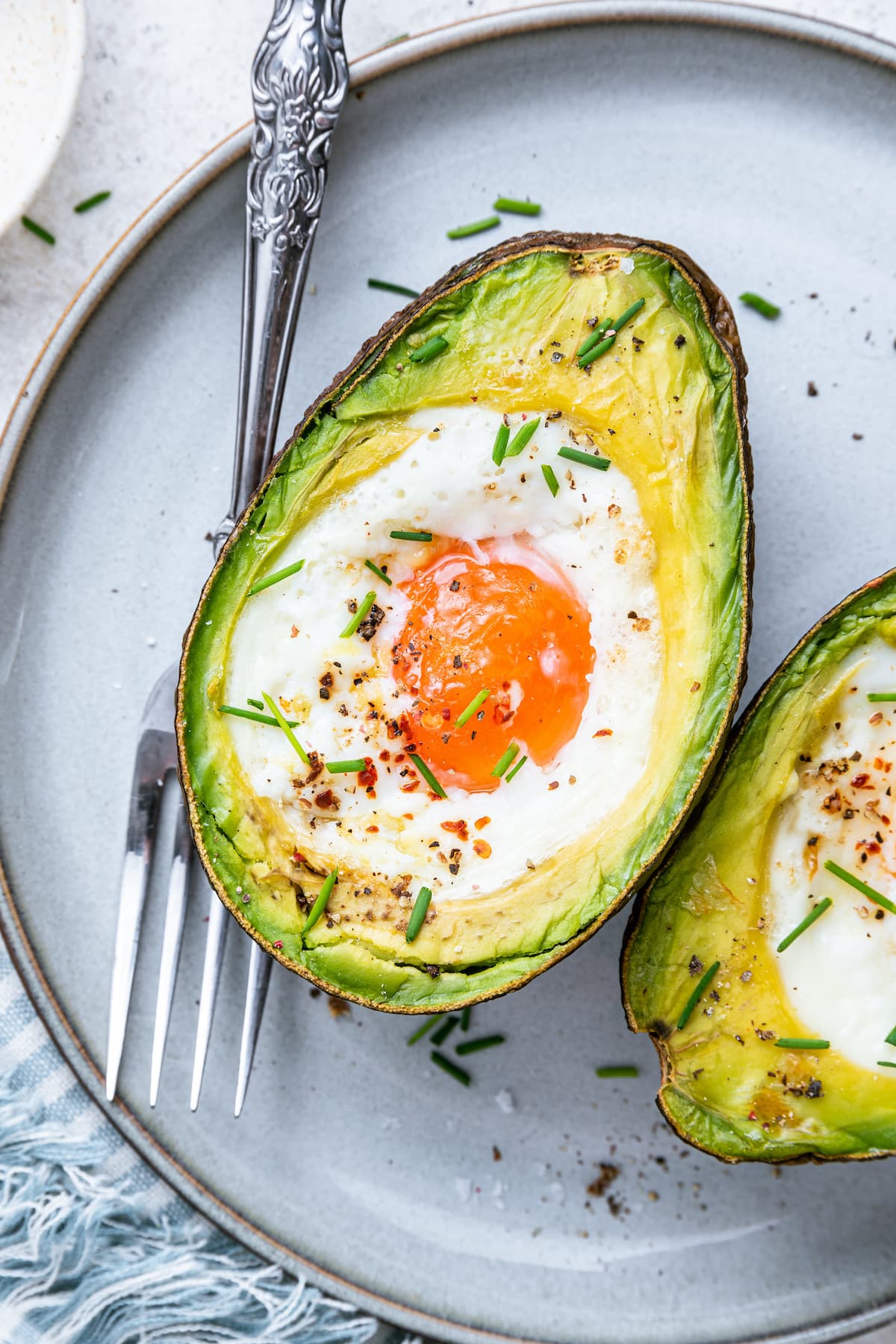 Tips For Success
Select Ripe Avocados: Make sure to choose avocados that are just ripe but not overly soft. This will help hold their shape well during baking.
Spoon Size Matters: When scooping out the avocado to make room for the egg, aim to remove just enough so the egg fits snugly. Too large a hole, and you lose delicious avocado; too small, and the egg will overflow.
Check Egg Size: Keep in mind that large eggs might not fully fit into the avocado. Medium-sized eggs are often a better fit, or you could pour off a little of the egg white before placing it in the avocado.
Adjust Cooking Time: If you prefer more or less cooked eggs, you can adjust the baking time. Keep an eye on them after the 15-minute mark to gauge readiness.
Additional Seasonings: Feel free to customize your baked avocado eggs with additional seasonings or herbs like chives, paprika, or even some shredded cheese for added flavor.
Use a Preheated Oven: For consistent cooking, make sure the oven is fully preheated before you put in the avocados.
Storing Leftovers: If you have any leftovers, place them in an airtight container and store them in the fridge. Reheat gently in the microwave or oven when ready to serve.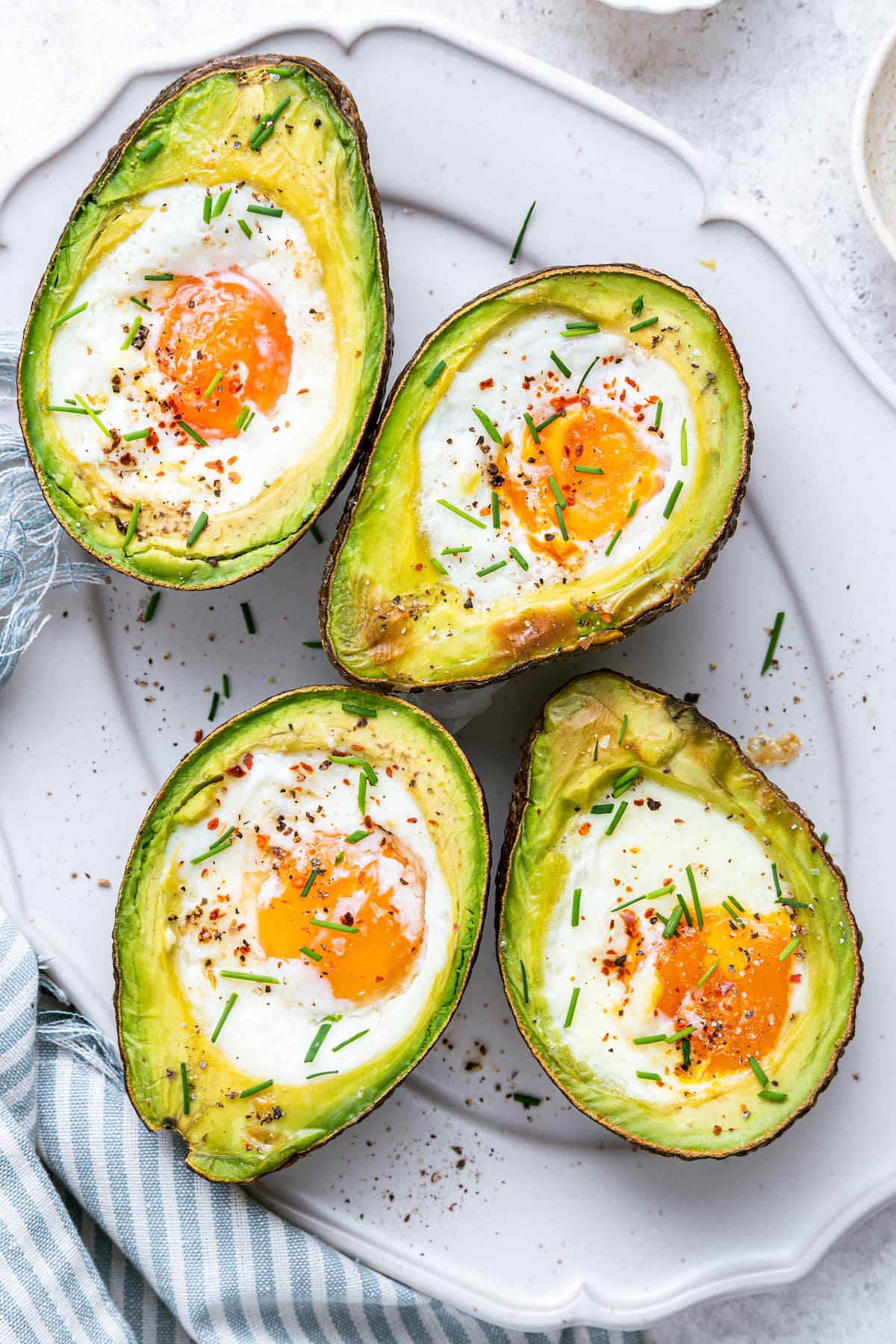 Avocado Egg FAQ's
Can I make these in advance?
Yes, you can prepare the avocados and keep them in a sealed container in the fridge. However, it's best to bake them just before eating to enjoy their fresh taste and texture.
How long do baked avocado eggs keep in the fridge?
If stored in an airtight container, they can last for up to 2 days in the fridge. The avocados might darken a bit.
Can I use a microwave instead of an oven?
While it's possible, microwaving may not offer the same texture as baking. The oven helps cook the egg more evenly while giving the avocado a slightly roasted flavor.
Is it necessary to line the baking dish with foil?
No, it's not strictly necessary but it does make for easier clean-up. You can also grease the dish instead.
Can I use egg whites instead of whole eggs?
Absolutely, using only egg whites is a great option if you're looking to cut calories or cholesterol.
Can I make these vegan?
Yes, you can substitute the egg with a vegan egg replacement product or tofu scramble.
How do I know when the eggs are done?
The eggs should look set and not runny. For a more precise measure, you can use an instant-read thermometer to check that the internal temperature is around 160°F for medium yolks.
What can I serve with baked avocado eggs?
These pair wonderfully with a side of toast, some sauteed vegetables, or even a fruit salad for a well-rounded breakfast or brunch.
How do I pick a good avocado for this recipe?
Choose avocados that are ripe but still firm. If it feels too soft, it may be overripe and not hold its shape well when baked.
More Avocado Recipes
Check out more avocado recipes as well as the full collection of breakfast recipes on EBF!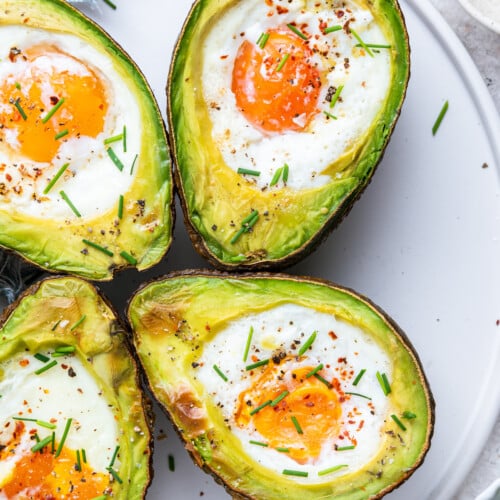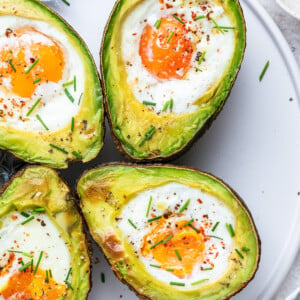 Baked Avocado Eggs
This quick and easy baked avocado egg recipe is perfect for breakfast or snacking. It's low in carbs and sugar and loaded with protein, healthy fats and fiber!
Ingredients
1

avocado

2

eggs

flaky sea salt

cracked pepper

crushed red pepper

,

optional

fresh chives

,

for topping, optional
Instructions
Preheat oven to 425°F.

Slice avocado in half.

Take out the pit and use a spoon to create larger holes for the eggs. The hole for the pit is usually too small to fit a whole egg.

Crack one egg in each of the avocado holes.

Place avocado halves in in a small baking dish lined with foil. Bake for 17-20 minutes or until egg is cooked through. Serve warm with sea salt, cracked pepper, crushed red pepper (if desired) and fresh chives.
Nutrition
Serving:
2
halves
|
Calories:
388
kcal
|
Carbohydrates:
14
g
|
Protein:
16
g
|
Fat:
32
g
|
Saturated Fat:
6
g
|
Polyunsaturated Fat:
5
g
|
Monounsaturated Fat:
18
g
|
Cholesterol:
372
mg
|
Sodium:
543
mg
|
Potassium:
894
mg
|
Fiber:
10
g
|
Sugar:
1
g
Nutrition information is automatically calculated, so should only be used as an approximation.