Vegan black eyed peas with stewed tomatoes, kale and tempeh. It's perfect for New Year's Day, however it delicious anytime of the year!
I'm all about having good luck — especially when it comes to ringing in the New Year. Turns out there are a variety of foods that are believed to be lucky and to improve the odds that your next year will be a great one if eaten on New Years Day. Good luck and prosperity for 2011 – yes please!
Most cultures have their own spin on what foods will indeed bring luck. The southern tradition of greens, black-eyed peas and pork tends to resonate with me (despite that fact that some don't believe VA is part of the south).
Today I have a delicious recipe to share with you that includes three major good luck foods. And, best of all — it's healthy and vegan!!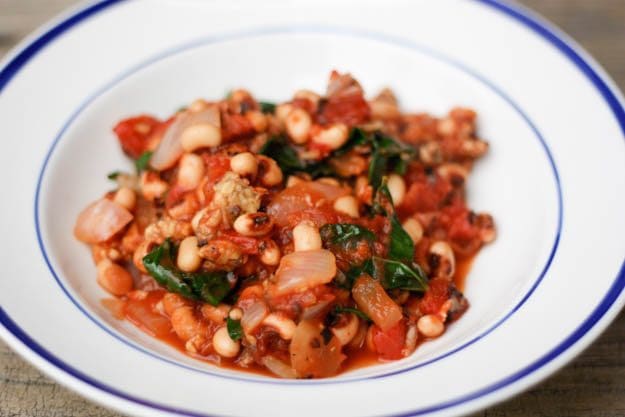 Greens: This good-luck food is the color of money. Greens, such as kale, collards, and cabbage, are traditionally eaten on New Year's Day because of their association with wealth and economic prosperity.
Black Eyed Peas: A common good luck food in the southern United States, black-eyed peas are thought to bring prosperity, their shape and abundance representing coins. Hoppin' John is the classic Southern New Year's dish.
Pork (or Fakin' Bacon in my case): As pigs root for food, they keep their feet planted and push their snouts forward, signifying progress and future prosperity.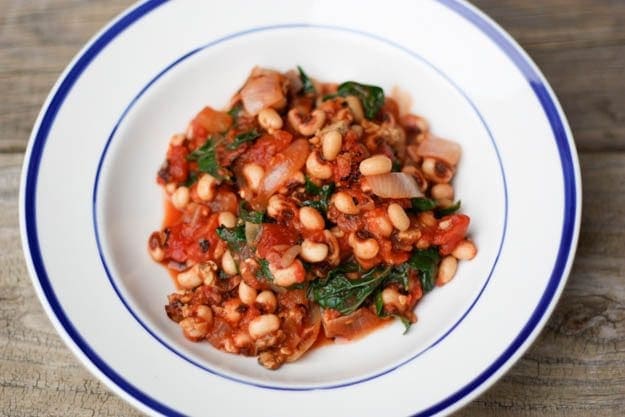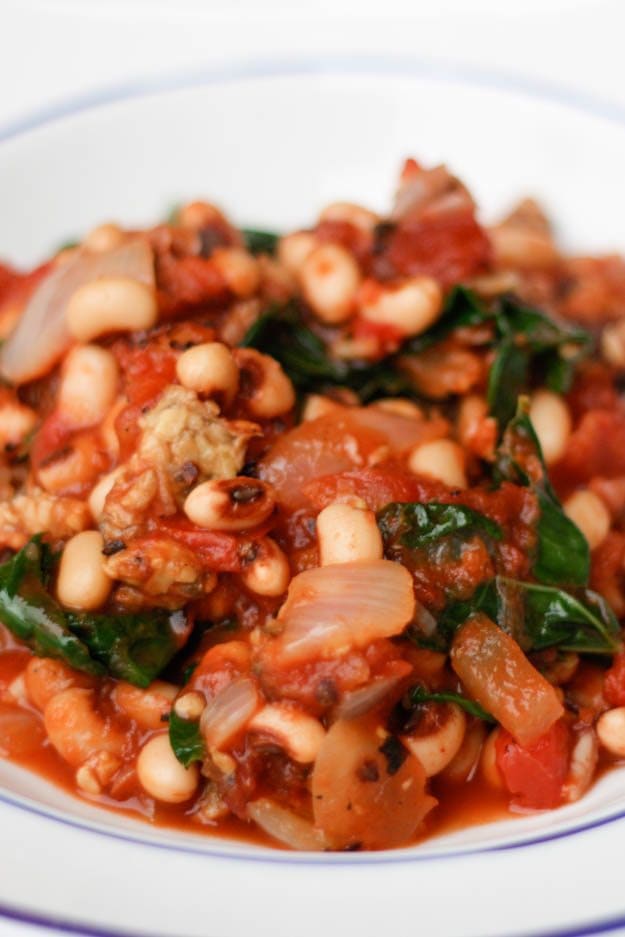 Print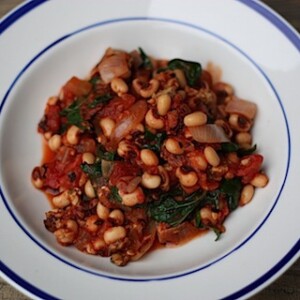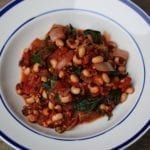 Black Eyed Peas with Tomatoes and Greens
---
Description
This black eyed pea dish is perfect for New Year's Day, however it can be made anytime. It's super easy to throw together and tastes awesome! The smoked tempeh has a nice smoky flavor similar to that of real bacon and no bitter aftertaste.
---
Scale
Ingredients
1 1/2 Tablespoon

s olive oil

1

large onion, diced

1 Tablespoon

garlic, minced

1

package of smoky tempeh (LightLife Fakin' Bacon), chopped

1

large bunch Lacinato kale, trimmed, leaves torn (any greens will work in this recipe)

2

(15 oz.) cans black eyed peas, drained and rinsed

1

(28 oz.) can stewed or roasted tomatoes
sea salt and ground pepper to taste
---
Instructions
Saute onions, garlic and tempeh in olive oil until tempeh is crispy and onions are soft, about 10 minutes.
Add in greens and simmer until soft. Add in black eyed peas and stewed tomatoes and bring to a simmer. Add salt and pepper to taste.
Eat as is, serve on top of a grain of some sort or make some homemade cornbread to go along with it. If you choose to make a grain, I'd do whole grain couscous or quinoa because they're both quick and would be done in the same time it takes to cook the black eyed peas, tomatoes and greens.
---
---
Notes
Much thanks to Chef Jesse at my local Whole Foods for featuring this recipe at his cooking demo last year!
Eat up as this meal is sure to bring the best of luck to you and yours for the new year!
Looking for other New Year's Day recipes or good luck food ideas? Check out the following links:
Last but not least, happy New Years Eve!! What are your plans? We are having a few people over to celebrate, which is sure to be a blast. I'm excited! Gotta go get ready. 🙂