Guess what? Team EBF has been hard at work on a special ebook project that I've been eagerly waiting to share with you and it's finally here!! To say I'm pumped would be an understatement. With gorgeous photos, a beautiful design (much thanks to Maria) and delicious recipes, this ebook is something I'm so proud of.
As the title suggests, Seven Slimming Meal-Sized Salads includes seven vibrant, healthy and delicious salads that you'll enjoy eating as a meal! No more sad salads, my friends.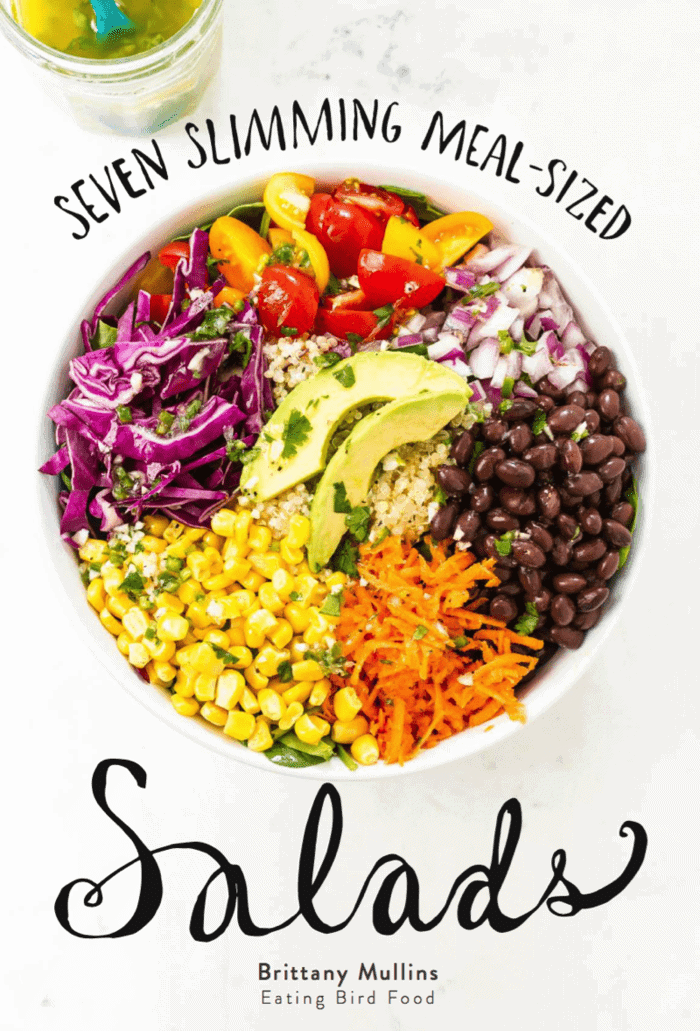 Why salads?
I'm sure you've noticed, but I'm a huge fan of salads! I've always enjoyed them — even before my EBF days. I actually really wanted to open my own salad shop at one point. This was back in my senior year of college and my business plan never came to fruition, but it just goes to show you that my passion for salads started years ago.
As a health coach one of my biggest tips for those learning to embrace a healthy diet is to eat more vegetables (especially leafy greens). Adding in one BIG salad a day is an easy way to do this. It's also a great way to implement the crowding out approach, which focuses on increasing healthy food rather than avoiding unhealthy foods. With this you fill your body with nutrient-rich foods (like salads) and there's simply less room for the not so healthy stuff.
This idea of having one meal-sized salad every day is something that I think so many people could benefit from and I want to share it with as many people as possible, start a salad movement if you will. I have a bunch of ideas around this concept including this salad ebook and an upcoming #saladeveryday challenge I'm going to hosting next month!! <— More info on this coming soon.
Want a sneak peek of what's inside the ebook? Here's a sample of the salad recipes you'll find:
Strawberry Fields Salad
A lovely strawberry salad with grilled chicken, crunchy cucumber slices, avocado, red onion, feta and a citrus poppy seed dressing.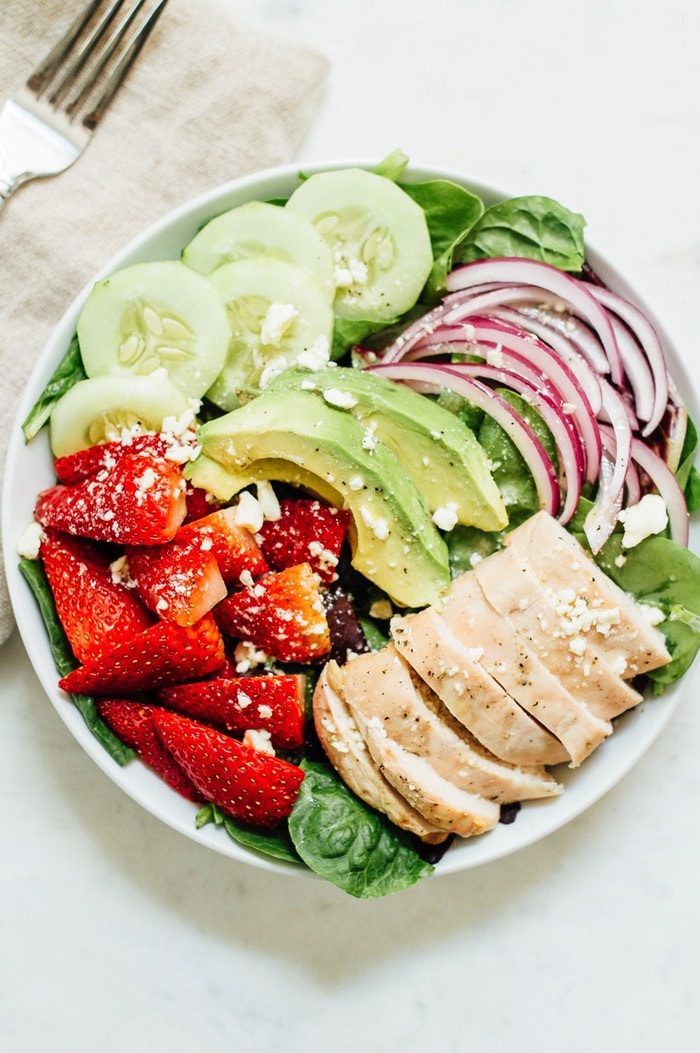 This salad is absolute perfection if you have ripe, juicy strawberries on hand!
Lemon Love Kale Salad
A vibrant kale salad coated in zesty lemon dressing and topped with crispy roasted chickpea croutons.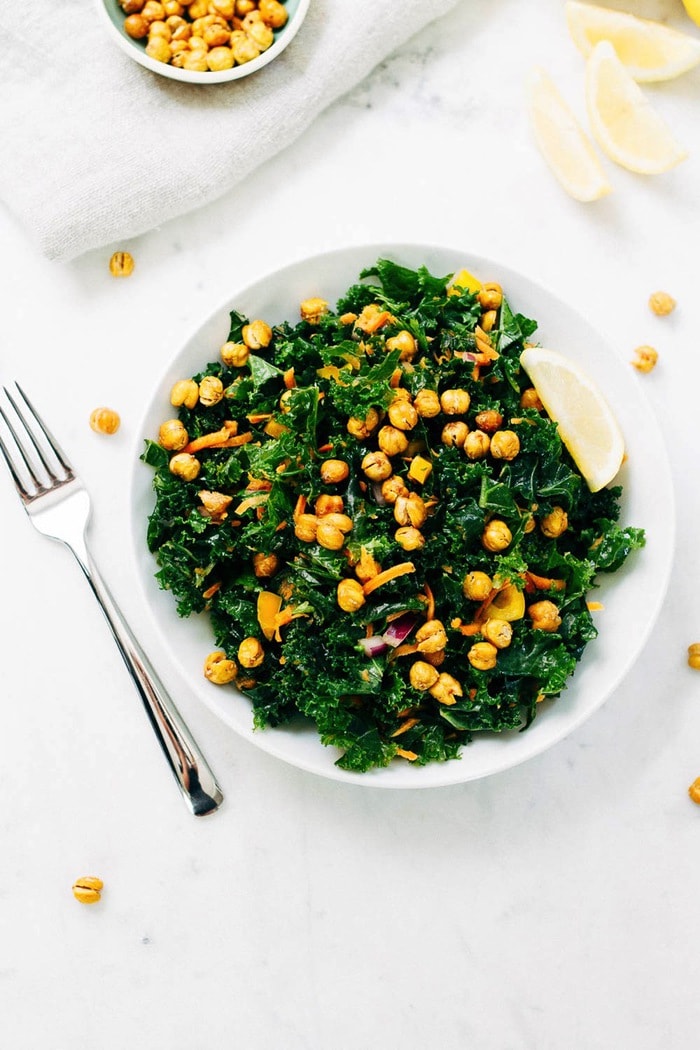 I love the crunchy roasted chickpea croutons! I could totally eat the whole batch plain as a snack, but they're perfect on this kale salad.
Black Bean Fiesta Salad
A colorful, veggie-packed salad that will satisfy your craving for Mexican food without a single tortilla chip! The lime jalapeño dressing is zesty and really ties the whole salad together.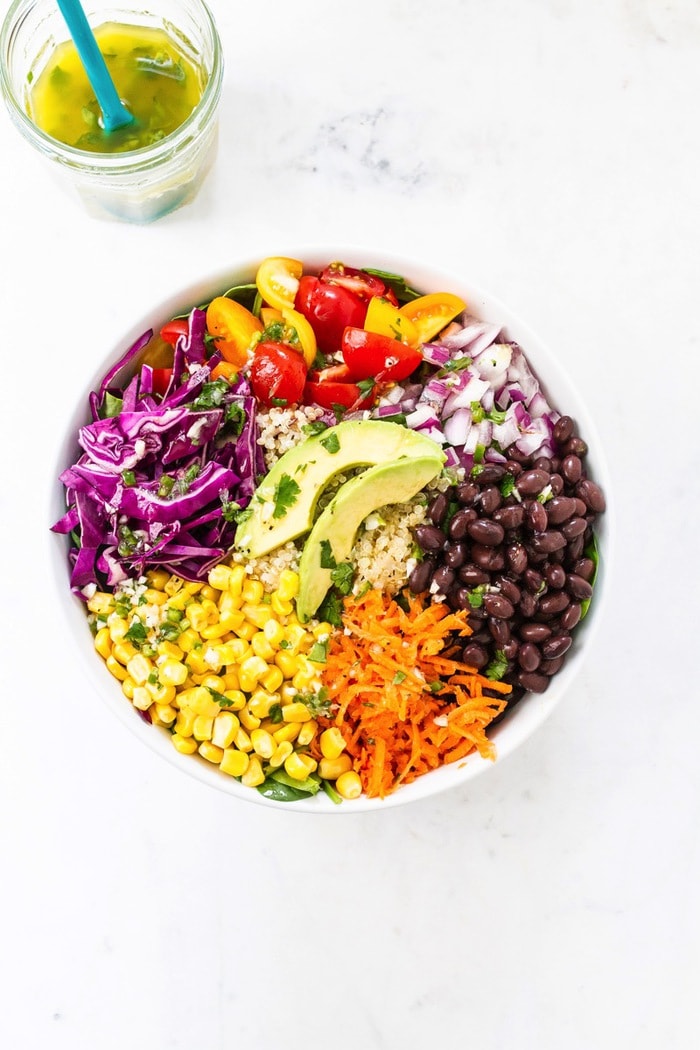 The black bean salad is an Team EBF favorite. If you're wondering which salad recipe to try first, this is it!
Roasted Sweet Potato Nicoise Salad
A fresh take on the classic nicoise salad, this version features canned tuna, roasted sweet potatoes and a light red wine vinaigrette.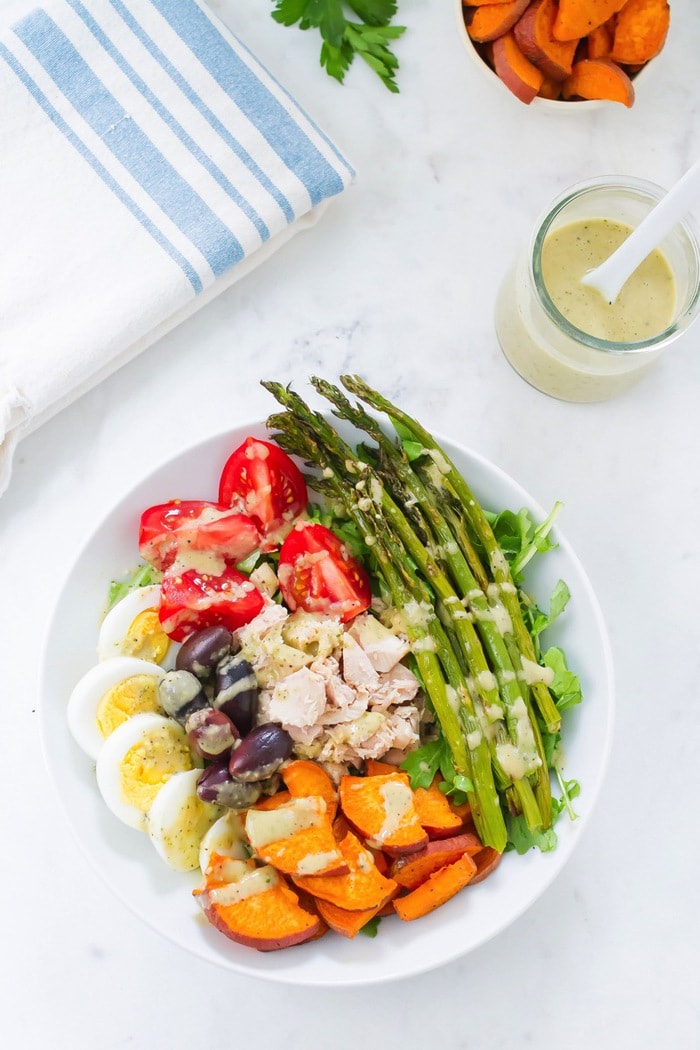 You all know how I feel about roasted sweet potatoes on salad! I can't get enough of them.
Each salad has a good source of protein, carbs and healthy fats so they're perfectly portioned for serving as a meal and under 500 calories per serving. All of the recipes are gluten-free, a couple are vegan and many of the others can easily be made veg-friendly by substituting the protein source. Each recipe makes two servings so you can share the salad with a friend or make one salad and have it twice.
I hope you all enjoy these salads as much as I've enjoyed coming up for the recipes and putting this ebook together for you. I sincerely hope it inspires you to eat more salads — maybe even one a day!
If you're on my email list, you should have already received the ebook via email last week (because you're special), but it's available to everyone now!
Simply fill out your info (confirm your subscription) and the ebook link will arrive in your inbox for download immediately. 
Once you've had a chance to download the ebook, don't forget to leave a comment letting me know which recipe(s) you're excited to try and if you do make any of the salads, please share a picture on social media and tag @eatingbirdfood. I seriously can't wait to hear what you think and see all of your beautiful salads.