Pumpkin Brownies
168
Published Aug 29, 2022, Updated Sep 15, 2023
These pumpkin brownies are made with almond flour, coconut sugar and pumpkin puree instead of any oil. They're rich, fudgy, super moist and absolutely delicious! Gluten-free + dairy-free.
I'm a huge fan of sneaking veggies into my recipes whenever I can, especially when it comes to desserts. I've shared zucchini brownies, butternut squash pancakes, sweet potato cookies and now my latest obsession: these pumpkin brownies!
The pumpkin puree not only replaces the oil or butter you'd typically find in brownies, but it also adds some extra nutrients. Yes please! These brownies are just as easy to whip up as a brownie box mix from the store, but they're healthier and made with just 9 simple real-food ingredients. And no one will even be able to tell they're made with pumpkin. They are so rich and fudgy and guaranteed to become your new favorite fall dessert.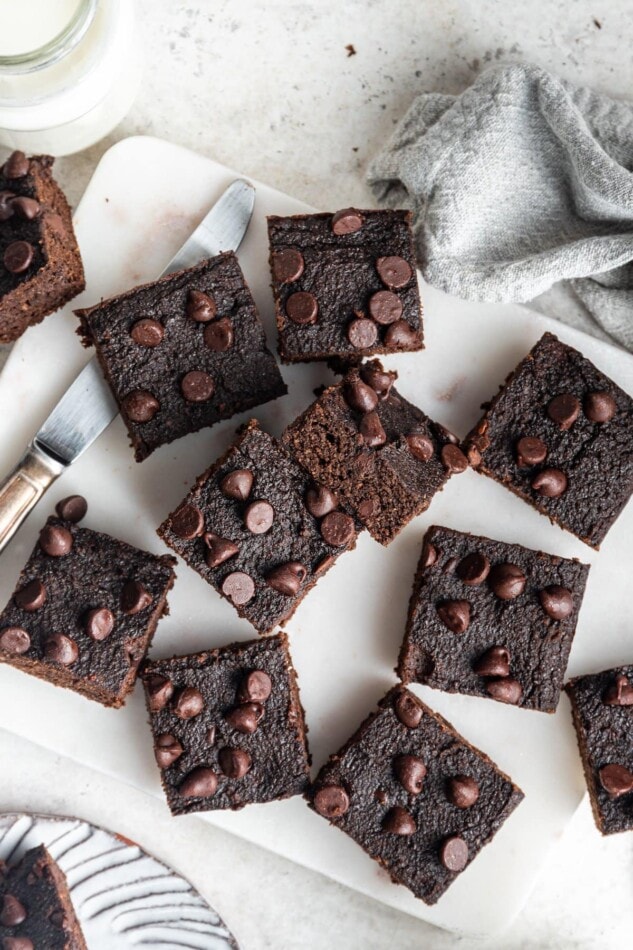 Why You'll Love These Pumpkin Brownies
Pumpkin not only adds extra nutrition but also extra moisture – no oil needed!
You only need 9 simple ingredients that you probably already have on hand!
Gluten-free, dairy-free and oil-free!
It's the perfect recipe to use up any leftover pumpkin puree.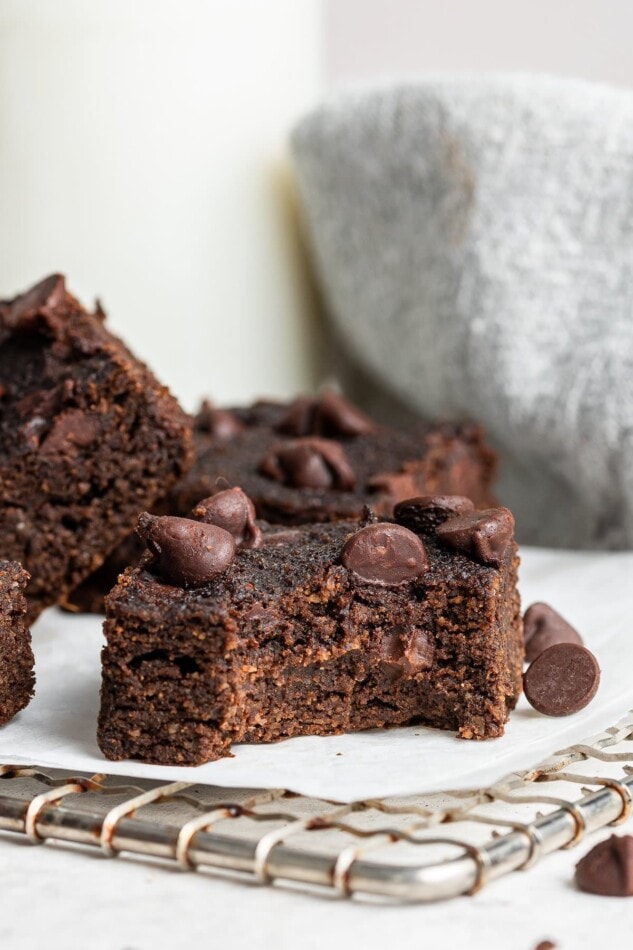 Why Add Pumpkin to Brownies
Pumpkins are a "nutrient-dense" food, which means they are rich in vitamins and minerals and low in calories because it's 94% water. They are abundant with beta-carotene, which your body turns into vitamin A, making it a potent antioxidant that's great for your eyes and immune system. Pumpkins are also high in vitamin K, which aids in blood clotting and is beneficial to bone health.
You may have noticed that there's no oil or butter in this recipe, and that's because pumpkin puree is the perfect fat substitute. It adds moisture to baked goods, allowing you to minimize or eliminate the need for oil entirely.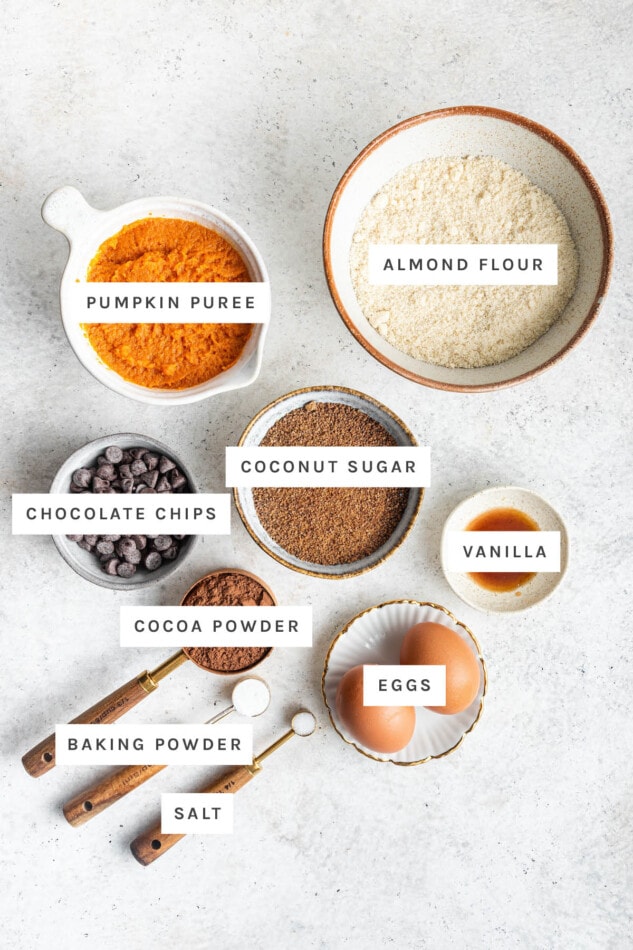 Ingredients Needed
pumpkin puree – instead of oil we're using pumpkin puree! You could either buy canned pumpkin puree from a store or use homemade pumpkin puree. Just be sure not to get pumpkin pie filling, as they will be loaded with sugars.
eggs – helps bind the ingredients together and provide structure for the brownies.
coconut sugar – I used coconut sugar in this recipe, which is a great alternative to other sugars and adds a nice molasses flavor to these brownies.
vanilla extract – just a touch to elevate the flavors in these brownies.
almond flour – a delicious gluten-free, nutrient-dense flour, that will add a light nutty flavor to your brownies. I recommend Bob's Red Mill super fine almond flour as it's perfect for baked goods.
cocoa powder – a much-needed ingredient for that rich chocolatey flavor! Make sure to use unsweetened powder. Cacao powder works for this recipe as well. I like Navitas organic cacao powder.
baking powder – a complete leavening agent to help the brownies rise.
sea salt – brings all the flavors together.
dark chocolate chips – can you go wrong with more chocolate?! I think not! I recommend Enjoy Life dark chocolate chips which are allergen-friendly or Lily's chocolate chips because they are lower in sugar and calories.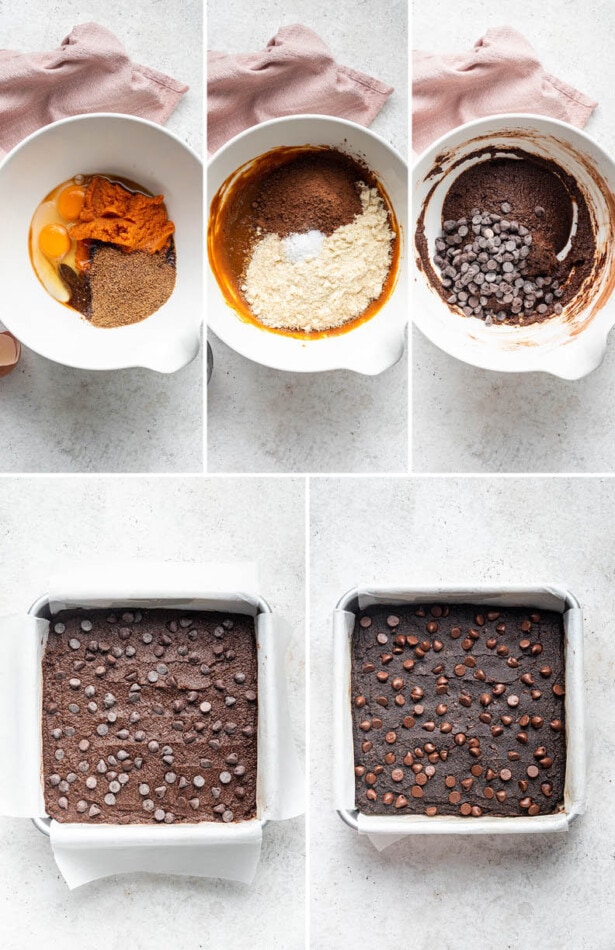 How to Make
Preheat your oven to 350ºF and grease an 8×8 inch baking dish or line it with parchment paper.
In a large bowl, whisk together the pumpkin puree, eggs, coconut sugar and vanilla extract. In the same bowl, add the dry ingredients: almond flour, cocoa powder, baking powder and salt. Mix everything together well until any clumps are gone. Then, fold in the chocolate chips.
Pour the brownie batter into the prepared baking dish. Bake for 30-35 minutes. You'll know the brownies are ready when a toothpick inserted into the center comes out clean.
Let brownies cool completely (trust me, they test better cool, plus you won't burn your mouth). Cut into squares and enjoy!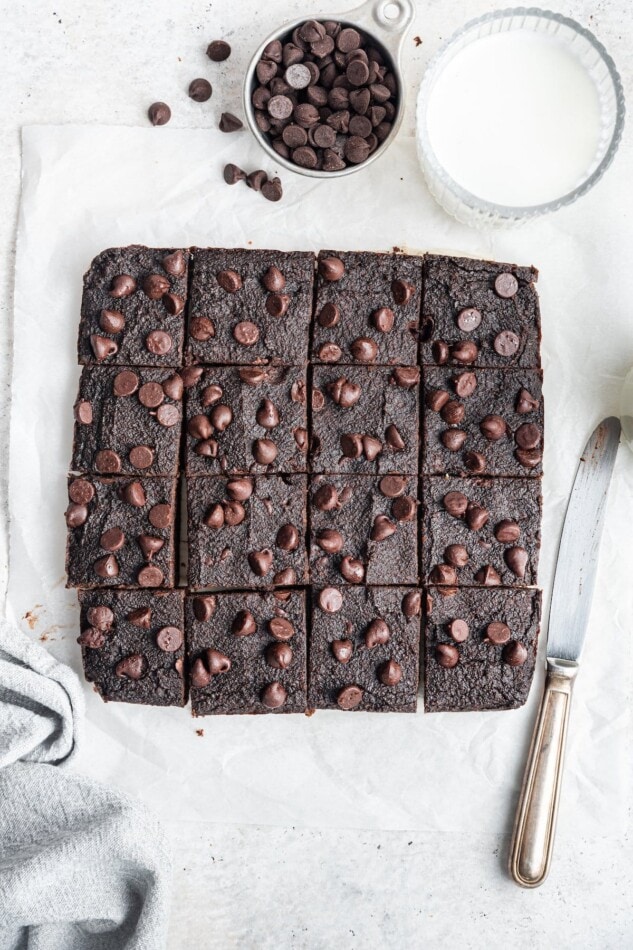 Substitutions & Notes
Flour: I haven't tried a substitute for the almond flour in these brownies, but if you have a nut allergy my first choice would be oat flour. The end result might turn out a touch differently, but that would be the closest substitute!
Eggs: I haven't tried it, but I bet swapping the eggs for 2 flax eggs or chia seed eggs would work. The brownies just might not rise as much. Let me know if you try it in the comments below!
Coconut sugar: If you don't like the taste of coconut sugar or don't have any on hand, you could use cane sugar, granulated sugar or brown sugar for these brownies.
Chocolate chips: Feel free to skip the chocolate chips if you want or you could swap them with your favorite nut like walnuts or pecans.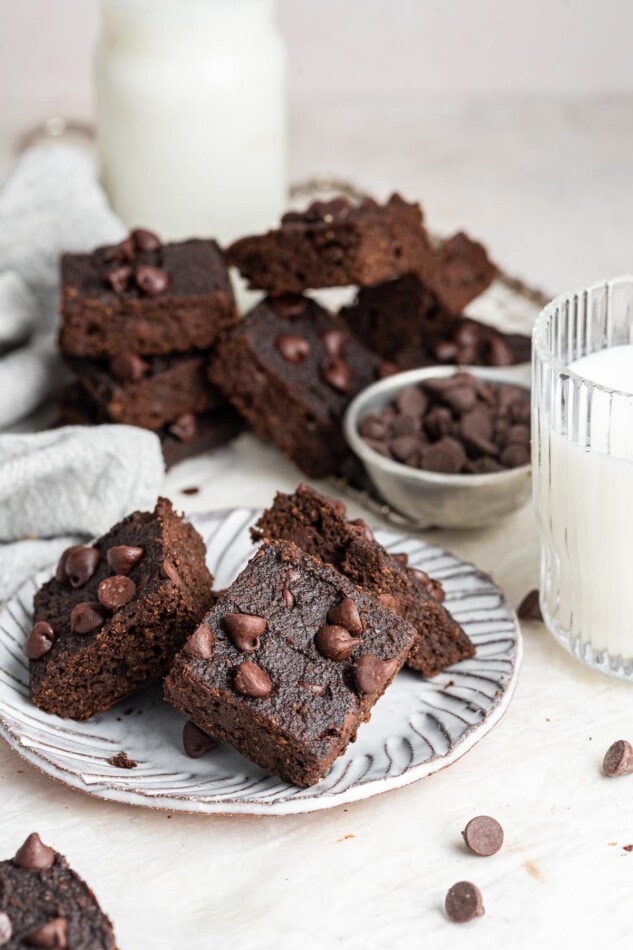 How to Serve Pumpkin Brownies
If you feel like getting fancy here are some ideas on how to serve these brownies:
Coconut whip – a scoop of coconut whip cream would be so delicious on top of these pumpkin brownies.
Nut butter – a drizzle of your favorite nut butter would not only taste great but add some extra protein to your brownie. You can't go wrong with almond butter, especially if it's homemade. Other great options are cashew butter, peanut butter or tahini. This pumpkin almond butter would also be delicious!
Pumpkin butter – there's no such thing as too much pumpkin in my opinion so if you want to add some extra pumpkin flavor to your brownie it'd be delicious with a drizzle of this pumpkin butter + dash of pumpkin pie spice.
Oatmeal – crumble some brownie bits to your morning oatmeal for a delicious chocolatey treat. It'd be amazing crumbled on top of this pumpkin oatmeal.
Yogurt – want to eat a brownie for breakfast? Crumble it on top of some Greek yogurt (or any yogurt of choice) with a sprinkle of granola (this pumpkin granola and hemp granola are delicious) and fresh berries. Like a breakfast brownie sundae… so good!
Ice Cream – you really can't go wrong with adding a scoop of your favorite ice cream on top of your freshly made, warm pumpkin brownie. Vanilla would be my first choice, but for some dairy-free options you can try this banana ice cream or chocolate banana ice cream would be tasty!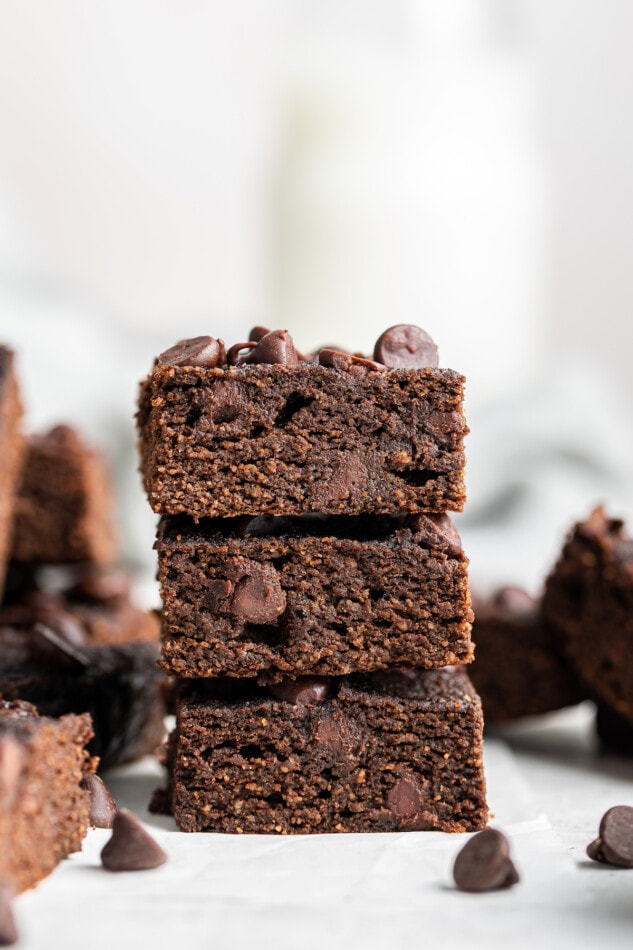 How to Store Leftovers
These brownies don't tend to last long in our house, but if you have leftovers they'll stay fresh at room temperature for about 2 days or in an airtight container in the fridge for about a week. For longer storage, I recommend freezing them. Store in a freezer-safe, airtight container in the freezer for up to 3 months.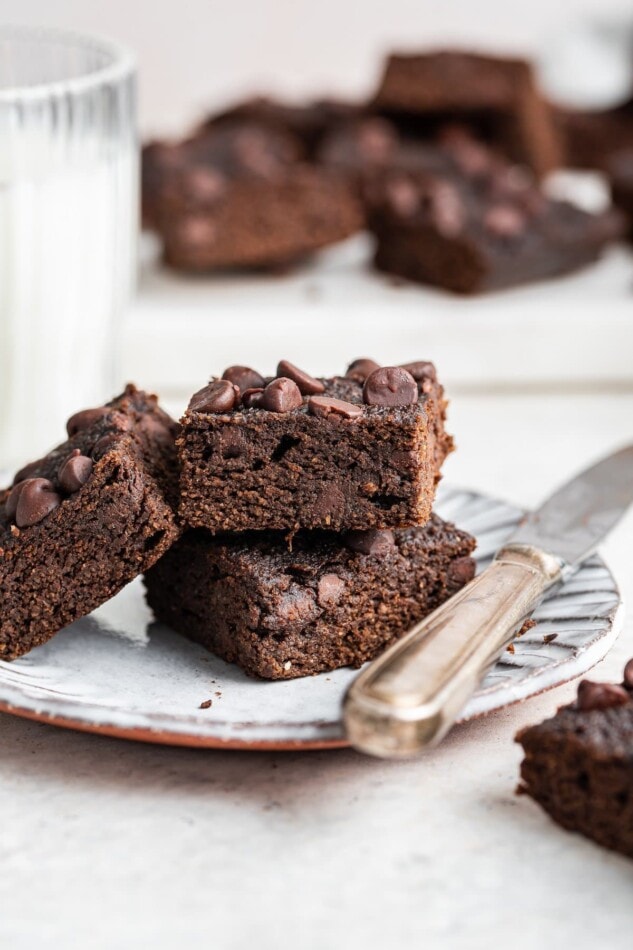 More Brownie Recipes to Try
Popular Pumpkin Recipes to Try
Be sure to check out all of the pumpkin recipes as well as the full collection of dessert recipes on EBF!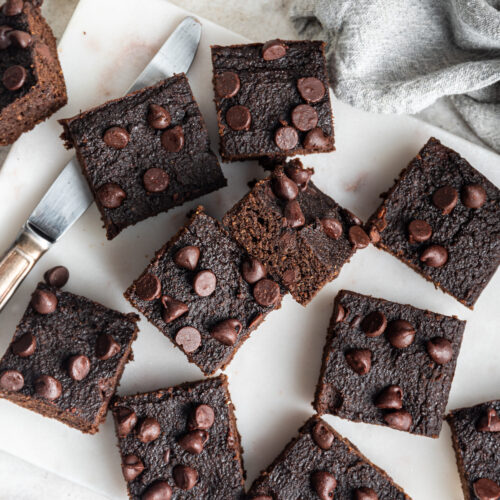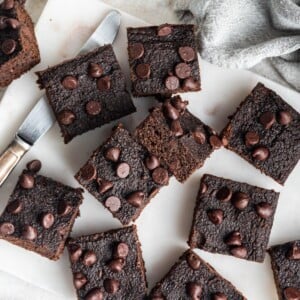 Pumpkin Brownies
These pumpkin brownies are made with almond flour, coconut sugar and pumpkin puree instead of any oil. They're rich, fudgy, super moist and absolutely delicious! Gluten-free + dairy-free.
Instructions
Preheat the oven to 350°F. Grease an 8×8-inch baking pan or line with parchment paper.

In a large mixing bowl whisk together pumpkin puree, eggs, coconut sugar, and vanilla extract.

In the same bowl add almond flour, cocoa powder, baking powder and salt and mix until combined and clumps are gone.

Fold in chocolate chips.

Transfer mixture to the prepared pan. Bake for 30-35 minutes, or until brownies are set in the center and a toothpick comes out clean. Let brownies cool completely (trust me, they test better cool, plus you won't burn your mouth). Cut into squares and enjoy!
Nutrition
Serving:
1
brownie
|
Calories:
128
kcal
|
Carbohydrates:
14
g
|
Protein:
5
g
|
Fat:
7
g
|
Saturated Fat:
1
g
|
Cholesterol:
23
mg
|
Sodium:
80
mg
|
Potassium:
211
mg
|
Fiber:
3
g
|
Sugar:
10
g
Nutrition information is automatically calculated, so should only be used as an approximation.