One of the best frozen meals on the market right now, in my humble opinion, is Kashi's Mayan Harvest Bake.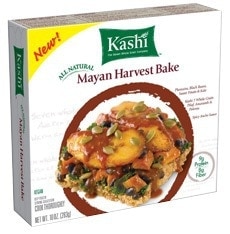 This delicious vegan meal combines plantains, roasted sweet potatoes, black beans and kale with a spicy ancho sauce and pumpkin seed garnish – all the served over Kashi's seven whole grain polenta and amaranth. It's got a kick to it, but not overly spicy and the flavors of the sweet potato, plantain, and ancho sauce go so well together.
After falling in love at first bite and buying the harvest bake multiple times I decided I should try my hand at creating it at home. After a visit to my local Latino market the plantains I did a little online research and drew inspiration from others who have also come up with their own versions of this tasty meal.
It may not taste exactly like the frozen meal, however it turned out quite close and it tastes absolutely fabulous so I thought I'd share the recipe.
[print_this]
Homemade Mayan Harvest Bake
serves 4
Ingredients
2 sweet potatoes, washed and diced into 1/2 inch cubes
1 ripe plantain**, quartered and cut into 2 inch pieces
1 bunch of kale, cleaned, destemed and chopped
1 15 oz. can organic black beans, drained and rinsed
1/4 cup pepitas
Sauce:
1 tbsp. coconut oil (divided)
1 onion, chopped
2-3 cloves or garlic
1 15 oz. can tomato puree
1/4 cup water
1 tbsp. ancho chili powder
3 drops of liquid stevia (or other sweetener of choice)
1 tsp. paprika
1/2 tsp. sea salt
Grains:
1/2 cup quinoa
1/2 cup bulgur wheat
2 cups of water with a vegetarian bouillon cube -or- 2 cups vegetable broth
** The plantain should be very ripe – yellow, not green and covered with large black spots. Mine was completely black and worked perfect.
Preparation
Preheat oven to 400 degrees.
Toss sweet potatoes in 1/2 tbsp. oil and roast for 20 minutes in a square glass baking dish/pan, stirring once.
While the potatoes are roasting, heat 1/2 tbsp. oil on medium high in a large skillet and saute the onion and garlic until soft and fragrant. Add tomato puree, water, and spices (chili powder, stevia, paprika, sea salt) into the skillet and let simmer for 10 minutes. The sauce should be on the thicker side, but add more water if you want to thin it out. Stir in black beans.
Heat another skillet over medium, add chopped kale, a few tbsp. of water and a bit of sea salt. Let the kale wilt and toss for 5-7 minutes.
Pull roasted sweet potatoes out of the oven and top with cooked kale, sliced plantains, and black bean sauce. Bake for 15-20 minutes.
While it's baking prepare the grains by putting the quinoa, bulgur wheat, and 2 cups of liquid into a small pot. Bring mixture to a boil, then cover and let simmer for 15-20 minutes or until most of the liquid has been absorbed.
Portion out the grains on each plate, top with the harvest bake, sprinkle with pepitas and eat immediately. Enjoy!
[/print_this]
I hope you'll try the recipe – I know the preparation process sounds a little taxing, but I promise it's not that bad and the results are totally worth it.
Edited to add: I know many people are interested in the nutrition facts for this recipe and the ones listed on Food.com are incorrect. I put the ingredients into the Livestrong recipe nutrition fact calculator to find the accurate information based on 4 servings: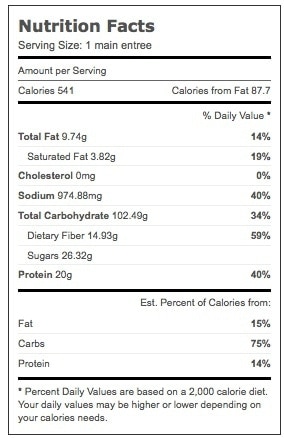 -Brittany