Happy Tuesday to you! I hope you all had a great weekend.
I'm actually blogging from North Carolina today, as I'm in Durham for an email marketing conference with Relay Foods this week. The conference starts off with a 5K run this morning so I'm headed out for that in a few but wanted to pop in and say hi. I'm super excited to share this new breakfast recipe so let's just get right to it…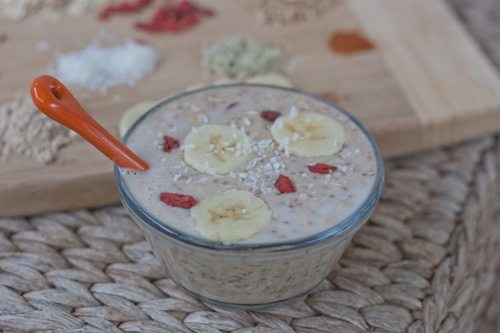 I LOVE cereal. I grew up having it for breakfast almost every morning and sometimes as a snack after school (or after dinner) as well. My mom, like any good mom, would keep at least 3-4 flavors in the pantry for me at all times — including my favorites: Cinnamon Toast Crunch, Cinnamon Life, Smacks and Cookie Crisp. It was the best!
My palate has matured (a bit) since my younger years and I tend to buy the "healthier" cereals, BUT when it comes down to it, boxed cereal is still processed food. Lately I've been trying to give all processed foods a rest, including cereal.
And I'll admit, it's been kind of hard, especially since Isaac still buys cereal and we still have full boxes that catch my eye every time I open the pantry door. One morning a few weeks ago I had a cereal craving, but I was good and instead of grabbing one of the boxes, which are definitely not the "healthy" cereal options, I decided to make my own.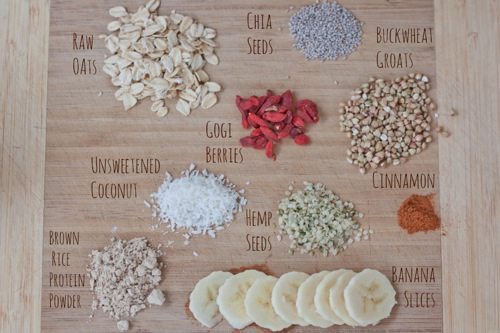 I searched through my pantry and came up with a superfood blend of cereal featuring the ingredients above: a base of raw oats, protein powder, chia seeds, buckwheat groats, shredded coconut, hemp seeds, cinnamon, goji berries and banana slices.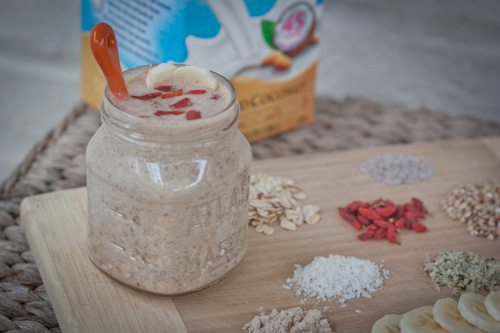 Then I topped the mixture with almond milk. You can use any type of almond milk but for this particular batch I used Almond Breeze Unsweetened Coconutmilk Almondmilk Blend. After giving the mix a good stir, I ate it just like cereal.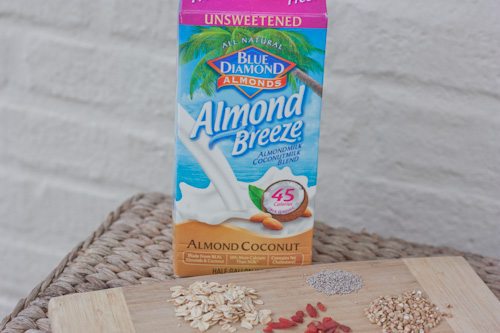 It's crunchy, a little chewy and perfectly sweet — similar to regular cereal, only not because it's also super filling. I was full after one bowl, rather than headed back to the pantry for another bowl (or two). Definitely a plus for me!
Another great thing about this cereal is that it's gluten free, has no added sugars and packs a nice punch of omega-3's and protein. It's legitimate healthy cereal.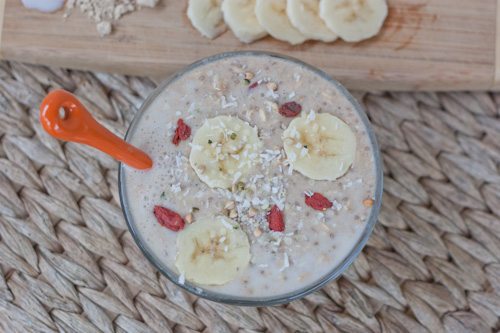 Superfood Cereal Blend
This cereal blend is packed full of superfoods but starts with a base of oatmeal, buckwheat groats, chia seeds and brown rice protein powder. You can use the ingredients I recommend or switch things up and add additional ingredients or toppings that you like -- I think cacao (or cocoa) powder or cacao nibs would be a nice addition for a chocolatey flavored cereal and sliced almonds or freshly sliced strawberries would be delicious as well. The combinations are endless.
Ingredients
⅓ cup old fashioned oatmeal (make sure your oats are GF, if that's important to you)
½ -1 scoop vanilla brown rice protein powder
2 Tablespoons raw buckwheat groats
1 Tablespoon chia seeds
1 Tablespoon goji berries
1 teaspoon unsweetened shredded coconut
1 teaspoon hemp seeds
¼ teaspoon cinnamon
banana slices
1 cup unsweetened Almond Breeze almond milk (vanilla or coconut work great)
Instructions
Mix oatmeal, protein powder, buckwheat groats, chia seeds, goji berries, coconut, hemp seeds and cinnamon in a bowl, pour almond milk over the cereal mixture, top with banana slices and enjoy!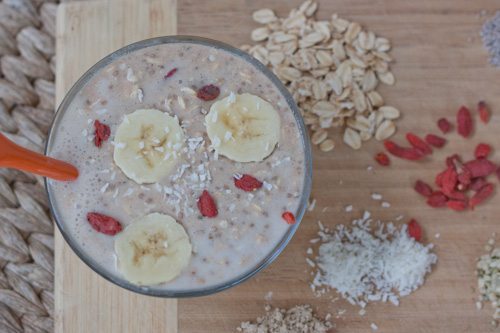 Oh and just in case you're new to raw buckwheat groats — you can find them in the bulk bins at most natural grocery stores and also in the grain section (Bob's Red Mill sells them packaged). You can totally make the cereal blend without them but I love the crunchiness that they add.

What was your favorite cereal growing up? Do you still buy it? Have you ever made your own cereal?