Yes, you can eat salad for breakfast! These healthy breakfast salads show you how easy (and delicious) eating salad for breakfast can be!
There's something to be said for starting your day with a veggie packed meal. It not only gives your body a host of nutrients, fiber and energy, but it sets you up to crave healthy things the rest of the day!
I've always loved salads but it wasn't until 2017 that I fully embraced my salad obsession and am no longer shy about it. I've hosted several salad challenges and am working on a salad ebook for you all! It's been so fun sharing the #saladeveryday movement and getting folks excited about eating salads again!
Why Salad for Breakfast?
Most people think of salad as a lunch or dinner food, but I'm here to spread the word that salads can be for breakfast too! Breakfast salads are such an easy way to load up on fresh vegetables (and/or fruit). You can toss them together pretty quickly and they're light and fresh while still being filling. As long as you have a good source of protein and some healthy fats on there, the salad will keep you full until your next meal without weighing you down. And if you haven't ever had a fried or poach egg on top of a salad you're seriously missing out. It's absolutely delicious!
Breakfast Salad Recipes
Ready for some breakfast salad ideas to add to your morning routine? Just scroll down and feast your eyes on this epic salad roundup!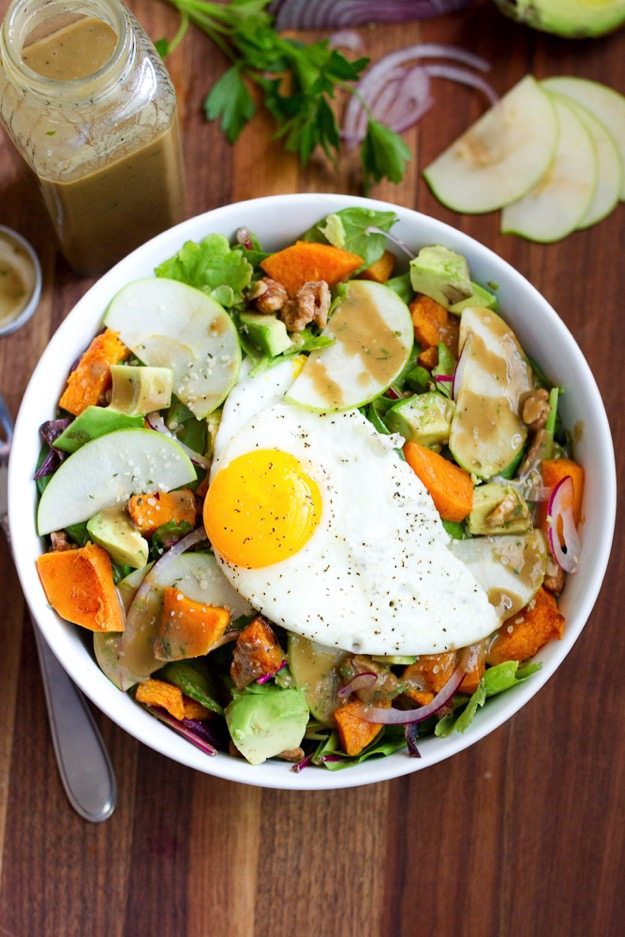 Fall Harvest Breakfast Salad – A festive fall breakfast salad with cinnamon roasted butternut squash, apple slices, avocado, red onion, walnuts, hemp seeds and an egg!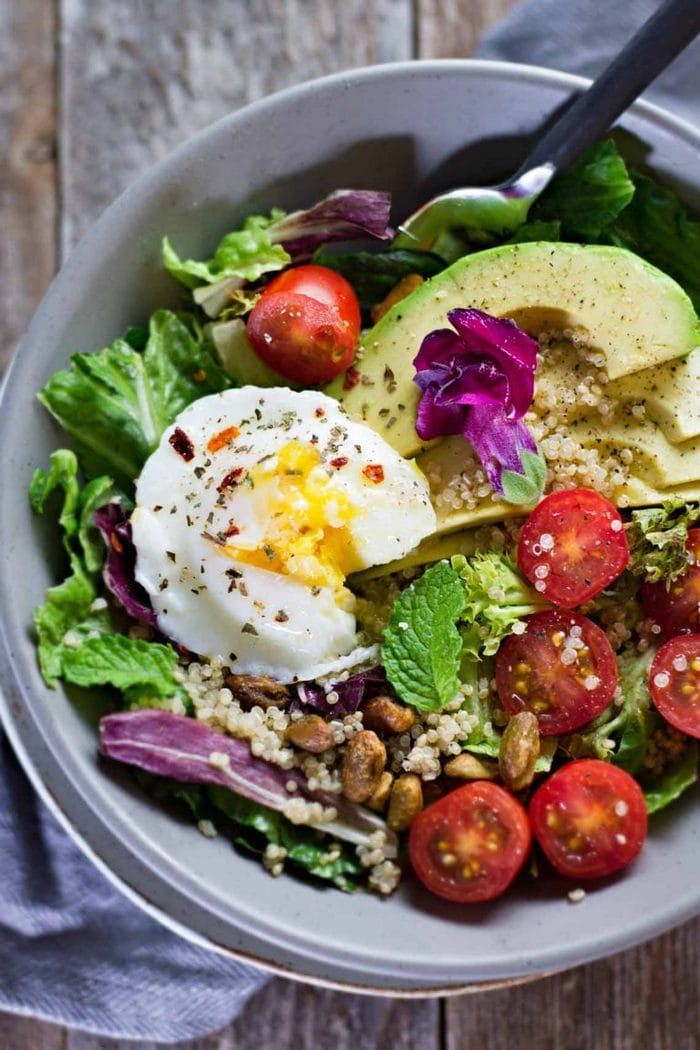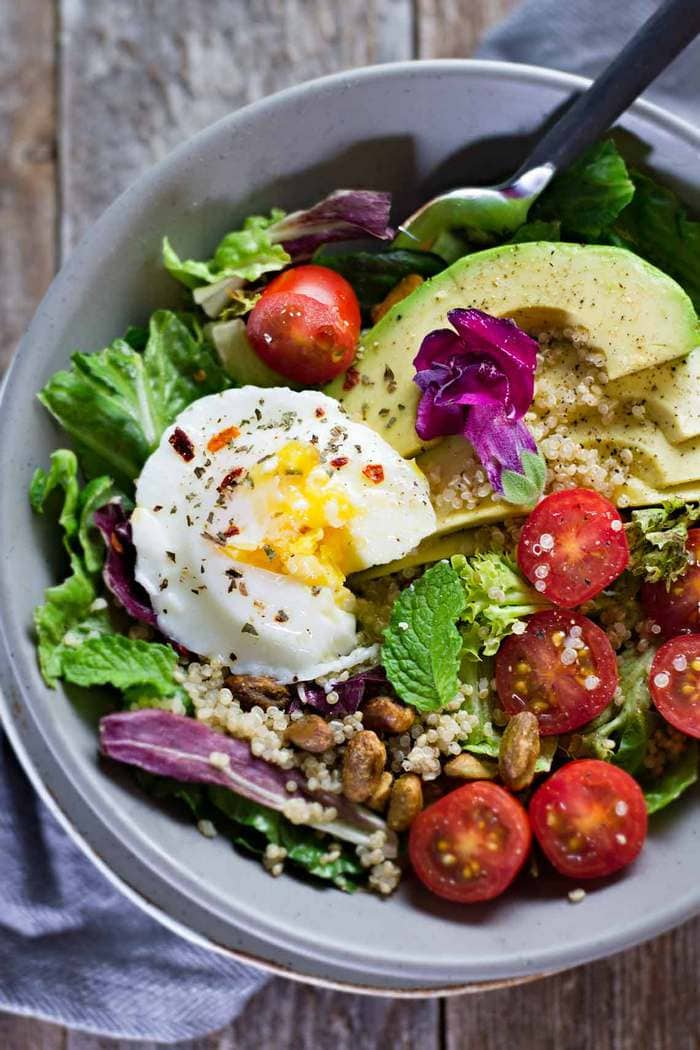 Poached Egg & Avocado Salad from Jar of Lemons – Honestly I would eat this at any time of the day! It looks like a grain bowl with an egg on top… which you know I'm all about!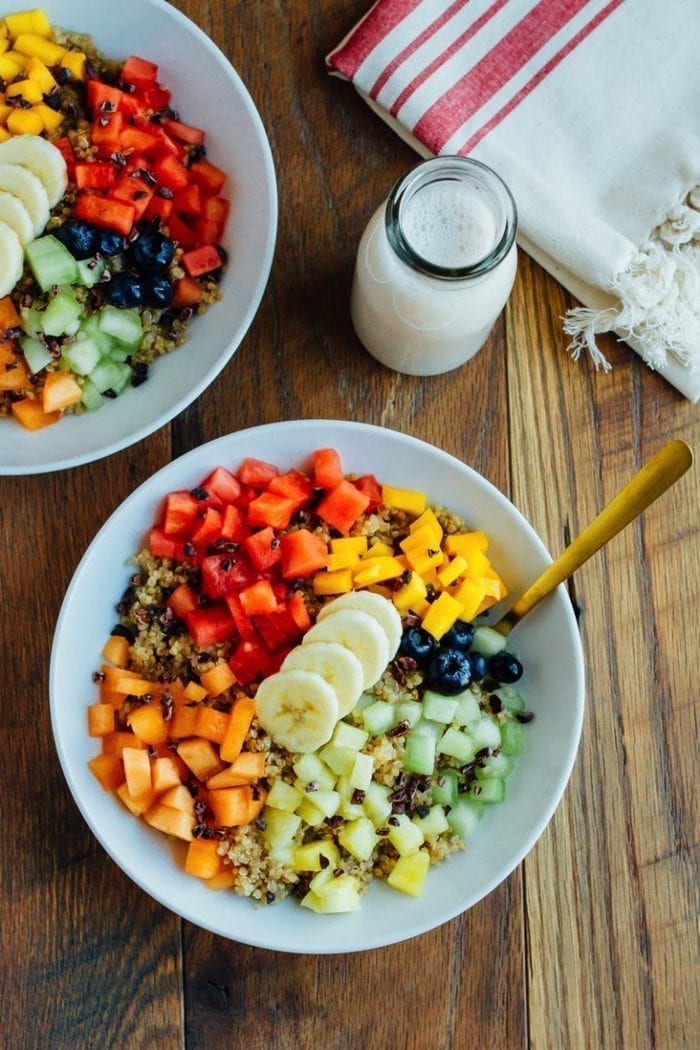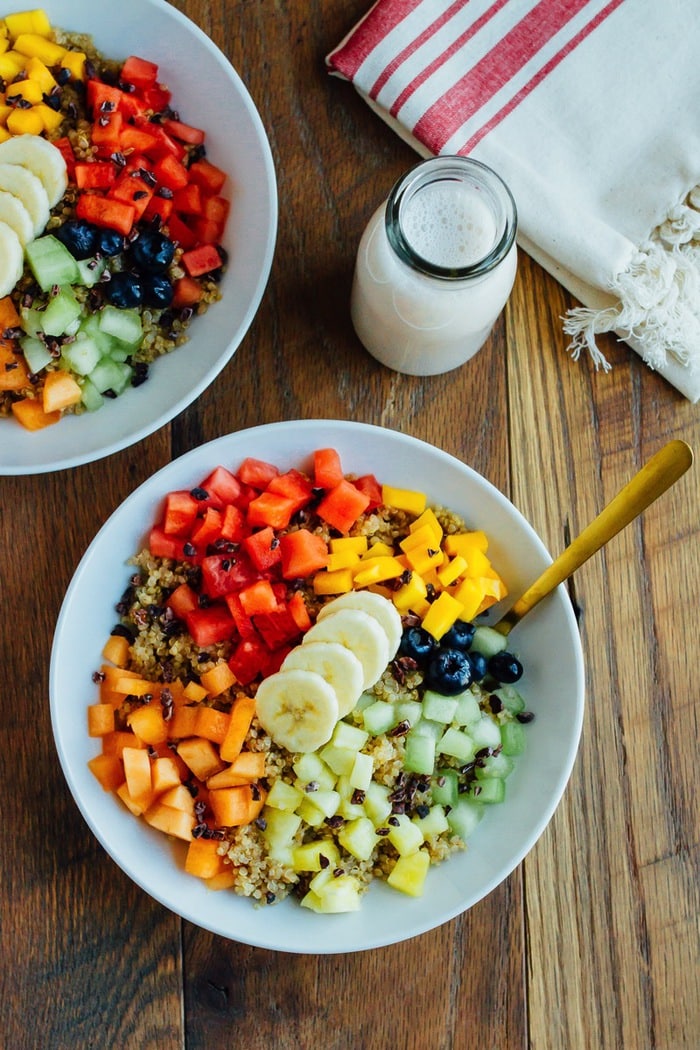 Cinnamon Quinoa Breakfast Bowl – Scared of a green salad for breakfast? Start with an upgraded fruit salad! Loaded with fresh fruit, quinoa, cacao nibs and a maple syrup drizzle, this bowl is the perfect start to your day.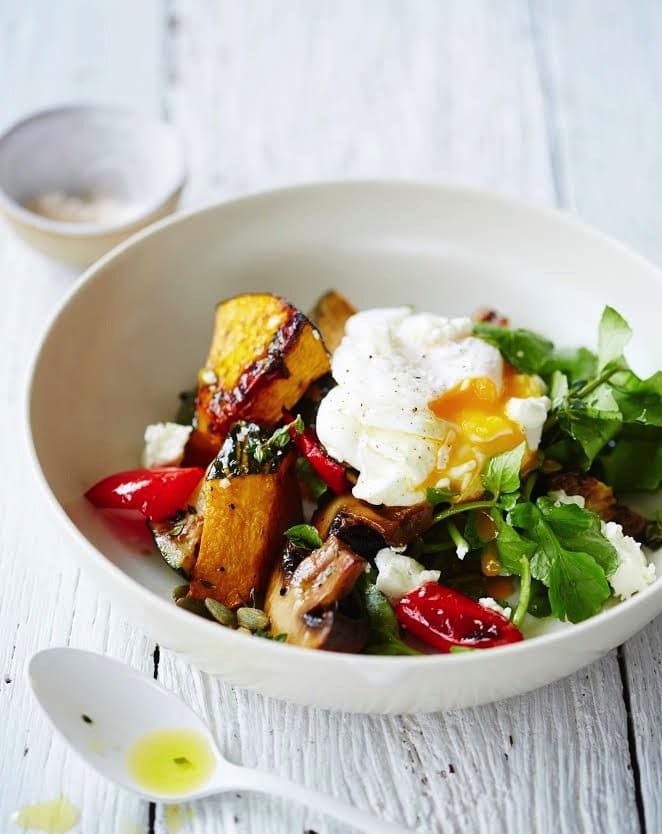 Nourishing Breakfast Salad from PopSugar – Packed with healthy veggies like pumpkin and bell pepper and topped with fiber-rich pepitas and a protein-packed egg, this salad is sure to help you start the day feeling energized and refreshed.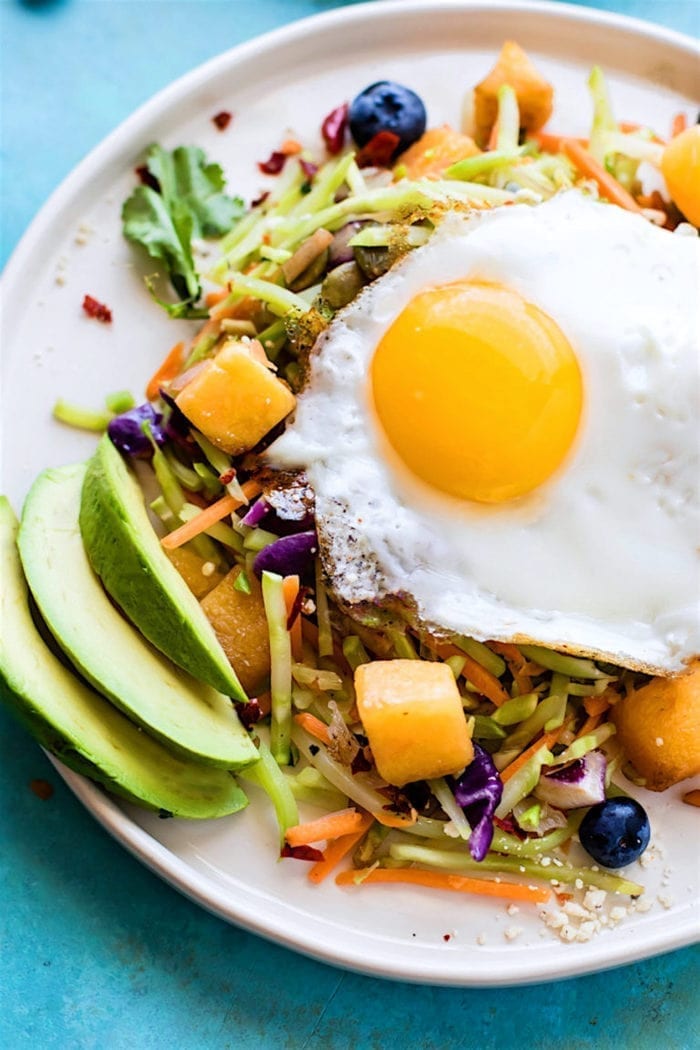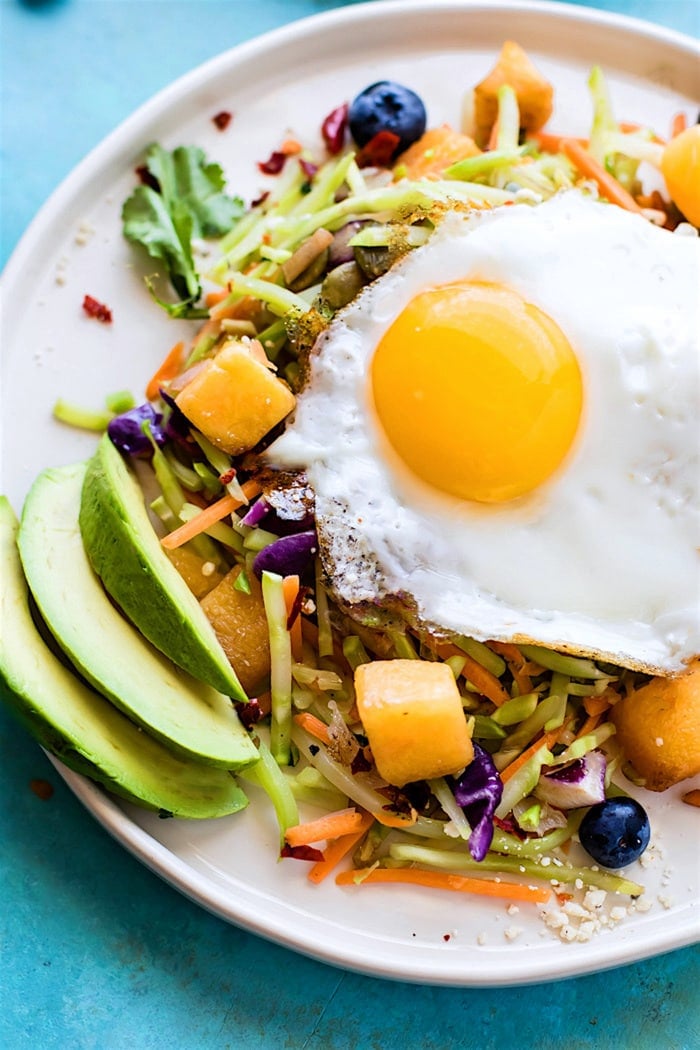 Nourishing Paleo Warm Breakfast Salad from Cotter Crunch – Create a healthy warm paleo morning meal with lightly cooked broccoli cole slaw, onion, and butternut squash topped with seasonal fruit and a protein rich fried egg!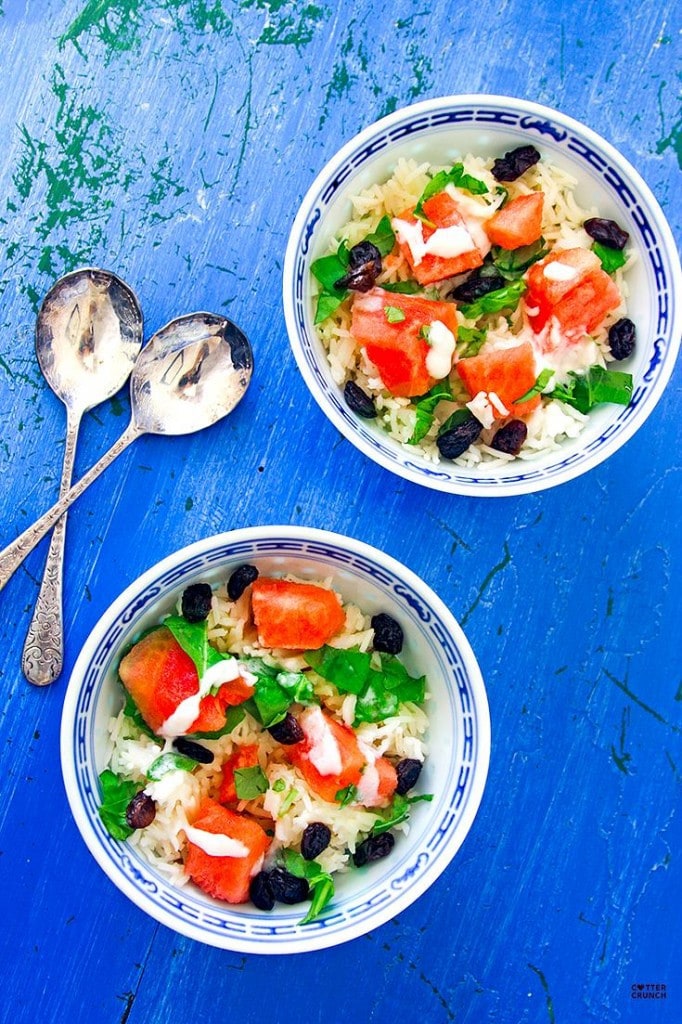 Coconut Rice and Watermelon Salad Bowls from Cotter Crunch – This bowl looks so refreshing! Coconut cream, jasmine rice, watermelon and raisins combine to create an amazing bowl of nourishment!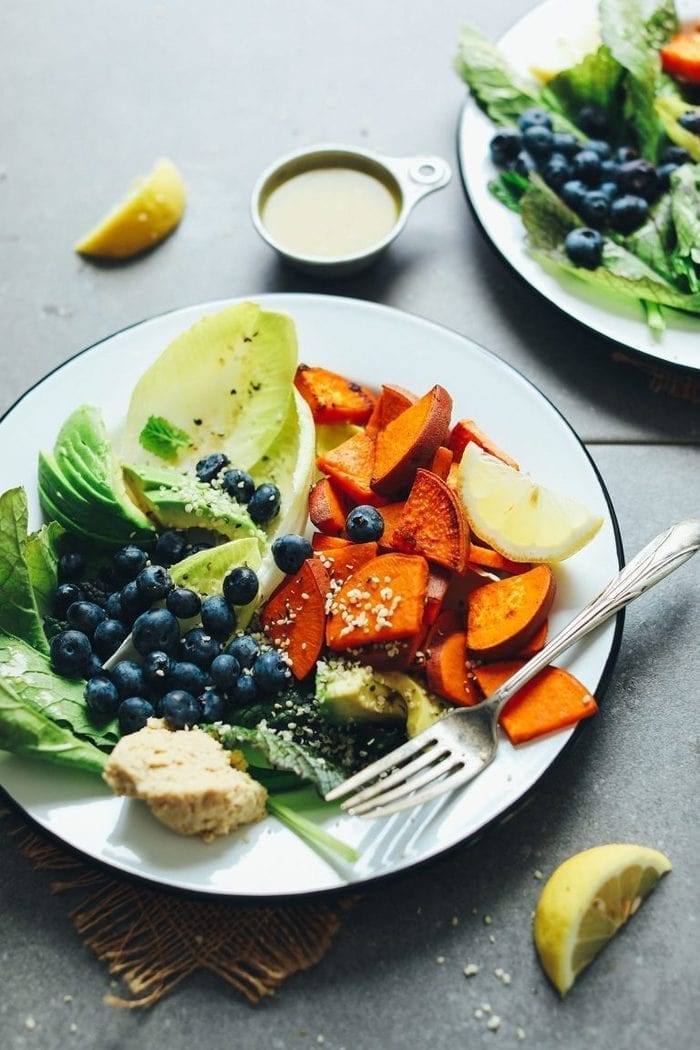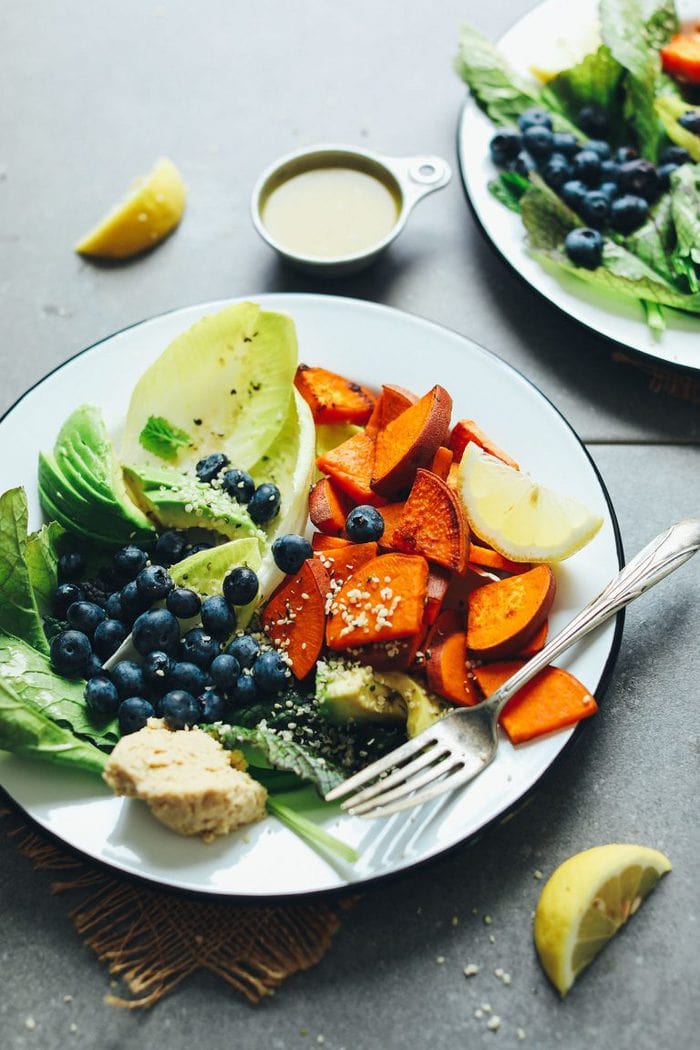 Vegan Savory Breakfast Salad from Minimalist Baker – This looks like a staple breakfast recipe I need to incorporate on the regular. Hearty vegetables, refreshing ingredients and vegan? Sold.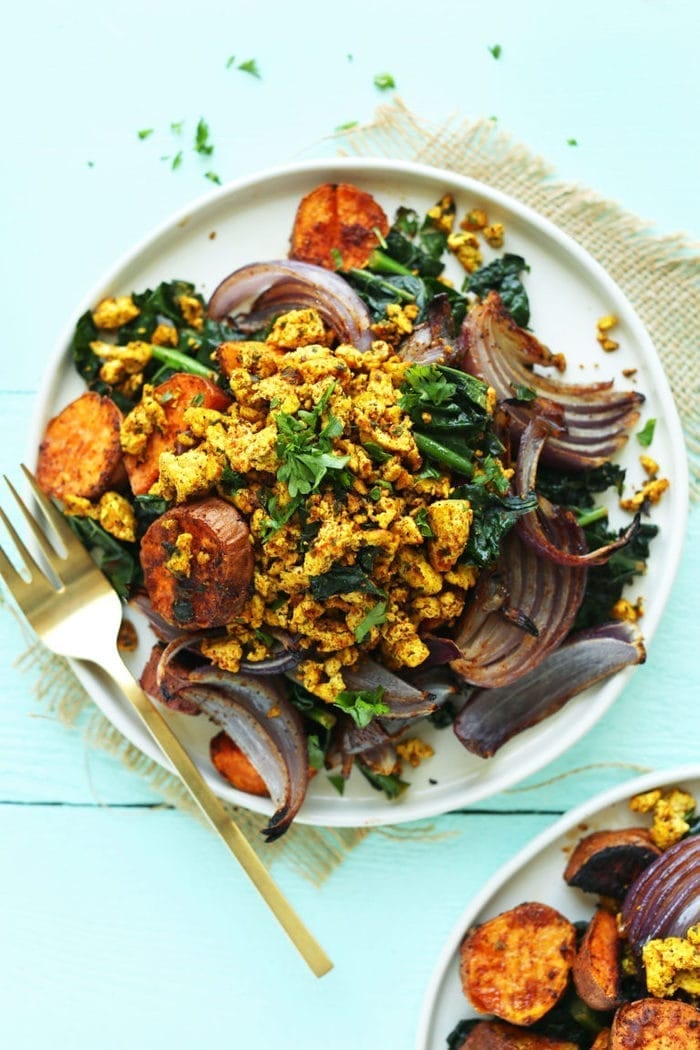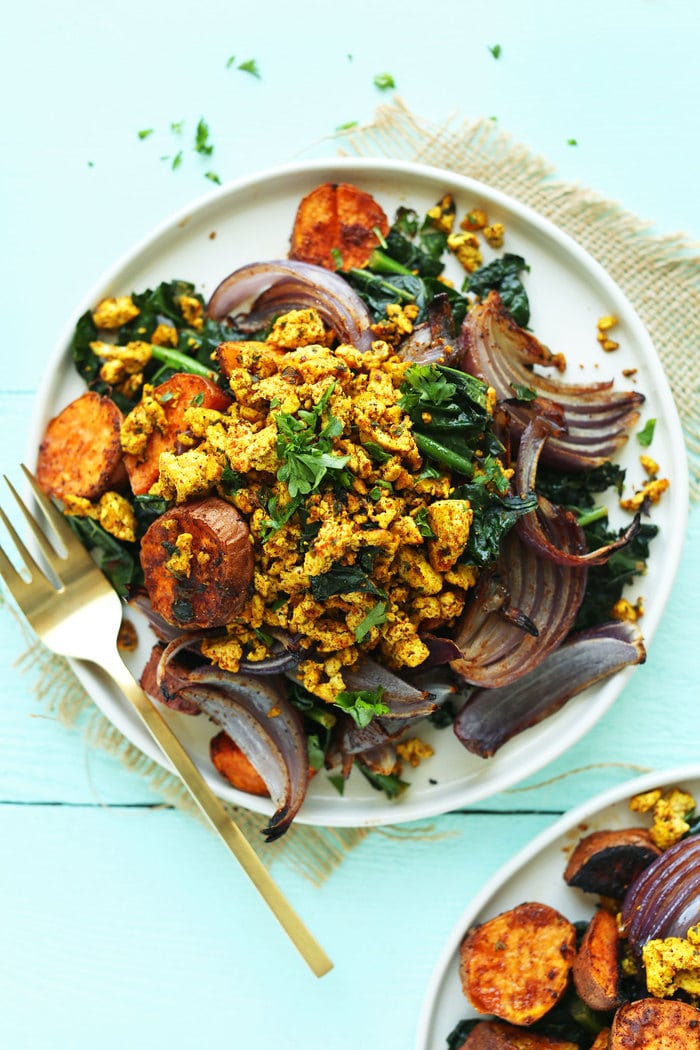 Sweet Potato & Kale Breakfast Hash from Minimalist Baker – I'm a sucker for a breakfast hash. One that involves greens? Even more excited to try this recipe!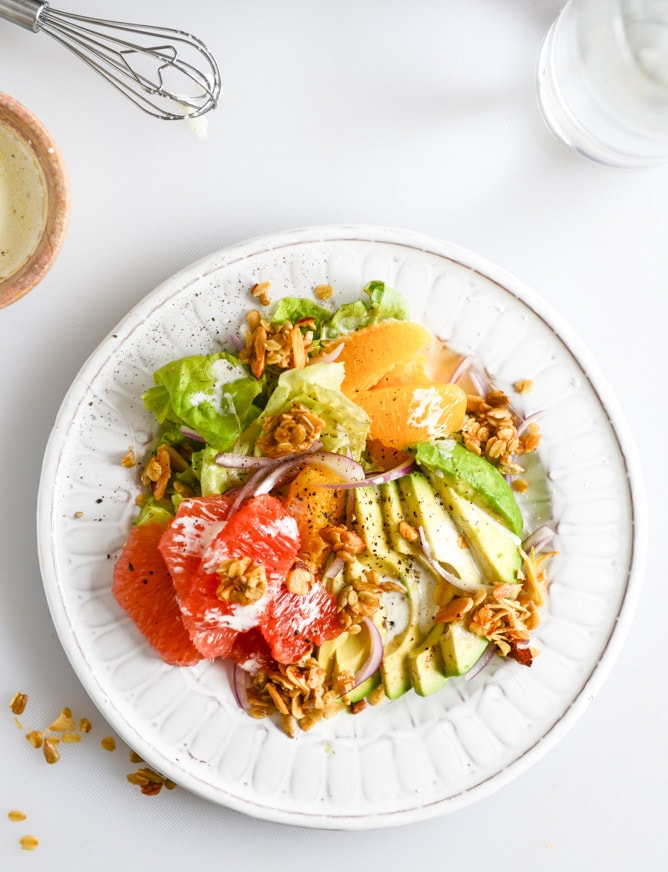 Avocado Citrus Crunch Salad with Oat Croutons and a Buttermilk Drizzle from How Sweet It Is – How amazing does this salad look? Fruit, veggies, granola and a buttermilk dressing? A few of my favorite things!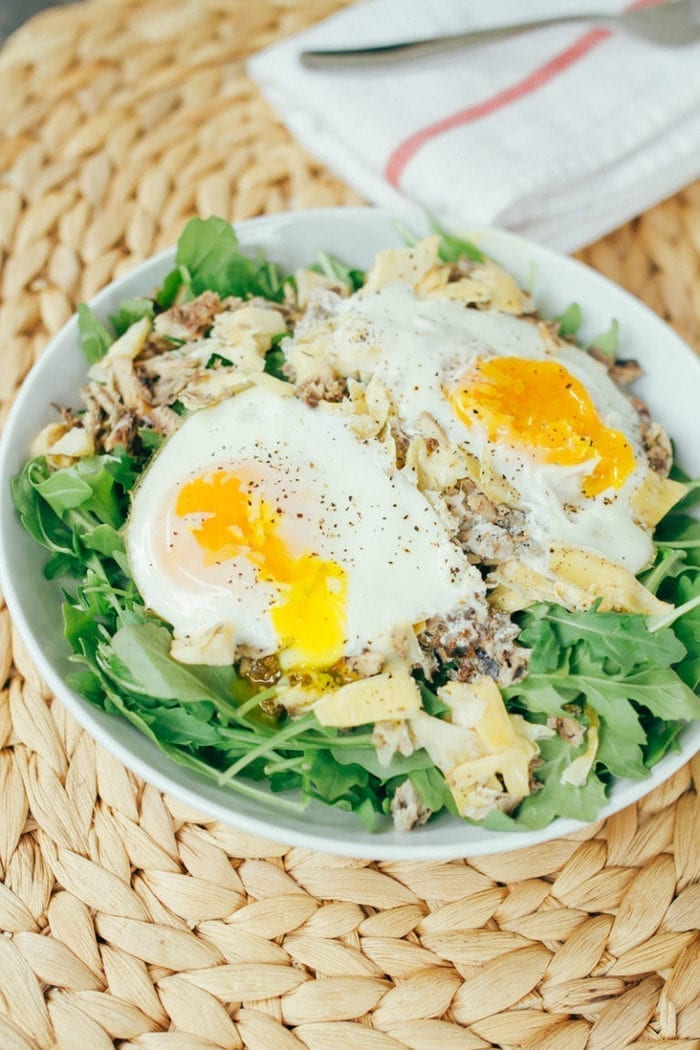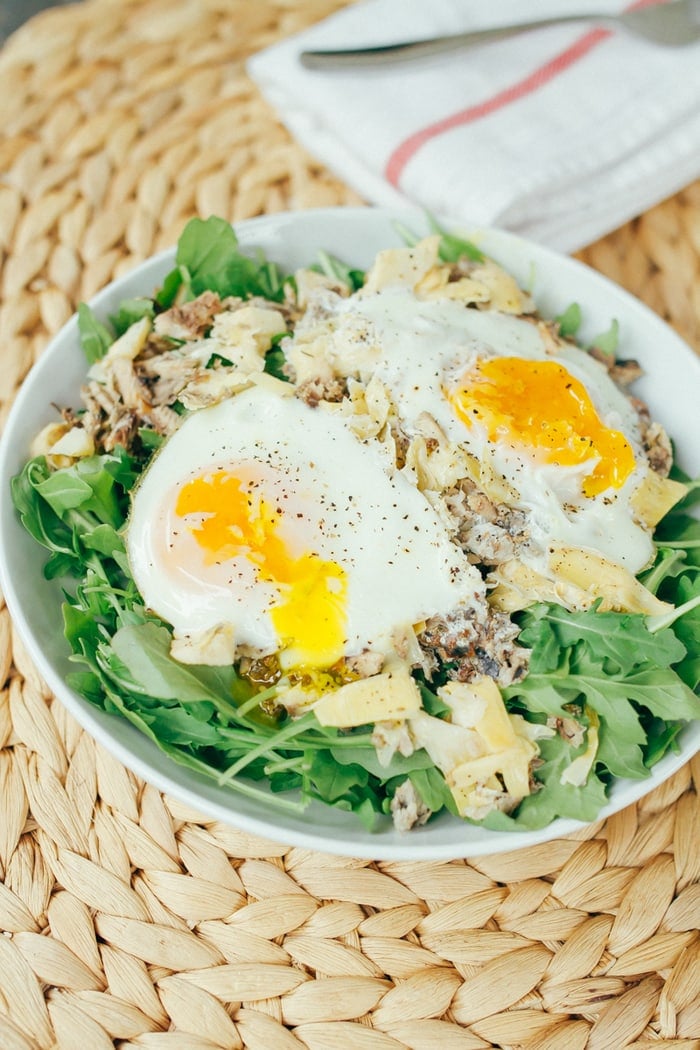 4-Ingredient Seaside Paleo Breakfast Salad – A quick and simple low-carb, paleo breakfast salad with sardines, artichokes and eggs, baked and served over fresh arugula.
Blueberry Eggs Breakfast Salad – Add blueberries to your egg scramble and serve over fresh baby greens for a sweet and savory blueberry breakfast salad that's nourishing and hearty.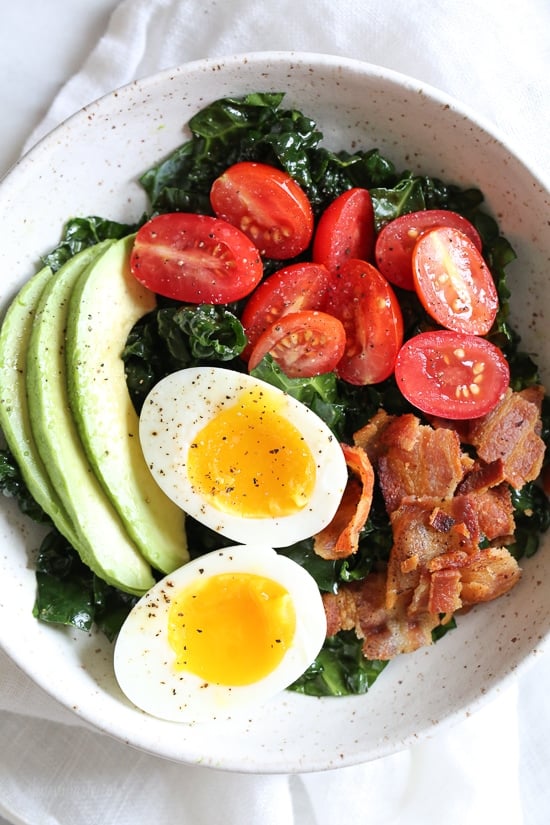 Breakfast BLT Salad from Skinnytaste – This Breakfast BLT Salad can be eaten anytime of the day really, but eggs and bacon served over this simple massaged kale salad with avocado and tomatoes is a delicious, savory, healthy breakfast idea.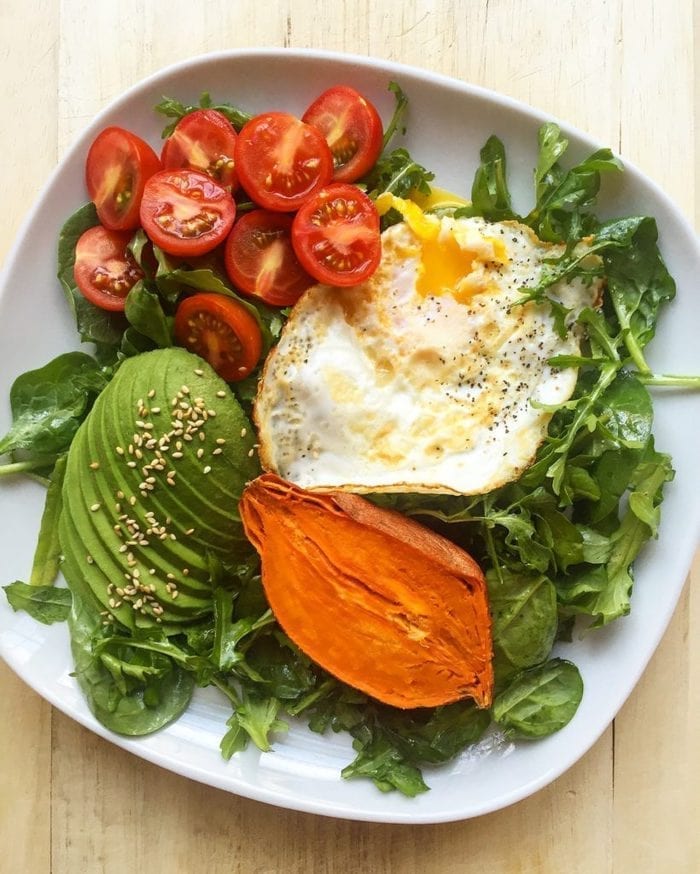 Balanced Breakfast Salad from Fresh Planet Flavor – This standard breakfast salad is the perfect place to start if you're new to breakfast salads! Swap in your favorite greens and veggies and make it your own.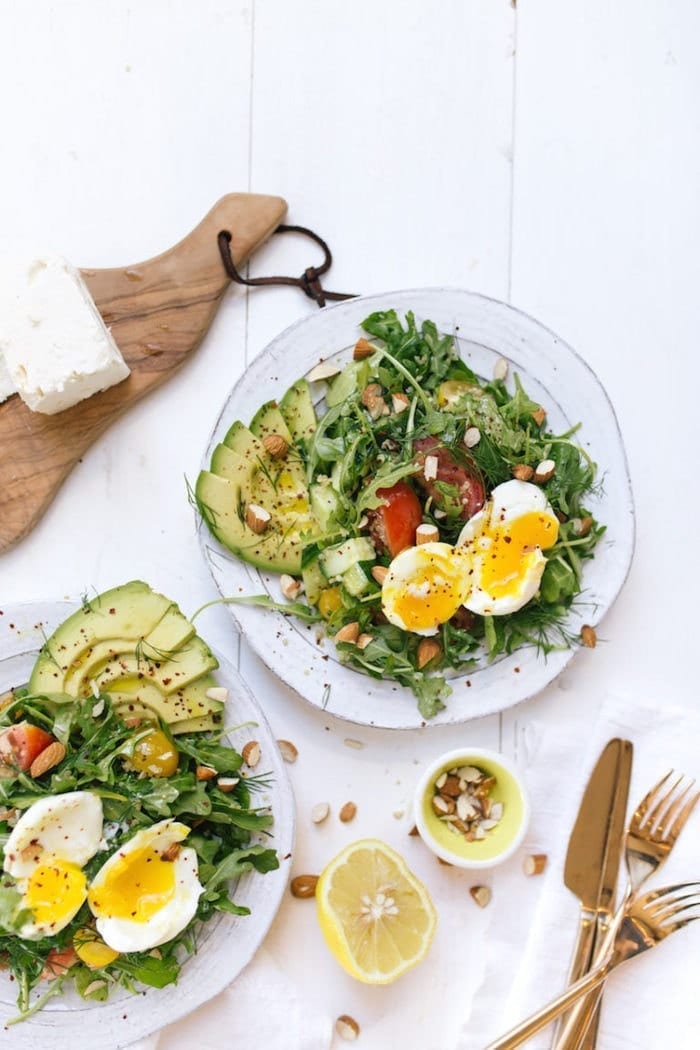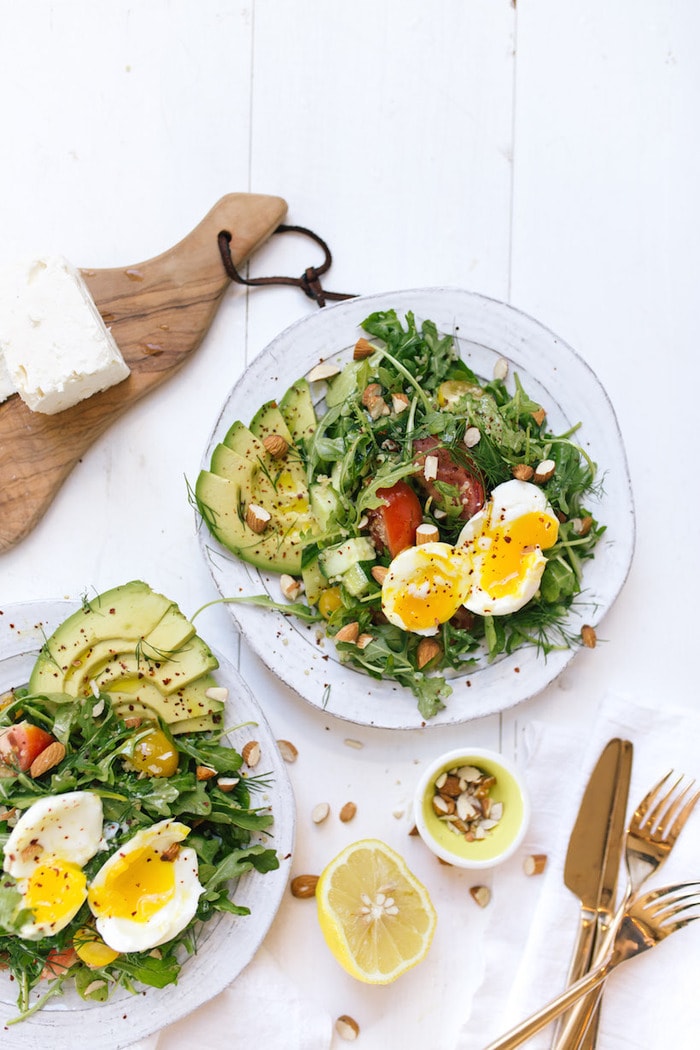 Mediterranean Breakfast Salad from Camille Styles – The soft boiled eggs alone make me want to make this recipe! It looks so refreshing and filled with flavor and nutrients.
Smoked Salmon Breakfast Bowl from A Thought For Food – Add extra protein with the smoked salmon in this bowl. I love the difference of temperatures in this bowl and I always love the added herbs!
Have you ever had a salad for breakfast? If not, doesn't this post make you want to try it tomorrow? 🙂 
This post may include affiliate links. Thank you for your support.