Eat bird food for breakfast with this warm cinnamon quinoa breakfast bowl. Loaded with fresh fruit, cacao nibs and a maple syrup drizzle this bowl is the perfect start to your day. Vegan and gluten-free.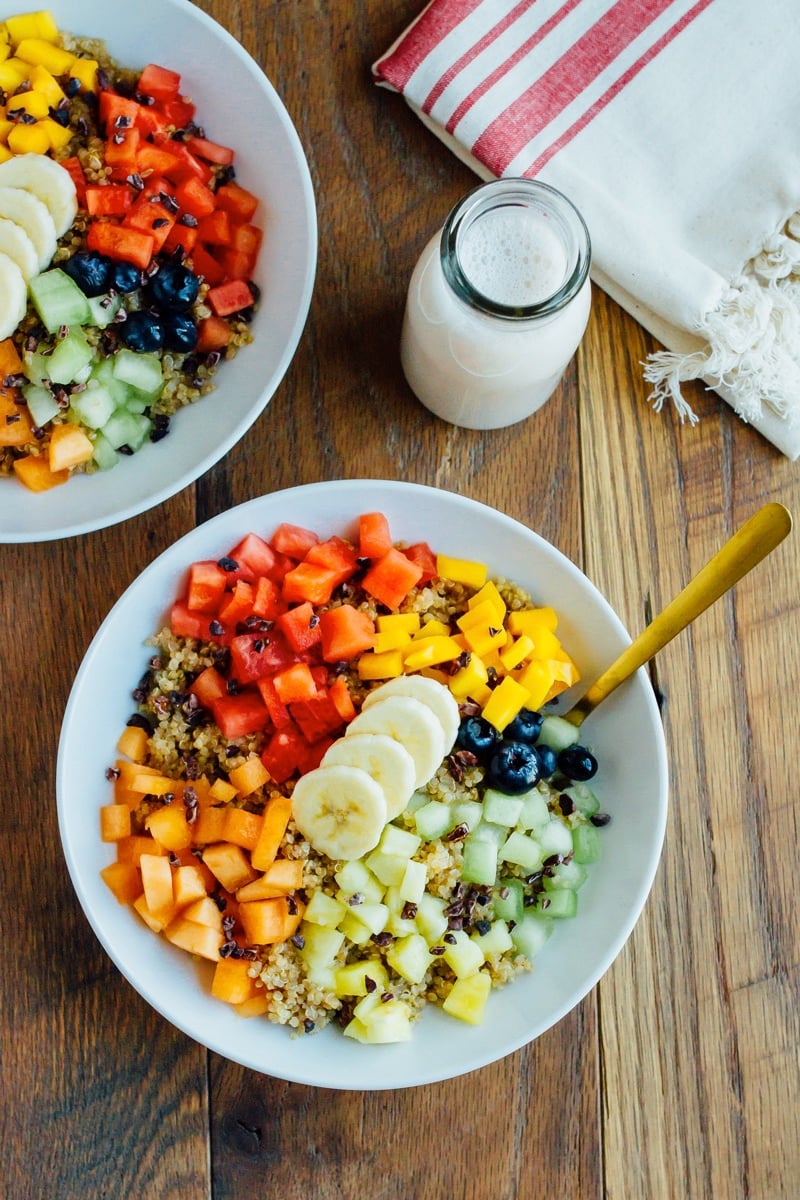 Imagine this… I get home from my yoga retreat in Tulum late on Monday night, feeling super relaxed and inspired. Tuesday is back to real life. I catch up on emails and get ready for shooting some new recipes on Wednesday and then boom… Wednesday afternoon I realize my website is gone from Google. Not just falling below in search results, like legit removed from search results. Even if you googled "eating bird food com" my site was no where to be found in the results. Not even on page 10 or 20. Trust me, I checked. As with most bloggers/website owners, my main source of traffic to Eating Bird Food is search so losing this presence is detrimental.
Needless to say I went from a super chill, relaxed yogi to a crazy stressed-out maniac trying to figure out what the heck was going on. I emailed every tech person I've recently worked with, searched Google forums, reached out to local friends who are in the web space and no one could figure out why this was happening. Several folks thought EBF had been marked as spam (which has happened to quite a few bloggers recently), but I didn't have any manual actions in my Google Search Console so that didn't really add up. The only thing that kind of seemed like it might be the issue was the fact that I had my host switch eatingbirdfood.com from http to https a little over a week ago and the sitemap wasn't set-up in Google search console and it also wasn't redirecting properly. I set up all four versions of my site in the search console and had my host fix the redirect issue, but I still wasn't 100% sure that was going to solve everything.
After spending the majority of my day searching for answers, Isaac cooked dinner while I drank two glasses of wine, did more searching and finally went to bed hoping it was all a bad dream. And then Isaac woke me up at 5AM this morning and said, your website is back on Google. In a half asleep daze I asked him to show me and alas, it was there. Gah! I'm still not sure what exactly happened — maybe it was the sitemap issue or maybe it was a glitch in the Google server (not sure that's even a thing?), but it was so scary.
I don't talk about behind the scenes blog/business ownership very often, but I thought I'd share this little story because I'm sure other website owners/bloggers can relate. Plus, it shows that although my job may seem super fun and easy because "all I do is share stuff online," there's SO MUCH more to it than that and it's not always peachy keen over here. Owning my own business is amazing, but there are definitely times when it can be challenging and overwhelming, especially when things go wrong and I feel like I'm having to solve the issue alone. Luckily I have some amazing people that I can reach out to for help when necessary. I'm particularly thankful for everyone (specifically Katy, Jim, Jason, Steve, Kathy and Jenny) who responded to my panicked messages yesterday.  <3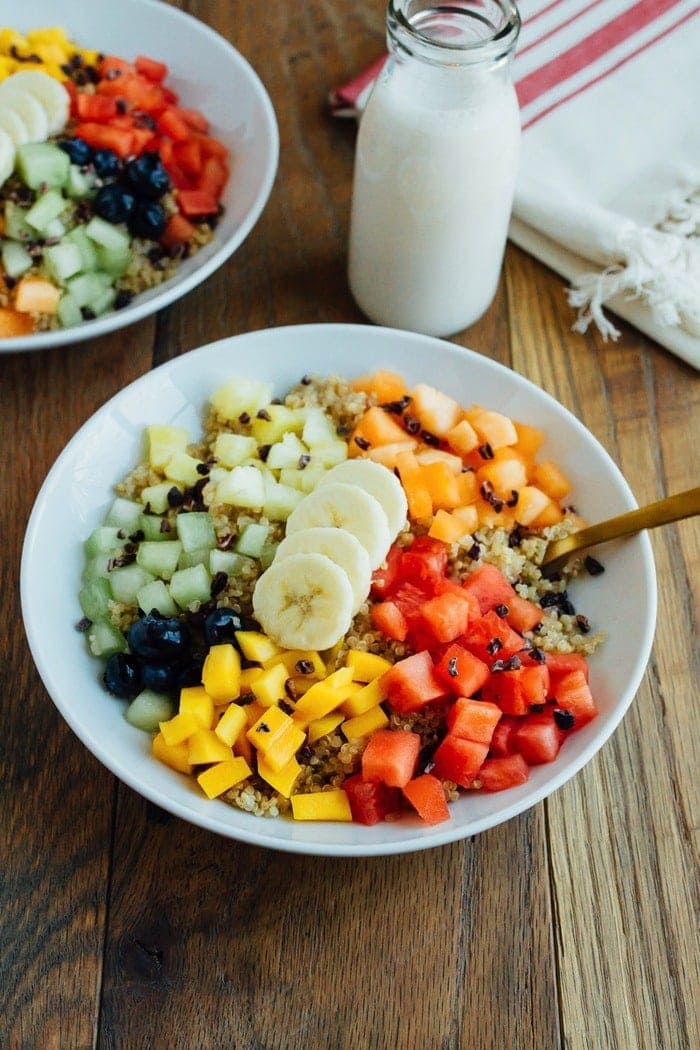 In other news, I CAN NOT wait to share all about my trip to Tulum. I'm working on the full recap now, but in the meantime I have this cinnamon quinoa breakfast bowl recipe to share that was inspired by my trip.
One morning Laurel and I had breakfast at Canopia, a cute little restaurant connected to Yoga Shala that served breakfast/brunch in the morning and Thai cuisine at night. We never made it back for Thai, but the breakfast was delicious. Laurel had Huevos Motuleños and I had the cinnamon quinoa breakfast bowl. I almost went for eggs as well, but once I saw the description for the cinnamon quinoa bowl… it was a done a deal. Lots of restaurants in Tulum had some sort of cinnamon quinoa breakfast bowl on the menu, but this one was called Early Bird so it was obvious that I had to get it.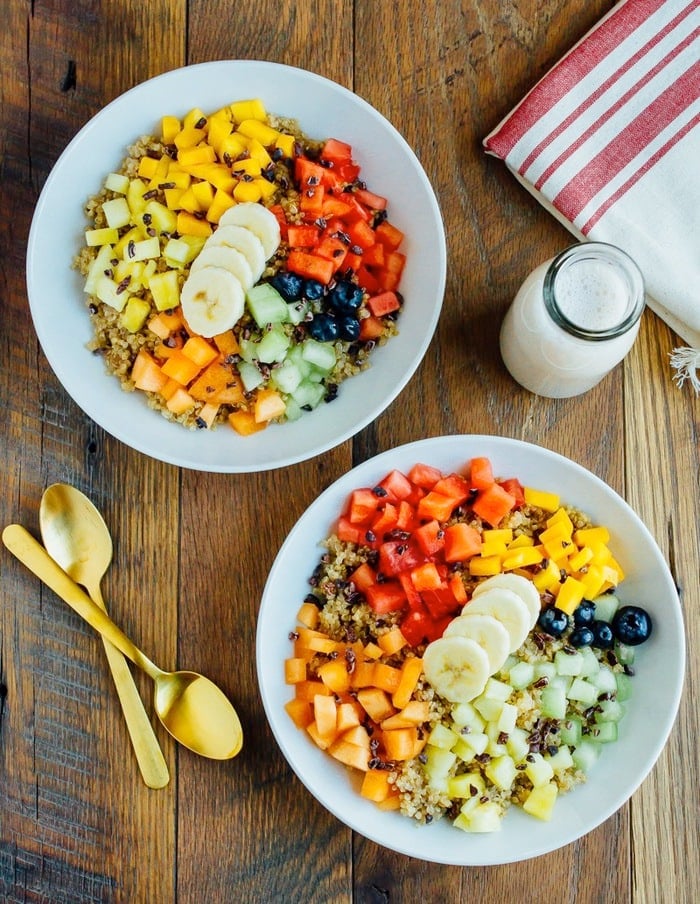 So happy I did because it was amazing — warm cinnamon-spiked quinoa with tons of fresh tropical fruit, ginger, crunchy cacao nibs and a hint of sweetness. One bite and I knew I'd be recreating the bowl at home.
And it didn't take long. Maria came over yesterday, we whipped up a couple bowls and I'm sharing the recipe with you today. I have quite a few recipes on deck to share, but for some reason I felt the need to share this one first so here you go!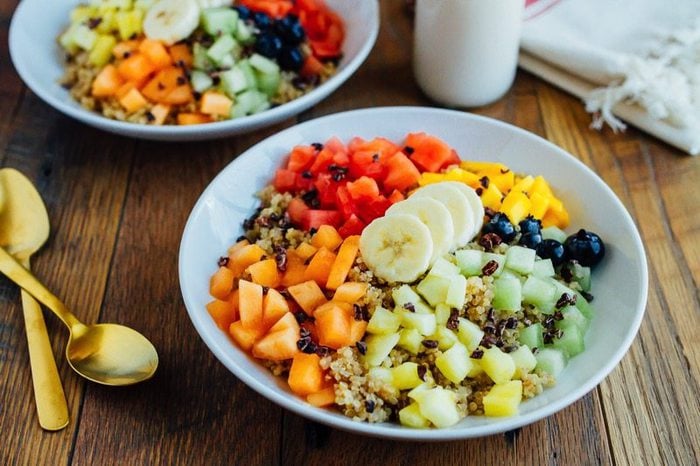 For this version I skipped the fresh ginger and sweetened the quinoa with a little maple syrup. With all the fresh fruit I only really needed a drizzle of maple syrup (like 1 Tablespoons or so), but feel free add as much or as a little as you like. And the fruit is up to you as well. I kept with the Mexican theme and used tropical fruits like pineapple, mango and banana, as well as blueberries and three different types of melon. You can use whatever fruit you have on hand!
Print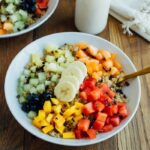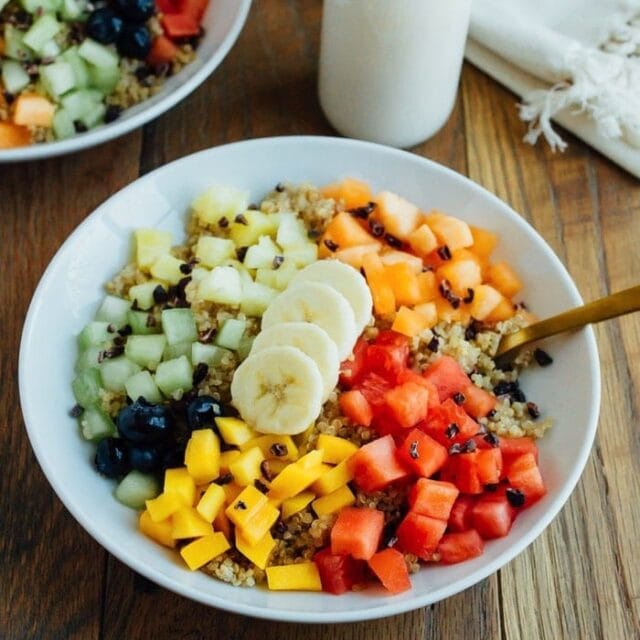 Cinnamon Quinoa Breakfast Bowl
Author:

Prep Time:

5 mins

Cook Time:

15 mins

Total Time:

20 mins

Yield:

2
---
Ingredients
1 cup uncooked quinoa
1 cup water
1 cup non-diary milk (I used unsweetened vanilla cashew milk)
1/2 teaspoon cinnamon
1/2 teaspoon vanilla
1/4 teaspoon sea salt
2 Tablespoons cacao nibs
2 Tablespoons maple syrup (or to taste)
2 cups chopped fresh fruit (bananas, pineapple, cantaloupe, blueberries, watermelon, honeydew and mango)
---
Instructions
Rinse and drain quinoa.
Place water, almond milk and quinoa into a sauce pan and bring to a boil. Reduce to a simmer, add cinnamon, vanilla and sea salt. Cover and cook for about 15 minutes, or until all liquid is absorbed. Watch the pot carefully because it has a tendency to want to boil over. Remove from heat and let pot sit, covered for 2-3 minutes.
Remove lid and fluff quinoa before portioning into two bowls. Top with cacao nibs, fresh fruit and a drizzle of maple syrup. You can also add additional milk if you want more moisture.
---
Nutrition
Serving Size:

1 bowl

Calories:

452

Sugar:

15g

Fat:

6g

Carbohydrates:

94g

Fiber:

8g

Protein:

14g