Perfect for Valentine's Day, these baked almond flour donuts with rose petals and dark chocolate are gluten-free, dairy-free and naturally sweetened with coconut sugar. Plus, they only take about 30 minutes to whip up! Thank you to Simple Mills for sponsoring this post.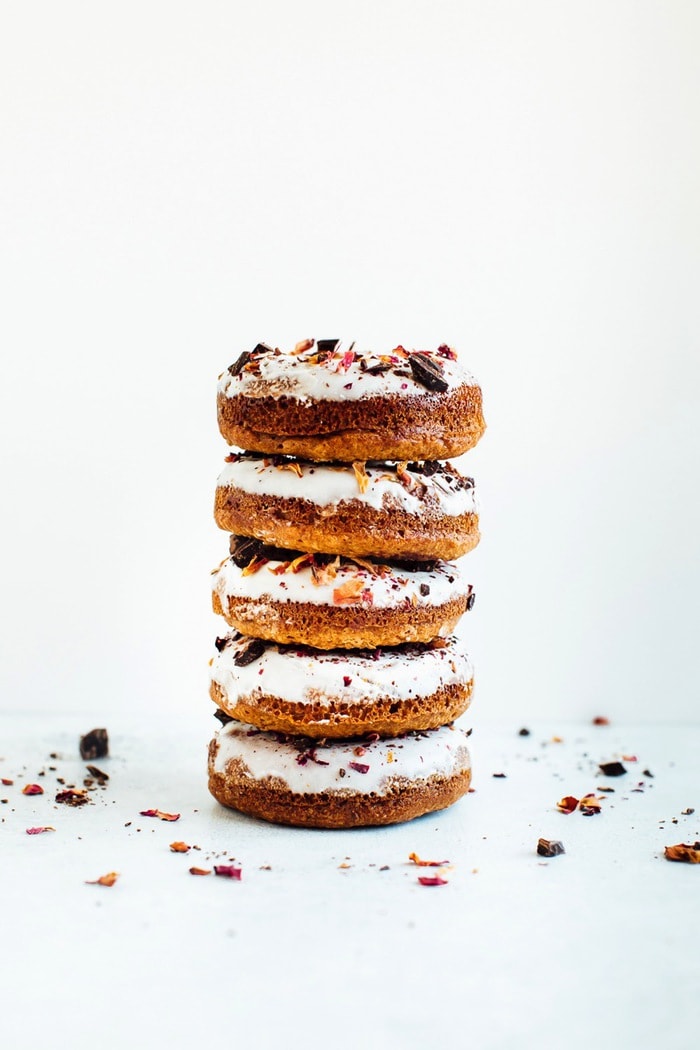 I don't know if you are a Food Network fan, but if you are you've likely heard of Sandra Lee of Semi-Homemade Cooking. Well I'm kind of freaking out a little bit because she followed me on Twitter last week! I have no clue what inspired her to do so, but I'm still a little star struck… having a Food Network star follow you is a pretty big deal, right?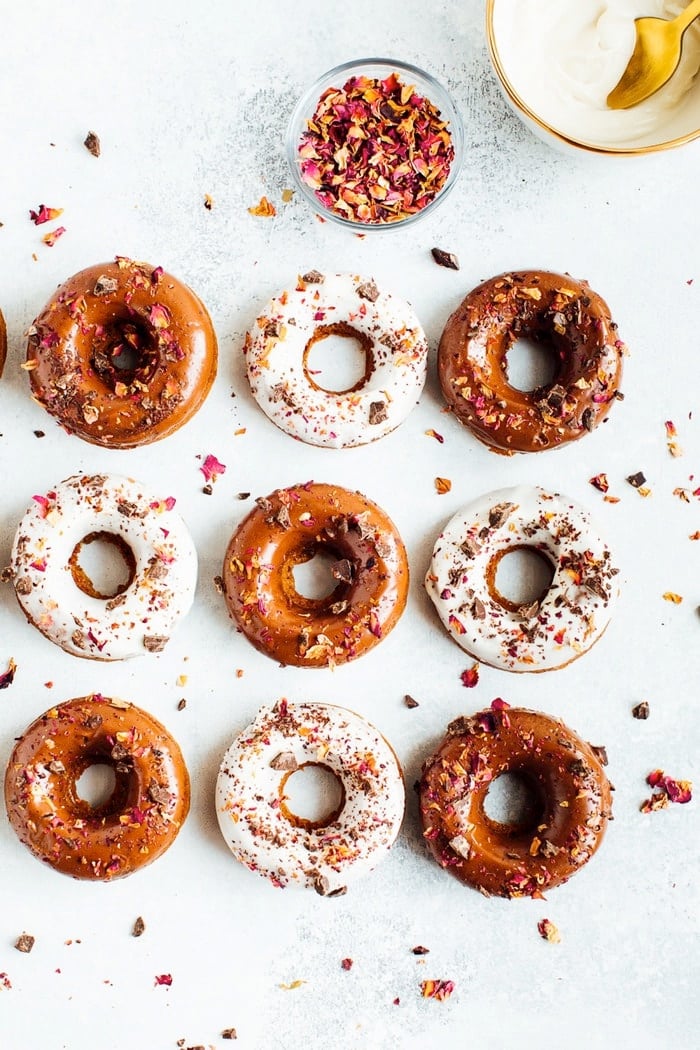 Anyhow, the reason I'm even mentioning this little tidbit is because my recipe today is a semi-homemade almond flour donut recipe using Simple Mills' Vanilla Cake & Cupcake Mix, Vanilla Frosting and Chocolate Frosting.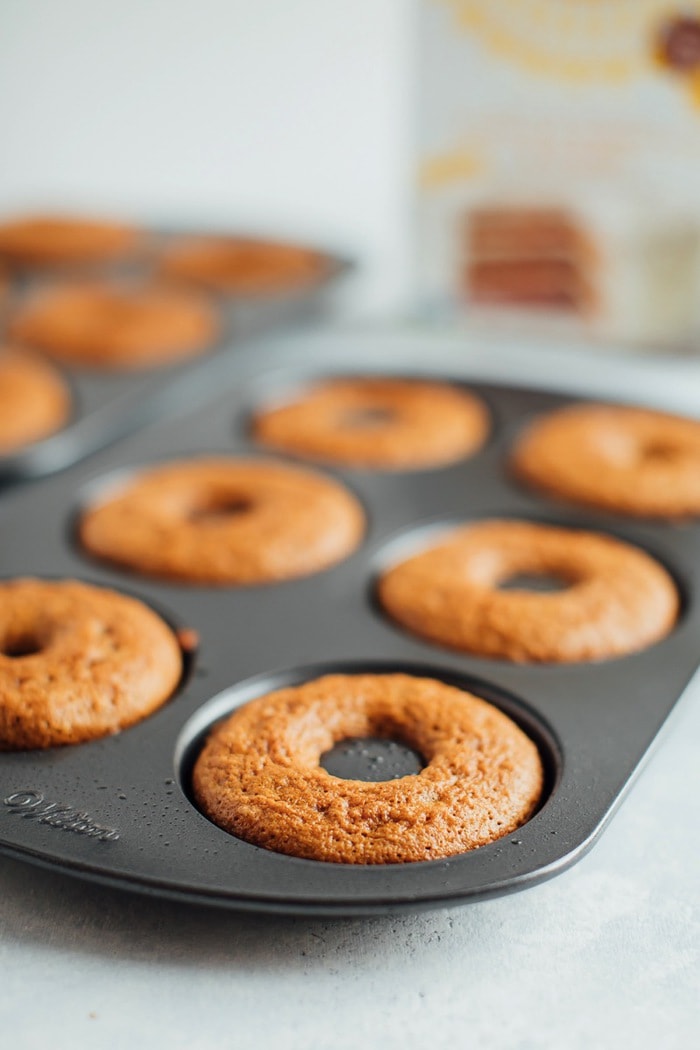 If you've been following me for a while you'll know that Simple Mills is a brand I absolutely LOVE. All of their products are made with simple ingredients and they're also gluten-free, grain-free, soy-free, dairy-free, non-GMO and paleo-friendly!
The banana muffin mix is amazing and I'm totally hooked on the almond flour crackers (you have to try the sun-dried tomato & basil)… but until recently I hadn't had a reason to try the cake mixes or frosting.
Well that changed because February is a month of celebrations over here. Isaac's birthday is on the 8th (this week!) and my birthday is the 14th — Valentine's Day!! I'm actually going to use the chocolate cake mix to make Isaac a cake for his birthday, but I also wanted to create something fun, romantic and delicious for my birthday, and that's where these almond flour donuts with dark chocolate and rose petals come in.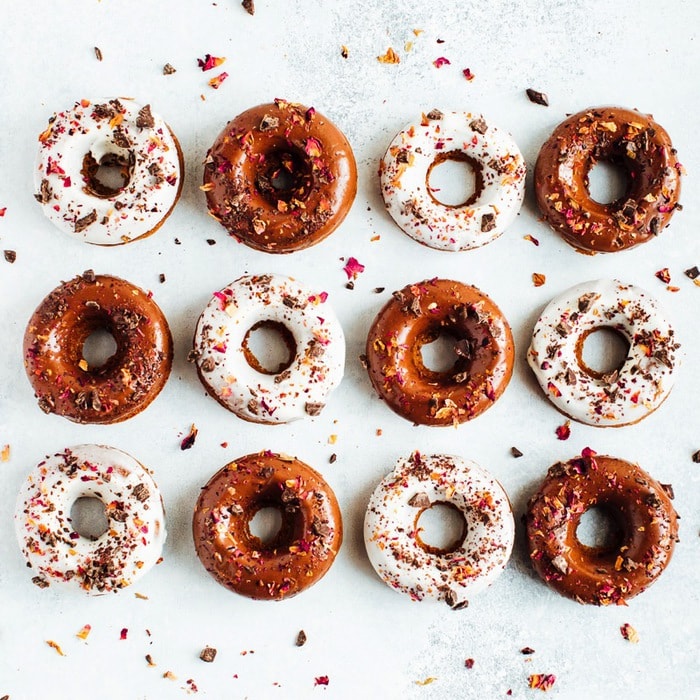 Aren't they beautiful?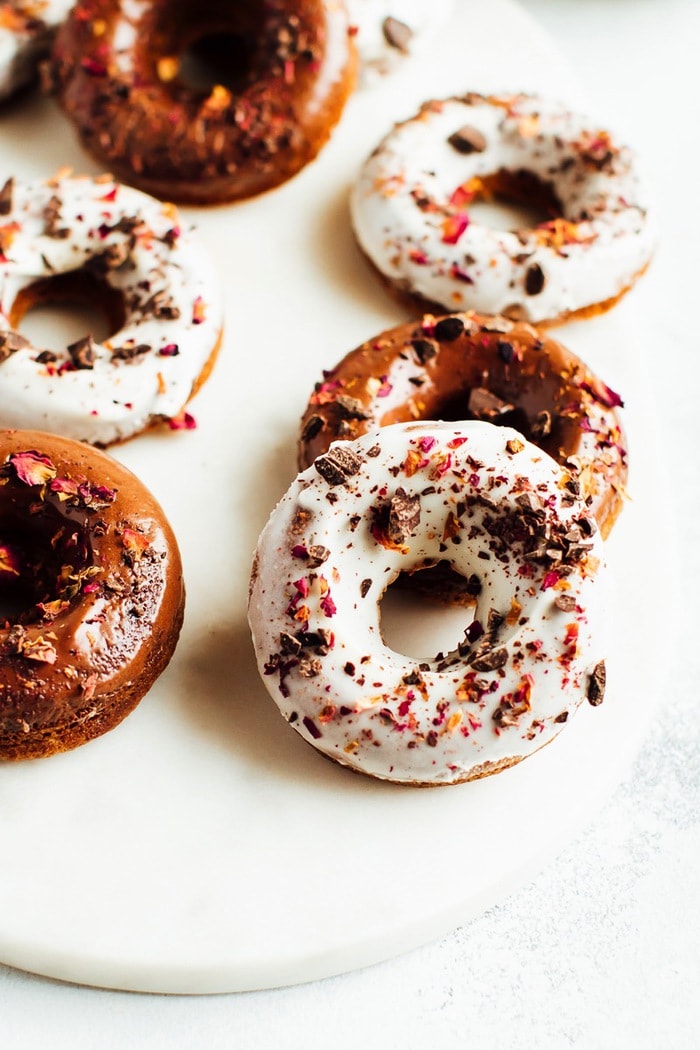 I could literally just sit and look at these all day.
As I mentioned, this recipe is totally a semi-homemade one because we're using the Simple Mills products along with a few pantry staples to bring these donuts to life. The best part is that although the donuts look super fancy, they literally take about 30 minutes to whip up. So amazing!
This was actually my first time making donuts. I ordered the donut pans off Amazon just last week and wow, I'm so excited to have them now! I can't wait to go donut crazy this year. There's no reason not too… especially when they're relatively healthy — gluten-free and dairy-free — like the ones I'm sharing today.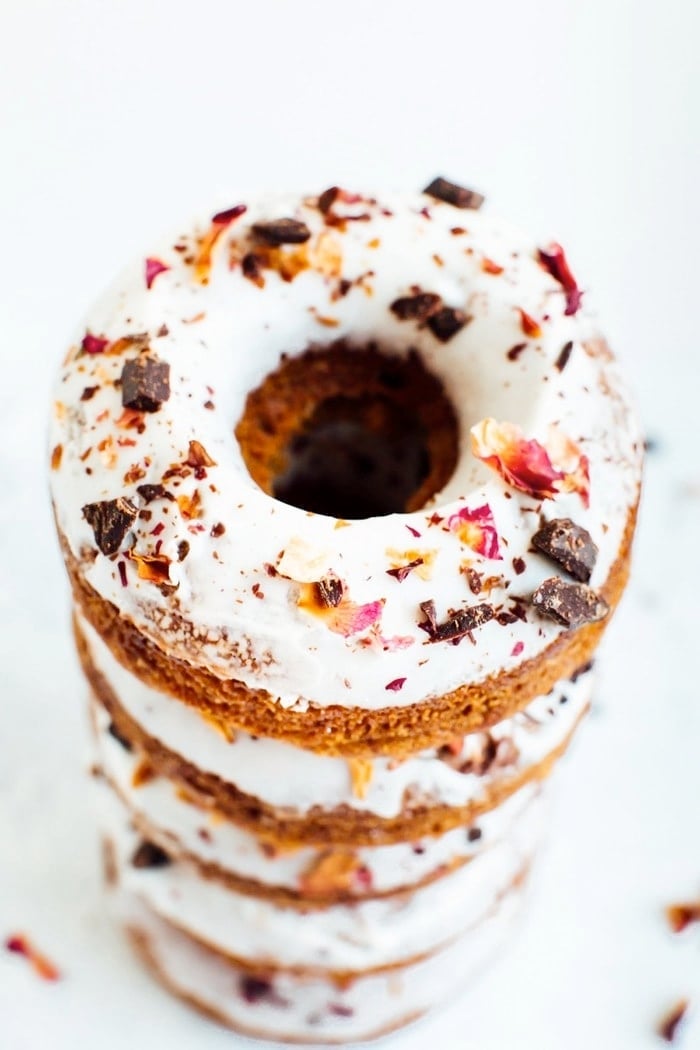 I used edible dried rose petals and chopped dark chocolate to decorate these donuts for Valentine's Day, but you can play around with whatever festive toppings you like. I found my edible dried rose petals at our local natural market, but if you have trouble finding them you can always buy dried rose tea and use that instead. If the rose buds are still intact, just break them apart with your fingers before sprinkling over the donuts to decorate. And just in case you're curious what dried rose petals taste like, they're crisp with a light, floral flavor.
Simple Mills products are widely distributed, but Whole Foods carries a large selection so that's where I usually pick them up. You can check out their store locator for locations near you.
Print
Baked Almond Flour Donuts with Rose Petals
Author:

Prep Time:

10 mins

Cook Time:

15 minutes Inactive Time: Total Time:

Total Time:

-25660623.433333 minute

Yield:

12
---
Ingredients
Donuts:
1 box Simple Mills Vanilla Cupcake & Cake Mix
3 eggs
1/3 cup water
1/3 cup melted coconut oil 
1 Tablespoon vanilla extract
Donut Glaze/Icing:
1/4 cup Simple Mills Chocolate Frosting + 1 Tablespoon melted coconut oil
1/4 cup Simple Mills Vanilla Frosting + 1 Tablespoon melted coconut oil
1/4 cup edible dried rose petals
1/4 cup dark chocolate, chopped 
---
Instructions
Preheat oven to 350°. Spray donut pans with coconut oil cooking spray.
In a mixing bowl whisk together eggs, water, coconut oil and vanilla extract. Add vanilla cake mix and stir until no lumps remain. Spoon cake batter into donut pan until each cavity is a little over 3/4 full. Place donuts in the oven and bake for 13-15 minutes or until golden and firm to the touch. Move donuts to a wire rack to cool completely (about 15-30 minutes).
Once donuts are cool, prep the chocolate and vanilla icing by placing each in separate shallow microwave-safe bowls. Microwave each for 15 seconds, stir and add melted coconut oil. At this point the icing should be thin enough to drizzle and you can start dipping the donuts.
Dip the rounded side (essentially the bottom) of each donut into the icing so that it coats the donut halfway. Place iced donuts on parchment paper or a wire rack. Once all donuts have icing, sprinkle edible rose petals and chopped dark chocolate on top. Serve immediately or store in the fridge until ready to enjoy!
---
Nutrition
Serving Size:

1 donut

Calories:

244kcal

Sugar:

10g

Fat:

17g

Carbohydrates:

20g

Fiber:

3g

Protein:

4g
If you try this recipe for baked almond flour donuts, let me know how they turns out in the comment section or share a photo on social media. Just be sure to tag me (@eatingbirdfood + #eatingbirdfood) so that I see it!