Join the Salad Challenge
43
Published Jul 07, 2016, Updated Jan 13, 2022
I'm challenging you to eat one meal-sized salad every day for 5 days. Are you in for the 5 Day Salad Challenge?
In case you're new around here, I'm Brittany, founder of Eating Bird Food and the #saladeveryday movement. One of my go-to tips for eating healthier and helping my body reset in a gentle way is to have at least one BIG salad per day.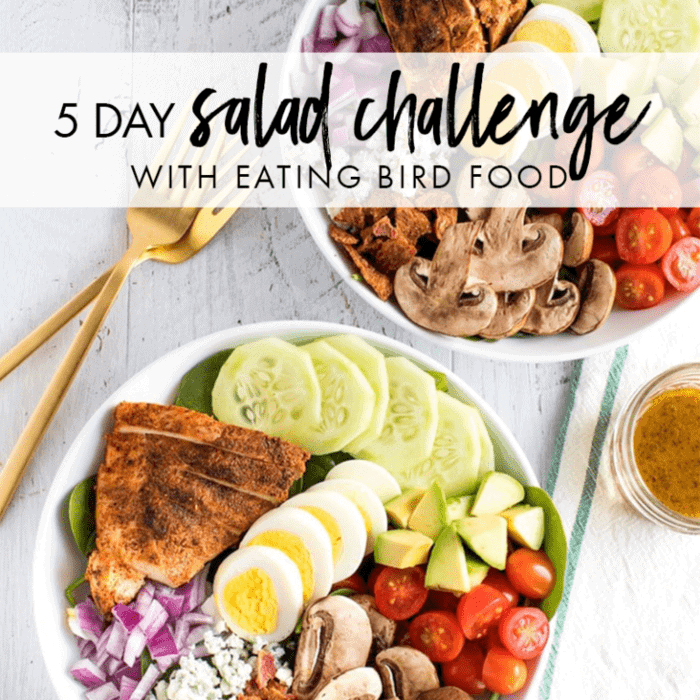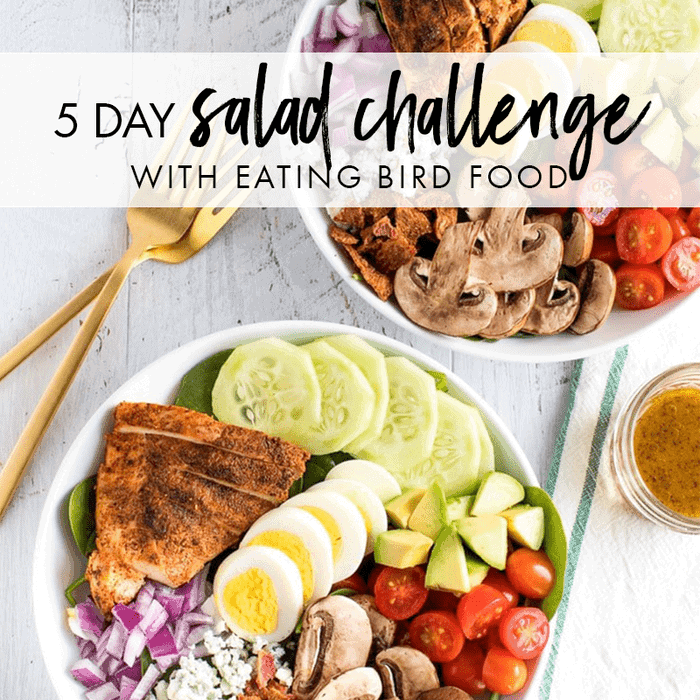 I don't just have the hashtag for fun, I truly do eat one salad every day. I am getting in a variety of fruits and veggies, getting enough fiber, and maintaining a healthy weight. After seeing what an impact salads had on my life, I started encouraging others in my life to do the same! Enter: this 5 day salad challenge.
The goal of this challenge is simple: eat one meal-sized salad every day for 5 days. It can be for breakfast, lunch, or dinner and it doesn't matter what type of salad it is, as long as it's healthy! Sign up for this FREE challenge today and get:
5-Day Clean Eating Meal Plan with a salad for each day (feel free to follow the meal plan or simply use it for inspiration)

Grocery Shopping List with everything you need for the 5-Day Meal Plan (besides snacks)

10 Recipes (3 salads + 7 additional breakfast/dinner ideas)

How To Build a Meal-Sized Salad guide

Access to my exclusive Salad Everyday Facebook Group
I don't want to this to feel overwhelming so there's no obligation to make all the recipes I recommend or have a completely different salad each day. I want to give suggestions, but I know that some people will have dietary restrictions or simply won't have time to make all the recipes. No worries! Make this challenge your own.
Here are the basic guidelines:
Have one meal-sized salad every day for breakfast, lunch or dinner.

Your salad must have tons of veggies, a good source of protein and a healthy fat. <–I share tips for making a meal-sized salad in the guidebook you get when you sign up!

Your salad doesn't necessarily have to have a base of lettuce or greens, although it certainly can.

Share your salad creations via social media using the hashtags #saladeveryday and #eatingbirdfood. Don't forget to tag me so that I see the post!


Start your 5 Day Salad Challenge anytime you'd like! Just fill in your name and email address below to get your free guidebook and start the challenge:
Are you in for the salad challenge? Let me know in the comment section!