Kid's Gift Guide 2022
0
Published Nov 17, 2021, Updated Dec 06, 2022
Eating Bird Food's holiday gift guide for babies, toddlers and older kids with everything from books and toys to clothes and accessories.
I'm sharing three gift guides this year — one for women, one for men and one for kiddos. When thinking of gift ideas, I like to go one of two routes: something the person needs or something they would never treat themselves too.
For the kid's gift guide I've broken it down into two categories, one for infant/toddlers and one for older kids.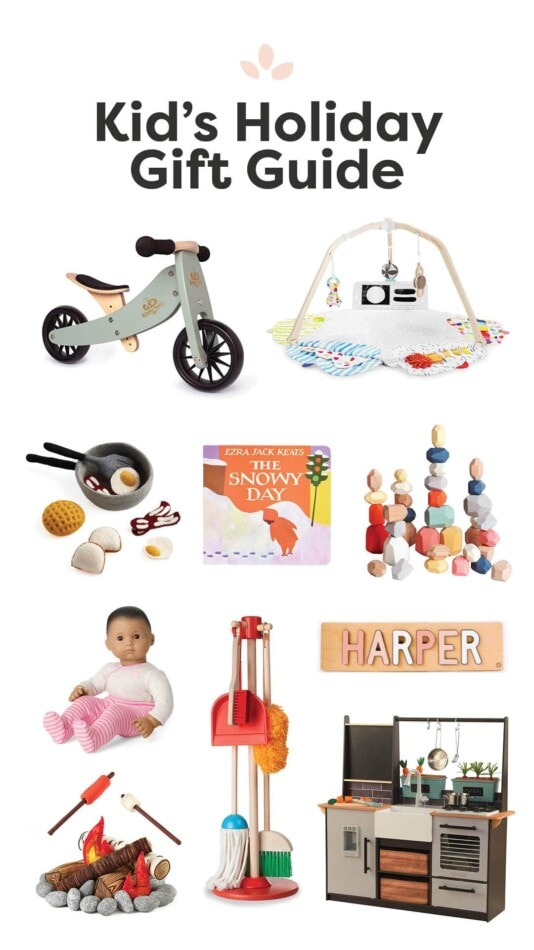 Infant/Toddlers
Lovevery Products – This is hands down, my top recommendation! We got Olivia the Lovevery play gym when she was a baby and now get the play kits. Liv gets so excited when a new play kit arrives and the Lovevery items always become the toys she engages with most. The play kits are such an awesome gift idea for kids ages 0-4, but they also sell separate play things like their block set, cotton tunnel and pull pup. We have and love all of these items as well. The tunnel has been a big hit and I love that it easily collapses to save space!
SpinAgain Stacking Toy – Liv is obsessed with this SpinAgain stacking toy. She'll keep herself occupied with it for quite a long time in toddler time. It's appropriate for ages 1+, but plenty of people have messaged me and said their older kids still play with it!
Cleaning Set – What better way to get your kids involved in house cleaning than with their own cleaning toys! This set from Melissa & Doug is a great place to start and is designed to help kids develop coordination and fine motor skills. Win win! Okay, but also how cute is this Dyson vacuum for kids?
Clothes – You can never go wrong with some new clothes for the little ones in your life. They grow so fast! Some of my favorite places to shop for Olivia are H&M, Zara, Gap, Target, Carter's. Here are some cute items I've been eyeing for Liv:

Pjs – I recently ordered some holiday pjs from Hanna Anderson and Old Navy. They're so soft and I love that I was able to find some Hanukkah jammies for Tucker this year.
Winter Jacket – I've been looking for a warm winter jacket for Olivia. This pink padded parka is so cute.

Play Kitchen – We really want to get Olivia a play kitchen this year! I'm leaning towards this one from KidKraft, but this one from Crate & Barrel is super cute and compact for someone who doesn't have a ton of room. This one from Pottery Barn is super fancy, but absolutely adorable and has great reviews. I also love the play kitchen accessories like this wooden cooking and eating set and this farmer's market basket.
Camping Set – This camping set is the perfect gift for the little explorer in your life who loves the outdoors. And how cute is this plush campfire set and felt breakfast food set?! 
Bookroo Subscription – If you can't decide on a book, give them a Bookroo Subscription! They have a ton of different book clubs for kids ages 0-10 and as a member you receive monthly book deliveries. It looks really cool!
Finger paint – I want to get some of this finger paint for Olivia! They are eco-friendly and crafted with natural, organic vegetables making them baby-safe and edible.
Books – I have a never ending list of books to either purchase for our family or to give as gifts. You can never have too many books in my opinion. Here are some cute ones I've found recently:
Bob Books – Bob books are great for little ones who are just starting to read. I'm going to grab this First Stories Box Set for Olivia this year, but this full collection box set looks awesome too!
Legos – Lego has a ton of awesome options for kiddos 1-3 years old like this number train. Liv has this and loves it.
Balance Bike – Need a gift idea for a little one who is just starting to become mobile? A balance bike is a fun way for them to develop balance and confidence! This wooden balance bike starts out as a Tricycle for early riders and converts into a bike with two wheels. Olivia got this one for her birthday and I'm sure Tucker will use it when he gets a little bigger too! Of course this retro balance bike is adorable too and works for kids ages 1-5.
Bead Stringing Set – Olivia has this bead stringing set at her Bubbie's house and loves it.
Wooden Toys – I not only love the look of wooden toys but picture them lasting forever! There are so many options depending on the age of your kiddo. We have this wooden Noah's ark toy that Liv loved early on, but I've also been eyeing these

wooden sorting and stacking rocks

. Lovevery also has some items at Target now and this hide & find drop box baby toy is perfect for babies ages 9 months and up!
Kiwi Co Crates – I gave these as gifts in years past and they were a hit! Select an age appropriate box to send to your favorite little guy or gal. They'll love doing the experiments and activities!
Puzzles – Name puzzles like this one on Etsy is so cute! Melissa & Doug also has a ton of great puzzles for all ages!
Push Cart – Another great gift for a little one who's just starting to walk is a push cart! It'll make learning extra fun and is a great way to help them get a leg up on their balance, motor skills and coordination. For a small baby that is just starting to walk, this one looks great. For older kids I like the idea of a doll stroller or a shopping cart. How cute is this Target shopping cart?! Olivia always says she's "going to Target" so I feel like I have to get this one for her.
Art Cards – These black and white art cards are perfect for newborns. Olivia loved them!
Activity Center

–

For new babes this activity center is a great present! Olivia would play in it almost every day and absolutely loved it. It features 25+ developmental activities, a 360-degree rotating seat and supports a "whole body" approach to play and learning.
Instruments – Melissa & Doug has some awesome musical instruments to get your little one moving and grooving to the beat like this learn-to-play piano and this band-in-a-box. Also, I love this wooden musical set from Stoie's.
Tonies – I feel like the Tonie audio players are all the rage right now! I was looking at this Toniebox starter set with Peppa Pig, but there are a ton of options!
Silk Scarves – I just got these silk juggling/dance scarves for Olivia because she uses them in her music class and loves them so I knew we needed some at home.
Doctor Kit – A doctor kit makes such a good gift for toddlers. Olivia has this one, but this wooden set is adorable too.
Toddler Table – We got this gray one from Crate and Barrel last year but this white round one is super cute and modern.
Roller Coaster – Olivia got this indoor/outdoor roller coaster for her birthday and it's been such a hit? Can definitely see this coming in clutch during the winter months but also a fun summer activity!
Color Sorting Set – This farmer's market color sorting set is so cute! It's perfect for kiddos learning their colors but would be a nice addition to a play kitchen in the future as well.
Baby Doll – We got Liv a Bitty Baby for her second birthday. I always wanted an American Girl doll growing up so it was special to gift Olivia one! She also got the diaper bag to go along with it and I highly recommend this it comes with lots of fun things to interact with the doll like baby food, a pouch, diapers and wipes! Liv loves tending to her baby.
Nugget Couch – Everyone is obsessed with Nugget couches because they're awesome for lounging, reading and/or fort building. Although we don't have the space for one (yet), it's definitely on my list for Olivia once we do! If for some reason they're sold out, there's another brand called Foamnasium that makes couches that look super similar and and the same price.
Quiet Book – This custom felt quiet book for toddlers looks so cute and it's filled with things to keep them busy on a long trip and/or doctor's appointment.
Adventure – Sure, it's fun to open a few gifts over the holidays but what about taking an adventure with your kids to create new memories? Get annual passes to your local Children's Museum, search for unique Airbnb's in your area or plan an epic scavenger hunt around your town. 
Older Kiddos
Solar System Puzzle (5+) – This solar system puzzle is a great way for kiddos to learn about outer space and the universe.
Kid's Cookbook (8-12) – Learning to cook can be fun and cookbooks are great for this! Super Simple Cooking for Kids looks great. And then this kid's cookbook features 50 easy recipes and is the perfect starter cookbook for a budding chef.
Gardening Kit (5+) – This gardening set is the perfect gift for young plant lovers! They can watch nature work indoors by growing their own garden in just a few days. This set comes with a planter tray, 3 planting pots, soil pods and 3 different kids of organic seeds. And don't forget to get them their own toy watering can!
Camera (4+) – Do you know a kid that loves taking pictures? BUY THIS CAMERA! It is shock proof, perfect for little hands, and comes in a variety of really cute colors! The picture quality isn't amazing but your kiddo will love having the freedom to take pictures whenever their heart desires.
Microscope (4+) – This talking microscope is the perfect educational gift for kiddos to help them expand their knowledge of animals and plants.
Legos (4+) – If you need a gift for older kids you can't go wrong with this classic Lego set! Kids can discover their own creative building skills and imagination to bring to life any building toy they want!
National Geographic Books (4+) – The National Geographic Little Kids First Big Book series is great for older kiddos (4-8 years). They have 18 books on various topics like dinosaurs, space, animals and more!
Wooden Art Easel (4+) – For the little artist in your life get them this wooden art easel from Crate & Barrel. One side of the easel is a chalkboard, the reverse is a whiteboard, and up top, there's a slot for adding a paper roll.
Explorer Kit (3+) – This outdoor explorer kit and bug catcher is the perfect gift box for the little explorers in your life.
Klutz Kids Crafts (10-12) – I loved craft kits growing up and think they make such a great gift idea. How cute is this Klutz Sew Mini Treats Craft Kit and this Friendship Bracelet Craft Kit is bringing back so many fun memories.
Rock Painting Kit (4+) – This rock painting kit is perfect if you want to participate in the Kindness Rocks Project.
Games (6+) – Family friendly games are the best… some favorites over here include Slamwich, Clue and Zingo.
Books – I love gifting books to older kiddos! Here are some books we've gifted in the past.

The Dangerous Book for Boys or the Daring Book for Girls. (8-12) The boys version covers essential boyhood skills such as building tree houses, learning how to fish and finding true north. We got this book for my Nephew two year ago and he loves it. The girl version covers everything from how to cartwheel, secret note-passing skills, friendship bracelets and double dutch.
The Book with No Pictures (3-6) – this is a silly book for that kids love. Isaac recommended this for my nephew and he loved it!

Fun experiences – Like I mentioned above, adventures and trips also make great gift ideas! Some ideas for this age group include theme parks, mini-golf and/or water parks.