This year my kids gift guide is focused on non-plastic gift ideas for toddlers! These items are high quality, esthetically pleasing and sure to be a hit with your kiddos.
I'm sharing a few gift guides this year — a women's gift guide, men's gift guide, fitness lovers gift guide and one for kiddos. This year I decide to focus on non-plastic gift ideas because these are the types of toys I like to buy for Olivia and Tucker.
They're usually high quality and last longer, plus they're more aligned with a Montessori approach (Isaac was a Montessori teacher and Liv goes to a Montessori school). They also happen to be cute and not overstimulating like some toys can be.
I know many of you appreciate toys like this as well so hopefully this guide is helpful.
I should also mention that this year I focused on toddlers because I currently have a 1 and a 4 year old so gifts for toddlers are right in my wheelhouse. If you're looking for gifts for infants or soon-to-be parents, check out my most-used newborn essentials blog post.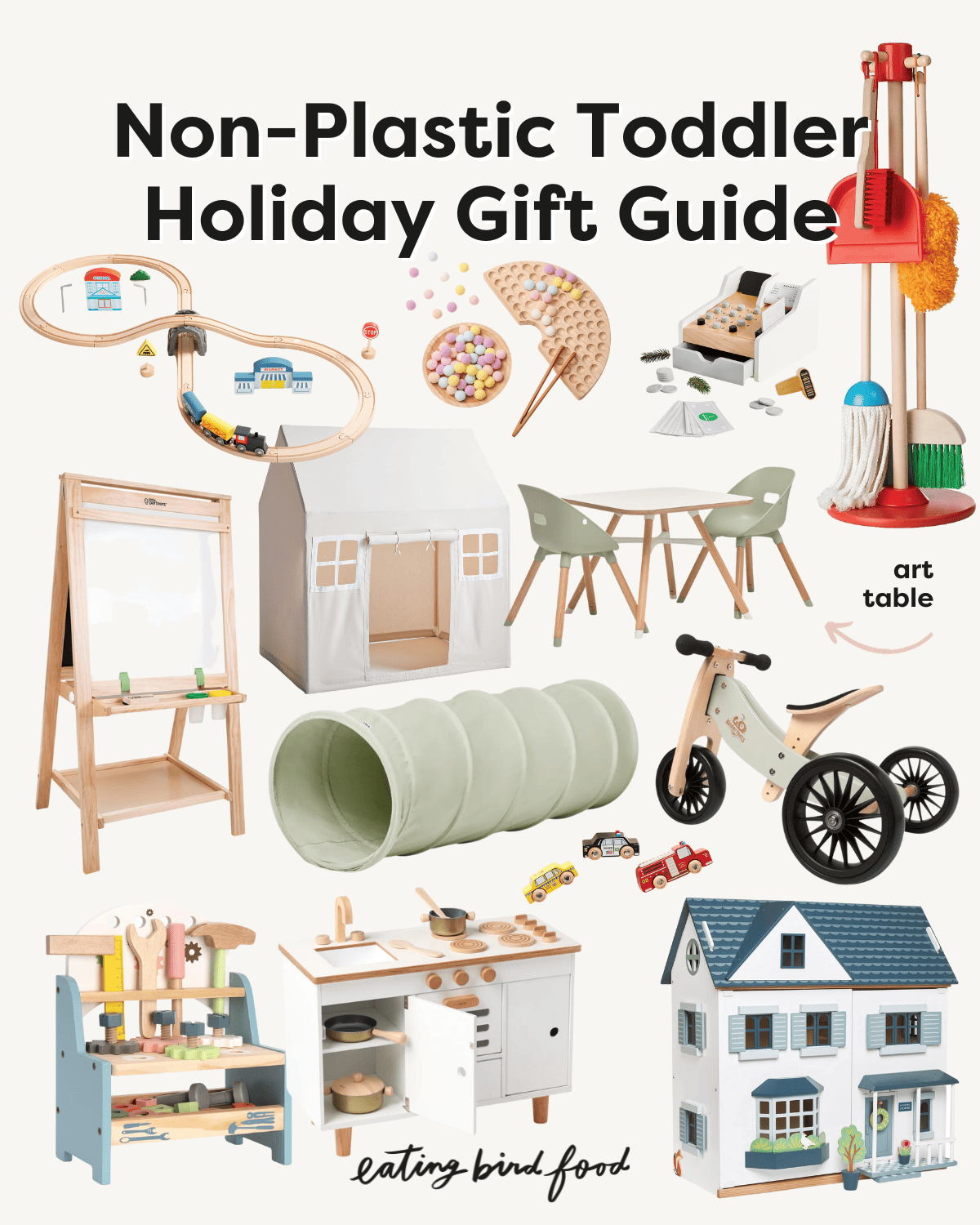 Non-Plastic Toddler Gift Ideas
Lovevery Play Kit – This is hands down, one of my top recommendations for kids ages 0-4! We got Olivia the Lovevery play gym when she was a baby and now get the play kits for her and Tucker. They both get so excited when a new play kit arrives and the Lovevery items always become the toys they gravitate towards most. The play kits are awesome, but they also sell separate play things like their music set, buddy stroller and pull pup. We currently own the stroller and the pull pup, and the music set is on my list.
Pottery Barn First Train Set – This train set is super cute. Along with an engine, two cars and plenty of track to create a figure-8 or oval, it comes with a bridge and tunnel, trees and street signs. Crafted of durable, lightweight wood, the set will inspire endless hours of creative play and imaginary adventures.
Art Easel – Perfect for budding artists ages three and up, this easel's two-sided design features both a chalkboard and whiteboard ideal for art projects as well as practicing writing skills and number learning. A refillable paper roll offers an additional place to paint, draw, and explore their creativity! I know Liv would LOVE this!
Toddler Tool Bench – This kids tool set comes with wooden tool accessories, including a wooden play hammer, saw, wrench, screwdriver, and ruler. Toddler workbench also has a bottom shelf and side storage for everything, as well as a top surface with bolt holes.
Wooden Peg Board Beads Game – This rainbow bead game is made of 100% natural wood and coated with water-based paint, hand-polished, smooth and burr-free. Sturdy and resistant to drops.
Pottery Barn Playhouse – We have this fabric playhouse in our playroom and the kids love it. It's the perfect home base for imaginative fun. Crafted of durable, lightweight cotton canvas, it features two front windows and a roll-up front door.
Play Tunnel – Both Olivia and Tucker get so excited when we take out their tunnel to play. I love that it collapses easily for seamless storage.
Car Set – Your little one will love this wooden toy car set, featuring a range of vehicles that can be seen about town. This one is definitely on my list for Tucker!
Play Kitchen + Chef Set – a play kitchen is such a fun gift for toddlers. We have a KidKraft kitchen in our playroom now, but the white one I linked from Lalo is so stinkin' cute and it says the assembly only takes 5 mins. I will say, the KidKraft kitchen took much longer!
Wooden Cash Register – No imaginary store is complete without a cash register. Featuring 10 coins, nine bills, a scanner and a credit card, it'll have kids lining up to play with it.
Play Table + Chairs – We have the sage green color of this table and chairs set in our playroom. It's super cute, the kids love it and the chairs are sized perfectly for little ones to create, learn, snack and socialize.
Balance Bike – Need a gift idea for a little one who is just starting to become mobile? A balance bike is a fun way for them to develop balance and confidence! This wooden balance bike starts out as a tricycle for early riders and converts into a bike with two wheels. Olivia got this one for her birthday and Tucker has started using it now too! Of course this retro balance bike is adorable too and works for kids ages 1-5.
Doll House – This features a classic design with six spacious rooms spread over three levels. If you're looking for something smaller (and less expensive) we have this Melissa & Doug doll house that Olivia loved from around 2-3.
Cleaning Set – This is one of my kids favorite toys right now. They "clean" with it every single day! I love that it teaches them practical life skills while developing coordination and fine motor skills. Win win! Okay, but also how cute is this Dyson vacuum for kids? I know it's plastic, but we have it and the kids love it. And it actually sucks up stuff too.
Shop The Post

More Kids Gift Ideas
Books – I have a never ending list of books to either purchase for our family or to give as gifts. You can never have too many books in my opinion. Here are some cute ones I've found recently:
Kiwi Co Crates – I gave these as gifts in years past and they were a hit! Select an age appropriate box to send to your favorite little guy or gal. They'll love doing the experiments and activities!
Puzzles – Name puzzles like this one on Etsy is so cute! Melissa & Doug also has a ton of great puzzles for all ages!
Art Cards – These black and white art cards are perfect for newborns. Olivia loved them!
Activity Center

–

For new babes this activity center is a great present! Olivia would play in it almost every day and absolutely loved it. It features 25+ developmental activities, a 360-degree rotating seat and supports a "whole body" approach to play and learning.
Instruments – Melissa & Doug has some awesome musical instruments to get your little one moving and grooving to the beat like this learn-to-play piano and this band-in-a-box. Also, I love this wooden musical set from Stoie's.
Tonies – I feel like the Tonie audio players are all the rage right now! I was looking at this Toniebox starter set with Peppa Pig, but there are a ton of options!
Silk Scarves – I just got these silk juggling/dance scarves for Olivia because she uses them in her music class and loves them so I knew we needed some at home.
Doctor Kit – A doctor kit makes such a good gift for toddlers. Olivia has this one, but this wooden set is adorable too.