Eating Bird Food's holiday gift guide for babies, older kids and new parents with everything from books and toys to clothes and accessories.
I'm sharing three gift guides this year — one for women, one for men and one for children. When thinking of gift ideas, I like to go one of two routes: something the person needs or something they would never treat themselves too. For the kid's gift guide I'm sharing gift ideas from the following categories – infant/toddlers, older kids, as well as, gifts for expecting parents.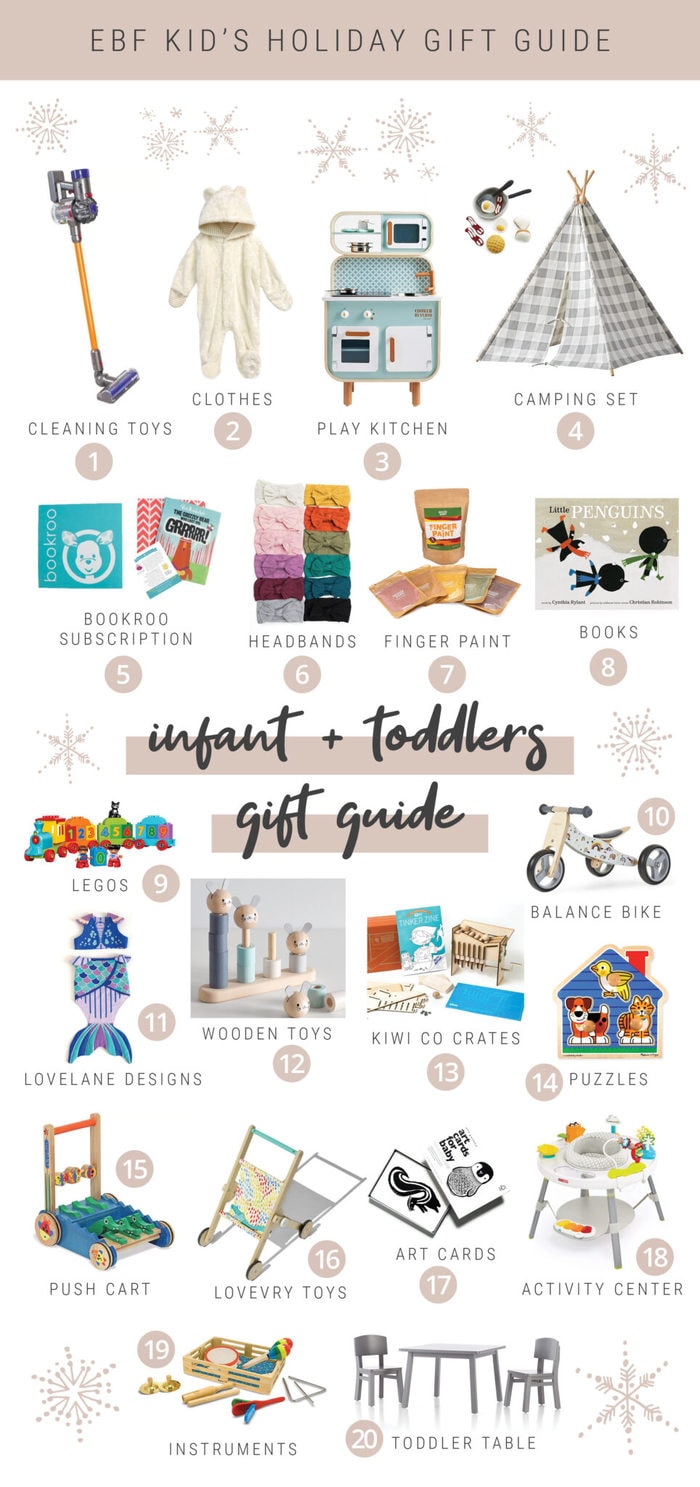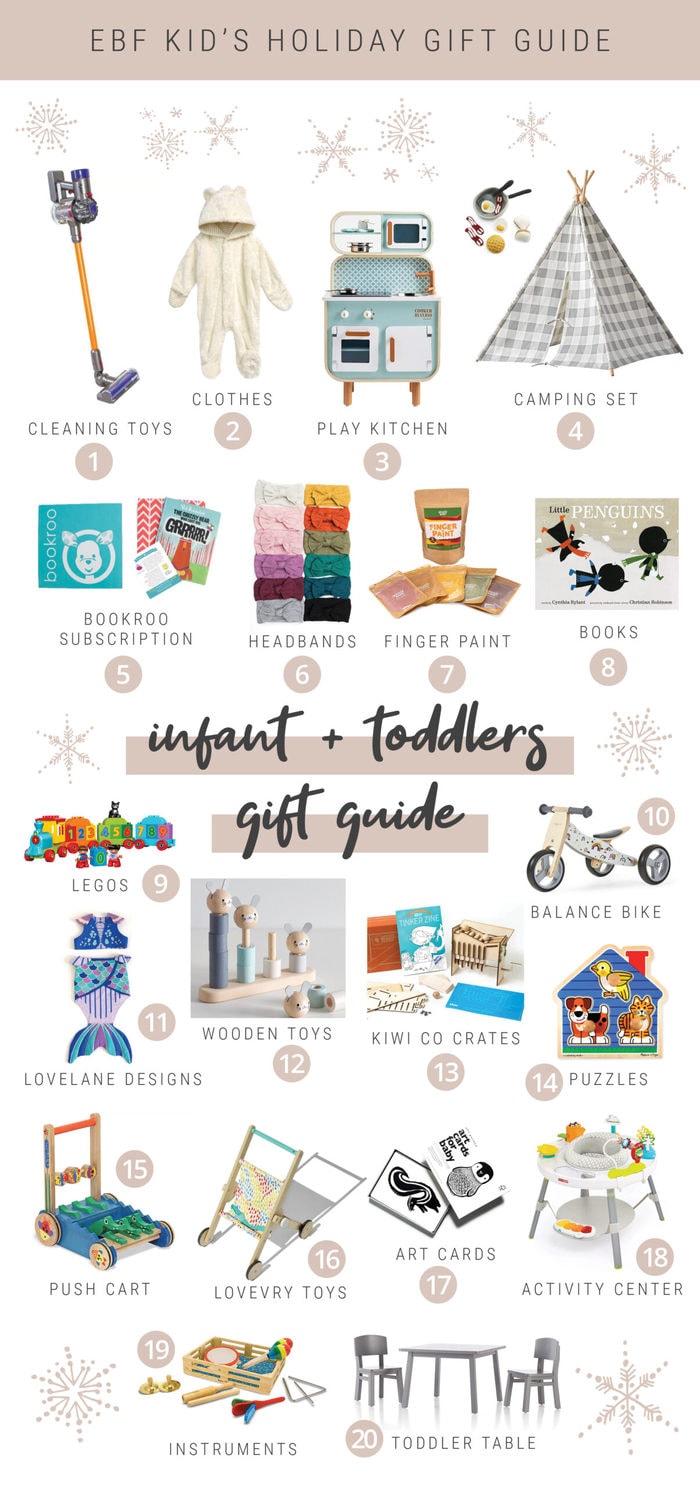 Infant/Toddlers
Cleaning Set – What better way to get your kids involved in house cleaning than with their own cleaning toys! This set from Melissa & Doug is a great place to start and is designed to help kids develop coordination and fine motor skills. Win win! Okay, but also how cute is this Dyson vacuum for kids?
Clothes – You can never go wrong with some new clothes for the little ones in your life. They grow so fast! Some of my favorite places to shop for Olivia are H&M, Zara, Gap, Target, Carter's. Here are some cute items I've been eyeing for Liv:

Slippers – How cute are these bear slippers from Gap?!
Pjs – I recently ordered Olivia some pjs from Little Sleepies. They're so soft and the patterns are adorable. I ordered the winter floral zippy and the luna mauve zippy. but all of the patterns are cute! I also got Olivia this llama fleece footie because it looks Hanukkah-ish.
Snowsuit– Doesn't this snowsuit look SO adorable and warm?! I want one for myself!

Play Kitchen – I can't wait to have Olivia join me in the kitchen, but until then I love the idea of getting her a play kitchen! This one from Crate & Barrel is super cute and compact for someone who doesn't have a ton of room. I also love the play kitchen accessories like this play mixer, toy pots and pans and this farmer's market basket. If you're looking for a larger option this one from Pottery Barn looks awesome and has great reviews!
Camping Set – This camping set is the perfect gift for the little explorer in your life who loves the outdoors. If you're looking for more of an indoor camping set-up, Crate & Barrel has a ton of nice teepees that would be great for a playroom. And how cute is this plush campfire set and felt breakfast food set?! 
Bookroo Subscription – If you can't decide on a book, give them a Bookroo Subscription! They have a ton of different book clubs for kids ages 0-10 and as a member you receive monthly book deliveries. It looks really cool!
Headbands – One question I get asked all the time is where I get Olivia's knit headbands! I got them from Etsy and absolutely love them. They have a ton of different colors!
Finger paint – I want to get some of this finger paint for Olivia! They are eco-friendly and crafted with natural, organic vegetables making them baby-safe and edible.
Books – I have a never ending list of books to either purchase for our family or to give as gifts. You can never have too many books in my opinion. Here are some cute ones I've found recently:
Lego – Lego has a ton of awesome options for kiddos 1-3 years old like this number train.
Balance Bike – Need a gift idea for a little one who is just starting to become mobile? This adorable balance bike from Coco Village is a fun way for them to develop balance and confidence! Target also has some more affordable options.
Lovelane Designs – For the playful, imaginative kids these Lovelane Designs are the CUTEST! They're handmade and they have a ton of different themes for kiddos for all ages: nautical, super heroes, fairy tale, etc. Can we take a second to talk about how adorable this baby hero cape + bloomer set is?!
Wooden Toys – I not only love the look of wooden toys but picture them lasting forever! There are so many options depending on the age of your kiddo. We have this bunny stacker that Liv loves! I've also been eyeing

Grimm's Toys

but have also seen really cute options at Target and Crate & Barrel. 
Kiwi Co Crates – I gave these as gifts in years past and they were a hit! Select an age appropriate box to send to your favorite little guy or gal. They'll love doing the experiments and activities!
Puzzles – I love the idea of getting Olivia a puzzle that spells her name so she can start to learn it. This one on Etsy is so cute! Melissa & Doug also has a ton of great puzzles for all ages!
Push Cart – Another great gift for a little one who's just starting to walk is a push cart! It'll make learning

extra fun and is a great way to help them get a leg up on their balance, motor skills and coordination.

I love this shopping cart from Pottery Barn and this stroller from Lovevery.
Lovevery Products – We got Olivia the Lovevery play gym when she was a baby and it's still one of her favorite toys (we've turned it into a little fort now). Olivia also has the block set, stroller and we just started the play kit subscription, which is such an awesome gift idea.
Art Cards – We got these black and white art cards for Olivia and it's been so awesome to see how she engages with the cards. She loved them as a newborn, but they're still something she likes playing with now.
Activity Center

–

For new babes this activity center is a great present! Olivia would play in it almost every day and absolutely loved it. It features 25+ developmental activities, a 360-degree rotating seat and supports a "whole body" approach to play and learning.
Instruments – Melissa & Doug has some awesome musical instruments to get your little one moving and grooving to the beat like this learn-to-play piano and this band-in-a-box. Also, I love this wooden musical set from Stoie's.
Toddler Table – This is on my list for Olivia this year. I'm thinking this gray one from Crate and Barrel or maybe this white round one.
Adventure – Sure, it's fun to open a few gifts over the holidays but what about taking an adventure with your kids to create new memories? Search for unique Airbnb's in your area or plan an epic scavenger hunt around your town. 

Older Kiddos

New Parents
If you're looking for a present for new parents or parents-to-be these are some of my must-have newborn essentials that make life with a new babe a tiny bit easier.
This post may include affiliate links. Thank you for your support.