Happy Friday! I'm in the holiday shopping mood so I thought I'd put together a little gift guide. This one is for all the fitness lovers out there! Whether you have a daughter who's hooked on running or a husband who wants to get fit, I'm hoping this guide might spark some ideas.
And Isaac, if you happen to read this blog post I'll take one of everything on the guide (so long as I don't already own it). 🙂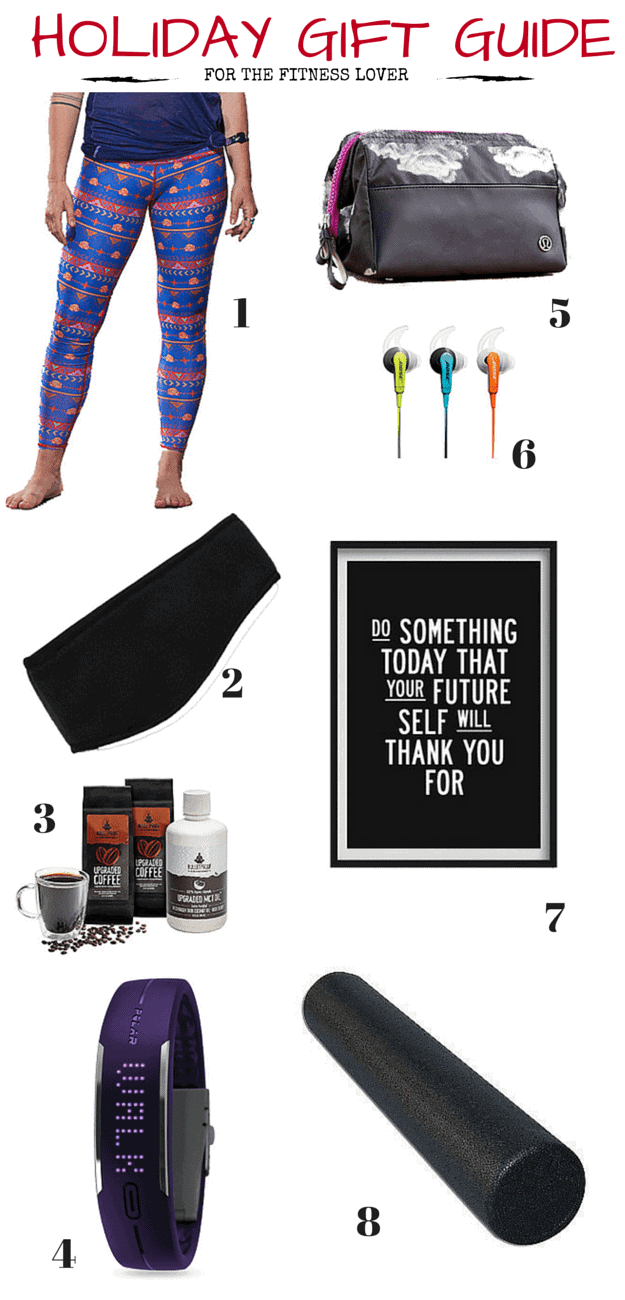 1. Workout gear
If the fitness lover in your life is anything like me, they will never own enough workout clothes. I mean, when you work out every day you go through clothes pretty quickly. Plus, we ladies like to look good when we work out so new stuff is always fun. 🙂 For bottoms, I've been obsessed with Fabletics lately. I have the Salar leggings in 4-5 colors and love them! I've also been swooning over these quilted leggings from Beyond Yoga and these leggings from SuperFun Yoga Pants, a local company here in Richmond.
2. An ear warmer (or other accessories)
Is it just me or are your ears always the first thing that get cold when running? Anyone that works out outdoors during the winter months will love you if you get them an ear warmer. This particular ear warmer looks extra toasty. Other must-have accessories include running gloves and socks. Pure Barre lovers can never have too many pairs of sticky socks!
3. Bulletproof coffee
I guess this idea requires that the person like coffee as well, but I think this Bulletproof Coffee Kit would be an awesome gift for a fitness or health lover. The coffee is single origin, organic with low toxin levels and the Brain Octane MCT Oil provides medium chain fatty acids for energy and maximum cognitive function. Bulletproof coffee proponents claim that it keeps you energized for hours, helps you burn fat and gain muscle! I don't know about all of those things, but Isaac and I tried it a few weeks ago and have been hooked on it since! It tastes really good and I like the way it makes me feel as well. <— I'll share more details in another post!
4. An activity monitor
These little gadgets are great for anyone trying to get healthier. They track your activity, motivate you to move more throughout the day and most track your sleep as well! I've had my Polar Loop for over a year now and don't know what I would do without it. I've also heard good things about the Garmin Vivofit.
5. Gym bag
This is a great gift idea for fitness lovers, especially for someone that goes straight from the gym to work — they need a big bag to tote everything to get ready after their sweat session. A lot of times I just use my Madewell Leather Tote for gym stuff, but an actual gym bag would probably be a good idea. For guys, this Polo bag looks awesome and I like this striped bag from Athleta for ladies. And this Mind & Body Kit looks perfect for stashing shower stuff.
6. Headphones
Almost everyone I know likes to listen to music when they work out and ill fitting headphones are the worst! Isaac and I both have the these Bose headphones and LOVE them.
7. A poster/print
Framed prints with motivational quotes are such an awesome way to decorate a home gym or office. They are so many to choose from on Esty. I like this one, but I already found a handful of others that I want as well.
8. Foam roller
It's definitely not the easiest gift to wrap, but every fitness fanatic needs a foam roller to roll out tight muscles.
I'm hoping this gift guide is helpful and gives you a few ideas of things to buy for a loved one OR to add to your own holiday wish list.
Need more ideas? Here's a few other gift guides that caught my eye:
** Just a note: None of the items mentioned are sponsored, although I have included a few affiliate links. Thank you for reading and supporting EBF through these links.