2023 Holiday Gift Guide for Fitness Lovers
My holiday gift guide for fitness enthusiasts with everything from activewear apparel to fitness gear and tech favorites. Lots of ideas for all the active gals/guys on your list!
If you have a fitness lover in your life this gift guide is for you.
In this guide I'm sharing some of my workout essentials… everything from the best workout leggings and sneakers to the adjustable weight set that I recently purchased and fabric strength bands.
A lot of these items have been key to my fitness success over the past few months doing my FASTer Way to Fat Loss 30-minute home workouts.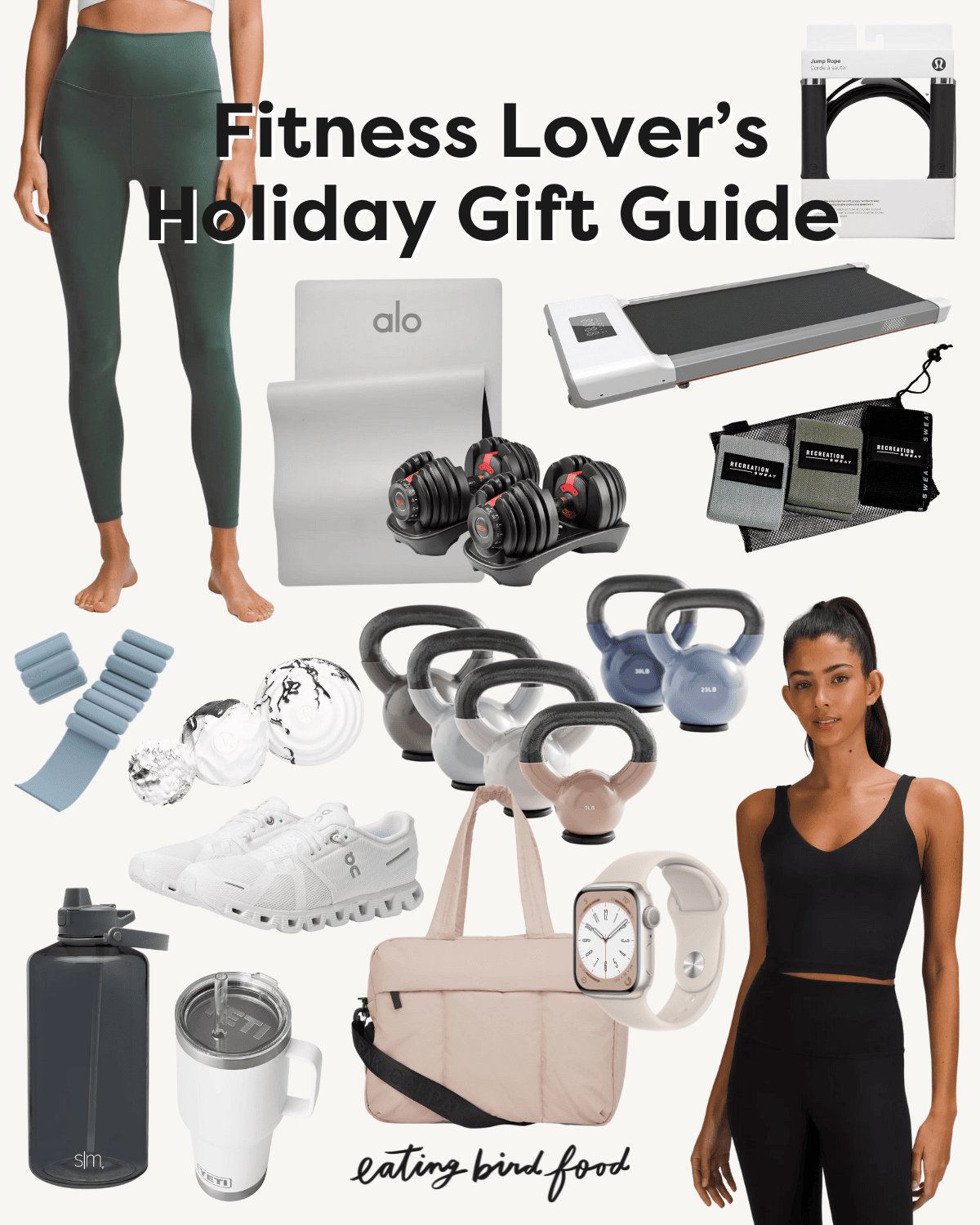 2023 Holiday Gift Guide for Fitness Lovers
Lululemon Align Leggings – The GOAT of leggings. There's really nothing that compares; I reach for them the most. They come in a ton of different colors and varying lengths. As an added bonus: they're amazing maternity leggings. I lived in these for both of my pregnancies.
Lululemon Align Tank – Anything Align material is just fantastic, and I tend to wear Align tanks a lot, too. This ribbed version is super cute – you could even wear it out with jeans.
Bala Bangles – I'm convinced these are the most aesthetic ankle weights you can buy. Plus you can wear on your ankles or wrists to add a little extra burn to any workout.
Release & Recover Ball Set – Anyone who works out a ton needs something like this to release those tight muscles. These would make an excellent stocking stuffer!
Sneakers – I wear my Cloud Monster sneakers all of the time – for workouts, errands, walks, and more but I have a pair of their training shoes on my workout list. I also love the Cream Wool Runners from All Birds. I use them as my house shoes and training shoes and love how comfy they are.
Gallon Water Bottle – I'm obsessed with my my gallon jug and can't recommend it enough. It definitely helps if you're trying to drink more water. There are a few affordable options from Amazon – mine has measurements, a time marker and motivational phrases but there are other more simple options on Amazon if that's more the vibe you're going for.
Tumbler with Straw – A nice tumbler is such a good gift for anyone on the go. They can use it for water, coffee, beach drinks and more! If you're gifting this to a friend, throw some electrolyte packets into the tumbler for a fun surprise. Want to go the trendy route? Grab a Stanley Tumbler.
Yoga Mat – If you're into yoga, you need a high-quality mat! The cheaper ones just don't compare. I have one from Lululemon but I this alo mat looks awesome. It comes in a few different colors, but I'm into the soft grey.
Adjustable Weights – I purchased this exact set of adjustable weights this year, and it's been a such a great addition to our home gym set-up. Less weights, less clutter. You can also buy a stand for the weights, which I'm adding to my wish list this year.
Kettlebells – These particular kettlebells are from Pottery Barn, believe it or not! I'm kind of obsessed with the color scheme they've got going on. They come in varying weights.
Gym Duffel Bag – CALPAK makes awesome bags (this one has over 2,000 reviews). I love this EBF-pink duffel!
Apple Watch – You know I wear my Apple Watch 24/7 and can't recommend it enough! Another option if you have a fitness lover that loves stats is the Oura ring. I've never owned one but I've heard good things, especially if you want to track your sleep but don't want to sleep in a watch.
Jump Rope – Jumping rope is an easy (or not so easy!) way to get some cardio in and perfect for traveling. This one from Lululemon is adjustable in length.
Walking Pad – Great for those who work from home and want to get some extra steps in while working from a stand-up desk. This one has great reviews and it's on major sale right now. If you're planning to run or do more than light walking, I think a regular treadmill would be a good investment. I have a ProForm and love it. My model is no longer made, but this is the new version.
Resistance Bands – These resistance bands take any glute exercise up a notch – or three! They come in a mesh bag that makes them easy to take to the gym, or pack in a suitcase. Recreation Sweat has some really cute workout clothes too. I'm eyeing this sports bra.
Shop The Post

PS: Don't miss my other 2023 holiday gift guides: for women and for men.