My women's gift guide includes everything from cozy pajamas and slippers to custom art and delicate jewelry. Lots of ideas for the ladies on your list!
It's holiday gift time! I love this time of year and have a ton of fun choosing gifts for family and friends, but sometimes it's so dang hard to figure out what to get people. I feel like most of us buy whatever we need/want throughout the year so when the holidays come around we don't really need anything. Maybe you feel the same way and if so, hopefully this post gives you a little inspiration.
When thinking of gift ideas, I like to go one of two routes: something the person needs or something they would never treat themselves to. This year's gift guide includes some of my favorites (like the Dyson Airwrap!) and some things I'm personally eyeing (like new durable luggage).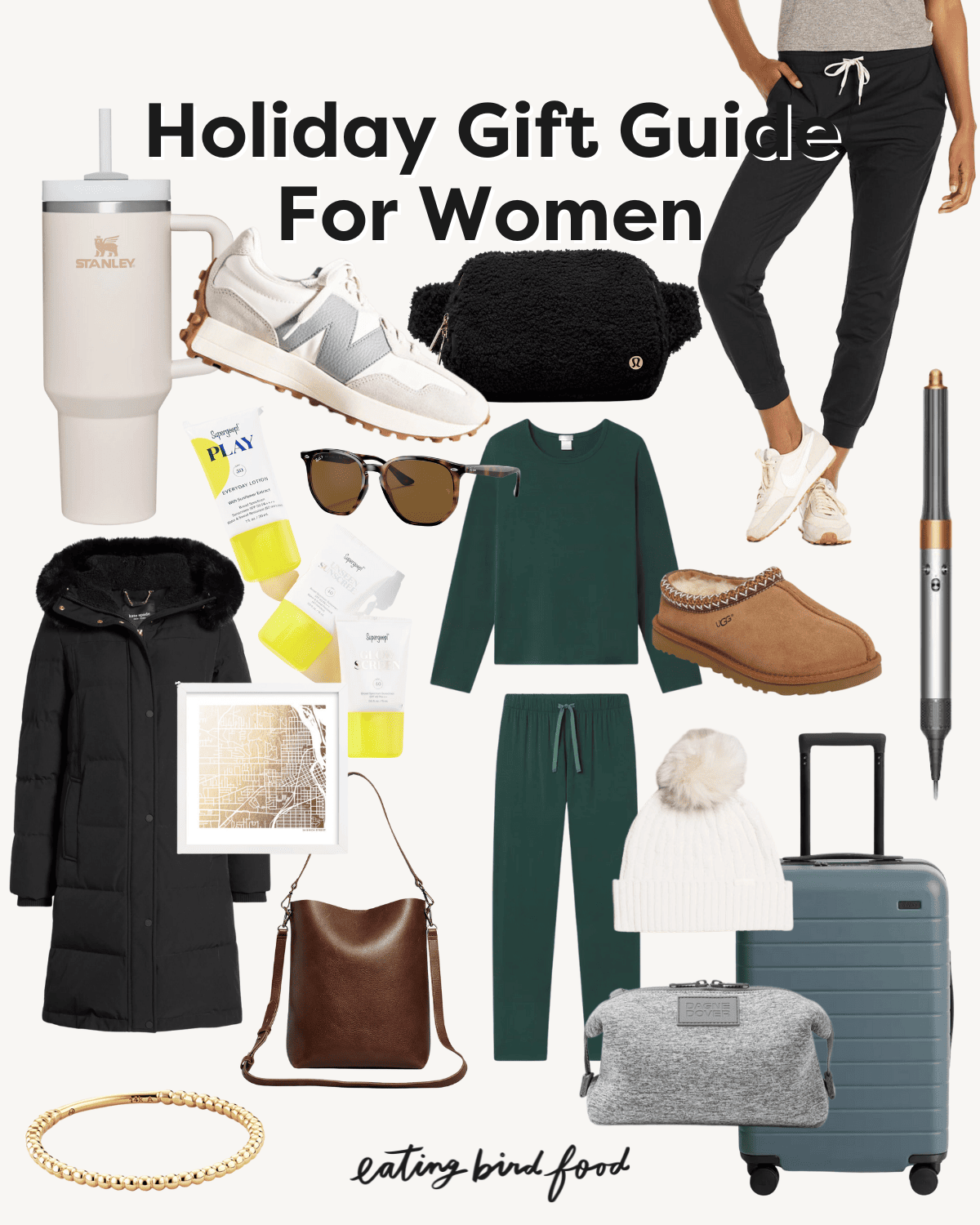 Women's Gift Ideas
I hope this gift guide gives you some ideas for all the ladies on your holiday shopping list.
Stanley Tumbler – There's a reason these tumblers have gone viral! They're great for workouts, walks, in the car, you name it. It comes in ton of colors, keeps beverages cold and fits in car cup holders. I use my 40 oz Stanley every single day.
New Balance Sneakers – These everyday sneakers are so cute! Wear with leggings or jeans, they're versatile and trendy!
Lululemon Belt Bag – This fleece belt bag is fun for the winter season, but you can't go wrong with any of Lululemon's belt bags. I have the classic black one use it all of the time!
Vuori Joggers – These joggers are made with the softest material! Wear them for chilly walks, errands, or even snuggling on the couch.
Sugergoop SPF Set – Skincare gifts are always a good idea! I personally love Supergoop sunscreen; this gift set with three of their best-selling products is a great deal.
Rayban Sunglasses – These are my go-to sunglasses. You can dress them up or down, and they're really comfortable.
Lake Pajamas – Who doesn't love a new set a pj's for the holidays? These Lake Pajamas are so soft. They have some really cute holiday prints as well. And if you're looking for another comfy pj option, I love the Nordstrom Moonlight pajamas. I have gifted these to my mom and mother-in-law and they love them.
Ugg Slippers – Ugg slippers are having their moment this season, and for good reason. Unlike the dupes, Ugg slippers will last for years.
Dyson Airwrap – I've been practicing with my Dyson Airwrap lately, and I truly love it. While it's certainly a splurge, it doesn't damage my hair and gives it great volume.
Down Parka – Everyone needs a go-to parka coat for winter and this one looks so classic and warm! I'm also eyeing the Wunder Puffer Jacket from Lulu.
Custom Map Print – Looking for something more personal? Minted offers custom prints like the map print of a specific city or state. Printed and framed photos make a great gift for grandparents too!
Madewell Bucket BagLeather Tote – I have an older transport tote, but I've been eyeing their bucket bags for a couple months so I added one to my holiday wishlist.
Lulu Beanie – You can't go wrong with a nice winter hat and the the pom pom on this one is too cute!
Away Luggage – New luggage is always a great gift for avid travelers in your life. Isaac and I have an Away luggage set that we've been sharing but I want a new carry-on for myself so I added this one to my wishlist this year. I love the color.
Toiletry Bag – I feel like toiletry bags are something I never remember to replace but I'm always excited when I get a new one. Plus, this one is so cute!
Beaded Ring – Any type of jewelry makes a great gift. This gold beaded ring is so pretty and elegant, this dainty initial necklace would also be a great gift for any new mamas and I love the look of these pearl drop earrings.
Looking for gift ideas for guys? Check out our men's gift guide.
Shop the Post