Healthy Cauliflower Popcorn / Kettle Corn
20
Published Jan 14, 2014, Updated Jan 12, 2022
I think 2014 is going to be the year for cauliflower — from cauliflower pizza crust to cauliflower fried rice and mashed cauliflower, it seems like this cruciferous vegetable is becoming a go-to for making healthy versions of comfort foods. Most of you know that I'm a huge fan of the cauliflower pizza crust. I've actually been working on a vegan version, which I hope to post soon. But in the meantime, I have another cauliflower delight to share. Thanks to Real Simple I recently found out that cauliflower popcorn is a thing. Yes, popcorn!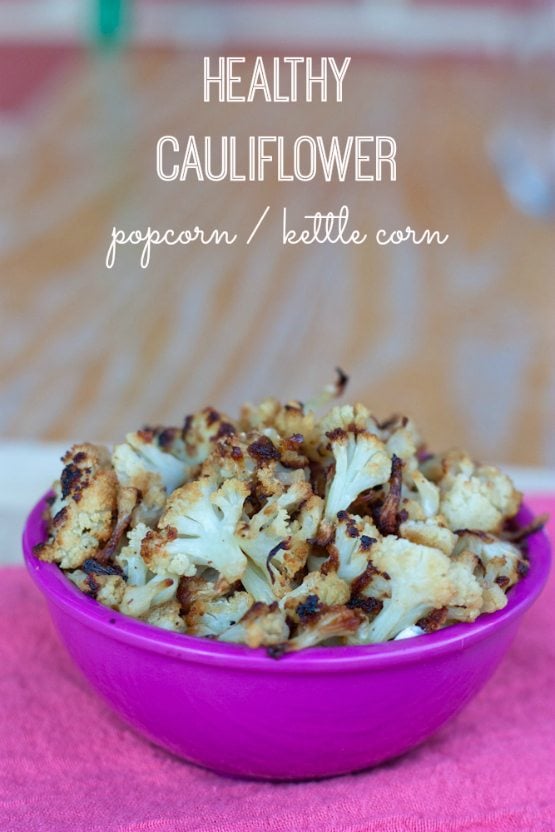 Regular popcorn is actually pretty healthy on it's own, especially if you air pop it and eat it plain. It's a whole grain and low in calories, which is nice for volume eaters that like to snack (a.k.a. me). I actually keep kernels on hand and use the brown paper lunch bag trick to pop mine when I'm craving popcorn. Works like charm!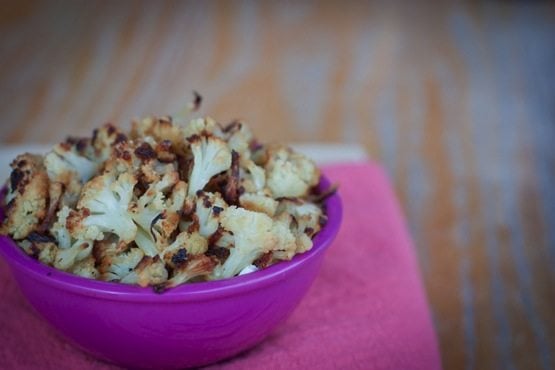 Once I found out that cauliflower popcorn was a thing, I knew I needed to try it! I quickly decided I should probably make a kettle corn version since it's my favorite type of regular popcorn. Sweet and salty combos are the simply the best!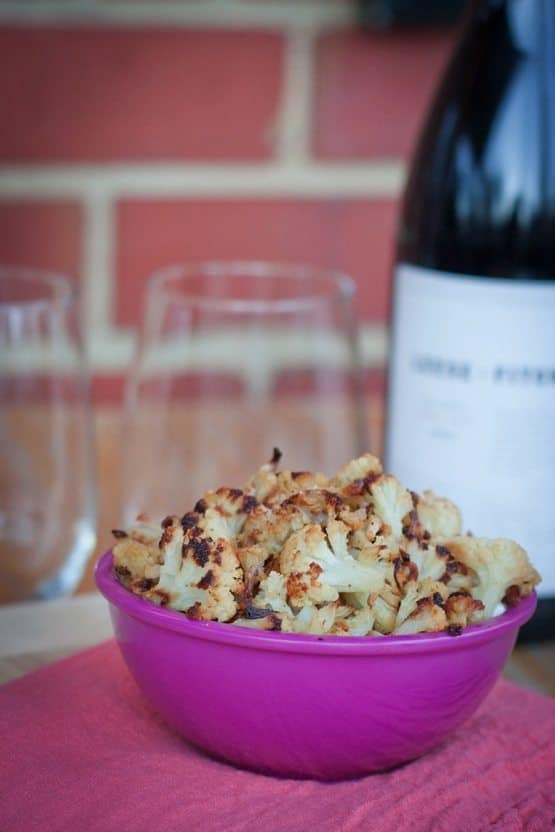 The trick to making cauliflower popcorn is roasting! Roasting brings out the natural sugars in vegetables. And if you cook the veggies long enough, they also get a crispy texture. That's exactly what happens with the cauliflower.
Yes, I could have simply called this recipe maple roasted cauliflower but kettle corn is infinitely more fun. Plus, you could totally whip up a batch of this cauliflower to snack on during a movie. It's a great way to sneak in a serving (or two) of veggies and I'm sure kids would love it!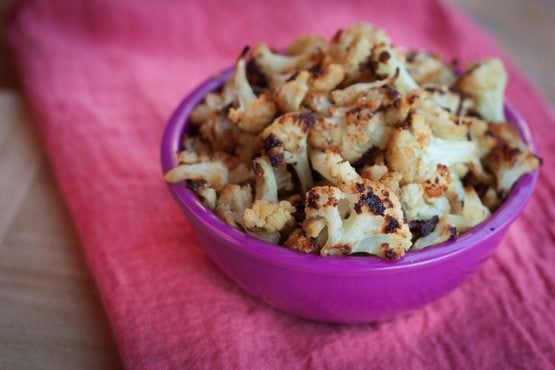 Plus it's healthy, absolutely delicious and as it would turn out, just as addictive as regular kettle corn. 🙂
If you're not into kettle corn — we can't be friends — just kidding, simply omit the maple syrup and just use the coconut oil and salt.
Plus it's healthy, absolutely delicious and as it would turn out, just as addictive as regular kettle corn. 🙂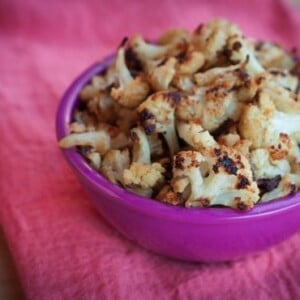 Healthy Cauliflower Popcorn / Kettle Corn
One warning — the cauliflower pieces shrink down quite a bit. If you're serving more than one or two people, you'll want to make a double batch and use two baking sheets.
Instructions
Heat oven to 425° F.

In a large bowl, stir together cauliflower, oil, maple syrup and ½ teaspoon salt.

Transfer to a baking sheet and spread in a single layer. Make sure the cauliflower pieces aren't too crowded on the baking sheet or they will steam instead of roasting. Roast, stirring twice, until golden brown and tender, about 30 minutes.
Nutrition
Serving:
1
/2 recipe
|
Calories:
154
kcal
|
Carbohydrates:
19
g
|
Protein:
6
g
|
Fat:
7
g
|
Saturated Fat:
6
g
|
Polyunsaturated Fat:
1
g
|
Monounsaturated Fat:
1
g
|
Sodium:
634
mg
|
Potassium:
431
mg
|
Fiber:
7
g
|
Sugar:
12
g
Nutrition information is automatically calculated, so should only be used as an approximation.