Gluten-Free Snickerdoodles
These easy gluten-free snickerdoodles are fluffy, chewy and loaded with cinnamon flavor in every bite. They're made with a combo of almond flour and oat flour and come together in one bowl!
Snickerdoodles are one of Isaac's favorite cookies, so this year I decided to take a stab at making them a bit healthier. Cue these gluten-free snickerdoodles!
These cookies are made with almond flour and oat flour which are packed with protein, fiber and healthy fats and major upgrades compared to white all-purpose flour and most gluten-free flour blends.
Even though these cookies are gluten-free and vegan, they still have that classic chewy snickerdoodle texture and are loaded with cinnamon sugar flavor in every bite! They're Issac approved and seriously so dang delicious. I can't wait for you to try them!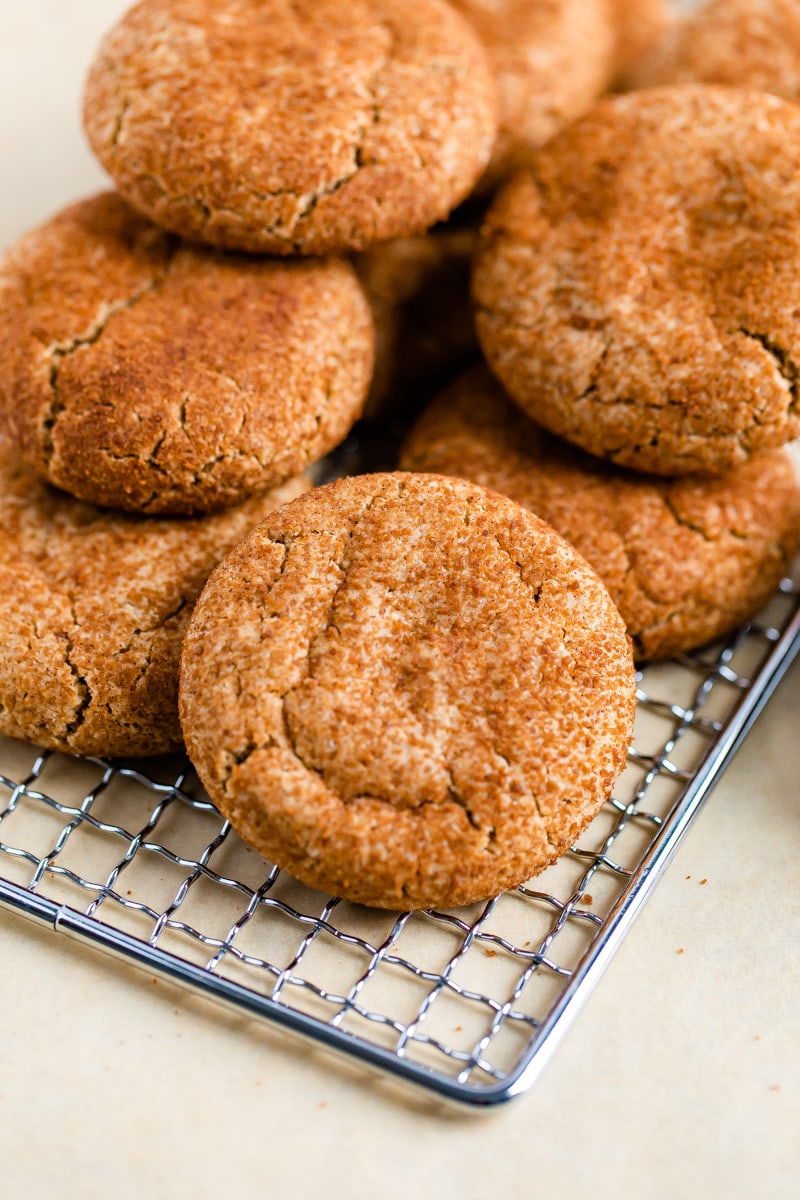 What are Snickerdoodles?
Snickerdoodles are simple, traditional cookies known for their characteristic coating of cinnamon sugar. The name "snickerdoodle" is believed to be derived from the German word "Schneckennudel," a term for a cinnamon-dusted sweet roll.
These cookies are distinct from regular sugar cookies due to the presence of cream of tartar, which imparts a unique tanginess and results in a chewier texture. The recipe involves rolling the dough balls in a mixture of cinnamon and sugar before baking, leading to their signature look and taste. They're the perfect companion to a warm cup of tea or coffee or a glass of milk, promising comfort in every bite.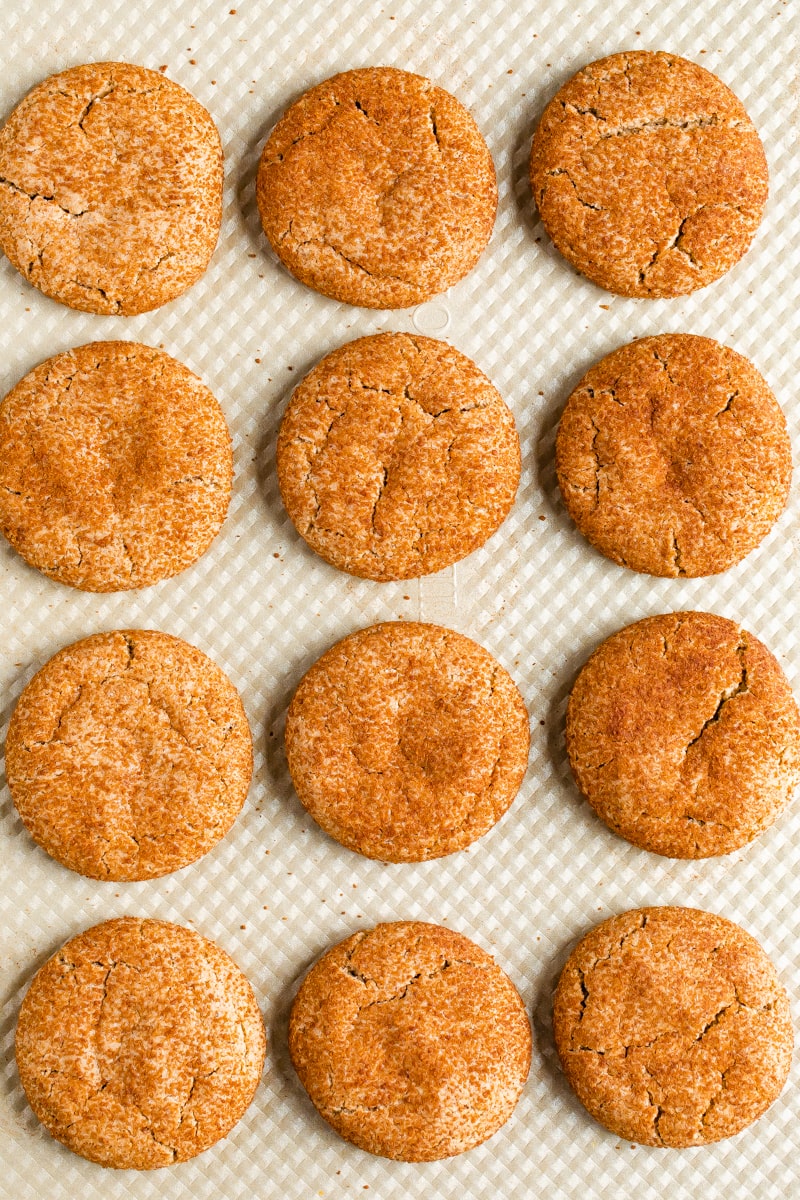 Why You'll Love These Cookies
Delicious – Expect cookies with a soft and chewy interior and crispy edges, all topped off with a sugary cinnamon coating that's utterly addictive!
Easy to make – No complicated steps here — these cookies come together in one bowl with only 11 ingredients. And no need to chill the dough!
Healthier ingredients – These snickerdoodles are made with wholesome ingredients like almond flour and oat flour. They're also naturally sweetened with maple syrup and coconut sugar.
Allergen-friendly – These cookies are gluten-free, egg-free, dairy-free + vegan!
Ingredients Needed
almond flour – make sure you get almond flour and not almond meal, which are two different textures. Bob's Red Mill almond flour is my go-to.
oat flour – you can make your own oat flour or use a store-bought brand! I like using Bob's Red Mill oat flour but it is really simple to put some oats in a blender and blend them up!
cinnamon – what's a snickerdoodle without it's delicious cinnamon flavor! This is added to the cookie dough and also used to make a delicious cinnamon sugar topping to coat the cookies in before baking.
cream of tartar – do not skip on this ingredient! It helps give snickerdoodles their distinct texture and flavor. I go into a little more detail about cream of tartar below.
baking soda and baking powder – leavening agents to help the cookies rise.
sea salt – brings all the flavors together.
coconut oil – to bind all the ingredients together and provide a nice dose of healthy fat to the cookies.
maple syrup and coconut sugar – the sweeteners in these cookies.
vanilla extract – another flavor enhancer.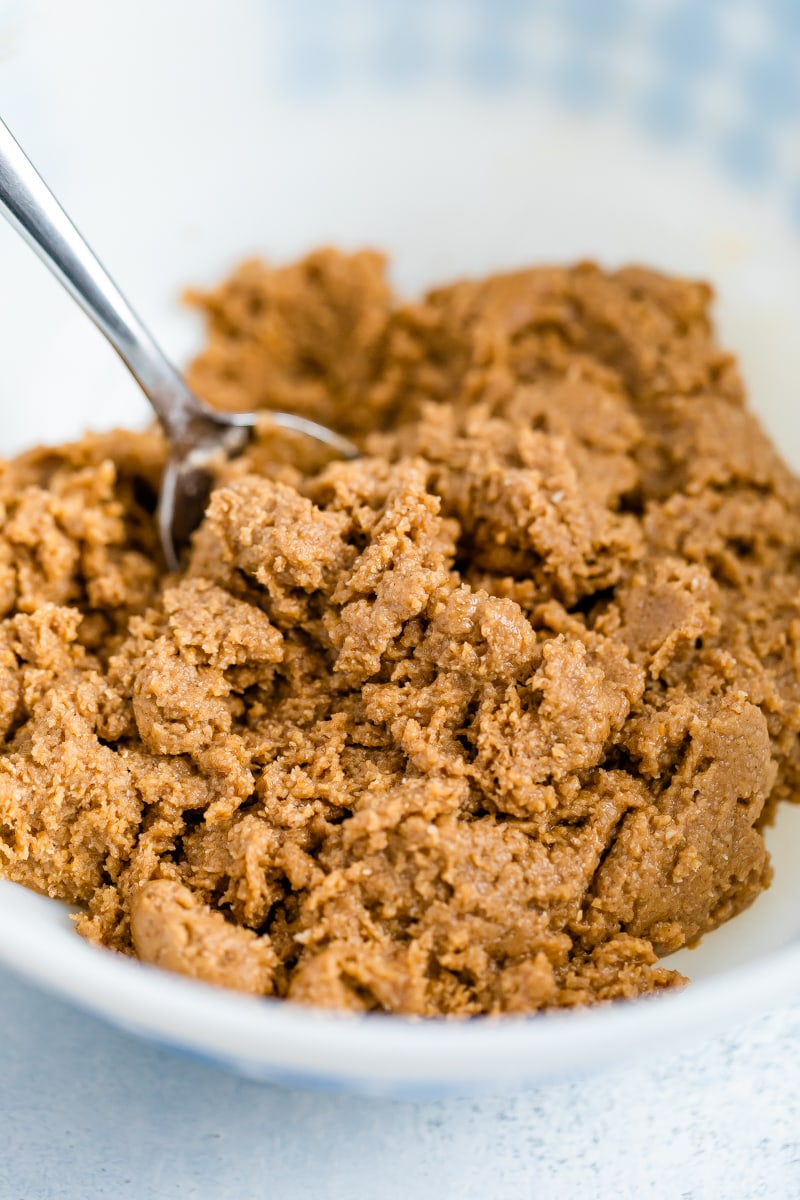 How to Make
These gluten-free snickerdoodles are super easy to make!
Step 1: Start by mixing the almond flour, oat flour, cinnamon, cream of tartar, baking soda, baking powder and salt together in a large bowl.
Step 2: To the same bowl, add the melted coconut oil, maple syrup, coconut sugar and vanilla extract. Stir until everything is combined.
Step 3: In a separate small bowl, mix together the coconut sugar and cinnamon for your topping.
Step 4: Roll out balls of cookie dough and then roll each ball in the cinnamon sugar mixture. Place on a baking sheet lined with parchment paper and flatten slightly. Bake for 10 minutes, in a preheated oven, until slightly golden. Let cool for a few minutes on the baking sheet then transfer to a wire rack to cool completely.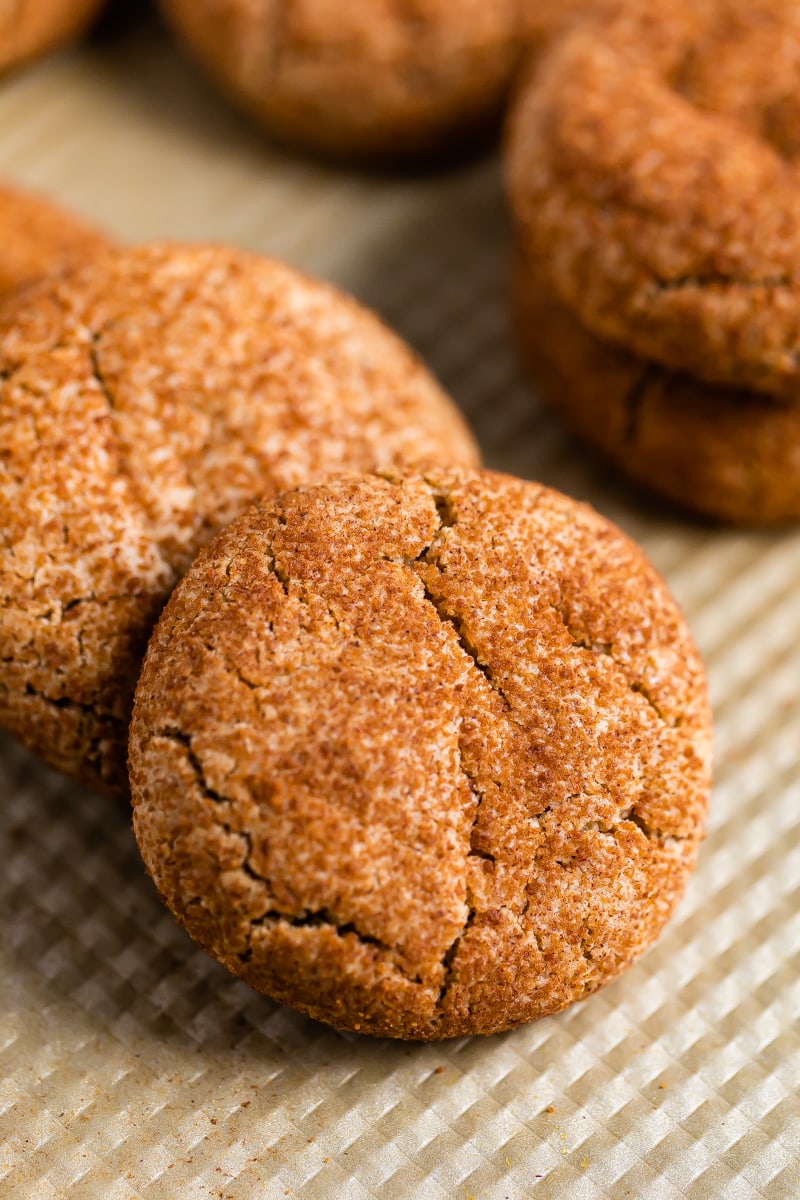 Ingredient Substitutions
Flour: I don't recommend substituting the almond or oat flour with another flour as this recipe was designed to be made with those two flours.
Coconut oil: If you're not a fan of coconut oil, or simply don't have it on hand, melted vegan butter or another neutral oil like avocado oil or olive oil can work as a replacement.
Maple syrup: Honey or agave syrup can be used in place of maple syrup. They both add the necessary sweetness, though the flavor will be slightly different.
Coconut sugar: Brown sugar is a good substitute for coconut sugar, offering a similar molasses-like flavor and moisture content. Regular granulated sugar can also be used but may alter the texture slightly.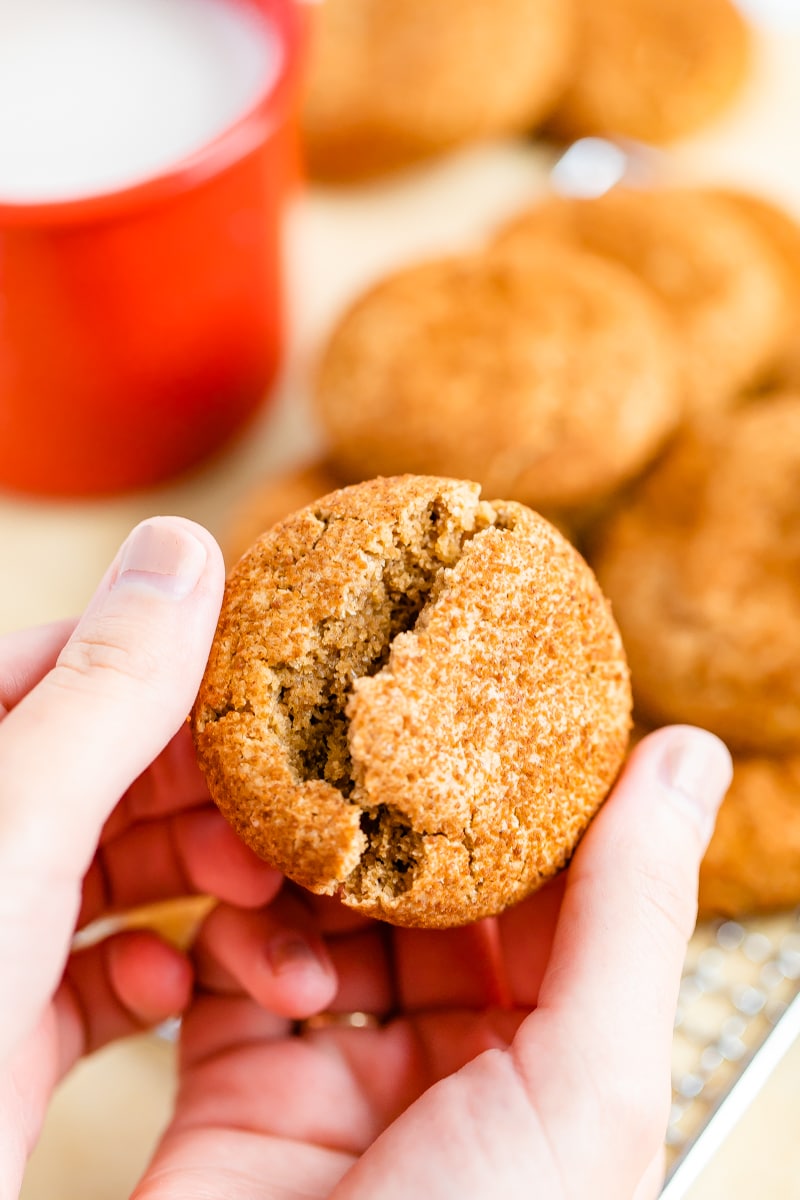 Tips For Making the Best Gluten-Free Snickerdoodles
Don't skip the cream of tartar: This ingredient is crucial for that classic snickerdoodle tang and chewiness. It's what sets a snickerdoodle apart from a simple cinnamon sugar cookie, so it's best not to substitute it.
Use a cookie scoop: Use a cookie scoop to ensure all your dough balls are the same size. This uniformity helps them bake evenly, preventing some cookies from getting too crispy while others are still underbaked.
Don't overbake: Gluten-free cookies can go from perfect to overdone quickly. Remove them from the oven when the edges are set but the centers still look soft. They'll continue to cook slightly as they cool on the baking sheet.
Adjust baking time: For a chewier cookie bake for 8 minutes. For a crispier cookie bake for 10-12 minutes.
Want thicker, fluffier cookies? Don't flatten the top of your dough balls down before baking. Just roll your dough balls in the cinnamon sugar mixture and place them on the baking sheet.
Rest and cool: Allow the cookies to cool on the baking sheet for a few minutes before transferring them to a wire rack. This rest period helps them set, making them easier to transfer and preventing breakage.
Storage matters: Keep your baked snickerdoodles in an airtight container to maintain their chewiness. They'll stay fresh for several days, but you can also freeze them for longer storage.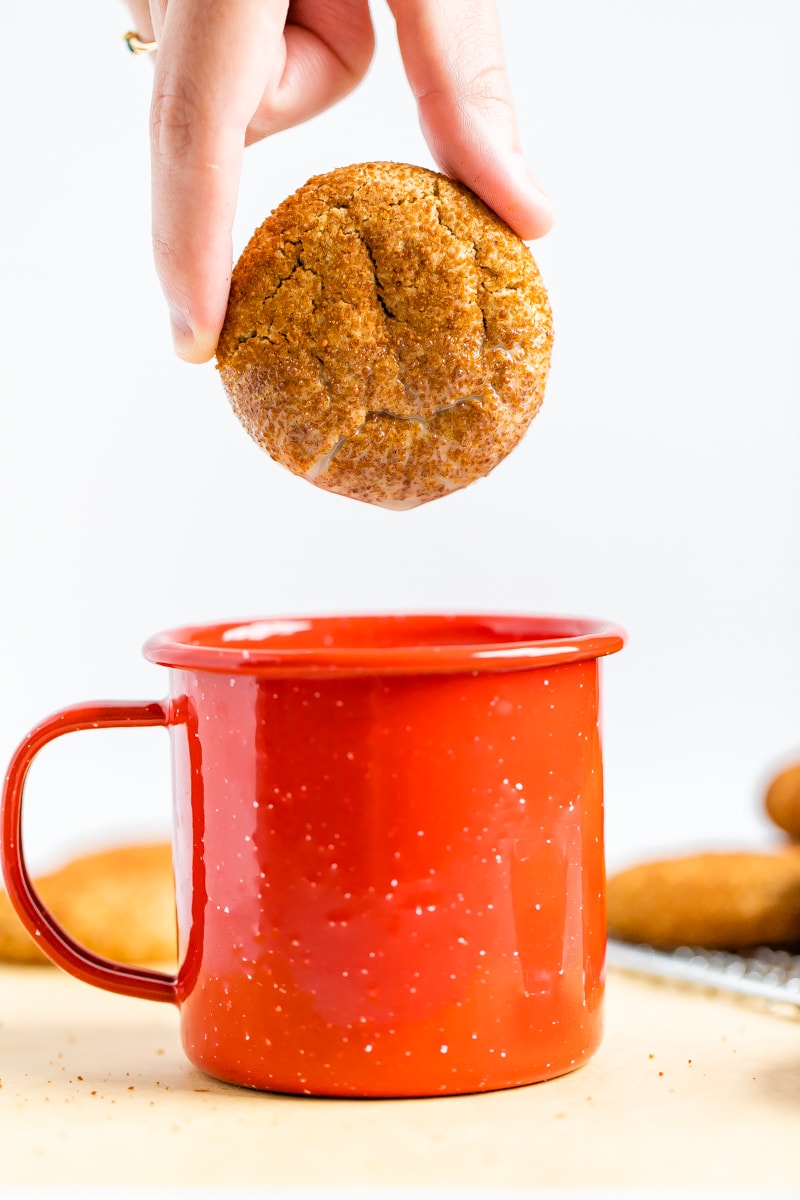 How to Store
If you won't be eating these gluten-free snickerdoodle cookies right after making them, you'll want to make sure you store them properly so they don't get stale!
Let your cookies cool completely and then layer the cookies in an airtight container and store at room temperature for 3-4 days or in the fridge for about a week. They store really well which makes them great for holiday parties and gifts!
For longer storage, you can freeze these cookies for 1-2 months in a freezer-safe container. When you're ready to enjoy, thaw at room temperature for about 15-30 minutes or reheat briefly in the oven.
Can I Freeze The Dough?
Yes! After you roll your dough balls in the cinnamon sugar, place them on a baking sheet, but instead of placing the baking sheet in the oven transfer it to the freezer. Let your dough balls freeze for about 15-20 minutes then transfer to a freezer-safe bag and store for up to 3 months.
When you're ready to bake your cookies you don't have to thaw them first. Just place the frozen dough balls on your baking sheet and bake as directed. You may need to bake the cookies for a few extra minutes, just keep an eye on them!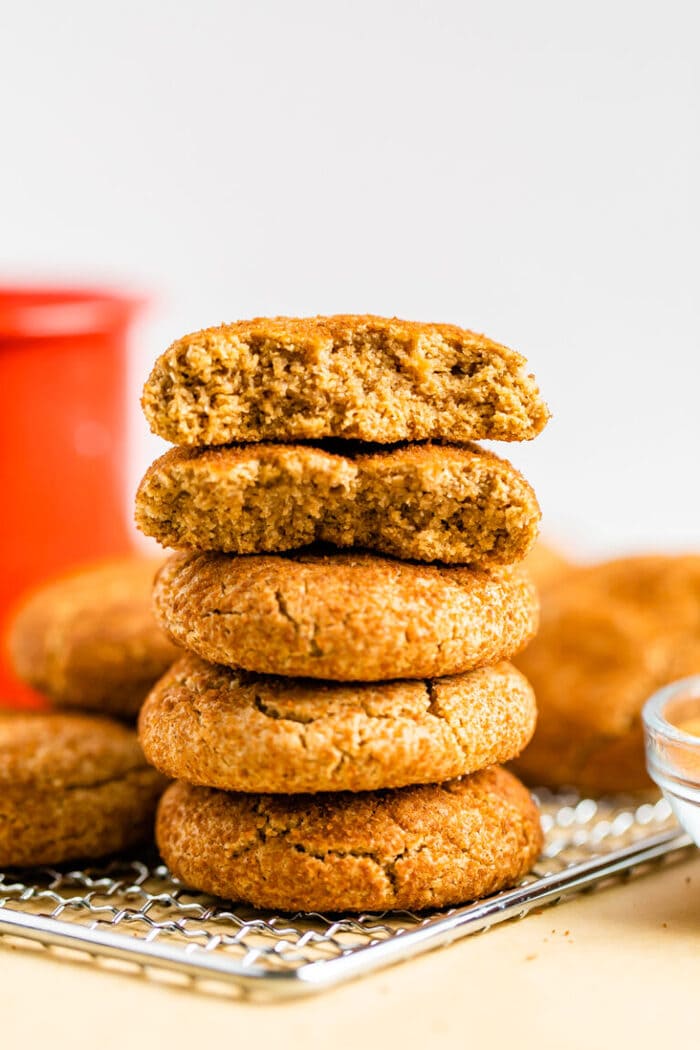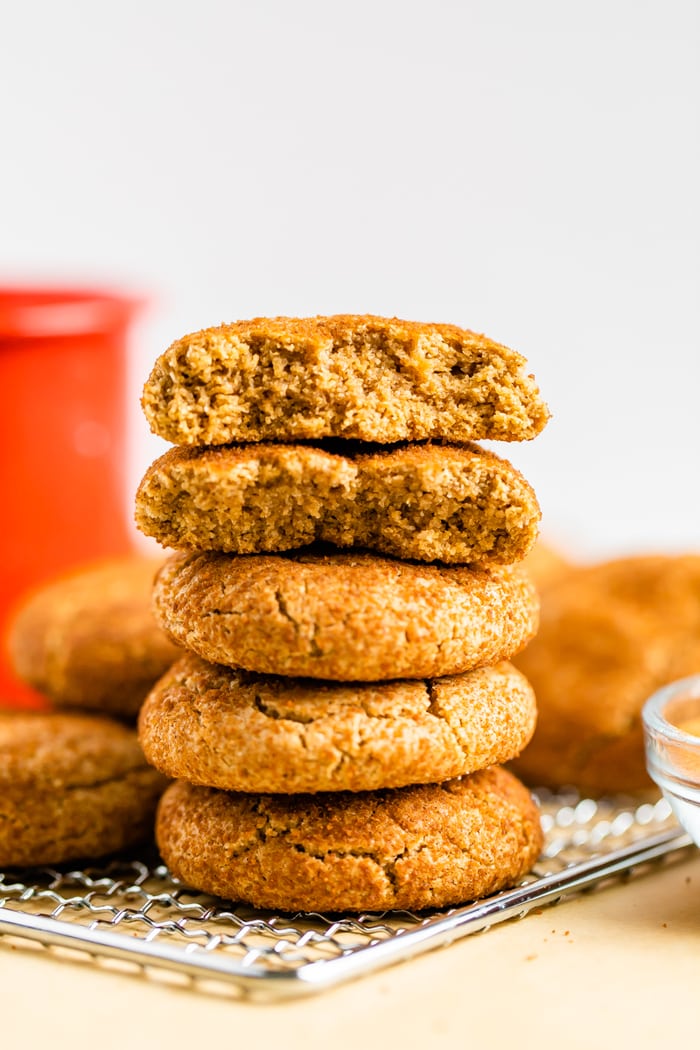 Guten-Free Snickerdoodles FAQ's
What is cream of tartar?
One ingredient that almost all snickerdoodle recipes call for is cream of tartar! Cream of tartar is a dry powder that comes from fermenting grapes into wine. You can find it in the spice aisle near the baking soda and baking powder. It's the cream of tartar that makes a snickerdoodle different from a traditional sugar cookie. The acid gives snickerdoodles their distinct flavor and texture. Whatever you do, don't swap out or skip the cream of tartar.
What is the difference between cinnamon sugar cookies and snickerdoodles?
The primary difference between cinnamon sugar cookies and snickerdoodles lies in the recipe's ingredients and the cookies' texture. Snickerdoodles include cream of tartar as a key ingredient, which gives them their classic tangy taste and chewy texture, along with causing the cookie to rise and have a more crinkled surface. On the other hand, cinnamon sugar cookies are generally more straightforward, lacking cream of tartar, resulting in a sweeter flavor and a crispier texture.
Why did my snickerdoodles come out flat?
One common culprit is overmixing the dough, which introduces too much air into the mixture. This air can then cause the cookies to rise rapidly and fall flat during baking. Also, the leavening agents' freshness, such as baking soda, baking powder or cream of tartar, is crucial. If they're old or expired, they won't create the necessary chemical reactions, leading to less rise and a flatter cookie. Finally, the oven temperature plays a significant role. If the oven is not hot enough, it might not set the cookies quickly enough, leading to spreading.
Why are my cookies dry?
Dry cookies often result from either adding too much flour, which absorbs the dough's moisture, or baking the cookies for too long, causing them to lose moisture and become overly dry. Additionally, not having enough fat in the recipe can make the cookies less moist. To avoid dry cookies, it's important to measure ingredients accurately, keep an eye on the baking time, and follow the recipe's recommended amounts of ingredients.
More Holiday Cookies to Try
Be sure to check out all of my cookie recipes and the full collection of dessert recipes here on EBF!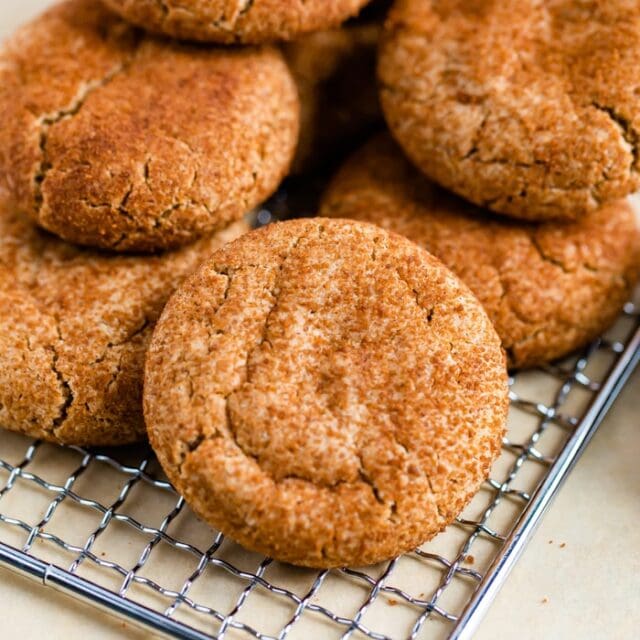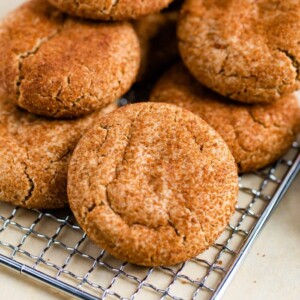 Gluten-Free Snickerdoodles
These easy gluten-free snickerdoodles are fluffy, chewy and loaded with cinnamon flavor in every bite. They're made with a combo of almond flour and oat flour and come together in one bowl!
Instructions
Preheat oven to 350°F. Line a baking sheet with a silicone mat or parchment paper, set aside.

In a mixing bowl, stir together the dry ingredients: almond flour, oat flour, cinnamon, cream of tartar, baking soda, baking powder and salt. Add the coconut oil, coconut sugar, maple syrup, and vanilla extract and stir until combined.

In a separate shallow bowl, make your cinnamon sugar by stirring together the cinnamon and coconut sugar.

Using a cookie scoop or spoon, measure out about 1 heaping tablespoon of dough and roll into a ball. Roll each cookie dough ball into the cinnamon sugar mixture.

Place on prepared baking sheet about 2 inches apart. Flatten cookies slightly with your palm or the flat bottom of a glass. Bake for about 10 minutes, until golden brown.

Let cool for 10 minutes and then transfer to a cooling rack to cool completely. 

Store leftover cookies in an air-tight container for up to 1 week.
Nutrition
Serving:
1
cookie
|
Calories:
176
kcal
|
Carbohydrates:
24
g
|
Protein:
3
g
|
Fat:
8
g
|
Sodium:
158
mg
|
Fiber:
3
g
|
Sugar:
12
g
Nutrition information is automatically calculated, so should only be used as an approximation.