Tomatoes are taking over our farmers market stands right now. Tons of beautiful tomatoes, in all different shapes and sizes – heirloom, cherry, grape, red, yellow, orange and green striped. There was simply no way I could leave the market on Saturday morning without buying some. And by some… I mean 2 pounds.
Obviously I had to come up with a good way to use them. Since it's summer and ridiculously hot, I decided a salad was in order.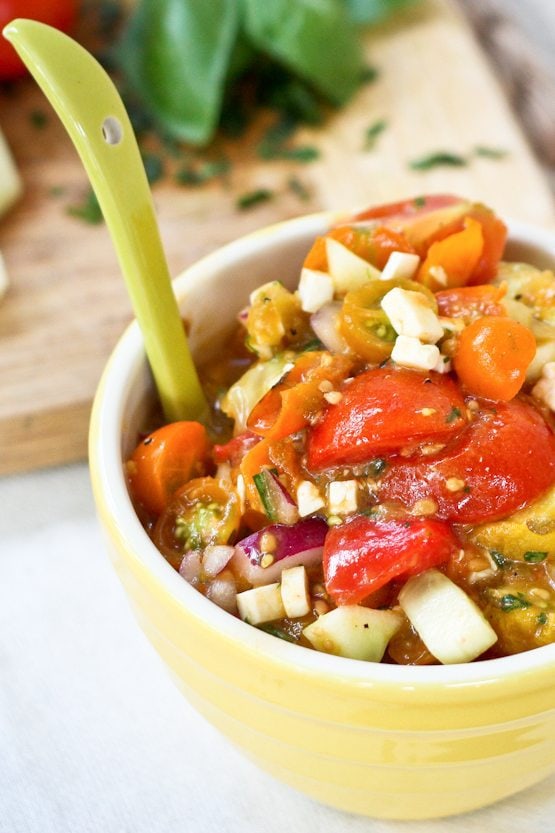 Then I saw this recipe on 101 Cookbooks and knew I needed to roast some of them – even if it did mean having to turn on the oven.

Had to be done.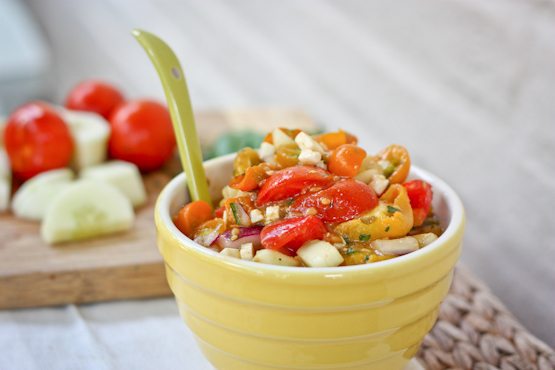 Roasting the tomatoes with a little olive oil and maple syrup was a lovely idea. They came out with a robust and sweet flavor, perfect for pairing with fresh veggies and a vinegar based dressing.

The best part about the salad is that almost everything in it was local. The cucumber was from Isaac's parents' garden, the basil was from our backyard, the tomatoes were from two different vendors at the South of the James Market and the goat cheese was from Goats-R-Us. Pretty sweet!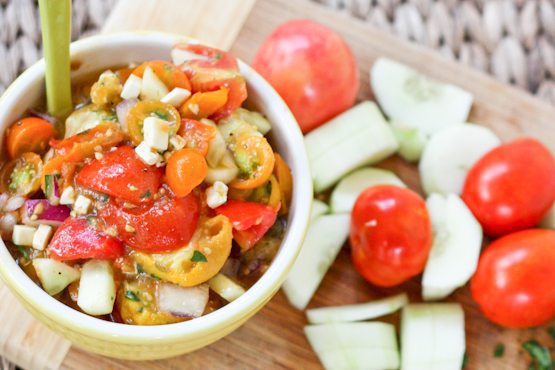 Print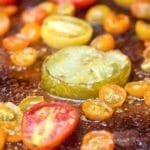 Farmers Market Roasted Tomato Salad
---
Description
Inspired by 101 Cookbooks: Heirloom Tomato Salad. It tastes lovely right away, but if you're able to save a little, it's quite awesome the next day, once the flavors "marinate," as well. The vegetables do release a bit of liquid after sitting for a few hours. If that's bothersome, you can drain the salad before serving.
---
Ingredients
2 pounds tomatoes (a mix of small heirlooms and cherry tomatoes), halved
1/4 cup olive oil
1 tablespoon maple syrup
sea salt
1/2 medium to large cucumber, chopped into small pieces
1/2 cup goat cheese feta, cut or crumbled into small chunks
1/4 cup red onion, chopped
2 Tablespoons white balsamic vinegar
1 Tablespoon fresh basil, finely chopped
sea salt and pepper
---
Instructions
Preheat the oven to 350°F and adjust one of your oven racks to the top third of the oven.
Cut tomatoes in half and place 1 pound in a bowl, set aside.
Gently toss the other pound of tomatoes in a bowl with the olive oil, syrup, and salt. Arrange them in a single layer, cut side up, on a rimmed baking sheet.
Bake until the tomatoes shrink and start to caramelize around the edges, about 45 minutes. Set tomatoes aside to cool for 30 minutes.
Gently toss roasted tomatoes, fresh tomatoes, cucumber, goat cheese, onion, vinegar and basil in large bowl. Sprinkle with sea salt and ground pepper to taste.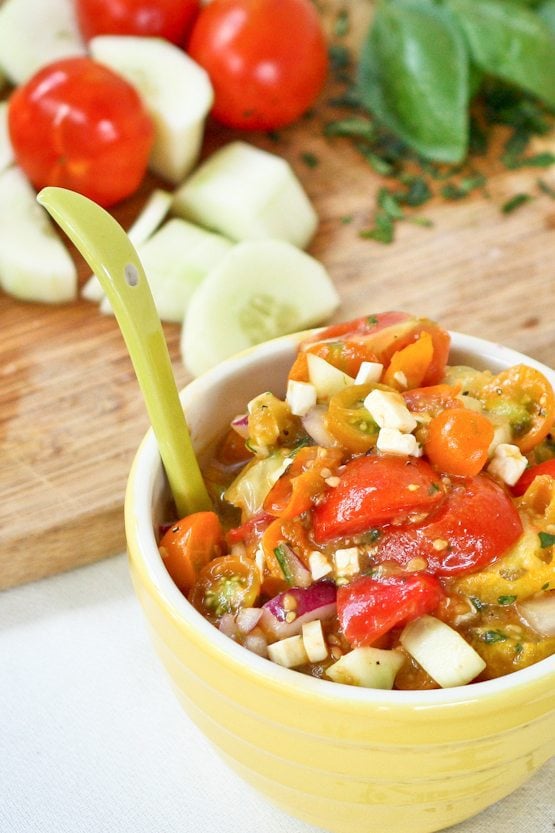 We had Isaac's good friend, Adam, in town for the weekend. I made this salad on Saturday night for us to enjoy for dinner alongside some grilled chicken (for the guys) and a grilled black bean burger for me. Everyone loved the salad. Adam told me to share his approval with the blog world. (Thanks Adam. :))
All this said, if you have a ton of tomatoes on your hands this summer, I highly recommend roasting a few and making this salad. I promise it won't disappoint.