Wow! Thank you all so much for such sweet comments about my first Vlog. To be honest, I was a little nervous to post it, but after hearing your feedback I'll definitely be doing one again sometime- maybe even a cooking demo per Sarah's request!!
On to other things, like Eating Bird Food. Yesterday morning I found myself eating actual bird food – Millet! And wow, let's just say that it's not just for the birdies, it's a nutritious and tasty treat for humans as well.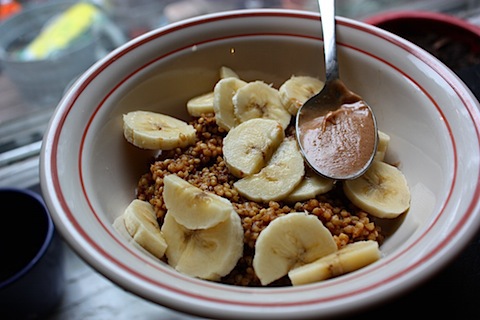 In terms of nutrition, millet is a gluten-free, whole grain and has more protein per serving than brown rice. It's also a good source fiber, as well as the minerals phosphorus, manganese and magnesium.
I found this wee little grain in the bulk bin section of my local organic market and prepared it per the instructions on the bin. (Tip- Most bulk bins have preparation instructions on them- I just recently realized this!)
Bring 1/4 cup millet and 1 cup water to a boil. Lower heat and simmer for 15-20 minutes until the liquid is absorbed. Of course I added some flavor flav to the mix by including a little almond milk, cinnamon and a chopped prune. The mixture came together quite nicely when topped with banana slices and a little sunbutter.
Millet alone has a mild, semi nutty flavor and I really enjoyed it as a warm breakfast, but I could see it being great as a savory side dish. Although millet looks a lot like quinoa uncooked, it's a bit heartier and turned out to be a little crunchy (maybe I didn't cook it long enough?). Because I've only tried cooking it this one time, I'm not sure if my batch turned out correctly or not, but it tasted good to me so I was happy. 🙂 However, I did find this website with more detailed millet cooking advice if you're interested in trying it yourself.
Lunch was a protein packed salad featuring CSA spring mix, a hard boiled egg, a homemade gluten free bean burger, and other salad toppings.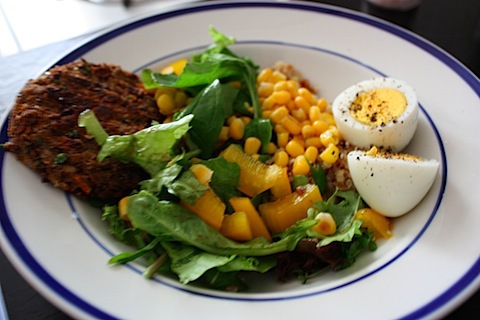 Dinner ended up being quite similar- a salad with more veggies (I went to the store to stock up after the gym).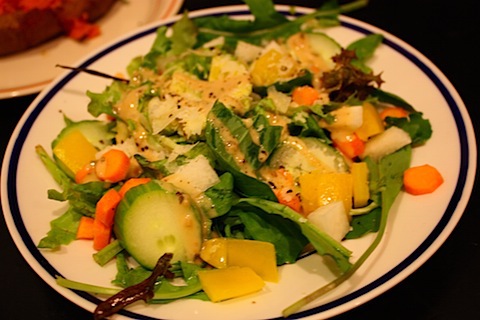 Alongside the salad I had the BEST sweet potato I've ever eaten – for real! People often say that organic produce tastes better, sweeter, fresher, etc and I agree to some extent – especially when it comes to bananas and strawberries. But, after eating this sweet potato I will never buy a conventional sweet potato again – there's no question that organic are far superior in sweetness and flavor. The Garnet Yam featured below was purchased at Whole Foods, and it was so good I ate it (skin and all) with only sea salt and pepper.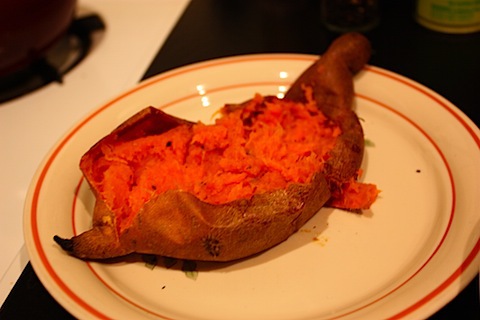 Yum. The entire time Isaac and I were eating our potatoes we kept commenting to one another how delicious they were. I already want to make my way back to Whole Foods and buy more!!
While we're on the topic of dinner I'll just throw out tonight's dinner as well.
Homemade Tofu Spring Rolls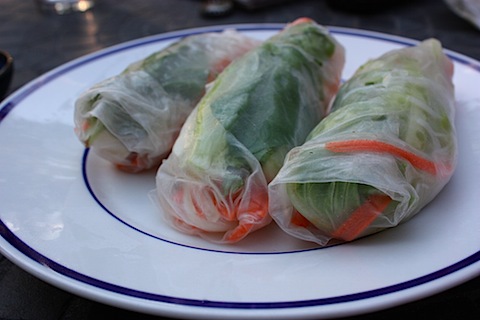 I absolutely love ordering spring rolls when eating Thai or Vietnamese cuisine out, but they're so cheap and easy to prepare it's only logical to make them at home sometimes too. Plus, it's been super hot out in my neck of the woods and spring rolls are the perfect warm weather dinner.
Here are the goods: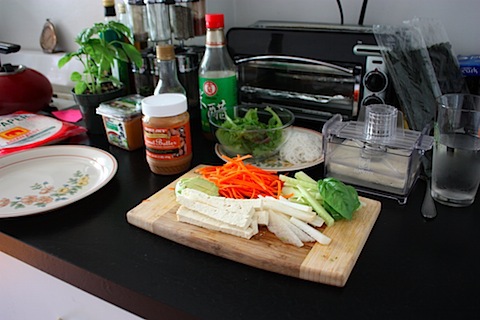 Avocado, plain tofu, jicama, carrots, cucumbers, basil, lettuce and rice noodles.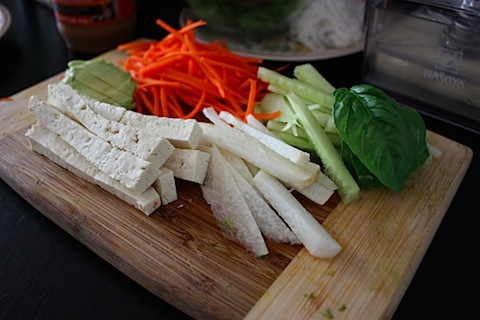 I love the tofu press (affiliate link) I won on twitter from Nasoya. It works way better than using heavy cookbooks to press my tofu, considering every time I do that the books tend to fall off in about 20 minutes.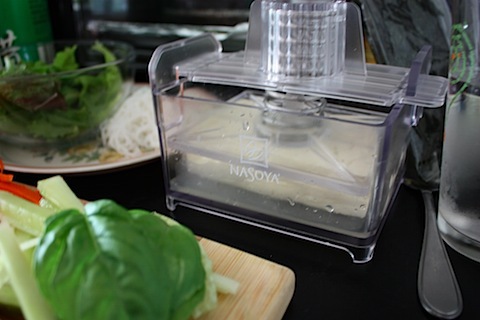 Rice paper wraps, fresh basil, and miso (for the peanut dipping sauce).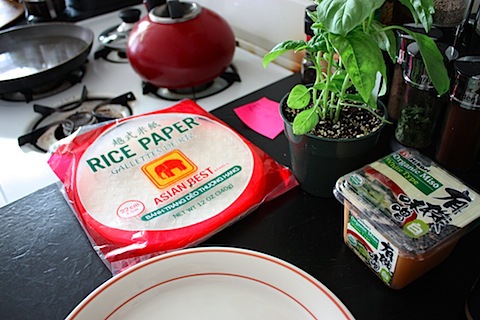 Before wrapping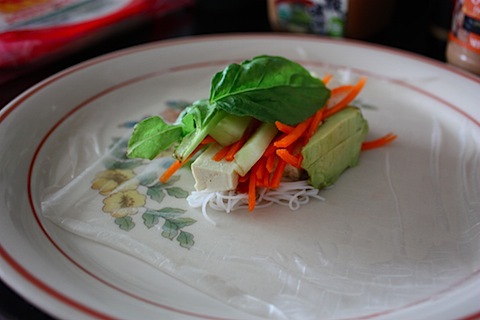 All wrapped up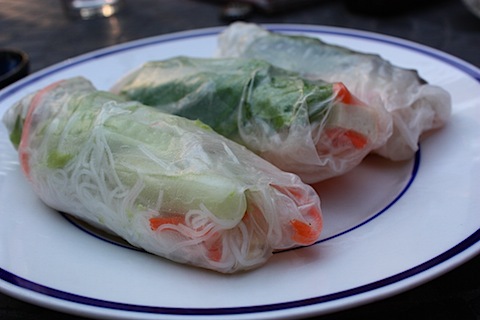 Served up with a homemade peanut sauce based off this recipe and store bought sweet chili sauce.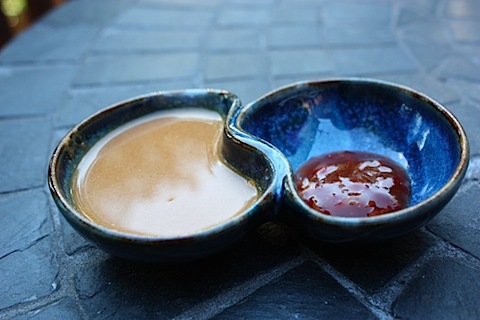 Homemade Peanut Sauce for Dipping Spring Rolls
1/8 cup hot water

1/4 cup peanut butter

1 T tamari

2 T rice vinegar

1 T white miso

1/4 teaspoon red pepper flakes
Mix together until well blended and serve.
After enjoying dinner outside on the deck, I "attended" Guy Kawasaki's opening keynote for the Social Media Success Summit . Can I just say that I'm so excited to be part of this summit. I'm attending this summit on behalf of the company I work for, as my role there now includes more of an online marketing focus. 🙂 I've already picked up so many tips on how to utilize both Facebook and Twitter for marketing purposes and tonight is just the beginning of the 4 week program.
Okay friends, I am signing off for the evening. The faster I go to sleep, the faster Modern Family day will arrive. <– Is it lame that I love this show so much?
-Brittany