Daily Harvest Review
3
Published Mar 18, 2021, Updated Sep 27, 2023
My honest review of Daily Harvest, a food delivery service that sends nourishing, organic food that is super quick to whip up!
Thank you to Daily Harvest for sponsoring this post. As always all opinions are my own! Use code BIRDFOOD for $25 off your first box!
So many people try to prepare you for the heart explosion that happens when you're a new parent… and the sleepless nights.
But no one really prepared me for how to juggle sticking to my health goals, while working from home and being a new mama!
I always joked in the early days that Olivia had eaten 3-4 times before I had a chance to make myself something to eat for breakfast, but it was actually the truth.
It's certainly better now, but I still feel like I have about 5 minutes to grab something quick before motherhood or work calls!
Isaac and I have a pretty good grasp on planning and prepping healthy dinner recipes. But when it comes to breakfast and lunch, I'm always on the hunt for easy and super healthy options that require minimal prep (and clean up), especially since we're both working from home.
That's where Daily Harvest comes in.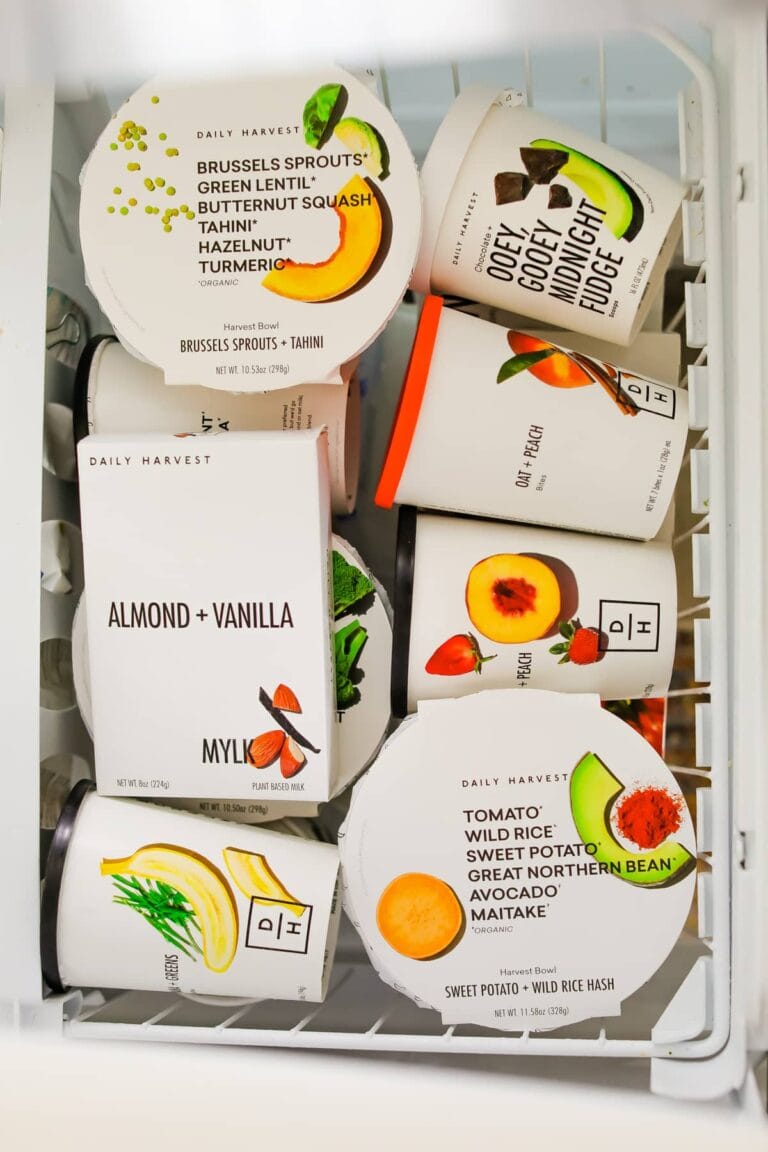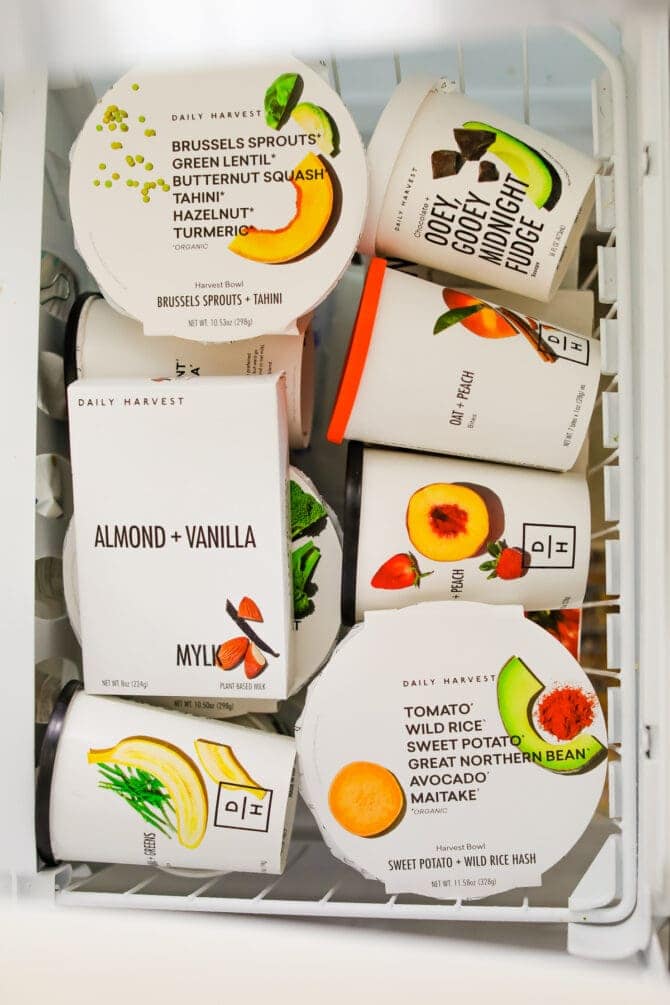 We have used Daily Harvest several times in the past and recently stumbled across them again when seeking out meal delivery services this year.
I have to admit that I was really impressed to see how much their recipe selection has expanded! I remember the early days when Daily Harvest started as a smoothie company, but they have so many options now.
We've been trying the meals this month and honestly it has been a game changer to have a freezer full of healthy meals that are ready in no time at all. The meals have enabled us to put breakfast and lunch on autopilot and streamline our work from home meals.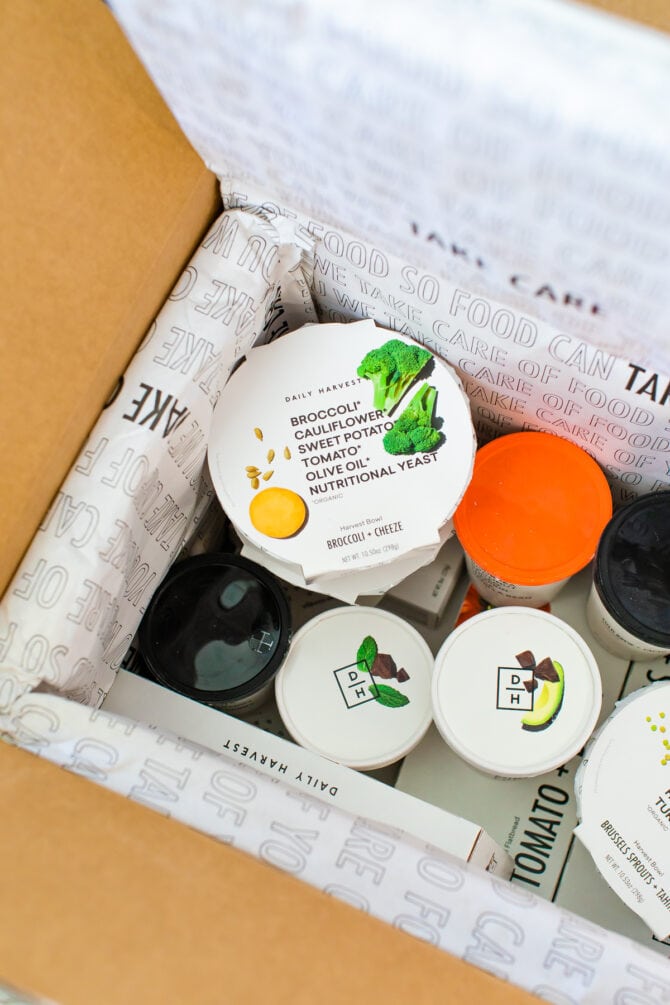 What is Daily Harvest + How Does it Work?
Daily Harvest is a meal delivery service that can be customized to you and your needs. It was started because the founder saw a disconnect between nourishing food and convenient food. And it's so true… most convenience foods at the store aren't very nutritious and are seriously lacking when it comes to fruits and veggies.
With Daily Harvest every meal is built on organic fruits and vegetables and flavor is not sacrificed for convenience.
And it's great if you have special dietary needs because all of the food that Daily Harvest provides is dairy-free, gluten-free, and vegan.
You can have meals delivered weekly or monthly and you can choose from 80 recipes ranging from smoothies to harvest bowls to flatbreads to oat bowls. I have been so impressed with the quality and flavor of these frozen meals!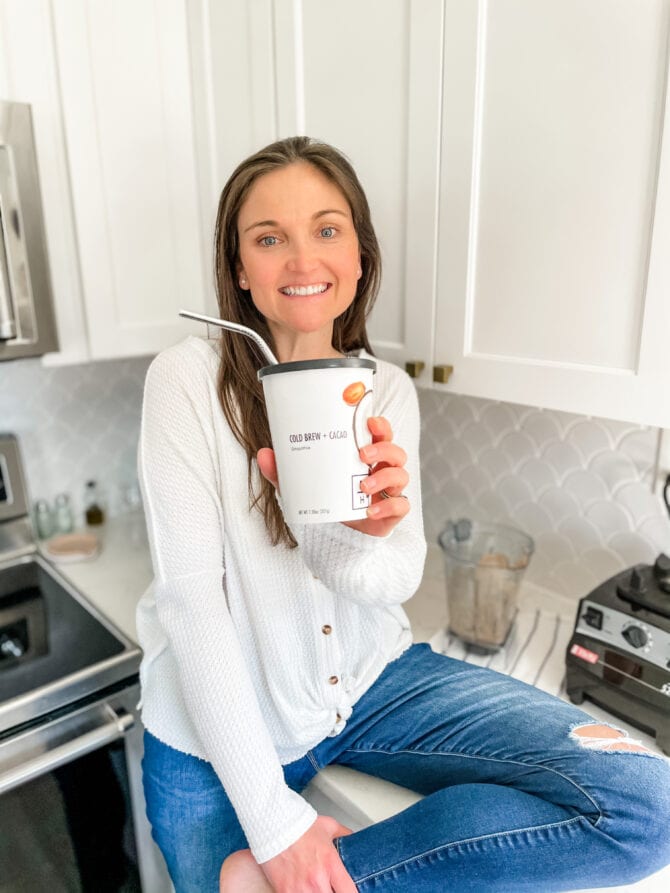 Why I've Been Loving Daily Harvest
Convenient — Convenience is king here! The meals are literally delivered to your doorstep. Doesn't get much easier than that!
Customizable — You can make each box your own and switch things up with each order so you never get bored.
Fast + Easy — The meals require no prep, are ready in minutes and most can be eaten with one hand (a nice benefit for new parents who always have their hands full, literally).
Ingredients You Can See — The ingredients are listed on the cup/container and nutrition facts are provided for every meal.
Freezer, Not Fridge — Ingredients are frozen at peak ripeness for more nutrients, better flavor (and reduced food waste). If plans change and you don't need your Daily Harvest meals for a couple days… no worries! Most DH meals will stay fresh in your freezer for up to 3 months!
Taste — All of the meals we've tried have been super tasty. There hasn't been a single one we didn't enjoy.
How to Make Daily Harvest Recipes
Like I mentioned, Daily Harvest goes way beyond smoothies now and has a huge variety of unique recipes to choose from including oat bowls. Here are some of the meal collections they offer:
Daily Harvest Smoothies
Smoothies are where it all started with Daily Harvest and they have so many flavors to choose from!
I don't know about you, but oftentimes when I'm making smoothies I just throw a bunch of stuff in my blender and hope for the best. And sometimes the result is a little lackluster. No need to worry about that with the DH smoothies. You get a perfectly balanced and tasty smoothie every time.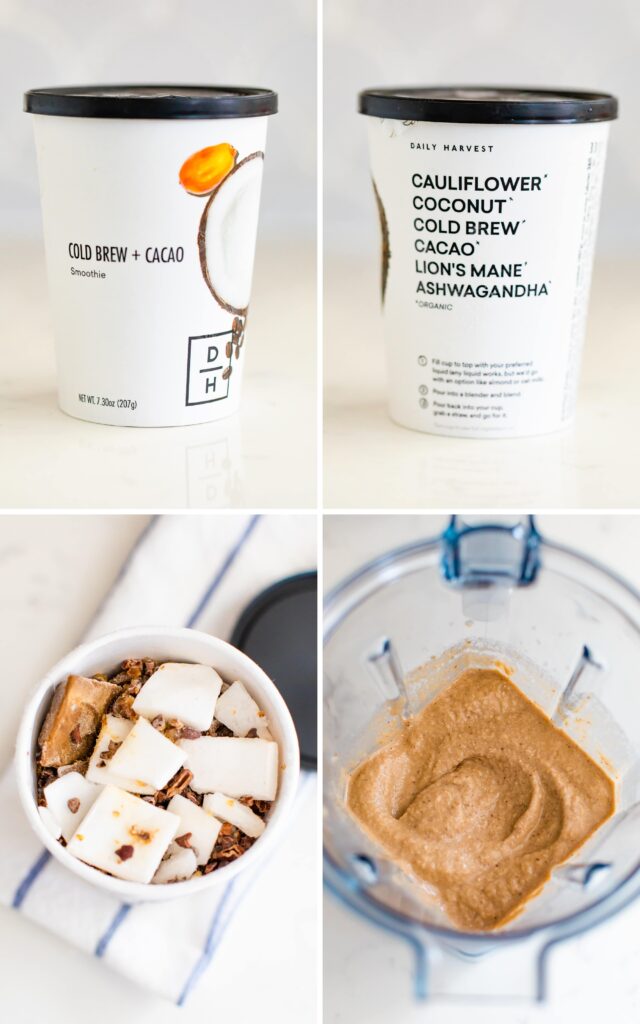 This is the Cold Brew + Cacao Smoothie – As a coffee lover, I had to try this one. It's thick, creamy and delicious. Isaac loved it too!
How to Prepare Daily Harvest Smoothies:
Fill cup to top with your preferred liquid. I like using a plant-based milk.
Pour into a blender and blend.
Pour the smoothie back into your cup and enjoy.
Pro tip: Once prepared, smoothies will keep in the refrigerator for 12 hours or you can store the prepared smoothie in the freezer. Just let it thaw a bit before eating again for a semi-frozen, granita-like treat.
Pro tip: I like adding a scoop of protein powder or collagen to the smoothies to amp up the protein a bit!
Daily Harvest Flatbreads
The flatbreads are personal sized pizzas made with nutrient dense ingredients for the crust, sauce and toppings. Like all Daily Harvest meals, they're 100% gluten-free.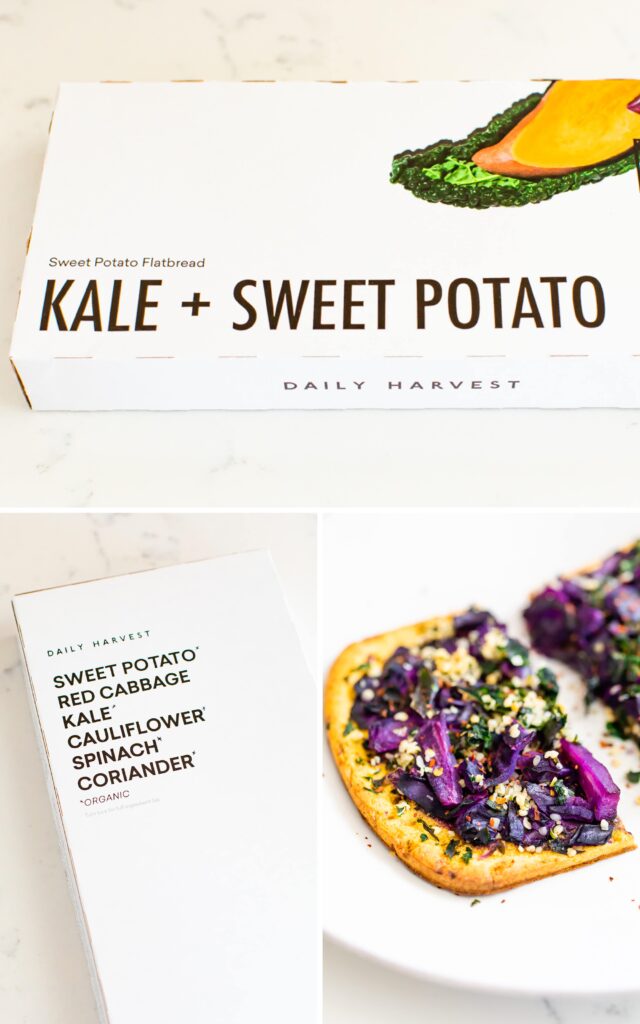 How to Prepare Daily Harvest Flatbreads:
Place baking sheet on center rack of your oven or toaster oven and preheat to 450°F.
Unwrap and remove Flatbread from base. Place frozen Flatbread on preheated baking sheet and bake for 20-25 minutes until edges are a deep golden brown.
Cool 1-2 minutes and enjoy!
So far my favorite flatbread has been the sweet potato + kale. Sweet potato is actually the crust of the flatbread instead of a topping and it's soooo good! I was really impressed with this one.
More protein: The flatbreads are filling enough for lunch for me, especially when paired with a side salad, but you could also add some extra protein on top. A little grilled chicken or a few chickpeas would be perfect.
Daily Harvest Harvest Bowls
Veggie-packed bowls that are easy to heat up on your stovetop or in the microwave!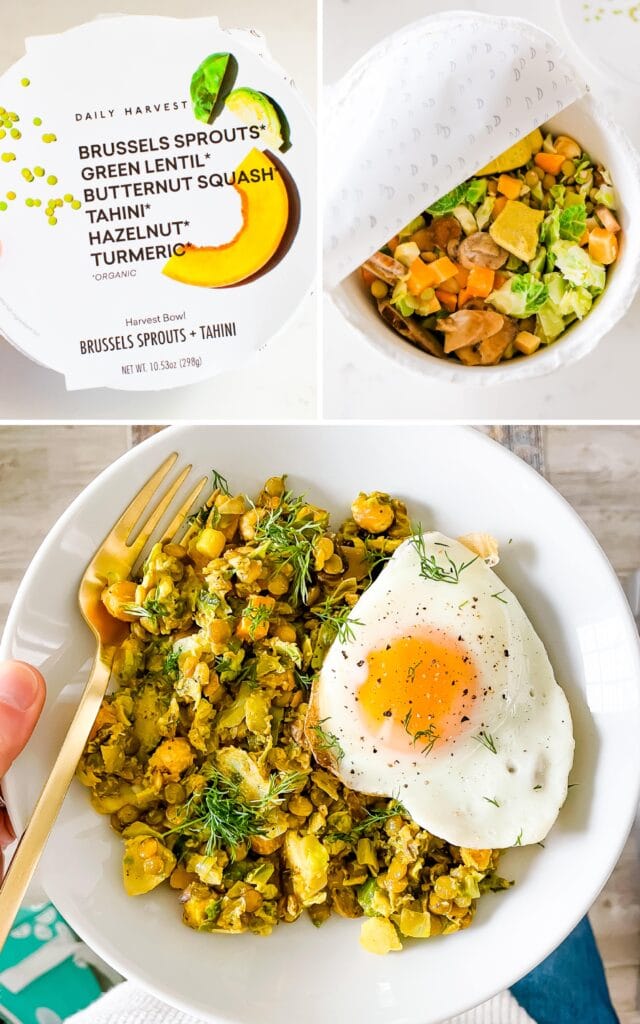 How to Prepare Daily Harvest Harvest Bowls:
For stovetop, pour into a pan and cook over medium-high heat for 4-5 minutes. Add 1-2 tbsp of water or broth if needed. This is my preferred method!
For microwave, keep in the bowl—it's microwave-safe. Heat for 4-5 minutes, stirring halfway in between.
Serve!
Feeling fancy or what more protein? Overall these bowls are pretty low in calories and might not be filling enough for a full meal. I love topping these with an egg, hot sauce and fresh herbs if I'm feeling fancy and have them on hand.
My fave harvest bowl: brussels sprouts + tahini harvest bowl.
Daily Harvest Mylk
I was so impressed by these! They are tightly packed, undiluted almonds, sea salt and water frozen into wedges, without any of the gums or fillers typically found in most store-bought nut milks.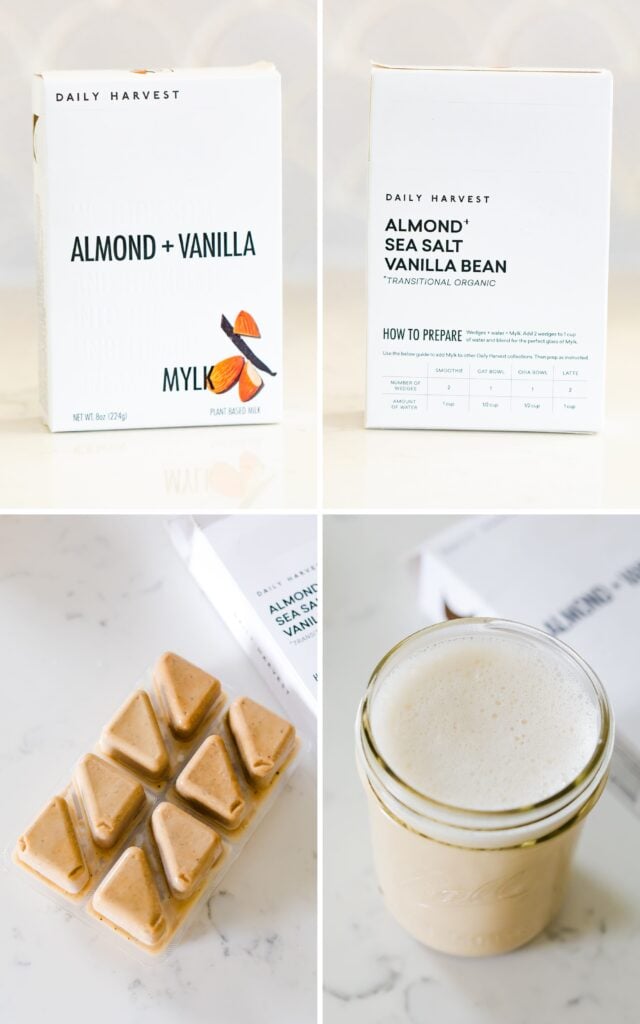 How to Prepare Daily Harvest Mylk:
Add 2 wedges and 1 cup of water to blender for 8 ounces of almond mylk!
Pour and enjoy.
These wedges are so convenient because you can use them for other Daily Harvest meals including the smoothies, oat bowls, chia bowls or even the lattes!
Daily Harvest Scoops
The scoops are pints of healthy ice cream, made with wholesome ingredients. These aren't something I would order with each of my Daily Harvest boxes, just because they're more of a treat and the whole reason we're using Daily Harvest is to make the prep and clean up for meals easier! That said, these are so delicious and the perfect night cap!
How to Enjoy Daily Harvest Scoops:
Let sit for 10 minutes before digging in for perfectly creamy Scoops.
Enjoy.
So far I've tried the Mint + Dark, Melty Cacao flavor and it totally satisfied my craving for mint chocolate chip ice cream.
Daily Harvest Bites
This is another item I probably won't order on the regular just because I love my homemade protein balls, but if you're super low on time and need easy, healthy snacks, the bites are super tasty and convenient.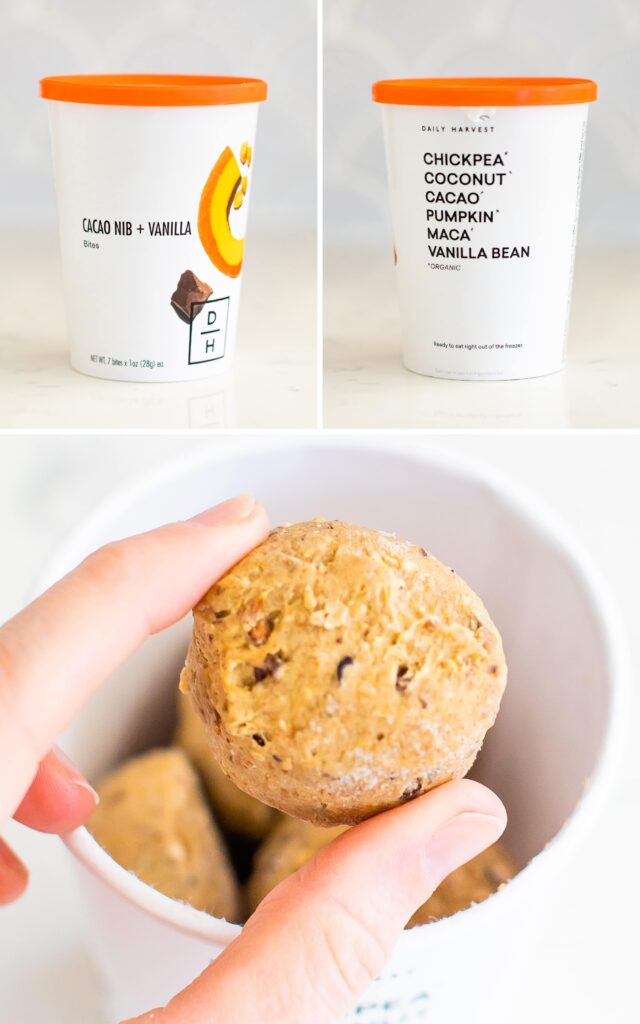 How to Enjoy Daily Harvest Bites:
The bites are ready to eat right out of the freezer.
Each container has 7 bites and all of the bites have around 100 calories and 1-3 grams of protein.
My fave bites: the cacao nib + vanilla (they remind me of my cookie dough bites), but the coconut + lemon and chocolate + hazelnut are delicious as well.
How Does the Daily Harvest Subscription Work and Can I Cancel at Anytime?
Yes, Daily Harvest is a subscription model but it's super customizable! Start by deciding how many recipes you want (9, 14 or 24) and how often you want them delivered (weekly or monthly). After your first delivery, you can always swap out selections, change your box size, skip a week, pause or cancel.
You can easily cancel your plan in your account settings. Just make sure you do it before Sunday night which is when your next box gets scheduled to ship.
Are Daily Harvest Meals Healthy?
Yes! I was so impressed with the quality of these meals. All of their meals are focused around fruits and vegetables. They use nothing but real food – never any additives, preservatives, or fillers.
Some of the meals feel a little small (or too low in calories) to constitute a full meal, but I've found it to be really easy to add extra protein or a side to make them a bit more filling.
Are All the Daily Harvest Meals Organic? Are They Vegan? Gluten-Free?
All of the Daily Harvest meals are plant-based, vegan and gluten-free! 95% of the ingredients they use are organic – these are noted both on the recipe detail page and on the back of the container.
They use organic for all ingredients that appear on the EWG "dirty dozen" list (the most pesticide-intensive fruits and veggies).
How Much Does Daily Harvest Cost?
The cost of each meal varies, ranging from $5.99 for oat and chia bowls to $8.99 for flatbreads and harvest bowls.
The meals aren't as cheap if you were simply cooking at home, but you're paying for the high-quality ingredients, convenience and ease. And this isn't too bad if you think about how much it costs to order a meal out at a restaurant.
Is Daily Harvest Worth It? Should You Try It?
I think this really depends on your values and lifestyle. For us, the ease and convenience of having healthy, tasty meals sitting in the freezer is amazing and it's worth the cost for our family.
That said, if you're on a strict food budget or have ample time to cook healthy meals from scratch, Daily Harvest might not be the best fit.
Daily Harvest Coupon Code
I saved the best part for last! If you're looking for healthy, simple meals delivered straight to your door and want to try Daily Harvest use code BIRDFOOD for $25 off your first box.