Baby Girl's Nursery Reveal
31
Published Oct 26, 2019, Updated Mar 20, 2023
Eeee!! I'm so excited to finally share our baby girl's nursery with you. It turned out to be super bright, airy and minimal with a classic, yet slightly boho vibe. It honestly took way longer than I thought it would to put this room together, but I'm really excited with how it turned out.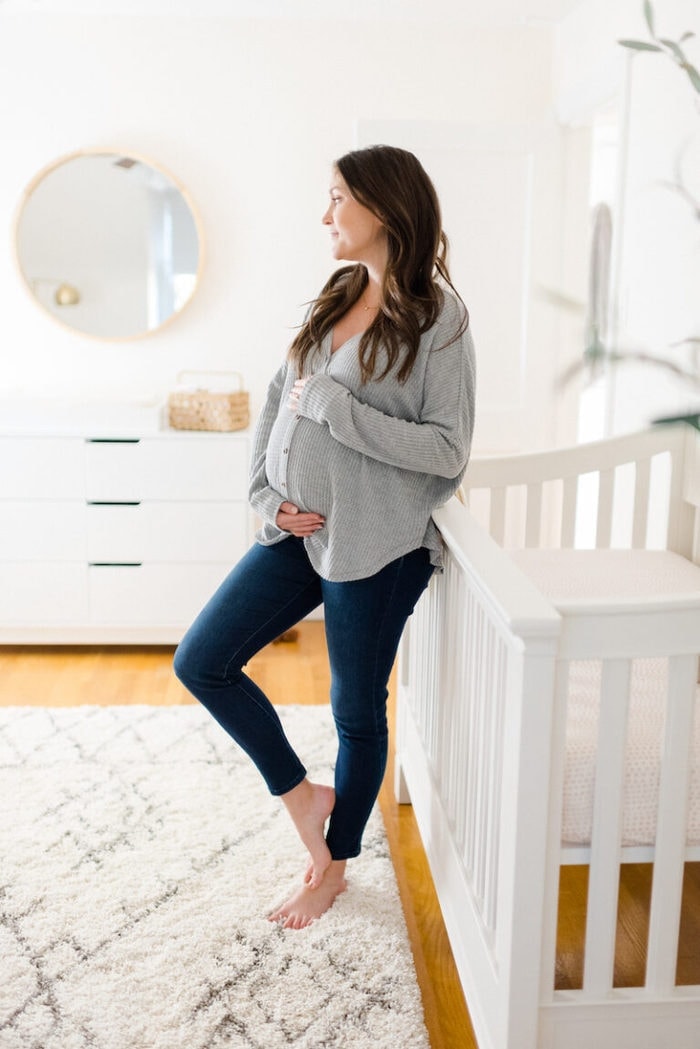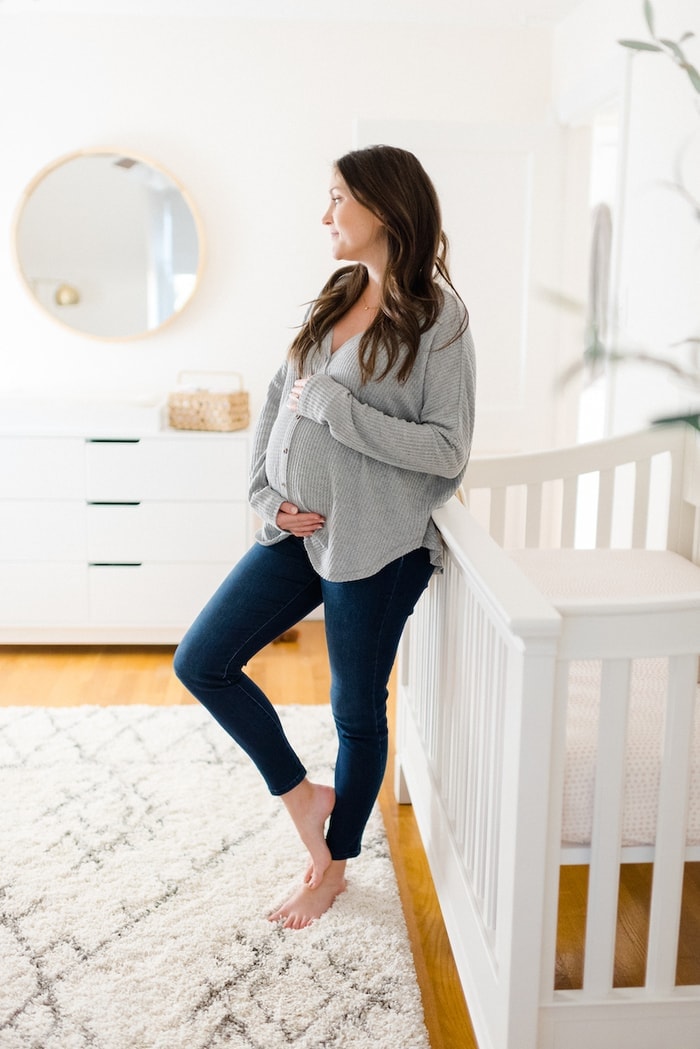 When deciding how I wanted to transform our guest room into a nursery I knew I wanted to keep things pretty minimal. I didn't want a theme, a ton of cutesy decor or a super girly (all pink everything) vibe.
That said, I knew I wanted the walls to have a hint of pink so that's where we started.
I actually asked for paint recommendations on Instagram without mentioning that it was for a nursery because we hadn't announced we were pregnant yet. My friend Austin recommend Seed Pearl from Behr, one of the colors she was using in her baby girl's nursery.
We picked up a sample, and I loved it! So, that's what we went with. I think it's hard to see in these photos, but the color has a lovely pink undertone in person.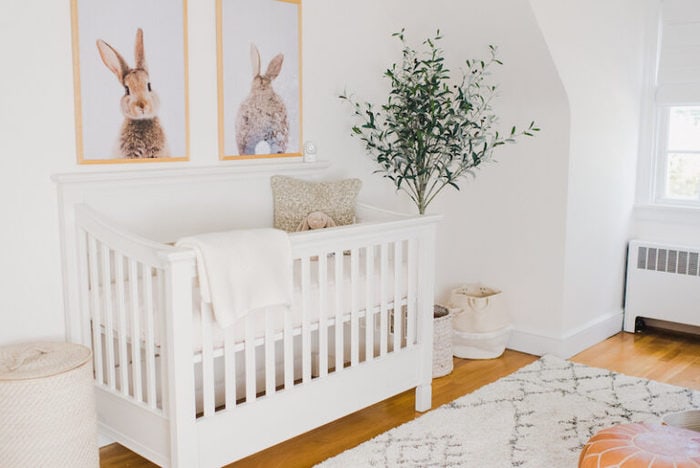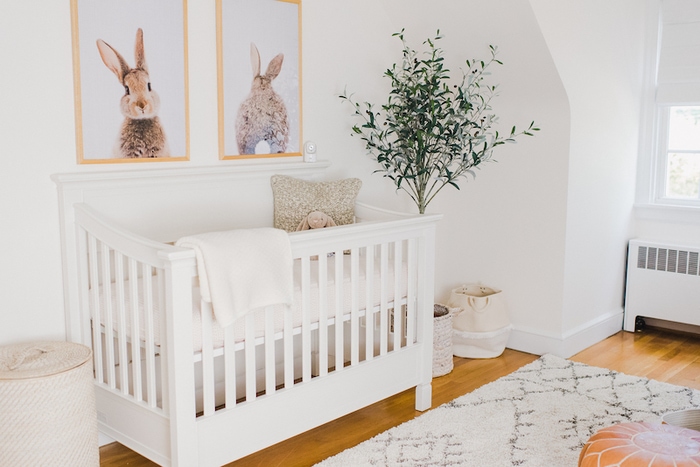 Once the room was painted, we started looking for furniture and purchased a few of the bigger items (the crib, dresser and glider) and then built the rest of the nursery around those.
We got the crib, glider and nightstand from Pottery Barn Kids when they were having a big Memorial Day sale, so everything was 30% off, which really helped to make it more affordable.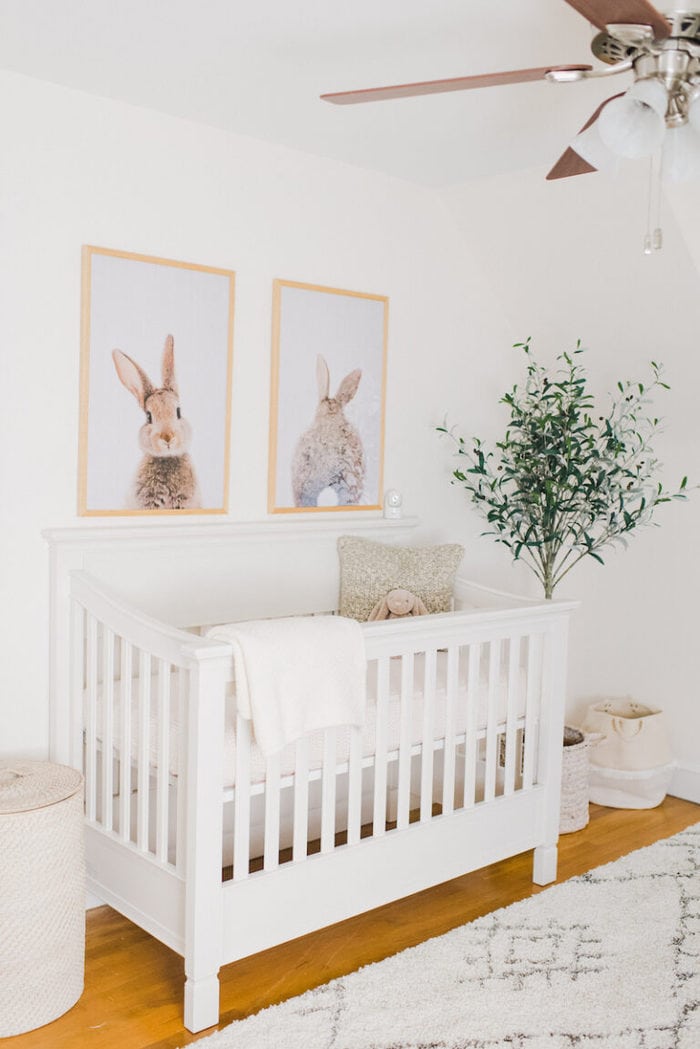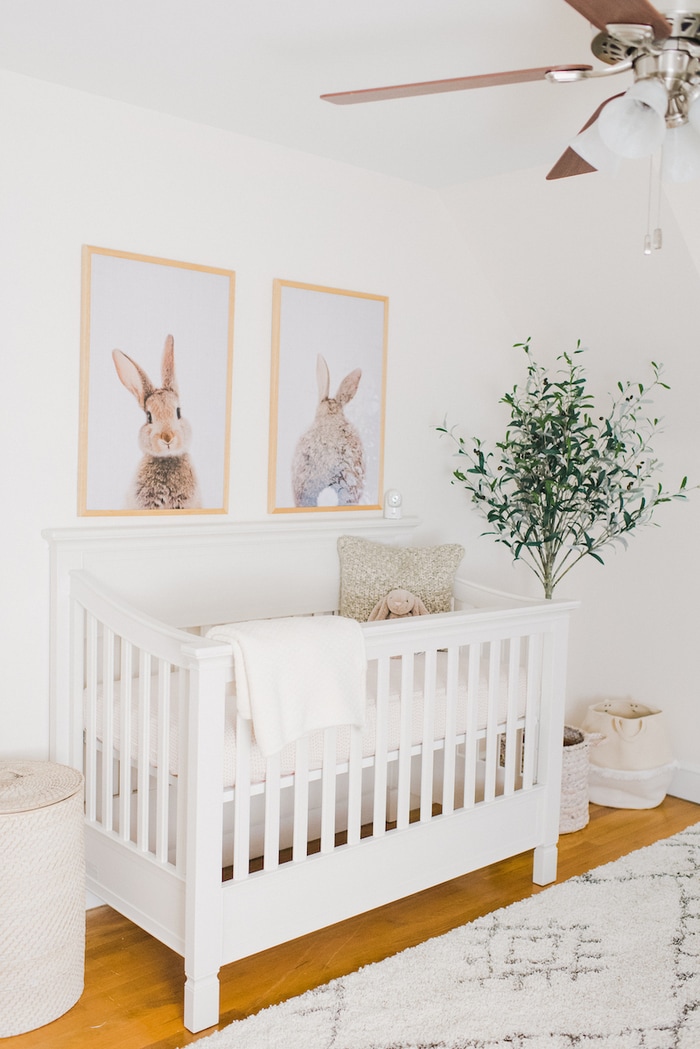 After finding the big stuff I honestly was so indecisive and spent waaay too much time on Pinterest and Instagram looking for decor inspiration. Figuring out what kind of art to buy was the hardest part and I still feel like we need a little more artwork, but I'm okay with that at this point. I know we'll find the perfect pieces in time and I didn't want to buy something that I didn't absolutely love, just to buy something.
I'm also working on a DIY wall hanging with eucalyptus, but it's not done yet so I don't have it up.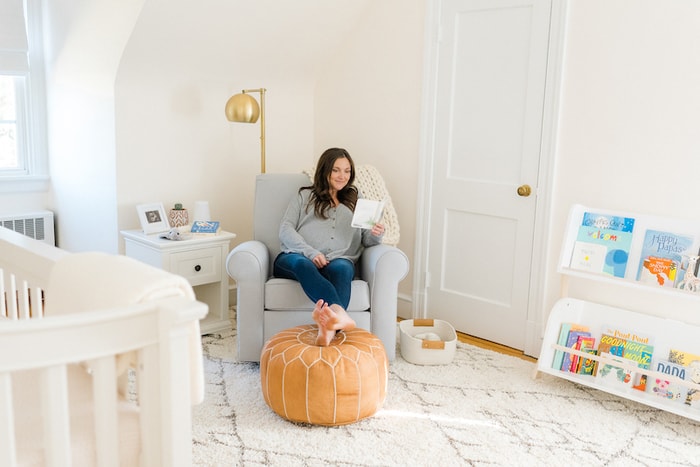 Nursery Inspiration
After my bout of indecisiveness, I finally settled on two main nursery images for inspiration.
The first was from my friend Kendall of Styled Snapshots. She has the cutest style and when I saw the bunny prints in her gender neutral nursery photos, I immediately fell in love. It took me a while to convince Isaac, but now he loves them too!
I mean, how cute is that bunny tush!? I can't.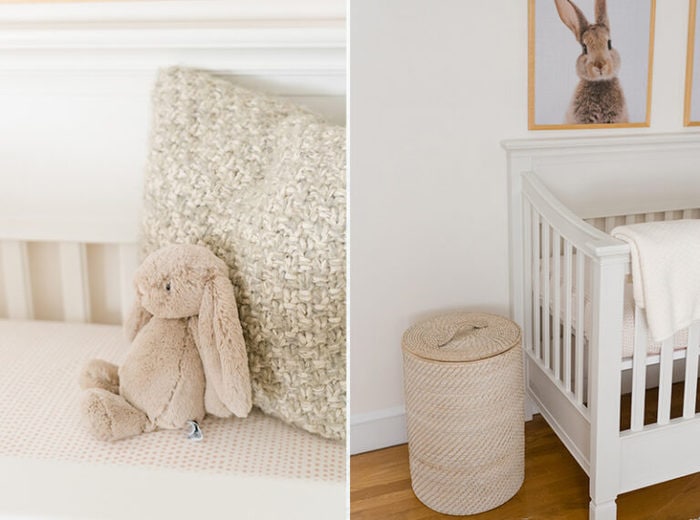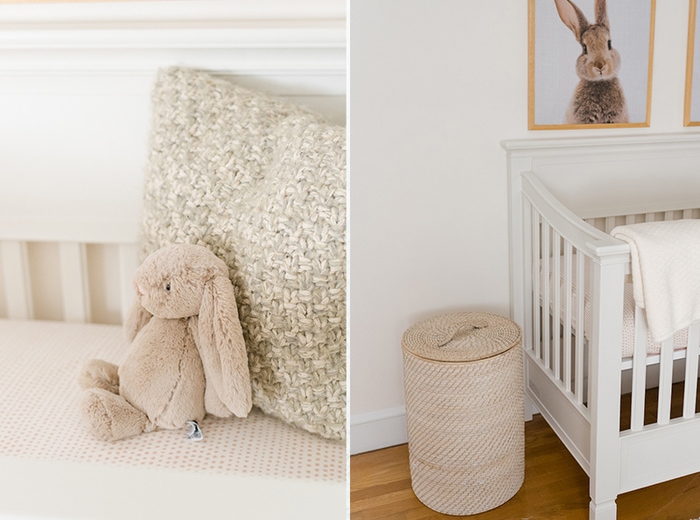 Non Toxic Bedding
After switching to a non-toxic mattress for ourselves years ago, I knew that I wanted to find a non-toxic crib mattress for the babe as well. Naturepedic has a variety of options and offered to gift me an organic breathable crib mattress as well as an organic changing pad. I really like both items and I feel good knowing that her mattress is non-toxic, safe, breathable and flame resistant (without the use of chemicals).
I also found organic crib sheets with pink polka dots from Pottery Barn that match the nursery perfectly.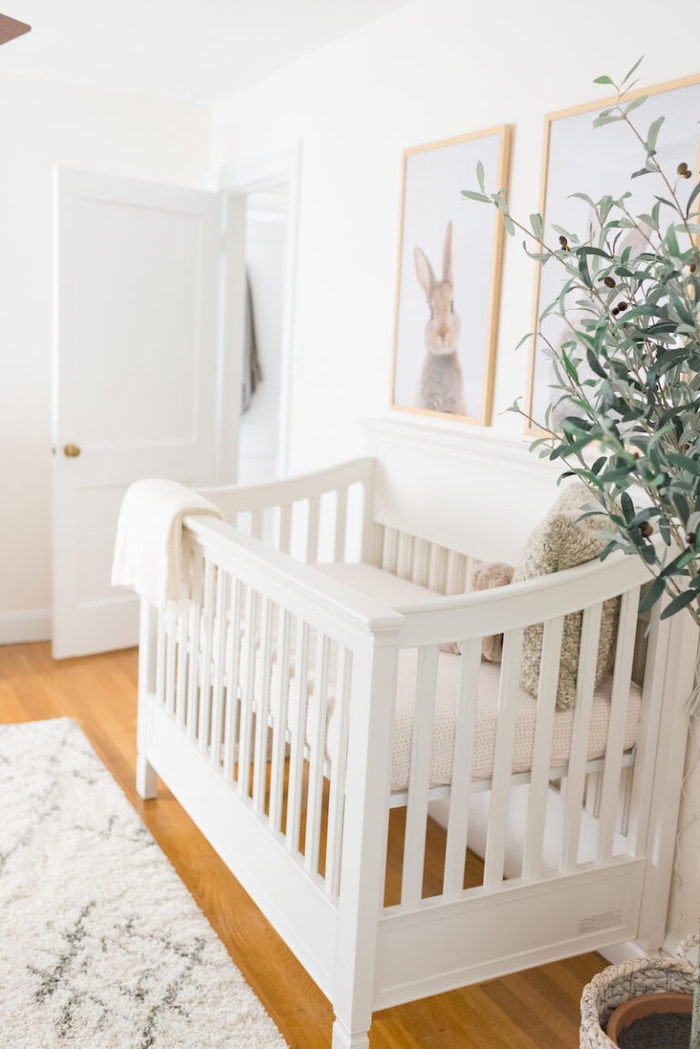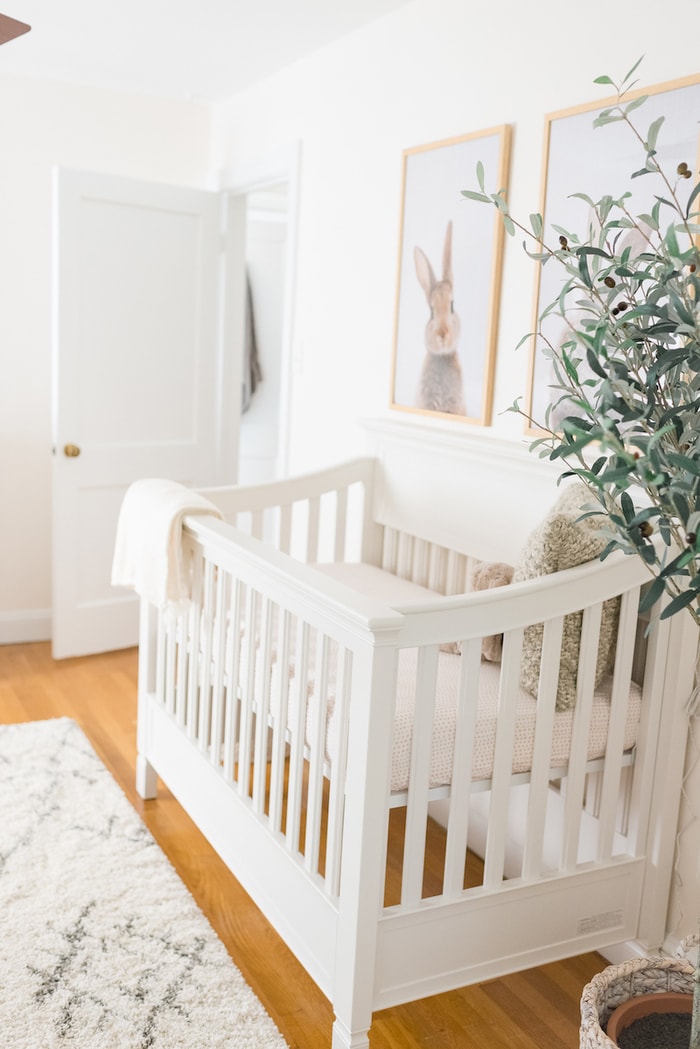 The other nursery design photo that I was inspired by is this one. I couldn't stop thinking about the Moroccan rug and after quite a bit of digging I was able to find it on Overstock.
The rug is definitely one of my favorite components of the nursery. It was relatively inexpensive (an 8×10 rug for less than $400!), but doesn't look or feel cheap — it's actually super soft and comfy.
I also really liked the gold lamp in the inspo photo and was able to find it at Target. We put a low wattage bulb in the lamp, so it's great for just a little bit of extra light and not super bright or overwhelming. It will be perfect for reading books before bed without having to turn on the overhead light.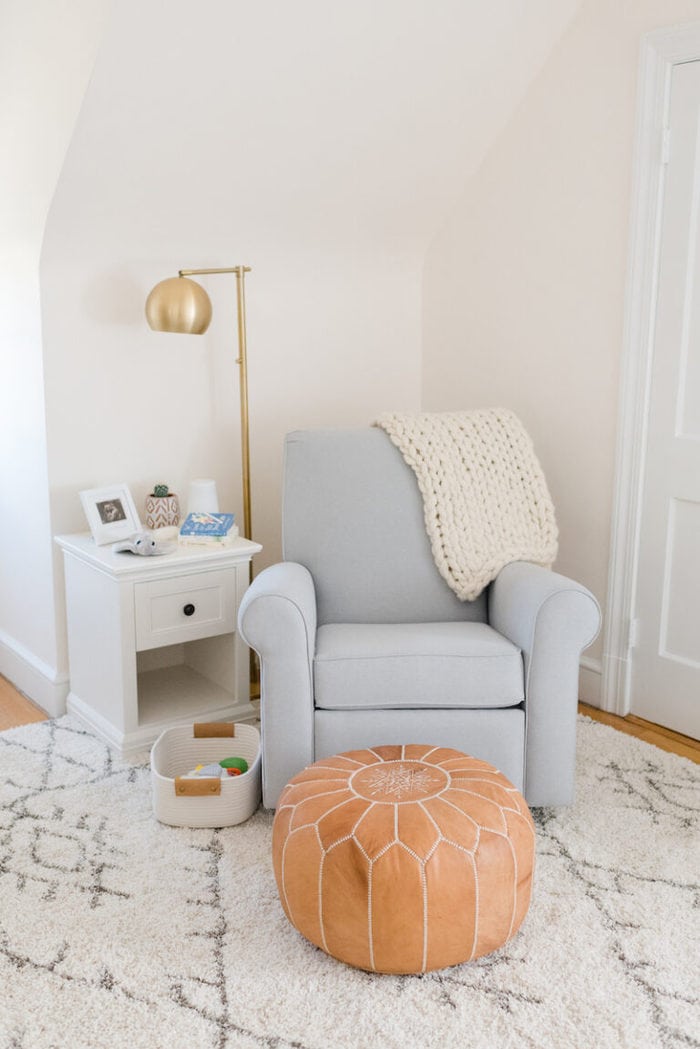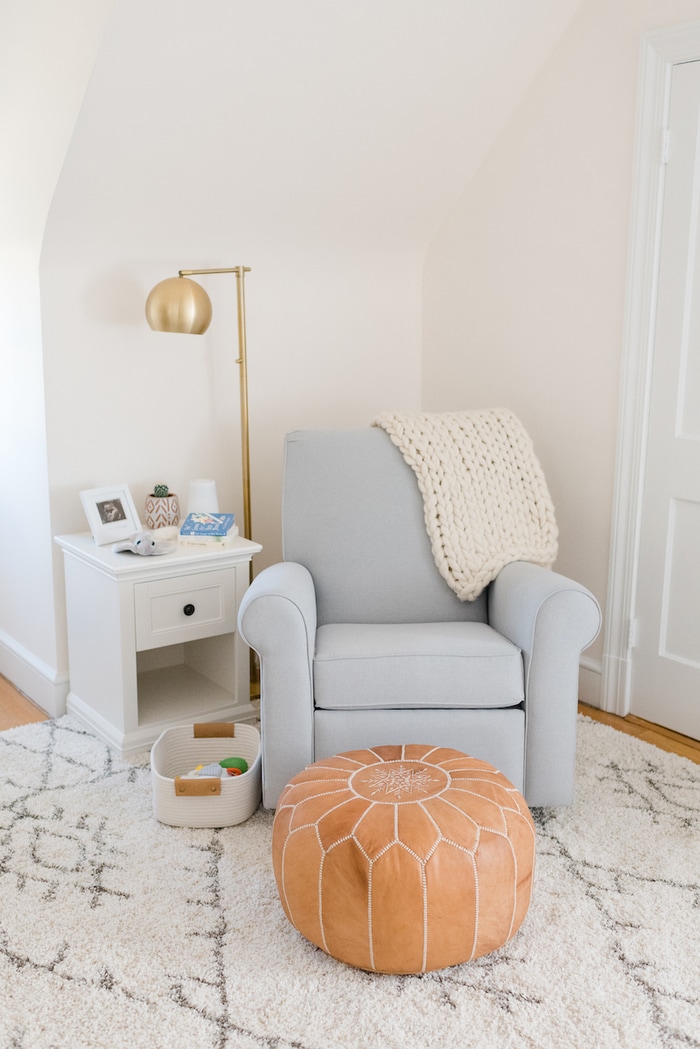 For the glider, we went with brushed cross-weave and the color is technically light gray, but as you can see, it's really a blue-gray. When it first arrived I was a little thrown off by the color, but now I like it. It gives the room a pop of color, which is a nice balance to all the white and light pink.
And oh my gosh, I'm really excited about the leather pouf that we're using instead of an ottoman. I've been wanting one of these for our living room for years, but they're pricey so I couldn't justify buying one. BUT I love it in the nursery! I think it gives the nursery a little bit of a Moroccan, boho vibe and adds texture to the room.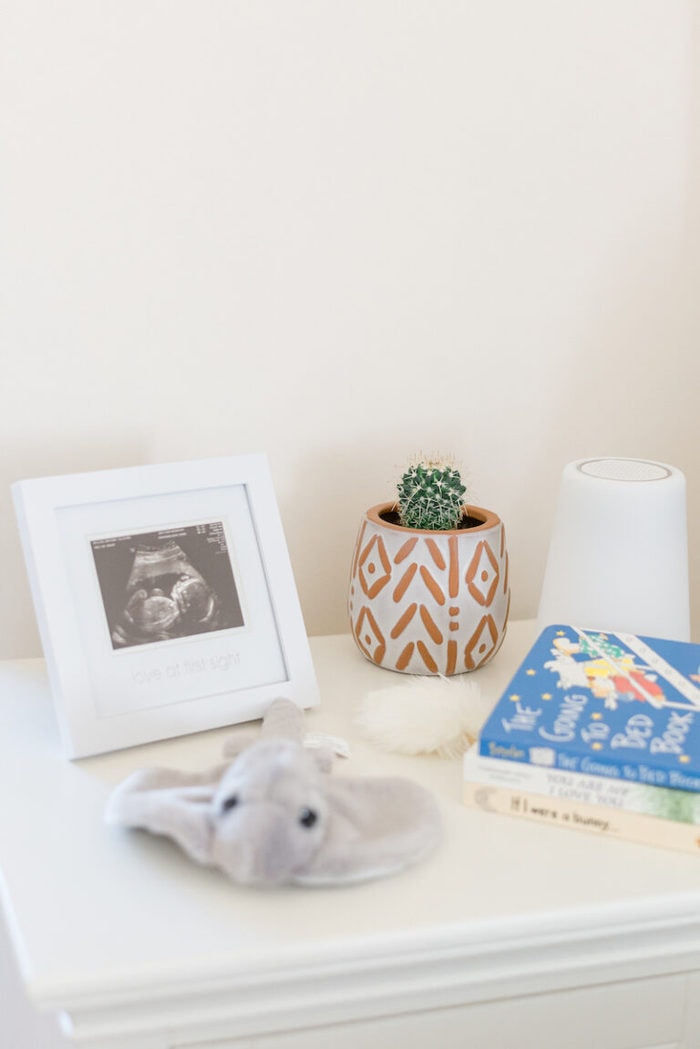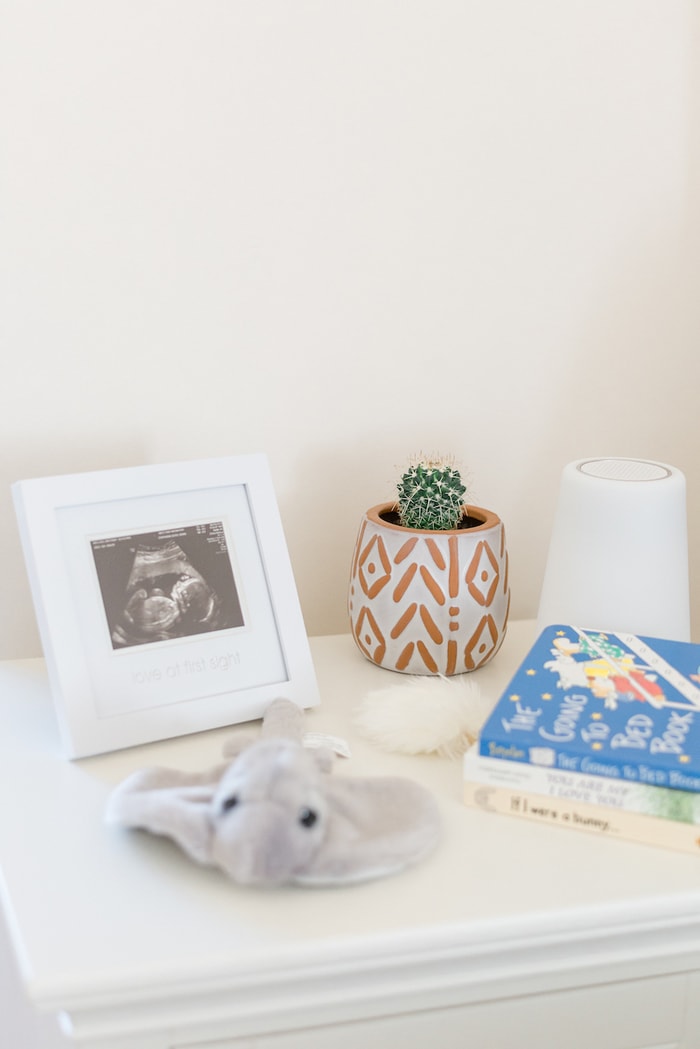 I wasn't sure about needing a nightstand, but we ended up getting one and I'm glad we did because we don't have a lot of other storage space in this room at the moment.
Right now I have some decorative things on the nightstand, along with the sound machine, but I see this being a prime spot to stash all my nursing/feeding necessities — my pump, nipple cream, snacks, etc. — as well as anything else we need for her feeding or bedtime routine.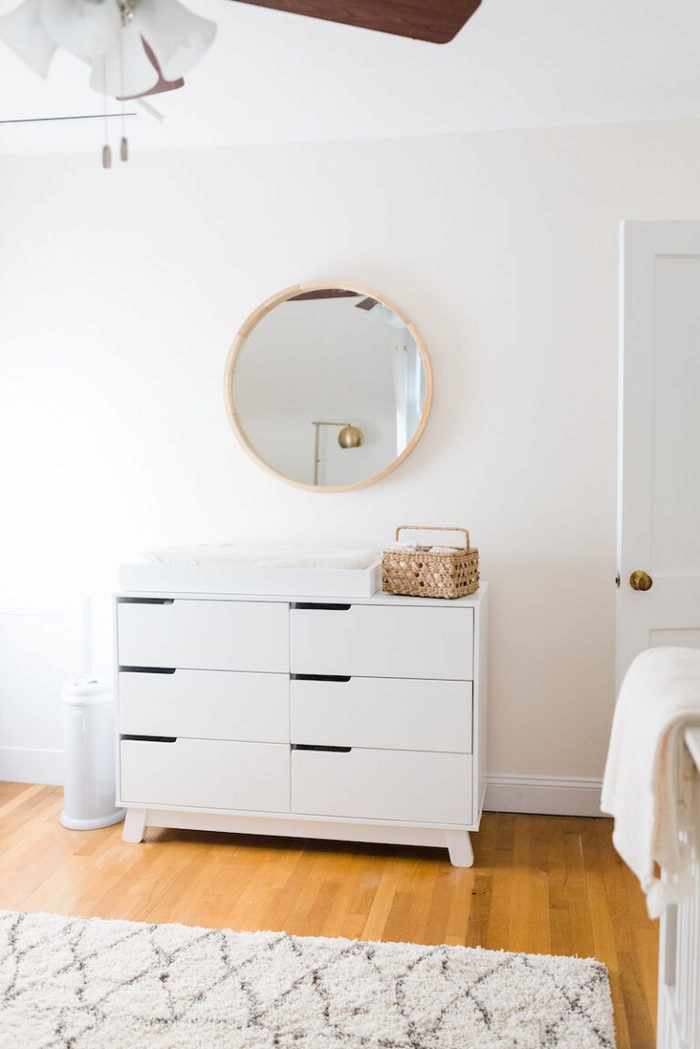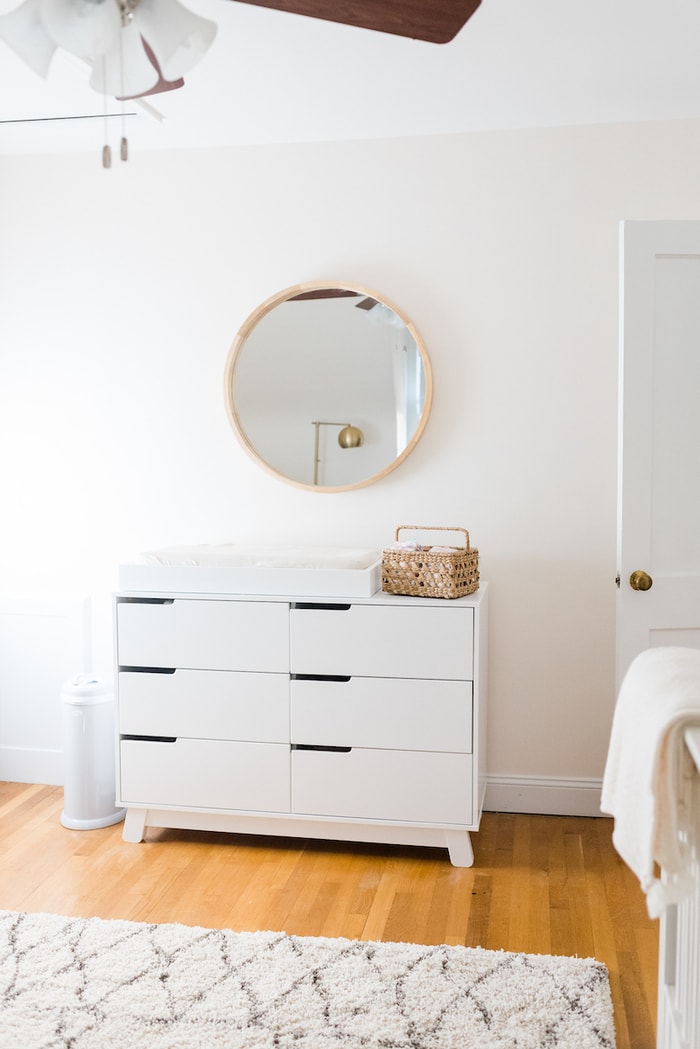 For the dresser and bookshelf, I ended up going with the Babyletto brand because I really like the modern design of their furniture. The dresser is the perfect size to use as a changing table, so we have everything for diaper changes on top and the drawer on the left is already filled with diapers.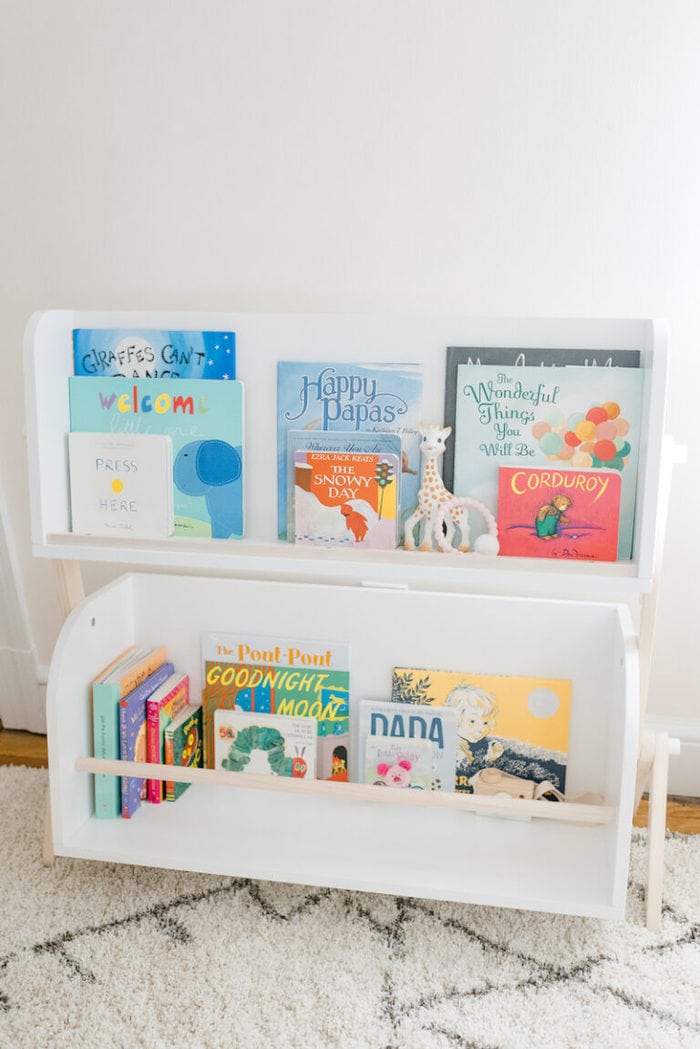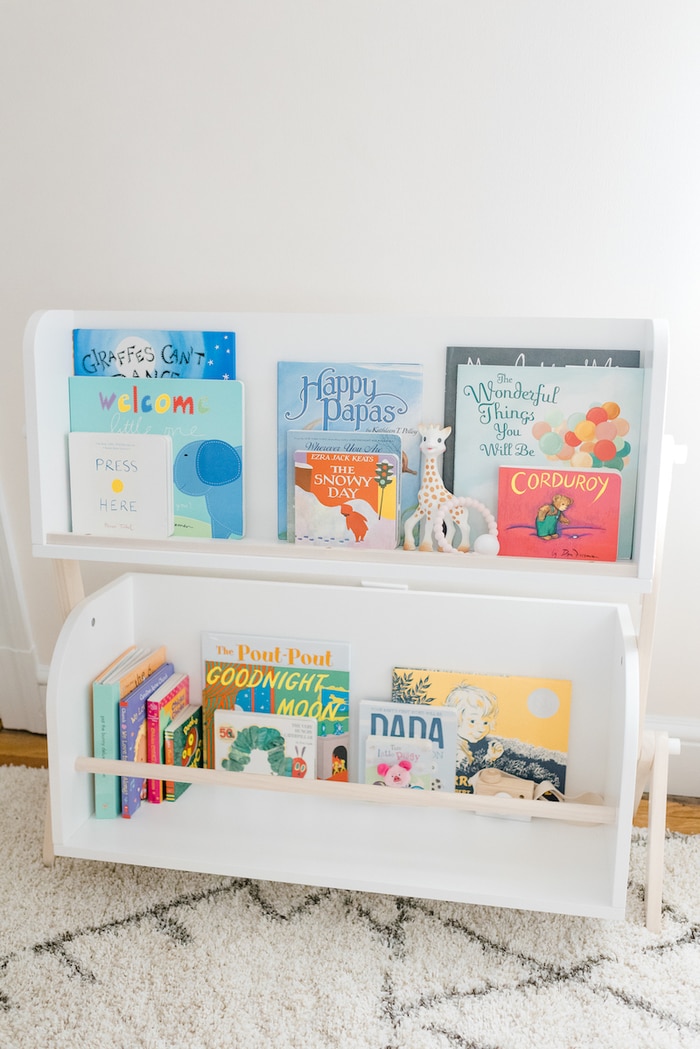 I searched everywhere for a cute bookshelf, but lots of them were huge and geared more for adults. We knew we wanted a lower bookshelf so that baby girl will be able to access it herself when she's a toddler and I think the one we found it so cute. And I like that the bottom shelf has enough space for toys and larger things, rather than just books.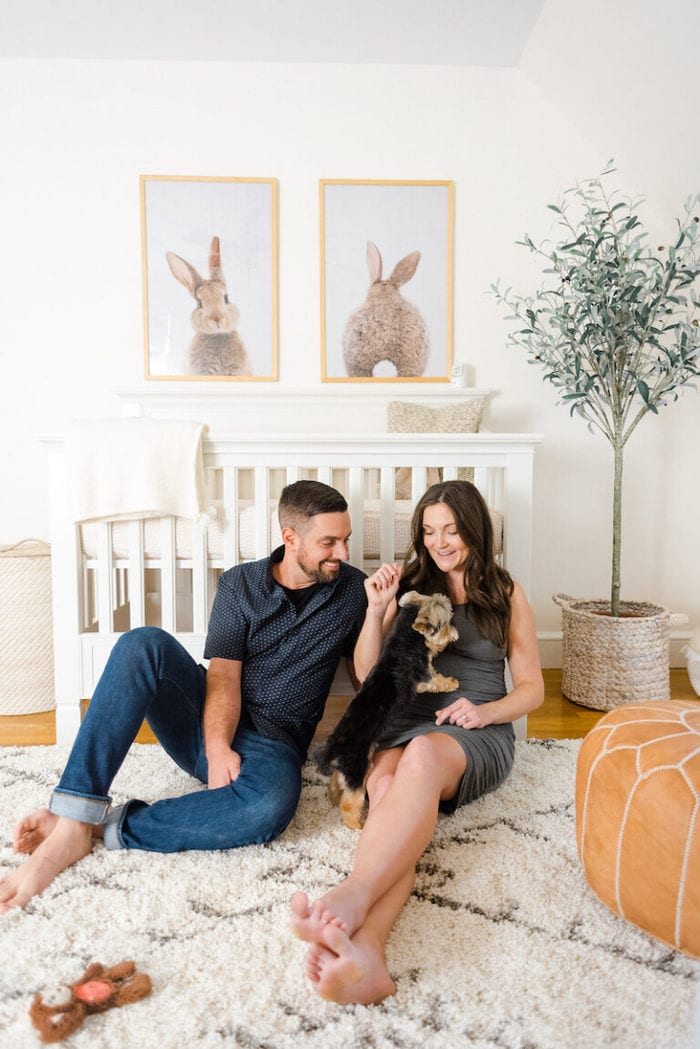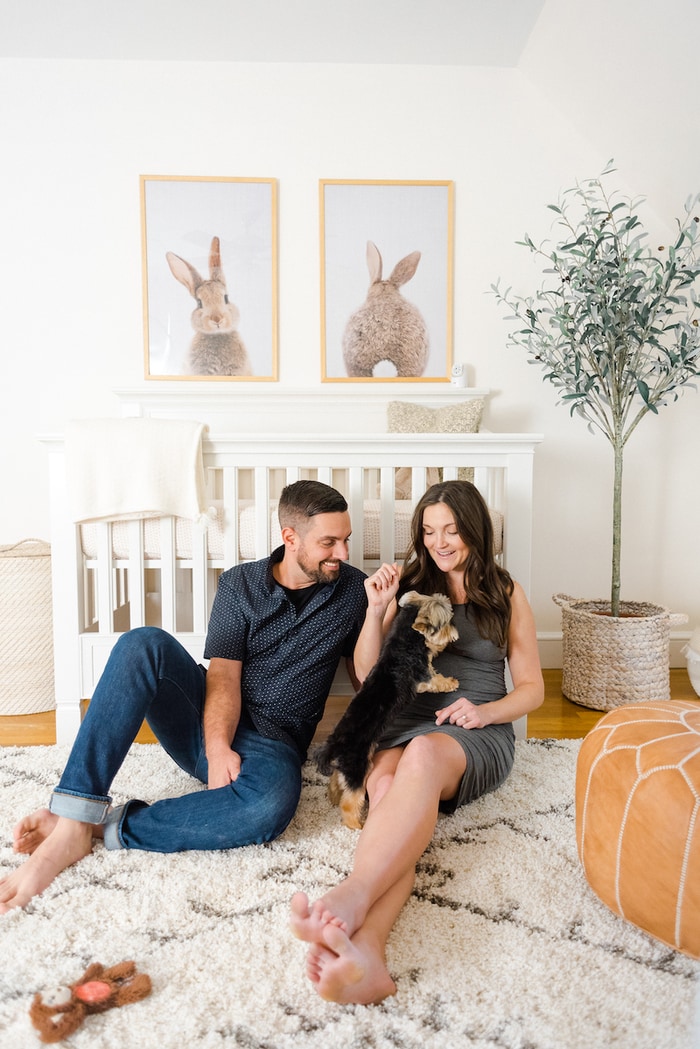 Overall, I LOVE the way the nursery turned out and it's now one of my favorite rooms in the house. The kitchen is still my all-time fave, but I definitely like the nursery more than our bedroom now. Haha! I guess that's a good thing because I'm going to be spending quite a bit of time in there.
We can't wait to bring baby girl home and welcome her into this sweet space. Olive is particularly excited to be a big sister. She's been very curious about all the changes going on in the nursery. She loves the new, soft rug and has even tried to claim the llama WubbaNub as her own.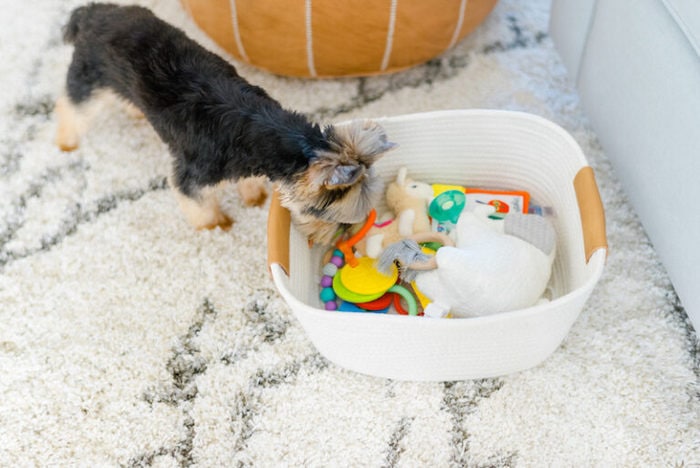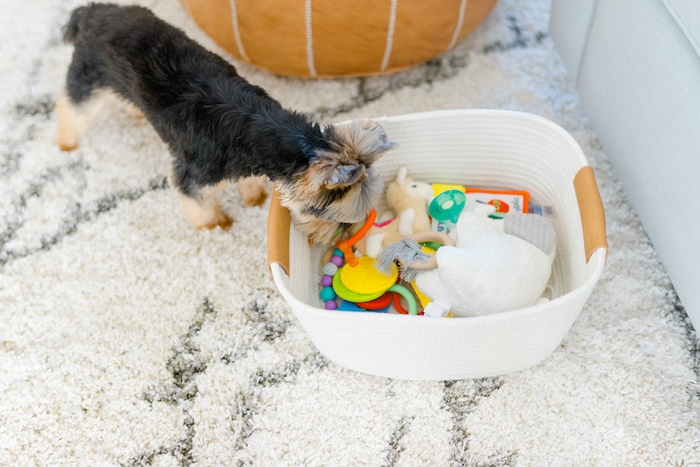 Source list: Dresser / Diaper Pail / Changing Table Tray / Changing Caddy / Crib / Glider / Nightstand / Floor Lamp / Bookshelf / Leather Pouf / Rug / Organic Changing Pad / Organic Crib Mattress / Hamper / Round Mirror / Olive Tree / Basket for Tree / Bunny Prints / Frames / Rope Basket / Woven Basket / Love at First Sight Frame / Hatch Sound Machine / Monitor / Jellycat Bunny
Outfit details: Gray Thermal Button Front Top / Maternity Jeans / Gray Maternity Dress
Photos by the lovely Michelle Chu Photography.