Trading Our Tempur-Pedic for a Non-Toxic Mattress
29
Published Jul 16, 2015, Updated Jan 02, 2023
I am very aware that sleep is an important aspect of healthy living, but for whatever reason I had never really given much thought to the surface we were sleeping on…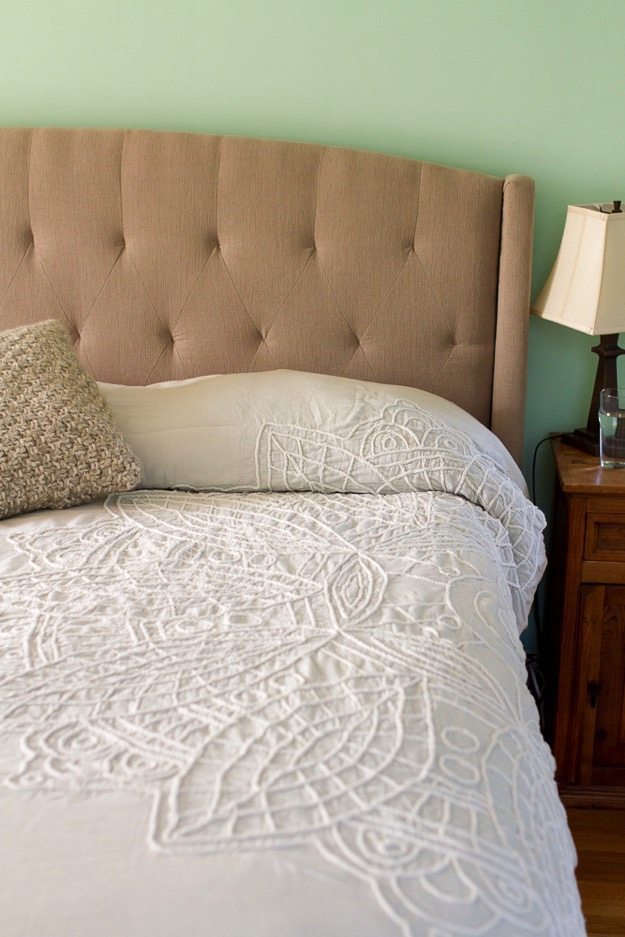 Isaac's parents bought him a Tempur-Pedic mattress in college and when we moved in together it became the master bedroom mattress. Tempur-Pedics are thought to be the crème de la crème of the mattress world so I was excited to have one. It was definitely the firmest mattress I have ever slept on, but I got used to it quickly and we slept pretty well except for a couple issues:
I started having numbness/tingling on the lateral side of my left thigh and it always flared up at night when I was laying flat on my back to sleep. I knew it stemmed from my scoliosis curvature and nerve impingement, but didn't know how to fix it. I went to months of physical therapy, tried specific stretches and did yoga. I found that sleeping with a pillow between my legs helped a lot and basically decided that I would be doing that for the rest of my life.
Isaac has had horrible night sweats and trouble sleeping since we met. He has always been a hot sleeper and there have been many nights/morning where I've woken up to wet sheets from his sweat. <— He's lucky I love him, because waking up wet and cold from someone else's sweat is NOT fun. We did research about it and thought it was due to dehydration or the type of sheets we were using but we couldn't quite figure out the cause or get the night sweats to stop. The sweating got so bad that we had to buy a protective plastic cover (the type you buy for kids who pee the bed) because the sweat was literally making our mattress mold. It was awful.
For whatever reason we never thought our issues were related to our mattress or considered the fact that a different mattress might help UNTIL last year when intelliBED reached out to me. They provided a ton of info about how their intelli-GEL reduces pressure, sleeps cool and is made with non-toxic materials. Everything sounded great, but I wasn't fully sold until I started doing my own research.
I was honestly shocked to learn how regular mattresses are made, the chemicals used to make them flame retardant and the off-gassing. Here's the short version — most mattresses are made with either memory foam or innerspring technology and both usually include polyurethane foam, a highly flammable product often referred to as "sold gasoline." Due to this foam and government laws, fire-retardant chemicals are applied to most mattresses. This is why most mattress stink to high heaven when you first open them and companies tell you to let the mattress "air-out" for a couple days before sleeping on it. The smell goes away, but the chemicals are still there. Not only are the chemicals bad for the environment, but we are literally inhaling and absorbing these chemicals into our body every night. Ugh!
Mattress toxicity research has primarily focused on groups of people who require more sleep due to age and/or condition — specifically infants, children and pregnant women. However, the potential harm (from off-gassing from synthetic materials and flame retardants) can affect everyone, no matter what age. Here's some info from the intelliBED website:
Pregnant Women — Research shows that exposure to toxins during pregnancy can be harmful to both the woman and fetus. Studies confirm pregnant women carry toxic chemicals in their blood and urine, including toxins found in mattresses. (University of California, San Francisco). Another study found that toxic chemicals actually pass from a woman's bloodstream, through the placenta and to the fetus. Toxins were also identified in breast milk. (Harvard School of Health/Centers for Disease Control). So crazy, right?
Infants and SIDS — Recent studies examine an infant's sleep environment as a possible contributor in Sudden Infant Death Syndrome, or SIDS, cases. Two doctors in the United Kingdom and New Zealand concluded a decade-long study that linked toxic crib environments to infant health issues, including possibly SIDS. The resulting awareness campaign caused the number of SIDS cases in both areas to drop dramatically. You an read more about this here.
Adults and Kids — Evidence suggests that synthetic foams may contribute to a range of adult sleep disorders due to the lack of firm support that adults need, plus a range of health risks from off-gassing and toxins including autism, asthma, ADHD and even cancer.
After about six months of doing my own research I agreed to try out an intelliBED mattress. If within 60 days Isaac and I decided we didn't like it, we were free to return it so there was no pressure.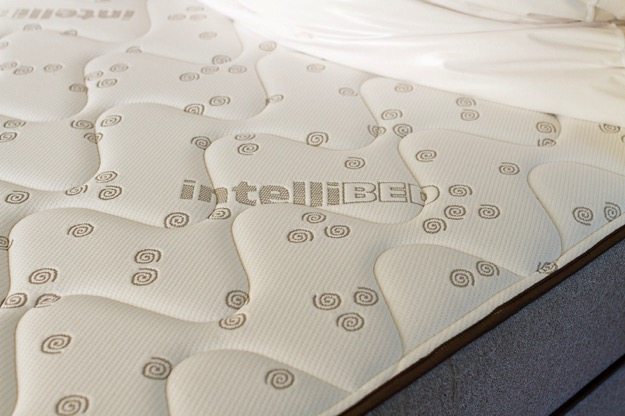 A company representative recommended we go with the Motion Damping model since it was similar to a Tempur-Pedic in terms of alleviating partner movement and great alignment support. The mattress arrived in March so we've been sleeping on it for about four months now.
There was no chemical smell when the mattress arrived and as soon as I tested it out I knew I was going to love it. I still laugh because I remember the text I sent Isaac the day it arrived —> "The new bed is here and it feels like a big cloud."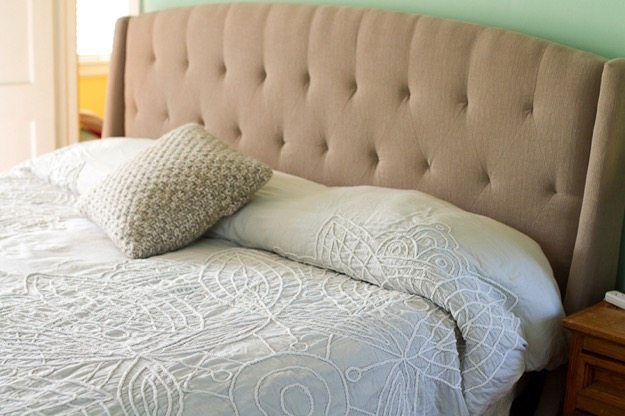 Why intelliBED?
The intelli-GEL layer is made from non-toxic materials. It's also antimicrobial and hypoallergenic.
Zero off-gassing
Seeks and relieves pressure points
Sleeps cool
They offer a 60 day trial period
Their mattresses have a 30-year warranty
Here's a quick video explaining how the intelli-GEL layer works! It does a much better job than I could. 🙂
The fact that it's non-toxic is awesome and something I was really excited about BUT the truly amazing aspects came after sleeping on the mattress a few months.
The intelliBED mattress helps relieve pressure and provides such great alignment support that my thigh tingling issue has been non-existent for the past four months and I no longer need to sleep with a pillow between my legs!! Now I can see why the intelli-Gel is used in hospital beds to help with bed sores and burn victims.
Isaac is sleeping so much better because his night sweats are almost completely gone. He went from being sweaty almost every single night (even in the winter) to having ONE night where he sweated a little bit within the last four months and it was on a summer night when our room was extra warm. It's been amazing!
Needless to say, we are firm believers in the intelliBED. Not only does it provide a comfortable, non-toxic surface to sleep on but the fact that it sleeps cool and relieves pressure points has dramatically improved our sleep health. I'm honestly so happy with our choice to try intelliBED and would recommend the mattress to anyone — especially folks dealing with sleep issues, scoliosis, back pain or night sweats.
After learning so much about mattresses and seeing how big of a change a mattress can make, I've been telling anyone that will listen about our experience. In general mattresses are pricey and intelliBED mattresses are no different (a queen size mattress will run you around $3,500) but I'm a firm believer in investing in quality items that will last rather than spending less on an item that will break down in a few years and possibly affect your health in a negative way. You actually save yourself money in the long run! Plus, the intelliBED mattresses come with a 30 year warranty and the company offers a 60-day risk-free trial period! I should also note that if a mattress isn't in your budget right now they also offer intelli-GEL mattress toppers which are really reasonably priced.
Because I liked the mattress so much I asked intelliBED if we could partner together for a special offer. They agreed and I'm now able to offer friends, family and my readers a special deal. Anyone that uses the code EatingBirdFood (or mentions Eating Bird Food when checking out via the phone) a 10% discount on their purchase and a special gift — a free Organic Wool Comforter from Holy Lamb Organics (a $405 value). This special promo will last from today until August 16th.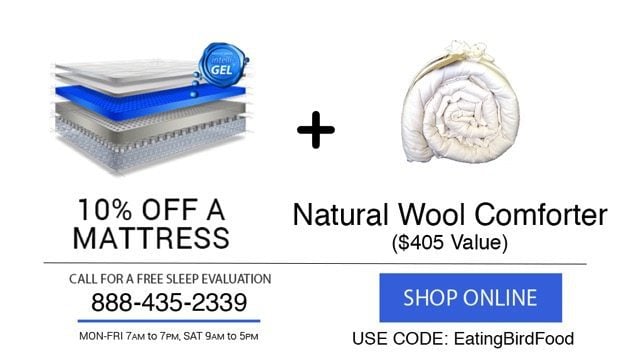 Have you ever given much thought to the mattress you sleep on? I'd love to hear your thoughts!
Full disclosure: I was gifted an intelliBED mattress. I was not required or compensated to write this post, however there are affiliate links within. As always, opinions are my own and I only share products that I LOVE and would recommend to my closest family and friends.