21 Spaghetti Squash Recipes
4
Published Jan 27, 2018, Updated Sep 27, 2023
Get creative this winter with healthy spaghetti squash recipes. Spaghetti squash is a delicious, low-carb seasonal vegetable that can be used a variety of ways — even for breakfast or dessert!
Spaghetti squash is one of my all time favorite things to eat during the fall and winter months. As soon as I see these babies start popping up at the farmers market I basically keep at least one stocked in my kitchen at all times. Spaghetti squash is not only delicious, but it's loaded with vitamins and minerals (namely vitamin C and a variety of b vitamins). It's also low in fat and carbs with a good amount of protein and fiber.
Never made spaghetti squash before? I have a blog post all about the best ways to cook it. Don't be intimidated! It's super simple and perfect for easy meal prep.
Given it's low-carb content and noodle-like strands it's often used as a substitute for pasta. Although that's one of the most common ways to prepare spaghetti squash it's by no means your only option. This noodly squash can be used for breakfast and dessert recipes too. I personally haven't had a chance to experiment with sweet spaghetti squash, but I'm so excited about the idea of it!
In the meantime, get ready for your meal planning to be made easier with this spaghetti squash recipe roundup. This post brings together so many delicious and creative ways to cook up this interesting vegetable. I hope this post will inspire you to grab a spaghetti squash the next time at you're at the grocery and get creative in your kitchen.
Spaghetti Squash Tuna Noodle Casserole – A healthy spin on a comfort food classic, these spaghetti squash tuna noodle casserole boats are filled with loads of creamy goodness and ample protein. Gluten-free, dairy-free, low-carb and paleo!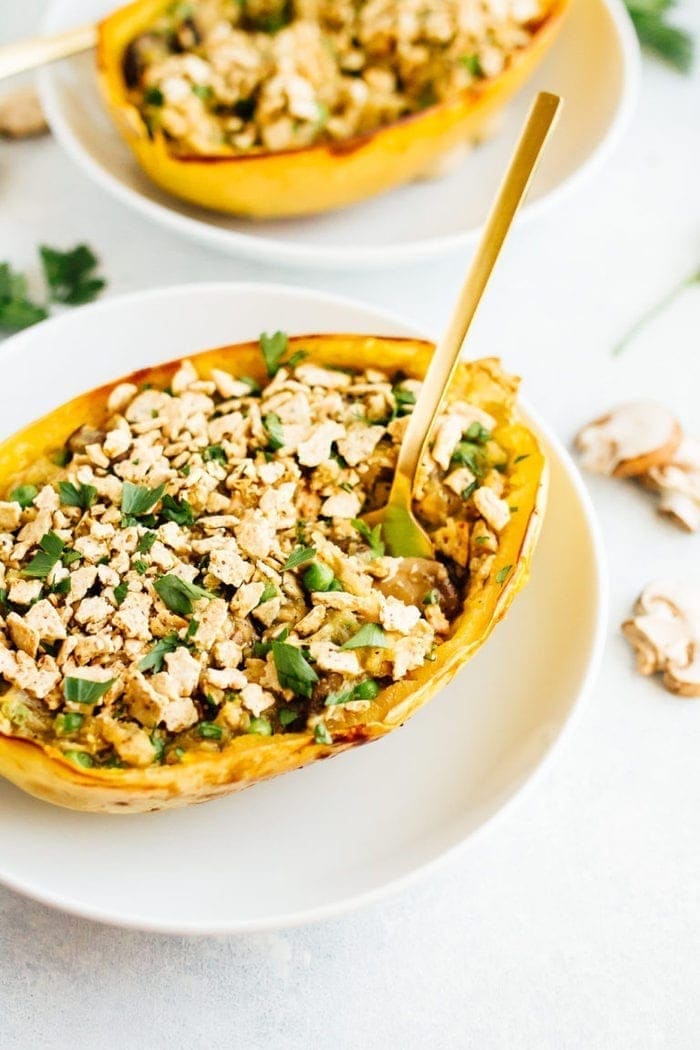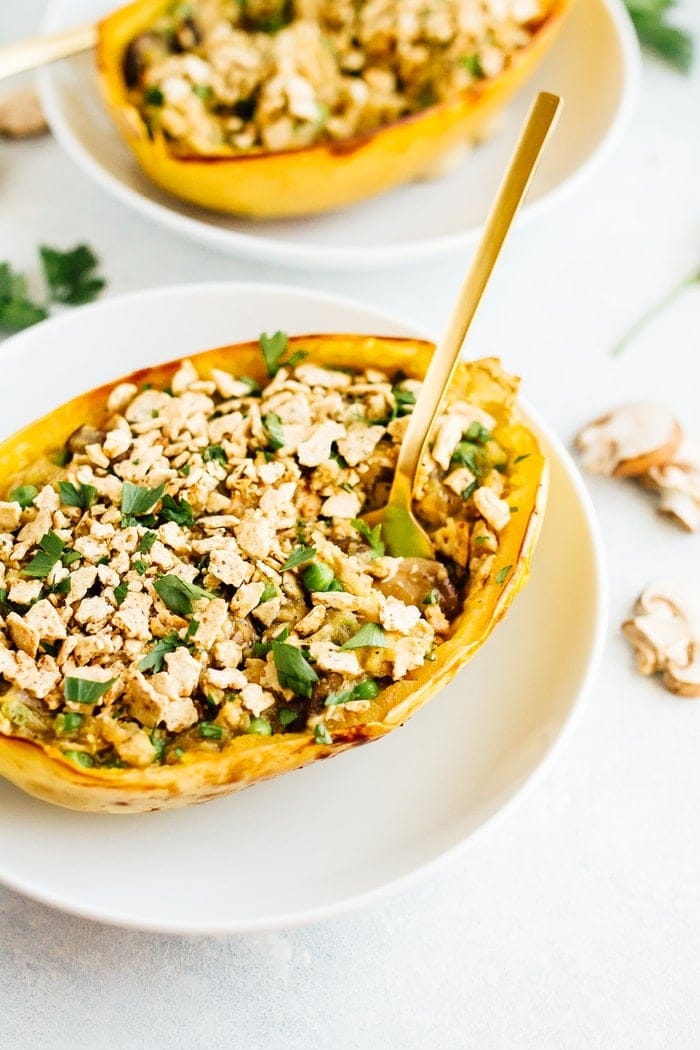 Stuffed Spaghetti Squash Lasagna Boats – Turn spaghetti squash into a meatless meal with this recipe for stuffed spaghetti squash lasagna bowls. Made with vegan ricotta and hemp parmesan.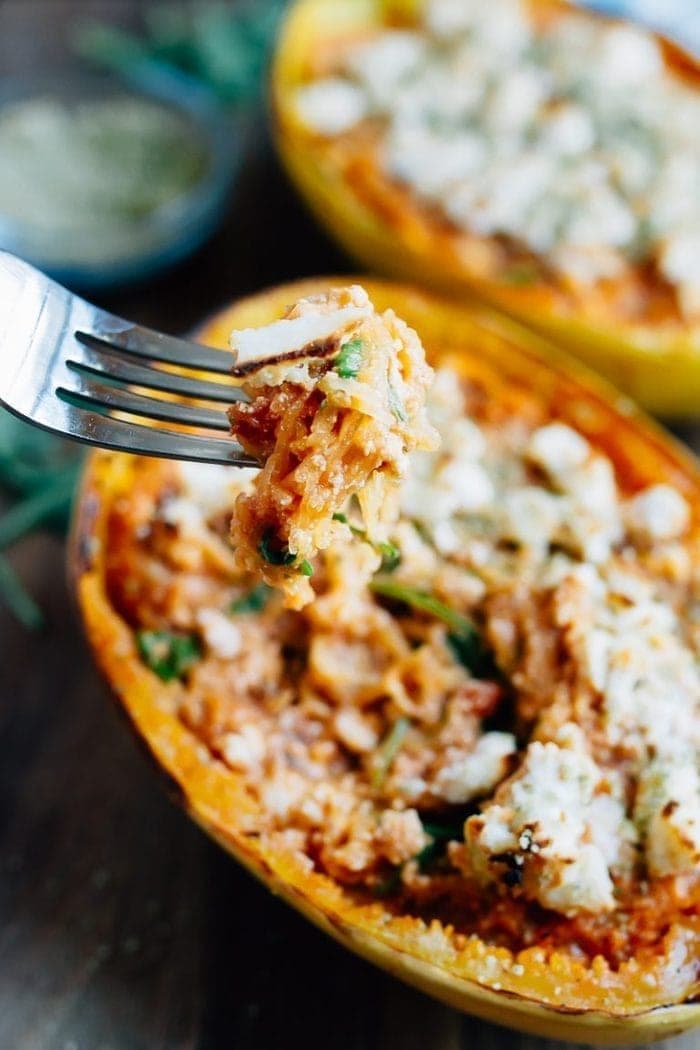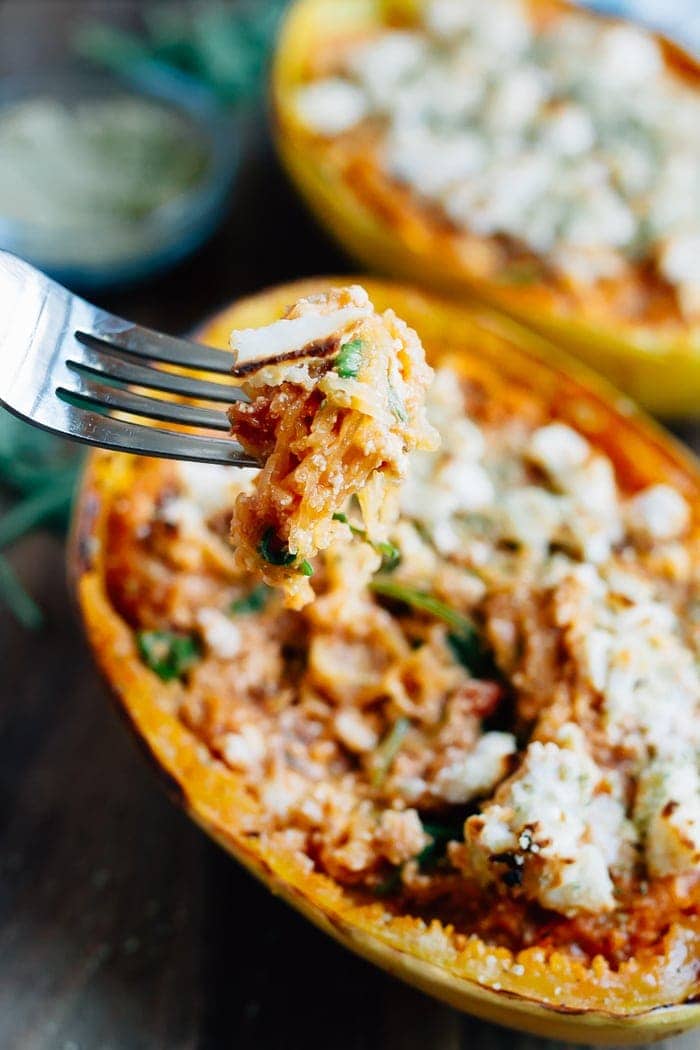 Almond Pesto Spaghetti Squash with Shrimp – This 4-ingredient pesto spaghetti squash features a creamy almond pesto sauce and is topped with cooked shrimp for a low-carb, protein-packed meal. Diary-free and gluten-free.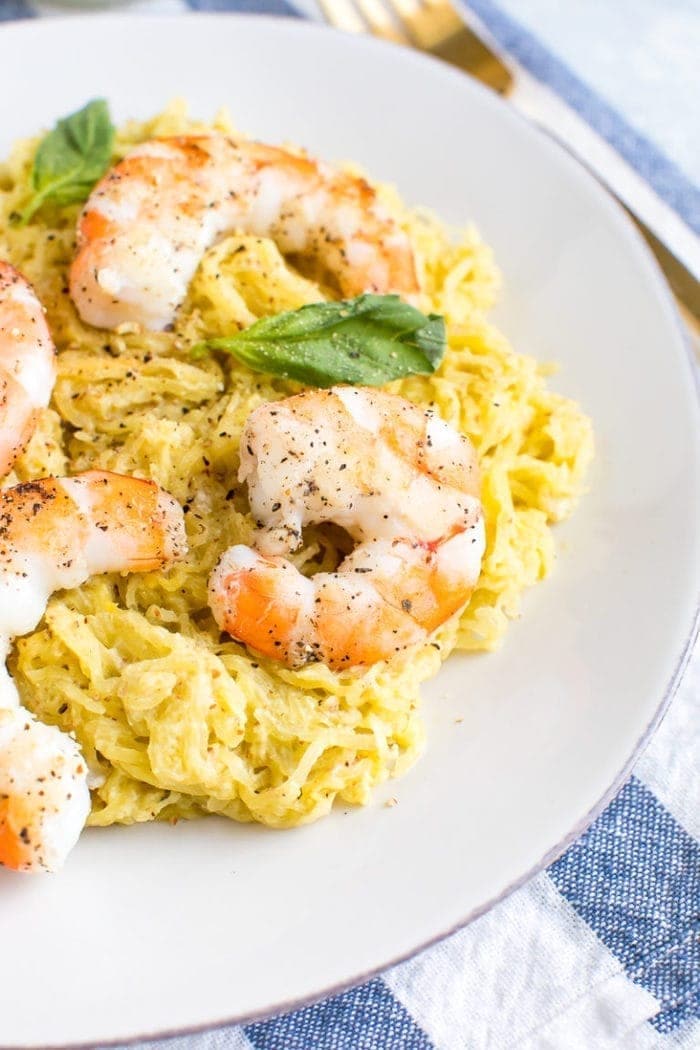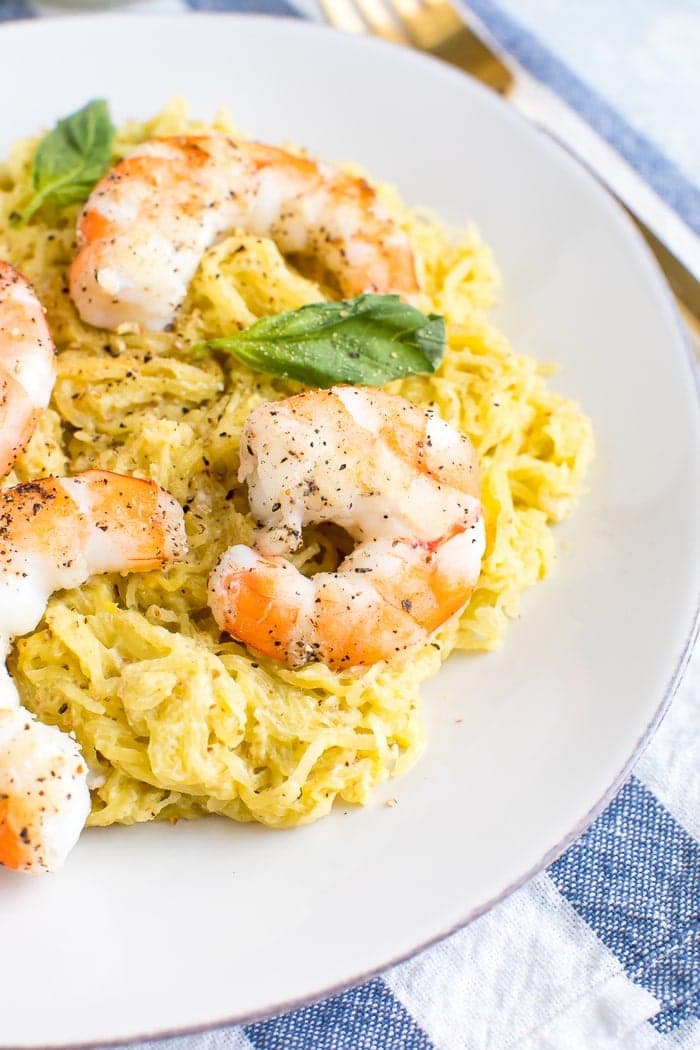 Garlic Spaghetti Squash with Herbs by Pinch of Yum – Garlicky olive oil, toasted pine nuts, and Gruyère cheese make up a simple, vibrant, veggie-friendly meal packed with flavor and unique textures.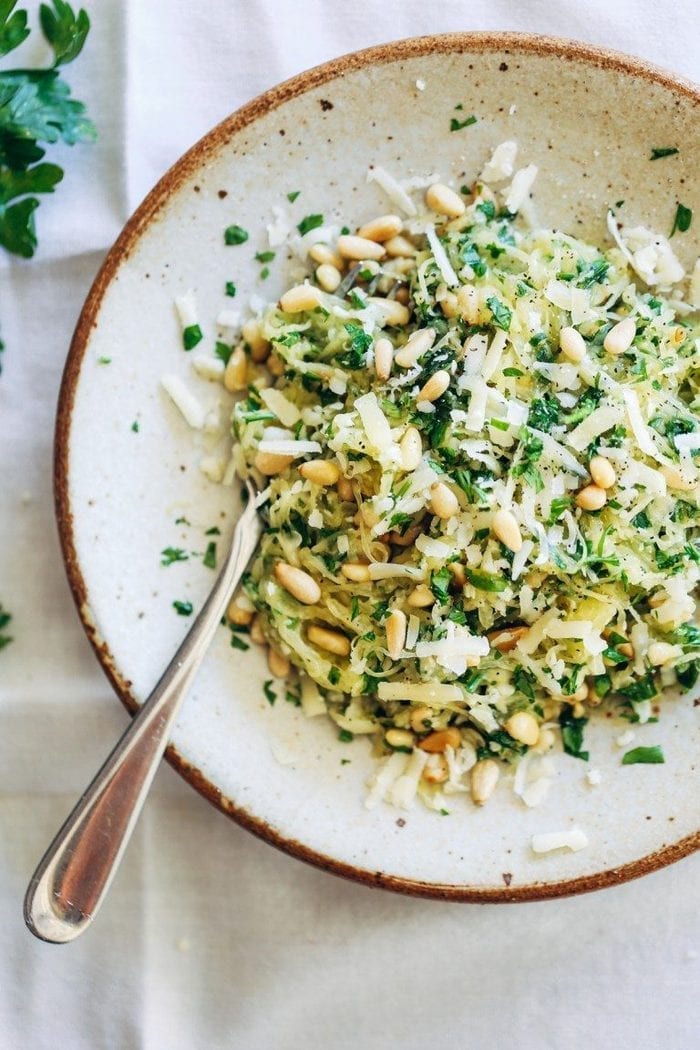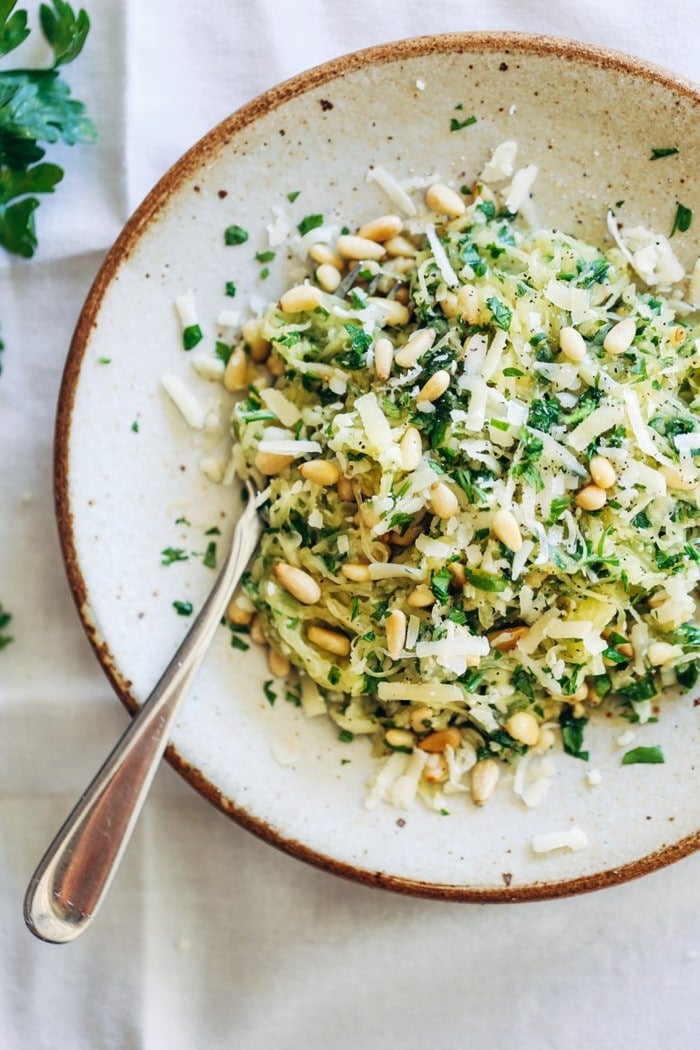 Spaghetti Squash Burrito Bowls by Cookie + Kate – This spaghetti squash burrito bowl recipe is easy to make and so good for you, too! These beautiful vegetarian burrito bowls are also vegan and gluten free, but above all, delicious.
Veggie Pizza Spaghetti Squash Boats by Toaster Oven Love – Veggie Pizza Spaghetti Squash Boats are ricotta and kale stuffed toaster oven-roasted spaghetti squash covered in your favorite vegetarian pizza toppings. Serious comfort food that's secretly wholesome.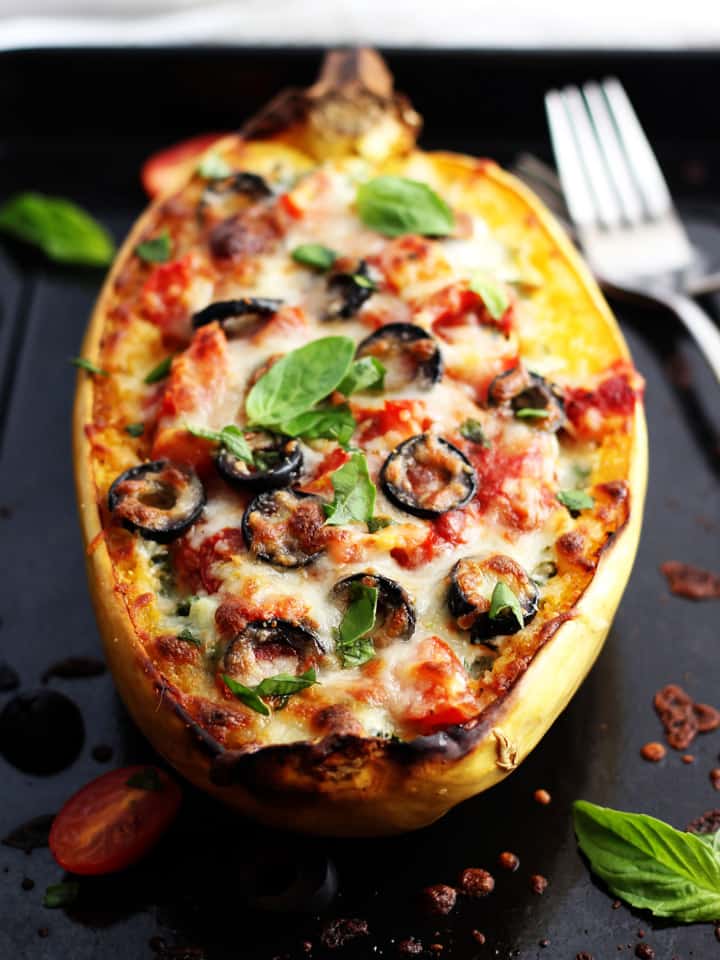 Spaghetti Squash Sesame Noodles with Edamame by Marla Meredith – This spaghetti squash is a grain free, gluten free, dairy free alternative to a dish that is often made with floury pasta…which makes it quite a bit more calorie dense.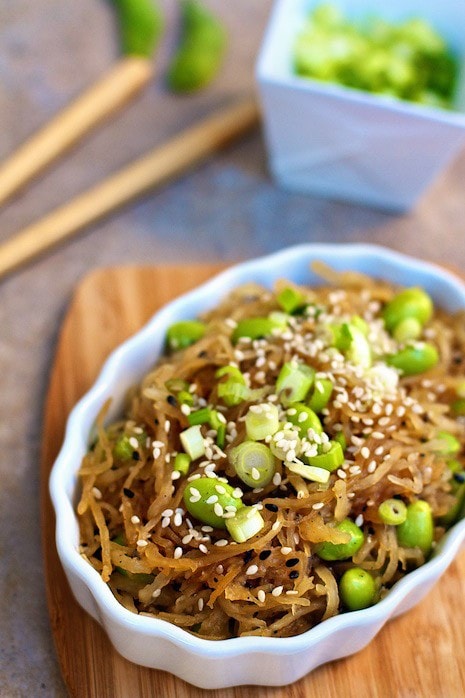 Creamy Garlic Spaghetti Squash by Real Simple Good – This creamy garlic spaghetti squash casserole is so saucy and delicious! Do you long for a creamy, dairy-free sauce packed with garlicky goodness? Well, look no more! Plus, this dish is made with spaghetti squash, which is a much healthier casserole option. Go ahead, get your squash on, and make a big old pan of this filling and flavorful casserole!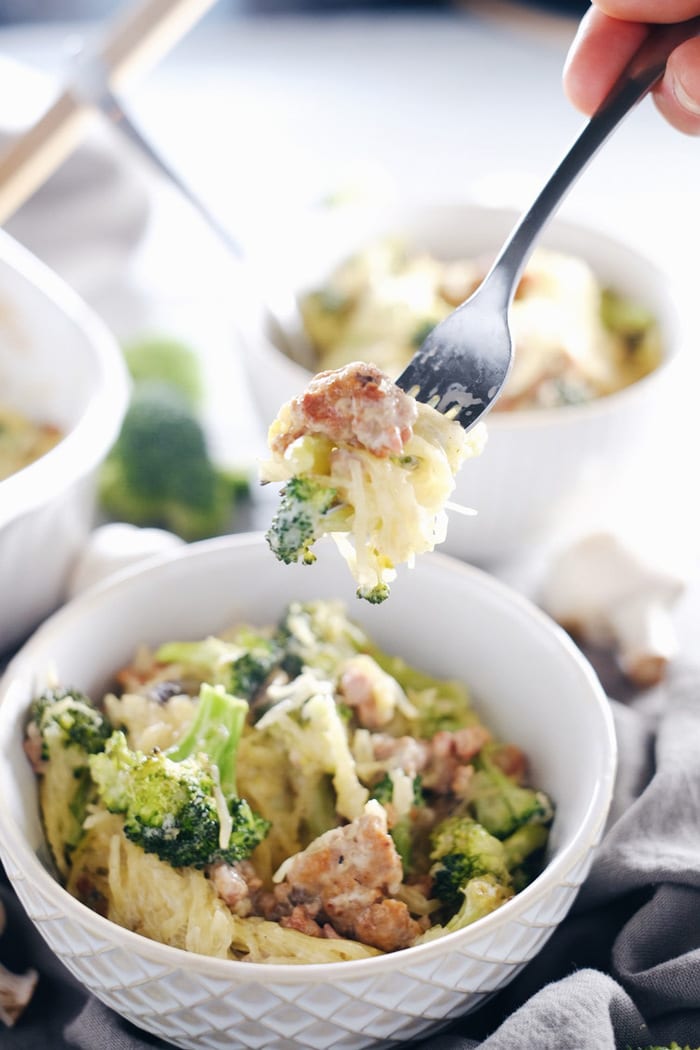 One-Pan Spaghetti Squash Chow Mein by Fresh Planet Flavor – A simple grain-free, gluten-free, veggie-stuffed dinner for the whole family made in just one pan!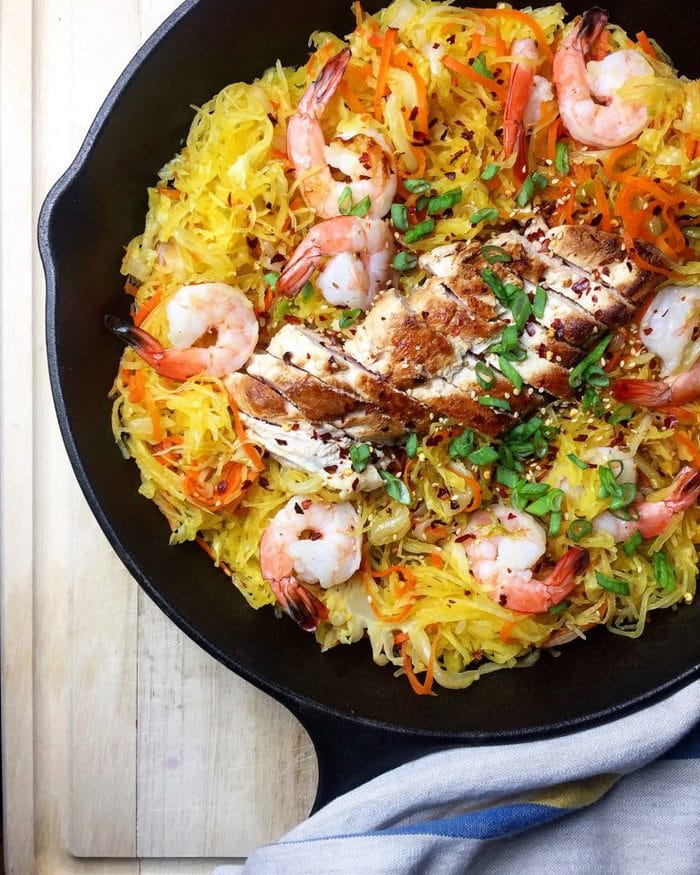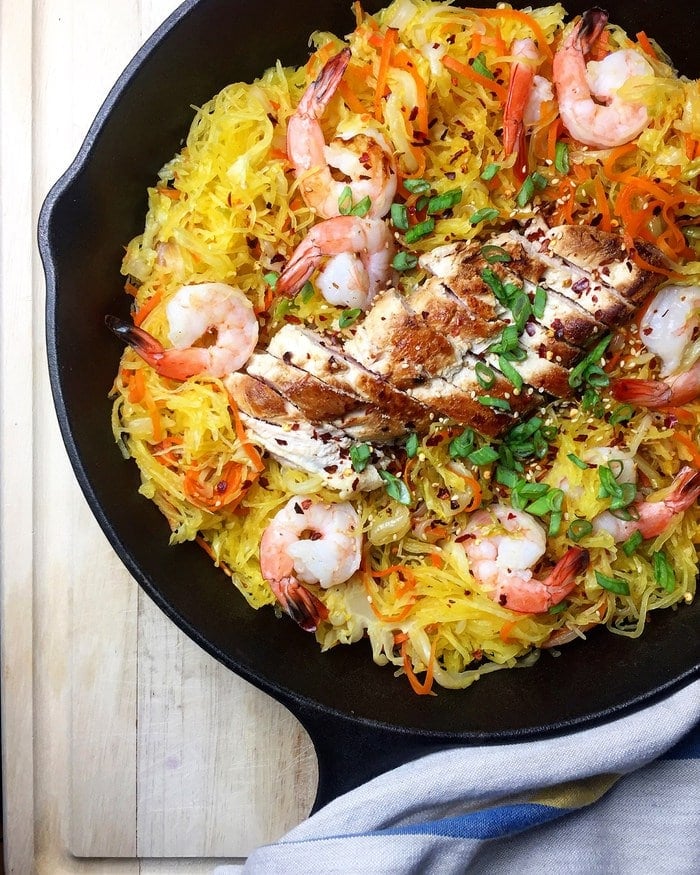 BBQ Chicken Spaghetti Squash by Peas and Crayons – Grab that lone spaghetti squash sitting on your counter and break out the barbecue sauce! These BBQ Chicken Spaghetti Squash make low-carb eating fun and delicious!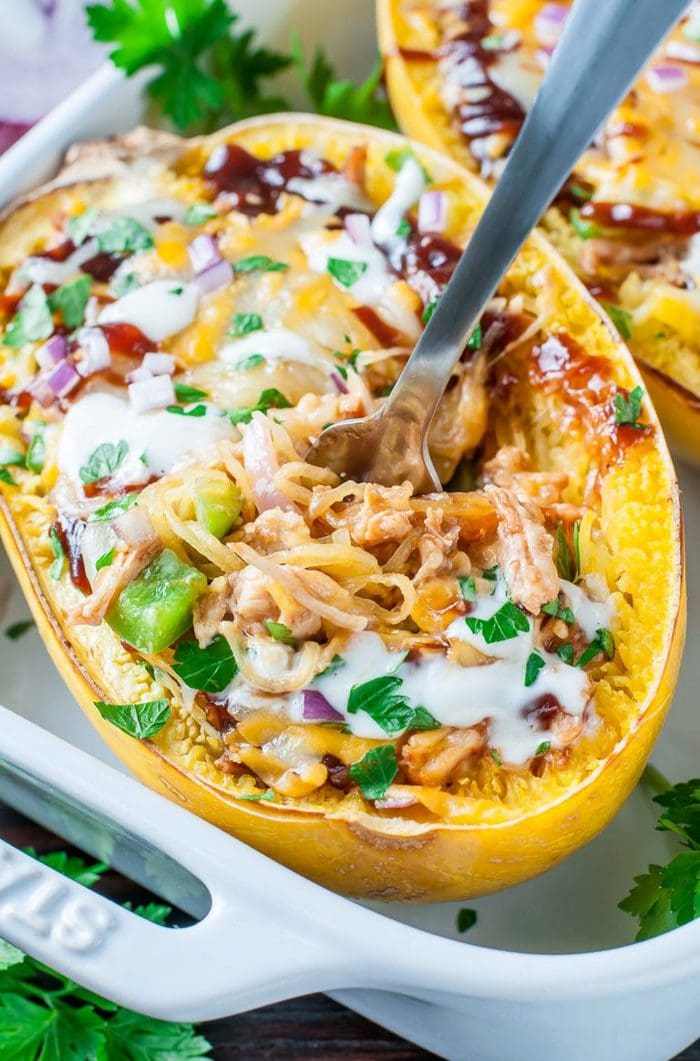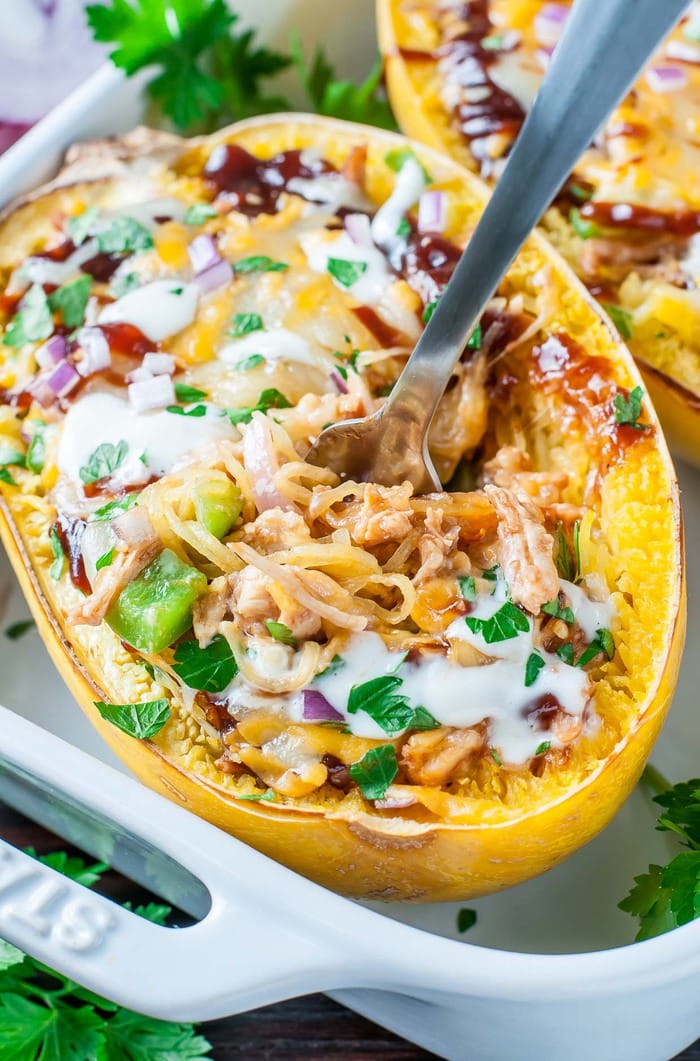 Spaghetti Squash with Rainbow Chard by Half Baked Harvest – It's SO simple, SO easy, super healthy, and yet SO freaking good. Just spaghetti squash, olive oil, garlic, crushed red pepper flakes, swiss chard, parmesan, salt and pepper.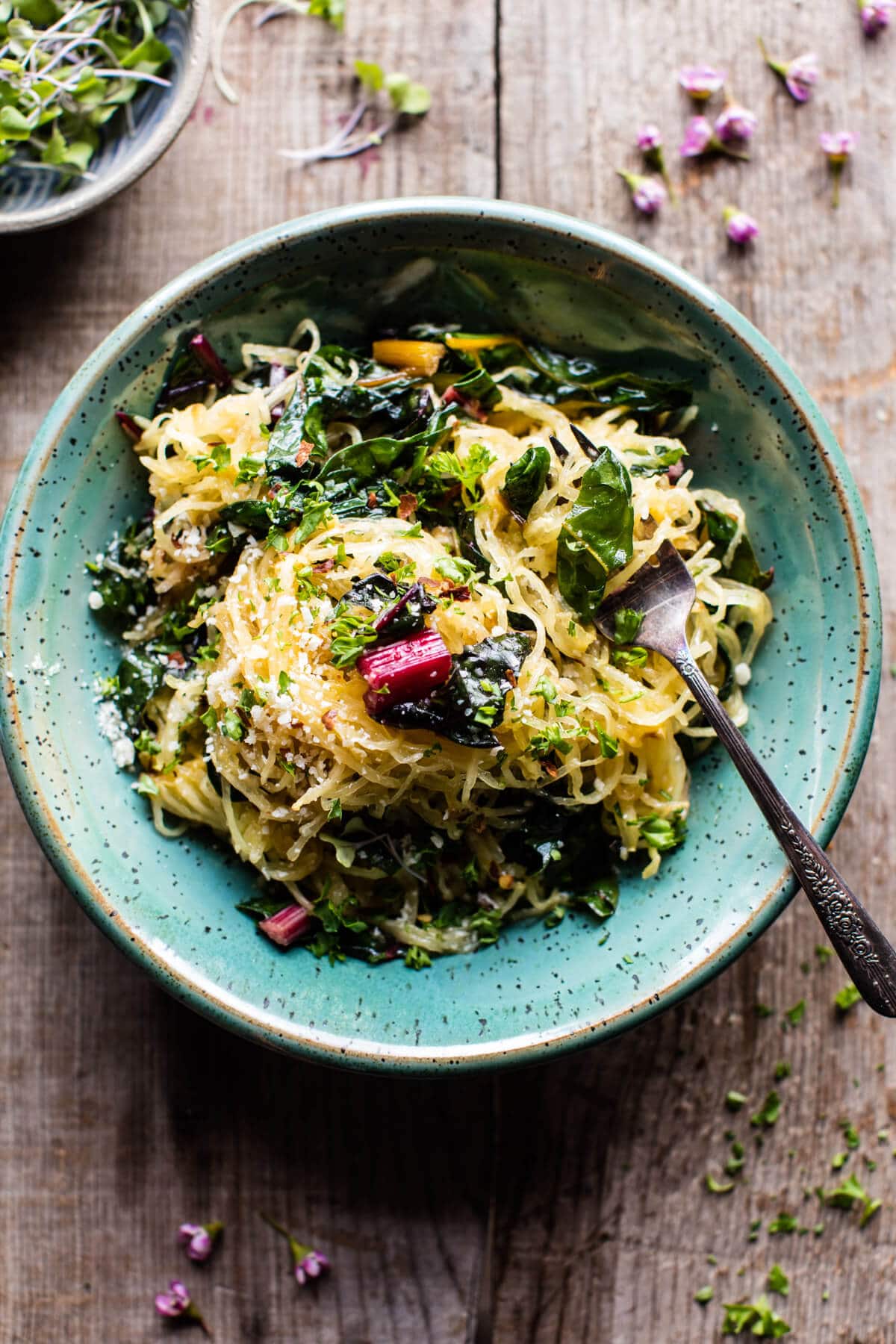 Vegan Mexican Stuffed Spaghetti Squash by Whitney Bond – This Mexican Stuffed Squash recipe combines roasted spaghetti squash with black bean corn relish & creamy avocado dressing for a simple vegan & gluten free meal!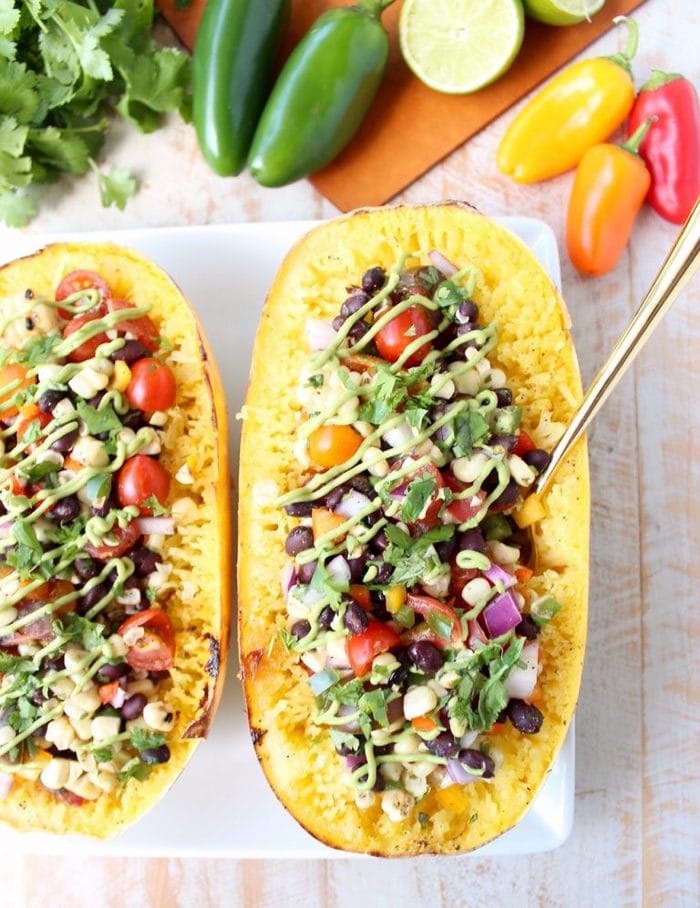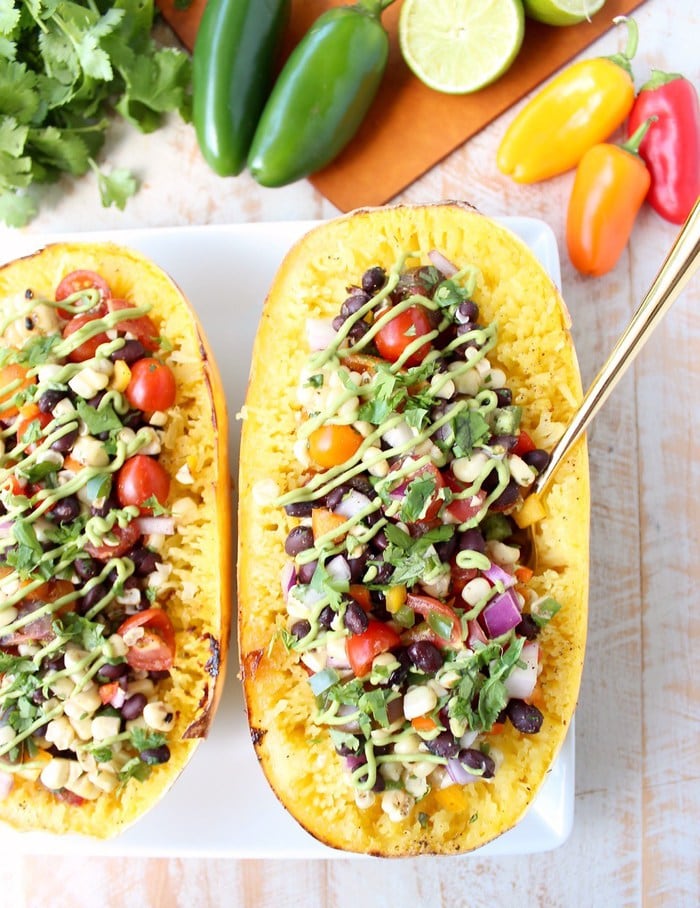 Spaghetti Squash Black Bean Bowls by The Glowing Fridge – Crazy good, fiesta-in-your-mouth dinner made with protein-rich black beans, fire-roasted corn, crunchy cabbage, fresh cilantro, lots of lime juice and the best avocado mash to top it off. Healthy much? I think so… and more than simple enough too.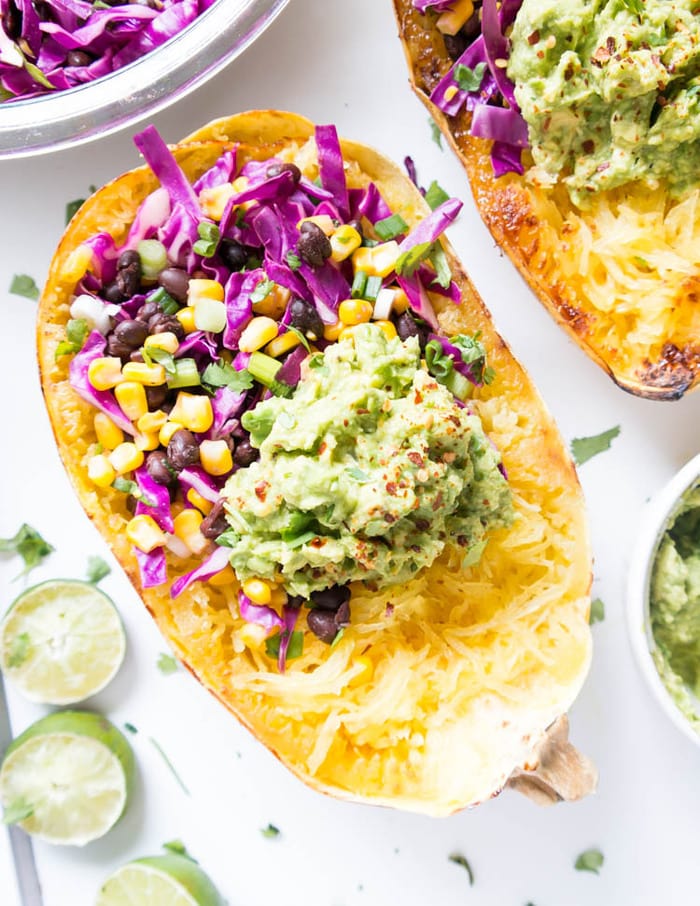 Spaghetti Squash Frittata with Sundried Tomatoes by Fit Mitten Kitchen – This Sausage Kale Spaghetti Squash Frittata with Sun-Dried Tomatoes is the perfect filling meal. Made paleo and Whole30 compliant, it's so good! Breakfast, brunch, lunch and dinner this combo is amazing.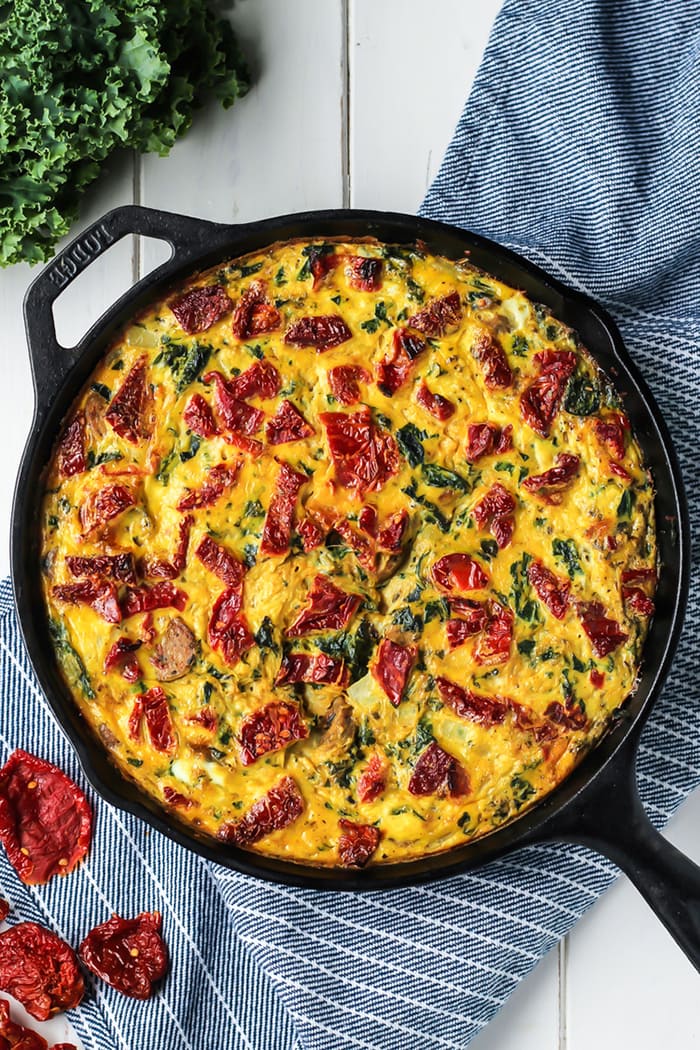 Vegan Breakfast Stuffed Spaghetti Squash by Peaceful Dumpling – Pair this neutral squash with fresh berries, yogurt, nut butter, and granola to create a filling and fun breakfast. The meal would be perfect for a festive weekend breakfast or brunch option. If you bake the squash halves in advance, you could throw together this breakfast bowl in 5 minutes for work week meals.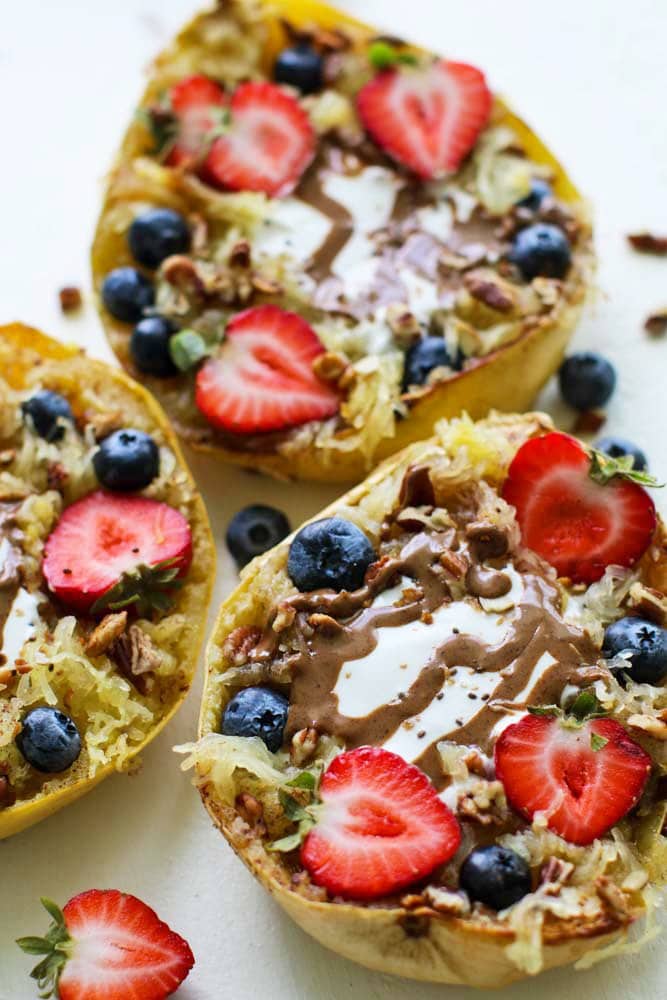 Chili Stuffed Spaghetti Squash Bowls by Making Thyme for Health – Chili Stuffed Spaghetti Squash Bowls- roasted spaghetti squash filled with a hearty two-bean vegetable chili. It's a warm and satisfying meal that's perfect for cold weather!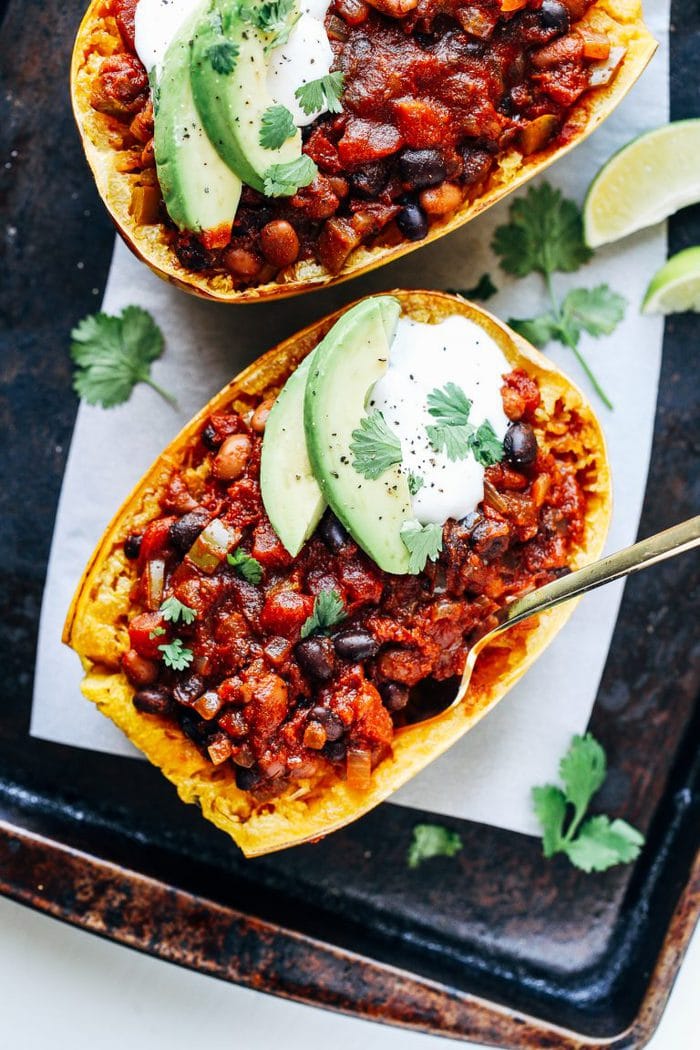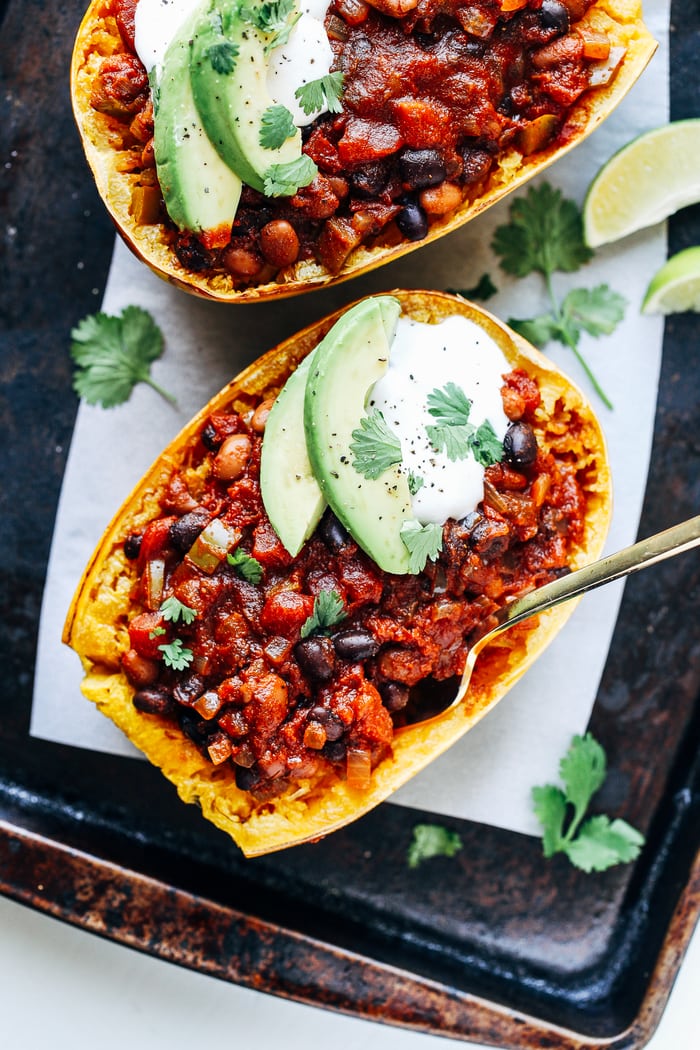 Cajun Chicken Spaghetti Squash by Destination Delish – A healthier version of Cajun chicken pasta. To really bulk up the nutrition and serving size of the dish, she added plenty of colorful bell peppers and used a dab of reduced-fat cream cheese in place of heavy cream.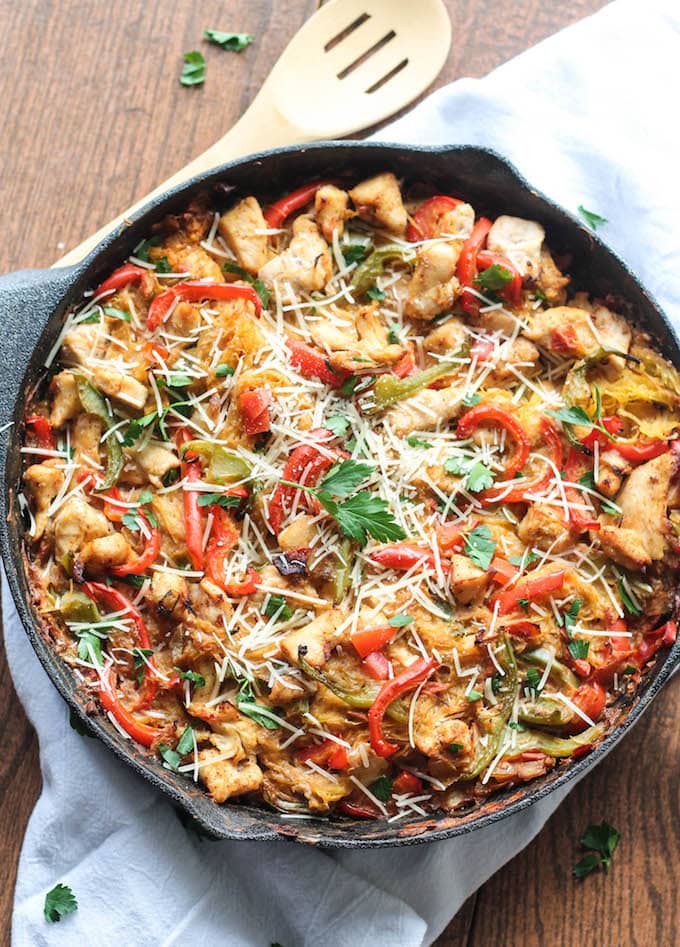 Tuscan Kale and White Bean Spaghetti Squash by The Glowing Fridge – You will feel amazingly nourished and light after this meal. Plus, you'll feel adequately full for a long while due to the leafy green kale, fiber-full cannelinni beans, hearty mushrooms and buttery-tasting spaghetti squash. Topped with gluten-free breadcrumbs for a crunchy kick!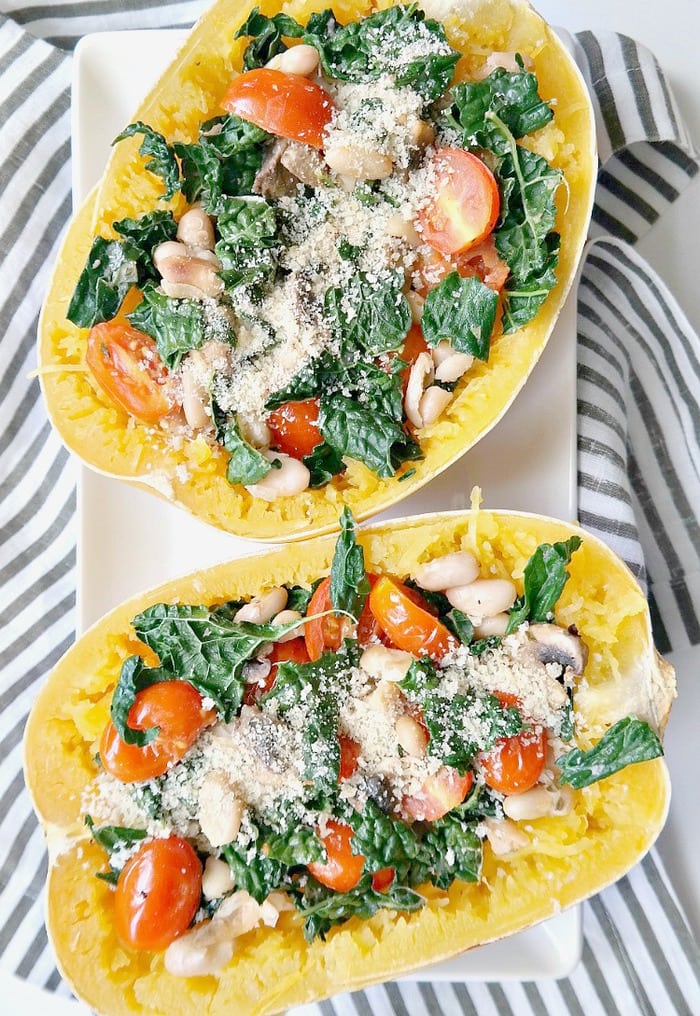 Roasted Garlic and Kale Spaghetti Squash with Sun-dried Tomatoes by The Roasted Root – Roasted garlic and kale spaghetti squash with sun-dried tomatoes and walnuts makes for a comforting, low-carb meal requiring only 5 main ingredients! Plus the recipe is simple to prepare!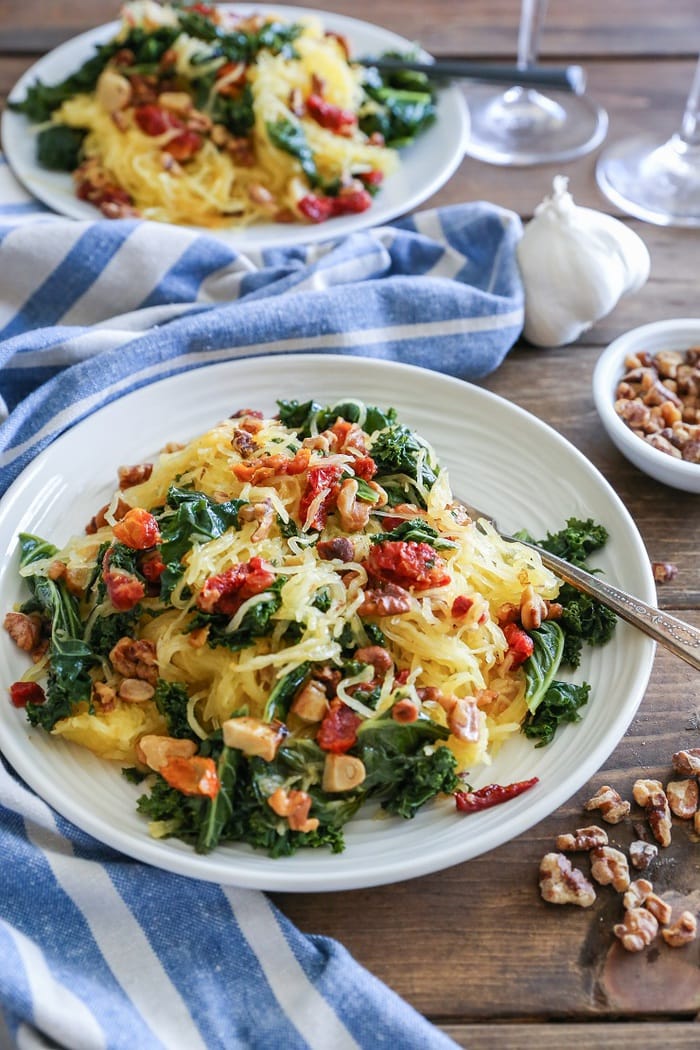 Spaghetti Squash Shakshuka by Kitchen Confidante – Spaghetti Squash Shakshuka is a creative spin on the classic baked eggs in a spicy tomato sauce. It's perfect for breakfast, lunch, or dinner!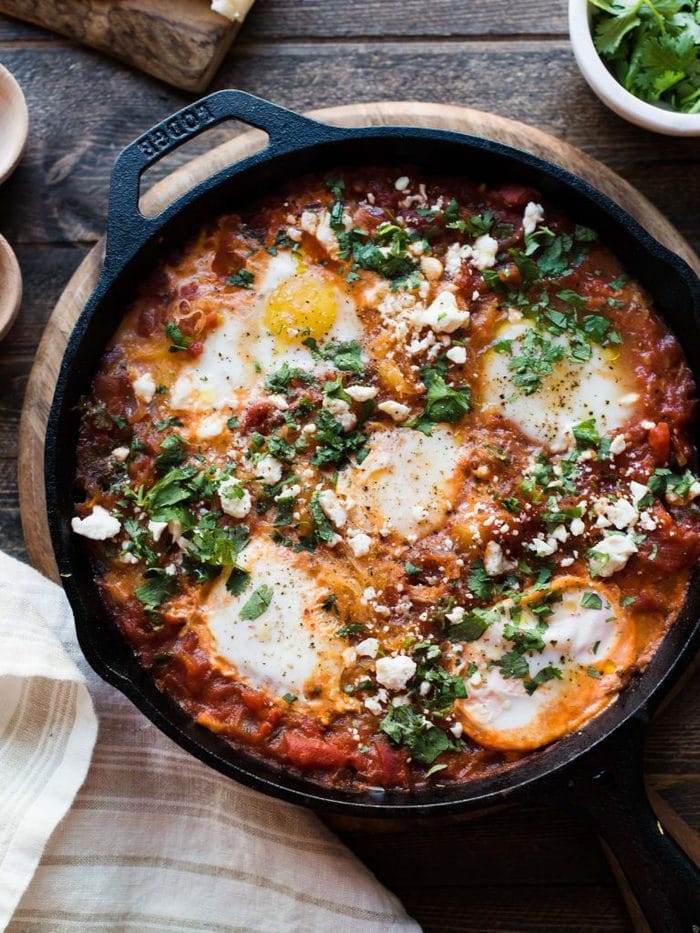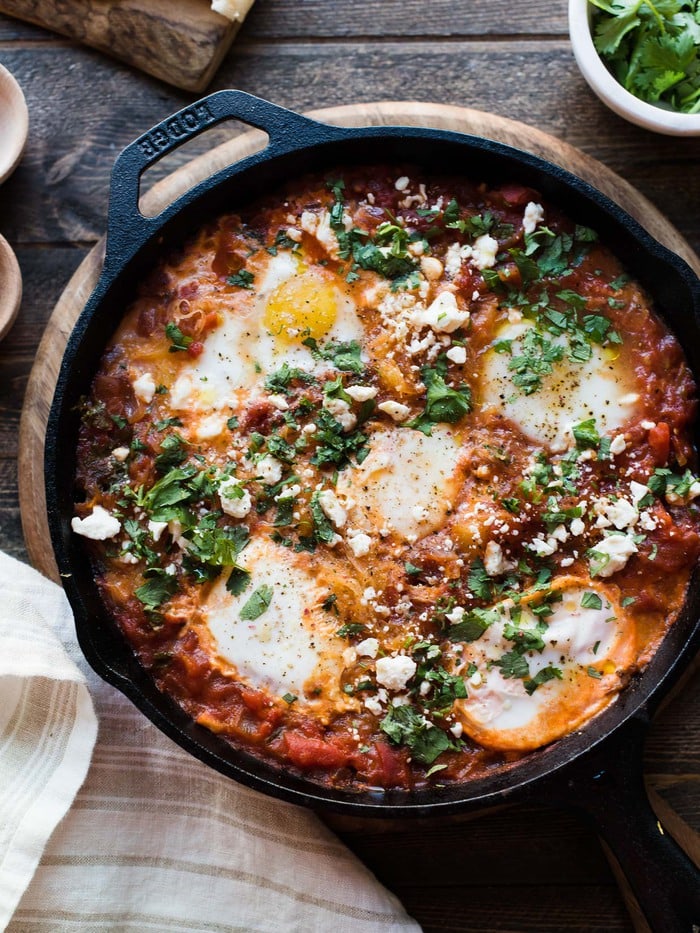 Spaghetti Squash Nests by A Sweet Pea Chef –Love baked eggs? Let me show you how to make baked eggs in spaghetti squash nests for a beautiful, easy, paleo, and gluten-free grab and go breakfast idea!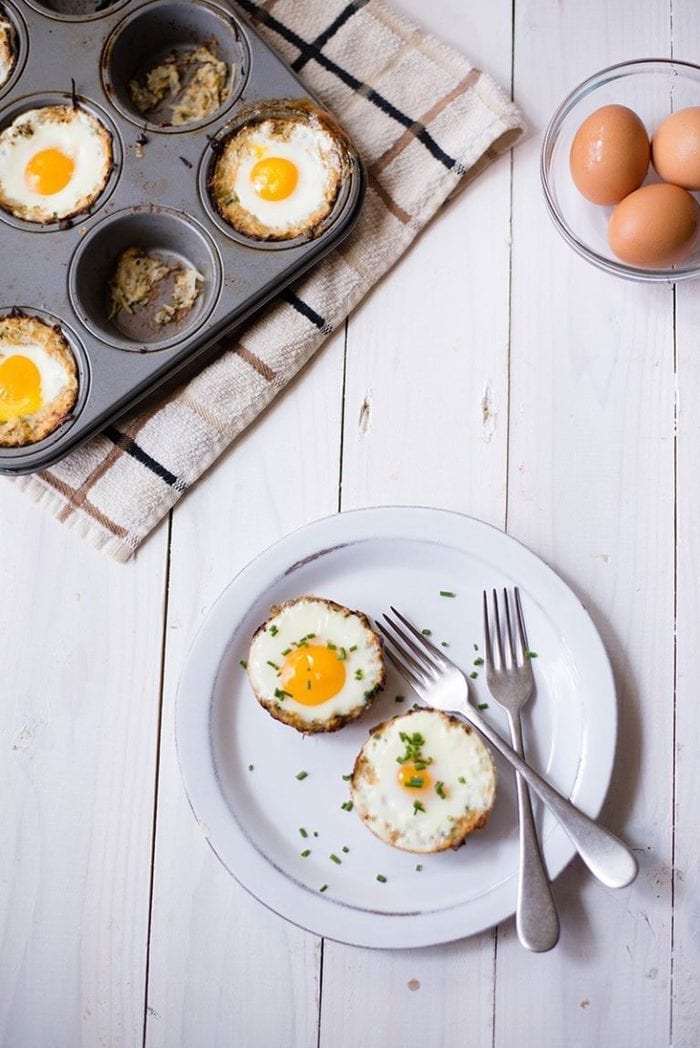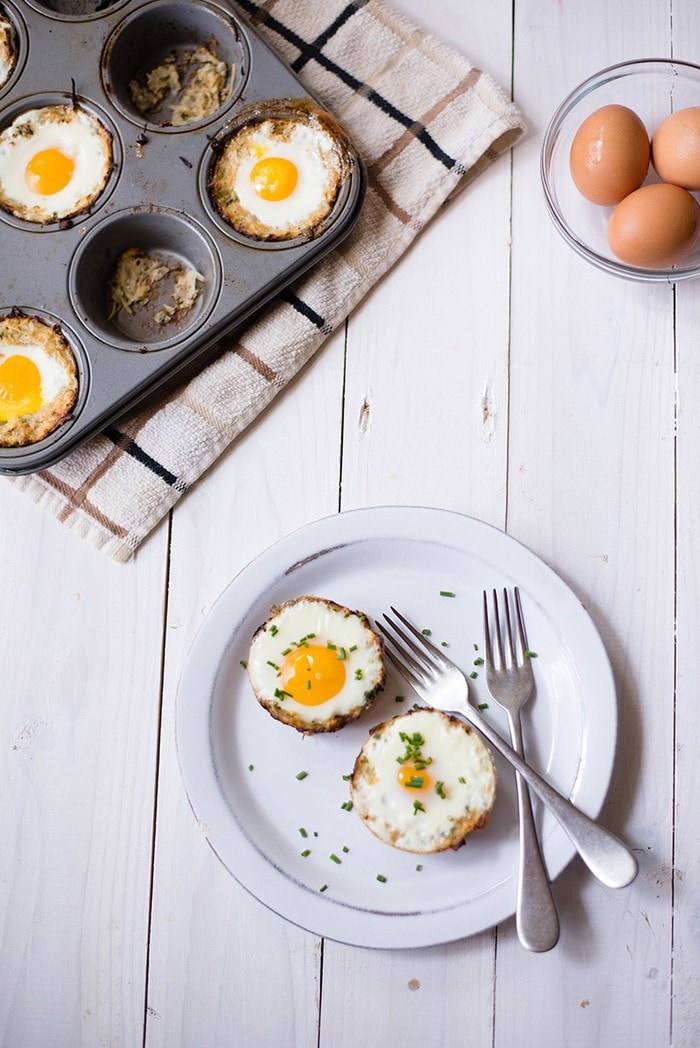 Do you have a favorite spaghetti squash recipe? Leave a comment letting me know what it is! Also, have you tried sweet spaghetti squash? I'm dying to try it!