The Best Services for Healthy Prepared Meals
2
Published Sep 17, 2018, Updated Jan 13, 2022
Looking for healthy prepared meals that require no prep or cooking? Here's my review of the top meal delivery services, including Daily Harvest, Sakara Life, Factor 75 and Daily Jars.
If you've been following me for the past couple of months, you know I recently underwent a major kitchen renovation. At this point, the project is complete and I'm obsessed with my new kitchen, but wow the process was stressful in ways I didn't imagine. It definitely made eating healthy a bit more challenging and I honestly could not WAIT to get back in the kitchen to make my own meals after a two-month hiatus.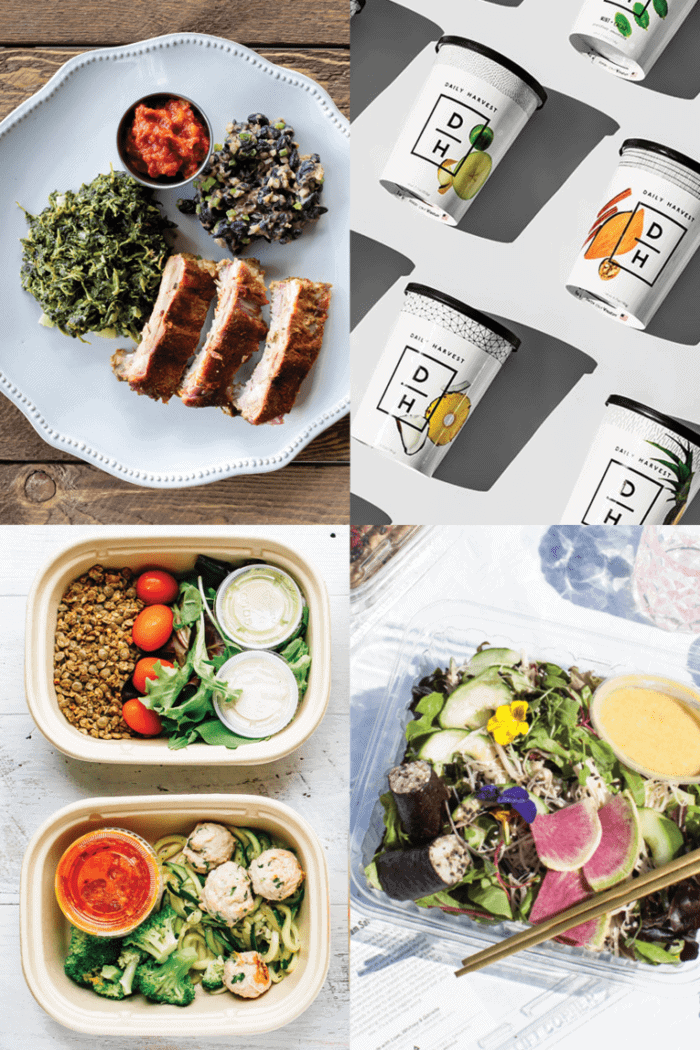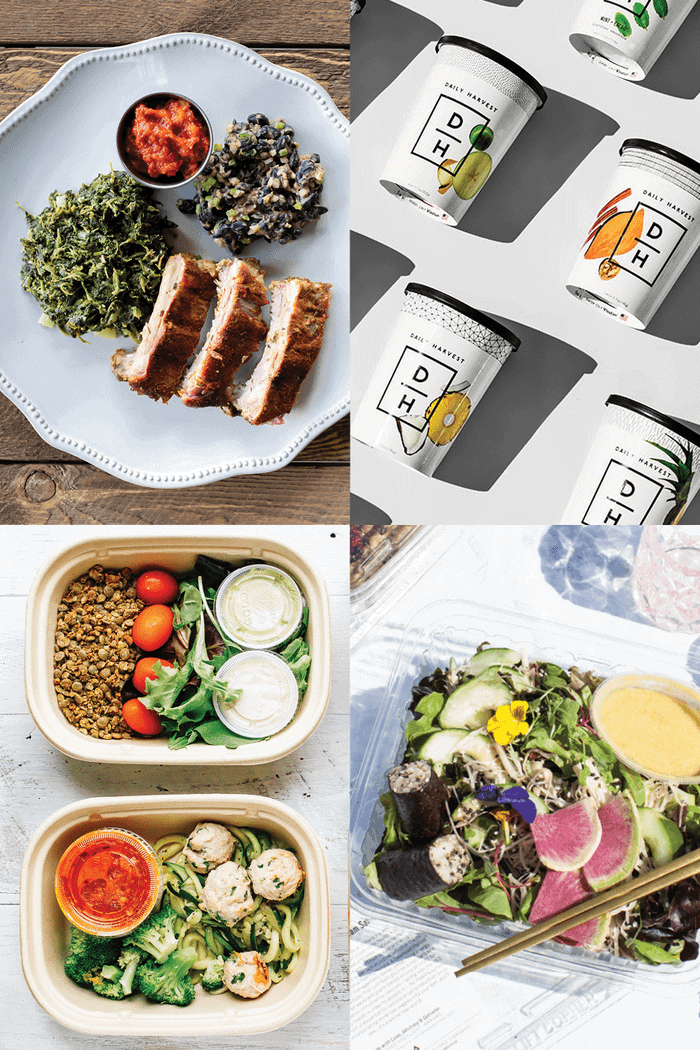 Thankfully, I found some delivery services to try that offer healthy prepared meals to keep me on track with my health goals. When looking for meal delivery services, I had a couple requirements:
The meals had to be pretty much ready to eat. Around week two of the kitchen renovation we sold all of our appliances except the fridge. So meal delivery services like Terra's Kitchen, Blue Apron and Sun Basket, which you still have to prep and cook, were out. I stuck to meals that were fully prepared and could be eaten cold or heated up.
Quality! I wanted the meals to use high-quality ingredients, and even though I don't label the way I eat, I wanted the meals to be healthy — made with real foods (organic when possible), lots of veggies and a good balance of protein, carbs and healthy fats.
So let's jump in! I'll give you a general overview of the meals, how delivery worked, my thoughts and a coupon code if you want to try any of the services for yourself. Even if you aren't undergoing a home renovation, these services are a great option if you hate to cook, don't have time or simply want to streamline your eating.
Best Services for Healthy Prepared Meals
This company started with just smoothies, but now they have a ton of plant-based offerings! They still have frozen smoothie cups, but now offer chia parfaits, overnight oats, harvest bowls and soups. It's a subscription-based model so you can place an order for monthly or weekly delivery. You then pick a certain number of "cups" from any category.
I ordered smoothies, overnight oats, chia parfaits and harvest bowls. The smoothies, oats and parfaits were really easy and perfect for me during the home renovation because all I had to do was add almond milk and blend (or soak) the ingredients.
Overall, I was impressed with the ingredients used by Daily Harvest. Many are organic and the company strives to work with farmers to get the highest quality ingredients. The flavor and texture of the smoothies was really good (my favorite smoothie was the mint cacao) and I really liked the cinnamon protein + banana overnight oats (which surprisingly has chickpeas included in the mix!). I still have two of the harvest bowls in my freezer so I'll have to try those soon now that I have a way to heat them up!
I'd recommend Daily Harvest if you're looking for quick and easy supplemental meals for breakfast or lunch. It's also nice that they keep in your freezer so you don't have to worry about eating the food quickly before it goes bad.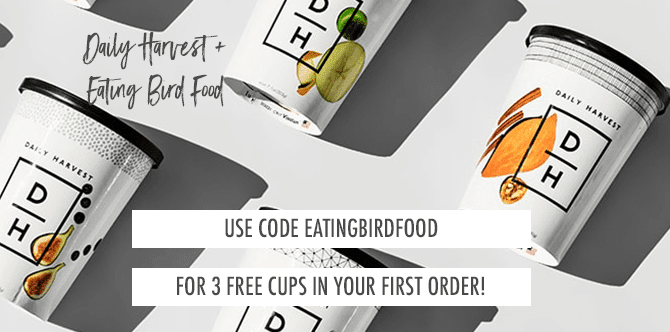 Sakara Life
Sakara offers 100% organic and plant-based meals, meal plans and a la carte items. You can pick a 3 or 5-day meal plan and each has 3 meals/day.
You can start with a one week trial or can set up a recurring delivery plan. I tried the 3-day plan twice during the renovation and really enjoyed all the meals. They're huge on leafy greens so I got a lot of salads which made it easy to hit my #saladeveryday goal! There are a few meals that they suggest heating but they're all fully cooked and can be eaten cold, which was a plus considering I didn't have a way to heat things up.
You can tell that the Sakara team puts a ton of effort into recipe development because all the meals are really unique and inventive. One breakfast recipe that I completely adored was the banana pudding parfait. It was so good… I'm even going to try to recreate it soon. Because the meals are plant-based, there were times where I felt I needed a little more protein, but other than that I really enjoyed the flavorful and creative meals.
Sakara is a great option if you're looking for 100% plant-based and organic prepared meals. Bonus: Sakara also has a Clean Boutique with a variety of snacks, drinks and supplements. The dark chocolate granola is amazing and I'm hooked on drinking the detox tea before bed.
Factor 75 offers organic and fully-prepared meals that are non-gmo, sugar-free, soy-free and gluten-free, so they're a great option if you're looking for paleo or keto options. The service allows you to choose your meals for the week and they have anywhere from 4-18 meals/week with breakfast, lunch and dinner options available. The meals are fully prepared, but most mention that you should heat them up before eating. Luckily, I tested out this service near the end of the home renovation so I was easily able to heat up the meals in the oven.
The Factor 75 meals are protein-focused so there's definitely more meat offerings, and each meal has a nutrition label so you know the exact calorie count/macros if that's something you're tracking. Of all the meals, these were Isaac's favorite. He loved the egg cups for breakfast and was impressed with how good the dinners were as well.
Factor 75 would be my recommendation if you're looking for paleo, keto or gluten-free meals that are protein-focused and include macros.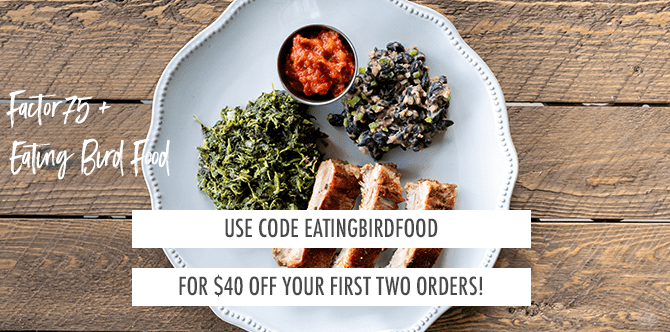 Daily Jars is a local Richmond meal delivery service that I actually tried way before the home renovation, but was reminded of once our kitchen was demoed. They source organic, local ingredients when possible which I love and each week they have a menu with entrees, salads, soups and even desserts. All items are gluten-free and low-allergen. You can get the meals delivered to your door or you can pick them up from one of their locations around the city. I love the mason jar salads and the raw chocolate mousse is delish!
I highly recommend this service if you're in Richmond and looking for a local meal delivery option!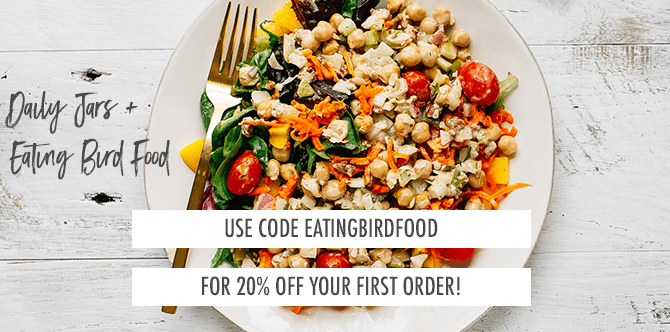 Are there any healthy meal delivery services that I missed? Let me know in the comments section, as I'm thinking I might try a few others and add them to this list!