EBF Baby 2: 1st and 2nd Trimester
We're pregnant with baby #2 and Olivia's so excited to become a big sister!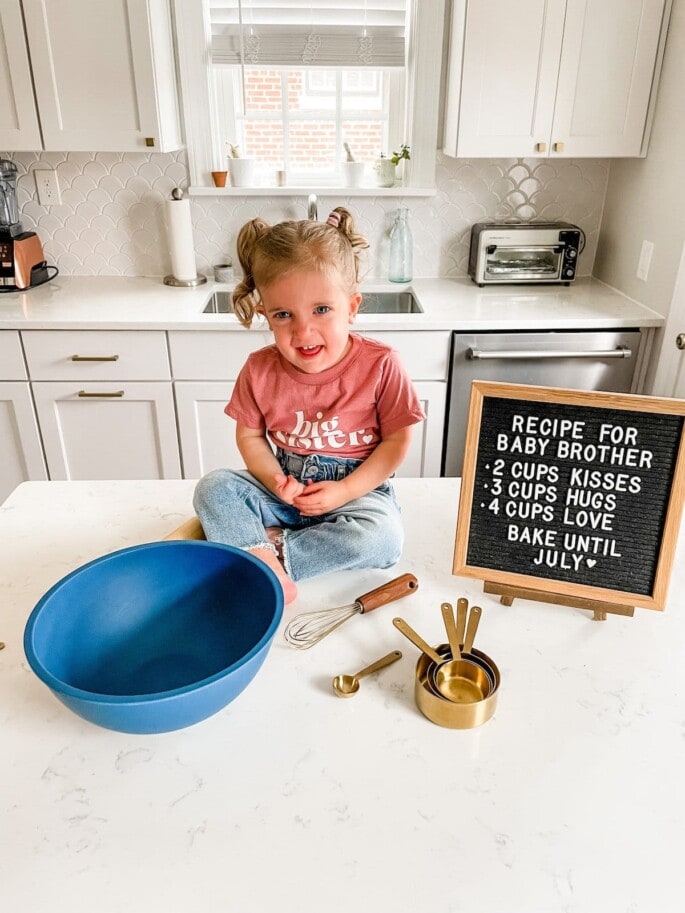 It feels like just a few weeks ago we announced that we're pregnant again, however by the time this post goes live I'll be in the 3rd trimester! With this pregnancy I had full intentions of sharing lots of updates like I did while pregnant with Olivia, but time is going by so quickly it's hard to keep up! Since I'm already in my second trimester at this point I'm going to focus on sharing about both the first and second trimester.
Deciding to Have Another Baby
I guess we should start here, right? Long before having kids (or getting married), Isaac and I discussed whether or not we wanted kids. We both knew whole-heartedly that we wanted to be parents, but we weren't sure exactly how many kiddos that would be.
After having Olivia we had a ton of conversations about having a second.
For starters, we had to take into consideration that Olivia was born with a congenital heart defect caused by 22q deletion syndrome that required life-saving surgery.
We didn't find out about her heart defect until I was 31 weeks along so during the last trimester instead of being able to focus on picking a name, the baby shower (which was the same week we found out the news) or getting the nursery ready, we were running to and from doctor's appointments, getting multiple fetal echocardiograms, interviewing surgeons and wrapping our heads around a completely different birth plan.
After interviewing three surgeons and touring children's hospitals, we chose to deliver at UVA Hospital in Charlottesville, Virginia, which has a great pediatric cardiology program and is about an hour from Richmond. This meant that we had to figure out the logistics of getting to the hospital for labor as well as housing for the first weeks of Olivia's life, given that she would need open heart surgery when she was just 6 days old.
Overall, it was a pretty traumatic experience and something that definteily weighed heavy on us when deciding if more kids was the right decision. With this in mind, we wanted to have as much information as possible so after Olivia's 22q deletion diagnosis, which we learned about when she was around 2 months old, we both did genetic testing. We also met with a genetic counselor to discuss everything.
Ultimately we decided that having another baby felt like the right decision for our family. We can't imagine our lives without Olivia so we knew it would be just as fun to have another and we also really wanted Olivia to have a sibling. Because we didn't want too large of an age gap between the two of them and the fact that we aren't getting any younger, we started trying right before Olivia's 2nd birthday.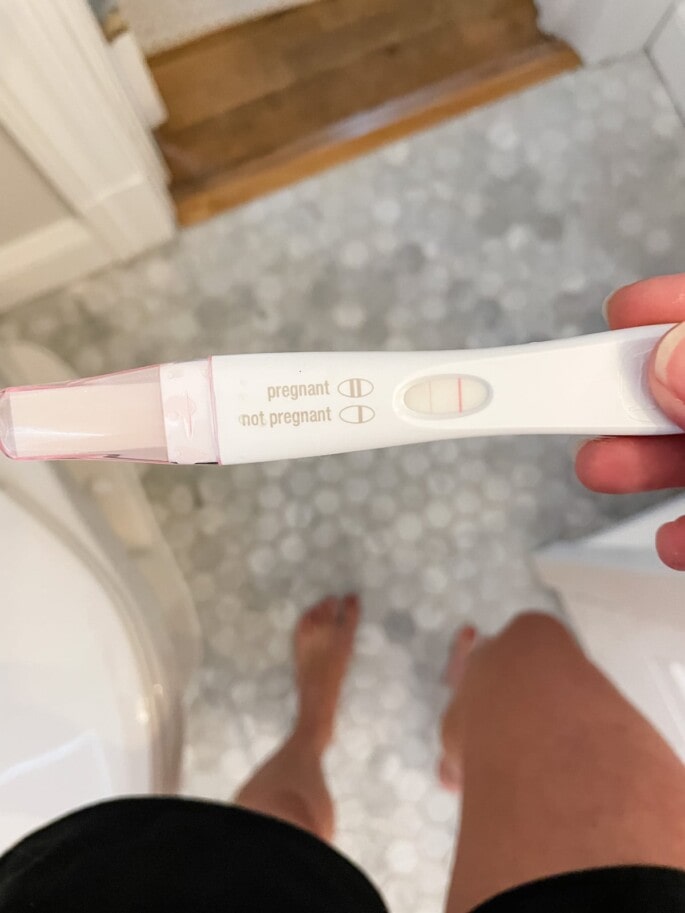 Finding Out I Was Pregnant
This time around things happened really quickly. I remember thinking we would probably have to try for a few months like we did with Olivia, but we got pregnant as soon as we started trying. Having more experience with tracking my cycle and paying attention to my body's cues definitely helped because I knew exactly when I was ovulating and it only took one time!
I took a pregnancy test on October 25th, about 4 days before my period, not expecting anything especially since it was so early, but a super faint second line appeared and I was like "okay, this is really happening."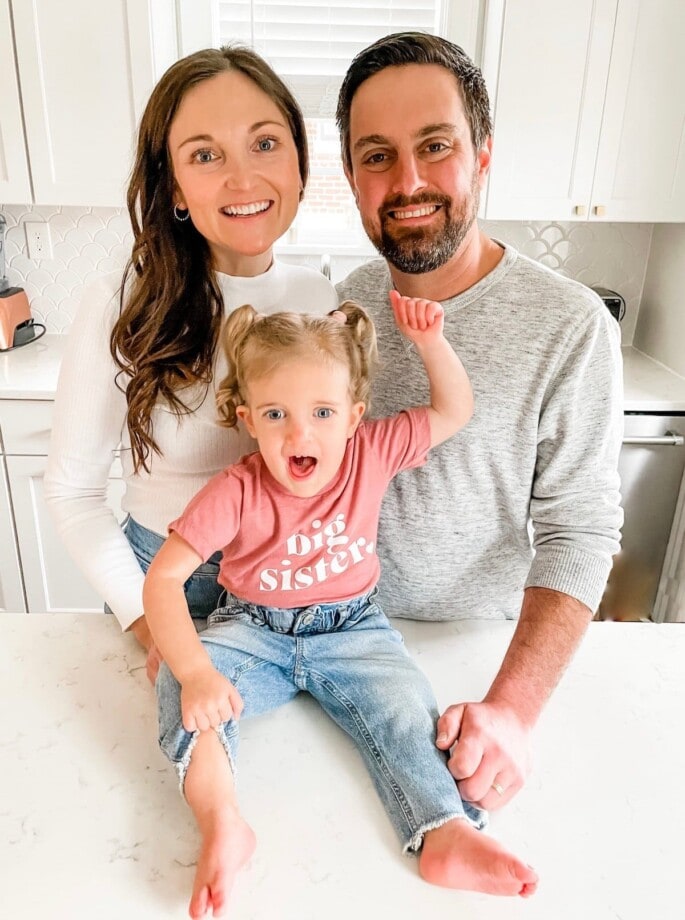 Telling Isaac and Our Family and Friends
I had full intentions of keeping the news to myself for a few days so I could think of a special way to tell Isaac, but I couldn't! As soon as he came home from work I just blurted it out. We were both so excited, but also in shock at how fast it happened.
Since I didn't get to plan anything fun for telling Isaac the news, I ordered a couple "big sister" shirts off of Etsy (this short sleeve tee in sweet mauve color and this sweatshirt in peach) and we put Olivia in these to tell our extended family and close friends. She also wore one of the shirts for our announcement post. It was really fun to share the news. It's great to see that everyone is just as excited as we are to meet baby #2.
Early Appointments
After finding out the news we scheduled an early appointment with my midwife (around 8 weeks) to confirm the pregnancy and get a referral to meet with the genetic counselor again for early testing and to get on the schedule for more advanced ultrasounds.
Through the early DNA testing we found out that this baby has a low risk for genetic abnormalities (including 22q) so that is really reassuring, but of course this sort of testing isn't diagnostic. We've also done two ultrasounds at MFM for more advanced screenings (one at 11 weeks and one at 18 weeks), in addition to a fetal echocardiogram at 22 weeks to check on the baby's heart. Thankfully, his heart looks great and everything else is looking really good as well. I've tried to let go of a lot of my stress and worry based on this information, but it is hard because everything was "normal" with Olivia's pregnancy until we found out about her heart condition at 31 weeks.
We have another ultrasound around 32 weeks just to check on baby again. I'm hopeful after that ultrasound I'll be able to breathe a big sign of relief, but to be completely honest, I'm not sure I'll be able to completely relax until the baby is here.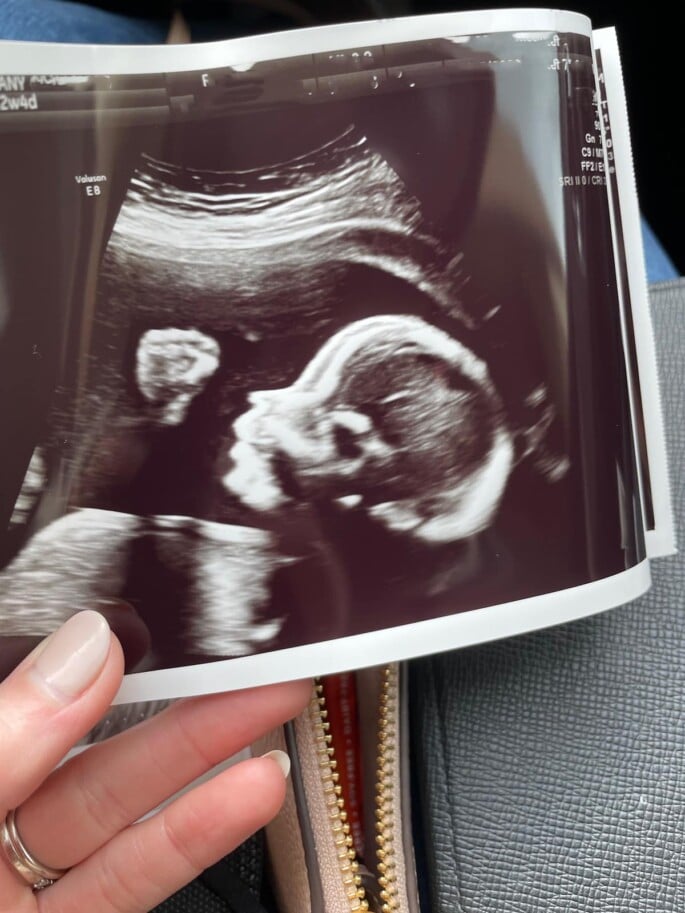 It's a Boy!
With the cell-free DNA testing we also found out at 12 weeks that the baby is going to be a BOY! When the genetic counselor called to let us know that everything came back as low risk on the test the week of Christmas, she also mentioned that she knew the gender and could tell us on the phone if we wanted.
With Olivia we found out her gender in an email, which was fine but with this pregnancy we thought it would be fun to do something different. So, I had the genetic counselor email the gender to my best friend and she had a cupcake made at a local shop so we could slice it and find out the gender as a family.
It was a little bit hectic because it was the 23rd of December and almost all the bakeries that my friend called didn't have the capacity to take on a custom order given the holidays, but she found a bakery that was able to make it happen. Isaac, Olivia and I sat around Olivia's little table on the kitchen floor and cut into the cupcake as a family and we recorded it. It was really special!
If I'm being honest, I was thinking that it was a girl and was excited about the thought of having two girls so that Olivia could have a sister (I love my sister so much). And to be honest, the thought of being able to use all of Olivia's clothes and gear sounded lovely, but as soon as I found out it was a boy, I was super excited and it made me feel like our family will be complete with this little guy. And of course, Isaac is pumped. He can't wait to have a boy!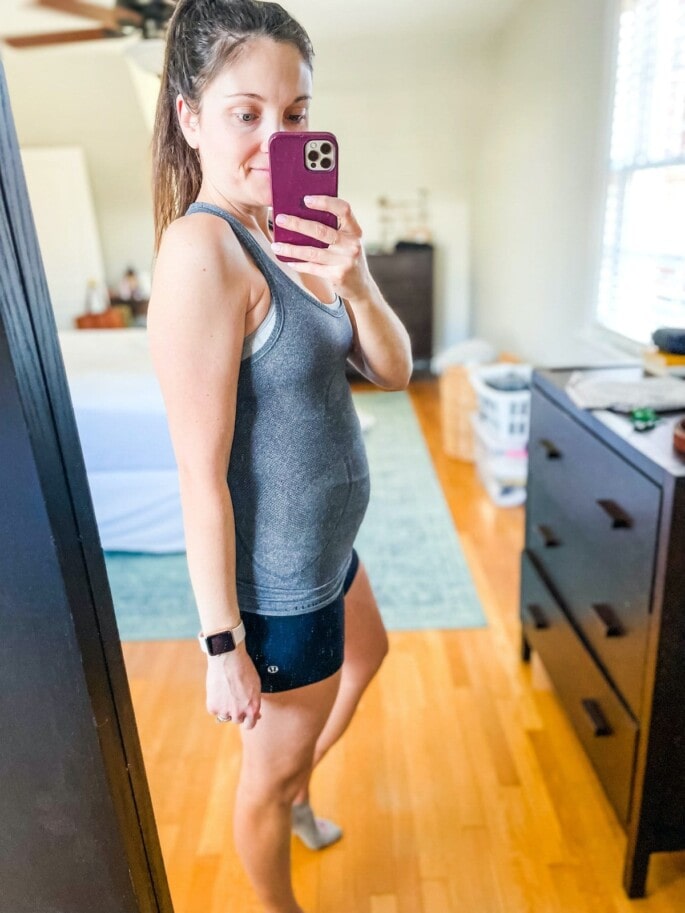 1st Trimester Symptoms
Okay, I feel super lucky with this one because the first trimester wasn't too bad for me. I've heard horror stories of women who had terrible food aversions and threw up non-stop so my symptoms felt very minimal and mild in comparison.
This pregnancy my symptoms were quite different than with Olivia because I didn't really have any noticeable symptoms until about 7 weeks. With Olivia my first symptom was sore and growing boobs around 5 weeks, but I didn't have that this time around.
At about 7-8 weeks I started getting a bit of mild nausea. Nothing in comparison to the morning sickness I had with Olivia, which was still pretty mild, but did last all day. I'm honestly so glad I didn't have worse morning sickness or food aversions because I was in the middle of recipe testing for my upcoming cookbook and I can only imagine how challenging it would have been to spend all day testing recipes while sick. For the nausea it was mostly solved by eating plenty of small meals and snacks (never having an empty stomach), but I also used the MegaFood Baby & Me 2 honey lemon ginger chews (with ginger and B6) and Preggie Pop Drops. Both worked well for me!
Surprisingly I still enjoyed all my typical foods, like salads, veggies and protein… which is so interesting because with Olivia I didn't want any of these things.
I also remember being completely exhausted with Olivia during the first trimester and with this pregnancy there were a couple nights where I was ready for bed at 9:00PM, but overall I wasn't overly tired and I didn't need to take naps or anything! I think I may have taken like 1 nap during the first trimester and it was on a weekend. I think I just felt too busy with everything going on to feel tired.
In terms of coffee, I switched to decaf for the first trimester and there were a few days where I didn't want it at all, but I slowly started adding in 1-2 cups of regular coffee in the morning during the second trimester when I was waking up at 5:30AM every day to work on the cookbook.
One weird first trimester symptom this time around was having a metallic taste in my mouth. It's such a weird taste and eating didn't really help it go away, but apparently it's a common symptom and just from the changing hormone levels during pregnancy. It wasn't fun though.
And the one big food craving that I've had with both pregnancies is Chick-fil-a. For whatever reason Chick-fil-a just sounds/tastes so good when I'm pregnant. I get the nuggets and fries and dip everything in Chick-fil-a sauce. I was obsessed with Chick-fil-a growing up so perhaps it's a nostalgia thing. Speaking of, if you're a Chick-fil-a fan, you have to try my healthy Chick-fil-a sauce. It's sooo good with the air fryer chicken tenders.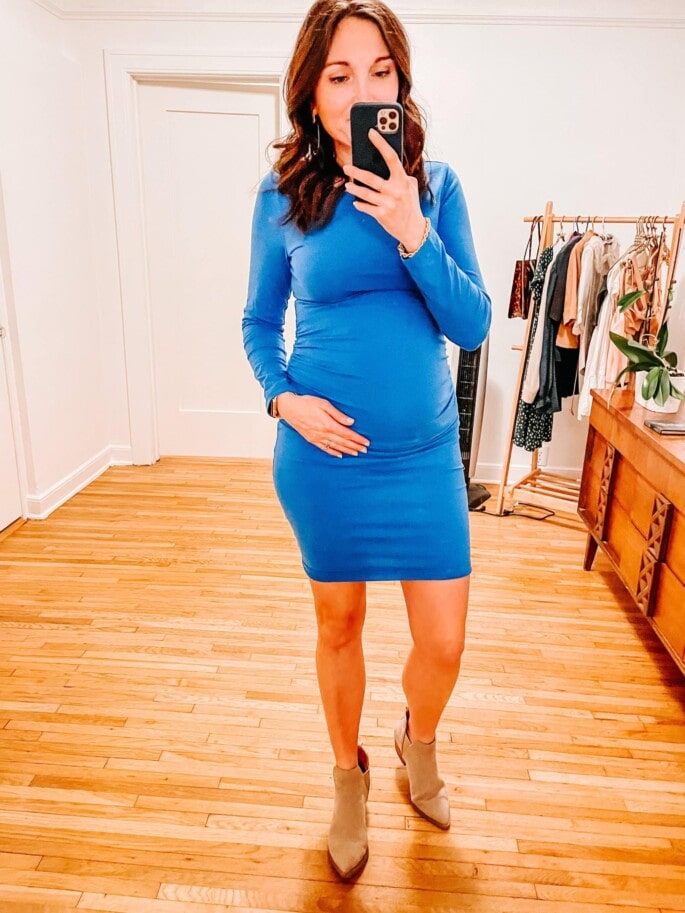 2nd Trimester Updates
The 2nd trimester was such a busy time for us with me working on the cookbook, us building a house and getting ready to sell our current home. It was seriously a whirlwind and I'm still not sure where all the time went or how we got everything done.
My morning sickness has basically subsided, but it's been replaced with heartburn. I've been trying a ton of different remedies and so far the best thing I've found is papaya enzyme tablets, Tums and apple cider vinegar diluted in water. It's inspired me to start drinking my daily apple cider vinegar drinks again.
Oh, and the bump is already feeling really big. It honestly feels like my 27 week bump is the same as my 40 week bump with Olivia so I'm anxious to see what the next 13 weeks bring.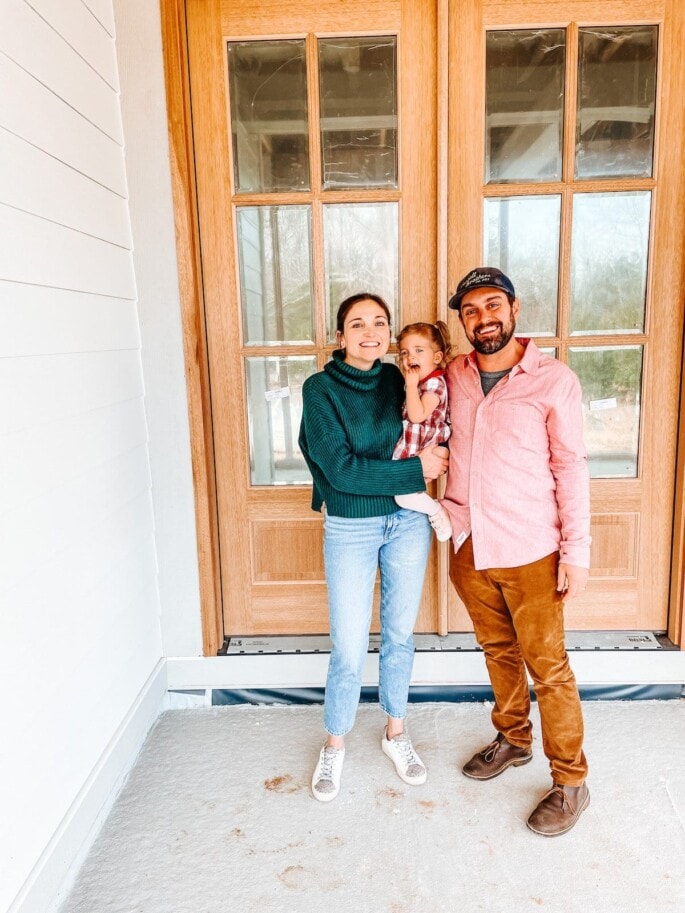 Prepping for Baby
Because we're waiting on our home build to be complete we haven't started doing any real prep or shopping for baby boy. We're honestly trying not to bring anything else into our current house because we know we'll have to move it in a month.
That said, will all the furniture delays we did go ahead and order the furniture for his nursery. And my mother-in-law found a halo bassinet for us on FB marketplace. I'm curious to see if we'll end up using the bassinet in our room because with Olivia she started sleeping in her crib right when we brought her home around 3 weeks. I'm hoping to breastfeed so I'm thinking a bassinet in our master bedroom will be ideal. We'll see.
In terms of buying more baby gear, I know we'll reuse a lot of the same stuff we already purchased for Olivia, but we'll need some things (like a second monitor, second high chair, double stroller, etc.) and there are some new things out now that I'd like to get as well. It's wild how much new stuff comes out for babies in 2 years!
I went through all of Olivia's clothes to figure out what was gender neutral that could work so I do have one bin of clothes for baby boy, but he's definitely going to need some additional clothing. I also know I want to get more gender-neutral covers for our dock-a-tot and baby bouncer because they're both pretty girly.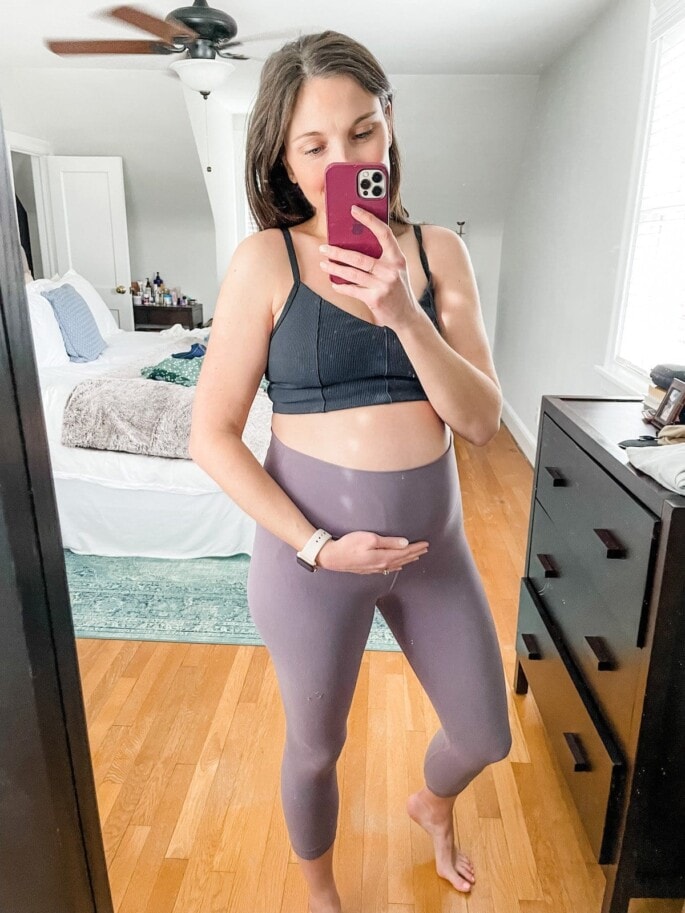 Exercising While Pregnant
I've been able to keep up with my workouts doing a mix of different things. In the first trimester I did a lot of Peloton barre or strength workouts and walks on the treadmill. I actually did a 3 mile challenge for the month of December, which was really motivating and kept me focused on walking, jogging or running at least 3 miles a day. I only missed 2 days that month!
I've stayed consistent with working out at least 4-5 days a week, but had to change up what I'm doing a bit. During the second trimester my belly has been really growing and I've noticed a bit of coning in my stomach during core exercises so I've needed to make more modifications.
To be honest, I've been in a little bit of rut trying to figure out what workouts I should be doing. Lately I've just been walking, doing lower body barre classes and the prenatal workouts on Peloton, but I also went to my first prenatal yoga class a couple weeks too. I loved the prenatal yoga classes I did weekly when pregnant with Olivia so I'm hoping to get back in a routine with going.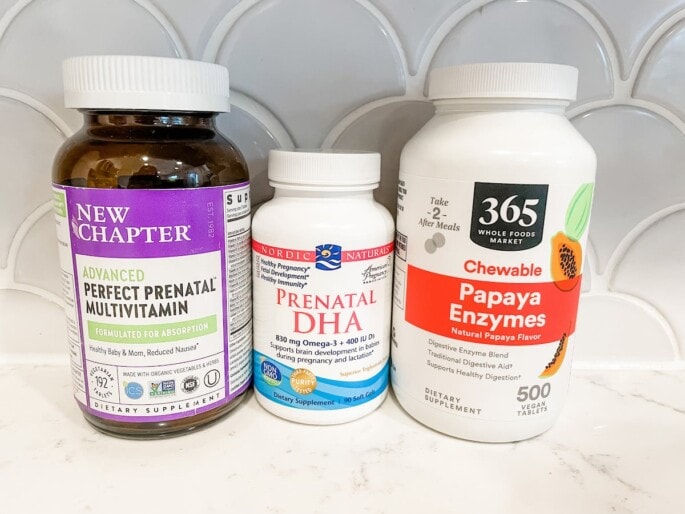 Supplements & Such
I'm basically using the same lineup of vitamins and supplements that I used during Olivia's pregnancy, but there are a few additions.
Maternity Clothes
I started wearing maternity jeans around 14-16 weeks because my regular jeans were getting uncomfortable and at this point everything I wear (besides leggings) is maternity. Luckily I've had a couple friends loan me some maternity clothes and I held onto my clothes from Olivia's pregnancy so I haven't really had to buy much.
Oh, and I've also been using Nuuly, a clothing rental service similar to Rent the Runway, but owned by the same company as Anthroplogie and Free People. They have maternity clothes so I've been renting stuff monthly. One thing I discovered through Nuuly are maternity overalls and I'm obsessed. They're so comfy and feel way less restrictive than maternity jeans. Sometimes you're just over having a tight panel over your belly, ya know?
So far I've only had to buy one pair of jeans and a couple tops, but I'm sure as the seasons change and we head into summer I'll want to buy a few more pieces. Here are my go-to's at the moment:
That's all I have for now! Let me know in the comments if this update was insightful or helpful at all. I will keep doing them if they're interesting to you!