2nd Trimester Update + Baby Registry Must-Haves
9
Published Aug 03, 2019, Updated Aug 05, 2021
My 2nd Trimester is quickly coming to an end (I'm 26 weeks right now) so I thought I'd share a little update with how I've been feeling and some that things I've been loving lately. I'm also sharing a list of baby registry must-haves.
New here? Get up to date by reading these first: Pregnancy Announcement + 1st Trimester Update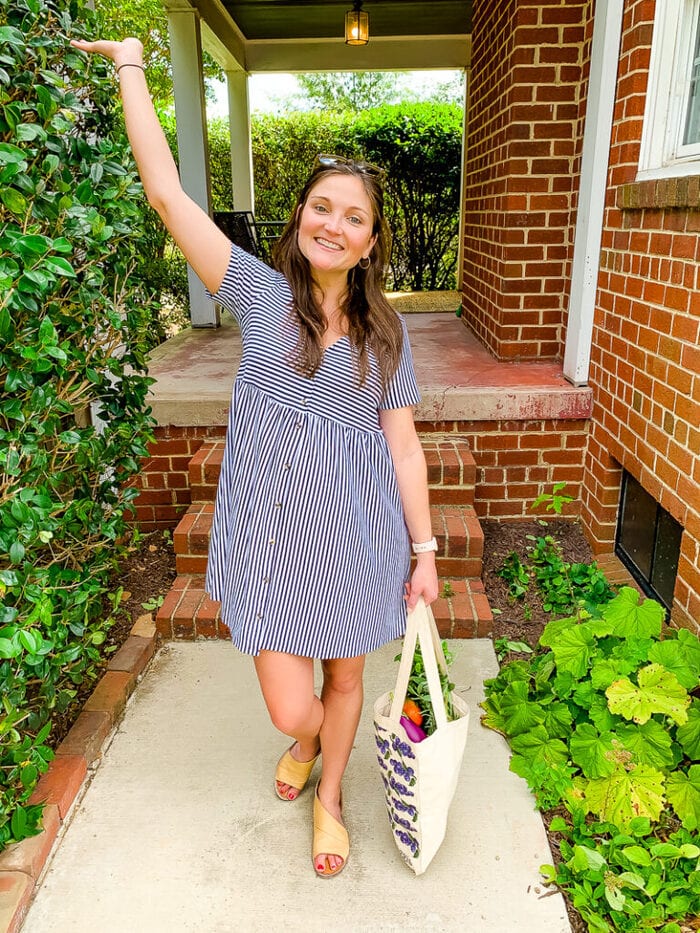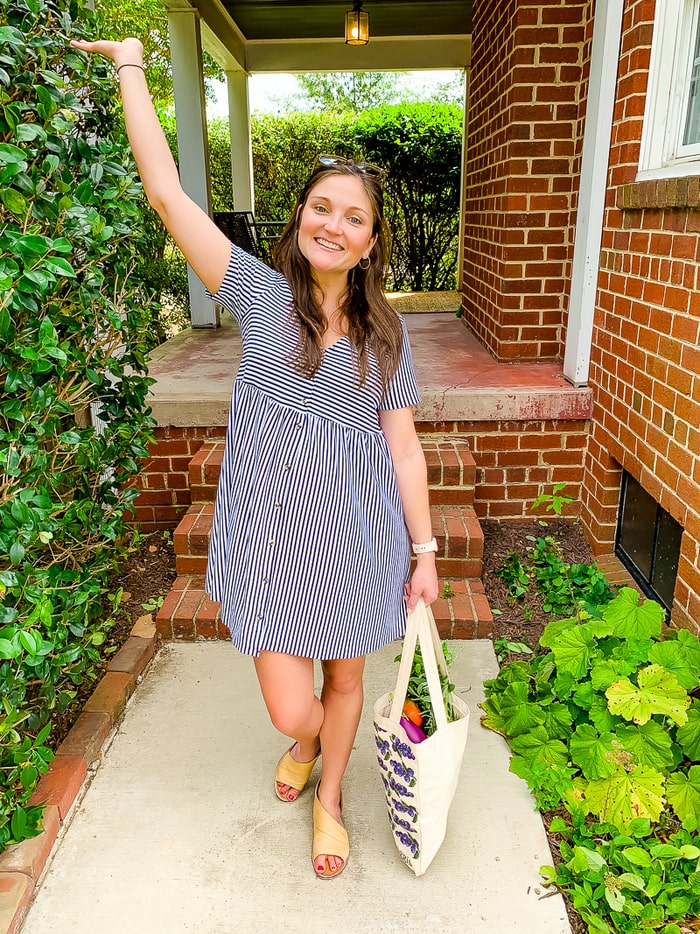 You guys, I am LOVING the second trimester! I have a few reasons. For one, the cats out of the bag – haha! Everyone knows that I'm pregnant now so I'm no longer feeling like I'm hiding a big secret or having to wear baggy clothes to hide the bump. I have waaay more energy and the morning sickness I felt in the beginning is pretty much gone. I'm still dealing with a little acid reflux, but I don't have any food aversions. I'm back to loving healthy foods again and overall I've been feeling really good.
Feeling Little Kicks
The most exciting thing that's happened as part of the 2nd tri is that I finally started to feel her kick around week 22/23. I first felt a little something in a prenatal yoga class one evening and since then I've been feeling her daily. Apparently she likes yoga as much as her mama! Isaac was able to feel the tiny kicks soon after I first felt them and I've been able to capture a few big ones on video too.
I know some women say the kicks feel like they have an alien inside them, but for me feeling the little kicks make me smile daily and it's been my favorite part of being pregnant so far. Almost every night I go to sleep with my hand on my belly waiting for kicks and I do the same thing every morning. She's always super active when I'm lying down.
Speaking of being active, I've been really thankful because despite the fact that my knees have been bothering me quite a bit I've been able to keep up with consistent workouts… usually a combo of walking, barre classes, prenatal yoga and quick prenatal workouts from the Tone It Up app each week.
I have started to notice my upper abs coning during certain movements (like trying to sit up) or core exercises so I've been avoiding these movements as much as possible and using my arms to push myself up from a side lying position when getting out of bed.
Second Trimester Sleep
The biggest challenge with the second trimester (so far) has been sleep. I've had more energy than the first trimester, but my sleep throughout the night has been a little lackluster. I can fall asleep fine, but I usually wake up multiple times a night — either because I have to pee or something will randomly wake me up. Olive sleeps with us and she seems to be getting restless as she's gotten older so sometimes her moving around in the bed will wake me up, other times I think I'm just uncomfortable. I have a couple things that have helped with this.
The first is a pregnancy pillow. This Leachco Snoogle pillow was given to me from a friend during my first trimester and I didn't understand why everyone swears by it, but now I use it every.single.night. I sleep with one end under my head, one end in between my knees and the long portion of the pillow under my belly. And then I use a king size pillow behind my back to try to keep myself in a side-sleeping position. Most mornings I still wake up on my back but I think most of the night I'm on my side, which is ideal.
Natural Calm Has Been A Lifesaver!
I've also been hooked on taking Natural Calm, a magnesium supplement at night that my midwife approved. I have the magnesium only lemon flavor and the magnesium + calcium lemon raspberry flavor so I switch between the two. It recommends hot water, but I mix 1 teaspoon with cold water and drink it about 30 minutes before bed. It helps me relax and I do notice that I sleep much better the nights I take it. I usually still have to get up to go to the bathroom at least once, but I'm able to fall back asleep easily.
Magnesium is great for stress and sleep, but it can also help with constipation, muscle cramps and restless leg syndrome… all things that are common during pregnancy. As I mentioned, my doctor approved Natural Calm, but if you're pregnant be sure to check with your doctor, just to be on the safe side.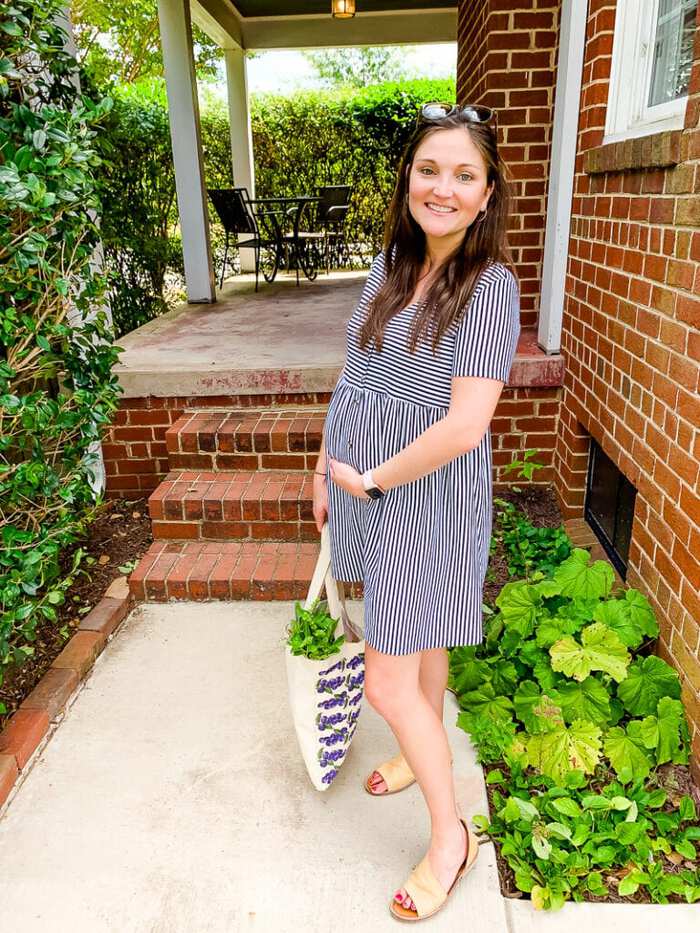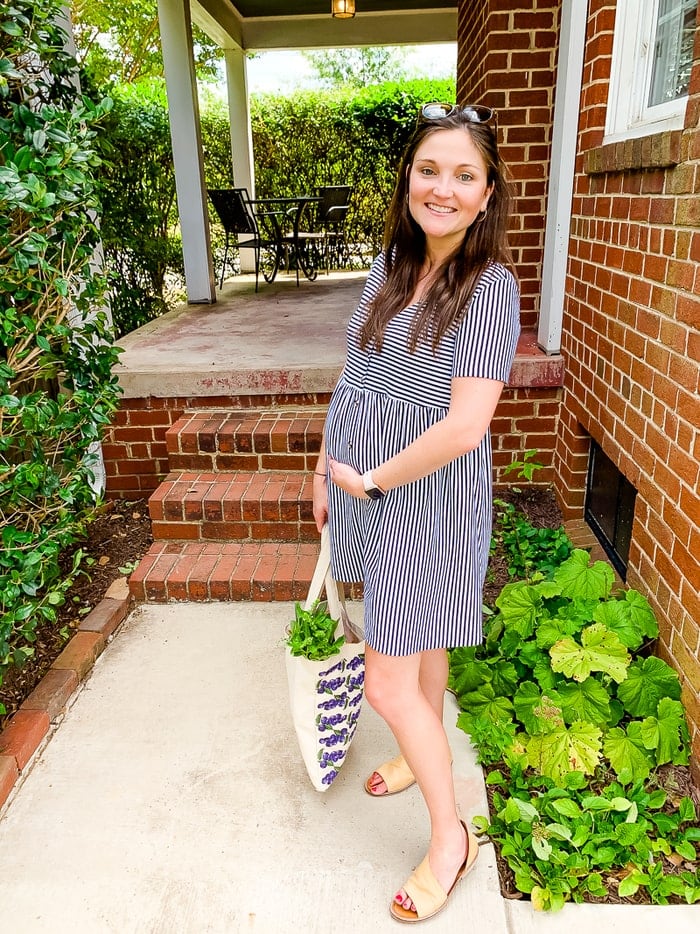 outfit details: maternity dress, sandals, sunglasses
Maternity Clothes
So far I haven't had to purchase a ton of maternity clothes, but since the bump has officially popped I'm feeling the need to buy a few more tops because I've been feeling like Winnie the Pooh aka all my regular tops are now crop tops. I also know I'll need some fall items once the weather starts to cool off so I been doing some online browsing for long sleeve tops, a couple pair of jeans and some workout leggings, but I haven't bought anything just yet.
New Bras
A few weeks ago I decided it was finally time to buy some bigger bras. I measured myself and I realized I'm now two sizes bigger so no wonder the girls were having trouble staying in. I tried out a ton of different options and ultimately went with three nursing bras from Target because the quality is good and they're not super pricey. I got one sports bra (I got the mauve color and love it) and two everyday bras — one in nude and one in black.
My goal is to nurse the baby so I figured it made the most sense to go ahead and invest in a few nursing options rather than just sizing up in a regular bra. I realize that my boobs will probably be even bigger once my milk comes in so who knows if these will fit, but they've been awesome so far — way comfier than my regular bras.
Supplements and Misc
Prenatal Vitamins: I've been using New Chapter perfect prenatal vitamins and love them. I'm also taking the Nordic Naturals prenatal DHA supplement. I purchase both through Thrive Market or Amazon.
Zoe Belly Oil: I use this on my belly every night to help prevent stretch marks. It's super hydrating, but not too thick so it spreads pretty easily and doesn't leave my skin feeling greasy.
Earth Mama Belly Butter: This butter is more of a lotion instead of an oil, so I like using it in the morning on my belly. I also put it on my lower back and thighs… trying to keep my skin really hydrated to prevent those stretch marks. Added bonus: it smells like a creamsicle.
Working on the Nursery
The nursery is slowly coming together. We have all the big items (crib, dresser and glider), but I've been struggling with the decor side of things and still have a few things on my list:
Decide what the baby will sleep in the first few weeks. I'm debating between a pack-n-play with the bassinet option or a Halo bassinet.
Find a rug (the one I really want is out of stock right now) and ottoman.
Figure out what direction I want to go with the decor. Right now I'm leaning towards a minimalist, classic/boho vibe without a real theme, just more of a neutral color palette with soft pink, gray and cream.
Pick out prints to hang.
Baby Registry Must-Haves
Another big project I've been working on lately is adding everything we'll need to our baby registries. So far I've decided to keep things simple and have only registered at two places — Amazon and Target. With Amazon you can register for things that are sold at other websites/stores (I use the amazon everywhere chrome plugin to add the items) and it's been nice to have almost everything in one spot!
There are so many baby products out there that I was feeling overwhelmed by what items to add to our registry so I asked on Instagram for must-have registry items and got a ton of responses. I also let one of my good friends take over my registry and add any must-have items I was missing. Between these two things I feel pretty good what where are registry is at right now! After asking for the baby registry must-haves on IG so many people responded asking for me to share so I thought I've put a list together of the top items people recommended!
Breast Feeding Essentials:
Playing: Love Very Play Gym
Soothing: Mamaroo, BabyBjorn Bouncer
Sound Machines: Hatch, Baby Shusher, Dohm Sound Machine (this company is actually local!). Lots of people also recommended getting a portable/travel sound machine too. And a Crane Humidifier.
Outfits: Sleep and Play zip-up pajamas in a variety of sizes (snaps are fine but the zips make it so quick and easy for diaper changes), newborn gowns, onesies or gowns with mittens.
Baby carrier: one that is structured with back strap (Lillebaby or Ergo 360) and soft cloth type like Moby, Ring Sling, Solly Wrap. I registered for the Solly Wrap because I think it's the cutest.
Swaddles: There are so many different types of swaddle blankets, but from the recommendations I got it seems like most people love the sleep sacks over the swaddle blankets themselves because the blankets have a learning curve and babies tend to break free from them easily.
Bath time stuff: Baby bath (I'm still on the fence about which baby bath to get, but I like that this one is the right height and that it turns into a step-stool). Some people recommended the Skip Hop Sink Bather Too. And baby washcloths.
Portable baby sleepers: Dockatot, Snuggle Me Organic
Nose Frida – so many people recommended this!
Diaper changes:
Practical Gifts: amazon gift cards, meal service, house cleaning service <– I love all of these ideas!!
Hopefully this post is helpful to you! Let me know if you have any additional questions!