I'm sure most people are on a healthy new year kick and limiting their cookie consumption right now, but I have a delicious recipe that has to be shared today. It's too good to keep a secret and if you're limiting your sugar intake, just bookmark this post and save it for a time when you need the perfect cookie recipe.
All you really need to know is that these cookies are amazing and you should definitely make at a some point. I made some for our NYE party last weekend and they were a huge hit.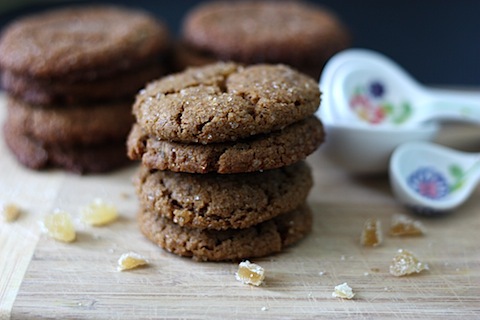 The story behind these cookies starts with Isaac and his love for the vegan + gluten free gingersnap cookies made and sold at Ellwood Thompsons, a locally owned organic market here in Richmond. The cookies are dense, chewy and extra gingery – everything a gingersnap cookie should be. Isaac buys one almost every time we stop by Ellwood's, which is often.
One large cookie sets him back $1.99. Now that's a small price to pay for a large and exceptional cookie, but you know me and my copy cat recipes – I had to try to make my own comparable version of said cookie.
A couple batches of gingersnaps later and I think I have the perfect recipe. Although this recipe makes smaller cookies than the ones we buy at Ellwood's, Isaac did a taste test with a cookie from my batch and a cookie we bought from Ellwood's and said it was spot on!
Long story short, these cookies so good you could probably sell them for $1.99 a cookie. Or just bake them and eat 3 in one sitting. <– Not that I did that or anything.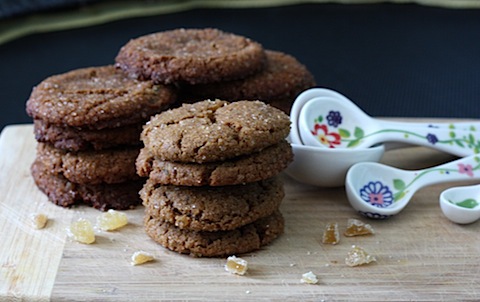 Vegan Gluten Free Gingersnap Cookies
Inspired by Ellwood Thompson's / Adapted from PETA's Gluten Free Gingersnap Cookies
Makes 4 dozen cookies
Ingredients
2 1/4 cup all-purpose gluten free flour (I used Bob's Red Mill)
3/4 tsp. xantham gum
2 tsp. baking soda
1 tsp. ground cinnamon
1 tsp. ground cloves
3 tsp. ground ginger
3/4 tsp. sea salt
1/2 cup – 3/4 cup crystallized ginger, chopped
1/2 cup vegan shortening (I used the Earth Balance brand)
1/4 cup vegan margarine (I used the Earth Balance brand)
1 cup sucanat or light brown sugar
1/2 Tbsp. ground chia seeds or flaxseeds
1 Tbsp. water
1/4 cup molasses
1/2 cup organic sugar (I used turbinado sugar)
Preparation
Pre-heat oven to 350°F.
Whisk together the flour, xantham gum, spices, salt, and crystallized ginger. Set aside.
Cream together the shortening, margarine, and sucanat/brown sugar in a large bowl.
In a separate bowl, mix the flaxseeds/chia seeds and water together and add the molasses. Pour into the creamed sugar mixture. Using a hand mixer, mix on low until combined.
Add the flour mixture to the sugar-molasses mixture and continue to mix on low until well combined. Chill for 1 hour.
Roll the dough into walnut-sized balls. Roll in the sugar.
Place 2 inches apart on a greased cookie sheet.
Bake for 12 minutes.
I hope you enjoy these cookies as much as Isaac and I do. Happy Monday!