Happy Monday friends. I hope you had a fabulous weekend.
I spent the weekend hanging out with family, which was awesome. I got to see my dad for Father's Day and visit with my sister, bro-n-law, mom, nieces and new baby nephew.
I am in awe of his cuteness! So sweet.
Other highlights of the weekend included making it to a Saturday morning spin class. <– I hadn't been in way too long and my tush is paying for this morning! Ochie.
I also experimented with local zucchini I got from the farmers market and came up with a new recipe for you guys. Woo-hoo! It all started late last week when I made zucchini noodle pasta with a homemade tomato sauce for dinner.
I used this pasta sauce recipe from Edible Perspective as a base and beefed it up a bit by adding 1 cup kale, sliced mushrooms and some ground Quorn. Ashley is a genius in the kitchen and the sauce was amazing. Both Isaac and I loved it.
Zucchini noodles are great in the summer time when you're craving lighter meals. I rarely eat pasta (I've never been a fan), but I love zucchini noodles, especially right now when zucchini is in season – it's cheap and delicious. I used raw zucchini for this dish, but you could certainly saute the noodles in a little oil with garlic to get them softer and add some flavor.
The zucchini pasta is nothing new as I've made that many times before, however this weekend I decided to use the rest of the zucchini noodles I had on hand to make another tasty dinner – this time using Thai flavors.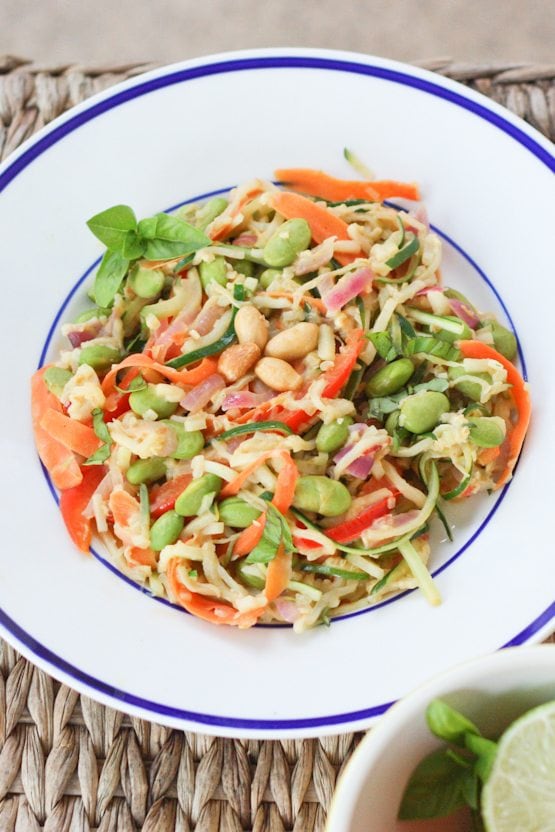 The final product reminded me of Pad Thai. Although to be perfectly honest I've only ever had bites of Isaac's Pad Thai entrées because I've never actually ordered it for myself. I'm more of a papaya salad, Tom Yum soup and fresh spring roll girl when it comes to ordering at Thai restaurants. That said, I was going to call this Zucchini Noodle Pad Thai but I think I'll just call it Zucchini Noodles with a Peanut Sauce. Either way, it's delicious and healthy and you should probably try it.
Zucchini Noodles in a Thai Peanut Sauce
Author:
Eatingbirdfood.com
Ingredients
1 teaspoon coconut oil
2 medium sized zucchinis, to make zucchini noodles
2 cloves of garlic, minced
1½ Tablespoons fresh ginger root, minced
½ cup red onion, chopped
1 carrot, sliced into small strips using a vegetable peeler
½-3/4 cup red bell pepper, chopped
1 cup shelled edamame, cooked
2 Tablespoons natural creamy peanut butter
½ of a lime, juiced
1-2 Tablespoons water (for thinning out sauce)
1 teaspoon chili paste (I used sambal oelek)
sea salt, to taste
2 Tablespoons fresh basil, chopped
2 Tablespoons chopped peanuts (optional)
Instructions
Use a mandoline or hand-held peeler to make zucchini noodles. Set aside. (This
Mandoline V-Slicer works great.)
In a large skillet, heat coconut oil and sauté the garlic, ginger and red onion. Once onion is translucent and fragrant, stir in the red bell pepper, carrot slices and cooked edamame. Cook for 2-3 minutes.
Add a pinch of sea salt to the mixture, then add the lime juice, peanut butter, chili paste and a little water to thin out the sauce.
Place the zucchini noodles into the skillet and stir them around quite a bit so that the sauce coats them. Cook in sauce for about 8-10 minutes.
Remove from heat, plate and top with fresh basil and chopped peanuts. Enjoy.
This dish is easy to whip up and has a lovely blend of fresh flavors and a hint of richness from the peanut sauce. It's not only delicious, but much healthier than traditional Thai take-out. I hope you'll consider making it next time you're craving Thai cuisine.