Secrets for Saving Money at Whole Foods
21
Published Apr 04, 2016, Updated Jun 18, 2023
Wondering how to be a budget-conscious shopper at Whole Foods Market? Today I'm going to share my secrets for saving money at Whole Foods.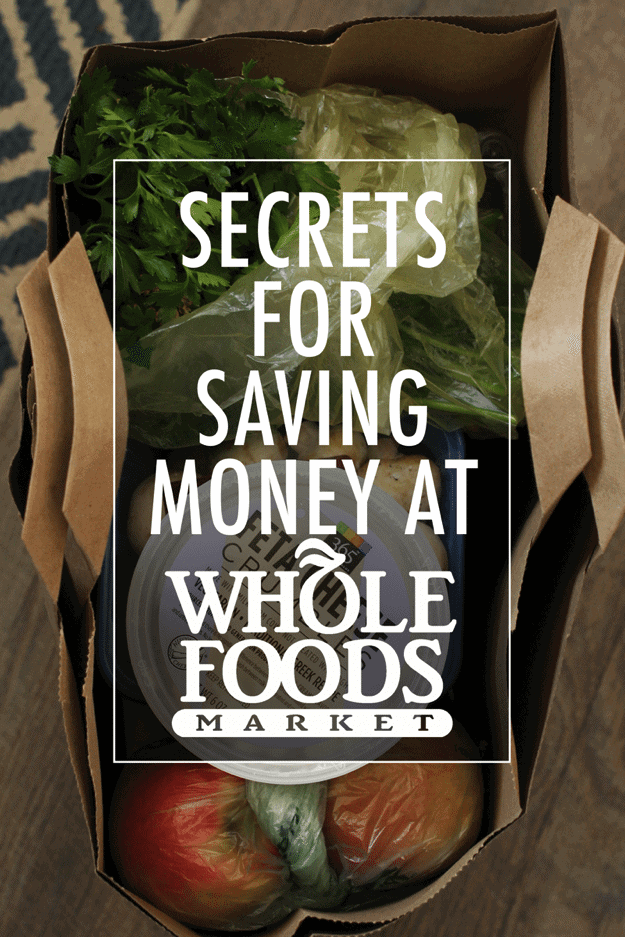 Whole Foods = whole paycheck. This has been the running joke for years and there is definitely some truth to it. Just last year, this Business Insider article compared the prices at Whole Foods (at my local Glen Allen location) to prices at Kroger. The author purchased 31 items at both stores and the Whole Foods' total ended up being $60 more than the Kroger total! I always knew that Whole Foods was more expensive than Kroger, but I didn't expect such a big difference. Kind of crazy.
Despite the higher prices, Whole Foods is still my favorite grocery store. Mainly because it's clean and pretty, the produce always looks beautiful and they have the best selection of organic and natural foods. Shopping at Whole Foods makes me happy whereas sometimes shopping at other grocery stores — especially if they're dingy and dirty — isn't very fun.
High quality food is one thing that I don't mind spending my money on because I know it's worth it, but Isaac and I aren't rolling in the dough so I'm always looking for little ways to save money while still shopping at my favorite store. That's where the idea for this post came from. Ready for my tips?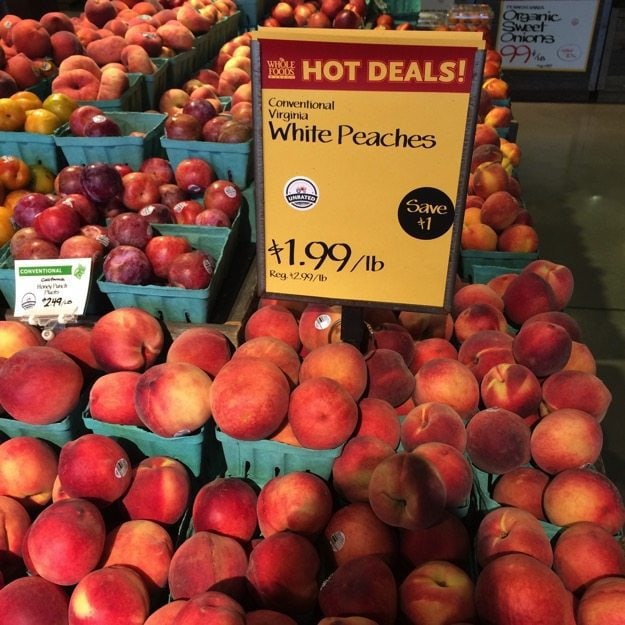 Shop the Sale Items
This one is pretty self-explanatory. New weekly sales start every Wednesday at Whole Foods. There's also a special Hot Deal each weekend and occasional one-day deals on Friday as well. Visit the website, sign up for the weekly emails or check the in-store signage to stay up to date on what items are on sale.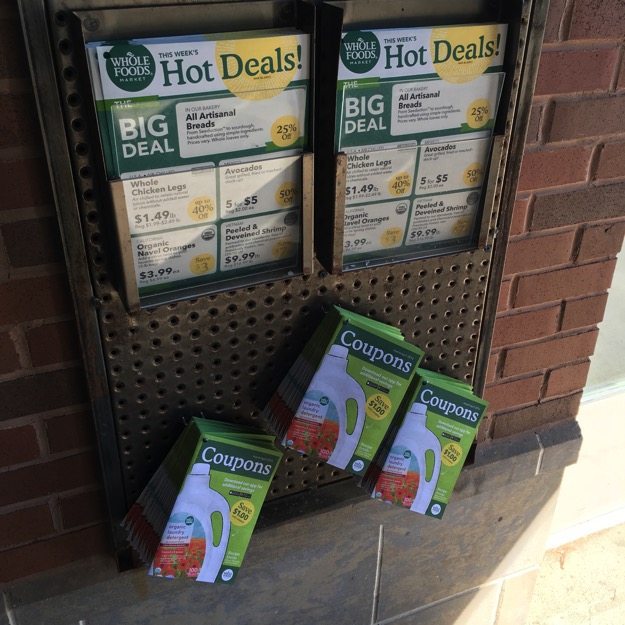 Use Coupons
Most Whole Foods stores give out monthly/bi-monthly Whole Deal books full of coupons and recipe ideas.
Whole Foods now has an app with digital coupons. It's similar to Target's Cartwheel app, but less robust (at least right now). There's a scrollable list with coupons and another with sale items. Last time I checked there were about nine coupons and eighteen sale items.
Whole Foods accepts manufacturer coupons. A couple tips:

A store coupon and a manufacturer coupon can be combined on one item.
Case discounts can be combined with coupons.
If there is a BOGO FREE promo, one coupon can be used for the full price item.

Many natural and organic brands offer coupons to their email subscribers or social media followers. Check out these sites for deals:

Organic Deals has an updated list of coupons on all things organic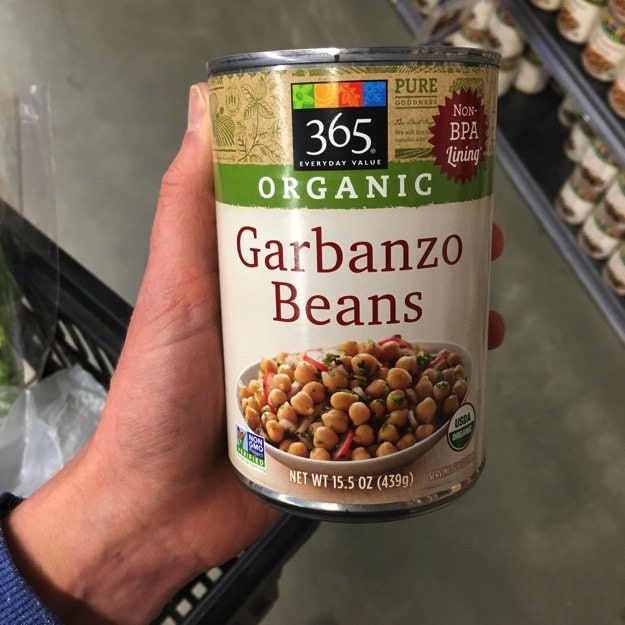 Look for the 365 Store Brand
I love when I find store brands that have products I like just as much as the name brand! Whole Foods has their own store brand, 365, which is less expensive than other brands they carry. Not only do you save some bucks with 365, but they also come out with fun products to keep you on your toes while you shop. One of their recently featured products, Greek Yogurt Pops, sound delish.
Look for 365 foods such as beans, grains, chia seeds, frozen veggies and stir-fry mix, frozen fruit (awesome for smoothies!), organic milk and unique snacks. 365 products are either natural or organic products — well trusted and delicious!
Check the Unit Price
Looking at the unit price is a game-changer when comparing the price of two similar products, especially those packaged in various sizes. Check out the photo below as an example. You'll see that the 365 pasta sauce is priced at 12 cent per ounce whereas the Yellow Barn pasta sauce is 40 cent per ounce regularly and the sale price is 33 cent per ounce. So even though the Yellow Barn pasta sauce is on sale, the 365 sauce is still a better deal!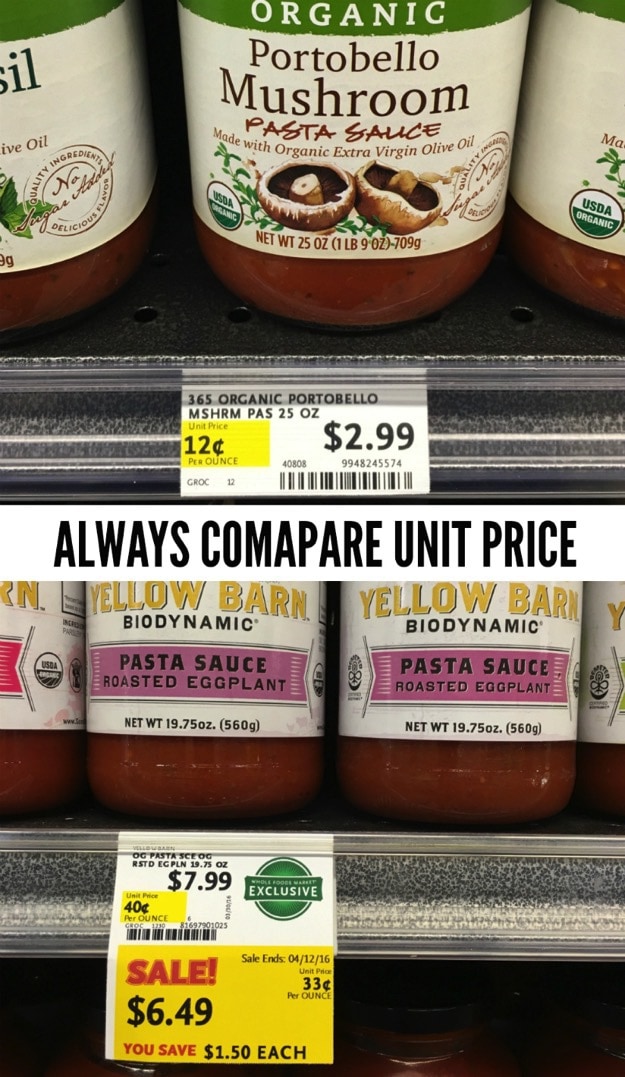 Know What Items are Most Important to Buy Organic
Knowing what to buy organic versus non-organic can really save your grocery bill. The EWG puts out lists annually to make it easy. There are two lists, the Dirty Dozen and the Clean Fifteen. Dirty Dozen = items with high use of pesticides, usually produce with edible skin. Clean Fifteen = most of the produce on this list has skin or peels that are removed before eating or the produce is treated with less pesticides.
Dirty Dozen = 1. Apples 2. Peaches 3. Nectarines 4. Strawberries 5. Grapes 6. Celery 7. Spinach 8. Sweet bell peppers 9. Cucumbers 10. Cherry tomatoes 11. Snap peas (imported) 12. Potatoes Extras: Hot peppers, kale/collards
Clean Fifteen = 1. Avocados 2. Sweet corn 3. Pineapples 4. Cabbage 5. Sweet peas (frozen) 6. Onions 7. Asparagus 8. Mangos 9. Papayas 10. Kiwi 11. Eggplant 12. Grapefruit 13. Cantaloupe 14. Cauliflower 15. Sweet potatoes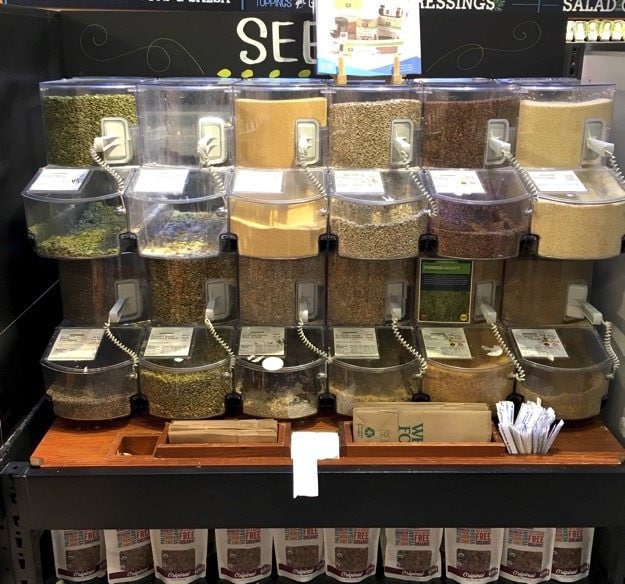 Buy in Bulk
I love bulk bins. Most of the time items from the bulk bins are cheaper than their packaged counterpart. An added bonus is that you can buy as much or as little as you want. So if you have a recipe that calls for 1/4 cup of shredded coconut you can grab a small amount from the bulk bin rather than buying a whole bag of it. Bulk bins are also a great way to try items like chia seeds or sprouted quinoa.
Some items I recommend buying from the bulk section: beans, grains, chia seeds, brown rice flour, nutritional yeast, coconut sugar, dried fruit, nuts, trail mix, popcorn.
Get the Case Discount
Whole Foods offers a discount of 10% off when you buy things by the case. A case usually means 12, but be sure to ask an associate because some items are different. For instance, two 12-packs of La Croix are considered a case. This discount works for items like wine, boxed energy bars, GT's kombucha and more. Just mention that you're looking to get the case discount to the cashier when checking out because it's a manual discount that they have to add.
Save on Meat, Fish & Dairy
Befriend your local Whole Foods butcher! Meat/fish counters usually hold weekly or monthly specials. Know what specials are coming up and plan a fun menu around the meat or fish that's on special.
Cheese. This goes back to the concept of buying in bulk. Save more money per ounce by buying blocks of cheese versus bagged shredded cheese. Not only will the cheese taste sharper, but you'll get more bang for your buck.
Save on Prepared Foods
The Whole Foods salad and prepared foods bar is pricey and can easily jack up your grocery bill, but there are tips for saving. As you're filling up your container remind yourself that you're paying $8.99 per pound. Most veggies cost way less than $8.99 per pound, but some items (like bacon, salmon or shrimp) cost more per pound so you're actually saving money! Also, check out the Value Entrée Meals at the prepared foods counter. You can pick one main dish (a veg, meat or seafood option) and two sides for a set price — it's $8 for the veg option, $10 for the meat and $12 for the seafood at my store.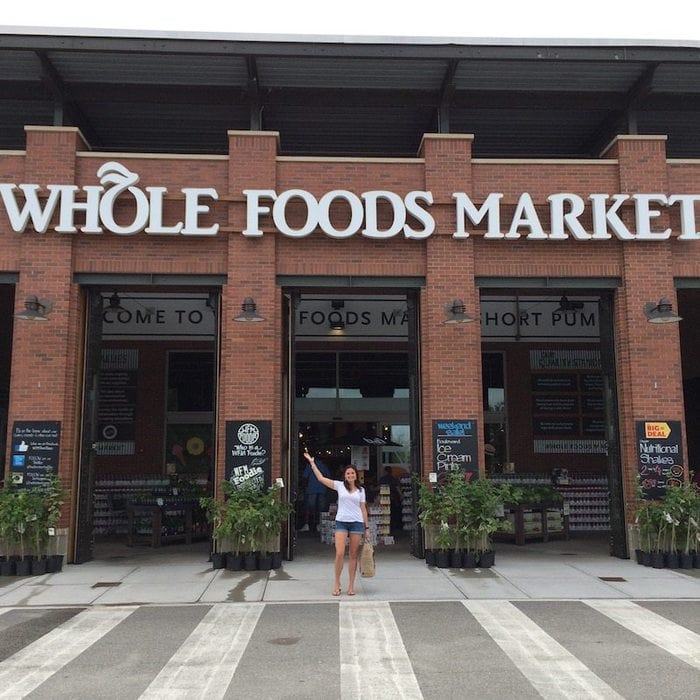 Yes, being healthy and wallet-happy are both possible for Whole Foods lovers. 🙂