Happy Friday! Today's post is a quick one because I don't have a ton of time this morning before darting off to work but I wanted to share an updated version of the healthy no bake cookies I posted last year around the holidays. The original recipe I came up with is much healthier than the traditional no bake cookies I grew up with as a kid, but they still had a quite a bit of sugar (about 1 cup). I used natural sugar, but still, added sugar is added sugar and I'm all for reducing it when I can, as long as the cookies still taste good!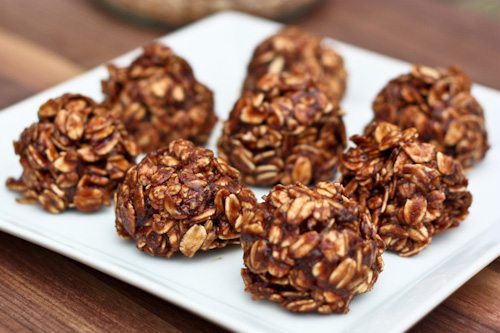 So last week I made a batch with half the sugar. They are still plenty sweet to me, but some people like things on the sweeter side so feel free to add more sugar if you wish. I actually liked them better this way! I changed up a few other things as well – for instance, storing the cookies in the fridge to "set" rather than letting them sit out at room temperature. Because these changes affected the recipe in such a good way, I decided I should repost it! So here she is, the new and improved Healthy No Bake Cookies, with new photos to boot.
New & Improved Healthy No Bake Cookies
24
adjust servings
Ingredients
Instructions
Place mashed banana and peanut butter in a saucepan and cook over medium-low heat, stirring often until peanut butter and banana are combined.
When the peanut butter is melted, take the pan off the heat and add remaining ingredients and stir until everything is well combined.
Place in the fridge for 10 minutes to let the batter setup - this step is optional, but the dough will be easier to shape if you do.
Drop chilled dough by spoonfuls on a baking sheet lined parchment paper, using hands to work cookies into desired shape - I made this batch into little mounds.
Place baking sheet in fridge or freezer until cookies are set, then serve. Store any left over cookies in the fridge or freezer for later.
Recipe Notes
I used regular rolled oats for this batch and they turned out fine, but a little on the hearty side. I still like the texture of the quick oats better, but feel free to use whichever you have on hand. If you dislike banana, you can use ½ cup extra virgin coconut oil in place of the banana. The cookies will turn out to be a bit richer and higher and calories, but super delicious.
If you want to make this recipe sugar-free, feel free to try using stevia in place of the sugar. I haven't experimented with it myself so I don't know the appropriate measurement. I would put in a little bit of stevia at a time until the cookies' sweetness suited my tastes.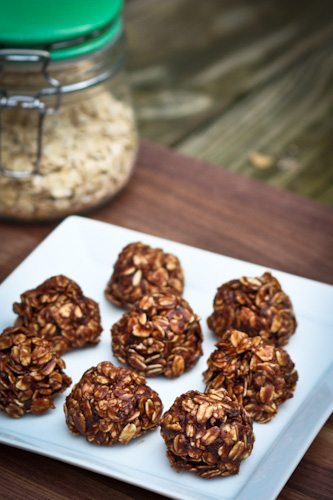 I will warn you, these cookies might be healthier than traditional no bakes but they're just as addictive. I think I ate around four every day until they were gone. Oops.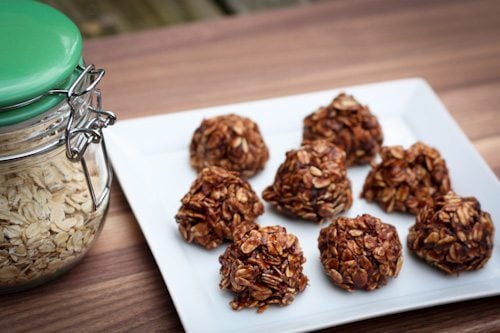 Breakfast dessert, lunch dessert, snack and/or dinner dessert – they work well for any and all of the above. 😉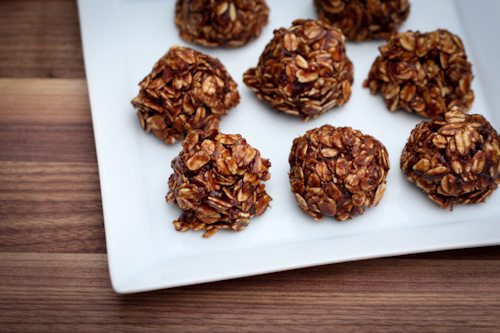 In need of some other healthy holiday cookies? Here are a few you might like:
Yes, I realize that most of these have peanut butter in them. That's how I roll. 🙂