Babymoon in Grand Cayman
6
Published Jul 03, 2019, Updated Mar 20, 2023
Planning a babymoon to Grand Cayman? I'm sharing all the best places to stay, things to do and see and delicious restaurants to check out. Plus, my favorite spots of delicious mocktails.
I'm so excited to share all the details of our recent trip to the Cayman Islands. We planned the trip to celebrate our anniversary (6 years!), but it was also our babymoon since at the time of the trip I was 20 weeks pregnant.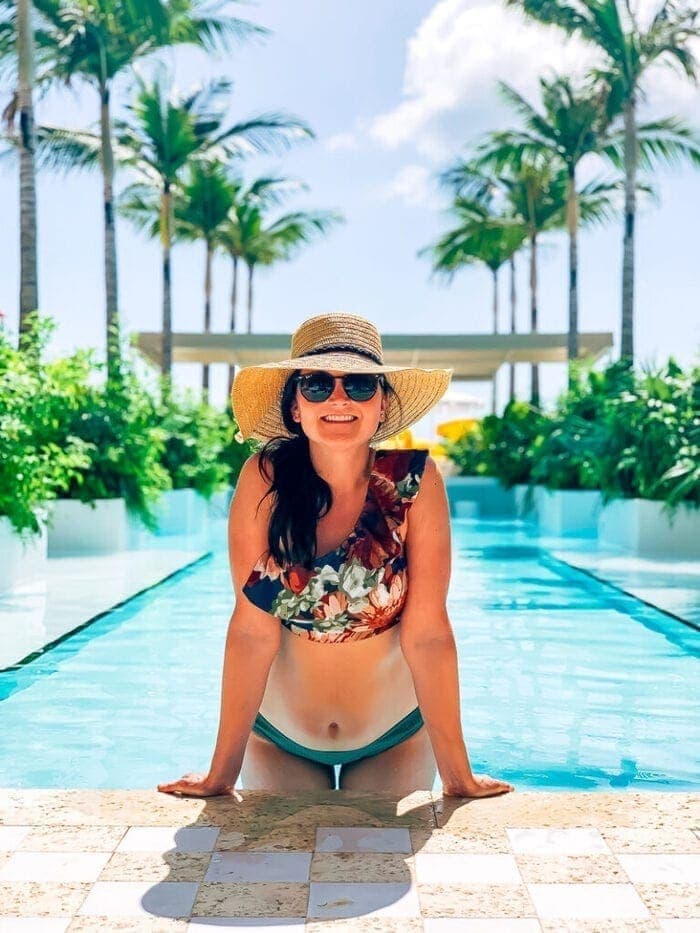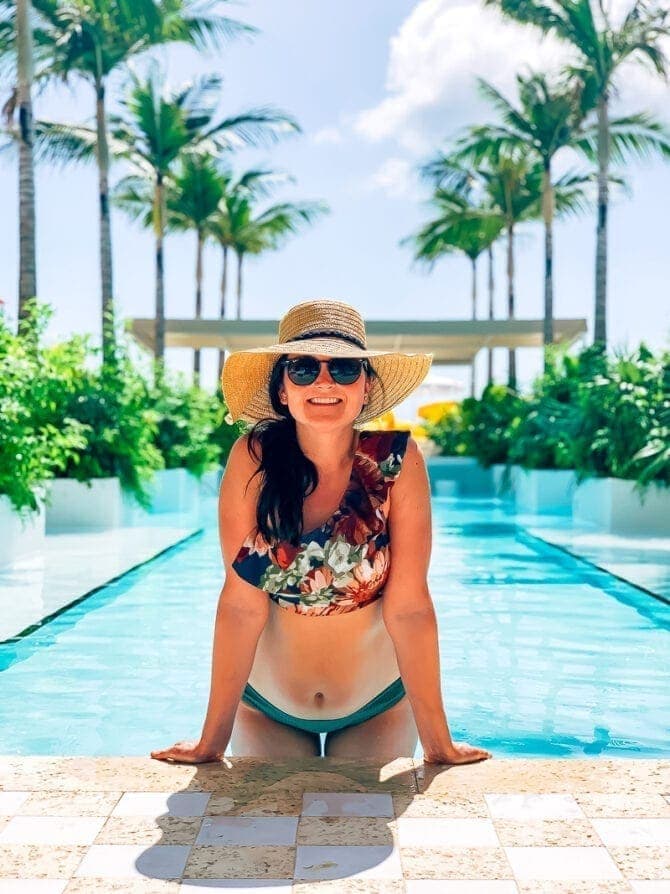 When deciding where to go I originally thought of Hawaii, but the plane flight is super long and tickets were expensive so we started looking at the Caribbean. We had it narrowed down to Grand Cayman versus the Bahamas and ultimately decided on Grand Cayman for a couple of reasons: there is no threat of Zika in Grand Cayman, it's a very safe island, and I've been before (10 years ago with a friend) and loved it. Overall, the flights were pretty inexpensive (around $300/each round trip) and we were able to find two awesome places to stay on Seven Mile Beach.
Where to Stay in Grand Cayman
After booking our flights the first thing I started researching were hotels and places to stay. I looked at a few Airbnb options, but most of the places were either too large (sleeping 8-10 people) or were not in an ideal location. Many were on the west side of the island, which is pretty far from the main tourist area (Seven Mile Beach) with lots of restaurants and most didn't have direct access to the beach so we'd have to rent a car and drive to different beaches.
With that in mind, I decided it would be best to book a hotel on Seven Mile Beach. There are quite a few options, but the two hotels that interested me most were the Kimpton Seafire and Beach Suites. Both had great reviews and I had trouble deciding between the two so finally, I decided to book both so for the first three nights of our trip we stayed at Seafire and for the last four nights we stayed at Beach Suites.
I thought it might be a hassle to switch hotels mid-way through the trip, but it was actually really easy and we enjoyed getting to experience two different locations. There were pros and cons to each hotel, but ultimately if we were to visit Grand Cayman again, we'd most likely stay at the Kimpton Seafire resort again.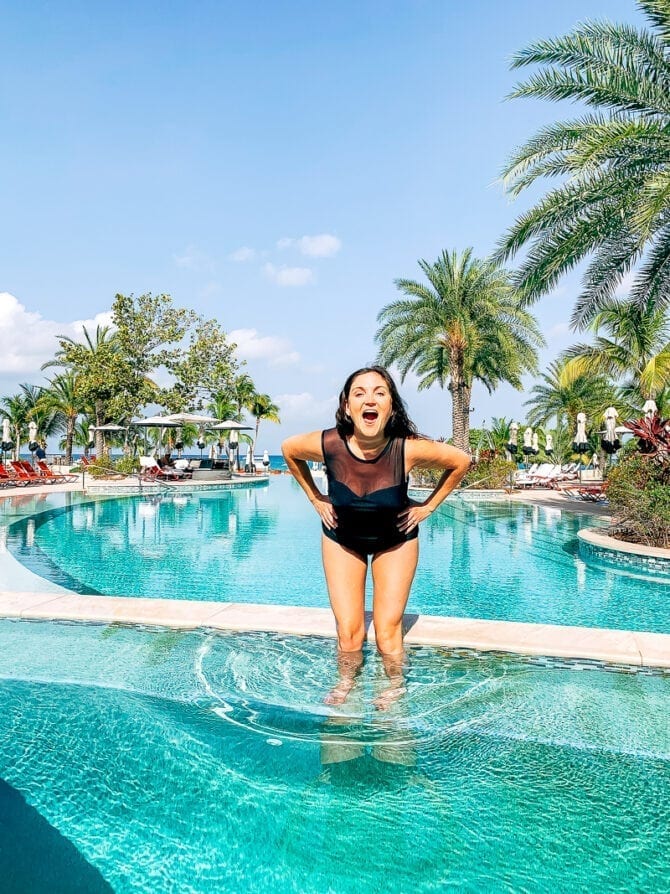 Kimpton Seafire Resort – I've stayed at many Kimpton hotels and have always had a good experience, but our experience at Seafire was so amazing and hands down, the best customer service we've ever had at a resort. Every staff member (from the towel guys at the beach to the lobby receptionist to the manager(s) of the hotel restaurants) were friendly and talkative. Every time you passed a staff member, they always greeted you with a genuine hello and a smile.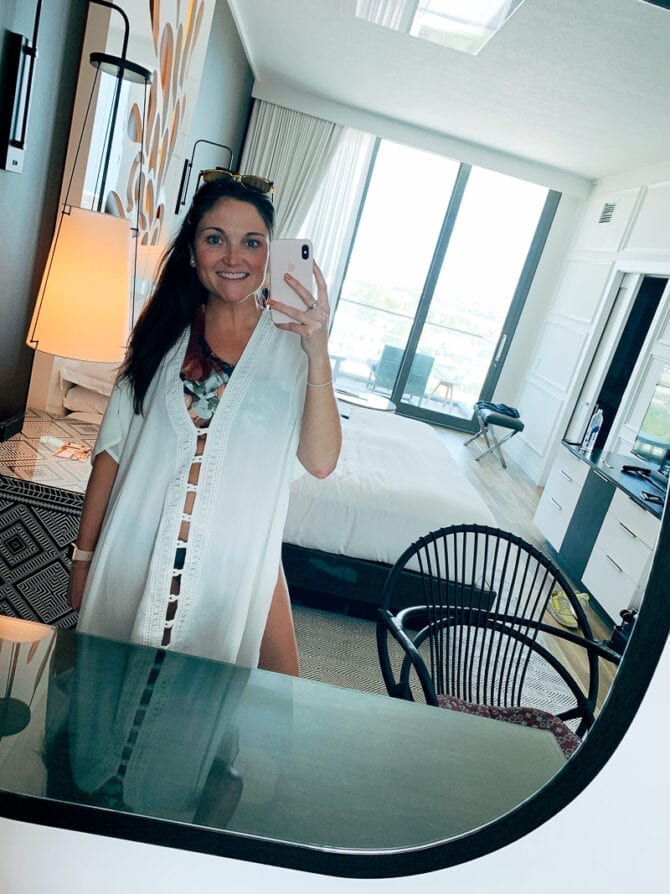 The first day we arrived, they sent chocolate-covered strawberries to our room for our anniversary and later in the trip (after the front desk found out we were expecting during a late-night hunt for aloe) they sent up two branded wine tumblers and a little stuffed stingray, along with a sweet note about our expected daughter. Seriously, the service was above and beyond!
In terms of location, the Seafire Resort is further away from all the other resorts on Seven Mile Beach so it feels more private, but this also means that it's not as easy to walk to dinner or shops from the resort. This wasn't a huge issue because you can easily get a taxi if needed and the resort has three restaurants, a pantry shop, a gift shop and more.
The beach area is pretty large in comparison to some of the other hotel beach areas and the pool is really nice as well. Included with the resort fee, you get free access to non-motorized beach equipment including rafts, paddle boards and kayaks as well as fitness classes.
The grounds of the resort are gorgeous and meticulously kept.
Our room was a king suite so we had a pull-out sofa and it technically slept 4 people, but there was no separation from the bedroom to the living space and the sofa wasn't large. I could see this room working for a family of 3 or 4, but I don't think the room would be super comfortable with four adults. Since the hotel is newer, the room was modern and well-kept, but overall felt pretty average as far as hotel rooms go.
In general, the customer service, resort amenities and restaurants make this an amazing place to stay and my top choice.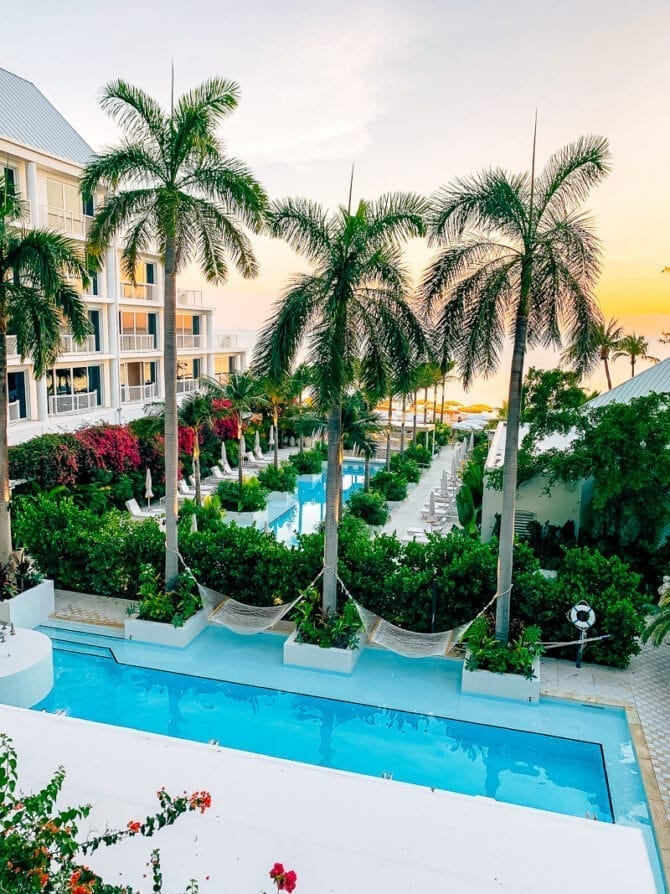 Palm Heights – Formally The Hyatt, this hotel was recently taken over by new management, rebranded as a boutique hotel and renovated. We had a suite and our room was large with a bedroom, spacious separate living room space, Apple TV in each room, a tub and shower, as well as very trendy (and Instagrammable) mid-century modern, minimalistic decor.
The location is really close to a lot of other resorts and walking distance to a bunch of restaurants and shops, including Camana Bay. We enjoyed being able to explore the area on foot while staying here.
The customer service was totally fine, but after experiencing the amazing customer service at Kimpton we weren't overly impressed. All the staff kind of seemed surprised to see us walk by and sometimes they didn't even acknowledge that we were there. And there were a few days were house-keeping didn't come until well in the afternoon. It honestly seemed like a lot of the staff was still in training.
The beach area was nice, but not super large and it was split off so some of the area was for hotel guests while the other half was designated for the beach restaurant guests. There weren't any large trees for shade, but they did provide beach umbrellas for shade. There are two anchored rafts in the water (but no individual rafts) and free paddle board rentals, but that wasn't really advertised so we didn't see the paddle boards until our last morning.
Overall, we really enjoyed the ample amount of space and the view from our room at Beach Suites. The beach area was nice, the food at the restaurant was pretty good and we liked being able to walk to restaurants and shopping from the resort.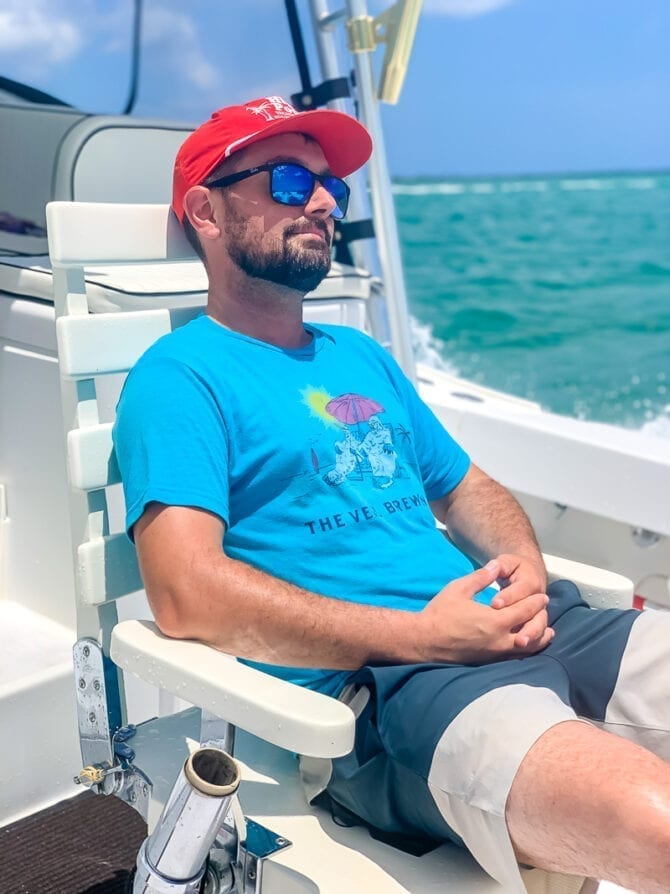 Things to do in Grand Cayman
Grand Cayman isn't a huge island, it's relaxed and in general the main things to do involve the beautiful beaches or ocean wildlife. There's great snorkeling, scuba diving and fishing, plus the water is pretty calm making it an awesome for paddle boarding and kayaking. There's also Stingray City where you get to swim with the stingrays, a Turtle Centre and a Dolphin Discovery.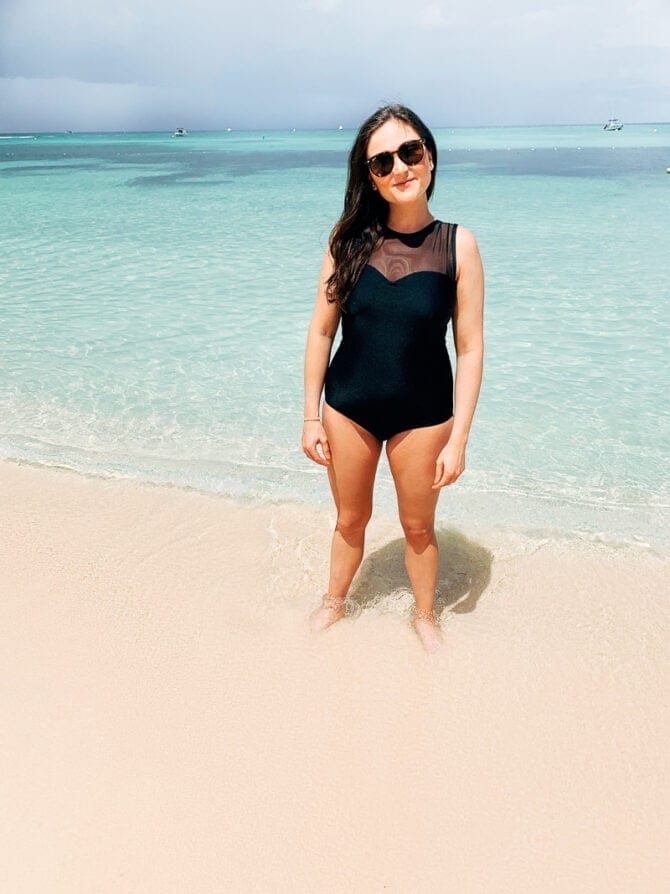 Relax and soak up the sun – This is the whole point of a Caribbean vacation, right? That's one of the main reasons we chose Grand Cayman. We wanted to relax, sit on the beach, float in the ocean and enjoy the soft white sand and crystal clear water.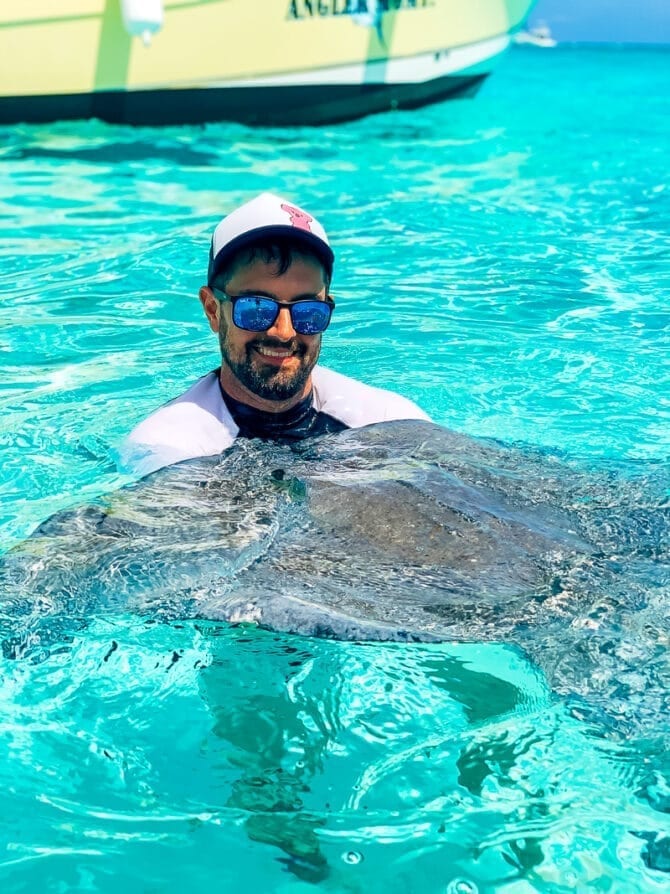 Stingray City – I've been to Stingray City twice and it's always really fun. This is a sandbar in the middle of the ocean where the stingrays come to eat. They swim all around you, rubbing their soft slippery skin against your legs. The guide in your boat will usually pick one up and let you hold it, kiss it, etc. Apparently kissing a stingray gives you good luck for 7 years! There are a bunch of different companies that offer group excursions to Stingray City. We splurged and chartered a private boat through Captain Marvins so that we could do a combo of deep sea fishing, Stingray City and snorkeling all in one day. We didn't catch a single fish, but it was a blast.
Snorkeling – There are a ton of great spots to go snorkeling around the island, even some good areas right off Seven Mile Beach, but you can also take a specific snorkeling trip.

Where to Eat in Grand Cayman
We were really impressed with all the amazing dining options in Grand Cayman and definitely didn't get a chance to go to every place we wanted to check out. All the restaurants we ate at were located near Seven Mile Beach since that's where we were staying but there are a few restaurants in other areas of the island.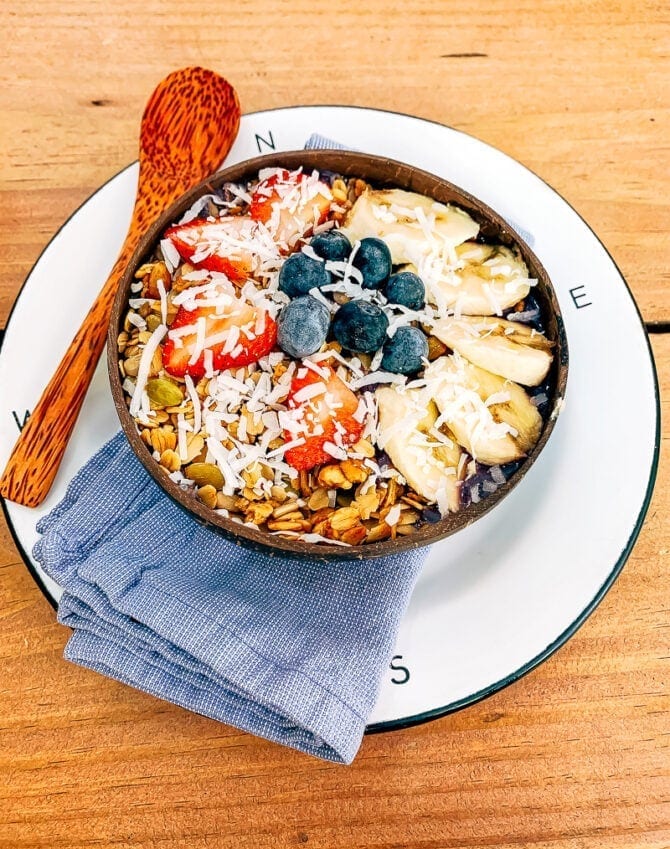 Jessie's Juice Bar – This was such a cute little spot for coffee, smoothies and/or juice. We had breakfast here one morning at the Camana Bay location. They serve Panther Coffee out of Miami, which is delicious. I ordered a smoothie bowl and Isaac got a lox English muffin and a cookie. We both got coffee as well.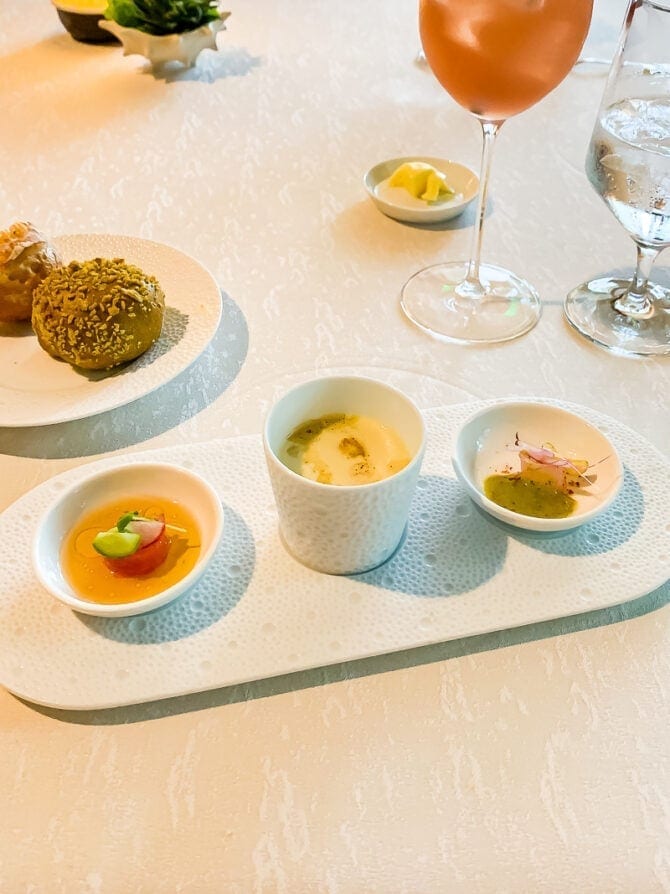 Blue by Eric Ripert – We knew we wanted to go somewhere special for our anniversary so we made reservations here based on a recommendation from a friend. We knew that the seafood would be top-notch given that Eric Ripert owns Le Bernardin, one of the most renowned seafood restaurants in New York. We did the Eric Ripert tasting menu which has 7 designated courses plus a few bonuses courses thrown in. We really enjoyed every dish, although by the fifth course I was pretty full. I feel like the baby must be squishing my stomach because I seem to get full faster than normal. In general, this was our most expensive meal, but it was a fun experience and all the seafood was delicious. (One thing to note is that the menu does include a lot of raw fish. I decided to go ahead and enjoy the raw fish options on the tasting menu at my own risk, but just wanted to share in case you're planning to visit Blue and you're on a babymoon as well. The server asked about this upfront so it shouldn't be a problem if you want to skip the raw options.)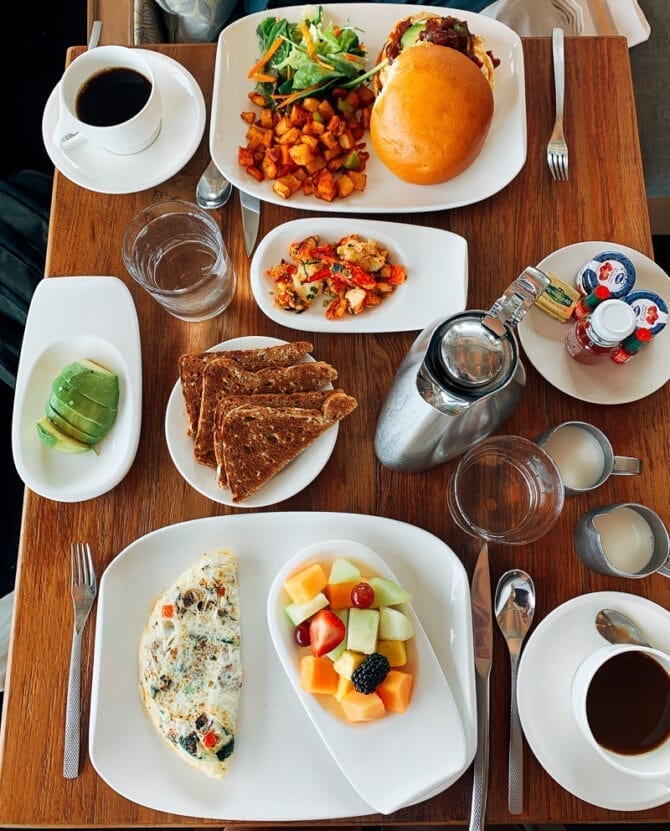 Ave – This is the main restaurant at the Kimpton Seafire Resort and it's open for breakfast and dinner daily and Sunday brunch, but not lunch.
We had breakfast here each morning – there's a buffet, as well as, a la carte options. We did the buffet the first day, which has made-to-order omelettes/eggs as well as a large variety of other items, but decided to ordered a la carte the remaining two days of stay. Both options were great, but we're not huge buffet people.
We ate dinner here two nights during our trip and both times we ended up sitting at the bar since we really liked chatting with friendly bartenders. All the food we had was delicious, but I think my favorite dinner entree was the island snapper with plantain puree, feta cheese, avocado, yucca and scallion salsa. I also really loved the goat cheese salad. Oh, and for dessert, you have to get the chocolate caramel tart. It's so freaking good!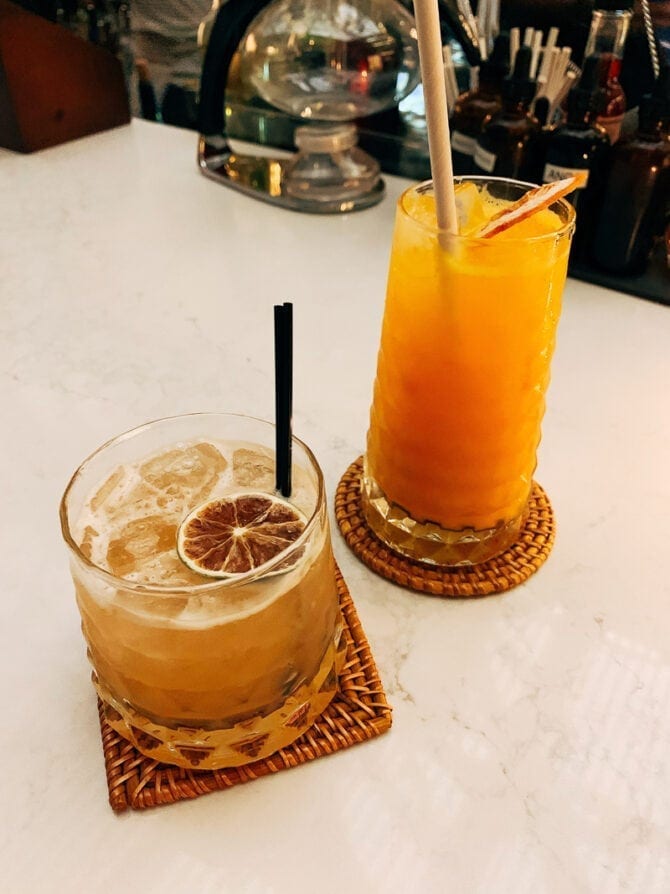 When it comes to mocktails, the Ave bar had three awesome options, all of which you could tell they put the same time and effort into created as they did with the regular cocktails. I ordered the mango fizz twice (so good!) and also had the strawberry banana option. I didn't get to the try the lavender chai because they were out of lavender the night I ordered it. One night I just went dealer's choice and had the bartender whip me up something and that was delicious too.
The restaurant is really nice, well-decorated and has outdoor seating, but the view of the ocean isn't great because there are some trees in the way. We ate breakfast outside the first morning but decided to eat inside the rest of our stay because there were a lot of birds flying around looking for snacks.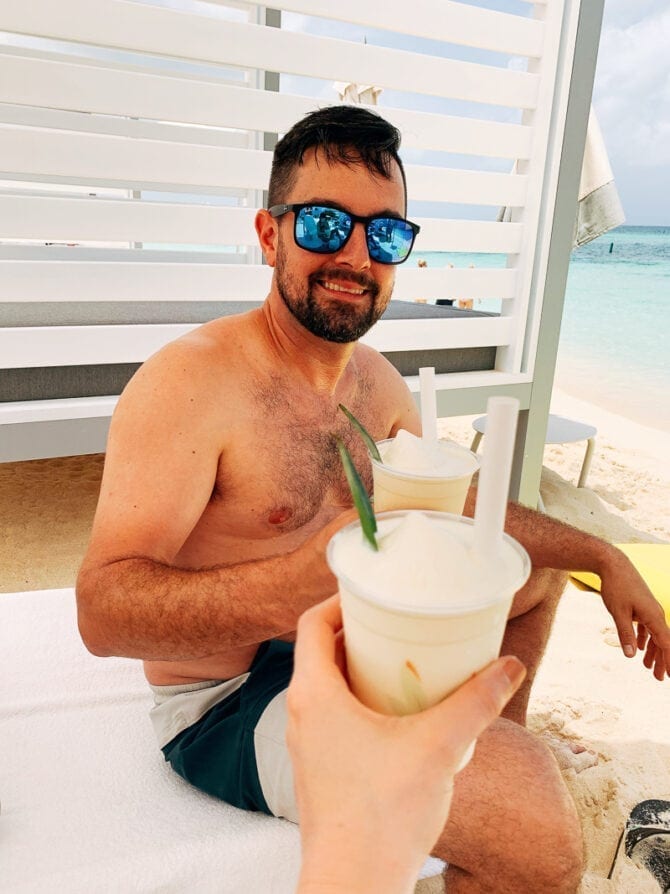 Coccoloba – This causal beachside restaurant is on the Kimpton Seafire property and perfect for lunch, beach snacks and cold drinks. We really enjoyed the elote (grilled corn with cheese) and the tacos. You can sit in the restaurant or order from your beach chair. We ordered drinks here often and they have the best frozen piña colada on the island. It's made with fresh ingredients and super creamy. Plus, the base doesn't have alcohol so you can order a virgin piña colada and still have the same drink, but without the rum. They were so good I ordered several during our stay. I also tried the virgin piña colada at the Ritz poolside bar and it didn't compare!
Bacaro – A lovely little waterfront spot that's really close to the Kimpton, right near the Yacht Club. The menu is full of small plates for sharing, but we found the portions to be awesome. Everything was absolutely delicious and we loved sitting outside. My favorite dishes were the "gamberi in saor" shrimp (which was shrimp with pickled onions) and the grilled daily catch with sautéed spinach and scalloped potatoes. We also ordered three desserts and they were all delicious – the chocolate and hazelnut cake was so good, the passion fruit pannacotta was like a little piece of artwork and the chocolate chip tiramisu was awesome as well.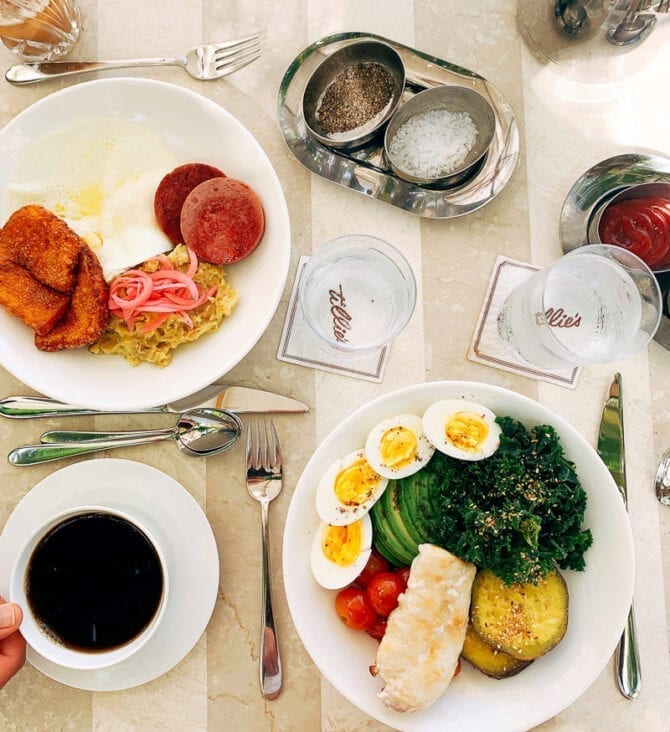 Tillie's – Right on the beach, this restaurant is part of the Beach Suites property and serves breakfast, lunch and dinner. We enjoyed all three meals while staying at Beach Suites and everything we had was super fresh and tasty. You can also order drinks and snacks here while lounging on the beach. They have a great little happy hour special from 4-6PM with discounted drinks, as well as small plates.
For breakfast, I had the Palm Heights (2 hardboiled eggs with avocado, marinated kale, roasted tomato, steamed sweet potato) and I added the miso broiled mahi. Isaac got the Full Dominican with mashed plantain, two fried eggs, queso frito, salmai and red onions. Overall, I liked my breakfast better than Isaac's, but I still wish I would have tried one the power bowls (basically smoothie bowls) because they looked so good. The regular coffee was meh, but they offer espresso drinks and I had an iced almond milk latte that was tasty.
My favorite things for lunch were the fried cassava (so crispy and the green mango sauce is heavenly), the coconut aquachile (basically a vegan ceviche with fresh coconut – so refreshing) and the shrimp grill bowl (so so good!).
For dinner, we ate on the light side and ordered the doubles appetizer, a crispy rice bowl and the sweet potato mash. Everything was tasty, but I think the sweet potato mash was my favorite thing!
In terms of drinks, Isaac wasn't overly impressed by the cocktails (they seem too beach-bar and less crafted than what he likes), but I did enjoy the Tillie's Colada as a mocktail which has coconut cream, pineapple, cucumber juice and lemon. It was so good, I could drink it all in about 2 sips.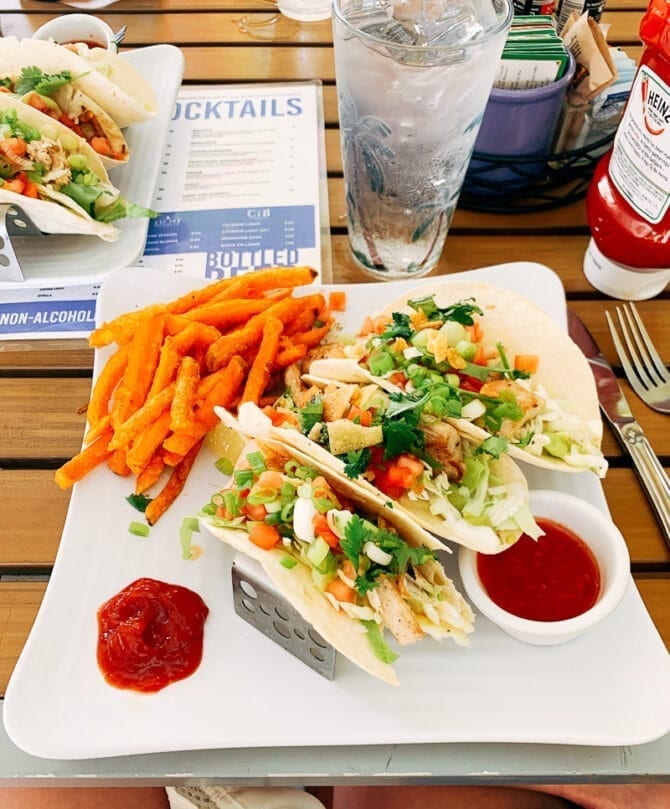 Sunshine Grill – A great local-favorite spot for lunch. It's part of the Sunshine hotel and right by the hotel pool. It's super casual and great for a quick bite for lunch. Isaac and I both got tacos and enjoyed them. Added bonus: the server brings you a mini cone of soft-serve ice cream after the meal.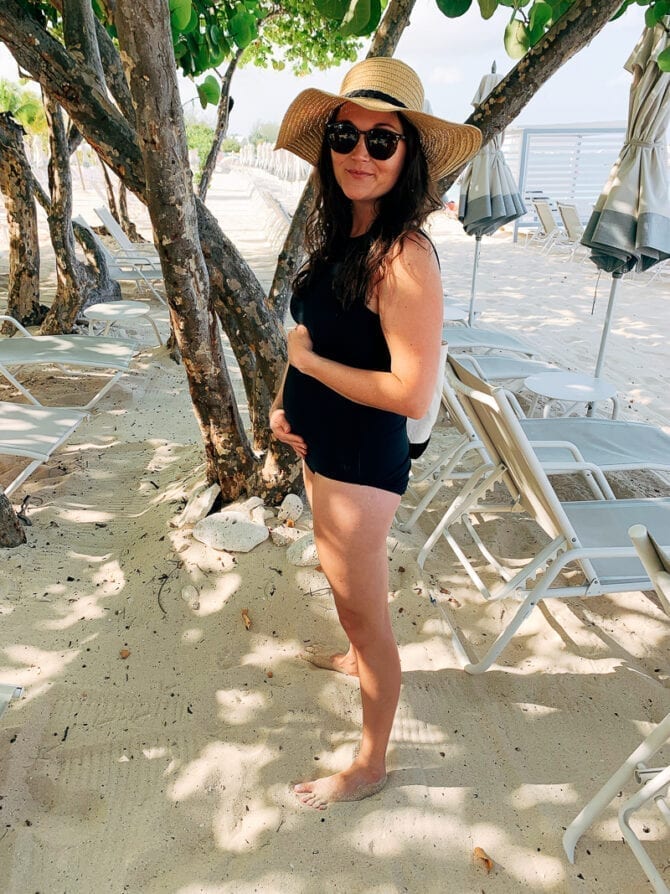 Other Recommended Restaurants That We Didn't Have a Chance to Try
Morgan's – Highly recommended for fresh seafood and right beside Bacaro near the Yacht Club.
Casa 43 – This Mexican restaurant was recommended several times – by locals and by friends we met at our resort, but we weren't ever in the mood for Mexican so we didn't end up checking it.
Aqua – A seafood restaurant with Italian and Peruvian influences located in Camana Bay.