Amenorrhea Update
51
Published Nov 02, 2015, Updated Dec 20, 2020
First, thank you for the love and support after my post about amenorrhea back in July. I never could have imagined that so many women were dealing with similar issues and it is comforting to know that I'm not alone. It's also been really encouraging to hear from women who are on the other side and have been able to balance their hormones, regain their cycle and have a family. It gives me hope.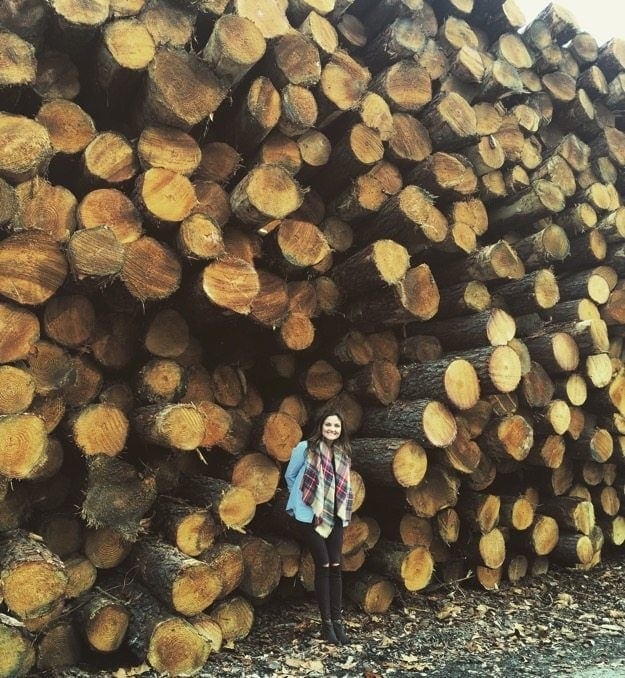 Wine tasting in Charlottesville yesterday. 🙂
Quite a few people have asked me for an update and I've been stalling, hoping that if I waited just one more week I'd regain my cycle and be able to share what I did to help it along. Well, here it is four months later (a total of 12 months without a cycle) and it hasn't happened yet. So at this point I don't have any answers, but I'm happy to give a quick update by sharing what I've been doing over these past fews months and what my doctor has said.
Lifestyle Changes
For starters, I truly took my endocrinologist's advice to heart. I cut back on exercise and started fueling my body with more food. Through this process I've gained about seven pounds. While on a blogging trip in September I had the opportunity to get my body fat checked using a BodPod and found that it was at 31%. I was pretty shocked by how high it was (apparently 32% is considered unhealthy) but at least it shows what I already knew — low body fat is not the cause of my issues.
Yoga. I've been trying to do yoga at least once a week. I'd actually really like to increase it to twice a week.
Regular acupuncture. I love my acupuncturist. He focuses on fertility and if nothing else the sessions help me to de-stress.
Supplements
I've been taking hormone balancing supplements. Some were recommended by a nutritionist, some by my acupuncturist and others I found through doing my own research. I did bring them to my acupuncturist to make sure it was okay to be taking them all at once. In addition to my normal prenatal multivitamin and fish oil I'm taking Vitex Berry, Dong Quai, Femmenessence Macaharmony, Shatavari, and Symplex F. I'm also using geranium essential oil on my feet.
Medical Updates
I've had two appointments with my endocrinologist since my last post. The first was to go over my AMH levels and get an ultrasound. My AMH levels were fine — actually a bit higher than normal for someone my age. The ultrasound showed that I didn't have any ovarian cysts, but my doctor did see a few areas of concern with my uterus and wanted to do a Saline Sono Hysterogram to check things out further. I had the procedure done two weeks ago. It wasn't extremely painful but it did cause some of the worst cramps I've ever felt. I don't think my uterus was happy about having a catheter and balloon shoved inside of it.
The results consisted of some good and not so good news. For the good, apparently my uterus looked much healthier than it did during the first ultrasound (which was only three weeks prior). He said my uterus was larger and my lining was thicker, both good things and hopefully signals that my hormones are revving up.
The not so good news was that he saw some debris in my uterus. <— I had never heard of the term "uterine debris" before but apparently it's a thing. To make light of the situation Isaac and I were joking that uterine debris would make for a gnarly band name. 😉
My doctor said the debris could be because I haven't had a period in so long and when I do have one the stuff might clear out on its own OR it could be something like Asherman's Syndrome, which is when the uterus develops scar tissue. I'm really hoping that it's just old junk that will clear once my cycle starts back. Just in case it is scar tissue I started taking Wobenzym N — it's a supplement for inflammation and joint support but it's also known to help heal scar tissue. Even if it's not scar tissue in my uterus I figure the Wobenzym N will be good for my joints.
He also noticed that some of my lining is migrating into the muscle around my uterus. This is called Adenomyosis — it can cause pelvic pain, heavy periods and make it difficult for an egg to implant when trying to conceive. It can also cause no symptoms at all…
At this point my doctor said the next step would be to have a hysteroscopy to further look into things, but that it makes sense to wait to see if my period starts in the next few months before proceeding. So that's where I'm at with everything right now — just trying to remain patient while also positive and hopeful that my body will work everything out.
Sharing all this online is really scary and as you can tell, I don't have any answers. I'm just hoping that me sharing my story sheds some light to the topic and helps others in some way. <3
2020 UPDATE: Just wanted to share that I was able to heal hypothalamic amenorrhea, get my cycle back, became pregnant and had a beautiful baby girl. If you're currently struggling with HA right now I'm sending hope, love and positive vibes your way!