The Dinner Made Easy Ebook is Here
3
Published Oct 05, 2016, Updated Jun 27, 2019
Get the Dinner Made Easy ebook! It's a healthy meal planning guide with one month of healthy meals, weekly grocery shopping lists, meal prep tips and more.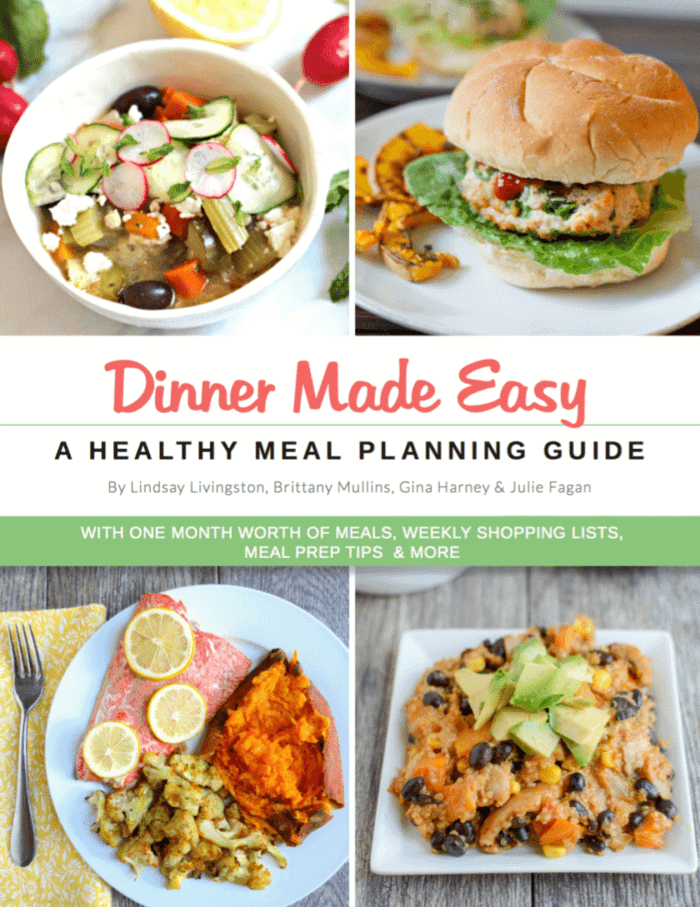 Dinner Made Easy
I've given a few small hints about the Dinner Made Easy ebook, but I'm beyond excited to let you know that it's officially available for purchase starting today.
This ebook is a collab between me and few of my blogger friends: Julie of Peanut Butter Fingers, Lindsay of The Lean Green Bean and Gina of The Fitnessista. We've been working to put the ebook together of the past few months and we're so excited to share it with you all.
We knew from the get-go that we wanted this ebook to be focused on quick and easy dinner recipes. We all have jobs and families and we know the struggle of getting a healthy meal on the table when life gets cray.
That's why we're such huge fans of meal planning. I've shared before that I haven't always been the best at meal planning, but I've gotten so much better at it over the years! (See my best meal planning tips here.) Taking time to write down meal ideas, run to the store and prep a few things makes life so much easier. It saves time and stress and is a huge part of eating healthy throughout the week.