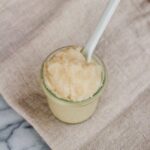 Print Recipe
Whipped Coconut Oil Sugar Scrub
The scrubs are so easy they almost don't require a recipe — basically you just use a 2:1 ratio of sugar and oil, then add your favorite essential oils if you want it to be scented.
Place coconut oil in a stand mixer. Using the whisk attachment, whip for 10 minutes on medium speed.

Add in the sugar and the essential oil and whisk a a little more until everything is blended together.

Store in a covered container.