Hi there! I hope you're having a great Thursday.
Since visiting the Union Square Farmers Market back in February I have been semi obsessed with finding a recipe to replicate one of the best carrot raisin cookies I'd ever tasted. I found a few recipes online and have tested a few but none hit the spot until I found this one from Cookie Madness.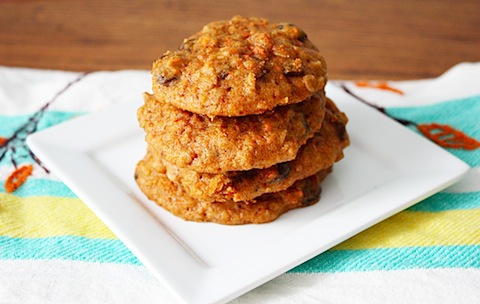 My Dad's favorite cake is carrot cake so for Father's Day I whipped up a batch of these cookies for him and saved a few for myself. 🙂
I'm not going to post Anna's full recipe since I pretty much just followed it, however I'll note the few small changes I made:
I used 3/4 cup whole wheat pastry flour and 1/4 cup spelt flour
sucanat instead of the brown sugar
increased the orange zest to 1tsp
The original recipe uses white whole wheat flour and recommends not to use regular whole wheat flour, however the combination of whole wheat pastry flour and spelt flour worked great!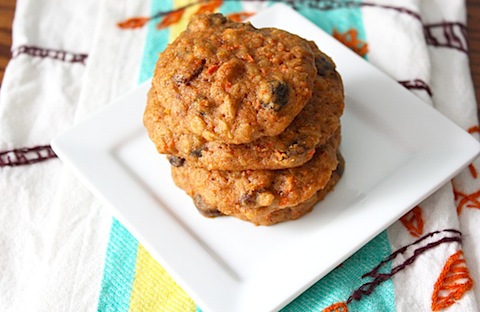 The cookies turned out moist and extra flavorful. I loved the citrus note that the extra orange zest added. Carrot cake cookies may or may not have been consumed with breakfast one morning.
The most important part – they were dad approved!
Have you ever tried to recreate a restaurant/bakery favorite? I do this all the time and have recreated several of my favorite Whole Foods salad bar items (i.e. sweet potato quinoa cakes and cracklin' cauliflower) and even the Kashi Mayan Harvest Bake frozen dinner. As it turns out, I have another recreation recipe featuring cauliflower coming up very soon. Get excited!