Good evening friends!
I have WAY too much to share with you all – including some awesome recipes (which some of you have already gotten a sneak peek of if you follow me through social media). I'll be posting those asap, but for now here's a quick little post about my weekend…
First thing first – I had an MRI on knee last week and found out some pretty good news Friday morning. My fall caused my patella (kneecap) to dislocate. As soon as I fell I knew something was wrong by the angle of my knee and I even cried out that I thought I dislocated it. Luckily, as my doctor pointed out, I just dislocated my kneeCAP not the whole knee. Thank heavens there were no ligaments torn so I don't need surgery! I just have to wear a brace (at all times besides when showering) for 4 to 6 weeks and do intensive physical therapy (2-3 times a week). And since the patella isn't a weight-bearing bone, I am still able to put weight on it. Hooray for no crutches – they are seriously no fun!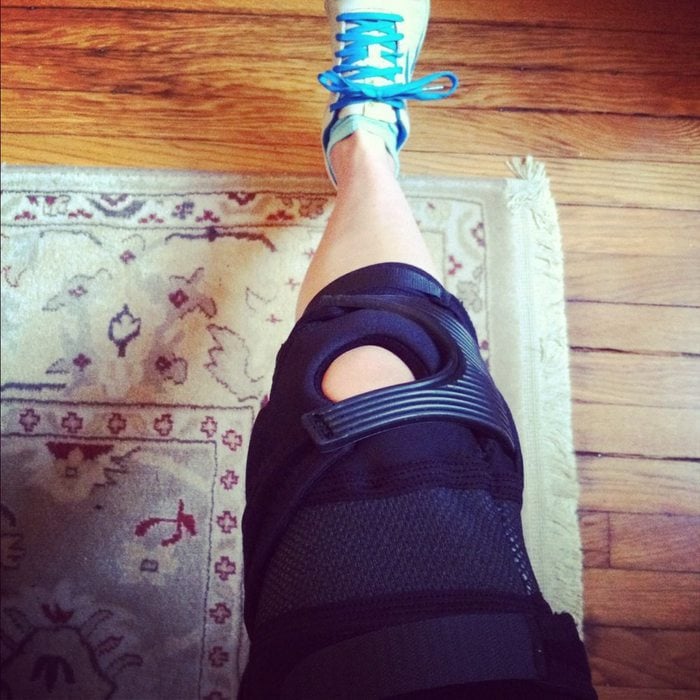 BTW – can you believe this brace costs over $200. Crazy!
So overall, it's not AMAZING news (I'm still injured) but it's pretty awesome considering the alternatives, which I know all about from researching knee injures online. Seriously, the internet is the worst thing when you're sick or injured – self diagnosing online is always a fail. Swollen leg? Yeah, you're pregnant. 😉
In terms of getting back to exercising… I wasn't able to do anything for a week and a few days except sit on the couch. The good news= my doctor said that even though I still can't bend my knee fully, I can use the stationary bike, swim and do arm workouts while wearing the brace. For the first time since the injury, I woke up yesterday and did the Tone It Up fine toning arm routine, some ab work and PT leg lifts with ankle weights. It wasn't much but it felt really awesome to get back to moving a little bit. Sitting on the couch 24/7 was driving me bonkers.
I haven't been doing too much walking since it's still quite a chore (and I walk at a snail's pace), but I did make a trip to Sweet Frog on Friday night for celebratory fro yo and on Sunday I took my first big journey to Mongrel for the Young House Love book signing. I've met John and Sherry before – AKA I've ran up to them at local events and geeked out about how much I love their blog. That said, I really wanted a signed copy of their book so the journey had to be made!
The signing was at 1:00PM but I decided to head to Mongrel right when they opened at 10:00AM to purchase my book. People were already forming at line – it was crazy! I didn't think my knee could take standing for 3 three hours so I came home for a few hours, made a little treat to share with Sherry and John and then went back when the book signing started. I waited for about an hour and 20 minutes but the lined moved pretty fast and the ladies in line with me were super friendly so the time went by quickly.
Then it was my turn to get my book signed!
Sherry and John were super friendly (per the usual), full of energy and even remembered my name! <;-- This made my day!!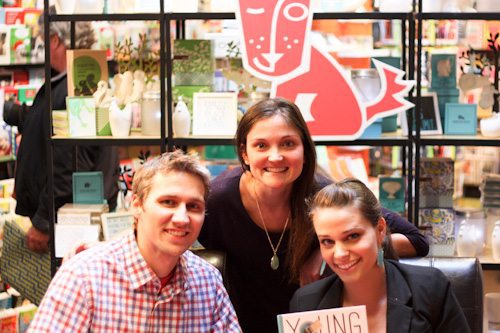 And the book – it's seriously so cute – duh, everything they do is cute!
But seriously, I love that it's organized in a simple way with chapters like "TWEAK – Accessorizing Ideas" and "NOSH – Kitchen and Dining Ideas". All the projects come with step-by-step instructions and look so approachable. There are even sections that offer basic info like: Curtain Basics OR Spray Painting Basics. Both of which I should probably go read right now. I'm not the biggest DIYer when it comes to home stuff – I feel like I don't have the "eye for interior style" but I can see this book helping me a lot. I've already bookmarked several projects I want to do sometime soon!
I think Sherry and John would be happy to know that I have the book sitting on our coffee table and it's already helping to spruce up our house…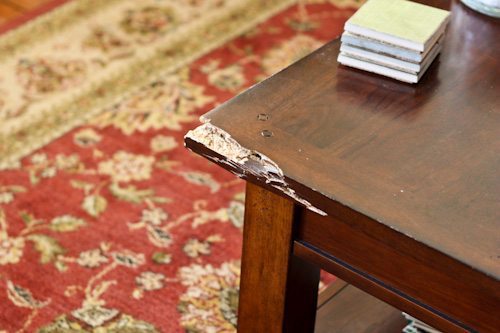 by concealing a huge gash in our coffee table.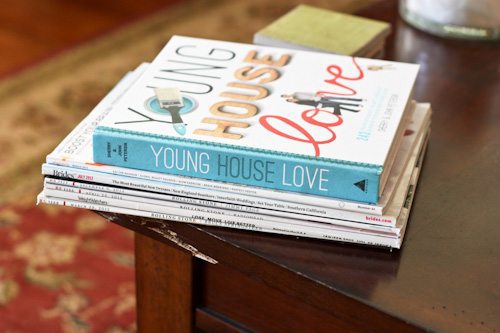 Perfect! 😉
See you all tomorrow with a tasty holiday recipe.